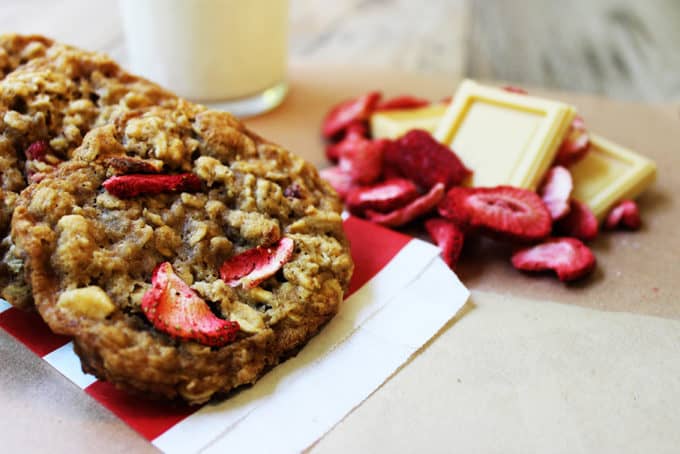 When we were engaged and planning our wedding I had a handful of people tell me not to give out wedding favors. I was told they would be thrown away or left on the tables and that guests simply hate them. I knew I wanted to do something special but did not want to come up with something that would get left behind at the end of the evening. Since food is my career and my passion I knew it had to be food related. While discussing it with my fiancee that night over a batch of these cookies we both had a near simultaneous light bulb moment and just minutes later we were combing through recipes. They ended up being one half of our wedding favors along with my favorite cookie ever, the Oreo Chunk Cookie from Wisey's Deli.
We baked one Oreo and one strawberry cookie per guest, in a much larger size (each cookie was 1/4 cup of cookie dough!) and put them in a clear self seal pouch with a sticker on the front with our wedding details. On the back of the packaging we had a link to a website that had the recipes to these cookies so guests could re-create them. Even over a year after the wedding I still had people asking me for the recipe or telling me they kept the packaging so they could get to the recipes!
Full of freeze dried strawberries and white chocolate, they are chewy and rich despite the source (Cooking Light) and you don't feel guilty after having one…or two…okay fine, 3. Anything after 3 you can feel a little guilty about. When we were sourcing the ingredients for the cookies we had a difficult time finding these strawberries. It was only five years ago, but at the time freeze dried fruit had not become the toddler treat of choice yet. We ended up special ordering them on Amazon. These days you can find these in almost any store, making them an absolute breeze to bake. You can also substitute any other freeze dried fruit flavor you may already have at home. I would recommend keeping the white chocolate in this recipe since a milk or semi-sweet chocolate would probably overwhelm the flavor of the freeze dried fruit.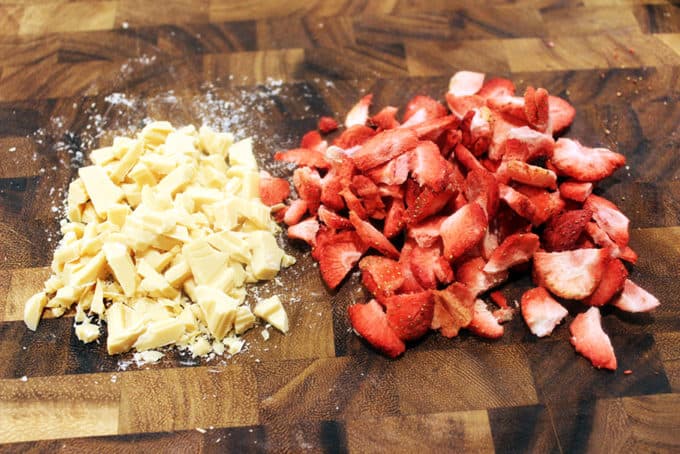 Preheat oven to 350°. Combine flour, oats, baking soda, and salt; stir with a whisk. Place sugar and butter in the bowl of a stand mixer; beat at medium speed until the mixture is lighter in color, about 3 minutes.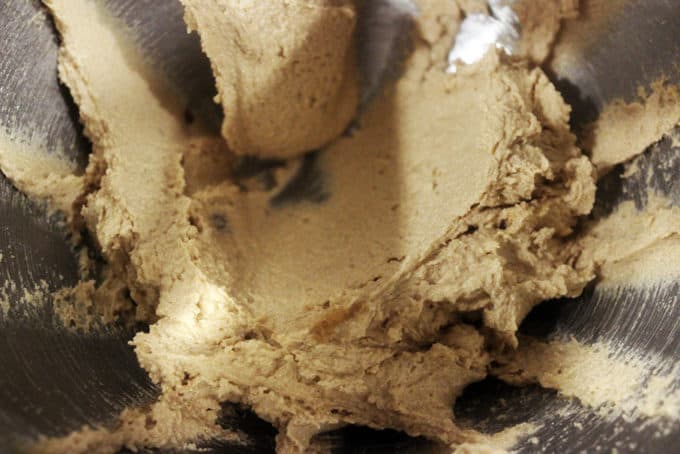 Add vanilla and egg; mix until well combined. Add flour mix until just combined, then fold in strawberries and white chocolate.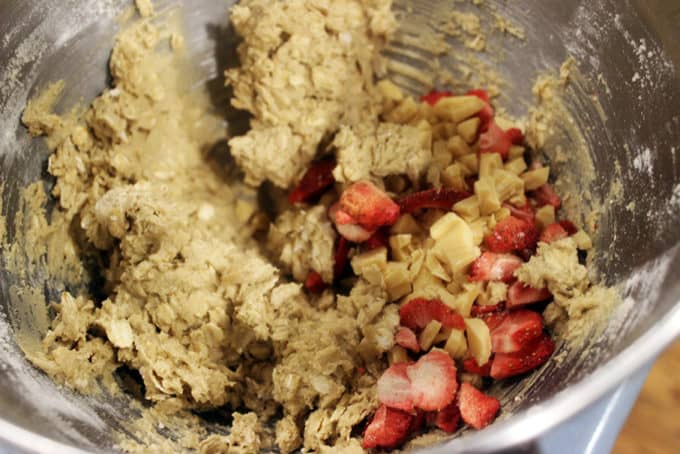 Using a 2 tablespoons measure, put the cookies at least two inches apart. Cook for 11-13 minutes.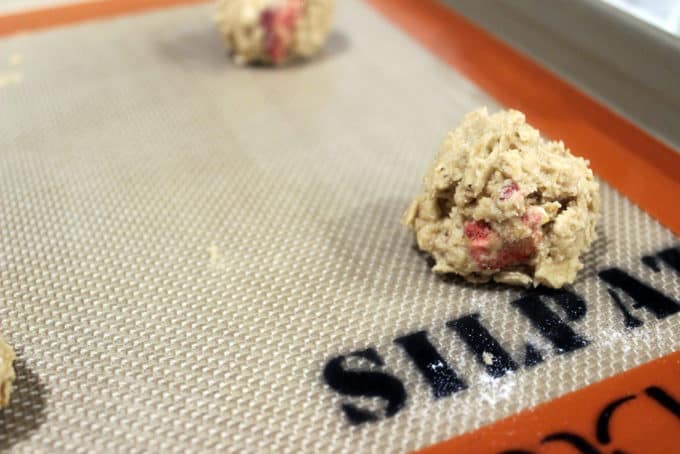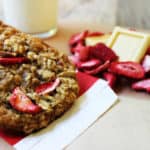 Strawberry White Chocolate Cookies
Strawberries, White Chocolate and Oats make for a delicious cookie that is low in calories and fat! With only 1/4 cup of butter, these cookies are still chewy and rich despite being a light recipe!
Ingredients
3/4

cup

all-purpose flour

1

cup

regular oats

1/2

teaspoon

baking soda

1/4

teaspoon

salt

3/4

cup

packed brown sugar

1/4

cup

butter

, softened

2

teaspoons

vanilla extract

1

large egg

3/4

cup

coarsely chopped dried strawberries

1/2

cup

white chocolate chopped or in chips
Instructions
Preheat oven to 350°.

Combine flour, oats, baking soda, and salt; stir with a whisk.

Place sugar and butter in the bowl of a stand mixer; beat at medium speed until the mixture is lighter in color, about 3 minutes

Add vanilla and egg; mix until well combined.

Add flour mix until just combined

Fold in strawberries and white chocolate.

Using a 2 tablespoons measure, put the cookies at least two inches apart.

Cook for 11-13 minutes