Hi Everyone! You may or may not have noticed we haven't had a new post since last Tuesday. It's pretty unlike me, but we were hoping to launch this new look for you all last Wednesday.
Short of magical powers to make all the technical adjustments needed we instead had to work through the weekend to complete it all! I don't know what I was thinking, I'm no technical ninja, but even if I were it would've taken a few days.
So here we are, the new and refreshed Dinner, then Dessert! It's been in the planning all year long and I am beyond excited to introduce you to all the new features!
First things first, I'm hoping the page looks mostly the same to you all? The same featured recipes at the top of the homepage:


The logo, colors and branding are all the same.


It's still just me! The categories and recipe index should look pretty much the same.
Now to the new things!
My favorite feature I'm kind of freaking out about: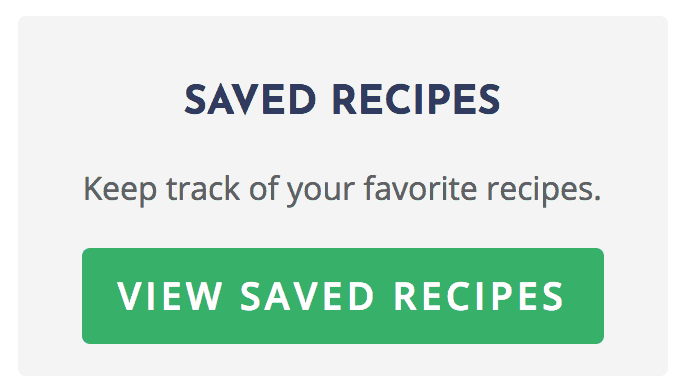 You can SAVE RECIPES! On the site!
To save recipes you need to make an account here:
and immediately start saving recipes to your internal recipe box. I highly recommend the Philly Cheese Steak Sloppy Joes. They're a fan favorite.
No more having to remember where you kept the link or what board you pinned it on.
Even after you make your account, please keep pinning recipes, that is the absolute most amazing way you can help to share my recipes with the world and I appreciate each pin more than I can even tell you.
Now, all your recipes you love will be compiled for you on one page, Saved Recipes.
You have to be logged in to see the saved recipes, so hurry up and register! Once you are registered you'll be routed to this handy little tutorial on how you save recipes.
Easier Sharing
When you're on mobile looking at a recipe you will see two small buttons on the bottom of the screen. The one on the left is a red pin button to pin the recipe to your favorite board on Pinterest (you should totally pin all the recipes you love by the way!) and the gold button on the right is a save button to save your recipe to your personal recipe box!
In addition that you'll see easier sharing on the posts with buttons like:
and this sharing box you can find on the bottom of each post. Hopefully this makes sharing your favorite content a breeze because the best compliment you can give my site is a share with someone you love or to your Facebook/Pinterest pages.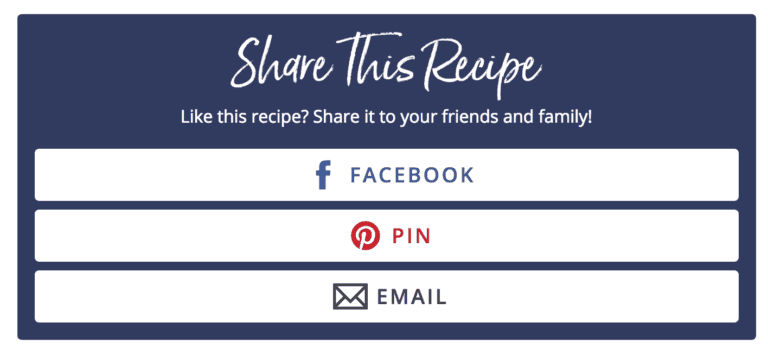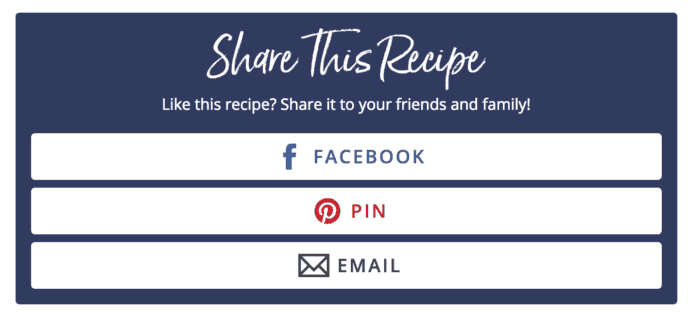 NEW RECIPE INDEX + Connected Posts:
I've spend a ton of time re-categorizing posts to make them easier to find. Plus we zoomed way in on the photos to make them easier for you to see and all our friends who helped beta test the site are thrilled with the new photo sizing all over the site.
We are currently working on new pages that are going to create a new experience for you, a Slow Cooker index that will break down into subcategories and more, providing more information throughout the page.
When you used to finish reading a post it would give you a few random posts you may want to read at the end. Now we're connecting these posts in a very intentional way. I've handpicked the best related posts to each recipe so you are getting the best user experience possible.
THE RECIPE CARD
So many new features have been added to the recipe card for your ease of use!
Save Buttons: I've added the "Save Recipe" functionality to the top, middle and bottom of the recipe card.
Adjustable Servings: You can now adjust the amount of servings you'd like in your recipe via a slider. Need more than 4 servings, sliiiiiiide to the right. Need less? Sliiiiiiide to the left.
Kitchen Timer! You can now click the green time links in the instructions to start a kitchen timer. A timer will start along the bottom of the screen and when it's done you'll hear an inoffensive beeping.
Metric Measurements: Looking for metric instead of US measurements? You can toggle the switch in the recipe card.
Push Notifications:
Something we've had on behind the scenes for a bit, but we'll begin utilizing more is push notifications. Allow them in your browser (not on mobile iOS unfortunately) and I can send you a push notification for new favorite recipes (this will never be abused, I promise). Just amazing, holiday/party/weeknight/back to school meal appropriate notifications throughout the week.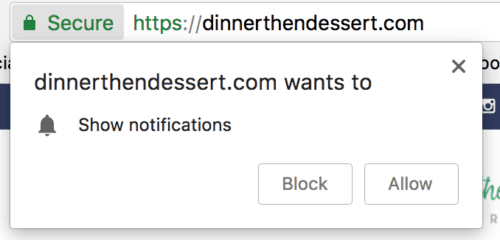 You can ignore them if they don't catch your interest but you'll be the first to get news from the site!
Have any questions? Feel free to email them to me at contact @ dinnerthendessert.com
Also…
Don't forget to register for an account on the new site (no sensitive data of any kind is stored – just delicious recipes!):