Baked Million Dollar Spaghetti is creamy and cheesy, topped with meat sauce and extra bubbly cheese, like a cross between ziti and lasagna!
Pasta bakes are an easy way to make your favorite Italian Recipes that feed a big crowd, and that the kids will love too! This recipe is cheesy, beefy, and satisfies everyone, just like Cheesy Beef Pasta Bake, Baked Spaghetti and Meatballs, and Ravioli Lasagna Bake.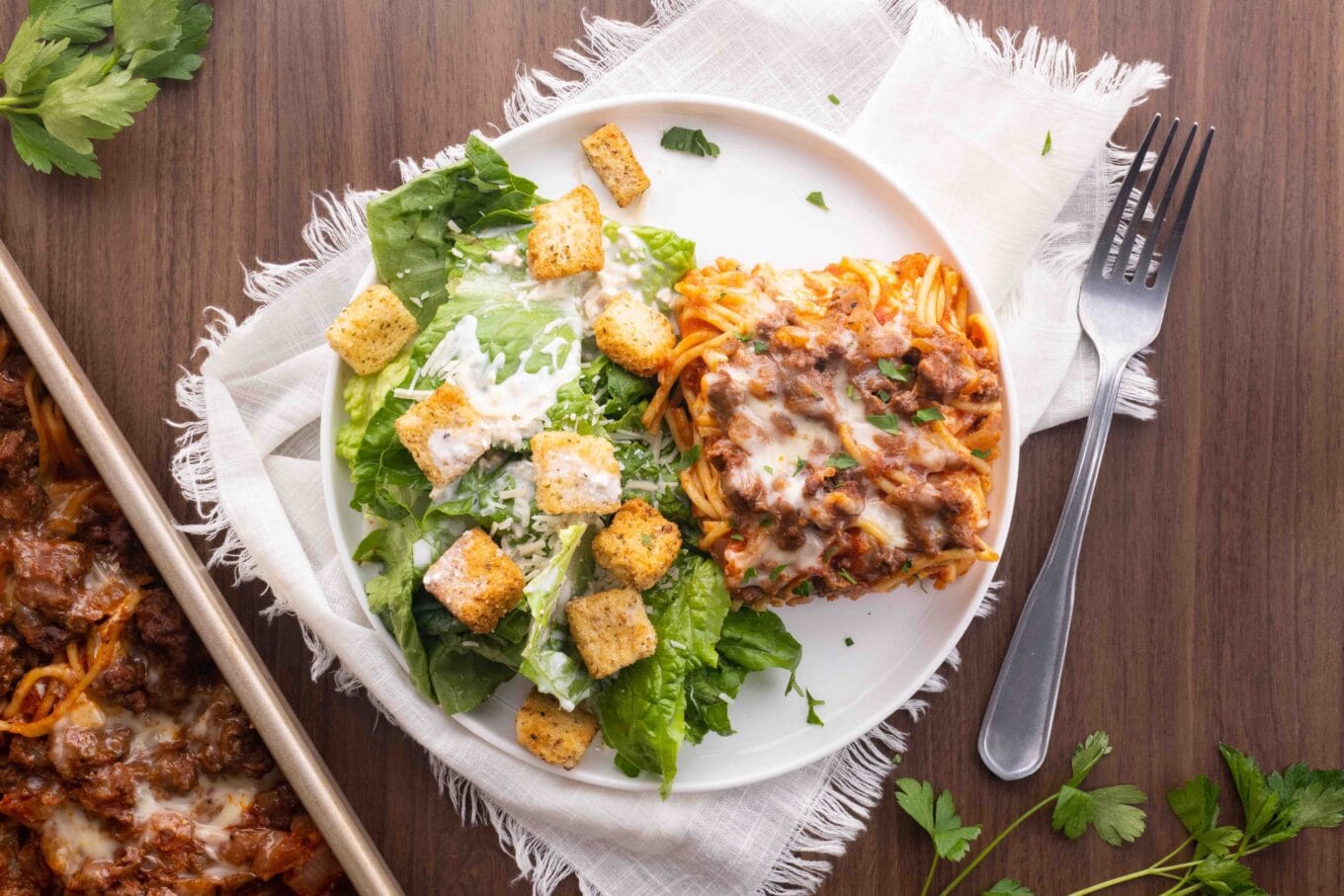 Baked Million Dollar Spaghetti is a hit with many families, and it isn't hard to see why. With melted cheese, cream cheese, meat, and Homemade Marinara Sauce, and perfect as a make-ahead meal you can freeze, this dish is a perfect meal in a pan and even better served with a nice side salad.
It may seem like there is a lot of meat and cheese going on in this 9×13 pan, but you can probably get 12 portions out of the meal, 9 if you've got a lot of hungry people to serve. The flavors are rich enough that a smaller portion is enough to satisfy.
You'll want to let the Baked Million Dollar Spaghetti cool for about 5-10 minutes when it comes out of the oven. It is easier to cut into perfect squares using this silicone spatula which has a great shape to it. The presentation is fun when cut neatly into squares, but even if you scoop it out with tongs or a spoon, it will taste delicious! Serve Baked Million Dollar Spaghetti with Garlic Bread and a copycat Olive Garden Salad for an easy and complete Italian meal your family will love.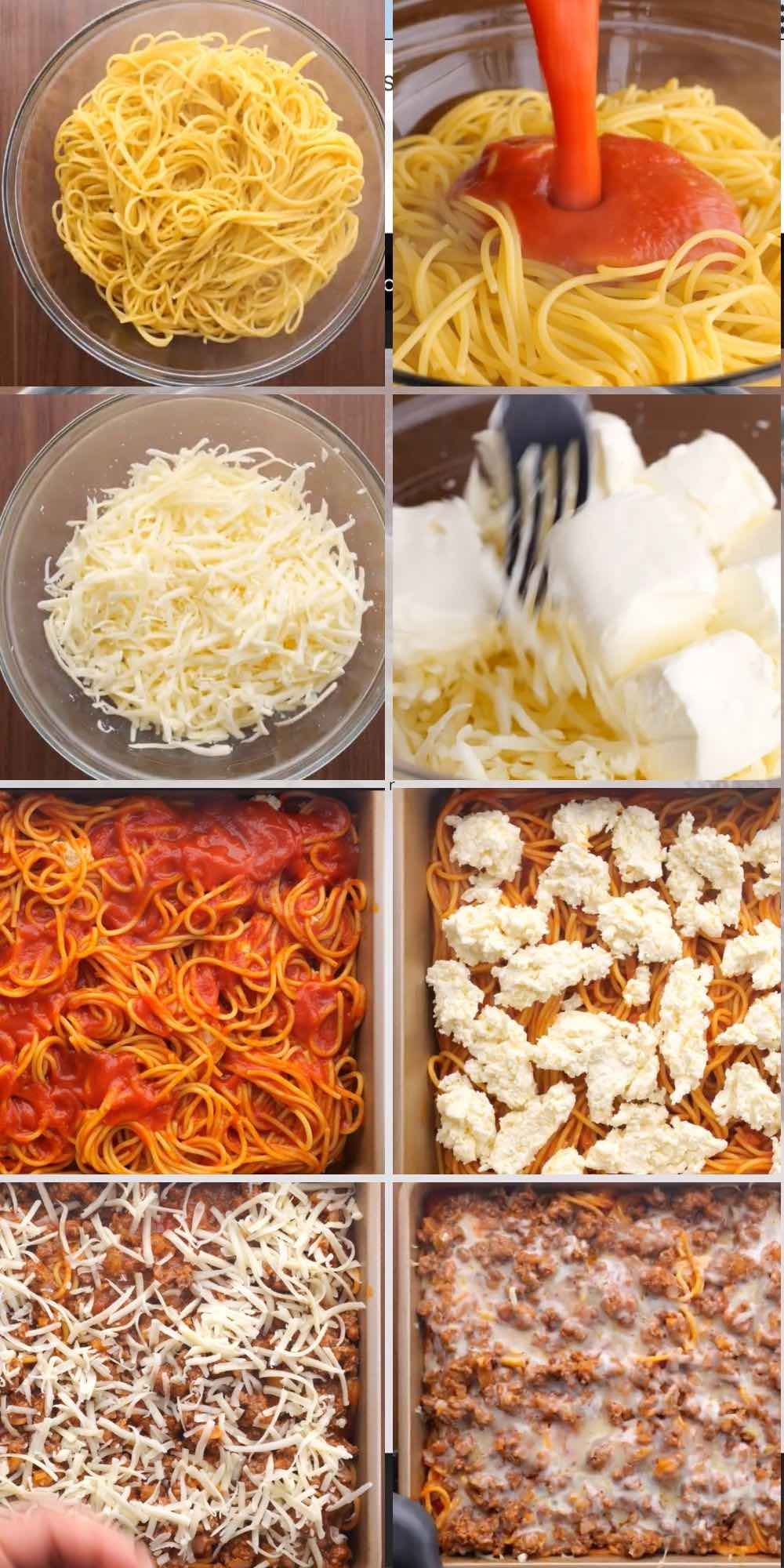 How to Make Baked Million Dollar Spaghetti
Whip up a delectable and satisfying Baked Million Dollar Spaghetti at home with this easy-to-follow recipe. This dish combines the comfort of pasta with the richness of cream cheese and mozzarella. Check it out!
Step One: Preheat your oven to 350 degrees and cook the spaghetti two minutes shy of the package directions. Drain and set aside.
Step Two: Brown the ground beef, onion, garlic, salt, and pepper in a large skillet. Drain the liquid, then mix in one cup of marinara sauce.
Step Three: Toss the cooked spaghetti with the remaining 5 cups of marinara sauce, then layer half of it in a 9×13 baking dish. Spread a mixture of softened cream cheese and 2 cups of shredded mozzarella cheese on top of the layers of noodles, followed by the remaining pasta/sauce mixture.
Step Four: Add the meat sauce on top and sprinkle with the remaining cup of mozzarella cheese. Cover and bake in the preheated oven for 30 minutes, then uncover and bake for an additional 10 minutes until the cheese is melted and bubbly. Enjoy!
Frequently Asked Questions
Can I substitute the ground beef in Million Dollar Spaghetti?
Try making this pasta bake with Italian sausage instead of ground beef, or lighten it up with ground Italian chicken or turkey sausage, or chunks of grilled chicken breast.
Can I make a white sauce version of Million Dollar Spaghetti?
Use chunks of cooked chicken with a creamy Alfredo sauce for a Chicken Alfredo Million Dollar Spaghetti (optional you can also toss in frozen peas). Or leave out the meat altogether and use spinach, lemon juice, and lemon zest with a creamy Alfredo sauce for a vegetarian take.
What veggies can I add to Million Dollar Spaghetti?
Add roasted vegetables like zucchini, eggplant, and red onion in addition to or in place of the meat.
Can I make Million Dollar Pizza Spaghetti?
Yes, it's so much fun! Instead of ground beef, use chopped pepperoni, chopped bell peppers, onions, and sliced olives for a combination pizza flavor.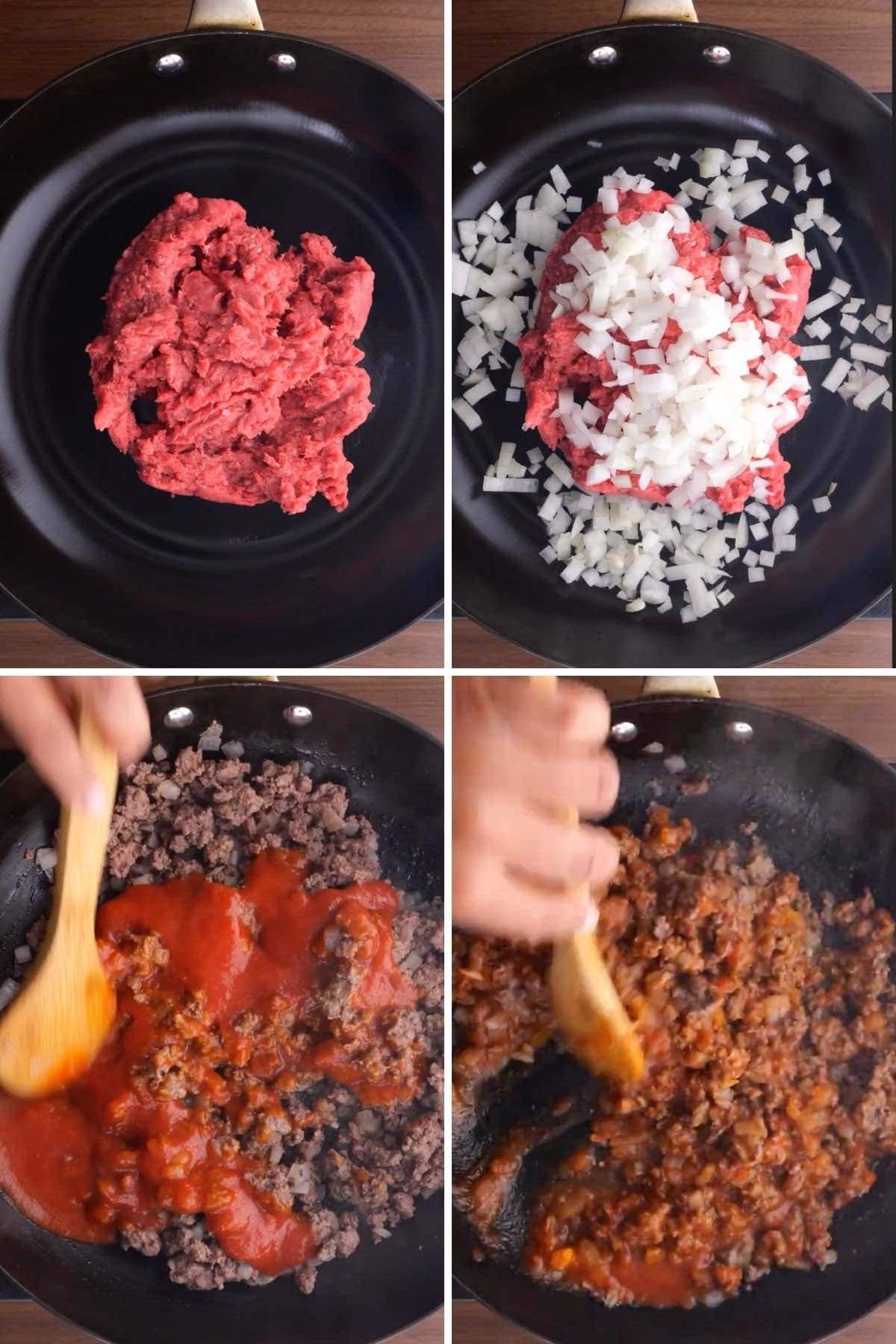 Create a free account to Save Recipes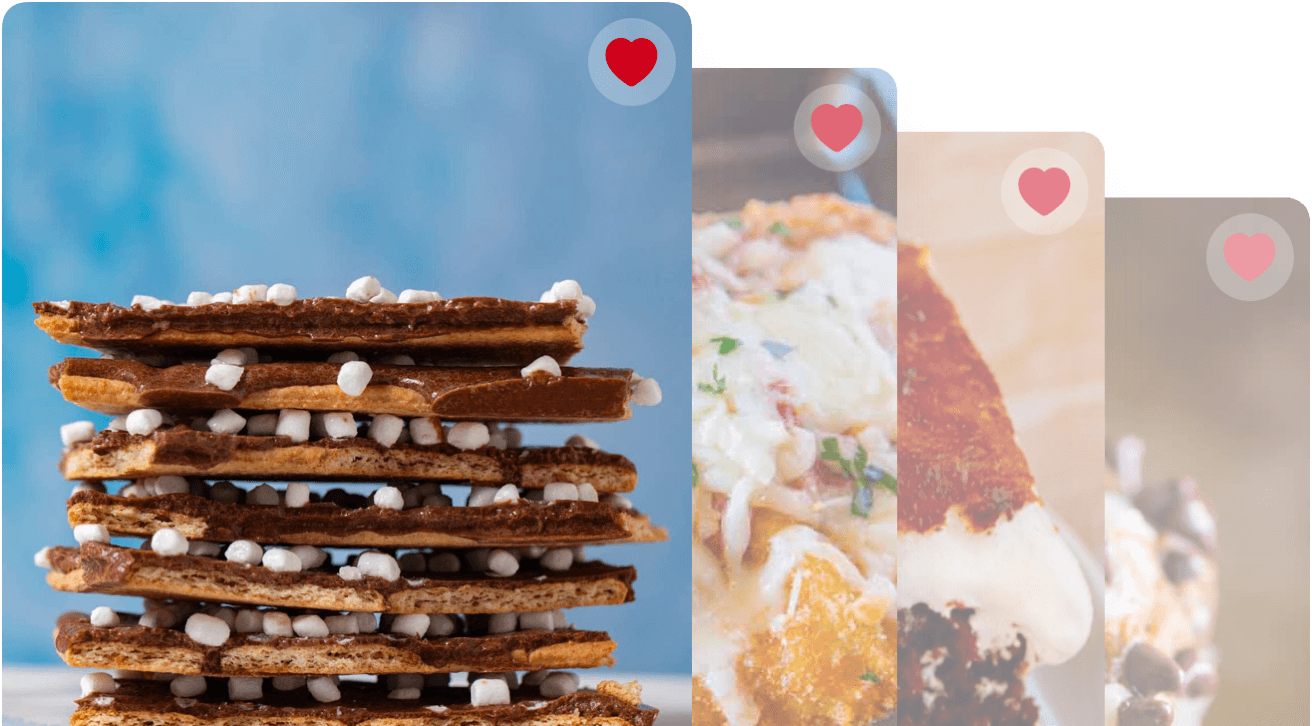 Key Ingredients in Baked Million Dollar Spaghetti
This Baked Million Dollar Spaghetti recipe brings together simple, easy-to-find ingredients for a mouthwatering meal. The combination of pasta, cheese, and sauce creates a comforting, crowd-pleasing dish. You can easily get all the ingredients from your closest grocery store.
Spaghetti: The base of this dish, spaghetti noodles provide the perfect texture and shape to hold onto the rich sauce and cheese.
Ground Beef: Adding a savory, hearty element, lean ground beef can be found in most grocery stores or substituted or combined with ground turkey or ground chicken for a different meat mixture option.
Marinara Sauce: Homemade Marinara Sauce adds a tangy, slightly sweet flavor that complements creamy cheeses and hearty beef. You can also just use a regular jar of spaghetti sauce in a pinch. 
Cream Cheese: The star ingredient, cream cheese adds a rich, velvety texture and tangy flavor to the dish, making it truly indulgent.
Mozzarella Cheese: This mild, melty cheese brings the dish together, creating a gooey, stretchy layer on top of the baked spaghetti.
Can Baked Million Dollar Spaghetti Be Made Ahead of Time?
Yes, Baked Million Dollar Spaghetti can be assembled ahead of time and refrigerated for up to 24 hours before baking. Simply follow the recipe up until the baking step, then cover and refrigerate. When you're ready to bake, add an additional 10-15 minutes of covered baking time to ensure the dish is heated through.
You can even make this Baked Million Dollar Spaghetti in a double quantity so you have one tray to serve and one to freeze. For making ahead the only difference in the directions would be to follow all the steps until it says to put it in the oven. At that point, top with foil and freeze.
To serve, remove it from the freezer the day before you plan on serving so it can defrost in the fridge. If you don't remember to remove it, you can expect your cook time to be about an hour long at least.
Substitutions in Baked Million Dollar Spaghetti
Ground Beef Substitution: You can replace the ground beef with ground turkey or chicken for a leaner option. 
Cream Cheese Substitution: For a lighter version, try using Neufchâtel cheese, which has a similar texture and flavor but fewer calories and fat.
Mozzarella Cheese Substitution: Feel free to swap the mozzarella cheese with another melty cheese like fontina or provolone for a different flavor profile.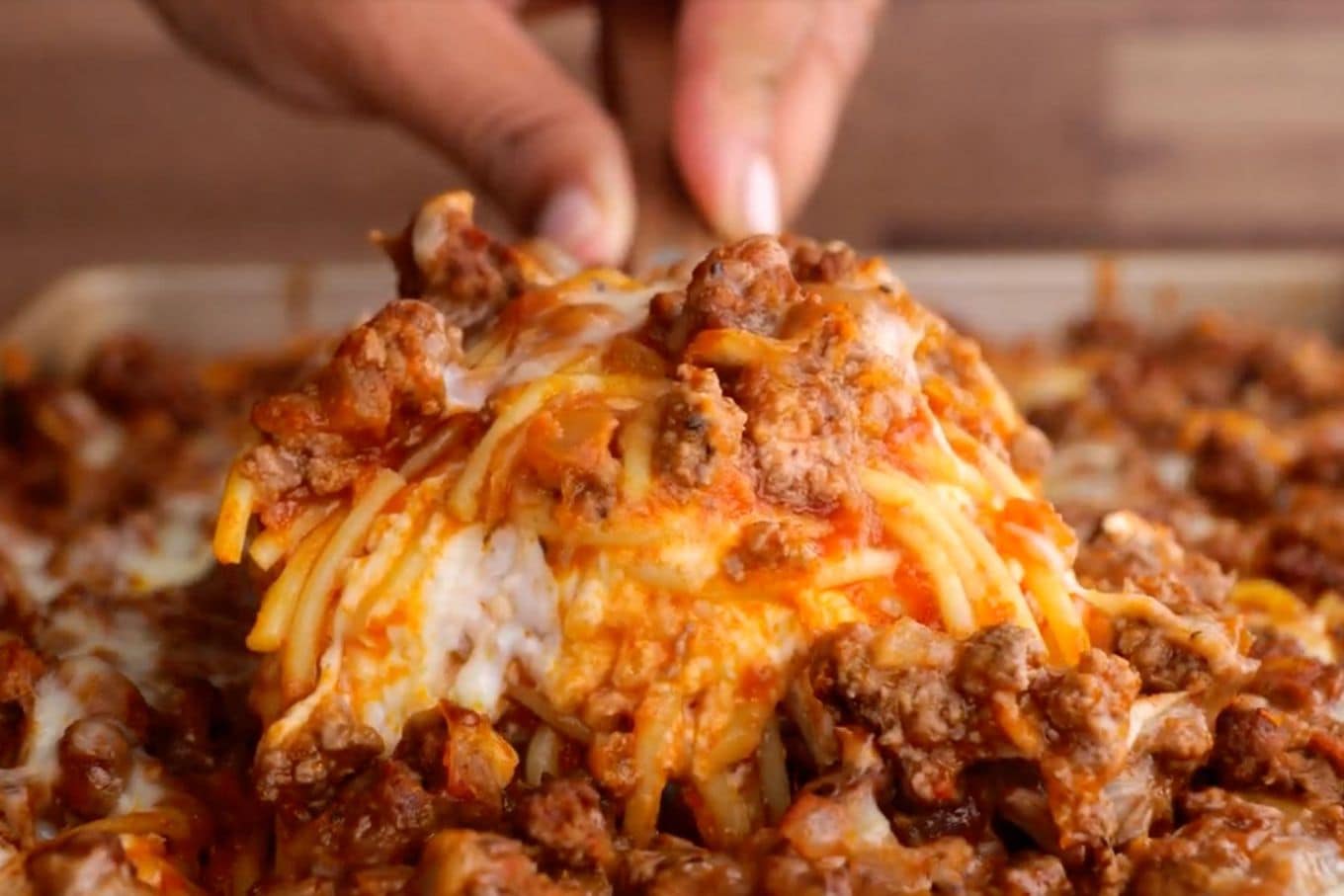 Variations on Baked Million Dollar Spaghetti
This recipe is highly customizable, allowing you to add your favorite ingredients or cater to dietary preferences. Try adding sautéed mushrooms, spinach, or bell peppers for a veggie boost. You can also experiment with different types of pasta like penne, rigatoni, or even gluten-free pasta to suit your preferences.
Veggie-Packed Baked Million Dollar Spaghetti: Add your favorite vegetables, such as sautéed mushrooms, spinach, or bell peppers, for a more colorful and nutritious meal. Sprinkle a bit of parmesan cheese on top for extra flavor! 
Chicken Baked Million Dollar Spaghetti: Swap the ground beef with shredded rotisserie chicken or cooked, diced chicken breast for a lighter, poultry-based version.
Gluten-Free Baked Million Dollar Spaghetti: Use gluten-free spaghetti or another gluten-free pasta variety to make this dish suitable for those with gluten sensitivities.
Spicy Baked Million Dollar Spaghetti: Add some heat to the dish with crushed red pepper flakes or diced jalapeños for a spicy kick.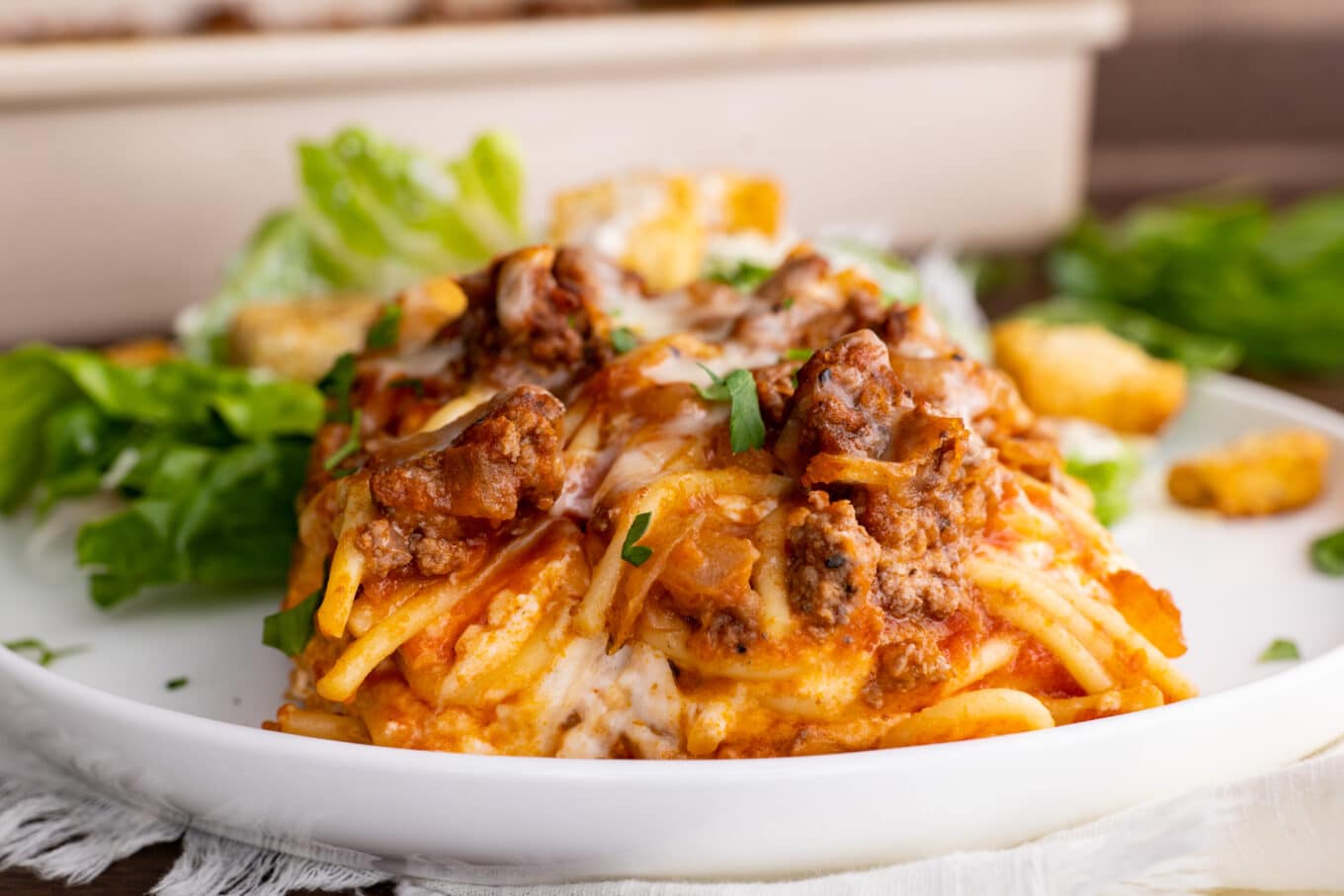 How to Store Baked Million Dollar Spaghetti
Serve: Do not leave this recipe, which contains meat and dairy, at room temperature for longer than 2 hours.
Store: Cover with foil or plastic wrap and store Million Dollar Spaghetti in the refrigerator for up to 4 days. Reheat individual slices in the microwave for 1-3 minutes.
Freeze: To freeze Million Dollar Spaghetti, follow the instructions above for freezer storage prior to baking, and keep frozen for up to 3 months. You can also freeze leftover Baked Million Dollar Spaghetti, just allow it to thaw before reheating it in the microwave or oven.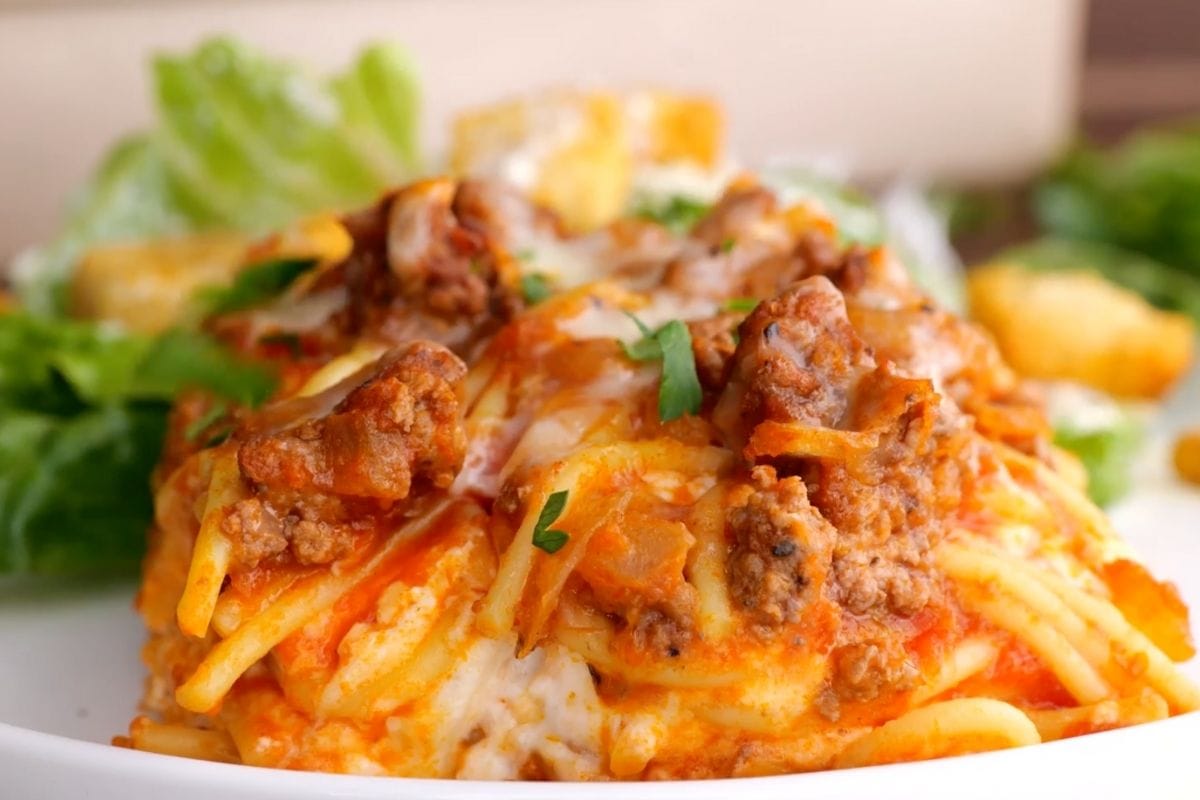 Ingredients
1

pound

spaghetti

, cooked two minutes shy of directions and drained

1

pound

ground beef

1

medium onion

, chopped

2

cloves

garlic

, minced

1/2

teaspoon

kosher salt

1/2

teaspoon

coarse ground black pepper

8

ounces

cream cheese

, softened

3

cups

shredded mozzarella cheese

parsley

, chopped (optional as a garnish)
Instructions
Preheat the oven to 350 degrees.

In a large skillet add the beef, onions, garlic, salt and pepper into the pan and cook on high.

Once browned, turn off the heat, drain the liquid left in the pan and mix in one cup of the marinara sauce.

Add the cooked spaghetti to the remaining 5 cups of the marinara sauce and toss to combine.

Mix the cream cheese and 2 cups of mozzarella cheese in a bowl.

Add half the pasta/sauce to the bottom of a 9 x 13 pan.

Add the cream cheese mixture and top with the remaining pasta/sauce mixture.

Add the meat sauce mixture on top of the pasta and top with remaining cup of mozzarella cheese.

Cover and bake for

30 minutes

.

Uncover and bake for an additional

10 minutes

until cheese is melted and bubbly
Nutrition
Calories:
513
kcal
|
Carbohydrates:
39
g
|
Protein:
24
g
|
Fat:
27
g
|
Saturated Fat:
13
g
|
Cholesterol:
92
mg
|
Sodium:
351
mg
|
Potassium:
311
mg
|
Fiber:
1
g
|
Sugar:
2
g
|
Vitamin A:
590
IU
|
Calcium:
233
mg
|
Iron:
1.9
mg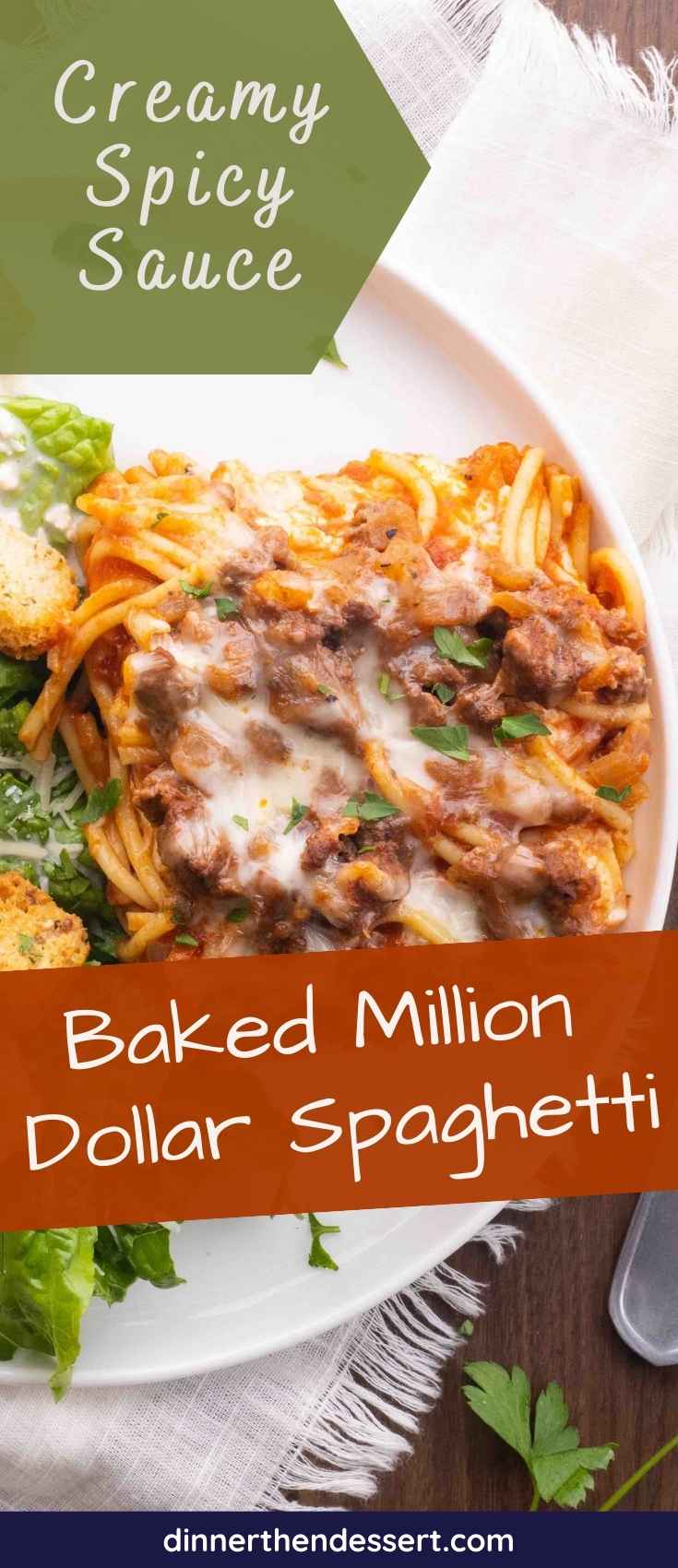 Photos used in a previous version of this post: