Chocolate Cheesecake made in a rich and creamy New York style with sour cream and an Oreo Crust, plus water bath instructions to prevent cracking.
If you enjoyed our New York Cheesecake, our holiday flavored Gingerbread Cheesecake, or our Autumn Pumpkin Cheesecake, here's tasty cake with a rich chocolate flavor to add to your list of favorites.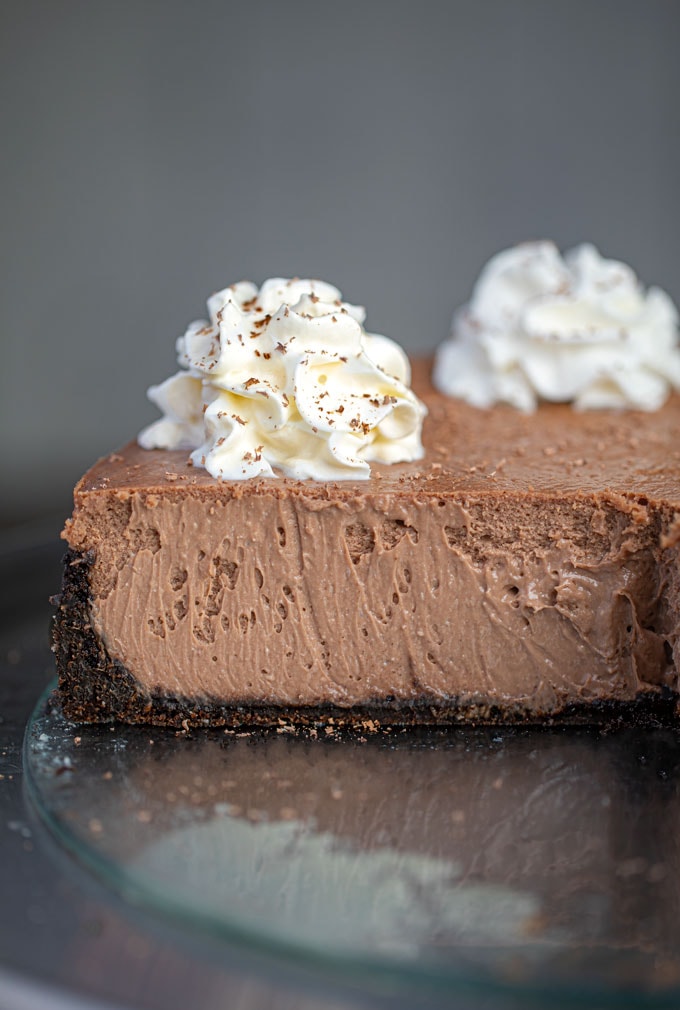 CHOCOLATE CHEESECAKE
We love Cheesecake around here, and not just the original NY variety that you all may keep seeing me post on Instastories (I make my NY Cheesecake with Strawberry topping a-lot!). We also love making chocolate-y version like my Chocolate Chip Cheesecake which, like this recipe, all have a NY-Style Cheesecake base recipe to them.
Serve this recipe with some Homemade Vanilla Ice Cream and you'll have a happy group of eaters guaranteed!
What makes it NY Style? Well a New York Style cheesecake is richer than a standard cheesecake, it has more cream cheese, added sour cream, and a bit of flour to help create a firmer texture. The sour cream adds a bit of tang to the flavor too. All the cheesecakes on Dinner, then Dessert have a NY base because it is the richest, creamiest, most indulgent style cheesecake.
If you've ever been on a cruise (tangent warning) and ordered cheesecake from the main dining room only to find it resembles jello? This is the opposite of that cheesecake. They cut down on the amount of cream cheese for cost, we are going full steam ahead with our ingredients to create the best texture and flavors possible.
Cheesecake has been a beloved dessert for centuries. According to Wikipedia, cheesecake may be as old as the ancient Greeks, since a whole book about them was written in the 5th century BCE, and they may even have been served to athletes at the original Olympics (the traditional American version comes from a lot later.) There's a very good reason that it's been around this long: cheesecake is absolutely delicious.
HOW TO MAKE CHOCOLATE CHEESECAKE
Start out by preheating your oven and melting your unsalted butter.
Grab some Oreo cookies and crush them up into fine crumbs with a food processor.
Combine the cookie crumbs with the melted butter in a large bowl and then press the mixture into a springform cake pan.
Pour chocolate chips into a small bowl and microwave until fully melted.
Pour your cream cheese and sugar into a stand mixer and beat them together until they are creamy.
Stir in the eggs and then gradually add the chocolate that you just microwaved at a low speed.
Add in the sour cream, flour, and vanilla and stir it until it has been blended smoothly.
Take your chilled crust from the fridge and pour the cheesecake filling into it.
Now, for the technical part. Put aluminum foil around the bottom of the cake pan and make a water bath for it.
Put the whole thing, water bath and all, into the oven and bake it for 55 to 60 minutes, until the filling is firm but still has a little wiggle to it.
Soften your cream cheese, please
Please note, one of the most important things about making cheesecake is to let your cream cheese soften. If you use cold cream cheese you'll end up with little chunks in your batter that will drive you nuts and you won't be able to fix it. Your cheesecake will not be creamy.
Please give the cream cheese time to soften or place the unwrapped cream cheese in a glass bowl covered with a wet paper towel in a half powered microwave for 30 second increments until room temperature.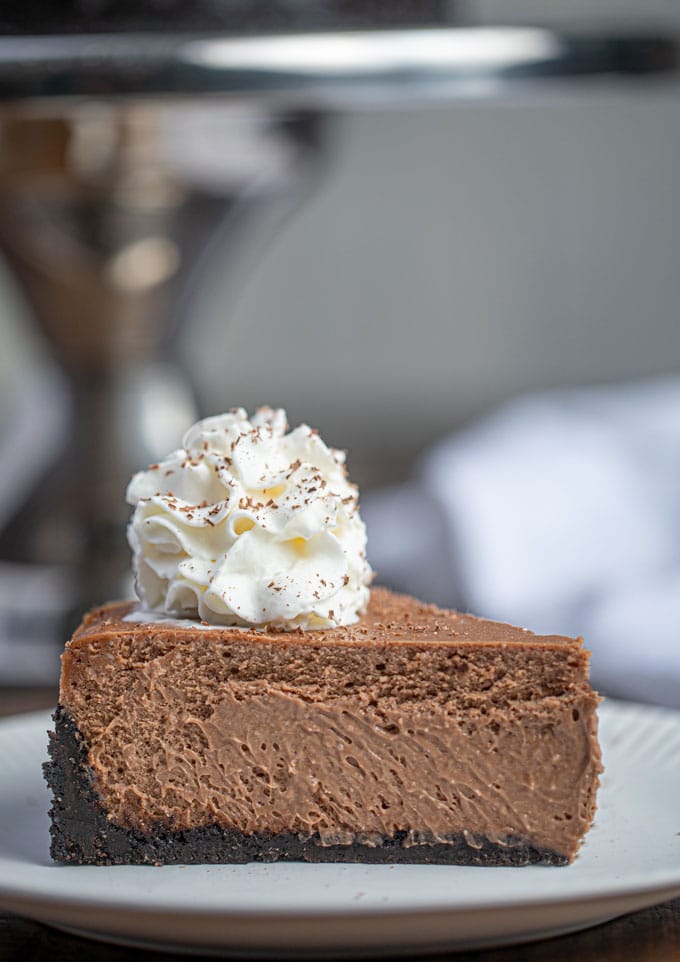 Create a free account to Save Recipes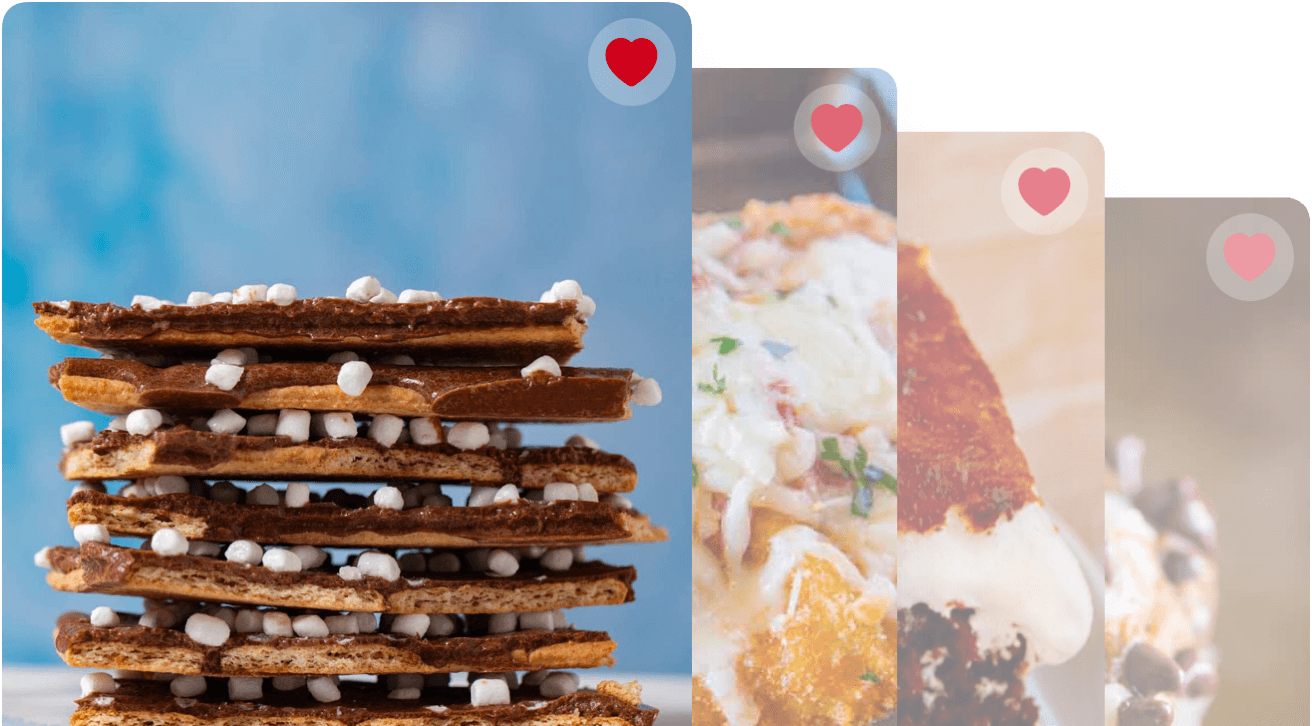 HOW TO MAKE A WATER BATH
A water bath is essential if you want your cheesecake to come out moist and without cracks. The water bath makes a barrier around the outside of the cake pan and keeps the temperature even because the water will not get hotter than 212 degrees F (100 degrees C). This makes the cheesecake bake slowly and keeps it from curdling. Don't be tempted to take shortcuts and skip the water bath, or your cake may not turn out.
Take your cake pan and wrap the bottom in aluminum foil.
In a much larger pan (a deep baking sheet works really well), set the foil-wrapped cake pan in the center and pour water into the surrounding pan. You don't need to fill it up very high, just enough to insulate the bottom of the cake.
Be careful when you pull your cheesecake out of the oven. Even after you've given it time to cool, your cheesecake is still sitting in a moat of hot water.
VARIATIONS ON CHOCOLATE CHEESECAKE
Chocolate Ganache: if you're a chocolate lover, you can use this ganache to make your cheesecake instead of melting chocolate chips. You can also do the same with chocolate mousse or even peanut butter.
Graham cracker crust: for those who aren't a fan of a chocolatey Oreo crust, you can use the same technique to make a graham cracker version instead.
If you liked this recipe, Chocolate Hazelnut Cheesecake, Oreo Cheesecake and Cinnamon Sopapilla Cheesecake are just a few other cakes you can try out next time.
WHY DOES CHEESECAKE CRACK?
The biggest reason cheesecake cracks is because it wasn't baked in a water bath, but there are a few other reasons.
Too dry: cheesecake can dry out for a lot of reasons, but the humidity (or lack of humidity) where you live can effect it, and so can the temperature of your oven.
Bubbles: if you mix your cheesecake too much, air gets into it. Air makes cheesecake rise and then collapse when the bubbles inside burst.
HOW DO YOU TELL IF CHOCOLATE CHEESECAKE IS DONE?
Check to see if the internal temperature is 150 degrees F (66 degrees C) with a probe thermometer. Some singeing on the sides can happen, but if it is dry and tough it's no good.
WHEN IS CHOCOLATE CHEESECAKE GOOD?
Serve: cheesecake can sit covered at room temperature for 3 hours. After that, you shouldn't risk it.
Store: your cake is good for 5 days in the fridge as long as it's wrapped in plastic wrap.
Freeze: in an airtight container, cheesecake is good for about 2 months.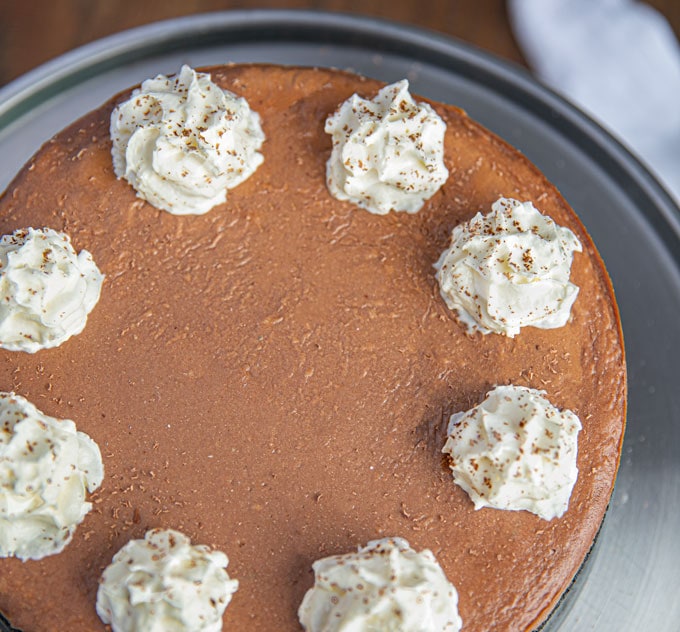 Ingredients
24

Oreo Cookies

, crushed to fine crumbs

6

tablespoons

unsalted butter

, melted

1

cup

semisweet chocolate chips

24

ounces

cream cheese

, softened (very important)

1

cup

sugar

3

tablespoons

flour

3

large

eggs

1/2

cup

sour cream

2

teaspoons

vanilla extract
Instructions
Mix the Oreo cookies and butter in a medium bowl then press the crumb mixture into a 9" springform pan up the sides 1" high and refrigerate for 20 minutes.

Melt chocolate chips in microwave in

30 second

increments (total of 90 seconds), stirring each time in between until completely smooth.

In your stand mixer add the cream cheese, sugar and flour until completely smooth (this is why we need softened cream cheese, if it is too cold you'll have small chunks of cream cheese here).

Add in the eggs one at a time until each one is fully mixed in, then with the mixer going on low speed pour in the melted chocolate.

Add in the sour cream and vanilla until smooth, then pour the mixture carefully into the chilled springform pan.

Set the bottom of the cheesecake in foil (read water bath directions above) and place in water bath, then place in oven.

Bake in a preheated oven at 350 degrees F (175 degrees C) for

55 - 60

minutes.

Open the door to the oven about 4-5 inches and let cool for 2 hours in the partially opened oven before removing and refrigerating for 4-6 hours before serving.
Nutrition
Calories:
435
kcal
|
Carbohydrates:
48
g
|
Protein:
13
g
|
Fat:
22
g
|
Saturated Fat:
11
g
|
Cholesterol:
74
mg
|
Sodium:
590
mg
|
Potassium:
336
mg
|
Fiber:
2
g
|
Sugar:
36
g
|
Vitamin A:
391
IU
|
Vitamin C:
1
mg
|
Calcium:
242
mg
|
Iron:
3
mg