Classic Pot Roast is comfort food at it's best, made with slow roasted potatoes and carrots in the oven – ready in 3 hours!
If you love Classic Pot Roast, you won't be disappointed with our other easy Dinner Recipes like Classic Beef Stew, the sumptuous Slow Cooker Beef Chili, and the delicious Ultimate Sloppy Joes.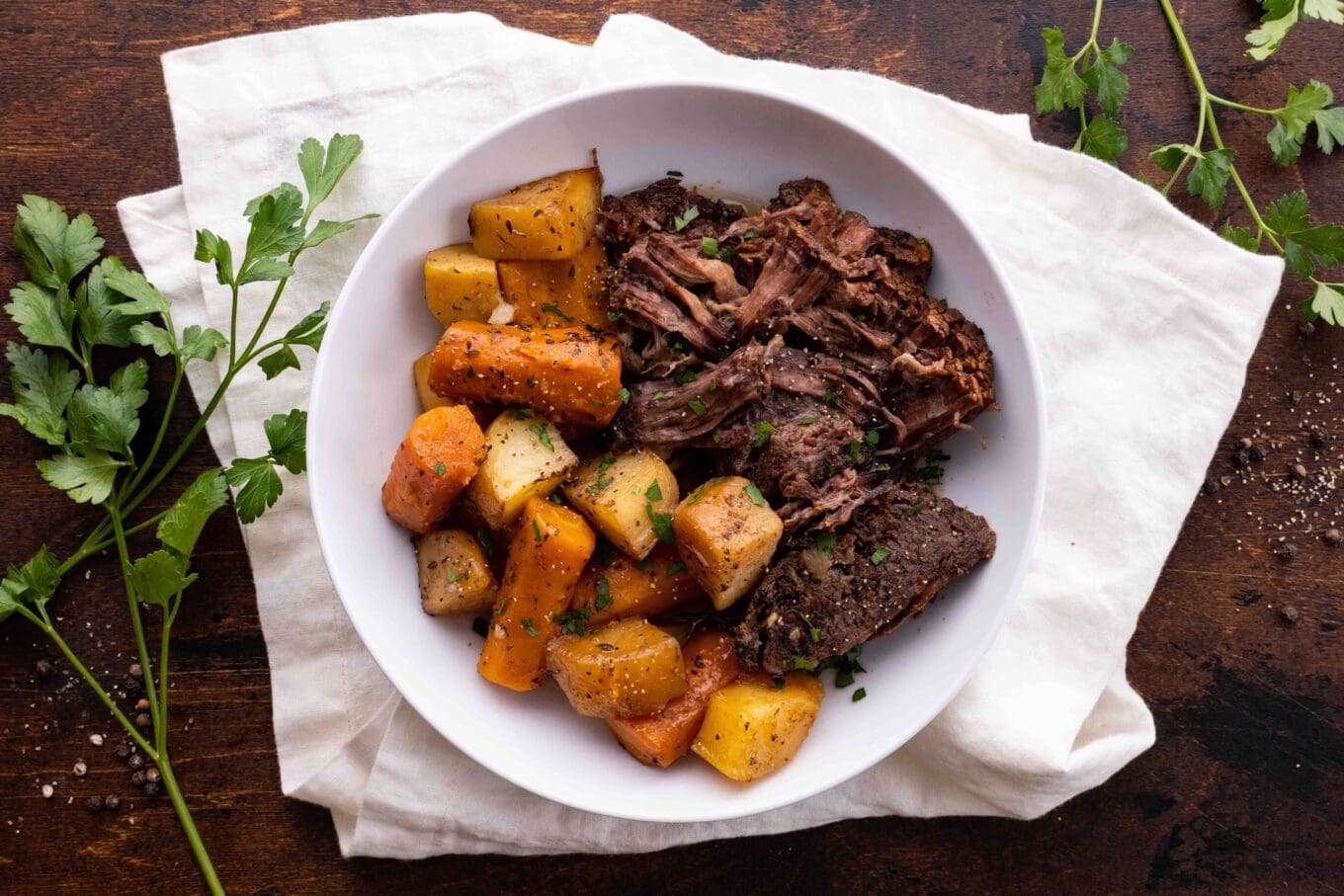 One of the most popular recipes around here is the Ultimate Slow Cooker Pot Roast and for good reason. It is an amazingly easy recipe that thousands of readers have enjoyed for dinner. There has been a lot of requests asking asking for the recipe to be rewritten for the oven and for the instant pot. So that's what we have done here! 
As far as beef recipes go, this one is perfect if you have a busy day ahead of you and a lot to get done. The time involved in preparing the Classic Pot Roast recipe is minimal. You have to only sear your beef and assemble the ingredients before the oven does the rest of the work.
The upside? You will have plenty of leftovers for future meals, and pot roast is delicious in everything from tacos to soup. Cooking your vegetables with the roast lets them soak up the flavor of the meat, and gives you a side dish that you don't have to spend any more time or effort preparing.
We like to use Yukon Gold potatoes, but you can also use red potatoes in a pinch. On that note, you can use either baby carrots or large carrots as well, but large carrots are preferred because we like to cut the vegetables to similar sizes.
How to Make Classic Pot Roast
Step One: Start by seasoning the meat with salt, pepper and thyme. For this recipe, we used fresh thyme because of much additional flavor it adds, but if you only have dried thyme it would of course work just fine. If using fresh thyme, remember to either strip the sprigs or to remove the sprigs when you have finished cooking.
Step Two: In a large dutch oven, heat up your vegetable oil. Once it's hot, sauté the roast in it until it is deeply browned on both sides. Searing your pot roast before slow cooking helps to add more texture to your meal, adding a crispy edge to the meat. Since we are braising this roast, we look for texture anywhere we can get it.
Step Three: Peel and cut up your potatoes, carrots and garlic cloves and put them into your dutch oven or large pot around the sides of the roast, but make sure to leave room for the roast itself.
Step Four: Pour in the beef broth, put on the lid, and set it to cook on medium-high heat with a cooking time of three hours. You'll have a delicious dinner waiting for you, and the whole house will smell wonderful.
More Excellent Roast Recipes
Frequently Asked Questions
What cut is Pot Roast? 
Pot Roast isn't just one kind of meat. Traditionally, people use tougher cuts because of how fork tender braising makes it. What makes the best Pot Roast is a matter of taste, but we prefer to use a boneless chuck roast. 

Beef chuck: this is the shoulder, and it makes for a good roast because of how hearty and flavorful it is. 

Brisket: this is a notoriously tough cut of meat, and slow cooking it breaks it down in it, releasing its natural flavor and making it fall-apart tender. 

Round: round is slightly softer than the other cuts we've mentioned, and it's very lean. You have to be a little careful with round roasts, because they can easily dry out. 

Rump roast: juicy and flavorful, rump roasts can be used with dry rubs or marinated before slow cooking. 
Where did Pot Roast come from?
Pot roast as we know it is actually a take on an old French dish called bœuf à la mode, which is beef marinated in red wine and browned before slow-roasting. Pot roast served with veggies, also called "Yankee pot roast," is the version of this dish that most Americans are familiar with.
How can I make the gravy thicker?
If you'd like the pot roast gravy to be a little thicker, remove roast and vegetables, mix 1 tablespoon cornstarch or all purpose flour with 2 tablespoons of water and whisk it into the liquid in the pot. Bring to a boil on your stovetop and whisk until it starts to thicken to a gravy consistency. Spoon off the excess fat before creating a gravy if you prefer.
To shred, or not to shred?
There is debate over how to serve pot roast, do you shred the meat before serving or do you serve it in chunks and allow people to eat it like short ribs because the meat is fork tender. We serve it in chunks, but it you'd prefer to shred your meat, you take two fork and simply pull the beef apart into pieces as you would Pulled Pork or Pulled Chicken recipes.
What should the internal temperature be at when cooked?
To be cooked through and ready to eat, your roast should have an internal temperature of 145 degrees F (62.8 degrees C). Make sure to test your roast at the thickest part with a probe thermometer before you eat it just to be sure.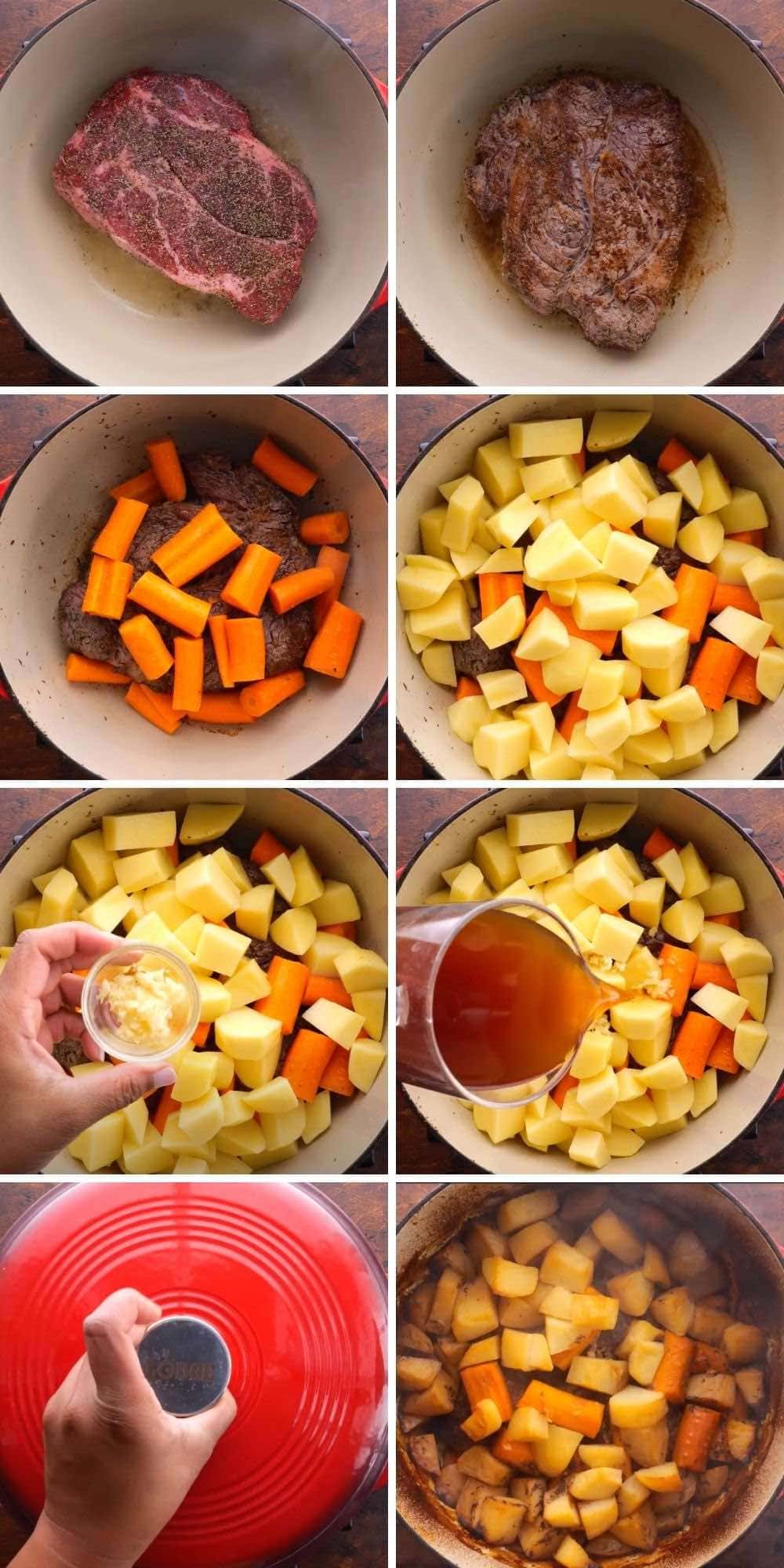 Create a free account to Save Recipes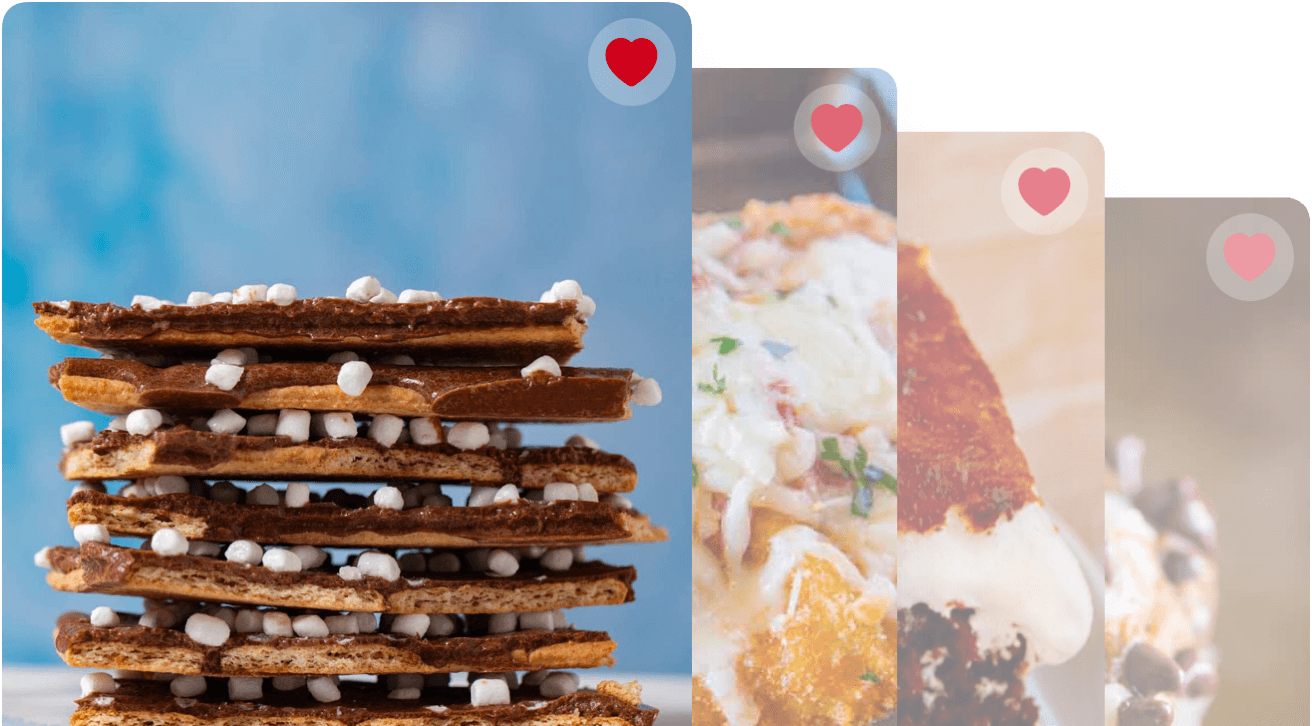 Key Ingredients in Classic Pot Roast
Meat: We are using a 5 lb boneless beef chuck roast here. But you can use whatever is available. See the FAQ section above for more info on cuts of meat. 
Seasoning: If you can find sprigs fresh rosemary, that will really add some depth of flavor to your meal. But dried rosemary is great too! 
Vegetables: Keep it simple with potatoes and carrots. Any potato will do, however we highly recommend the Yukon gold since they pair really well and are buttery soft once cooked. Russet potatoes and red potatoes are great! Onions are not included here, but you could add a chopped yellow onion for a greater depth of flavor.
Variations on Making Classic Pot Roast
Slow Cooker (Crock Pot): Start by seasoning the chuck roast with salt, pepper and thyme. Peel and cut up your potatoes, carrots and garlic cloves and put them into your slow cooker. In a cast-iron skillet, heat up your vegetable oil. Once it's hot, sauté the roast in it until it is deeply brown on both sides, and then put it into the slow cooker. Pour in the beef broth, put on the lid, and set it to cook on low heat for eight hours. Please refer to Slow Cooker Pot Roast for full instructions.
Pressure Cooker (Instant Pot): Start by prepping the chuck roast. Season with salt, pepper and thyme. Peel and cut up your potatoes, carrots and garlic cloves and put them into your slow cooker. Set your pressure cooker to sauté and heat up your vegetable oil. Once it's hot, sauté the roast in it until it is deeply brown on both sides, and then add in your vegetables Pour in the beef broth, put on the lid, and set it to cook on high pressure for 60-80 minutes (60 for 3 pound roast, 80 for 5 pound roast). Release pressure naturally for ten minutes then remove lid and serve.
What to serve with Pot Roast
Pot roast is an easy recipe, but it is flavorful and rich so finding other dishes to compliment it can be a little tricky. Here are some salads, sides and desserts that go nicely with this slow cooker pot roast.
Salad: For a garden-fresh side salad, you can choose between an Easy Fruit Salad, a robust Greek Salad, or the juicy Cucumber Tomato Salad.
Side: There's a bunch of things you can do as a side, but for this meal we highly recommend your own homemade Baked Mac and Cheese, and/or the delicious Roasted Green Beans, and/or the winter favorite Roasted Turnips and Parsnips.
Dessert: A big meal like this should be finished off with something flavorful, but not heavy, like Yellow Cake, fancy Red Velvet Cake, or Easy Chocolate Cake with Vanilla Ice Cream. The choice is up to you!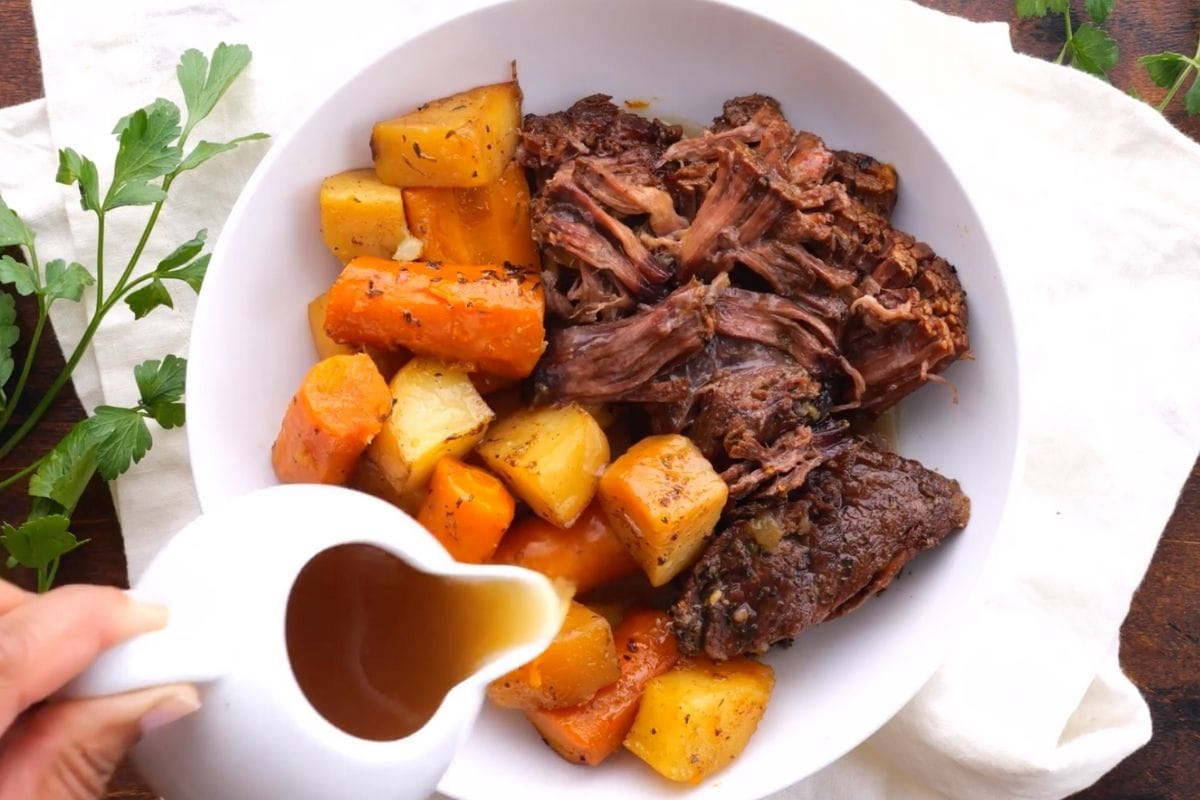 How to Store Pot Roast
Serve: You shouldn't leave your beef roast at room temperature for more than 2 hours. 
Store: If you seal leftover Pot Roast in a freezer bag or other airtight container, your roast will stay good for up to 3 days in the fridge.
Freeze: Roasts are great for freezing when they're uncooked and can last from 6 to 12 months. If you've already cooked it, you can freeze your pot roast for 2-3 months.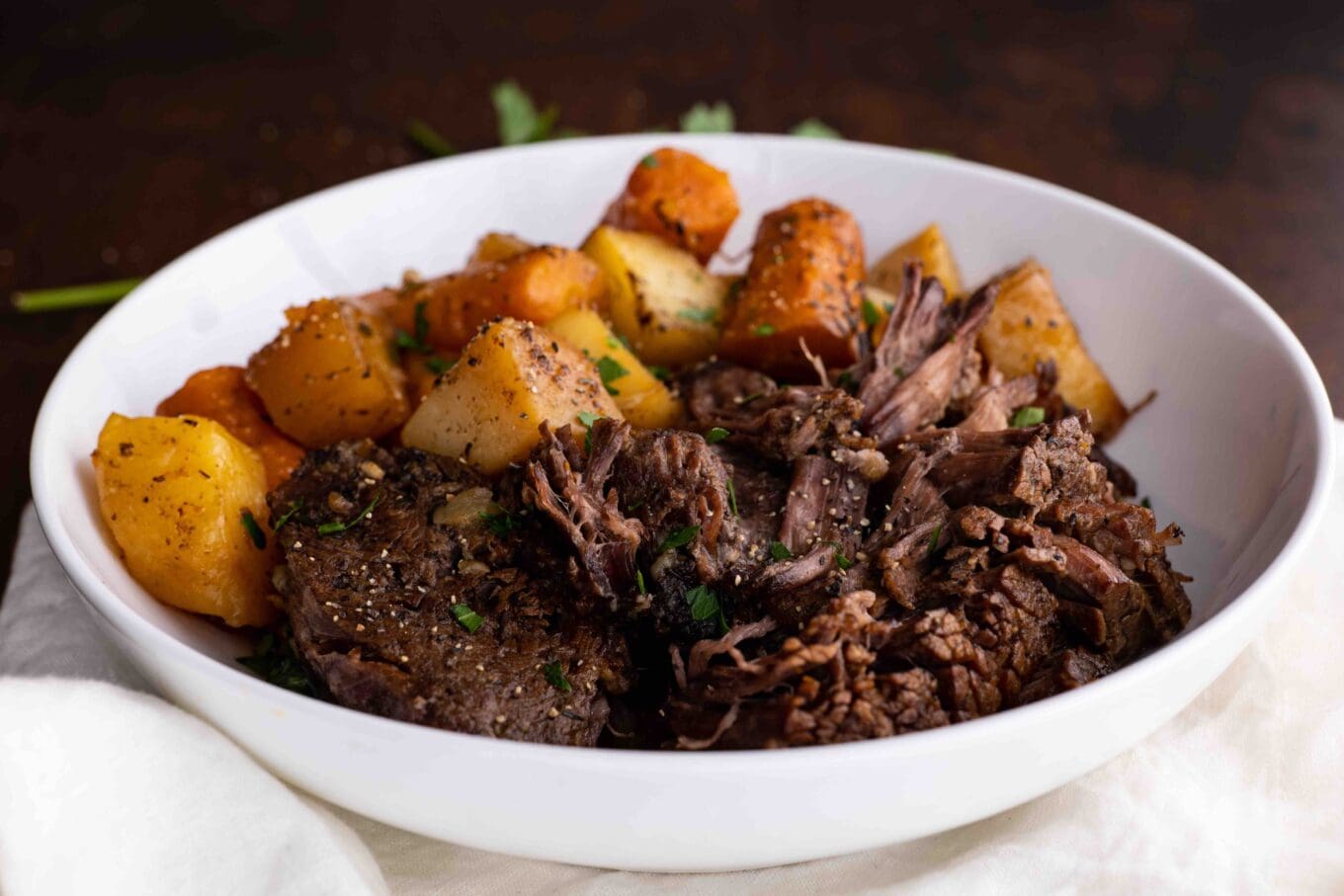 Ingredients
4-5

pound

chuck roast

2

tablespoons

vegetable oil

2

teaspoons

kosher salt

1

teaspoon

coarse ground black pepper

1

teaspoon

dried thyme

1

pound

carrots

, peeled and cut into 2 inch chunks (about 5 medium carrots)

2

pounds

Yukon gold potatoes

, peeled and cut into large chunks (8-10 Yukon gold potatoes)

2

cloves

garlic

, minced

2

cups 

beef broth
Instructions
Preheat your oven to 325 degrees.

Season the chuck roast with the kosher salt, pepper, and thyme.

Add the vegetable oil to a pan and heat. When it ripples and is hot, add in the roast and brown deeply for

4-5 minutes

on each side (or if you can, brown in your slow cooker).

Add carrots, potatoes, garlic, and beef broth and cook for

3 – 3 ½ hours

.
Nutrition
Calories:
444
kcal
|
Carbohydrates:
21
g
|
Protein:
38
g
|
Fat:
24
g
|
Saturated Fat:
10
g
|
Polyunsaturated Fat:
3
g
|
Monounsaturated Fat:
11
g
|
Trans Fat:
1
g
|
Cholesterol:
125
mg
|
Sodium:
825
mg
|
Potassium:
1161
mg
|
Fiber:
3
g
|
Sugar:
3
g
|
Vitamin A:
7608
IU
|
Vitamin C:
21
mg
|
Calcium:
64
mg
|
Iron:
5
mg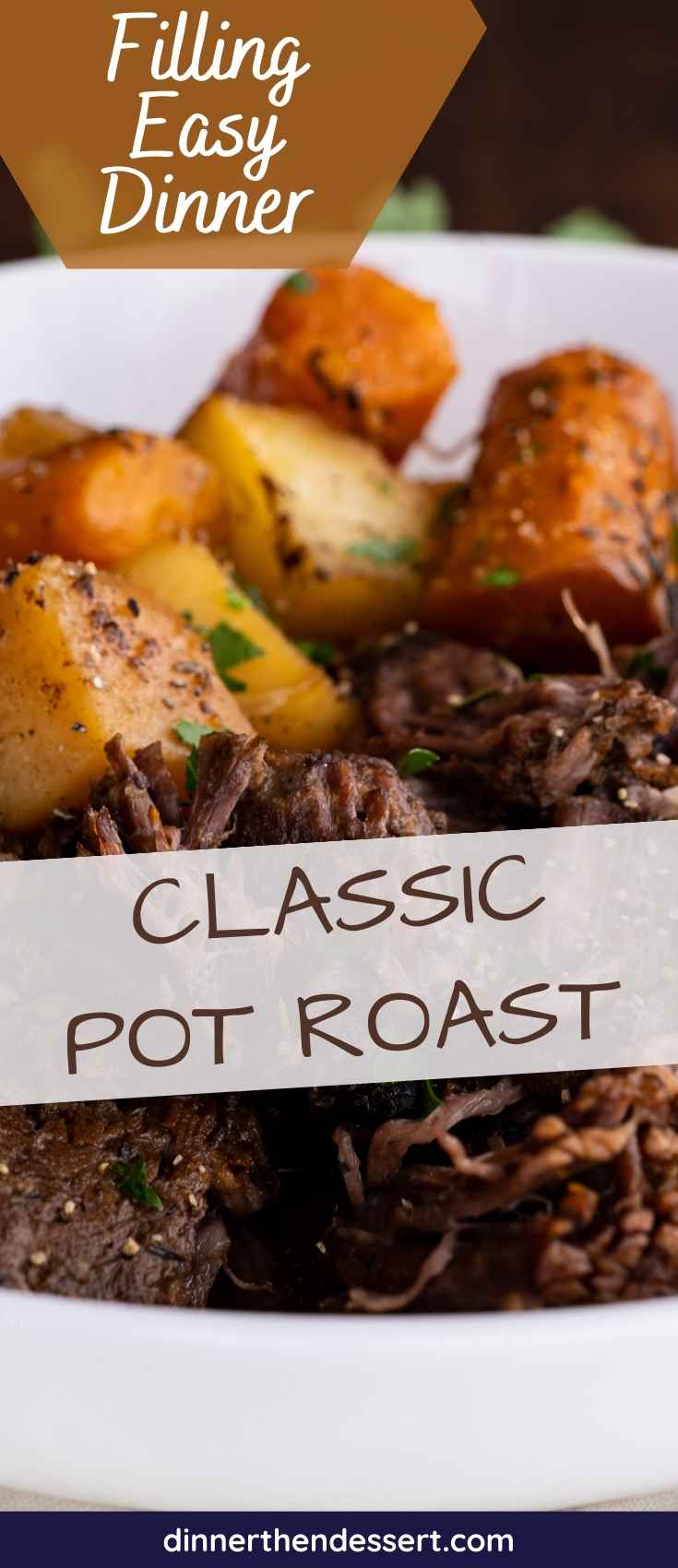 Photos used in a previous version of this post: