Cobb Salad is the perfect refreshing lunch with crunchy lettuce, creamy avocados, and it has plenty of protein with chicken breast, bacon, and boiled eggs.
With the chicken, bacon, eggs, and avocado this is a filling enough dish to make a meal all by itself. You could also serve it as a Side Dish at your next summer cookout. The veggies make it a refreshing contrast with Pulled Pork, Grilled Pork Chops, or other favorite BBQ dishes.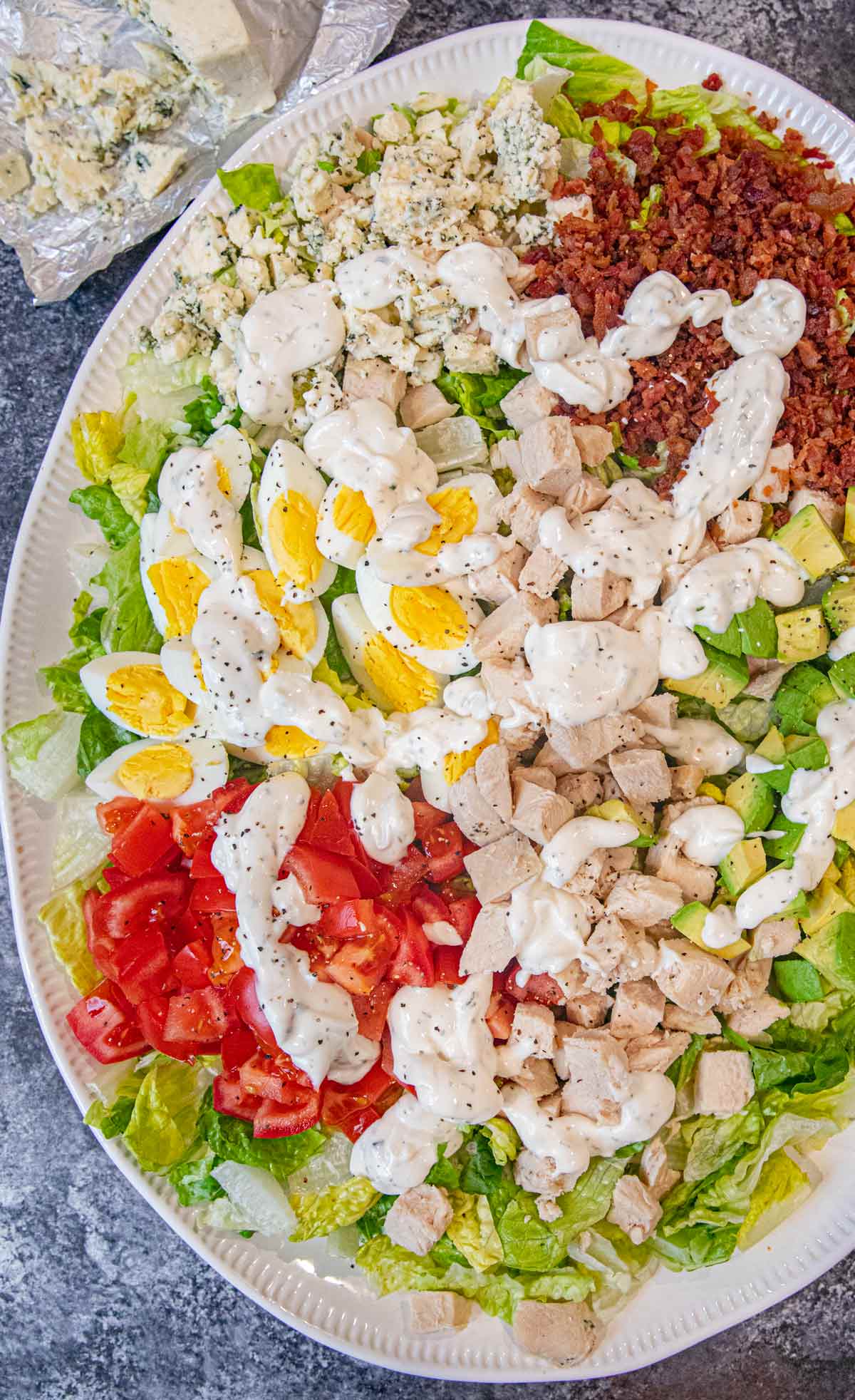 COBB SALAD
Cobb Salads are one of the easiest, most flavorful, and filling Salad recipes you can try. The varying textures and flavors make every bite wonderfully unique without anything too surprising. The creamy dressing does a good job of bringing everything together. Making the hard-boiled eggs is the most time-consuming part of the recipe. Once you've done that it's just a simple matter of tossing the rest together.
Cobb Salad is especially great to make the night after you have chicken for dinner. You can slice up any leftover chicken, like Grilled Chicken or Rotisserie Chicken Breasts, to toss into the salad. It's always great to find ways to rework your leftovers like this so you aren't just eating the same thing two days in a row.
WHY IS IT CALLED COBB SALAD?
There are a variety of stories about where the Cobb Salad originated. One of the most common is that it was first served in 1937 at the Hollywood Brown Derby Restaurant. There it was named for the restaurant owner Robert Howard Cobb. However, even within that generally accepted story, there's debate over whether it was Cobb himself, or his chef who developed the recipe.
But, I think we can all agree that we're glad to have Cobb Salad in the world, no matter who first came up with it.
MORE SALAD RECIPES
MAKE-AHEAD COBB SALAD
We love tossing together Chicken Cobb Salad for an easy lunch. It's a great salad recipe to make a big batch of on Friday and store in the fridge. Then your family can slowly take out servings to enjoy their favorite salad throughout the weekend. The simple ingredients make it easy to toss together. Just leave the dressing to the side so the Classic Cobb Salad will stay nice and fresh.
After you've made the hard-boiled eggs the other ingredients are very easy and the prep time will go by in a flash. You can either leave the salad in a large bowl or, if you want to take the salad on-the-go, layer it in a mason jar. You can divide this recipe into a few mason jar servings, seal them, and put them in the fridge. The jarred Cobb Salads are great to grab and take to work for a refreshing and healthy lunch. Again, just remember to leave the dressing on the side until you're eating the salad.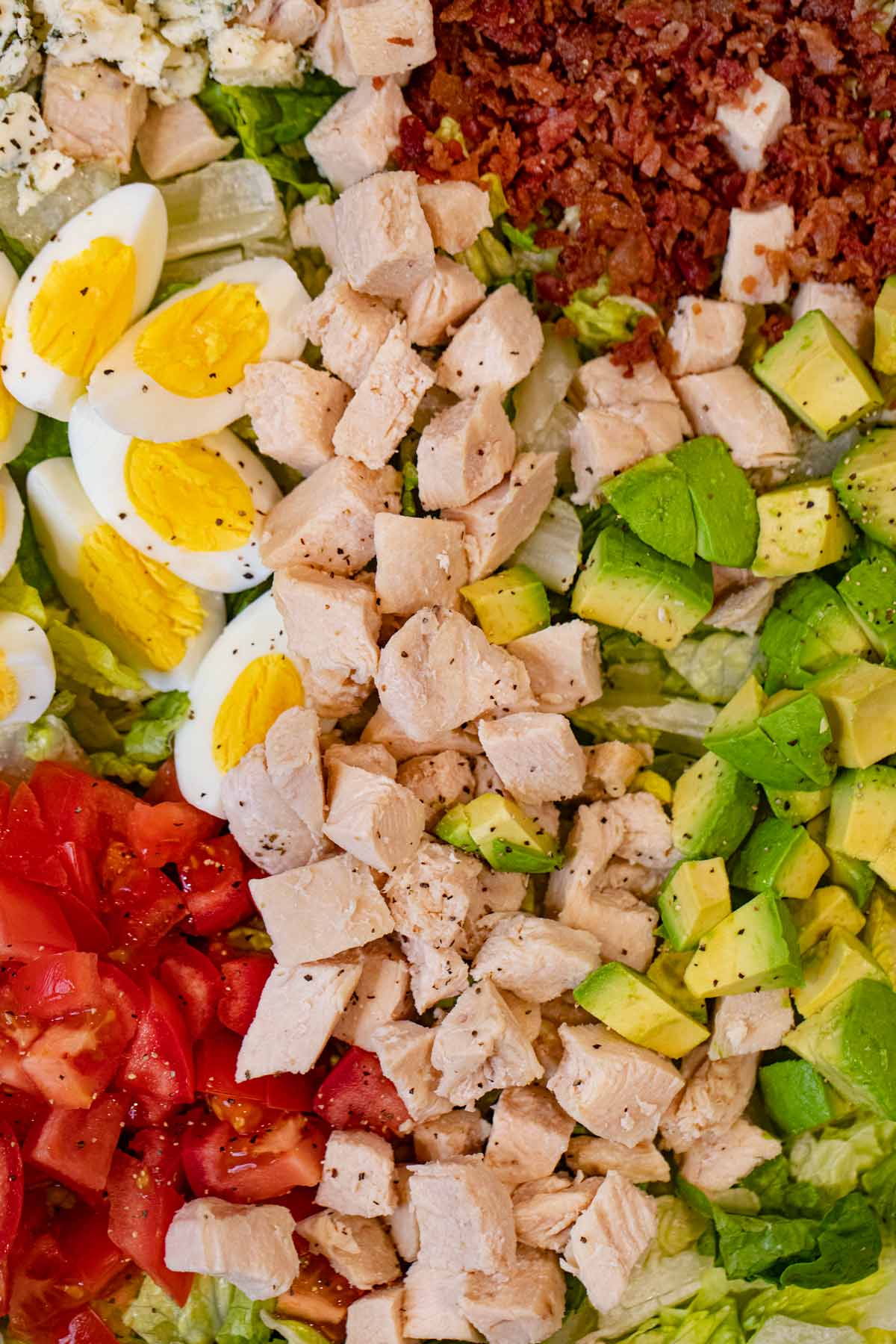 Create a free account to

Save Recipes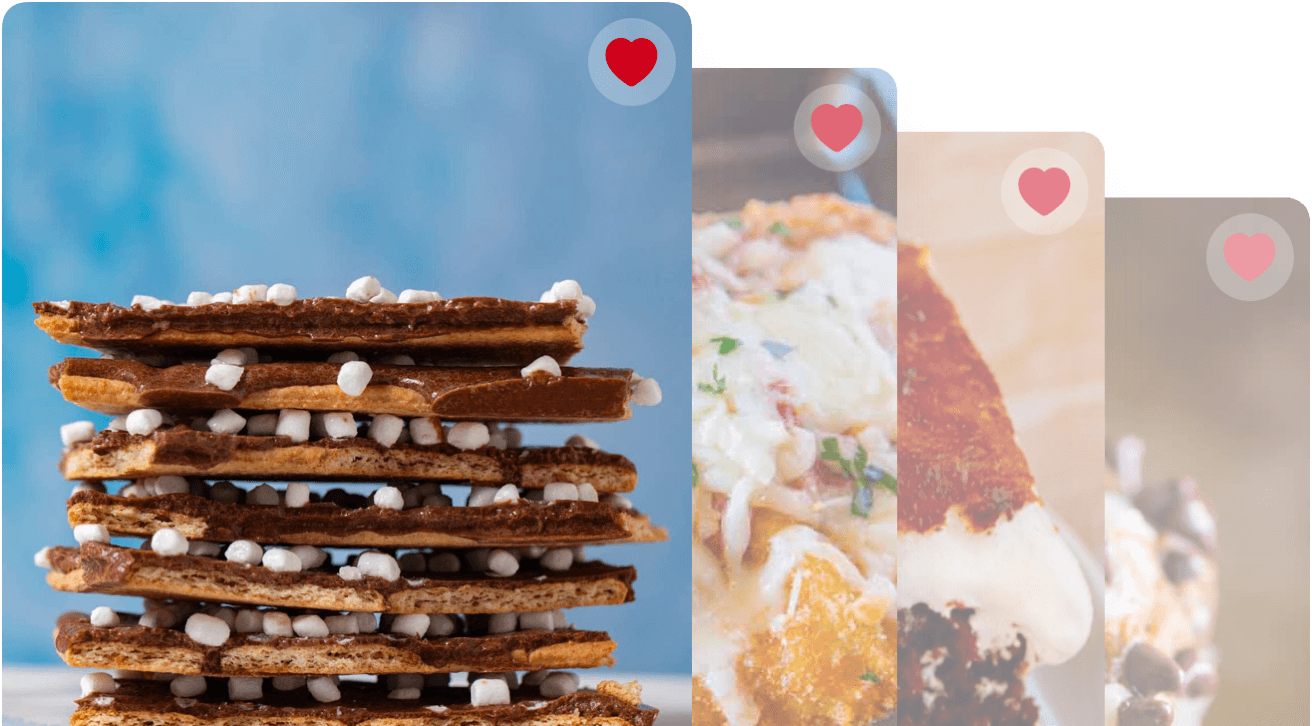 VARIATIONS ON COBB SALAD
Vinaigrette: Cobb Salads are often enjoyed with a vinaigrette instead of ranch dressing. To try this slightly more light version whisk together tablespoons red wine
Salad Dressing: For more salad dressing options, try 8 ounces blue cheese dressing, or French dressing. You can also add flavor to any dressing you use by whisking in ingredients like dijon mustard, Worcestershire sauce, or lemon juice.
Chicken: For some added flavor to the chicken, season chicken with garlic powder, freshly ground black pepper, paprika, rosemary, oregano, or onion powder.
Lettuce: You can use whatever your favorite lettuce is in this salad. Most commonly you'll find a head romaine lettuce or head iceberg lettuce used in Cobb Salads.
Add-ins: For some additions to the salad ingredients toss in chives, goat cheese, blue cheese, Monterey Jack cheese, green onions, corn, grape tomatoes, or cherry tomatoes.
MORE REFRESHING SIDE DISHES
HOW TO STORE COBB SALAD
Serve: Don't leave Chicken Cobb Salad at room temperature for more than 2 hours.
Store: Stored covered in the fridge, the salad will stay good for up to 5 days. It will stay the freshest without the dressing on it.
Freeze: Unfortunately freezing and defrosting lettuce won't work. If you haven't finished the Salad after 5 days in the fridge, it's better just to toss it out, and make a fresh batch.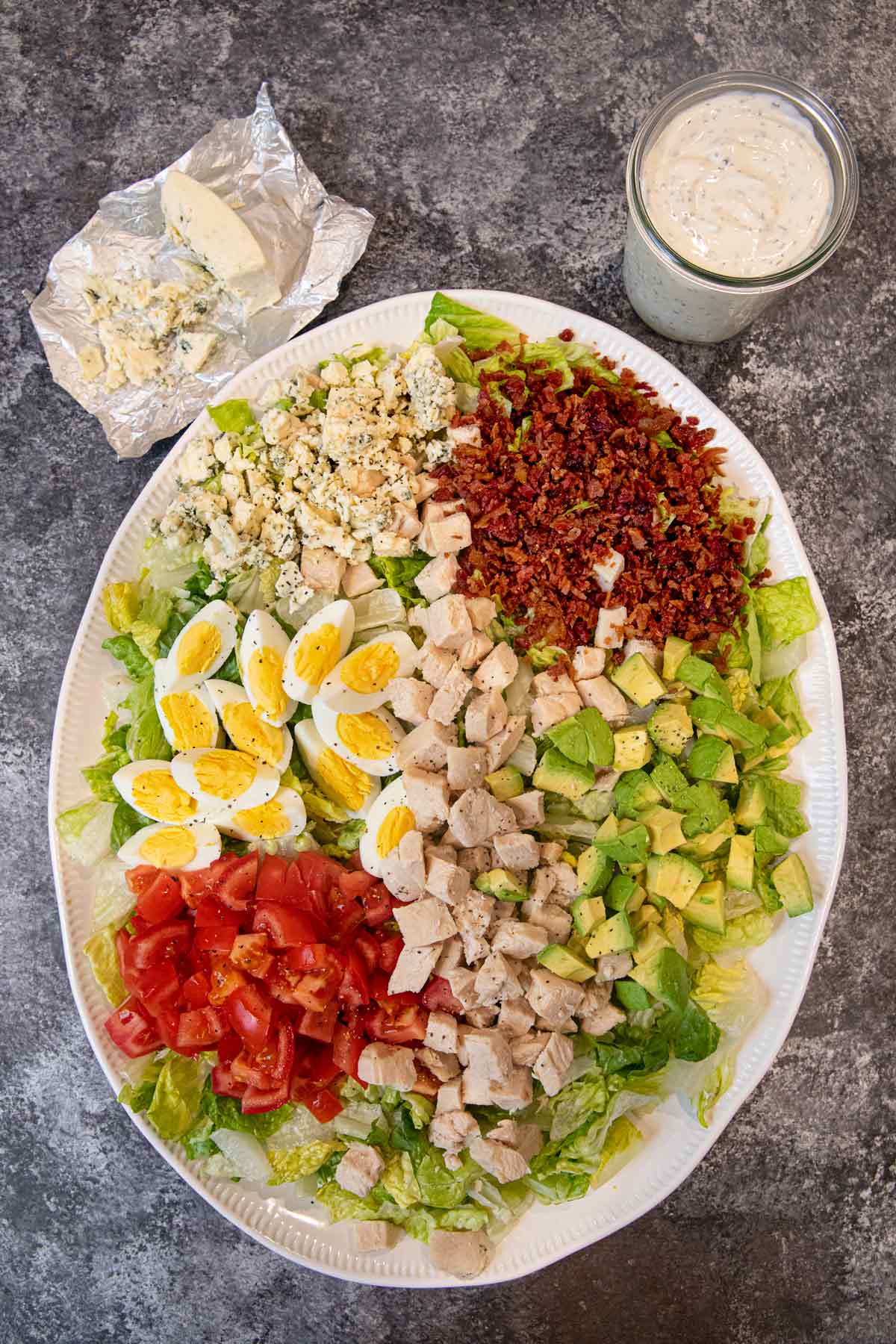 Ingredients
3

large

eggs

6

cups

lettuce

, chopped

3

cups

chicken breast

, cooked and chopped

8

slices

bacon

, cooked and chopped

2

medium

tomatoes

, chopped

1

cup

blue cheese

, crumbled

1

avocado

, peeled, pitted, and diced

1

cup

ranch dressing
Instructions
Add eggs to cold water, then bring to a boil and turn off the heat.

Cover and let sit for

12 minutes.

Put eggs in ice water for

5 minutes

then peel and chop.

Add the lettuce, chicken, bacon pieces, tomatoes, blue cheese, avocado, and chopped eggs.

Pour ranch dressing on the salad and serve.
Nutrition
Calories:
353
kcal
|
Carbohydrates:
6
g
|
Protein:
18
g
|
Fat:
29
g
|
Saturated Fat:
8
g
|
Cholesterol:
114
mg
|
Sodium:
648
mg
|
Potassium:
488
mg
|
Fiber:
2
g
|
Sugar:
2
g
|
Vitamin A:
664
IU
|
Vitamin C:
8
mg
|
Calcium:
102
mg
|
Iron:
1
mg