Crab Cakes are an easy and healthy main course or appetizer with minimal breading and mayonnaise, made with jumbo lump and canned crab meat.
If you're a seafood addict and you've already tried our recipes for Crispy Baked Scallops, Easy Shrimp Boil and Beer Battered Fish Tacos, you definitely need to try these crab cakes. They're tasty, easy and look really impressive.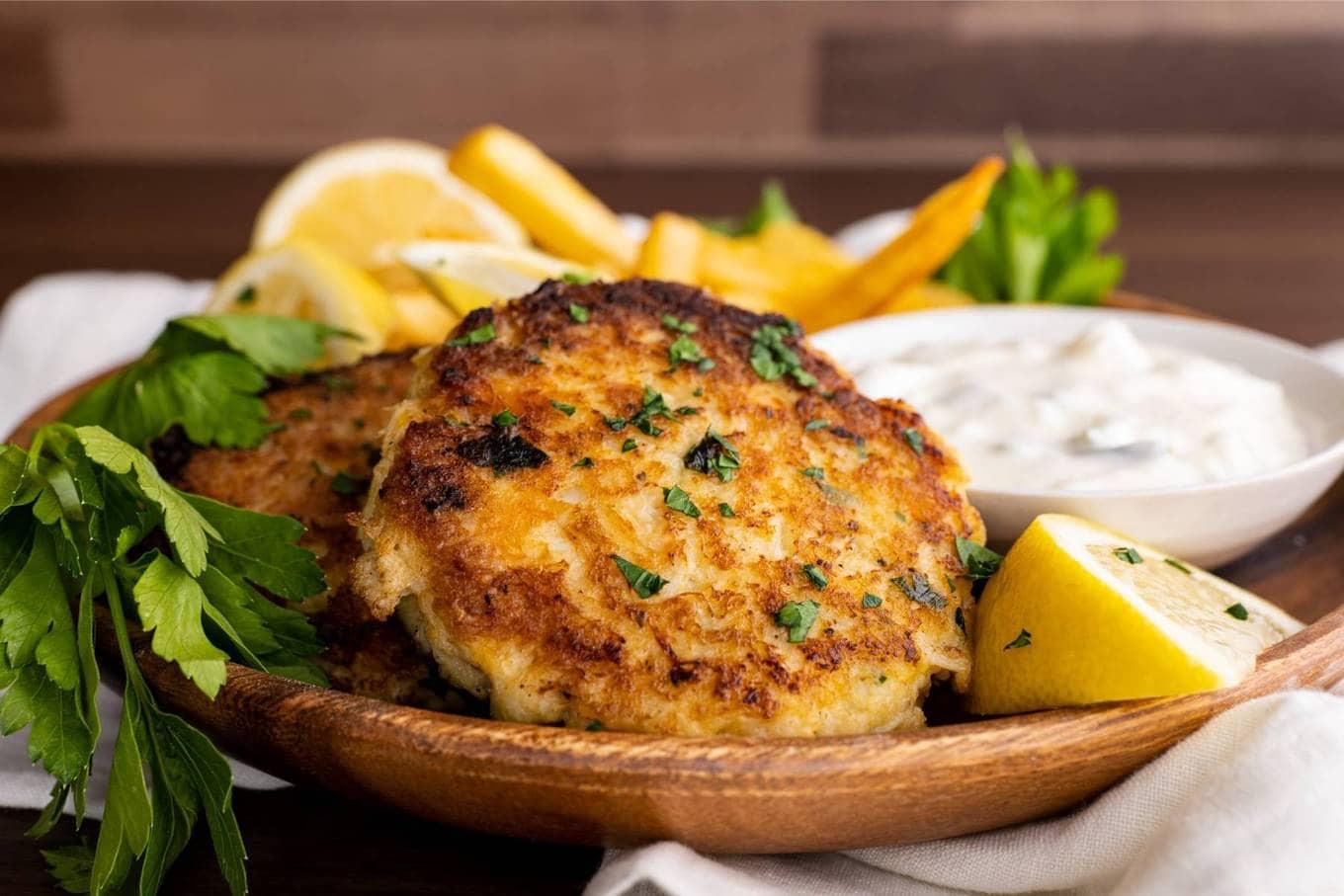 This is a delicious, easy to make crab cakes recipe that looks and tastes gourmet, but you don't have to spend all day making it.
The fresh crab, mayonnaise and parsley combined and pan fried to a delicious golden brown make for a delicious dinner that you can serve up for a romantic evening or as an appetizer the next time you and your friends get together (although you may have to make a double batch because everyone will want seconds).
You'll cut back on the costs associated with making the crab cakes (but keep them fresh with jumbo lump crab meat) by adding ⅓ lump crab meat and 2/3 canned crab meat. This also helps the crab cakes stick together because the canned crab meat isn't lump meat, it is shreds, which can form into cakes easier. If you use all jumbo lump crab meat you will have a bit of a harder time forming the cakes.
Try serving them up with a large bowl of homemade Tartar Sauce, and a side of French Fries.
How to Make Crab Cakes
Combine the crab, panko and dressing mixture gently.
Shape the batter into patties and set them in a single layer on the prepared baking sheet.
Add half the butter to the large skillet and add the crab cakes to the skillet on medium heat, cooking for 5-7 minutes.
Flip the crab cakes with a flat spatula gently, add the remaining butter and cook for an additional five minutes.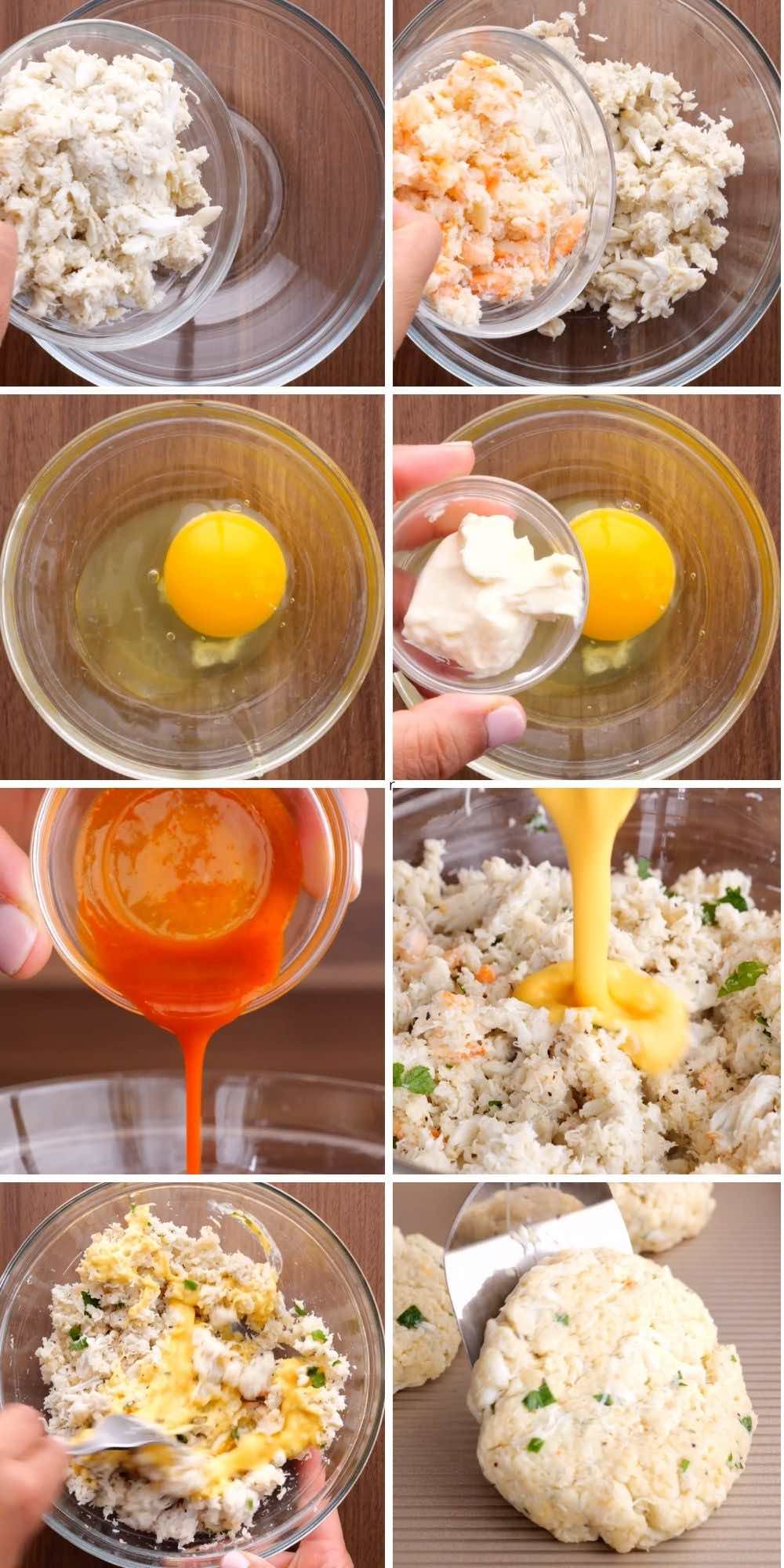 Create a free account to

Save Recipes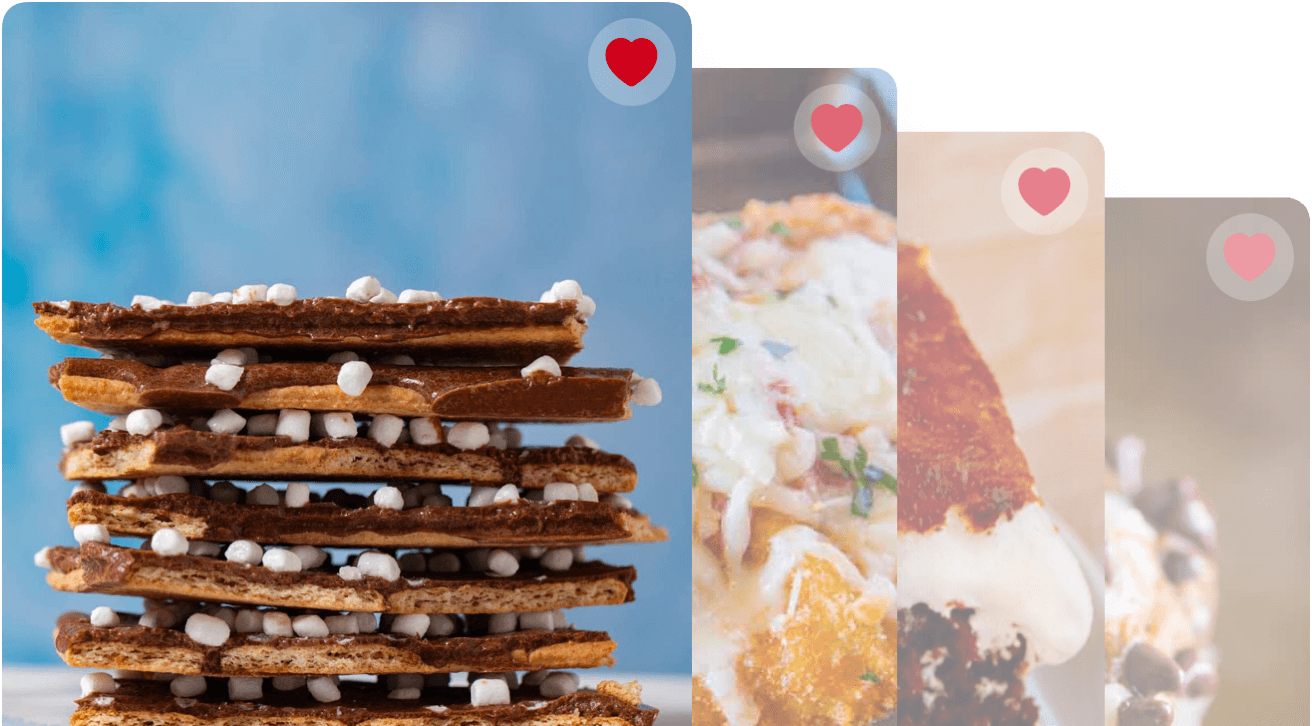 Frequently Asked Questions
What spices and seasonings can I use in Crab Cakes?
Try using a pinch of Old Bay seasoning to give your crab cakes a more authentic Maryland taste, or use some Italian seasoning to mix it up a little. If the hot sauce just doesn't have enough of a kick for you, you can stir pepper into the batter or sprinkle red pepper flakes on top for a crunchy, spicy taste.
What other flavors can be added to Crab Cakes?
For a delicious tang, sprinkle a little fresh lemon juice over the top of the crab cakes. If you want a dash of a very powerful flavor to cut the fishy taste, add a few drops of Worcestershire sauce into the crab mixture before baking. For a more moist crab cake you can use French or dijon mustard instead of dry ground mustard. The flavor is fairly similar to the original but the texture will be different.
What can I substitute for bread crumbs in Crab Cakes?
If you don't want to use bread crumbs you can crush crackers in a food processor until they are fine crumbs and use those instead. For the best flavor, I would suggest using ritz or saltine crackers.
How can I garnish Crab Cakes?
Green onions are a wonderful addition to Crab Cakes. You can chop these up and sprinkle them over the top raw or sauté them on high heat in a large skillet with some butter to eat as a delicious garnish.
What temperature do I need to cook Crab Cakes to?
According to the USDA's official website, seafood is cooked through and safe to eat when the internal temperature reaches 145 degrees F (62.7 degrees C). Crab is already cooked when sold as lump crab meat or tinned crab meat, so you shouldn't have any issues when cooking these crab cakes.
What to serve with Crab Cakes: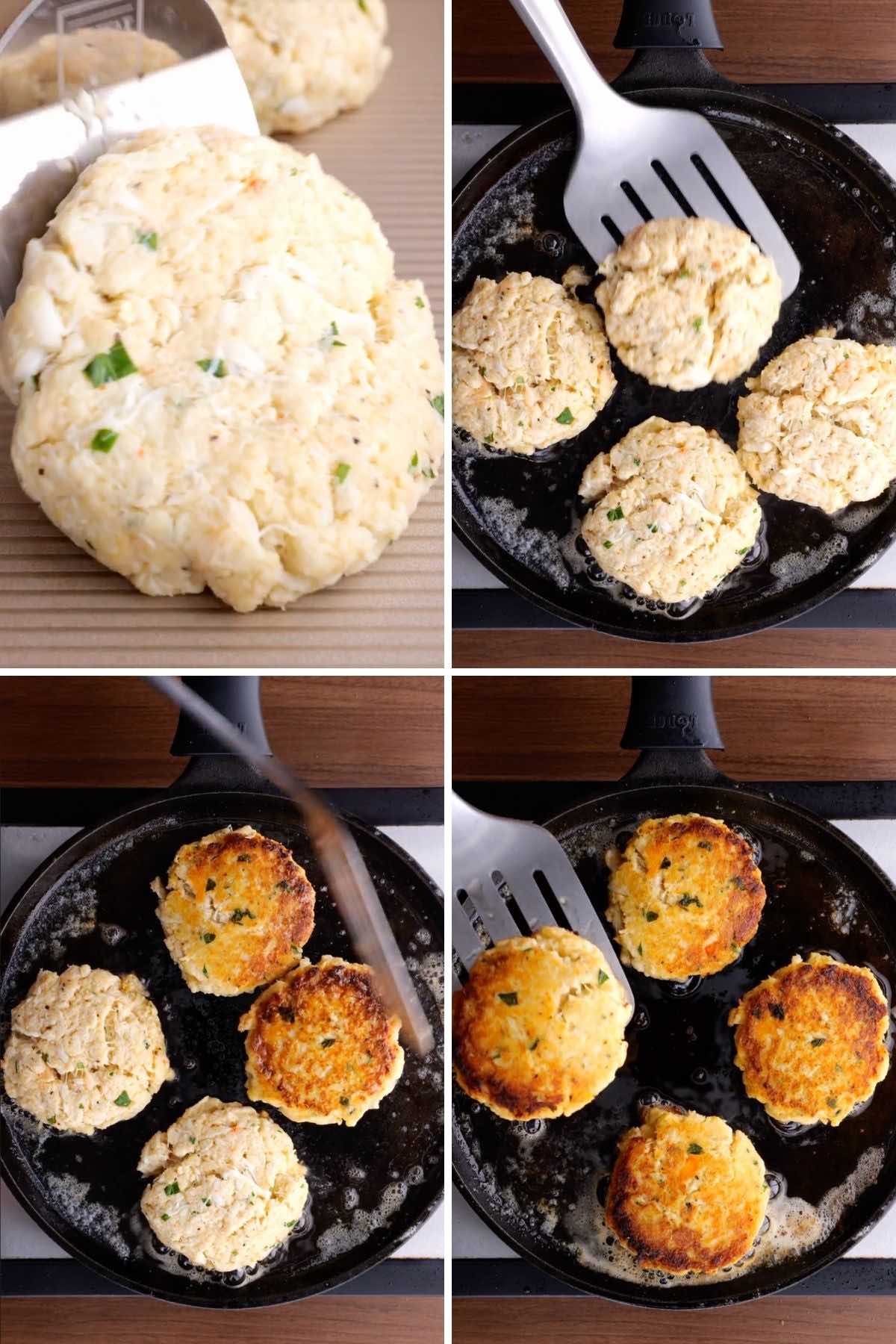 History of Crab Cakes
While no one really knows who the genius who invented crab cakes was and there are similar dishes all around the world, most people agree that the modern dish that we all know and love comes from the American Chesapeake Bay area. Many areas of the bay have made a name for themselves with their seafood industry, which is why Maryland has a long tradition of making crab cakes.
In 1930, a chef named Crosby Gaige wrote "The New York World's Fair Cookbook," where he introduced the first written recipe for crab cakes. Thanks to this recipe, crab became incredibly popular and later, thanks to refrigerators, people across the globe began to come up with their own recipes (although New England still claims to have the best crab cakes in the world).
How to Store Crab Cakes
Serve: You should never leave seafood out at room temperature for longer than 2 hours or they may grow bacteria.
Store: Once you've finished eating and you've got leftovers you should refrigerate them as soon as they are cool to the touch. In an airtight container, your crab cakes will be good for up to 3 days.
Freeze: You can keep homemade crab cakes frozen for up to 2 months before they are no longer safe to eat.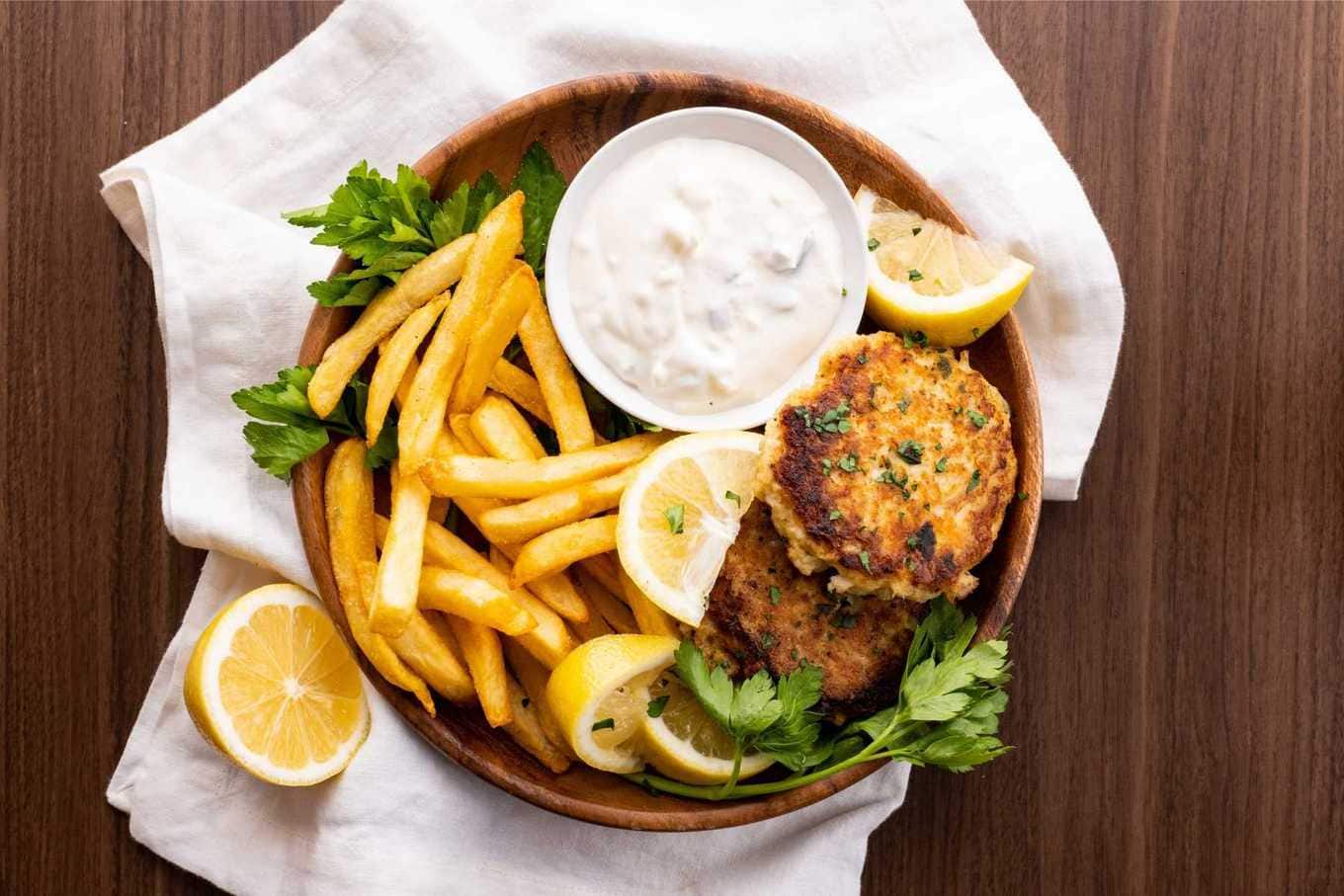 Ingredients
4

tablespoons

butter

8

ounces

lump crabmeat

6

ounces

crabmeat

1

tablespoons

dry bread crumbs

2

teaspoons

chopped fresh parsley

1/2

teaspoon

kosher salt

1/4

teaspoon

coarse ground black pepper

1

large

egg

1

tablespoon

mayonnaise

½

teaspoon

hot sauce

1/2

teaspoon

ground dry mustard
Instructions
Mix together crabmeat, bread crumbs, parsley, salt and pepper.

Beat together egg, mayonnaise, hot sauce and mustard. Combine with other ingredients and mix well.

Form into patties and place on a baking sheet.

Add half the butter to the large skillet and add the crab cakes to the skillet on medium heat, cooking for

5-7 minutes

.

Flip the crab cakes with a flat spatula gently, add the remaining butter and cook for an additional

5 minutes

.
Nutrition
Calories:
235
kcal
|
Carbohydrates:
2
g
|
Protein:
20
g
|
Fat:
16
g
|
Saturated Fat:
8
g
|
Cholesterol:
114
mg
|
Sodium:
1276
mg
|
Potassium:
218
mg
|
Fiber:
1
g
|
Sugar:
1
g
|
Vitamin A:
425
IU
|
Vitamin C:
6.9
mg
|
Calcium:
60
mg
|
Iron:
0.9
mg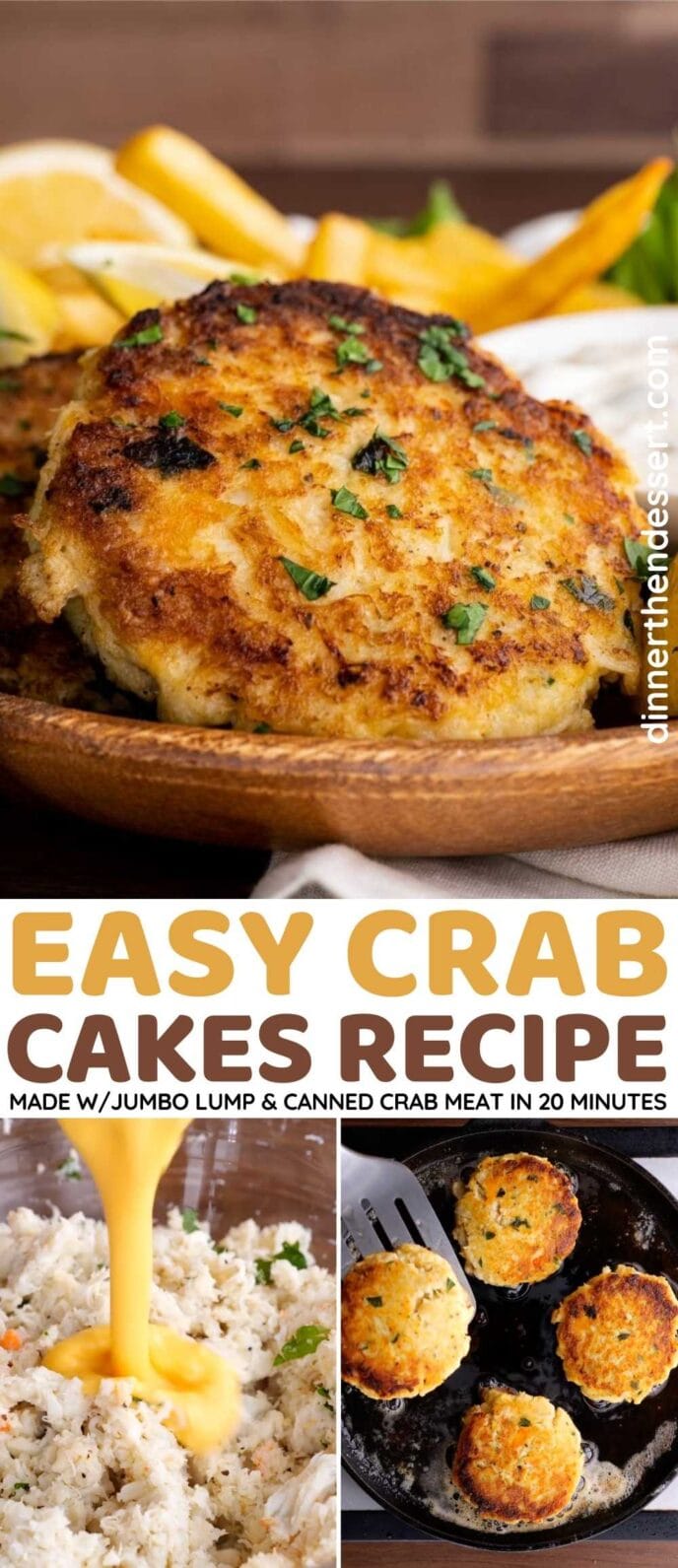 Photos used in a previous version of this post.