Cuban Sandwich is a classic sandwich with pulled pork, sliced ham, and melted Swiss cheese topped with pickles and a creamy mustard sauce.
The next time you are making Pulled Pork, Slow Cooker Dr. Pepper Pulled Pork, or Slow Cooker Cuban Mojo Pork, be sure to reserve a couple cups of leftover pork for one of the best next-day Sandwich Recipes you will ever make!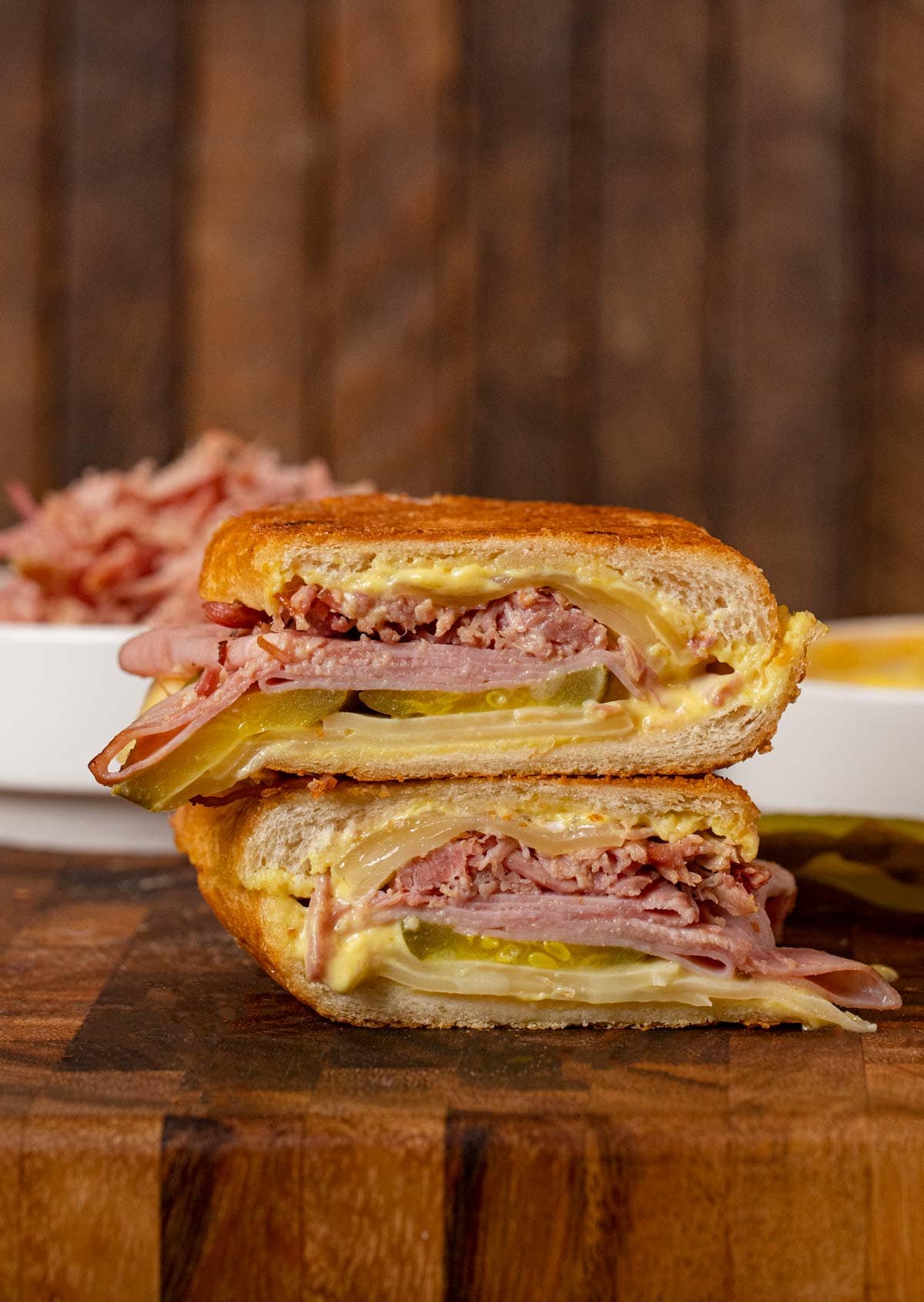 No need to travel to Florida to get a delicious, authentic Cuban Sandwich. If you've never had this classic Tampa lunch counter favorite, be prepared to have your mind blown! With the melty cheese, creamy mustard sauce, layer of pickle slices and crispy pan fried bread, this is like a grilled ham and cheese on steroids. It's hands down the best way to use pulled pork leftovers!
The original Cuban Sandwiches were made as a hearty lunchtime meal for workers in south Florida, so these tasty sandwiches are hearty enough for dinner! Although they sound like you need a passport to enjoy them, Cuban Sandwiches are actually very easy to make with common ingredients you have in your pantry or can grab at the deli.
You don't even need pulled pork, swap in leftover Ultimate Garlic Pork Tenderloin slices and it will be just as delicious! While a Cuban Sandwich is great way to enjoy leftover Pork Tenderloin, you don't have to wait on leftovers to make this sandwich. You can quickly make plain pulled pork in the Instant Pot with the guide below. If you like to meal plan ahead, make pulled pork and freeze it for up to 3 months. When you are ready to make Cuban Sandwiches, simply thaw the pork overnight and drain any liquid before cooking.
How to Make the Cuban Sandwich 
Making a Cuban Sandwich is so easy! A few steps to put it all together and you'll soon have a mouthwatering sandwich that will satisfy any appetite! Check it out! 
Step One: Mix the sauces together. 
Step Two: Prep the Cuban bread and smear on the sauce. 
Step Three: Transfer pork, pickles, and cheese to your piece of bread. 
Step Four: Grill the sandwich on medium heat to perfection and it's ready to go! 
More Yummy Cubano Recipes
Frequently Asked Questions
What is Cuban Bread? 
The only special ingredient in a Cuban Sandwich is the Cuban bread and you can usually find it in most grocery store bakery sections. Cuban bread is a long loaf of bread, similar to a baguette, that is crispy on the outside but with some give (unlike a baguette or ciabatta). The inside is tender and fluffy with texture. If you can't find Cuban bread, swap in a Bolillo roll, hoagie roll, or soft French bread loaf that has a crisp crust.
Should I use a panini press? 
A Cuban Sandwich is a flattened, toasted sandwich similar to a panini or grilled cheese. You can make your Cuban Sandwiches in a panini press if you have one, but there is no need to buy fancy equipment if not. We just use a heavy cast-iron skillet and carefully press down. For an old-school method, try a foil wrapped brick that's been cleaned thoroughly.

Create a free account to

Save Recipes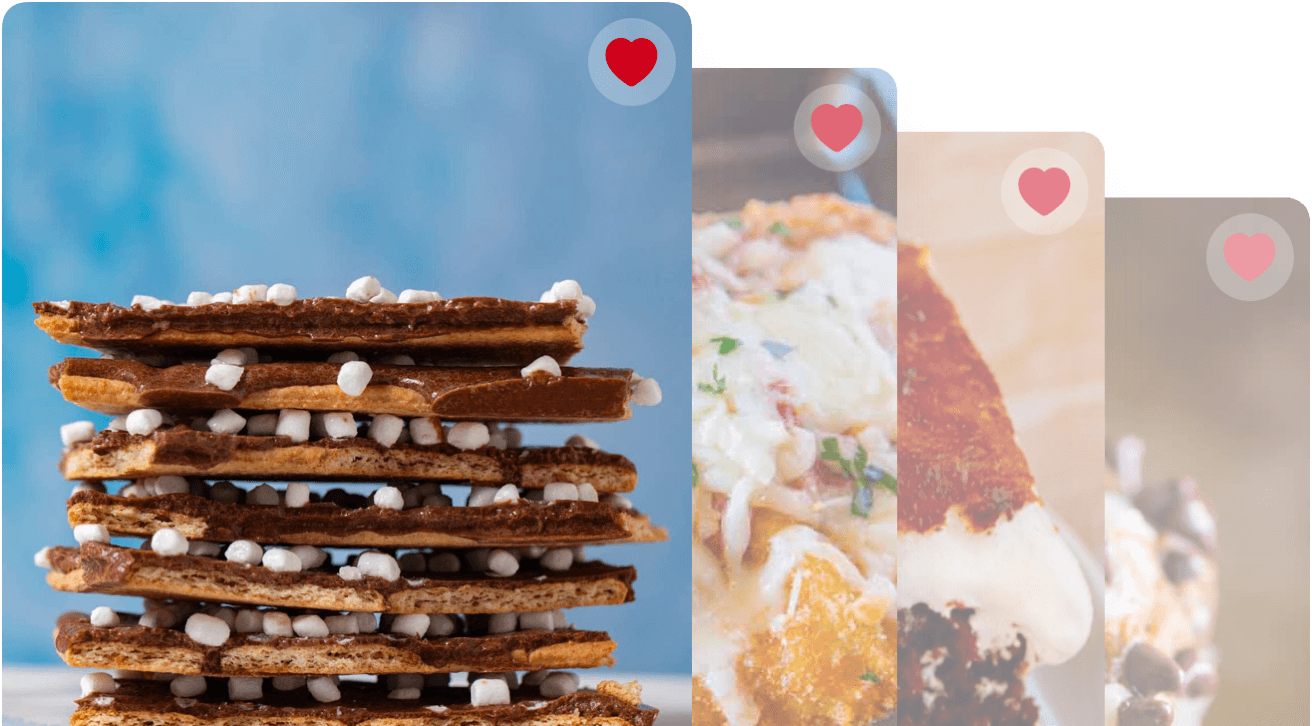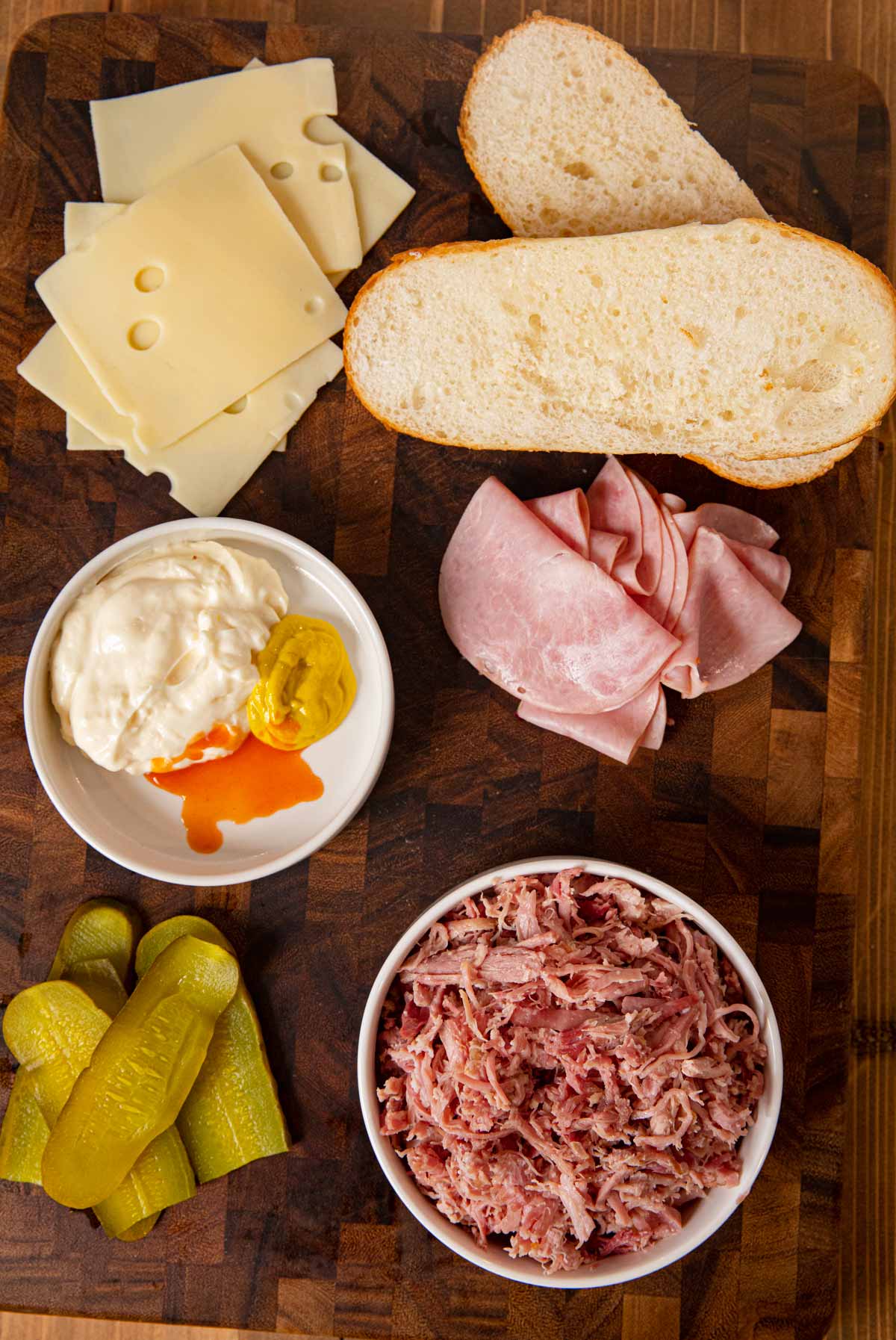 Key Ingredients in the Cuban Sandwich
Just about all the ingredients are easily found at the local grocery store, except maybe the Cuban bread. But don't worry if it's not available in your area. A hoagie roll works great!
Bread: This recipe is using classic Cuban bread which is a white bread similar to French bread or Italian bread. 
Ham: Pick your favorite ham slices for this. It's extra delicious if using leftover slices from a ham dinner. 
Pork: Yes, there are slices of ham as well as roasted pork on this sandwich. 
Cheese: Swiss cheese has a sweet and nutty flavor and adds a lot of depth to this recipe. 
Pickle: Presliced, or sliced yourself, you'll want the thick slices to complete this amazing sandwich. 
Mustard: Yellow mustard is what is traditionally used. Dijon mustard is just fine. 
Mayo: We're using regular mayonnaise for this recipe. 
Hot Sauce: While this optional ingredient is highly recommended, you won't miss out on flavor if you don't have it included. 
Variations on the Cuban Sandwich
Bread: Substitute a bread that has a crispy crust but isn't too crunchy, for example a baguette too crusty for a Cuban Sandwich. Bolillo rolls, Italian bread loaves, and the bakery fresh French bread loaves are all good swaps for Cuban bread.
Cheese: Instead of Swiss cheese slices, try slices of cheese like Colby jack, Havarti, Smoked Gouda, or Provolone.
Pulled Pork: You can usually find pre-made pulled pork at the grocery store if you don't want to make homemade. Try this recipe with Pulled Chicken or Leftover Pot Roast too!
Ham: The best ham is Black Forest ham, but you can use any smoked ham for authentic tasted. Swap in roasted turkey breast slices, chicken breast, or other cold cuts like salami for the ham slices. Bacon makes everything better, so add a couple slices cooked bacon to your Cubano Sandwich!
Veggies: A traditional Cuban Sandwich doesn't have a veggies, but you can always add tomato slices, onions, spinach leaves, or lettuce. Instead of dill pickles, you can use sweeter bread and butter pickles or fresh cucumber slices.
Instant Pot Pulled Pork for Cuban Sandwiches
Chop 2 pounds pork shoulder roast into 4 inch chunks. Season with salt and pepper.
Turn Instant Pot to sauté and add 2 tablespoons vegetable oil. Sear pork chunks on both sides until browned, 3-4 minutes.
Turn off pot, deglaze with ½ cup chicken broth, scrape off browned bits, then add another 1 cup broth.
Close lid, seal valve, and cook on manual high pressure for 40 minutes, natural release pressure 10 minutes.
To increase amount – Add 20 minutes cook time and 5 minutes release time per 1 pound of pork.
More Delicious Sandwich Recipes
How to Store the Cuban Sandwich 
Serve: Cubano Sandwiches are best served hot and fresh. You can keep them at room temperature for up to 2 hours before they need to be stored in the refrigerator.
Store: Cool Cuban Sandwiches, wrap in aluminum foil, and store in an airtight container in the refrigerator for up to 4 days. To reheat, keep wrapped in aluminum foil and heat in the oven on low temperature until warmed through or reheat in a skilled.
Freeze: Once cooled completely, wrap individual Cubano Sandwiches in plastic wrap and place in a sealed freezer safe bag with all the air squeezed out. Freeze Cuban Sandwiches for up to 3 months. Thaw overnight in the refrigerator and bring to room temperature before reheating in a skillet or wrap in aluminum foil and heat in the oven.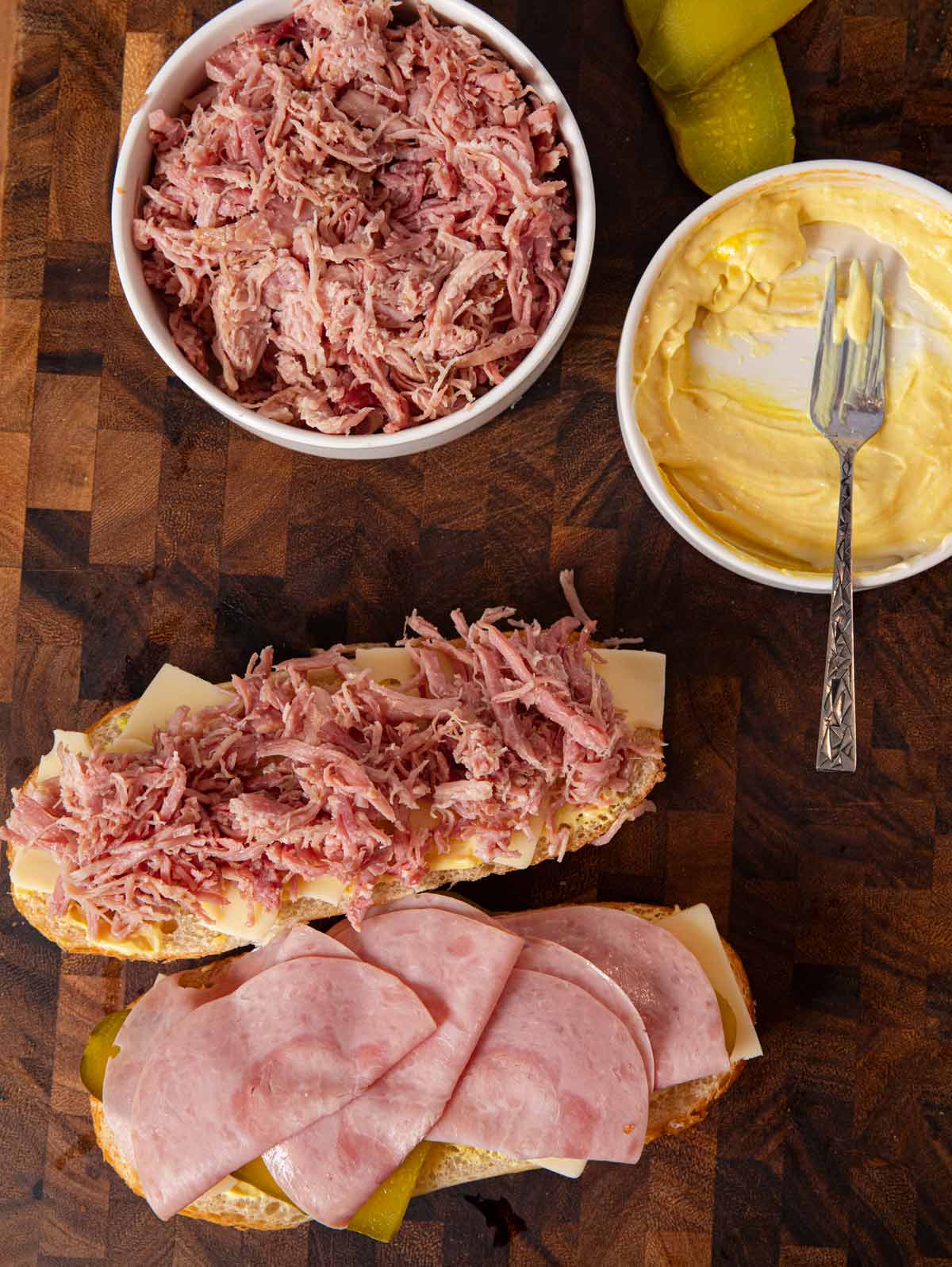 Ingredients
1/2

cup

mayonnaise

1/4

cup

mustard

1/2

teaspoon

hot sauce

2

loaves

Cuban bread

8

slices

Swiss cheese

4

dill pickle planks

6

slices

ham

, thinly sliced

2

cups

pulled pork

3

tablespoons

unsalted butter
Instructions
In a small bowl stir mayonnaise, mustard and hot sauce.

Cut the ends off the bread and split in half.

Spread mayo-mustard mixture over the inside of the bread.

Layer with Swiss cheese, dill pickle, ham, pulled pork, more Swiss cheese and the top of the bun.

Heat butter on a griddle on medium high heat.

Add sandwiches and top with a heavy skillet or bacon press.

Cook for

3-4 minutes

on each side until sandwiches are crispy and filling is hot.
Nutrition
Calories:
612
kcal
|
Carbohydrates:
28
g
|
Protein:
34
g
|
Fat:
41
g
|
Saturated Fat:
18
g
|
Cholesterol:
135
mg
|
Sodium:
2314
mg
|
Potassium:
228
mg
|
Fiber:
1
g
|
Sugar:
20
g
|
Vitamin A:
861
IU
|
Vitamin C:
3
mg
|
Calcium:
370
mg
|
Iron:
2
mg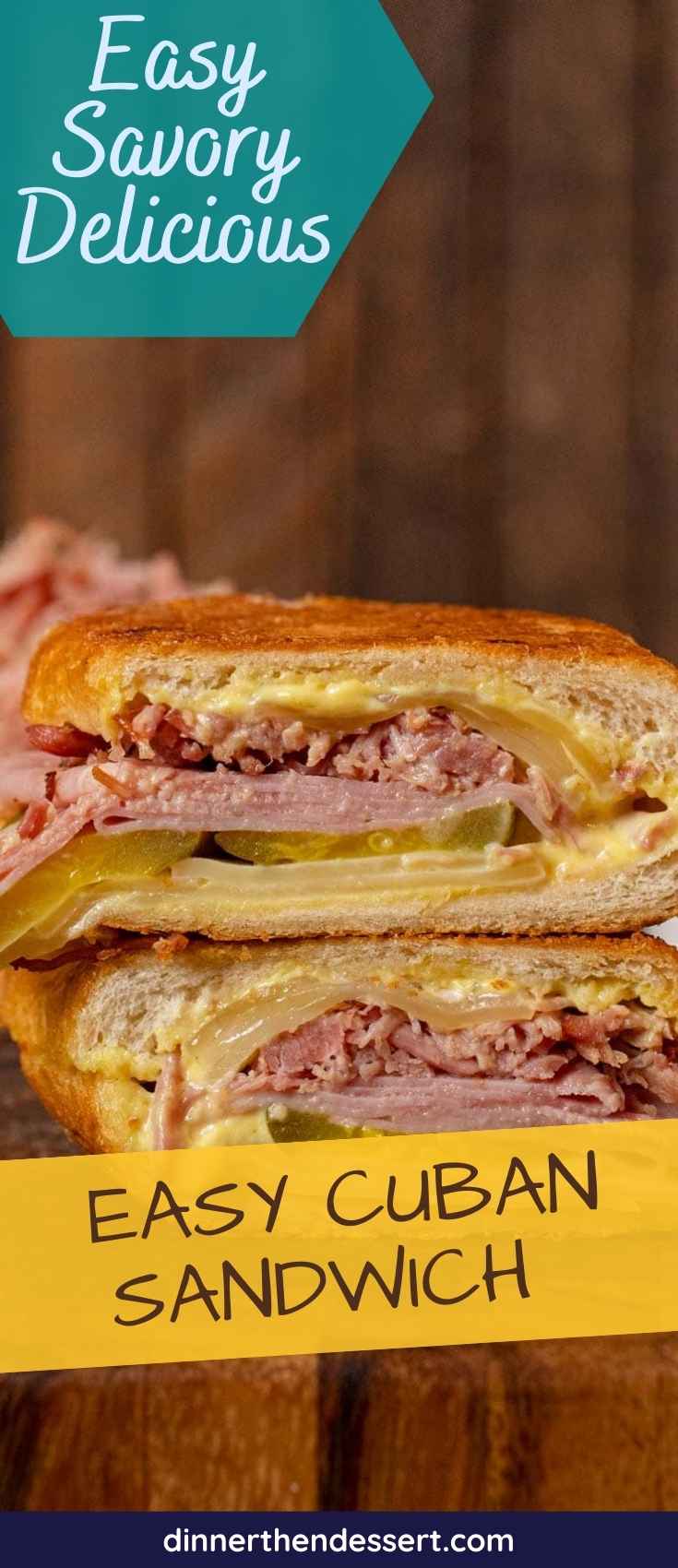 Photos used in a previous version of this post: