Easy Cube Steak with Gravy is ultimate comfort food, browned cube steaks and caramelized onions in a rich gravy. Serve with mashed potatoes!
Is there anything that says home cooked comfort food like big helping of Chicken Fried Steak or Cube Steak with Mashed Potatoes, smothered in gravy for your next Dinner Meal? If that's not enough, Instant Pot Meatloaf is sure to do the trick!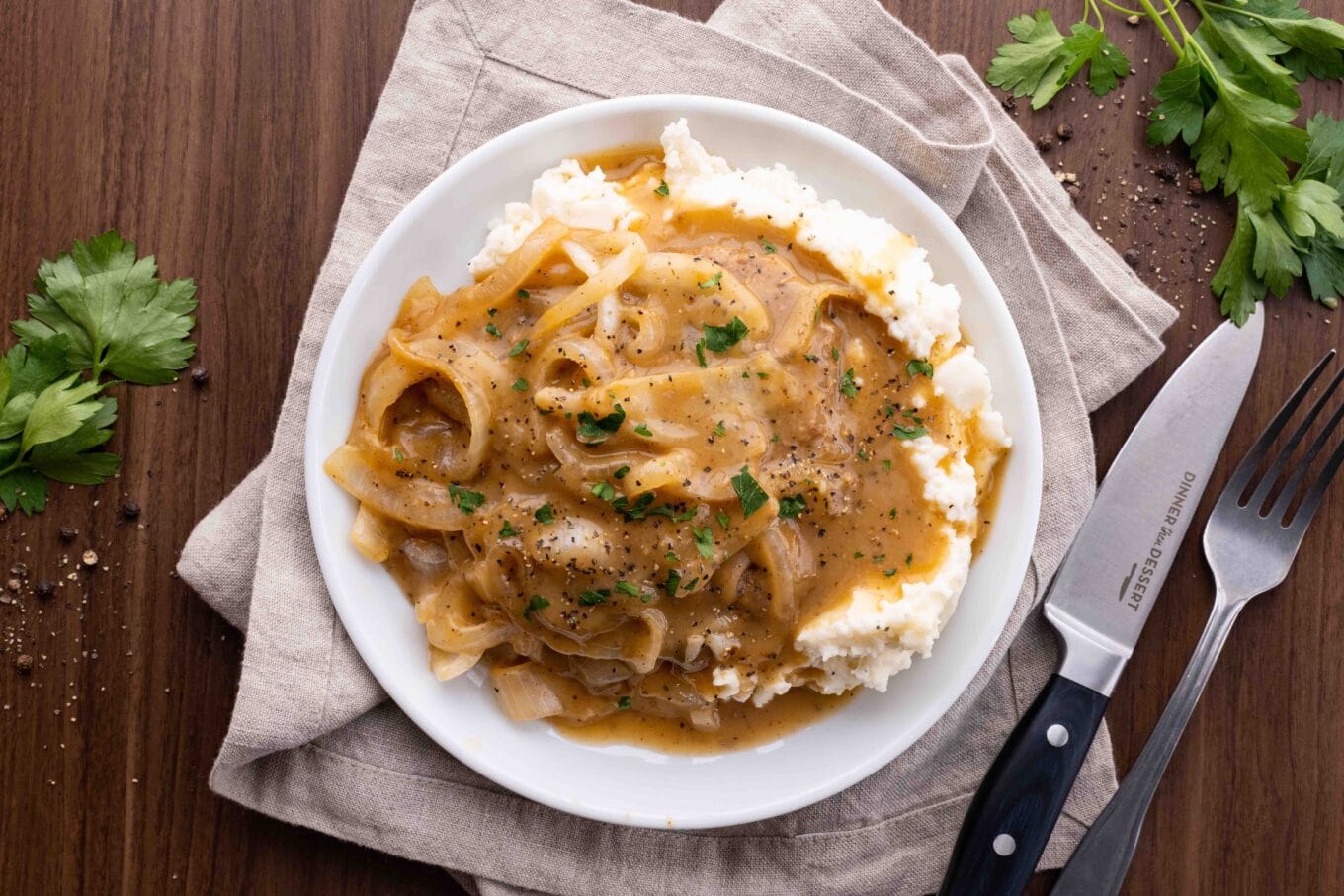 When you are craving a hearty steak dinner on a budget, you can't go wrong with an inexpensive hamburger meat for this yummy recipe. Cubed steaks are an inexpensive quick cooking cut of beef, but that doesn't mean they aren't flavorful as a top sirloin.
With a little tenderizing and a delicious gravy recipe, you get a budget friendly dinner full of home cooked flavor! With simple ingredients from your pantry, plus no packaged gravy mix or deep frying, this is sure to be your new favorite comfort food recipe. It's a fast weeknight meal that is lighter on the calories since the pieces aren't dredged in flour and fried. The easy gravy recipe is made with the pan drippings for rich beefy taste. Caramelized onions finish it off for the perfect combination of delicious flavors.
Cube Steak with Gravy is an easy delicious everyday recipe to serve with your favorite easy side dishes like Mashed Potatoes and Sautéed Green Beans. A side of Dinner Rolls is perfect for soaking up any extra gravy. Turn this into one of your go-to Crock Pot Recipes for lazy, but tasty Sunday dinners with our variation later in this post.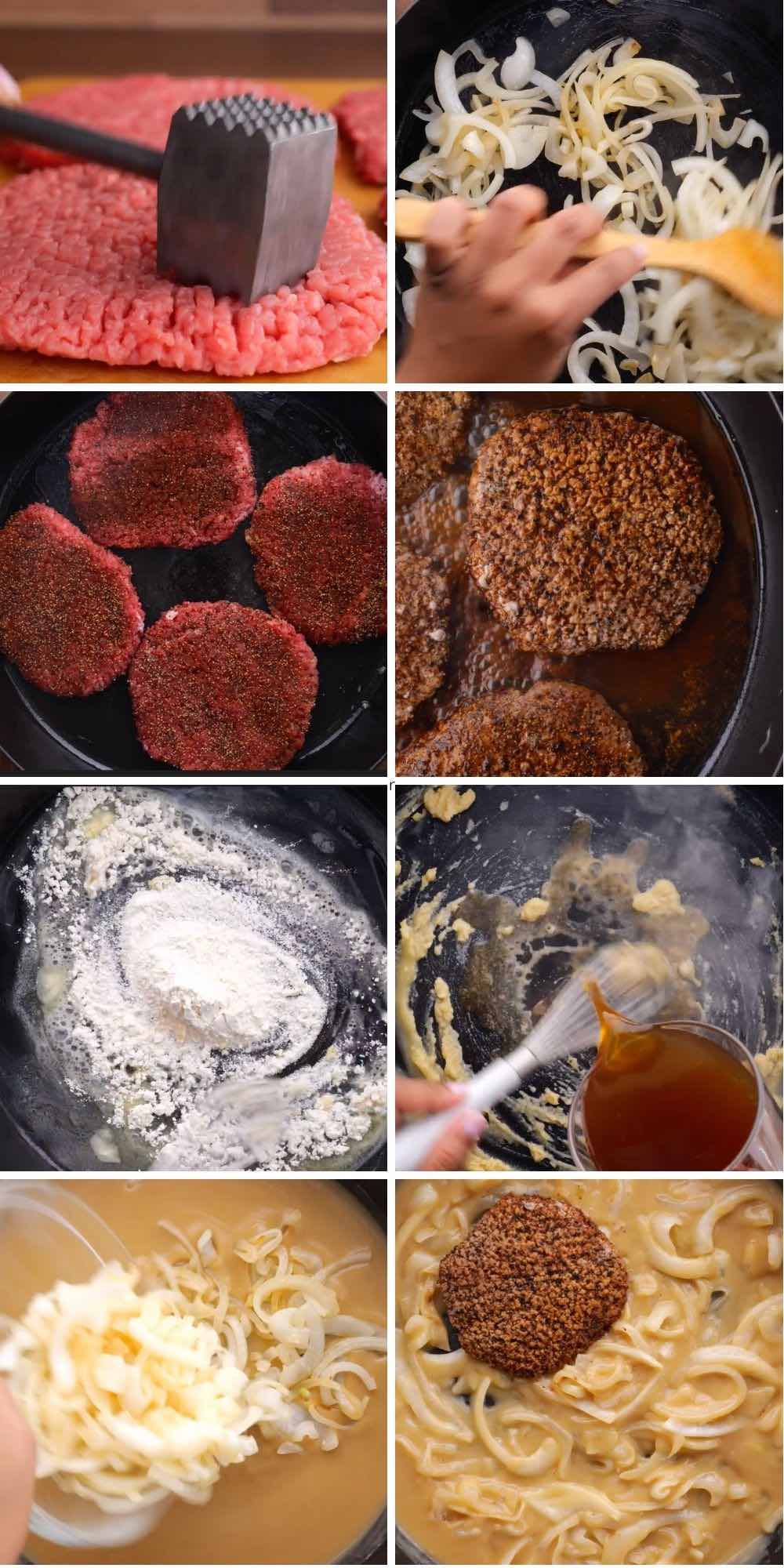 How to Make Cube Steak with Gravy
Thankfully, making this recipe is really easy. Cook the meat and onions, and then use the drippings as a base for the gravy! It's that simple!
As a side note: Cube Steaks are best cooked in a cast iron pan or a large skillet, so you can cook them evenly all at once and get a nice crust, without overcrowding the pan. If you only have a medium sized skillet, cook in batches. An overcrowded pan lowers the oil temperature, causing you to cook the meat longer. Your meat will be overcooked and oily.
Check out the steps!
Step One: Flatten the meat with a tenderizer mallet until desired thickness, making sure they are all even so you don't overcook them.
Step Two: Fry onions, then the flat steak pieces.
Step Three: Add the ingredients for the gravy, and stir.
Step Four: Combine everything and serve as a delicious and easy meal!
More Favorite Comfort Food Recipes 
Frequently Asked Questions
What other meat can I use with this recipe?
You can make this Cube Steak recipe with any thin steak or cut of meat. Try chicken cutlets, boneless pork chops, or thin cut ribeye.
How do you make fried Cube Steaks with Gravy?
You can make an indulgent crispy fried coating. Mix ¼ cup flour (not flour for gravy) with paprika, salt and pepper, and coat meat in flour mixture. Fry in butter or vegetable oil, until golden browned and cooked through.
How do you make Cube Steaks with Mushroom Gravy?
Sauté sliced mushrooms with the sliced onions to make an easy Mushroom Gravy for Cubed Steak. If you want a creamy mushroom onion gravy, stir in a can of Cream of Mushroom Soup along with the fresh mushrooms. 
What other seasonings should I use on Cube Steaks?
Season your cube steaks with more than salt and pepper. Try favorite flavors like onion powder, cumin, and garlic powder.
Can I thicken this gravy using a mix instead of flour?
Add a package onion gravy mix, regular gravy mix, Au jus gravy mix, brown gravy mix, or onion soup mix with the beef broth and Worcestershire sauce to thicken gravy without flour.

You can also use two or three tables spoons of corn starch. Be sure to whisk it in really well to avoid any unwanted clumps.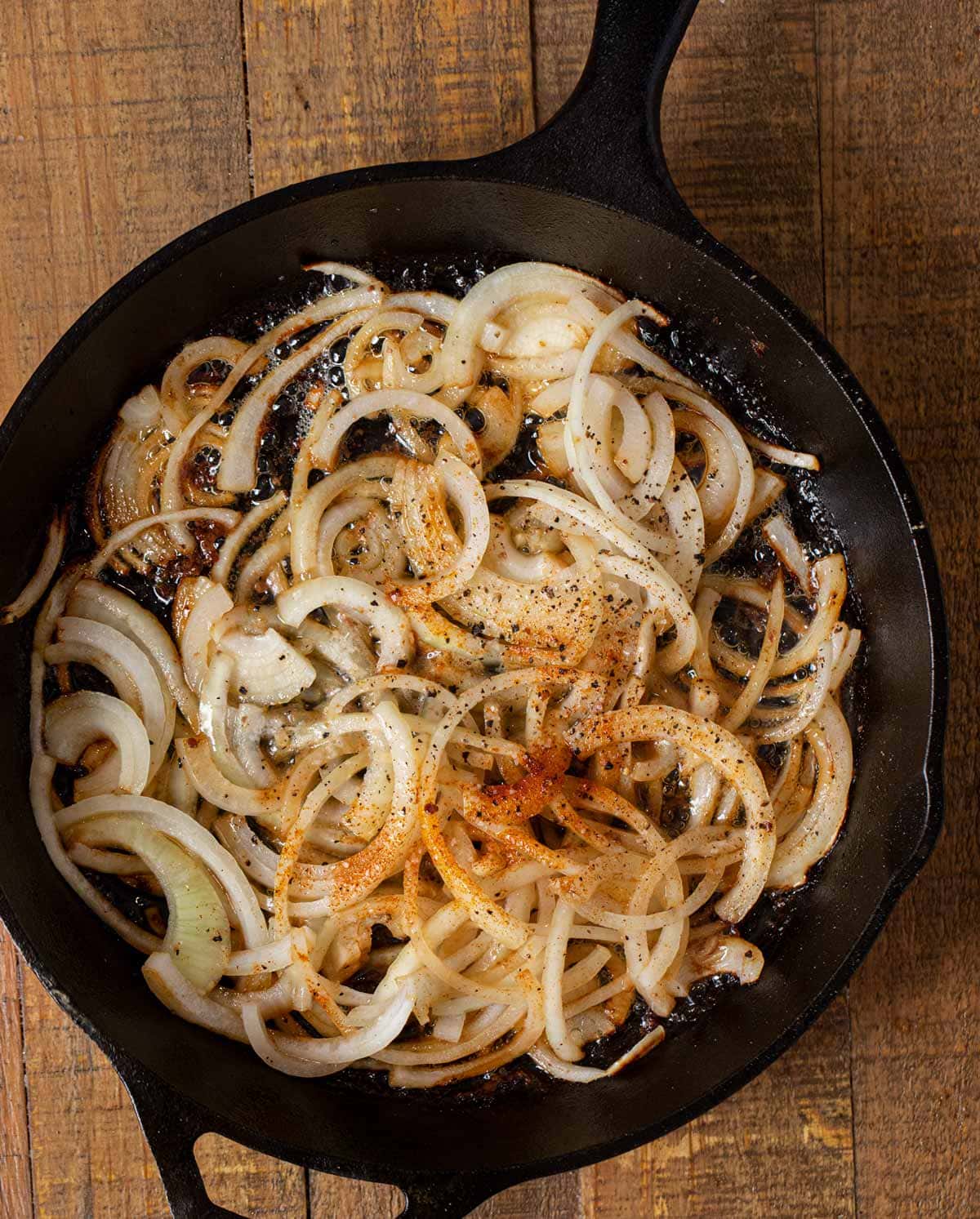 Create a free account to Save Recipes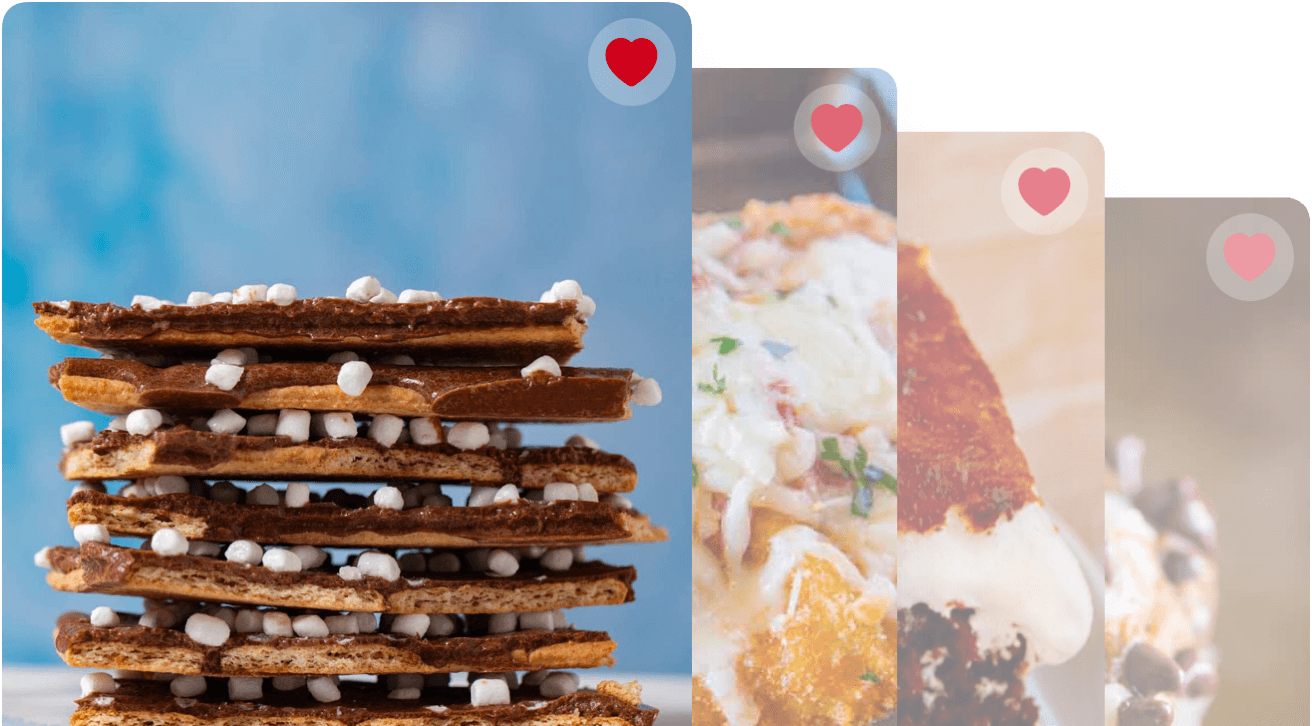 Key Ingredients for Cubed Steak with Gravy
The ingredients used in this recipe are pretty straight forward. You probably have everything you need in your pantry or fridge. If not, you can easily pick up supplies from the closest grocery store.
Meat: Cube steak comes from top round or top sirloin of the rump of the cow. It' is flattened using a meat tenderizer that looks like a mini version of Thor's hammer! Tenderizing the cube steak is really important to get a flavorful, evenly cooked, tender cut of beef that cooks fast.
Onion: This recipe uses yellow onion, but if you only have red onion that is good to use too.
Paprika: This spice is a powder made from capsicum or bell peppers. It can be sweet, hot, or smoked. It lends a strong red color to dishes and is fragrant.
Worcestershire sauce: This yummy condiment is a malty, vinegary sauce made from fermented anchovies and flavored with tamarind, molasses, and other spices. But don't let the curious ingredients turn you way just yet. The secret ingredient to a good gravy is in this sauce!
Alternative Cooking Methods
There are two good alternative methods for cooking this recipe. One is the Crock Pot which takes all day to cook and produces a tender steak with deep flavor. The other is the pressure cooker which saves time, is easy to clean up, and is great for a busy household.
Crock Pot Cubed Steak with Gravy
In hot skillet, sauté onions in 2 tablespoons butter until translucent and softened, about 5 minutes.
Transfer onions to slow cooker.
Melt remaining butter in skillet and whisk in flour and cook one minute.
Whisk in beef broth and Worcestershire sauce until smooth. Add to slow cooker with onions.
In a skillet, brown seasoned and floured steak for 3 minutes on each side.
Place browned steak pieces in gravy in the crock pot. Cook on low, covered, for 6-8 hours.
Instant Pot Cubed Steak with Gravy
Using the sauté setting, caramelize the onions for about 3 minutes.
Add the rest of the ingredients to the pot, except for the flour.
Pressure cook on high for 5 minutes.
After releasing the valve, remove the steak and add the flour.
Mix thoroughly until thickened.
Coat steak in the gravy and serve.
How to Serve Cubed Steak with Gravy
This amazing recipe can be served with so many things! All the comforts of southern style food make for great anytime meals that your whole family will enjoy.
More Easy Hamburger Meat Dishes
How to Store Cube Steak with Gravy
Serve: You can keep Cube Steak with Gravy at room temperature for up to 2 hours before it needs to be refrigerated. Keep it covered when not being served.
Store: Store Cube Steak with Gravy in an airtight container in the refrigerator for up to 3 days. Reheat over low heat on the stove top.
Freeze: Once cooled, place Cube Steak and Gravy in a sealed container and freeze for up to three months.


Ingredients
4

cube steaks

6

tablespoons

unsalted butter

, divided

1

yellow onion

, sliced

1/4

cup

flour

1

teaspoon

paprika

2

teaspoons

kosher salt

1/2

teaspoon

coarse ground black pepper

2

cups

beef broth

1

teaspoon

Worcestershire sauce
Instructions
Using a meat tenderizer, pound the steaks on each side for 5-10 seconds to tenderize them.

Add 2 tablespoons of butter to a large heavy skillet on medium heat.

Add onions and cook

5-6 minutes

until translucent, then remove the onions.

Season the steaks with salt, pepper and paprika.

Cook cube steaks for

4-5 minutes

on each side on medium high heat.

Remove steaks, add remaining butter to the pan along with flour on high heat.

Whisk well and cook flour for

1 minute

.

Whisk in the beef broth and Worcestershire sauce until smooth and creamy then let the broth cook for

4-5 minutes

until boiling and thickened.

Add steaks and onions back to the pan and coat with gravy before serving.
Nutrition
Calories:
520
kcal
|
Carbohydrates:
9
g
|
Protein:
38
g
|
Fat:
36
g
|
Saturated Fat:
18
g
|
Cholesterol:
168
mg
|
Sodium:
1730
mg
|
Potassium:
698
mg
|
Fiber:
1
g
|
Sugar:
1
g
|
Vitamin A:
771
IU
|
Vitamin C:
2
mg
|
Calcium:
58
mg
|
Iron:
4
mg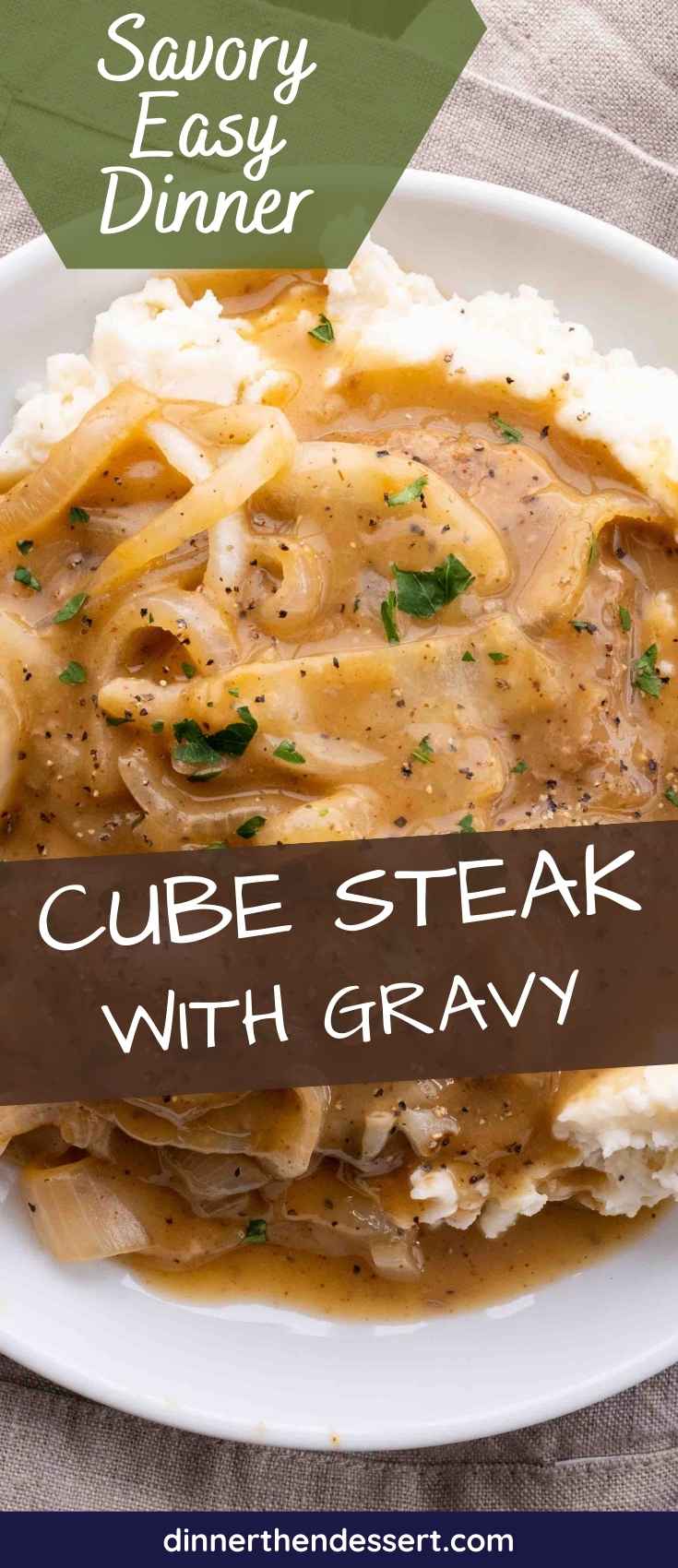 Photos used in a previous version of this post.