Curried Egg Salad is the perfectly easy lunch recipe you can serve as a main dish over a salad or in a sandwich with a delicious curry mayo dressing.
Are you looking for a way to kick up Classic Egg Salad? Extremely easy to make, Curried Egg Salad is full of exotic, tasty curry flavor, making it a fancy egg sandwich perfect for any gathering. If you're looking for more delicious, easy meal ideas, check out my other Salad Recipes.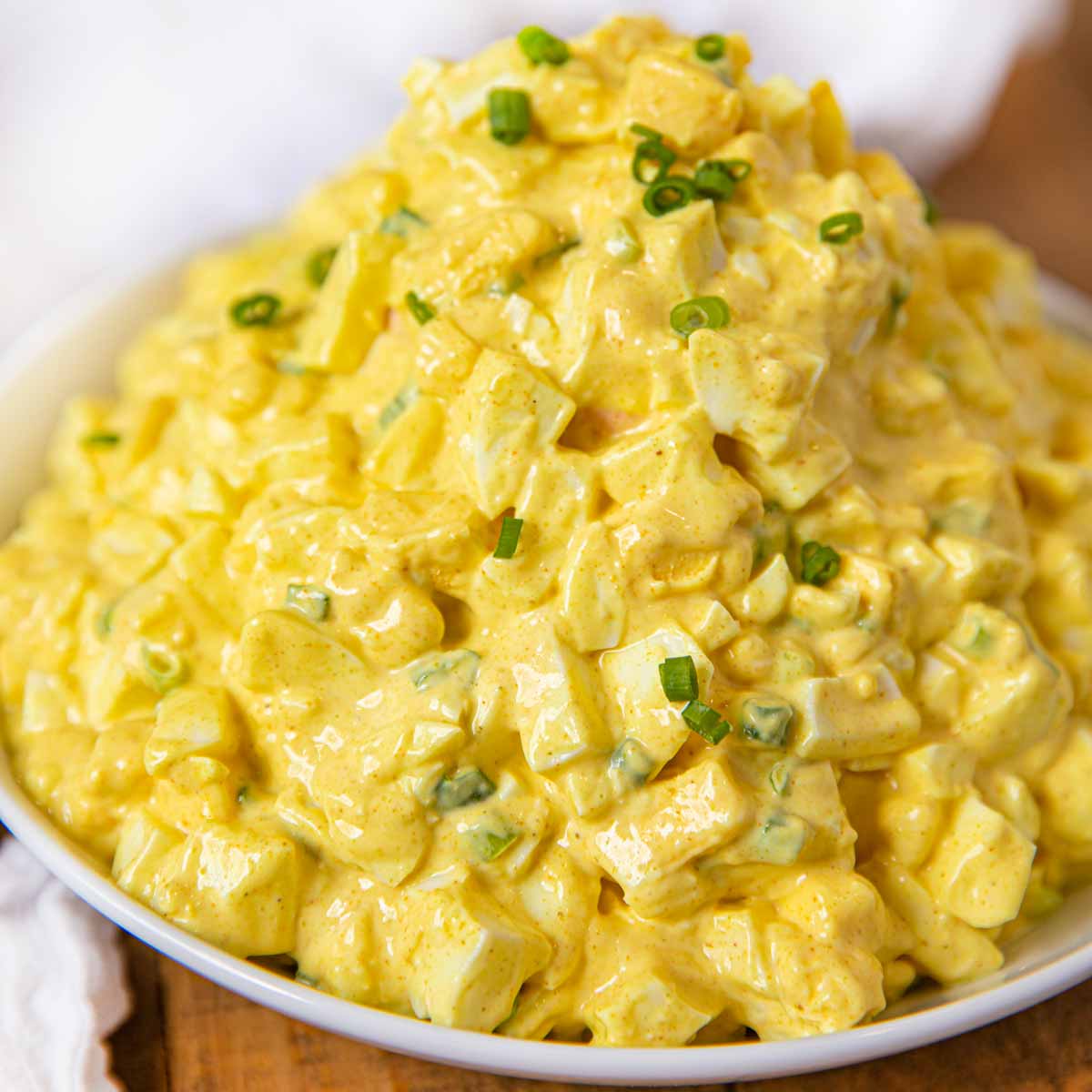 CURRIED EGG SALAD
The next time you're wondering what to serve for a tasty brunch, a fun dinner with friends, or a yummy Easter lunch, try this easy, kicked up egg salad recipe. Curried Egg Salad is more interesting than a traditional egg salad, and you can make a large bowl a day ahead of time to cut down on stress.
You can serve Curried Egg Salad on pita chips, in a tortilla or flatbread wrap, on top of a traditional salad (or even in a tomato that you hollow out like a tomato cup, or as an open face Egg Salad sandwich.
One way I like to serve this dish is to make Curried Egg Salad tea sandwiches. Just spread on homemade White Bread, cut off the crusts, and then cut again into four triangles or small squares. Presto! A fancy, yet easy, delicate treat for a luncheon or party!
Remember as you are serving this egg salad recipe that as egg salad sits at room temperature the dressing will loosen. To prevent this you should serve them immediately or consider using less dressing and more eggs to make a firmer egg salad consistency.
HOW TO MAKE CURRIED EGG SALAD
Hard boil your eggs.
Let them cool in an ice bath them peel them.
In a large bowl whisk together the mayonnaise, ground curry, sugar, salt and ginger.
Chop the eggs coarsely and add to the dressing along with the green onions.
Fold them in gently until combined.
Refrigerate until ready to serve.
Add raisins if desired.
MORE DELI SALAD RECIPES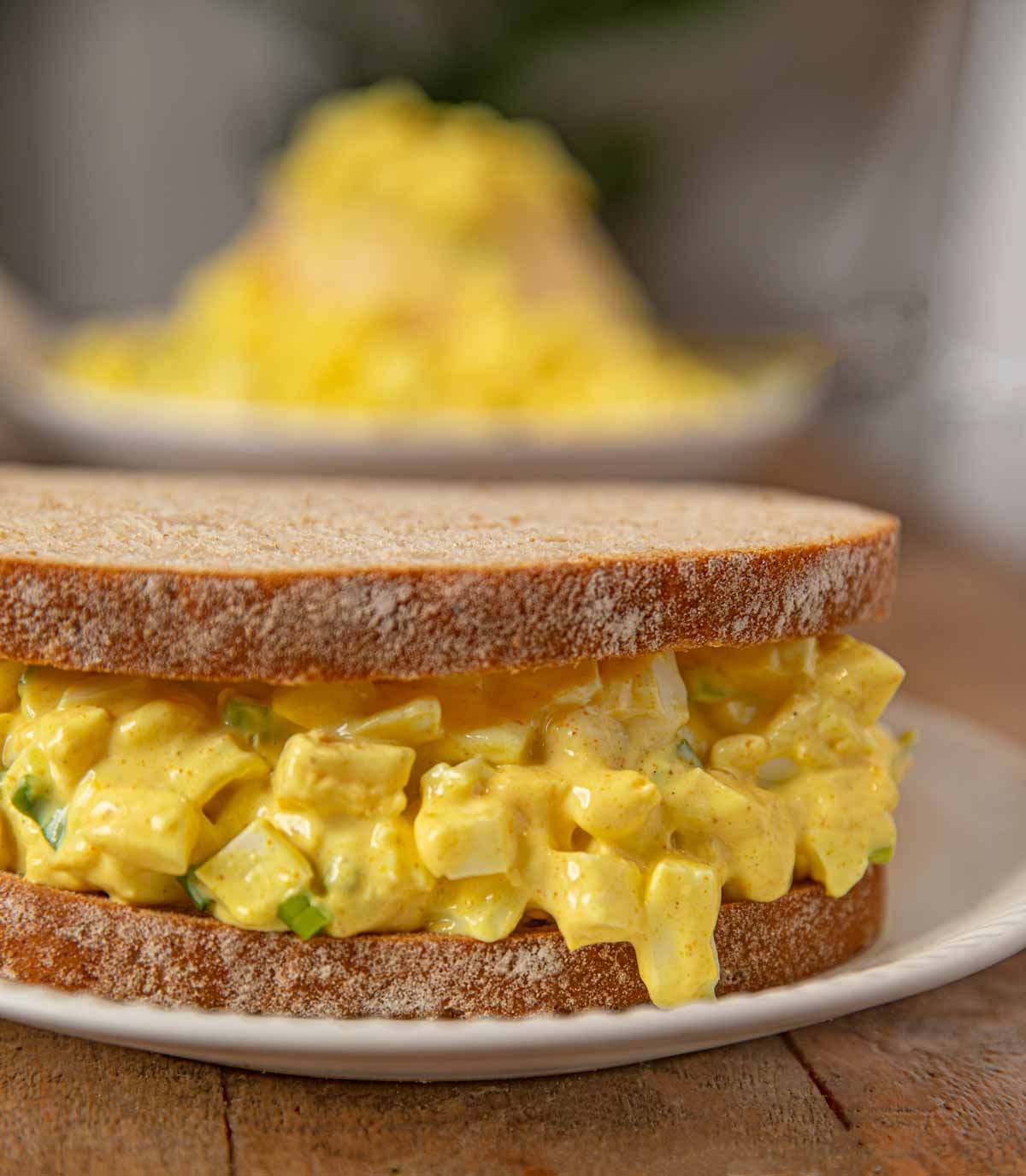 Create a free account to Save Recipes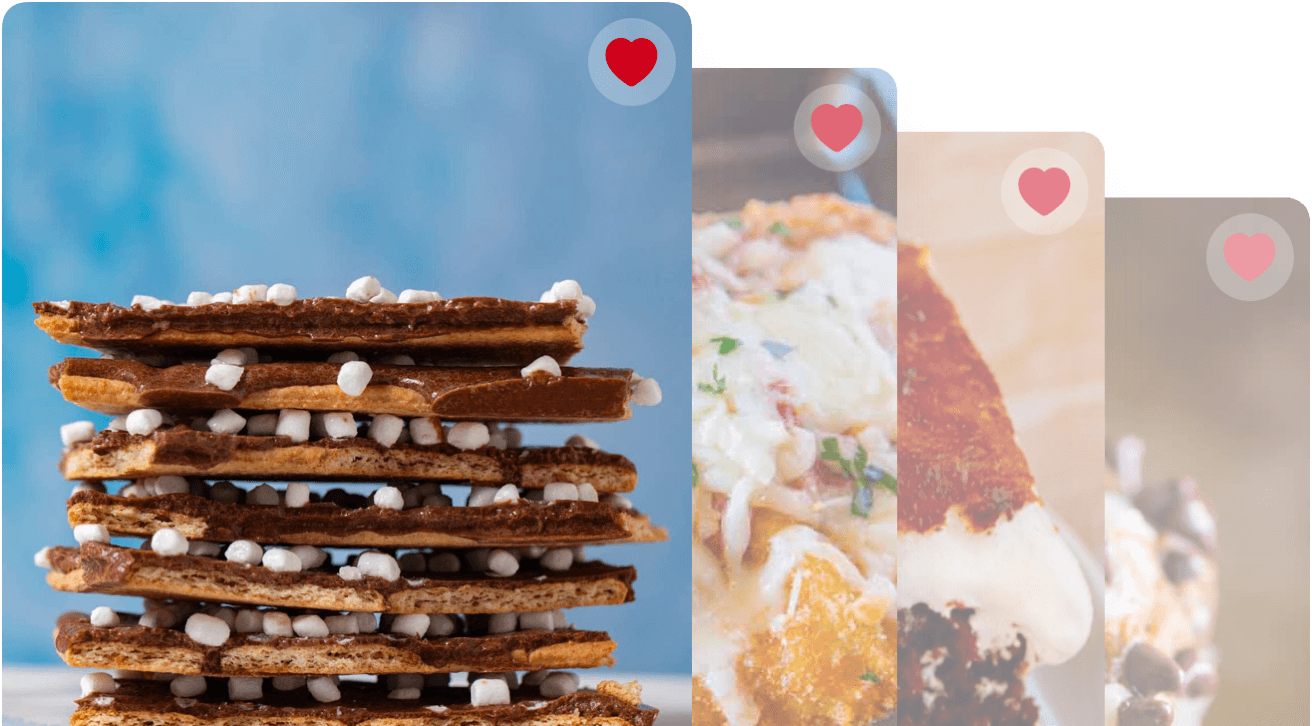 VARIATIONS ON CURRIED EGG SALAD
Add ins: You can customize your Curried Egg Salad with apple, finely chopped cilantro or red onion for even more flavor. Curried Egg Salad with raisins or Curried Egg Salad with mango chutney are also delicious.
Spice: Try stirring in a dash of cumin, paprika, or even a little dijon mustard to give your Curried Egg Salad a little bit of a deviled egg feel.
Yogurt: To lighten up your lunch, you can make Curry Egg Salad with Greek yogurt. The texture will end up being very similar, the flavor can differ slightly, but not so much that a the curry spices won't shine through.
Dietary Needs: You can make Keto Curried Egg Salad lettuce wraps if you have a gluten intolerance or need a low carb version. Just cut a few large leaves of Bibb lettuce, spoon up some Curried Egg Salad into them, wrap tightly and enjoy!
CURRIED EGG SALAD FAQS
How do you boil an egg? Place the eggs in a saucepan with cold water covering them by 1 inch and bring the water to a simmer. Cover with a lid, turn off the heat and let sit for 8 minutes. Remove the eggs and place in an ice water bath before peeling.
How long should I boil eggs? To make hard boiled eggs, cook for 8 minutes. For soft boiled eggs, cook them for 5 minutes.
How do you boil eggs so they peel easy? Peel the eggs right after they come out of the ice bath otherwise it might be difficult to get the shell off. Salt the water when you're boiling the eggs, this helps them peel easily when they're done.
Can egg salad with mayo be frozen? No. Dishes made with mayo, like deli salads, do not keep a good consistency if frozen and then thawed. Eggs also do not freeze and thaw well. It's best to make this dish fresh or up to 3 days ahead of time.
SIDE DELI SALAD RECIPES
HOW LONG IS CURRIED EGG SALAD GOOD?
Serve: You shouldn't leave your Curried Egg Salad out at room temperature for longer than 2 hours.
Store: Keep your Curried Egg Salad in the fridge for 3 to 5 days. Be sure to keep it properly stored in an airtight container (you should also do this as the smell of curry and eggs is something to be considerate of if you are bringing this dish to the office).
Freeze: I do not recommend freezing any Egg Salad dish.
EGG SAFE HANDLING TIPS
If you have questions about the proper handling of eggs and egg products, check out the USDA's official website. They have a comprehensive list of how to safely cook and handle eggs.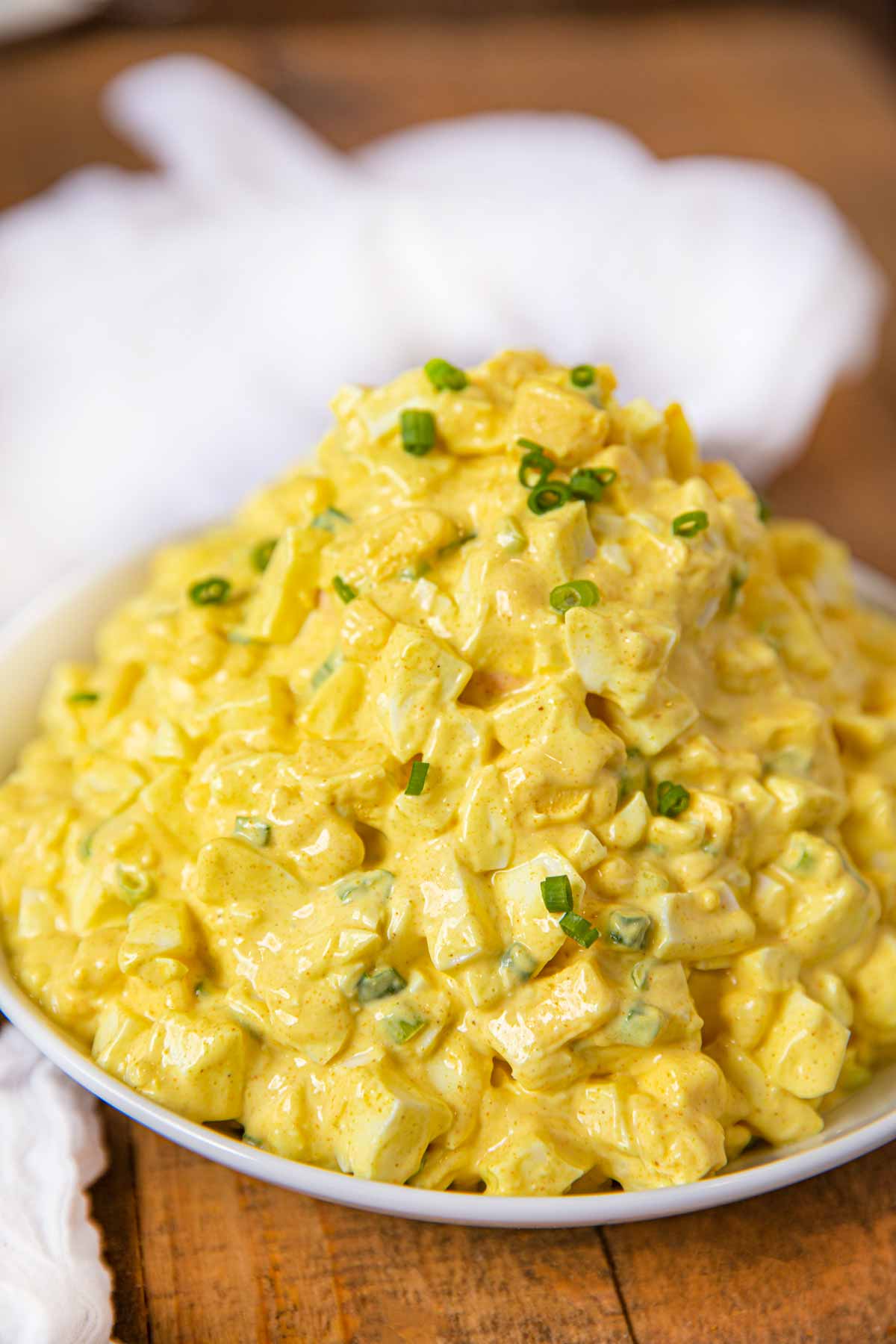 Ingredients
8

large

eggs

, hard boiled

2/3

cup 

mayonnaise

1

teaspoon

ground curry

1

teaspoon

sugar

1/4

teaspoon

kosher salt

1/8

teaspoon

ground ginger

4

stalks

green onions

, thinly sliced
Instructions
In a large bowl whisk together the mayonnaise, ground curry, sugar, salt and ginger.

Chop the eggs coarsely and add to the dressing along with the green onions, folding them in gently until combined.
Nutrition
Calories:
220
kcal
|
Carbohydrates:
2
g
|
Protein:
7
g
|
Fat:
20
g
|
Saturated Fat:
4
g
|
Cholesterol:
219
mg
|
Sodium:
279
mg
|
Potassium:
95
mg
|
Fiber:
1
g
|
Sugar:
1
g
|
Vitamin A:
379
IU
|
Vitamin C:
1
mg
|
Calcium:
38
mg
|
Iron:
1
mg