Flourless Chocolate Cake is a fudgy chocolate cake made with just 4 ingredients and just 5 minutes of work before it goes in the oven! The easiest impressive cake you'll ever make!
We have all your favorite classic dessert cakes on the site including Chocolate Cake, Vanilla Cake, Yellow Cake, Red Velvet Cake and even Oreo Cake but this is our only flourless cake and I promise it is the only one you'll ever need!
Flourless Chocolate Cake Recipe
Flourless Chocolate Cake (Flourless Chocolate Torte) is enough of a description to sell me on this recipe, but the fact that it is only 4 ingredients and no stand mixer to clean makes it a total no brainer.
This cake isn't like your normal chocolate cake from a box mix (check out my box mix hack!) with icing, it is more like a cross between fudge and ganache with the texture of cheesecake. It is flour free and nut free (no almond flour in this recipe!) and all the texture of the cake comes from the fudgy combination of egg, chocolate and sugar baking into a solid yet creamy chocolate ganache.
With Passover and Easter coming up soon this is the perfect recipe for the holidays. In fact you can make this chocolatey dessert recipe and if there are any leftovers you'll love them even more the next day.
With something so rich I find a small slice is usually plenty and the best part is that leftovers are just as good. This cake not only doesn't go stale but the silky texture of it is completely transformed in the fridge to a firm fudge-like texture that is just addicting.
Is Flourless Chocolate Cake Gluten-Free?
Yes, Flourless Chocolate Cake is gluten free and if you swap butter for margarine it is also dairy-free.
The cake is so simple there isn't even any dry ingredients except for sugar. If you'd like to grease and "flour" your pan you can do so with some cocoa powder in place of flour for two reasons. First, it will stay flourless (read: gluten-free) that way and second the cocoa powder will allow it to stay this beautiful chocolate color and not get white dust on the outer layer of the cake.
What is flourless chocolate cake made of?
Flourless Chocolate Cake is made simply of chocolate, sugar, eggs and butter.
Should flourless chocolate cake be refrigerated?
No, it does not need to be refrigerated but it should be kept in an airtight container.
How do you know when flourless chocolate cake is done?
The edges of your cake will pull away from the pan.
A toothpick should come out clean, not with batter.
The top should not leave a depression when touched.
What makes a torte a torte?
The difference between a cake and a torte is that a torte is classically made with little to no flour. It is classically made with a nut or breadcrumb mixture.
In this case the use of no flour allows us to refer to this Flourless Chocolate Cake Recipe as a cake or a flourless chocolate torte.

Create a free account to Save Recipes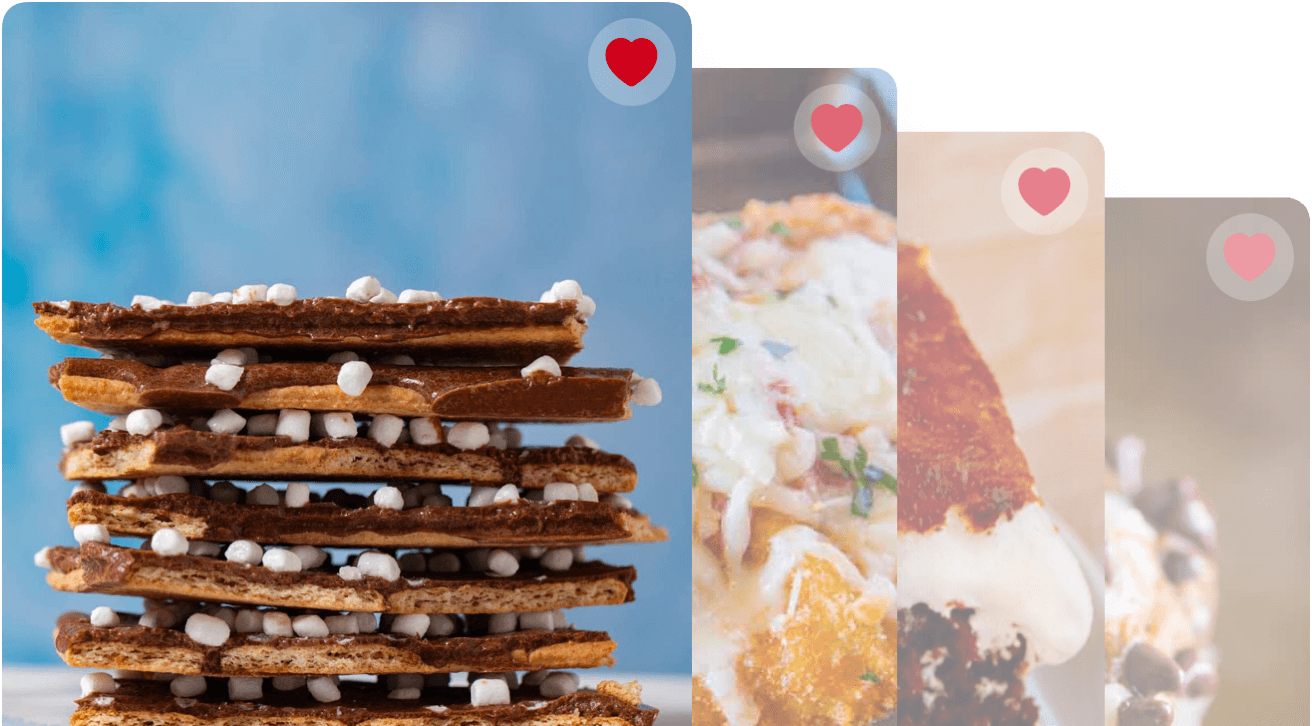 Optional topping ideas:
Chopped berries or your favorite fruit (these are my go-to option with some fresh whipped cream).
A tropical twist with toasted coconut flakes and chopped mango.
Homemade Whipped cream with chocolate shavings
Whipped coconut cream
Homemade Cool Whip (or store bought!)
Peanut butter! But put it in a little bowl and microwave it for 15-20 seconds so it is runny.
Hot Fudge Sauce or Salted Caramel Sauce
Chocolate Ganache- melt equal part chocolate chips and heavy cream in a microwave safe bowl for one minute. Let sit for one minute then stir until creamy.
Flourless Chocolate Cake for Passover:
For Passover: If you are enjoying a dairy meal, this cake will fit right in as is. If you are having a meat meal, you'll need to swap out margarine and non dairy chocolate for the butter and chocolate.
Tips for the BEST Flourless Chocolate Cake:
Don't use chocolate chips here, I use high quality disks or chocolate bars because chocolate chips have a coating that prevents them from sticking/melting together well.
High quality chocolate matters more when baking and your entire recipe is only 4 ingredients.
Make sure the eggs are room temperature, they'll combine better with the melted butter and chocolate.
Make sure the foil is completely surrounding the bottom of the pan to prevent any water from leaking in.
Don't forget to cover your pan with foil! It will burn if you forget.
If you want to add a bit more flavor you can add vanilla extract, orange extract, mint extract, almond extract, coffee extract or even instant espresso powder to the recipe.
You can use any chocolate you'd prefer, I use dark chocolate but bittersweet and semi-sweet would be great too. I wouldn't recommend using milk or white chocolate in this recipe.
If you want to skip using a spring form pan and bake in a cake pan instead you're going to have a difficult time getting the cake out of the pan. If you line with parchment paper then refrigerate until completely firm you may be able to carefully lift it out of a cake pan.
If you prefer not to use the microwave to make the chocolate mixture you can add the butter and the chocolate to a non-stick saucepan on medium-low heat until melted.
Your batter will be very liquidy, but the cake is going to bake for 75 minutes, so don't worry about how thin the batter looks.
More Easy Chocolate Desserts: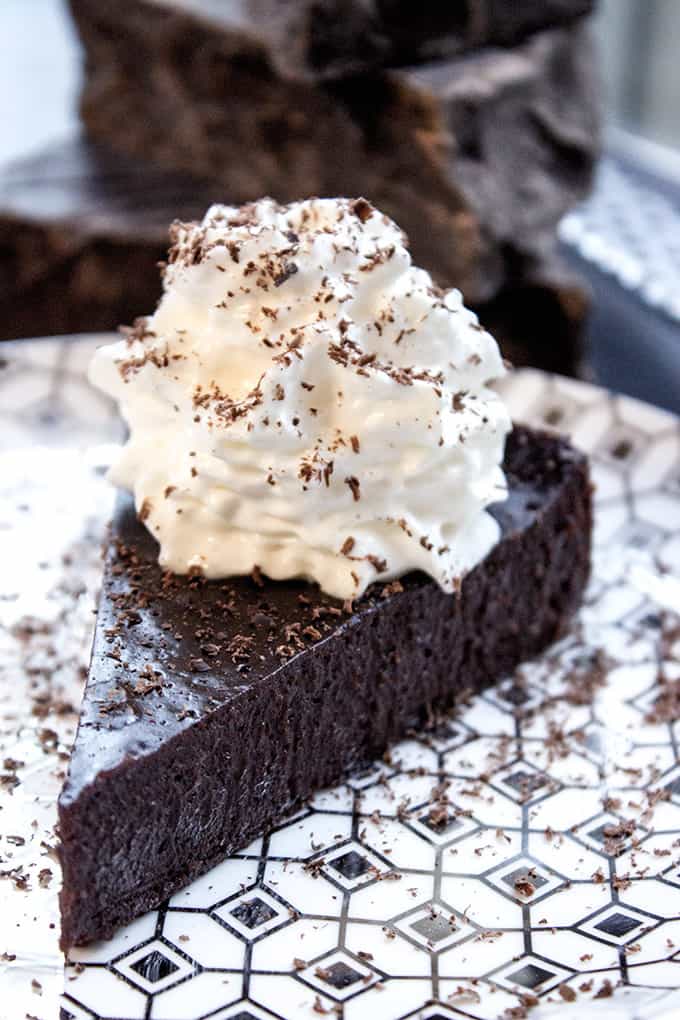 Ingredients
12

ounces

dark chocolate

16

tablespoons

unsalted butter

5

large

eggs

, room temperature

1 1/4

cups

sugar
Instructions
Pre-heat the oven to 350 degrees and spray an 10″ springform pan with baking spray then place the base of the pan in foil to seal the bottom from letting any water leak in from a water bath.

Melt the chocolate and butter together in a microwave safe bowl in

30 second

increments until completely smooth then let it cool for five minutes.

In a large bowl whisk together the sugar and eggs until fully combined then very slowly pour in the chocolate while whisking quickly until fully combined.

Pour the mixture into your springform pan, cover tightly with foil and place into a pan two inches larger than your springform pan and fill 1″ high with very hot water, then bake for

75 minutes

.

Remove from the oven and from the water bath and cool completely before serving.
Nutrition
Calories:
417
kcal
|
Carbohydrates:
34
g
|
Protein:
5
g
|
Fat:
29
g
|
Saturated Fat:
17
g
|
Cholesterol:
128
mg
|
Sodium:
41
mg
|
Potassium:
239
mg
|
Fiber:
3
g
|
Sugar:
27
g
|
Vitamin A:
605
IU
|
Calcium:
38
mg
|
Iron:
3.8
mg