Ham Salad is a yummy appetizer or sandwich filling (perfect for leftovers!) made with diced ham, relish, celery, and mayonnaise in 5 minutes!
Salads are some of the most versatile dishes you can make, since they can be paired with almost any main dish. If you liked our recipes for Chicken Salad, Tuna Salad and Egg Salad, you need to add this Ham Salad to your recipe box too!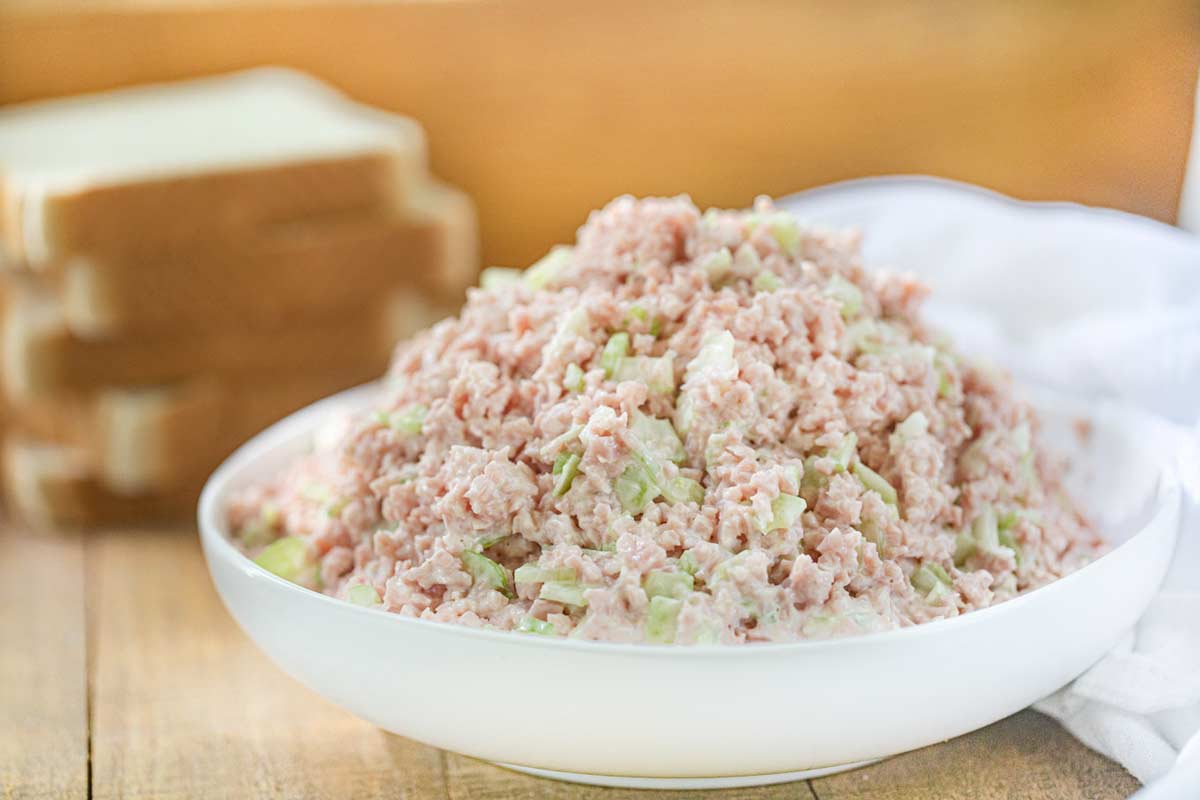 This Ham Salad recipe is perfect as everything from an appetizer to a main dish, and is made with diced ham, mayonnaise, celery and relish. You can make it in around 5 minutes, and it stays good in the fridge for a few days so you can bring it with you to work for a quick lunch.
This is a very popular recipe because of how quick and easy it is to make and because you can use leftovers to make it. The best Ham Salad is made from your leftover holiday ham from Christmas, Easter, or Thanksgiving, but you can also use deli meat or the thick honey baked ham slices you can get at the grocery store. As long as you dice it up, any ham will work.
You'll love making new recipes with leftover holiday ham! – if you have leftover holiday ham, use it for breakfast! Try making Ham Steaks or Eggs Benedict for after holiday breakfasts!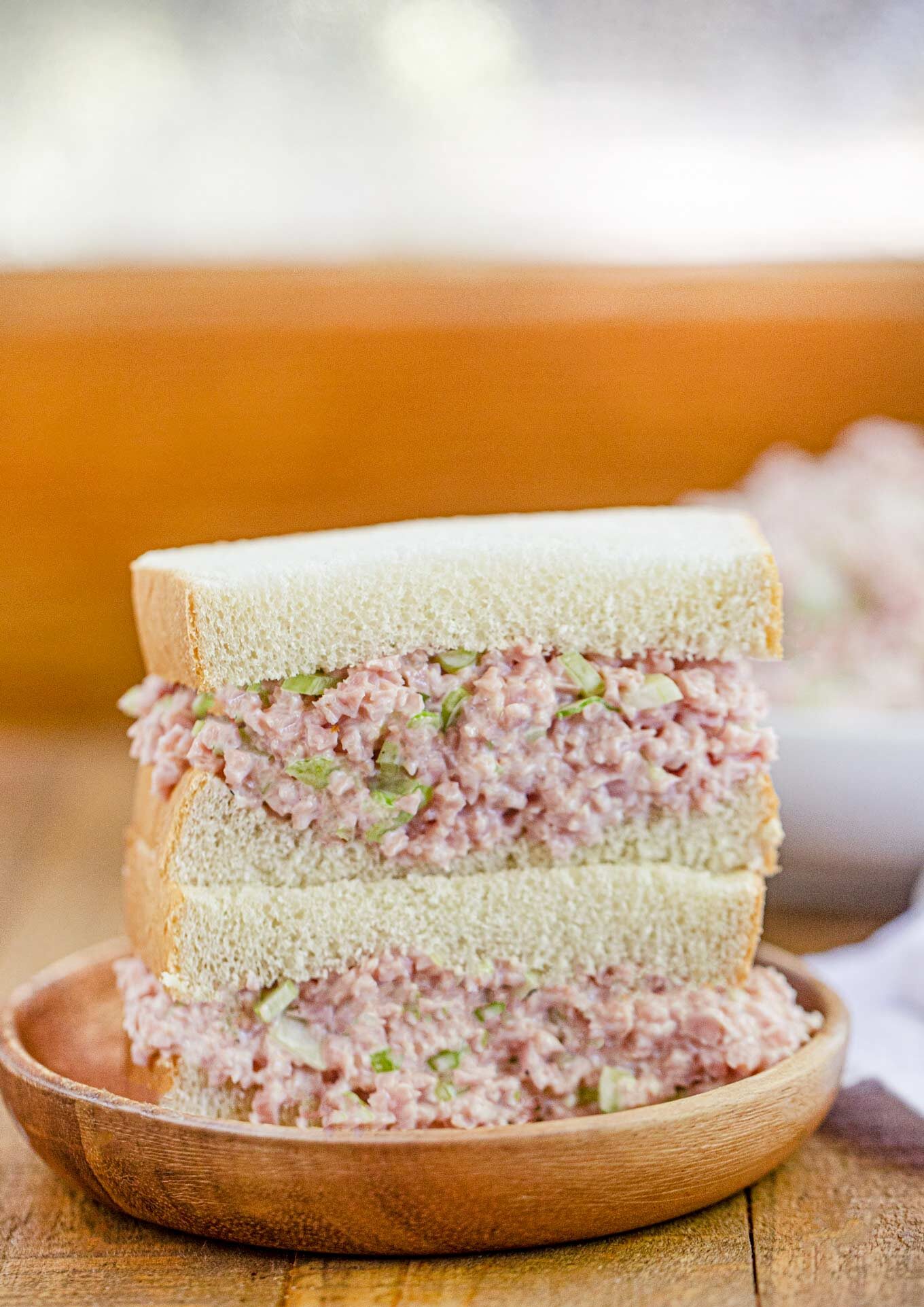 How to Make Ham Salad
We love this recipe because it is so simple to put together! In about 5 minutes you'll have a tasty Ham Salad that will satisfy even the hungriest of appetites.
Step One: To make Ham Salad, take your slices of ham, leftover or otherwise, and put them into a food processor. You need to only use the food processor in pulses so that you don't end up with meat paste. You want the pieces to look like large crumbs about the size of bacon bits or large peppercorns.
Step Two: Then mince your celery into small chunks and pour them, the ham, mayonnaise and sweet relish into a large bowl. Stir everything together and cover the bowl.
Step Three: Then put it in the fridge for at least an hour. You can definitely refrigerate them for longer, but definitely don't take it out early if you want the proper chilled taste.
Delicious Easy Deli Salads
Frequently Asked Questions
What's the best way to eat Ham Salad? 
You can eat it the traditional way with a fork or, if you want a unique party food you can serve it as a spread for crackers. Another favorite way to eat it is with Texas Toast as a sandwich! The extra thick bread makes this sandwich a guilty pleasure. 
Can I use chicken instead of ham?
Yes! Chicken is a great substitute for this recipe. You'll want to make sure it's fully cooked before chopping it up into small pieces. 
Why can't I freeze Ham Salad? 
The mayo does not thaw well and will disintegrate into sludge, so It needs to be made fresh each time you want to eat it.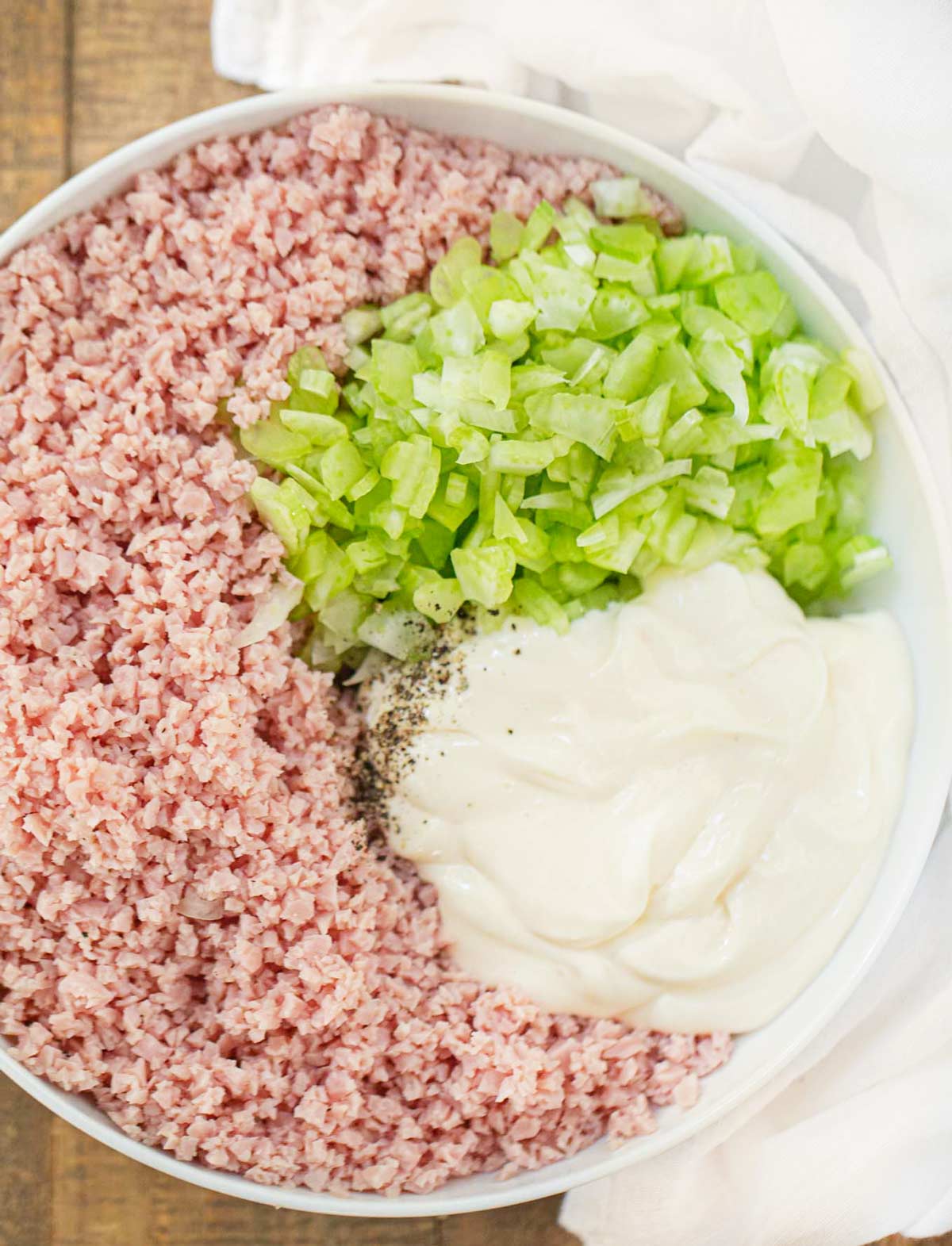 Create a free account to

Save Recipes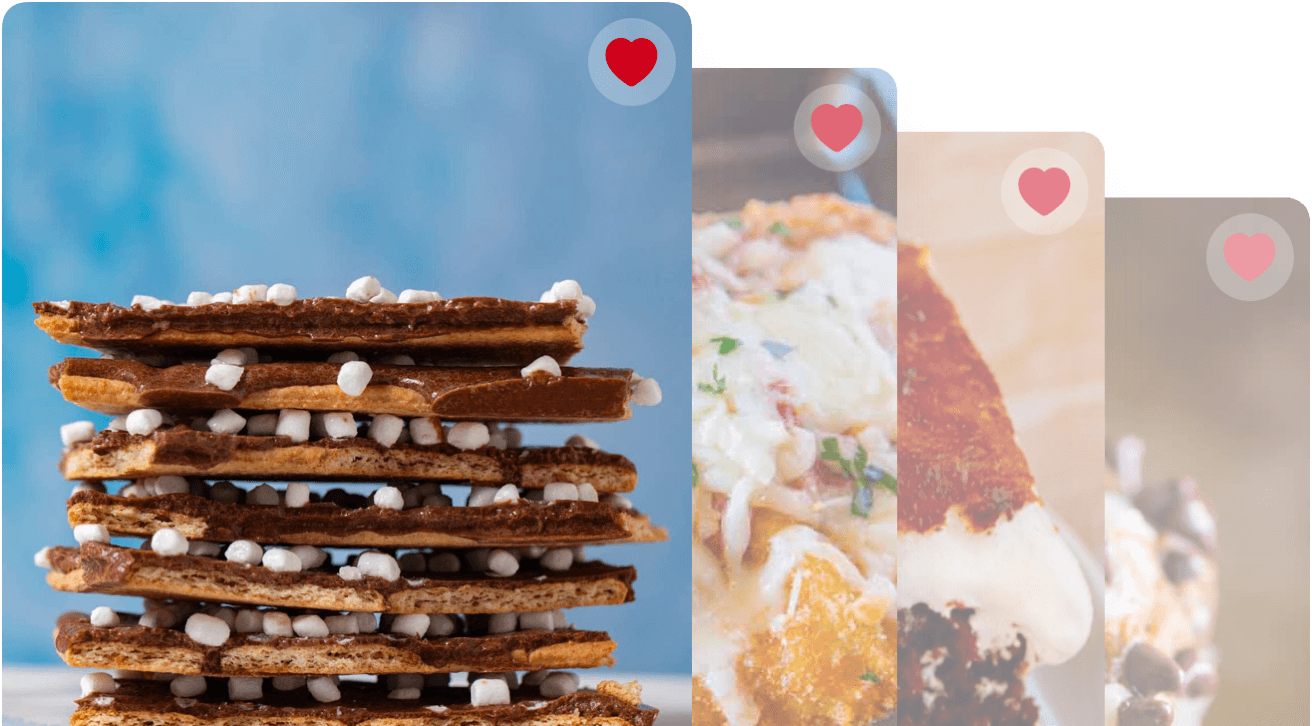 Key Ingredients in Ham Salad
This delicious recipe uses really simple ingredients! They can all be easily found at your nearest grocery store. You can always add a bit of kosher salt if needed.
Ham: We're using some leftover ham from the night before. It's a great way to make sure nothing goes to waste!
Celery: Celery is crispy, green, and fresh and adds the perfect crunchiness to your dish.
Mayo: You can use your favorite mayo or Miracle Whip.
Relish: A simple relish works great with this recipe. No need to get complicated.
Variations on Ham Salad
Sauces: You don't just have to use sweet pickle relish. You can use dijon mustard, yellow mustard, or even dill pickle juice. Depending on what your personal tastes are, you can add more or less mayonnaise to make the flavor stronger or weaker.
Add ins: Try finely chopping some green onions, bell peppers, or white button mushrooms and stirring them in. You can also top the Ham Salad with shredded cheddar or a handful of parmesan cheese.
How to Store Ham Salad
Serve: Ham Salad is traditionally served up chilled and it has mayonnaise in it, so you really shouldn't leave it out for longer than about 2 hours or it will go bad.
Store: You can keep the salad in an airtight container for up to about 3 days in the fridge, as long as it's kept in something airtight. It will keep better if you store the components separately, especially the mayonnaise.
Freeze: Don't freeze this. Ham Salad should be eaten fresh or out of the fridge, since mayonnaise famously doesn't freeze well.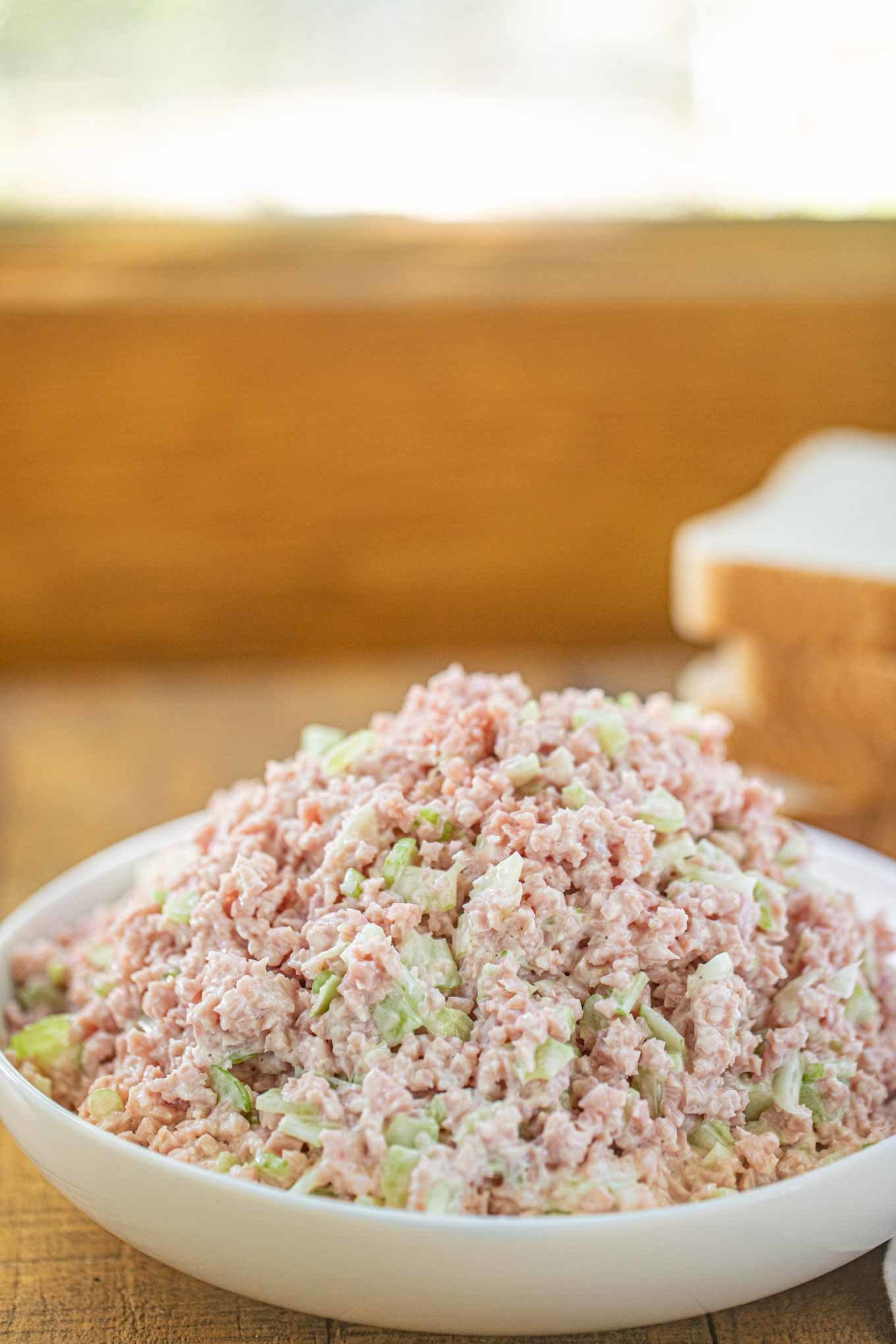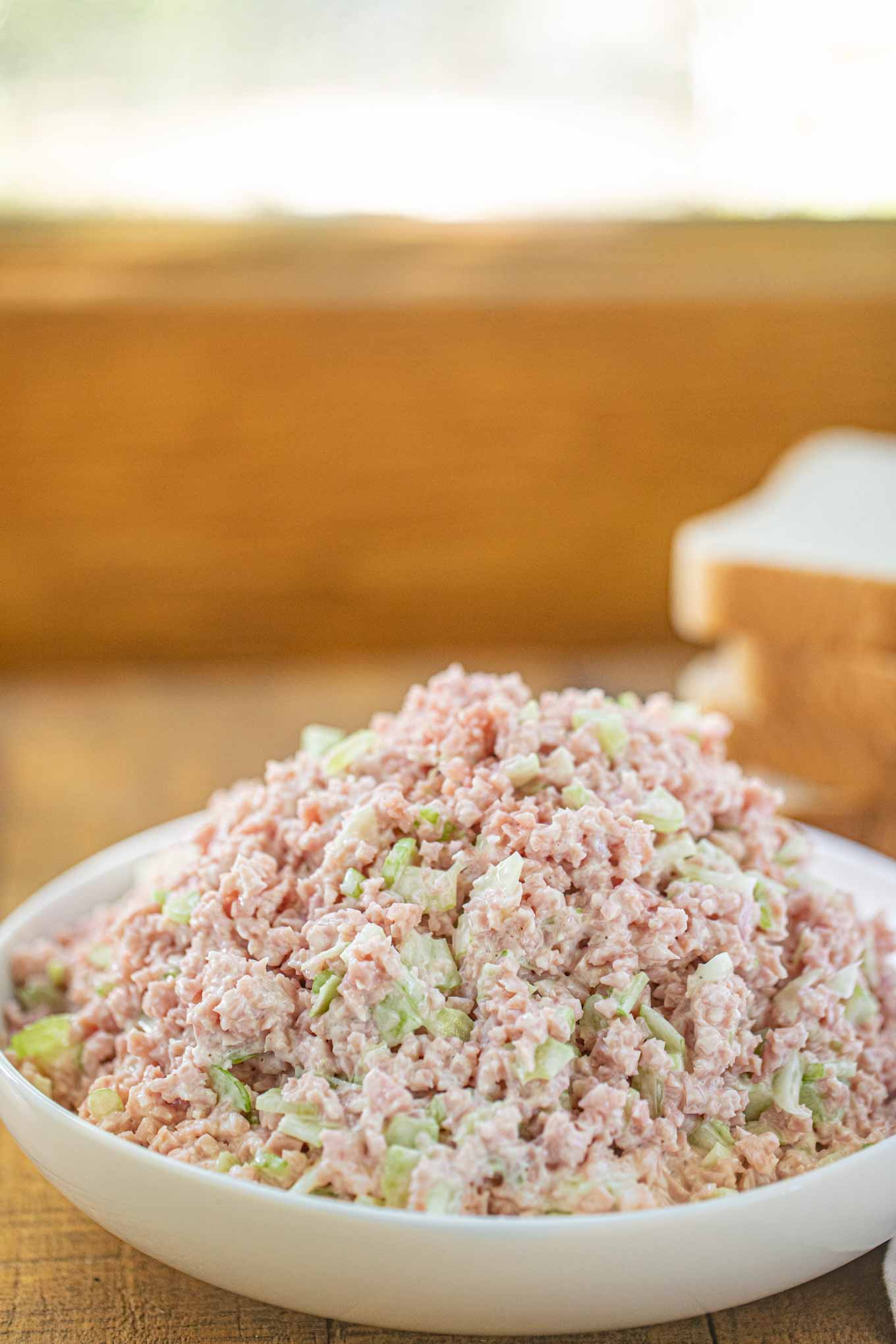 Ingredients
3

cups

ham

, (16 ounces)

1

cup

mayonnaise

1/2

cup

celery

, minced

2

tablespoons

sweet relish

1/8

teaspoon

coarse ground black pepper
Instructions
Add ham to a food processor and pulse until it is in small pieces, but not a paste, more like crumbs.

Add all the ingredients together in a large bowl and stir well.

Serve chilled, at least

2 hours

of refrigerating (this helps hold it together).
Nutrition
Calories:
270
kcal
|
Carbohydrates:
2
g
|
Protein:
8
g
|
Fat:
25
g
|
Saturated Fat:
4
g
|
Cholesterol:
43
mg
|
Sodium:
713
mg
|
Potassium:
141
mg
|
Fiber:
1
g
|
Sugar:
2
g
|
Vitamin A:
93
IU
|
Vitamin C:
10
mg
|
Calcium:
7
mg
|
Iron:
1
mg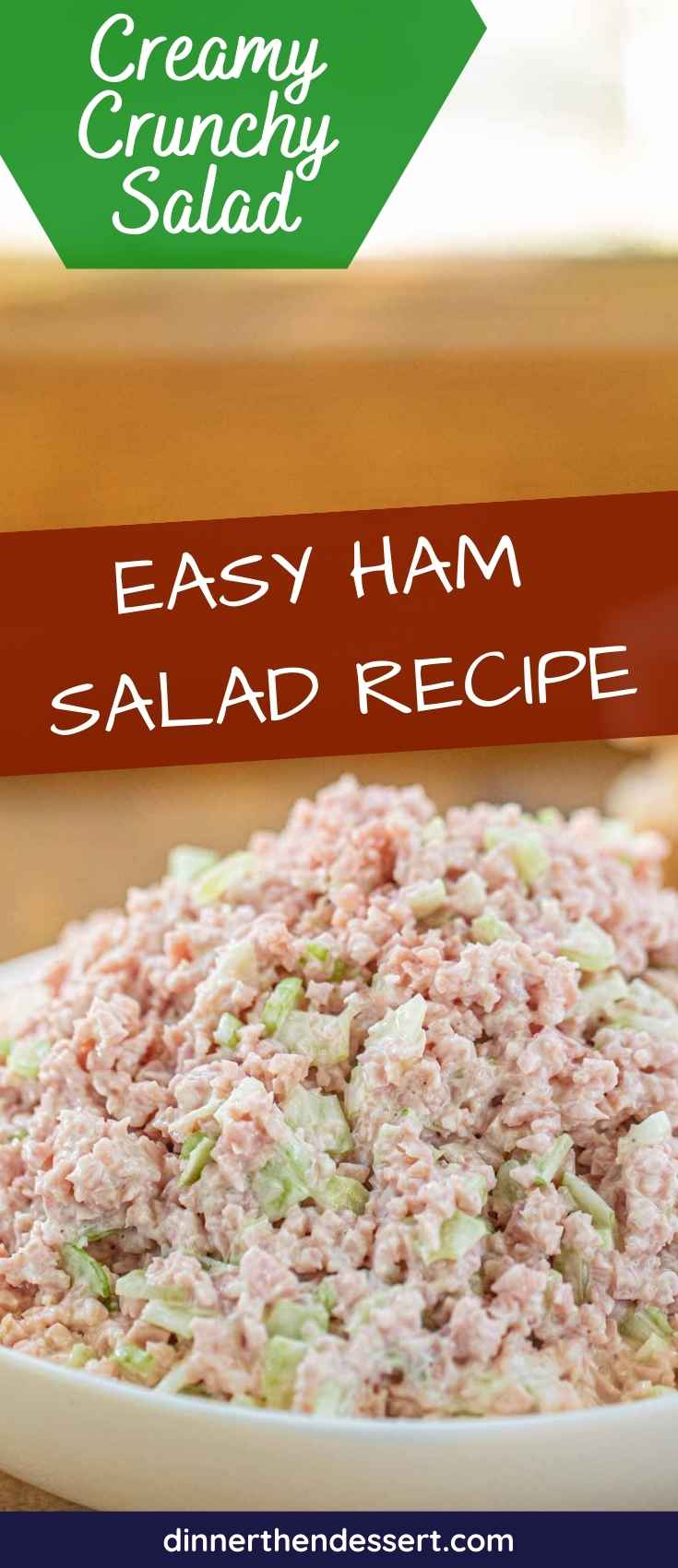 Photo used in a previous version of this post.