Blogiversary One: A look back over the first year of blogging at Dinner, then Dessert including traffic totals, growth and most popular posts.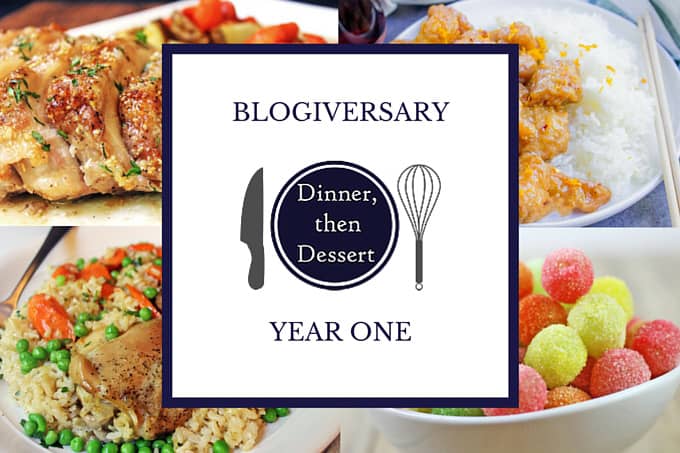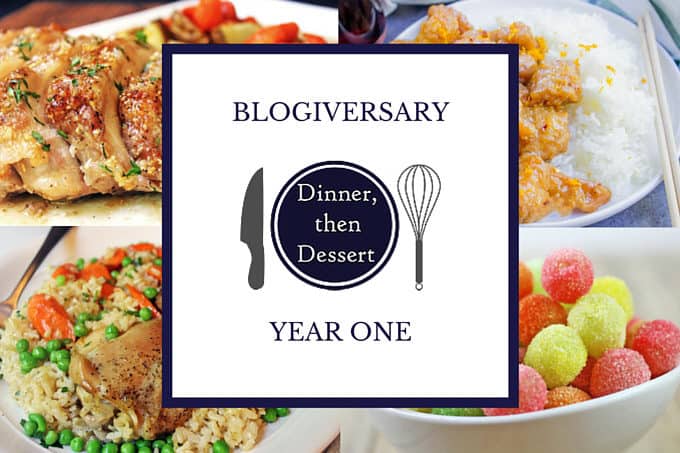 Happy Blogiversary! I can't believe it has been a year since the blog started.
This site has been live for almost 7 years, most of that as a page about my business as a private/personal chef. A year ago that I moved the business side to personalchef.dinnerthendessert.com and this one took on a new life as a food blog. Why? Priorities were changing with kids and less time that made cheffing more and more like an obstacle course than the normal juggling of clients and parties.
The idea was to transition slowly as I'd had it sort of drilled into my head that making blogging a career is akin to winning some sort of lottery. I was told there are millions of blogs and only a small number of successful bloggers.
I jumped in anyway and I have to say this is the most fun I've had "working" ever (except for Tuesday's with my all-time favorite client of course).
I did not win the blogging lottery, but I think there is a lot to be proud of in the first year! And fingers crossed the future is as awesome of a roller coaster.
Let's review some numbers:
Number of posts: 288!
Number of times I said "my head just exploded": 312,431 312,432
Number of months in a row views went up: 12
Total views in the last 30 days: 534,350
Total views in the last year: 2,342,644 <— my head just exploded
Where did all the traffic come from?
1. Social (Facebook, Pinterest, Instagram) – 35.48%
2. Organic Google Search –  31.15%
3. Direct – 25.47%
4. Referral (Buzzfeed, MSN, Parade Magazine, Cosmopolitan) – 7.88%
Seriously. You guys visited over a half a million times in the last month. That… is….crazy. Right around my 9th month of blogging I crossed a million total views and I thought it would be totally crazy if by a year I could cross 2 million.
Thanks to all of you, you guys totally shattered that goal!
The top five recipes that helped contribute to those numbers?
Time for some yearbook style superlatives:
Most Fun award goes to: Sour Patch Grapes for the awesome dinosaur photobomb and toddler reaction
Most surprising MVP: Easy Enchilada Sauce <- who would've thought!?
Most Pinned: Brown Sugar Garlic Pork
Most Commented: Sour Patch Grapes
Most Delicious (in my humble opinion): Halal Cart Chicken and Rice <– stranded on a desert island this is one of my three picks.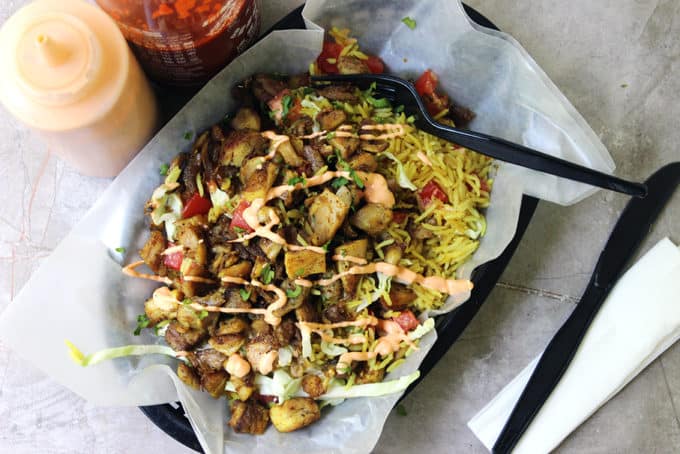 Biggest Surprise: How much fun copycat recipes are. I put up a couple and caught the copycat bug.
Most Valuable Player: My husband, who spent countless hours working on the tech side of the blog, deleting spammy comments, holding up props and light diffusers, getting groceries for recipes (with two kids in tow so I could keep cooking while he was at the store!), wrangling two kids away from my photo studio and being the best support I could ever ask for. Literally, without him this blog would not exist. <3 <3 <3
Runner Up: Eric, my superhero tech support when things are above my husband's paygrade on the blog. Eric is there to talk me down when I am freaking out, solve issues with the blink of an eye and he even made the Sour Patch Grapes and sent me a picture of them once! Total rockstar. And you can hire him too!
Honorable Mentions: Media Temple and AdThrive
Media Temple has been a wonderful home for the blog and Sean and David are total rockstars who always go way above and beyond anytime I'm in a (let's face it) usually self-induced crisis. They've watched the blog grow from a tiny hosting plan, through a series of bigger ones onto its own dedicated virtual server and I am fortunate to have had them supporting me the entire way.
Adthrive: SO MUCH LOVE for Adthrive. They've taken a full time job of putting ads on the page off my plate. You guys may notice I very infrequently do sponsored posts. This is because the only time I do them is when I genuinely love something and already work with it. I don't ever apply for products that I wouldn't look you in the eye and with a straight face say, "hey I love this, I use it and it is a quality ingredient" and that means I do significantly less sponsored posts than I could. To keep the lights on here I have ads on the side of the pages instead (I know sometimes they can be annoying) but it feels like the most authentic way to sort of balance the need for this to make money vs. the need to be authentic in the posts. Trust means a lot. AdThrive has been my partner through this ad maze and they are THE BEST. I've even brought over 5 friends to their services because I love them so much. Seriously, if you're a blogger… AdThrive.
Here is a fun trip down memory lane:
Today marks exactly a year since this first post went live…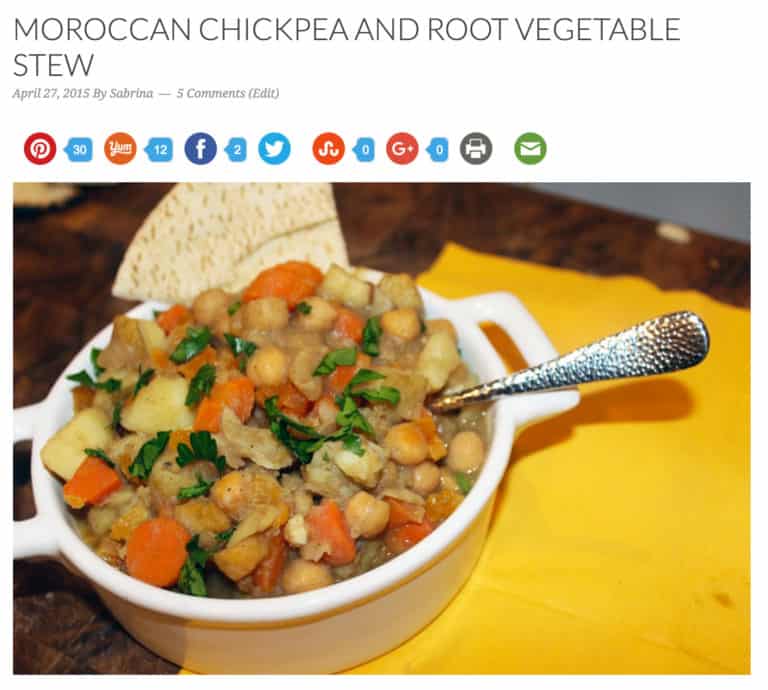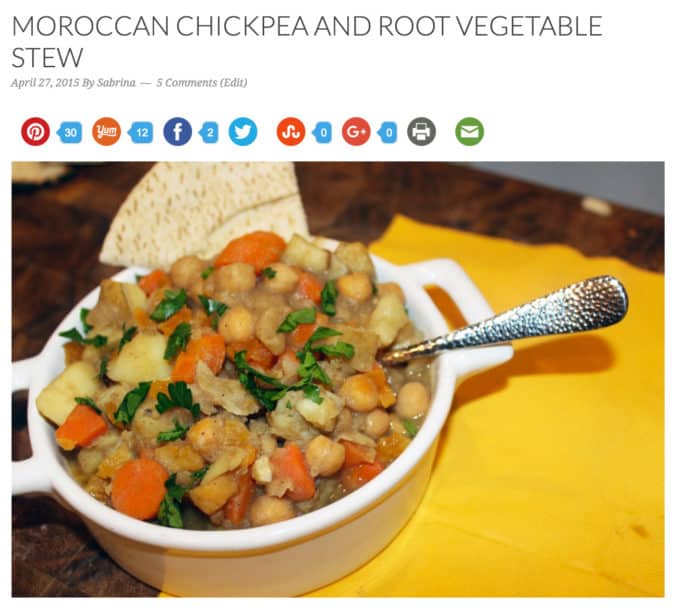 and it went super viral right away! …
Ok no it didn't, it got 30 whole pins on Pinterest and 2 Facebook interactions. But, I mean, the photo isn't exactly wonderful. Over the last year I thought a lot about re-shooting this recipe because it is one of my favorites. With a full head of recipes you always pick your absolute favorites first (before you know what you're doing!) but I can't bring myself to change this post. There is something so awful and endearing about leaving your first post as is.
Luckily since then the photography has improved (I would hope so at least) and recipes tend to reach more people now.
But I had nothing if not rookie enthusiasm as I started:


And I was thrilled to celebrate every little success along the way


It feels like every day something new and amazing happens. Someone I admired from afar reaches out to me, a brand I love emails, you guys email me photos of your completed dishes and they're amazing.
So on the blog's first blogiversary, I wanted to give you all a sincere THANK YOU!
Thank you for being basically the most awesome readers and for making this the most amazing experience. This blogiversary post sort of pulls together so much information all into one place that it made me cry a few times when I really could see it all right in front of me in one place. I feel so fortunate to be on this amazing blogging journey and that all of you are sharing in it with me. From the bottom of my heart, thank you.