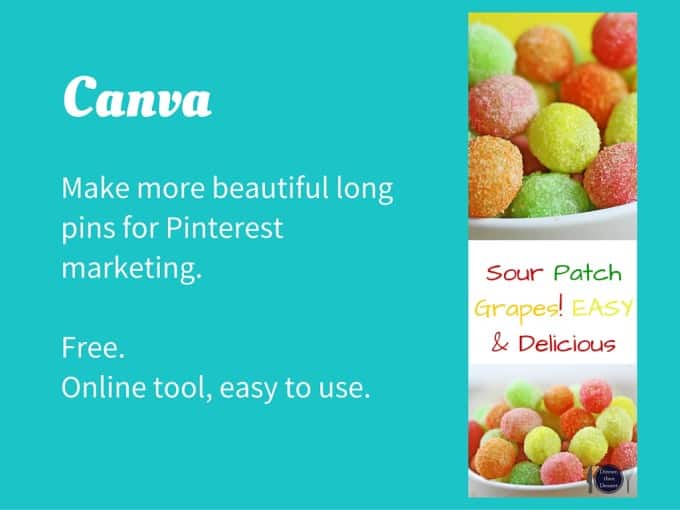 Now that we have started discussing some ideas for your Pinterest marketing, I thought I would go into how I make those long pins you find on my recipe pages. If you have ever clicked on the Pinterest button at the beginning or end of a post:
then you have seen the red P in the top left. Clicking on that brings up a screen full of options to pin to your Pinterest page from.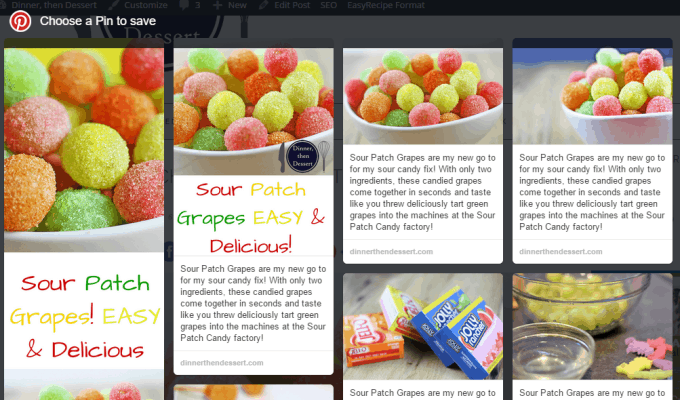 You will notice how I mentioned yesterday all of my non-long pins are horizontal. That is not something you should do. I am so used to shooting in landscape when I should be doing it in portrait. I am working on it and hoping to start making changes to recipes as they come out. Those small horizontal pictures are not going to stand out in Pinterest. The long ones however, have a much higher rate of re-pins. I don't blame people, they are so much more eye catching and enticing. I find myself always gravitating towards the longer pins for my own personal inspiration pins too!
I make all of these long pins in Canva. The learning curve in Canva is pretty short. It is pretty self explanatory with a couple of pieces of info.
I make my long pins in a custom pixel size because even though they have a ton of options, there isn't one for long Pinterest pins yet.
Use the "use custom dimensions" in the top corner and select 735 x 2102 
Now you're in Canva editor 
That white tall rectangle is your long pin. You upload your own photos into the page and you can drag/drop them onto the image. You can add text, shapes, colors, overlays, etc. I would go into it but all of this is the artistic side which is unique to you. So instead I will link you to their tutorials page.
Once you are happy with your pin, download it for web and upload it into your media folder like any other photo.
Time to hide this pin! Why are we hiding it? It isn't really great for the flow of your post, looks like a bit of a distraction and serves no real purpose for the person reading the post since it doesn't help in making the dish. I've seen blogs that hide it and those that don't and I personally prefer it hidden.
A great blogger's resource called Food Bloggers Central wrote a tutorial on how to hide these pins which is super helpful and EASY. So let's do it! As a side note, if you are a new food blogger, Nagi and Food Bloggers Central is an INVALUABLE resource. She is brilliant and generous and helpful and has been a huge part of my growth as a food blogger. Bottom line, she's a cool lady and you will learn a ton from her. For free, btw.
We are going to insert it into the text editor of your post. Directly to the right of the "Add Media" button you will see two tabs, Visual and Text. You normally work in Visual which looks like a version of Microsoft word, you see formatting, images, etc. Text will show you coding.
To hide your photo, go into the Text editor and add the following code:
<div style="display: none;">
Then add the image directly after that coding. AFTER the image code add
</div>
Here is an example of the coding:

Now save your post and try pinning the page. You should see the long pin. Look at the post, you should NOT see it on your post page. This means the long pin is only visible when someone goes to pin your recipe.
I also use Canva for my post's featured images and my Twitter header. Every morning when I update my social media profiles with the newest posts I add a new Twitter header for the day. Usually just the two photos in my long pin put side by side in the preset "Twitter Header" image size. Done in 30 seconds, updated in even less than that. I'll eventually make a post about Twitter, but I'm still learning, so I want to know a bit more before talking about it with you guys. 🙂
To make photos in canva optimized for your blog (assuming you are using Foodie Pro) like the one at the top of all the Blogging Resources posts, use the Foodie Pro Featured Image size: 680 pixels wide for main content section
PS, in case this post has made you crave Sour Patch Grapes, head on over to the recipe and make some! They only take a few minutes!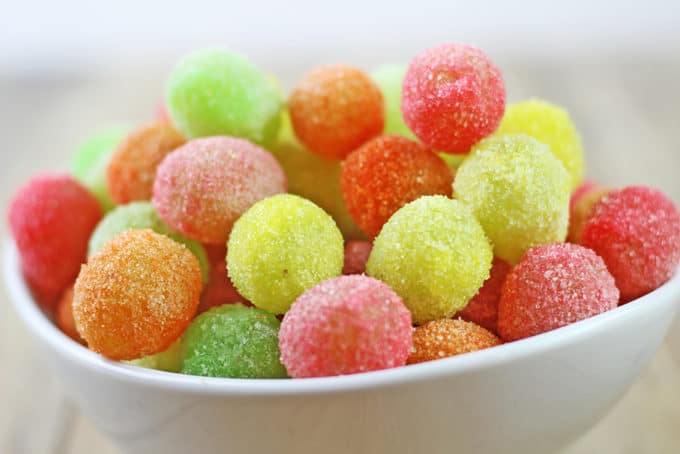 Hope that helps! Pop back in tomorrow for an In 'n Out Double Double!