Marinated Tea Tofu and Broccoli with Quinoa
This post may contain affiliate links. Read my disclosure policy here.
Marinated Tea Tofu and Broccoli with Quinoa is a healthy, flavorful lunch option with crispy marinated tofu over fluffy quinoa. A perfect lunch option.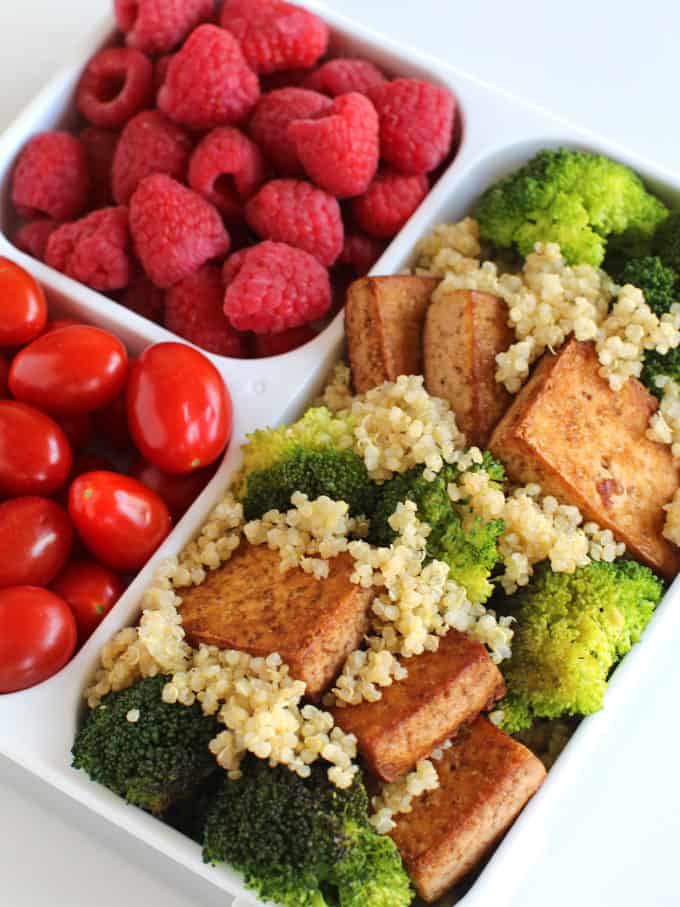 Marinated Tea Tofu and Broccoli is a dish I've been making for clients for years. Many of my clients love seafood, especially salmon, so I've gotten well versed in creating fun and unique salmon marinades. The marinade for this dish came originally as a salmon marinade. My client had a vegetarian child and I had to stay creative so everyone would enjoy dinners. You'll love this delicious lunch option with a refreshing Unsweetened Black Iced Tea from Pure Leaf®, who generously sponsored this post.
This recipe pairs well with and uses Pure Leaf® Unsweetened Black Iced Tea in the sauce. You can be sure that Pure Leaf® will have that authentic tea taste because they are brewed from real tea leaves and are never made from powder or concentrate following a simple, authentic process.
The fragrant black tea notes, with the sesame oil, ginger and garlic are the perfect flavors to accompany the tofu in a delicious and easy stir fry. The time you take to brown the tofu in you skillet pays off with the texture and flavor of the finished dish and the steamed broccoli with the hint of black tea in the steaming liquid may actually change the way you steam vegetables in the future.
You can also steam your vegetables with chicken broth or teriyaki sauce for additional flavor options in alternate Asian recipes.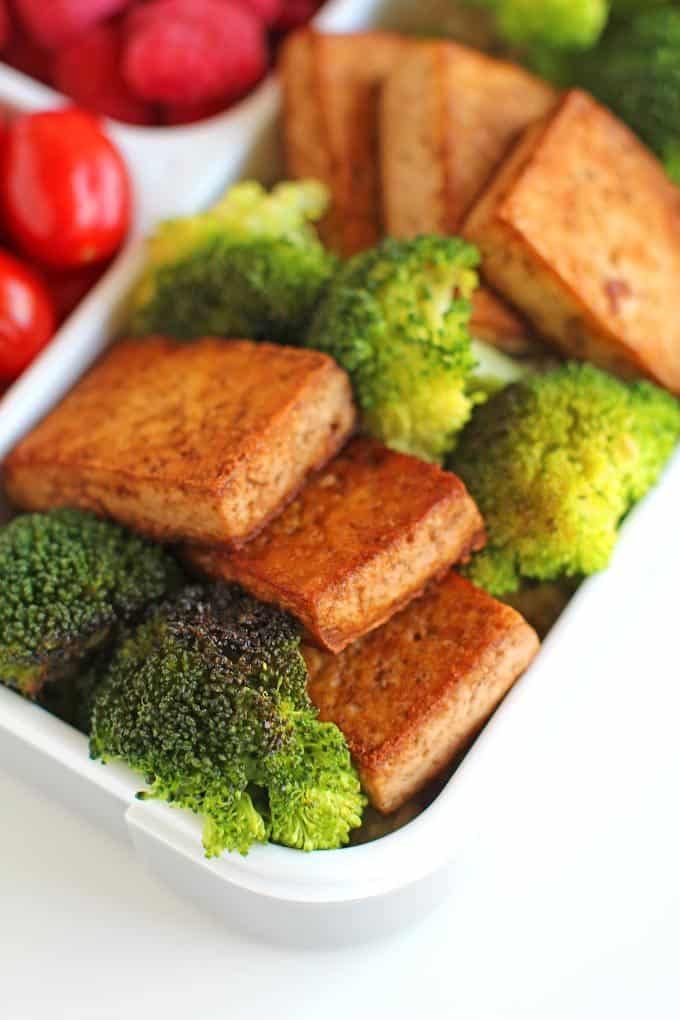 The tofu is crispy and creamy and the quinoa it is served with is fluffy and provides a soft texture to your dish. The broccoli gets the flavors of the tofu while still being slightly crisp. Using iced tea in the dish is the ultimate amazing shortcut too because you don't have to brew it and wait for it to cool down.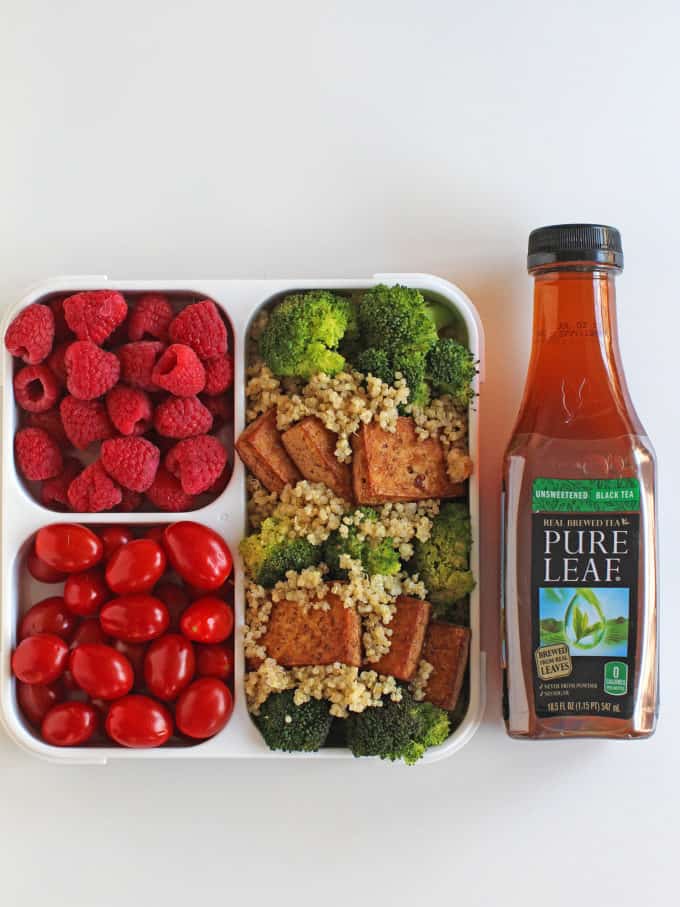 The best part about the crispy texture of this tofu is that it stays crispy for you to enjoy for lunch the following day! Even when warmed in the microwave you'll keep that delicious flavor and texture.
MY OTHER RECIPES
Other ways you can use this tea marinade:
Use the marinade on salmon and cook at 400 degrees for 8-10 minutes or until your pieces are cooked through.
Use the marinade on chicken breasts and steam them (the delicate notes are amazing in this when steamed).
Instead of quinoa you can also serve with brown rice, the flavors are similar and brown rice holds up well to reheating.
If you want to use fresh ginger, use 1 teaspoon and mince it as finely as you can, the ginger can overpower the tea flavors.
Want more of the sauce? You can double or even triple it, and when you finish steaming the broccoli add 1 tablespoon cornstarch mixed with 1 tablespoon of room temperature water that you've mixed together to the pan and cook until the sauce thickens. Then add in the tofu and stir to combine.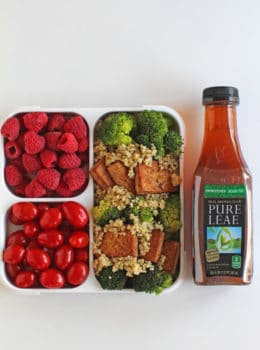 Marinated Tea Tofu and Broccoli with Quinoa
Marinated Tea Tofu and Broccoli with Quinoa is a healthy, flavorful lunch option with crispy marinated tofu over fluffy quinoa. A perfect lunch option when paired with Pure Leaf® Unsweetened Black Iced Tea.
Prep Time 20 minutes
Cook Time 15 minutes
Total Time 35 minutes
Ingredients
2 cups uncooked quinoa
4 cups water
1 cup Pure Leaf® Unsweetened Black Iced Tea
1 pkg (14 oz) extra-firm tofu
1 tablespoon reduced-sodium soy sauce
1/2 teaspoon ground ginger
2 cloves garlic , minced
1 tablespoon canola oil
1 teaspoon sesame oil
3 cups broccoli
1 tablespoon white sesame seeds , for garnish
Instructions
Rinse the quinoa 3-4 times and add to the pot with the 4 cups of water.

Bring to a boil, then reduce to low.

Cover and simmer for 15-18 minutes until tender.

Fluff with a fork.

Slice the tofu into 1 inch thick slices and press between clean dish towels or paper towels to remove water.

Add the iced tea, soy sauce, ginger, garlic to a medium sized bowl.

Add in the sliced tofu and and let sit for 15-20 minutes (if you want to and have time, this can marinate as long as overnight.

Heat a large skillet with a lid on medium-high heat with canola oil and sesame oil.

Add the tofu slices and brown on both sides 2-3 minutes on each side.

Remove the tofu from the pan.

Add the broccoli and ½ a cup of the iced tea mixture and cover to steam for 2-3 minutes.

Add the tofu back in, stir to combine and serve with quinoa and garnish with sesame seeds.
Experience the difference in flavor by picking up a bottle of Pure Leaf® Unsweetened Black Iced Tea. It's a premium iced tea brewed from real, fresh-picked tea leaves and expertly blended by their team of Pure Leaf tea experts.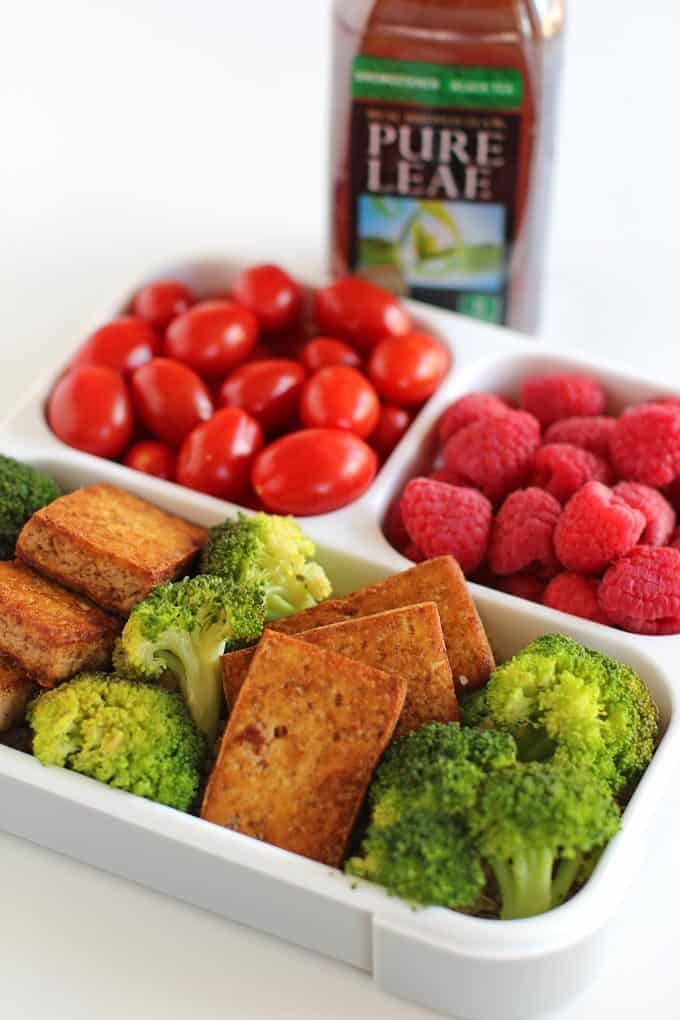 This is a sponsored post written by me on behalf of Pure Leaf® Tea.  Find more Pure Leaf® inspired recipes here.
Dinner, then Dessert, Inc. owns the copyright on all images and text and does not allow for its original recipes and pictures to be reproduced anywhere other than at this site unless authorization is given. If you enjoyed the recipe and would like to publish it on your own site, please re-write it in your own words, and link back to my site and recipe page. Read my disclosure and copyright policy. This post may contain affiliate links.