Oreo Chunk Cookie makes a delicious new buttery, chewy cookie using another cookie as the featured ingredient. It's double-cookie perfection!
There's a reason people of all ages love Cookie Recipes like Oreo Chunk Cookies or Chocolate Chip Cookies – they're easy to make, they're the perfect portion size, and they're fun to share.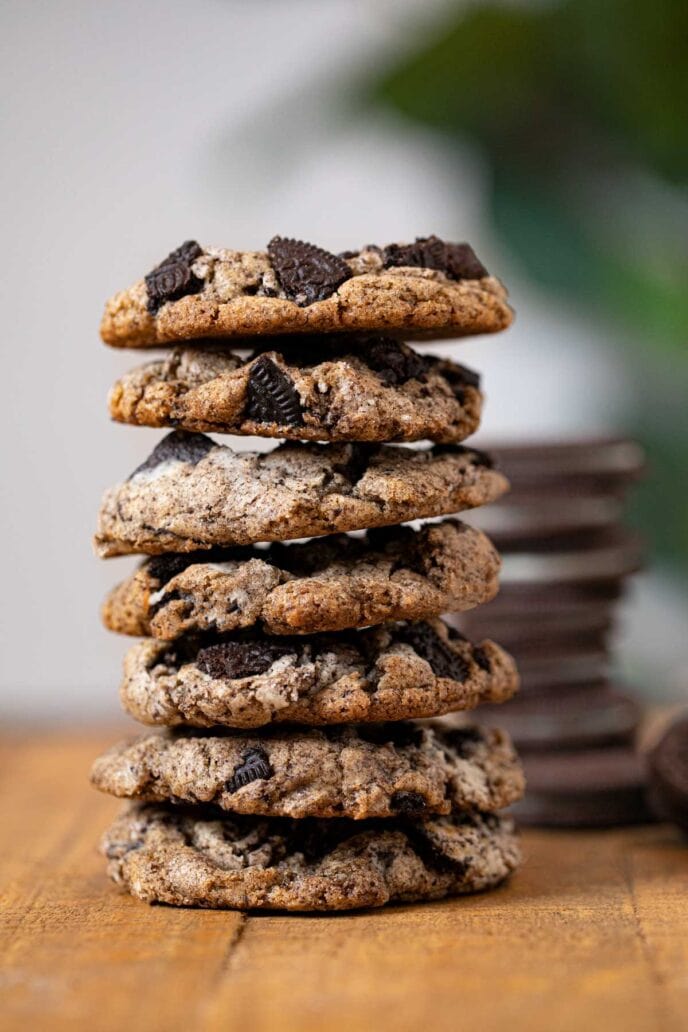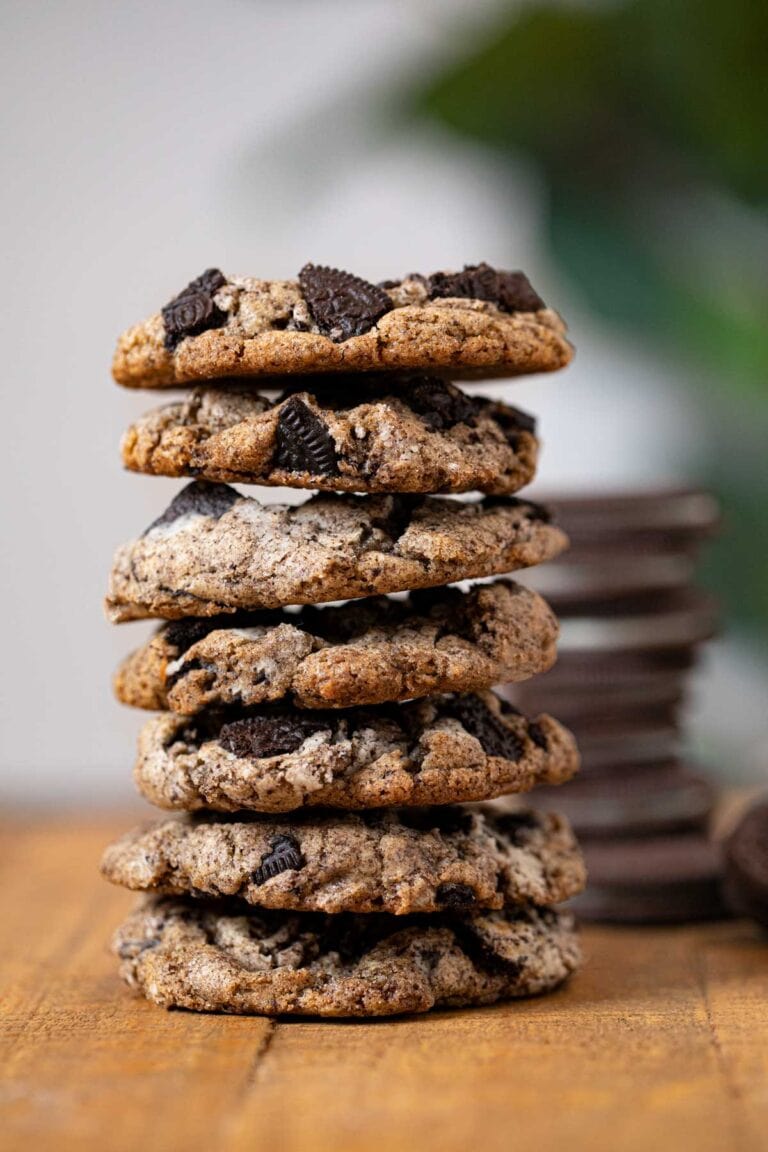 OREO CHUNK COOKIES
You'd be hard-pressed to find someone who doesn't love Oreos, so people are always trying to figure out new ways to use Oreos in fun new Oreo Dessert Recipes. This recipe takes broken Oreos and magically forms them into a new super-cookie that will satisfy your Oreo cravings.
This Oreo Cookie is buttery, chewy, crispy and full of chunks of Oreos in addition to a heaping helping of Oreo crumbs. You've never had a cookie like it and there's almost even odds it will be your new favorite cookie. Add this to your Christmas Cookie Exchange Plate, it will be a crowd favorite!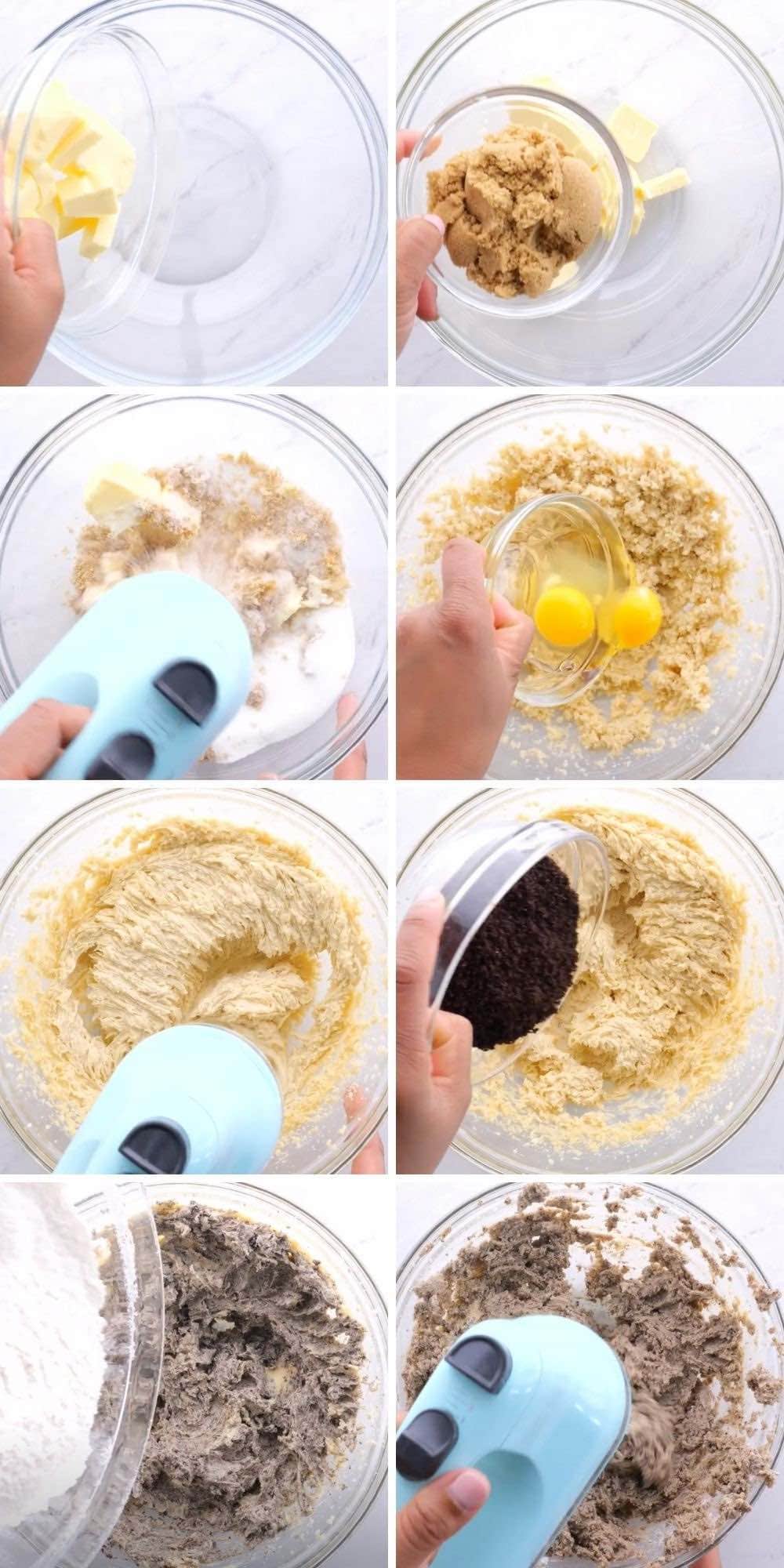 Oreo Chunk Cookies are perfect for parties, holidays, or for just baking an easy recipe with your family. Since most people won't have heard of making cookies out of Oreos, they're a great dessert that will impress your guests.
These cookies are also perfect for dunking in milk or under Vanilla Ice Cream and Chocolate Ganache for a delicious sundae. Even better, make these into ice cream sandwiches, they're the perfect base for the ultimate summer dessert.
MORE DELICIOUS OREO RECIPES
COLLEGE COOKIE TRADITION
This Oreo Chunk Cookie recipe was inspired by the local favorite Washington D.C. restaurant Wisemiller's Deli, which has been selling a similar cookie for decades. Many students at nearby Georgetown University list this cookie among their favorites.
Wisey's Deli has grown from what used to be a local convenience store for kids to get snacks and toiletries and mixers without having to take the shuttle to the grocery store and over the years it grew into a nearby row house to become a sandwich shop.
This cookie has earned a cult following along with the equally famous Chicken Madness Sub Sandwich.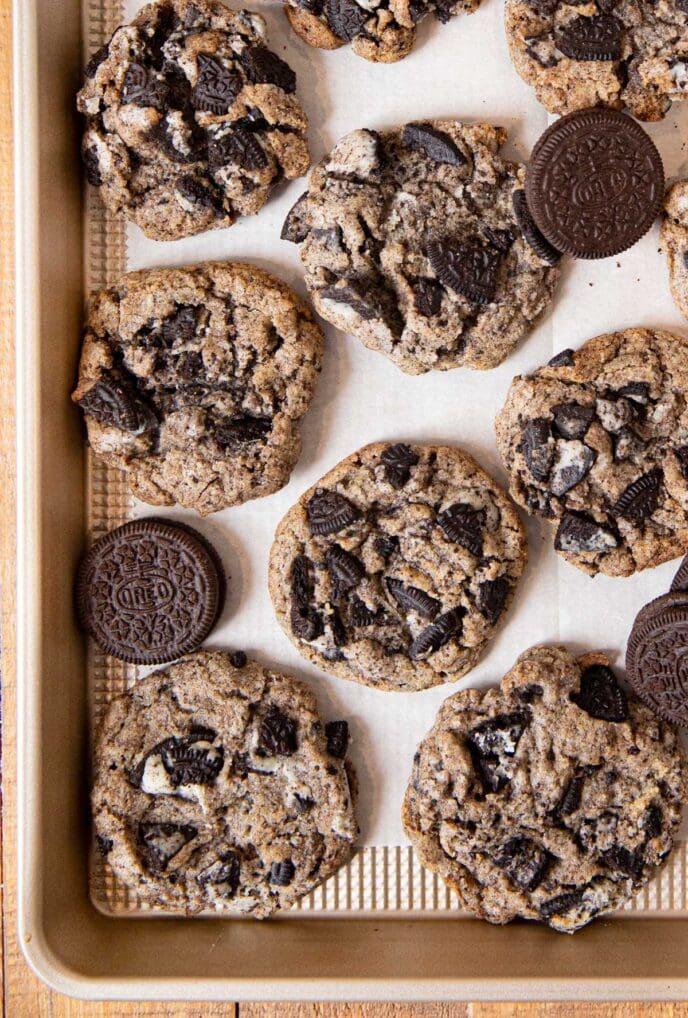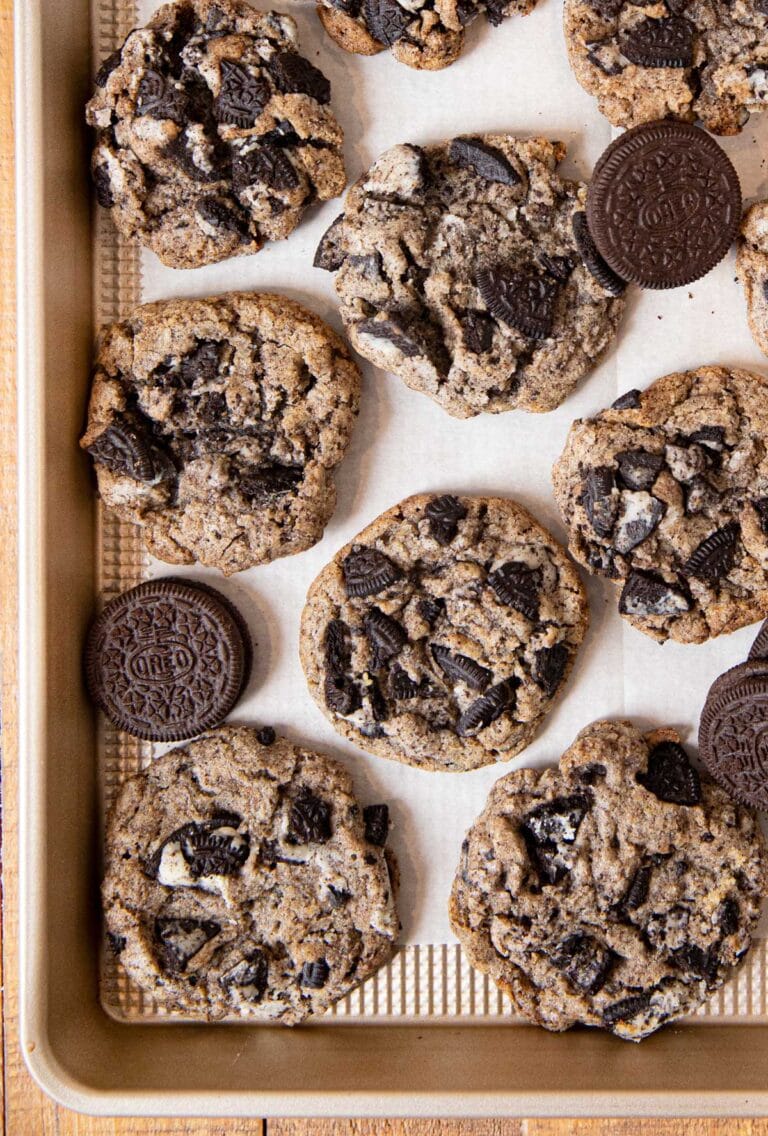 Create a free account to Save Recipes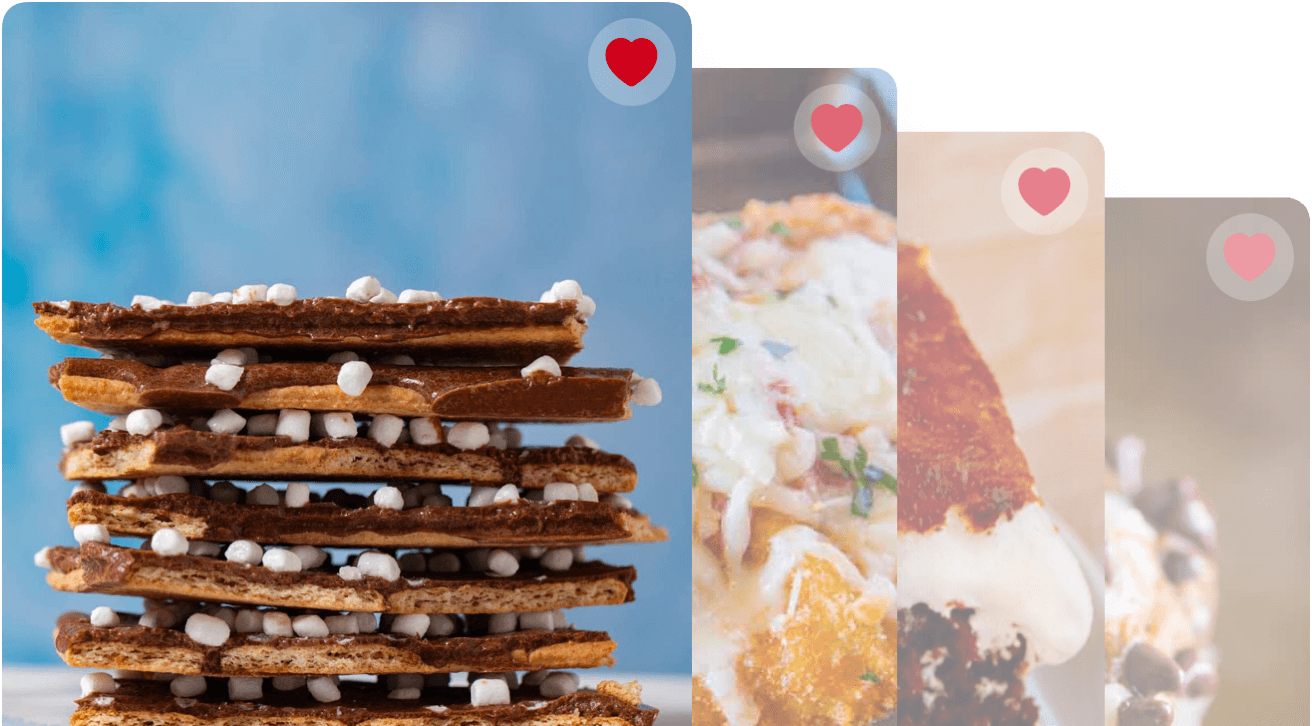 How to make GORGEOUS COOKIES:
Sometimes it can feel like a letdown. You make cookie dough, let it rest and once baked you wonder why your cookies don't look photoshoot ready like the ones you saw in photos or from the bakery. There is a trick to this!
This doesn't affect the flavor of the cookie dough, but it does affect the texture of the cookie as the additional chunks of cookie on the exterior of the cookie add a great chewy yet crispy texture to the cookies.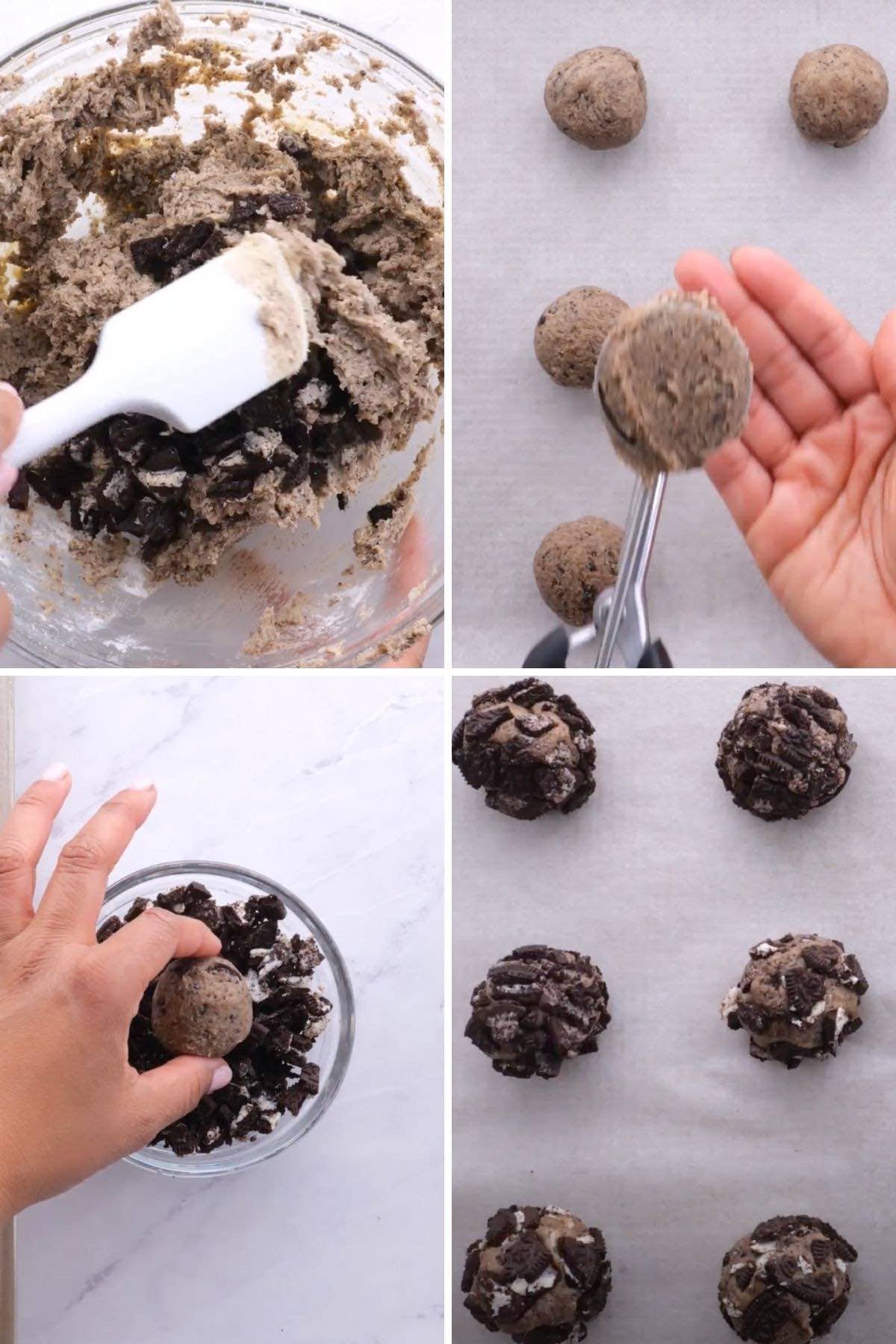 If you stir all the Oreos into the dough, they'll be hidden inside the cookie. Your cookies will still be delicious, but not as pretty. This is actually how Wisey's makes their Oreo Cookies.
If you want your cookies to look like the pictures in this post you can instead add ⅓ of the chunks to your batter, then roll the cookies in the remaining chunks. By rolling the cookie dough into the chunks the cookies end up looking like this: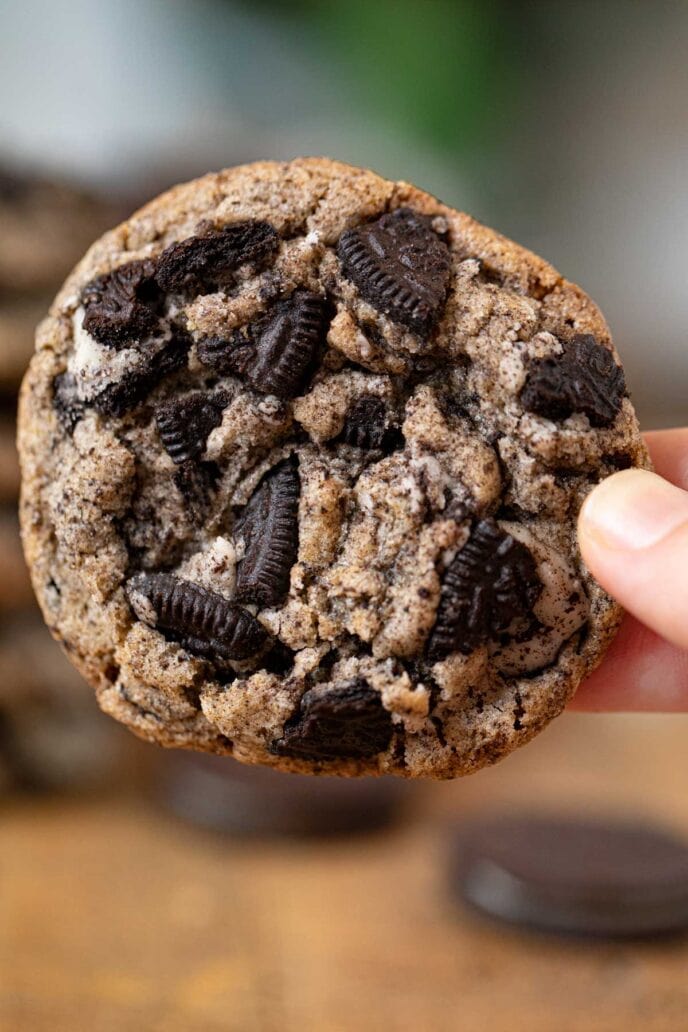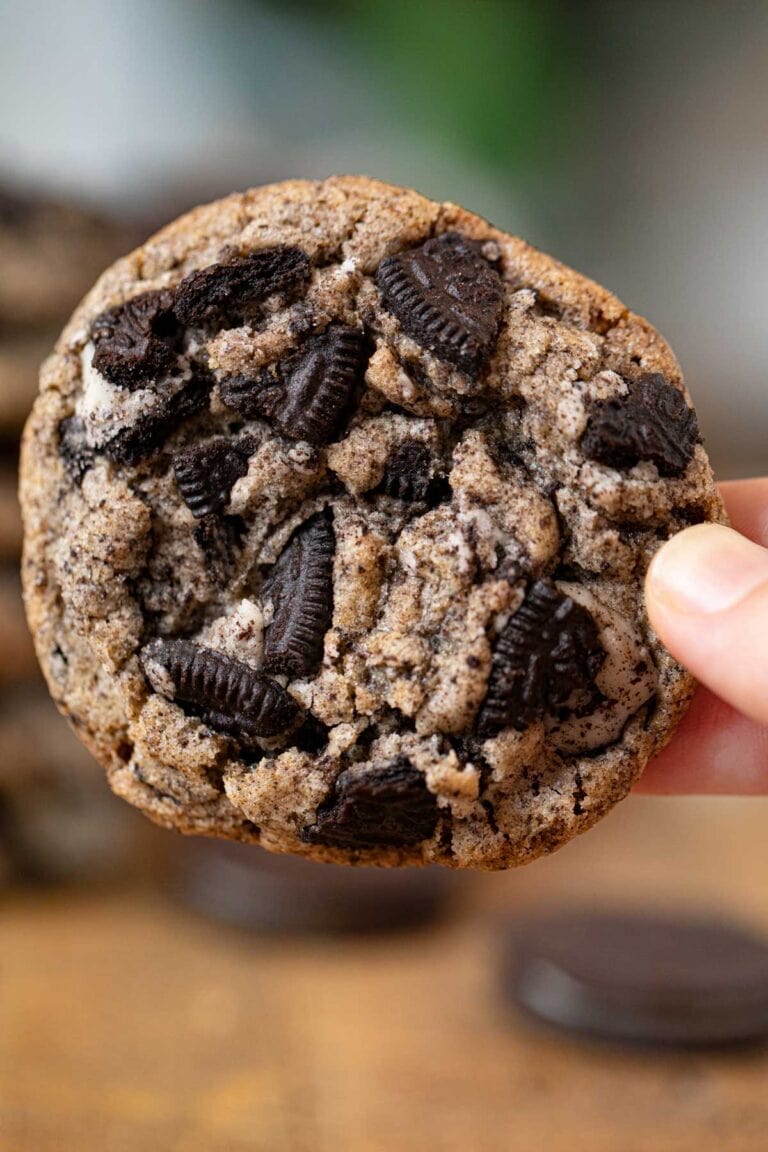 After making the dough, refrigerate it for 30 minutes to an hour so it's easier to roll into dough balls. Put the remaining Oreo chunks in a large bowl and roll them on the outside of the cookie dough balls. This slightly different technique makes the cookies so gorgeous. Rolling the dough balls in Oreos ensures they're throughout and outside the cookie, which makes them look and taste bakery worthy.
VARIATIONS ON OREO CHUNK COOKIES
Chocolate Chips: Add semisweet or milk chocolate chips to your batter to have an even richer cookie.
Baking Chips: Give your cookies bursts of flavor with white chocolate chips, mint chips (great for the holidays!), or salted caramel chips.
Melted Chocolate: Dip the cookies halfway in melted chocolate or dip the bottom half of the cookie in chocolate. Microwave either white chocolate chips/white chocolate candy bark or dark chocolate chips in a glass bowl, stirring every 30 seconds until melted.
Nuts: Stir in some chopped peanuts, or your favorite nuts, to give the cookies some extra crunch!
Flavored Oreos: Swap out the Oreos for your favorite special flavor of Oreo like birthday cake, mint, red velvet, or white Oreos.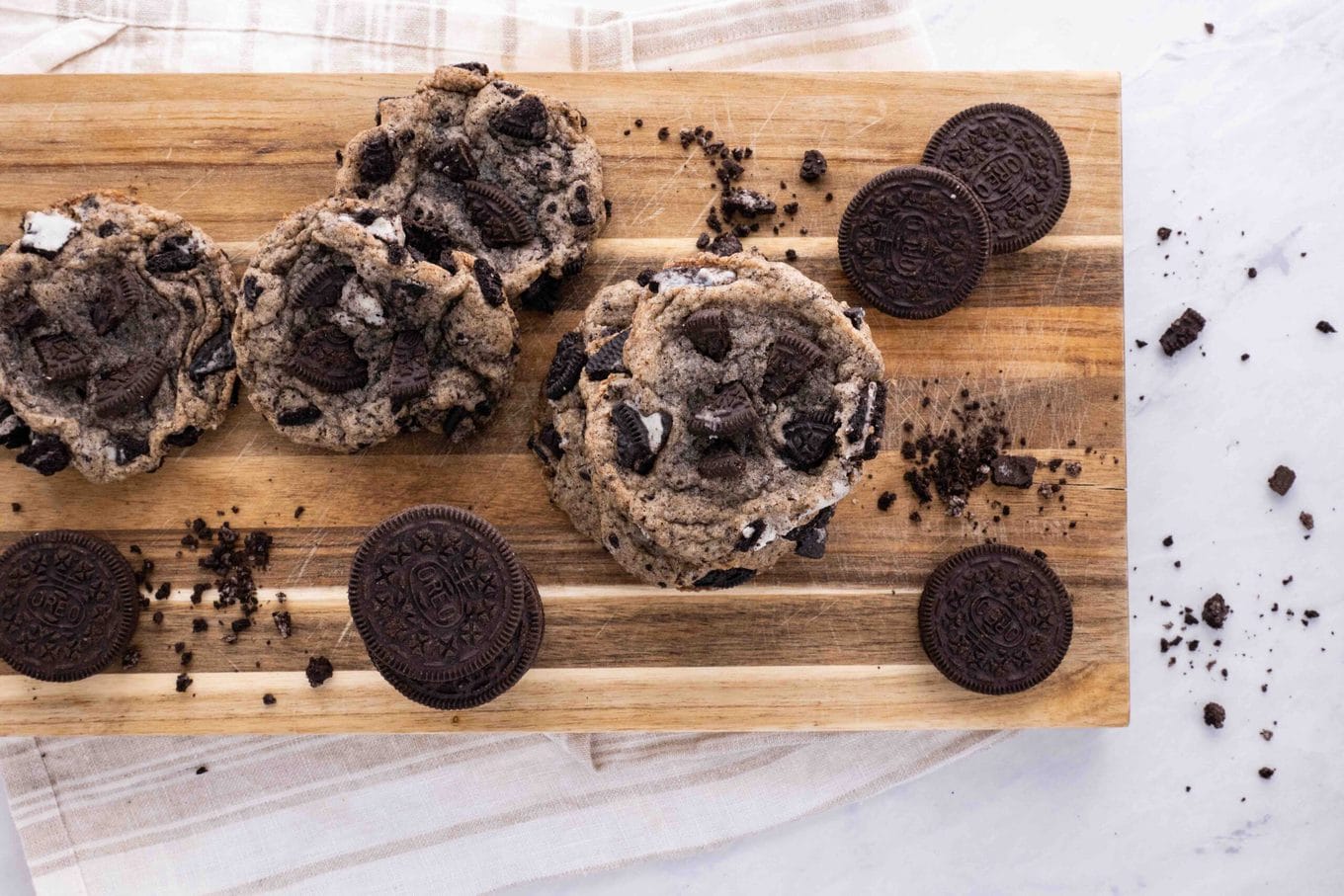 MORE FAMILY FAVORITE COOKIE RECIPES:
FREQUENTLY ASKED QUESTIONS
How do I soften butter for baking cookies?
Allow the butter to soften at room temperature before mixing. Melted butter will cause the dough to spread and flatten. If the butter is too cold, it won't cream and form air pockets. Air pockets make your cookies light and fluffy.
How long do I bake Oreo Chunk Cookies?
If you want the cookies to be perfectly chewy, bake them until the edges are set and slightly browned.
How can I keep chewy cookies moist?
To keep these cookies moist, make sure you store them in a closed container. Add a slice of bread to the container to maintain moisture control.
How can I reheat these cookies?
Microwave the cookies for 10-15 seconds before enjoying to bring back a bit of fresh out of the oven flavor.
HOW TO STORE OREO CHUNK COOKIES
Serve: Keep Oreo Chunk Cookies in a sealed container at room temperature for up to 2 days.
Store: You can store your cookies longer in the fridge for up to a week. To get your cookies chewy again, pop in the microwave for about 15 seconds.
Freeze: Freeze your cookie dough or baked cookies for up to 2 months in an airtight container. Freeze cookie dough on a baking sheet for an hour before transferring to a freezer bag.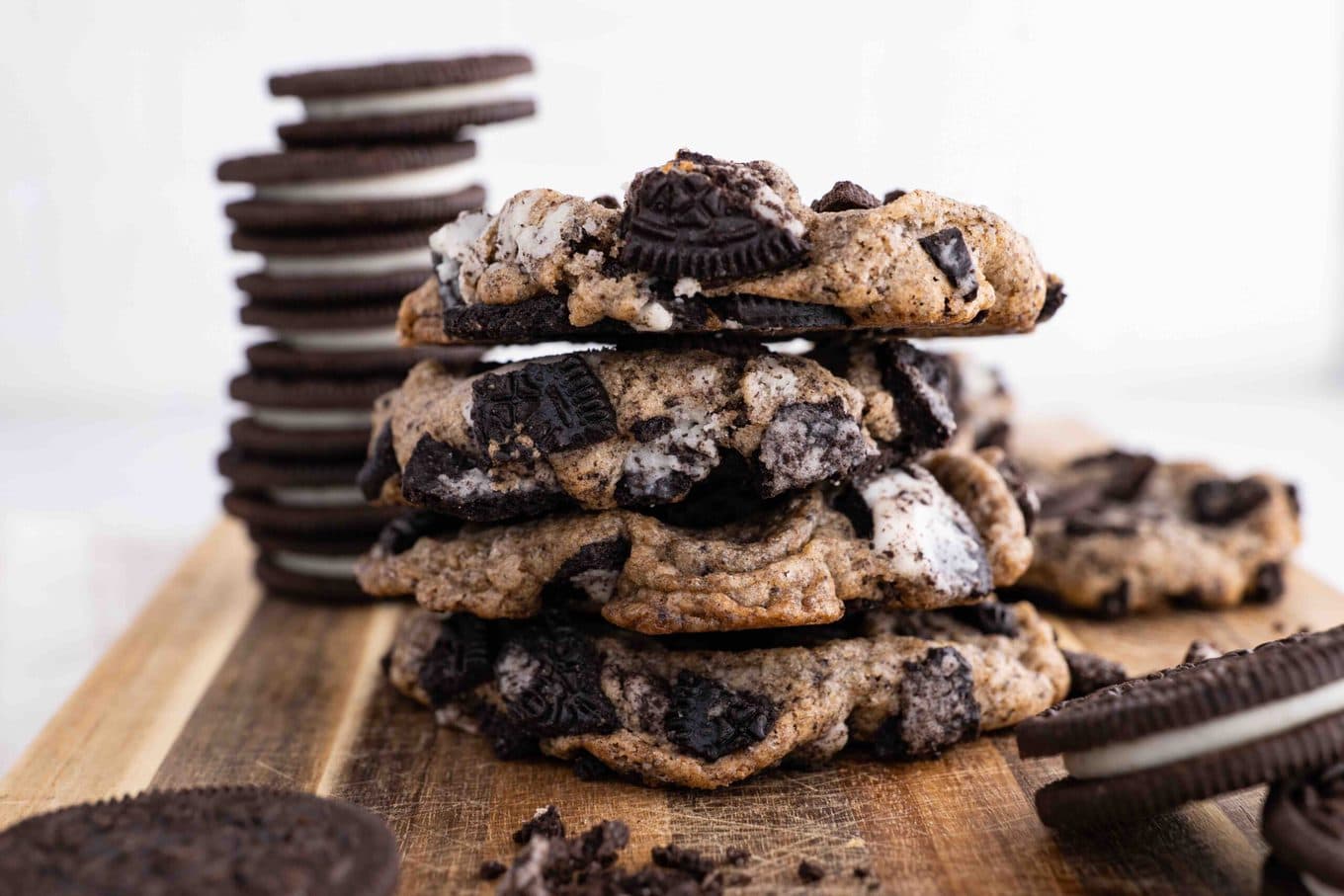 Ingredients
1

cup

unsalted butter

, softened

1

cup

sugar

1/2

cup

light brown sugar

, packed

2

large

eggs

1

tablespoon

vanilla extract

2

cups

flour

1/2

teaspoon

baking soda

1/2

teaspoon

salt

10

Oreos

, processed to a very fine crumb

16

Oreos

, crushed into chunks
Instructions
Preheat oven to 350 degrees. Line baking sheets with parchment paper.

In a medium bowl, cream together the softened butter, brown sugar and white sugar until well blended.

Beat in the vanilla and eggs until light and creamy.

Sift together the flour, baking soda and salt; set aside. Add in the Oreo crumbs.

Add in the sifted ingredients on lowest speed setting until just blended.

Stir in ⅓ of the Oreo chunks and refrigerate dough for

1 hour

.

Roll dough into 1 tablespoon sized ball and roll in remaining chunks then add to a cookie sheet about 3 inches apart (refrigerate the remaining cookie dough balls you've rolled while the first batch bakes).

Bake for

13-15 minutes

in the preheated oven, or until the edges are lightly browned.

Cool on baking sheets for a few minutes before transferring to wire racks to cool completely and bake the remaining batches.
Nutrition
Calories:
219
kcal
|
Carbohydrates:
29
g
|
Protein:
2
g
|
Fat:
10
g
|
Saturated Fat:
5
g
|
Cholesterol:
33
mg
|
Sodium:
135
mg
|
Potassium:
56
mg
|
Sugar:
18
g
|
Vitamin A:
255
IU
|
Calcium:
16
mg
|
Iron:
1.7
mg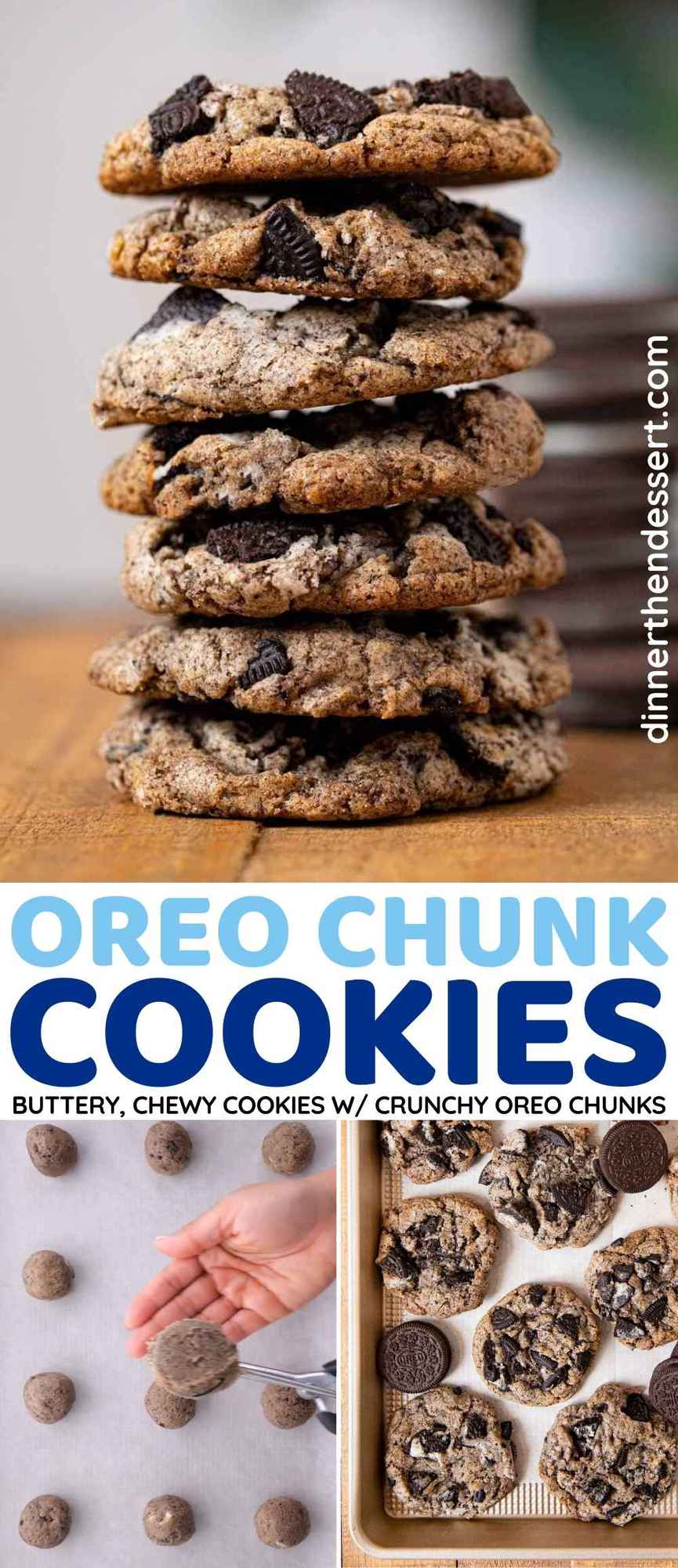 Photos from a previous version of this post.