Oven-Baked Salmon is a fast, healthy dinner. Perfectly flavored with lemon juice, Dijon mustard, garlic, paprika, and parsley, then baked in 15 minutes.
Seafood Recipes are a great way to change up your weeknight meal rotation. Be sure to try more delicious seafood recipes like Beer Battered Fish or Easy Roasted Shrimp.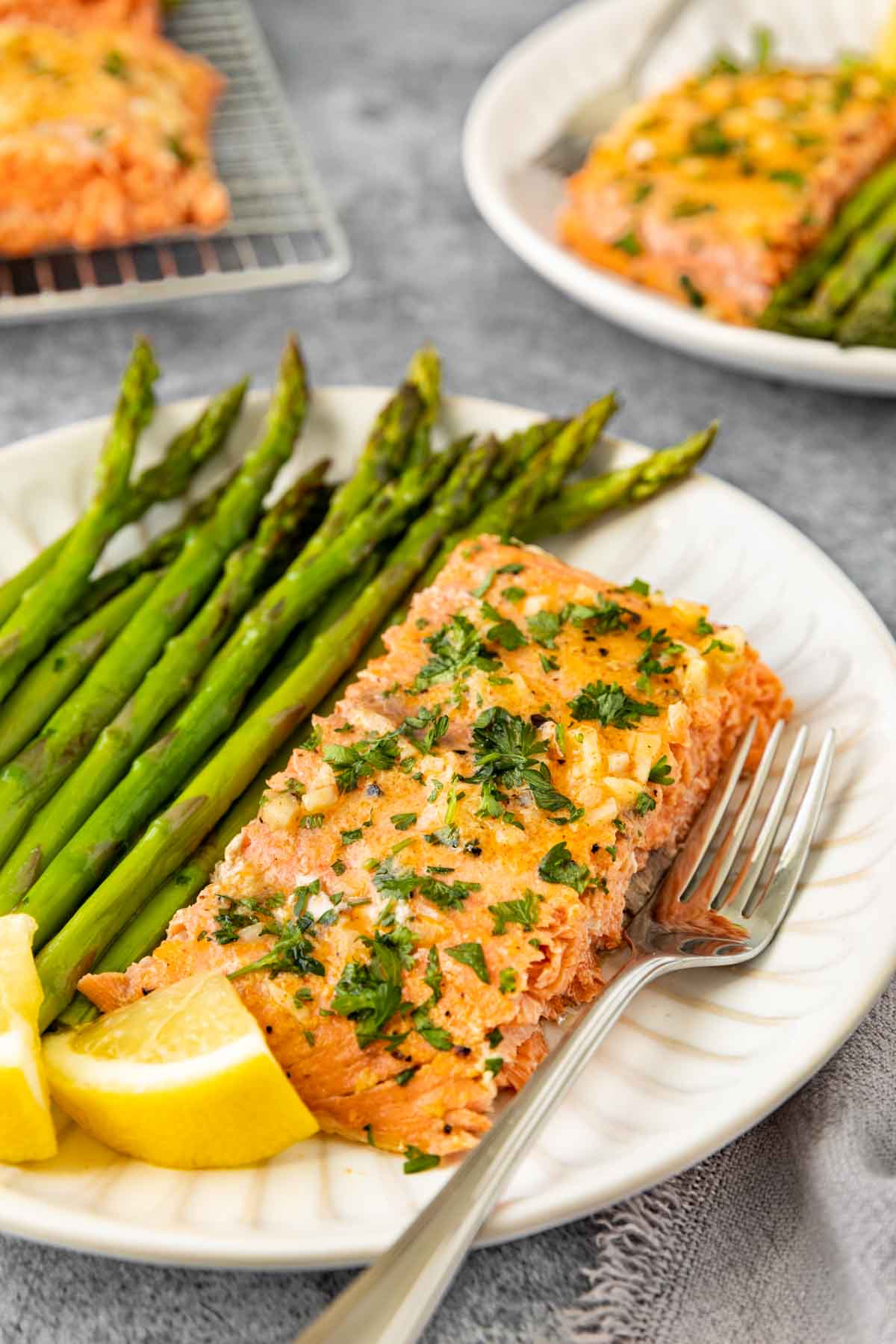 Although there are plenty of Chicken Recipes, Beef Recipes, and even Shrimp Recipes to try on this site, there aren't many salmon dishes. It is time to fix that with this easy and delicious salmon recipe. It is so easy, it's sure to become a go-to dinner recipe in your house.
Baked salmon is made with a simple skin-on salmon filet. The Baked Salmon comes out of the oven wonderfully flaky, flavorful, and juicy. It absorbs delicious taste from the lemon, mustard, and seasonings surrounding it for an unbelievably delicious dinner.
More Seafood Recipes
Baked Salmon is also a super healthy dish to add to your dinner rotations. It's gluten-free, dairy-free, and heart-healthy thanks to the omega-3s in the fish. So it's a win-win!
If you're new to preparing fish it can seem intimidating, but this one-pan salmon recipe is the perfect place to start. Just 20 minutes and you'll have the perfect Baked Salmon recipe.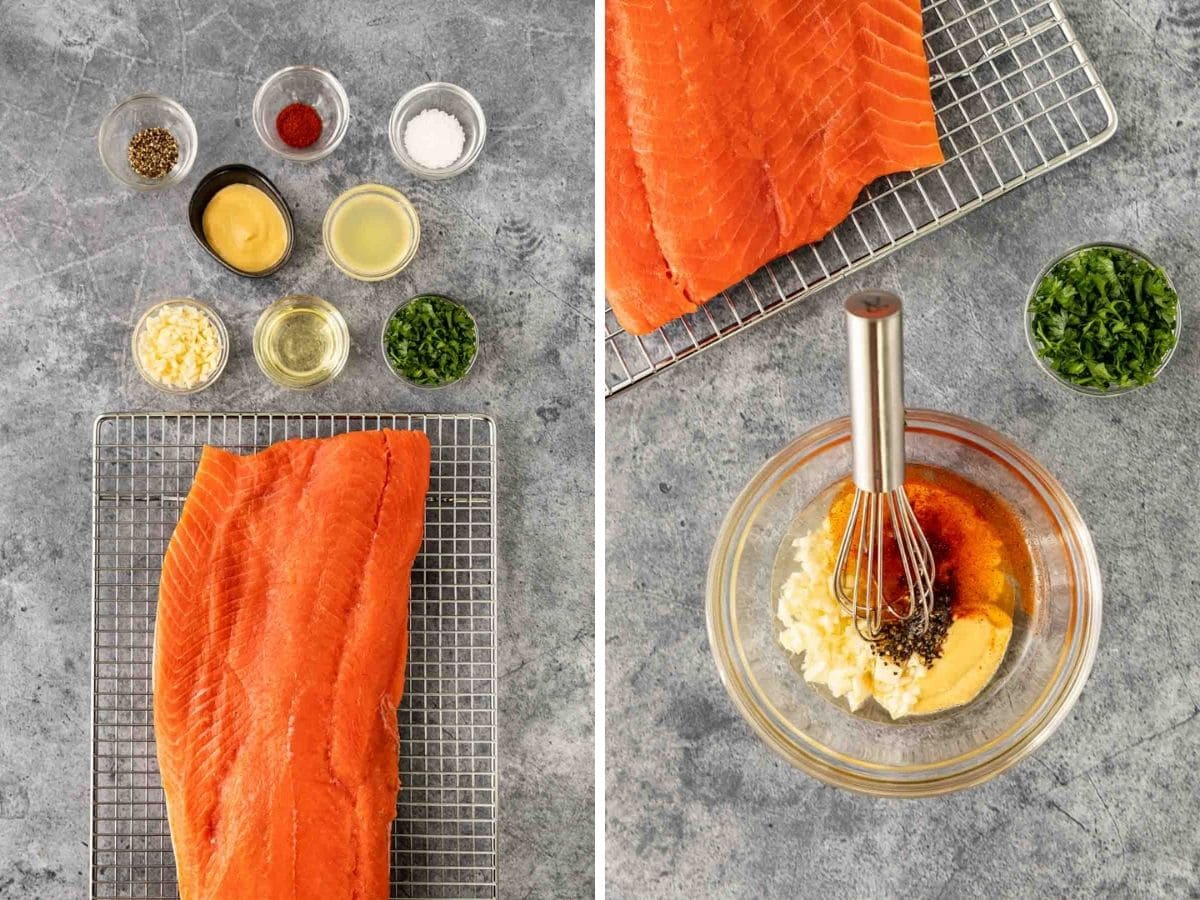 Frequently Asked Questions About Oven-Baked Salmon
Why bake Salmon in tin foil?
Before popping the Salmon in the oven, you'll wrap it in tin foil with the other ingredients. The foil locks in moisture ensuring that you get salmon with flaky skin and moist meat. It also helps the salmon to absorb all the delicious flavors that surround it.
Why cook salmon with the skin on?
First of all, you can eat the salmon skin and it contains excellent nutrients and minerals for you, as well as the majority of the omega-3s found in the fish. Additionally the skin will provide a protective layer from the delicate flesh while it cooks in the pan, and then when it is served with a spatula once out of the oven.
Why does fish cook more quickly than other meats?
Salmon and other fish has less connective tissue and shorter muscle fibers. The structure of this protein allows it to cook faster than other meats like beef, pork, chicken, or other poultry. That means we don't have to wait as long for super delicious fish dishes, making them a perfect weeknight dish.
How to Cook Oven-Baked Salmon
Prep: Start by preheating your oven to 375 degrees and line an oven-proof pan with aluminum foil. Make sure the foil is big enough to fold it around the salmon without touching the salmon.
Salmon: Put the salmon fillet on the foil-lined baking sheet with the skin facing down.
Cooking Liquid: Whisk together the olive oil, lemon juice, mustard, garlic, salt, pepper, and paprika. Then pour the liquid over the salmon.
Cook: Close the foil around the salmon, but make sure it doesn't touch the salmon. Bake in the oven for 15-18 minutes. This should bring the meat to medium doneness with flaky skin. If you want to keep the salmon medium-rare stay towards the lower end of the cooking time. The FDA recommends cooking salmon to an internal temperature of 145 degrees F. You can use an instant-read thermometer to make sure it's reached a safe temperature but isn't overdone.
Serve: Take the pan from the oven, and open the foil. Be careful not to get burned by the steam escaping. Sprinkle the salmon with parsley, slice, and serve.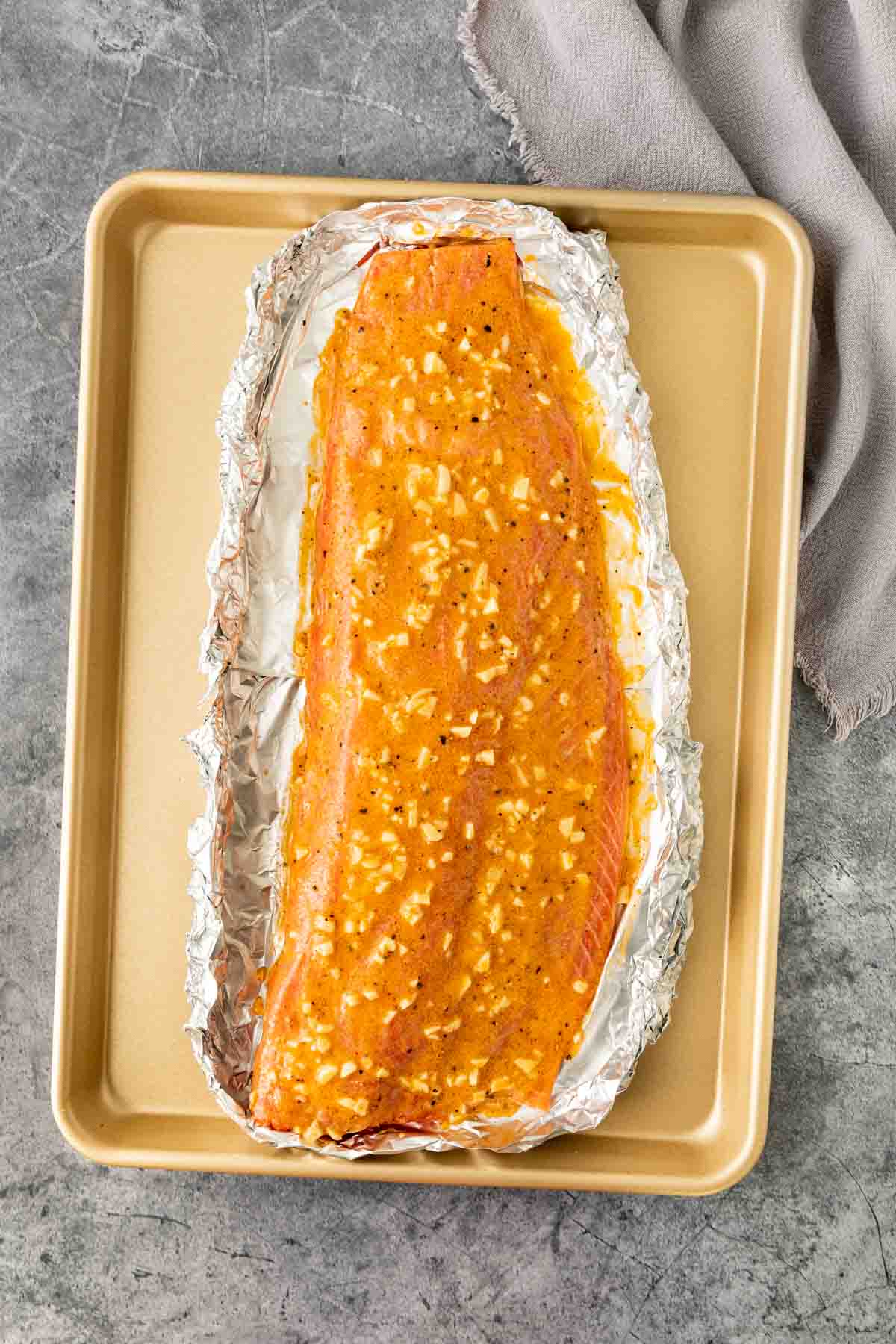 Create a free account to

Save Recipes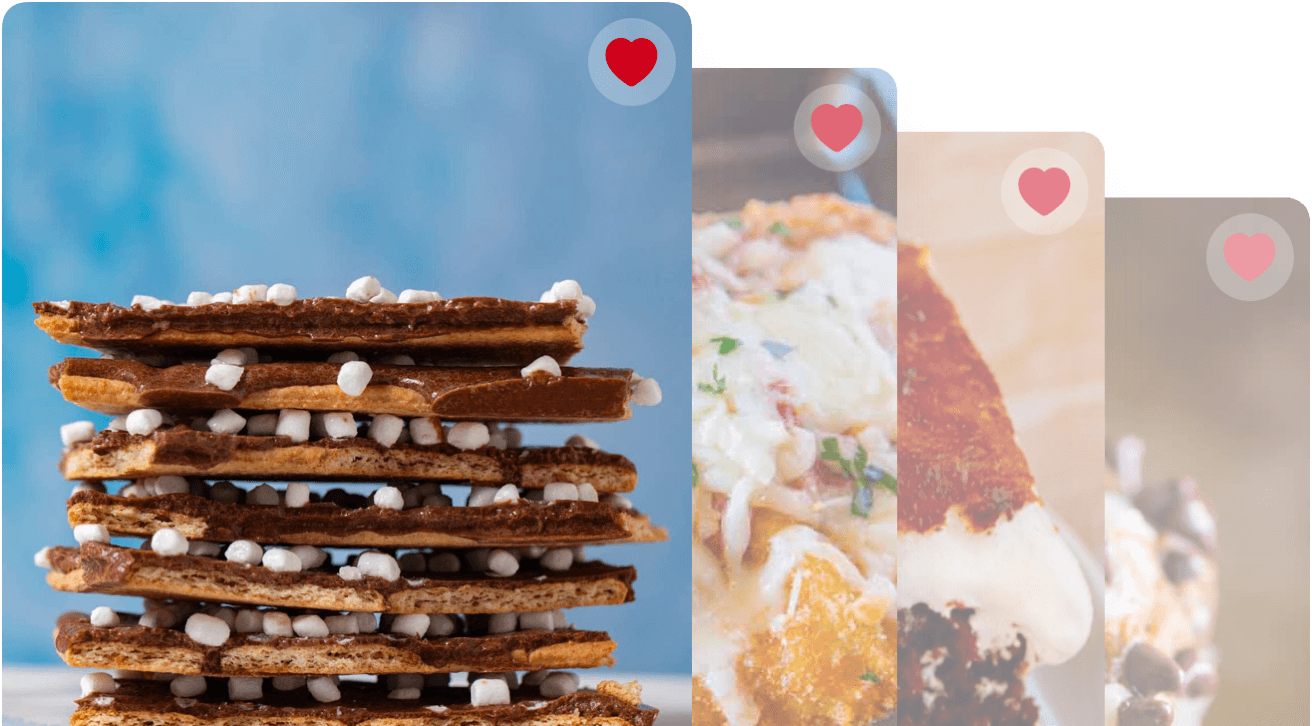 Variations on Oven-Baked Salmon
Salmon: You can make Baked Salmon with different salmon varieties including sockeye, and pink. You could also use it for freshly caught wild salmon. Just be sure to remove the bones from freshly caught fish using needle-nose pliers.
Seasoning: There are lots of seasonings and fresh herbs you can add to cooked salmon. Try adding Cajun seasoning, red pepper flakes, rosemary, oregano, or dill.
Pan-Seared: Instead of baking your salmon in the oven you can cook it in a skillet. Just add some extra virgin olive oil to a pan over medium heat. Put the salmon filet in the pan skin-side up and cook for 5 minutes. Flip and cook for another 5 minutes. Whisk the sauce together then cook the salmon a few minutes longer in it. Serve with parsley over the top.
Garlic Butter Baked Salmon: To make Garlic Butter Salmon pour a garlic butter mixture over the salmon filet instead of the lemon mixture. Combine 2 – 3 cloves of minced garlic, 6 tablespoons melted butter, 1 tablespoon light brown sugar, ½ teaspoon dried oregano, ½ teaspoon dried rosemary, pepper, and lemon juice. Pour half the mixture over the salmon before baking and serve the rest as a dipping sauce.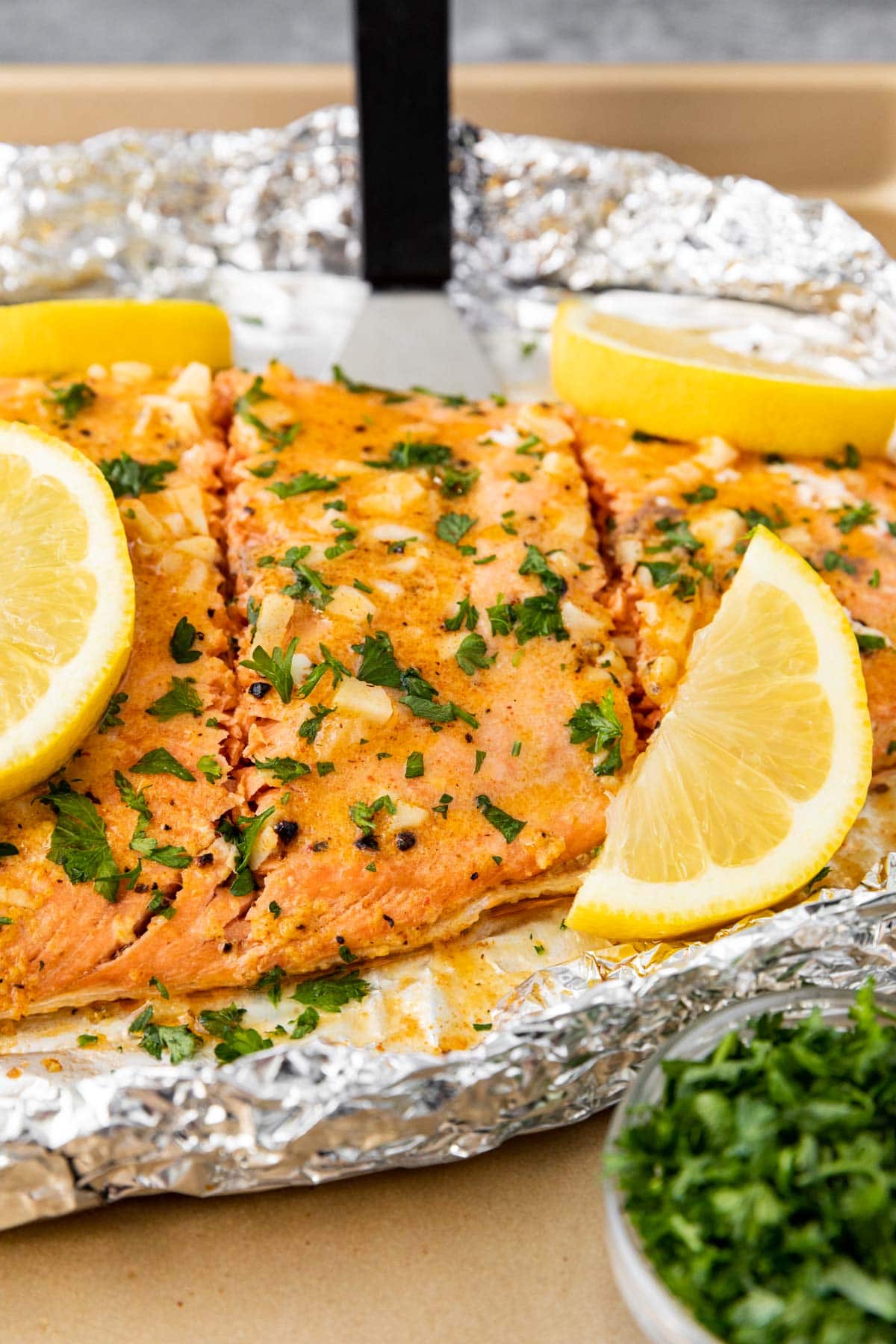 Serving Ideas for Oven-Baked Salmon
Dinner Party: Salmon makes an excellent protein choice at any dinner party. It pairs nicely with many different side dishes, and the mild, sweet flavor is popular among lots of people.
Holiday Dinner: This dish would make an excellent star on your holiday dinner table at Easter, as well as Valentine's Day, New Year's Eve, or Christmas. Serve the beautiful fish filet on a pretty platter surrounded by slices of lemon, set off by the lovely green colors of the parsley.
Indoor Barbecue: If you need to bring your barbecue indoors, Oven-Baked Salmon is a wonderful choice. Serve it with classic barbecue sides like Oven Roasted Corn, baked potatoes, or Mac and Cheese. Even if your barbecue isn't fully indoors, this dish is a nice alternative choice to those who don't love the traditional proteins served at a barbecue, or who want a healthier choice.
Sides to Serve with Oven-Baked Salmon
How to Store Oven-Baked Salmon
Serve: After cooking Baked Salmon, you shouldn't leave it at room temperature for more than 2 hours.
Store: Tightly wrap the oven-baked recipe in tin foil, plastic wrap, or put it in an airtight container to store it in the fridge. It will stay good for 3-5 days in the refrigerator.
Freeze: This is also a great recipe to freeze. Cooked salmon will last 2-3 months in the freezer.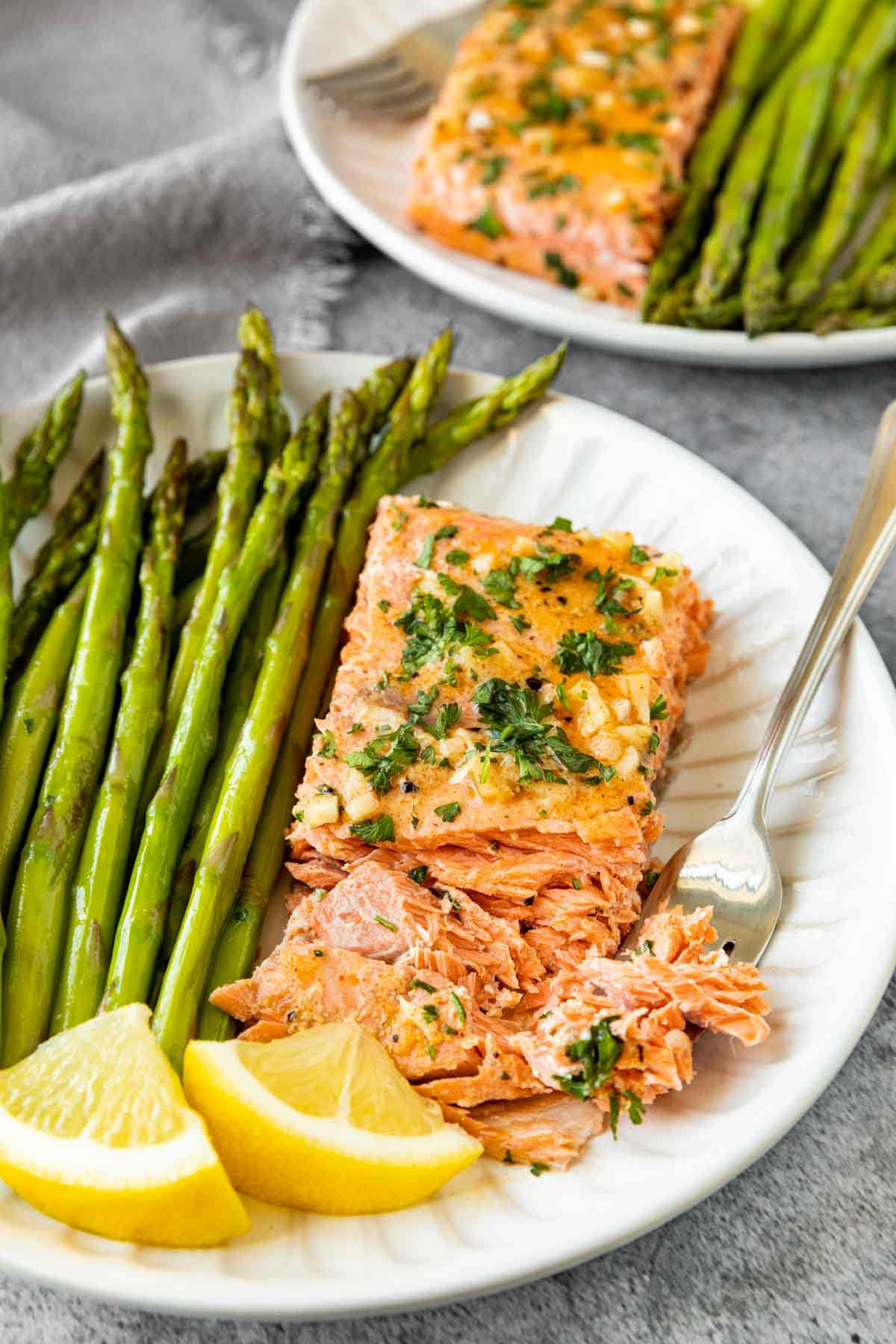 Ingredients
2

pounds

salmon filet

, deboned

2

tablespoons

olive oil

2

tablespoon

lemon juice

2

teaspoons

dijon mustard

2

cloves

garlic

, minced

1

teaspoon

kosher salt

1/2

teaspoon

coarse ground black pepper

1/4

teaspoon

paprika

2

tablespoons

parsley

, chopped (optional)
Instructions
Preheat oven to 375 degrees and line baking pan with foil, large enough to close tightly over salmon without touching it.

Add the filet to the foil, skin side down.

Mix the olive oil, lemon juice, dijon mustard, garlic, salt, pepper, and paprika in a small bowl, then pour it over the salmon.

Close the foil tightly over the salmon.

Cook for

15-18 minutes

, then carefully open the foil (be careful, steam will escape).

Sprinkle parsley over salmon before serving.
Nutrition
Calories:
196
kcal
|
Carbohydrates:
1
g
|
Protein:
23
g
|
Fat:
11
g
|
Saturated Fat:
2
g
|
Polyunsaturated Fat:
3
g
|
Monounsaturated Fat:
5
g
|
Cholesterol:
62
mg
|
Sodium:
355
mg
|
Potassium:
573
mg
|
Fiber:
0.2
g
|
Sugar:
0.1
g
|
Vitamin A:
162
IU
|
Vitamin C:
3
mg
|
Calcium:
18
mg
|
Iron:
1
mg