Tender chicken fried crisp and tossed in a magical copycat Orange Chicken sauce! You'll save a fortune and skip the lines!
If your family loves this incredible recipe, they'll also enjoy these other unbelievable Copycat Recipes, like our homemade In-N-Out Double Double Animal Style, the flavorful Taco Bell Nachos Bell Grande, and the mouthwatering Cheesecake Factory Tex Mex Egg Rolls!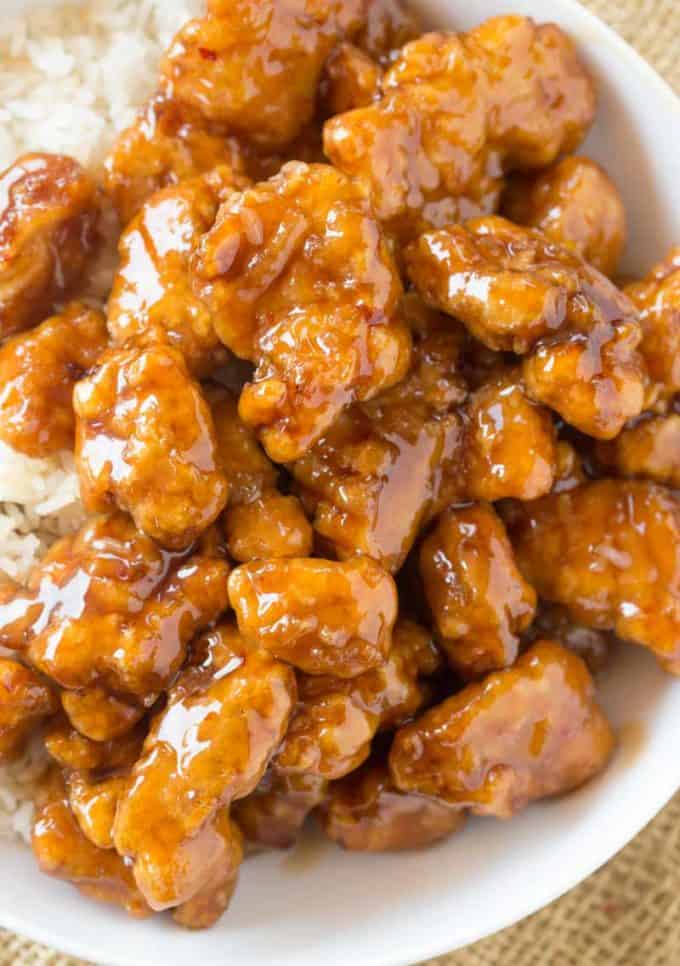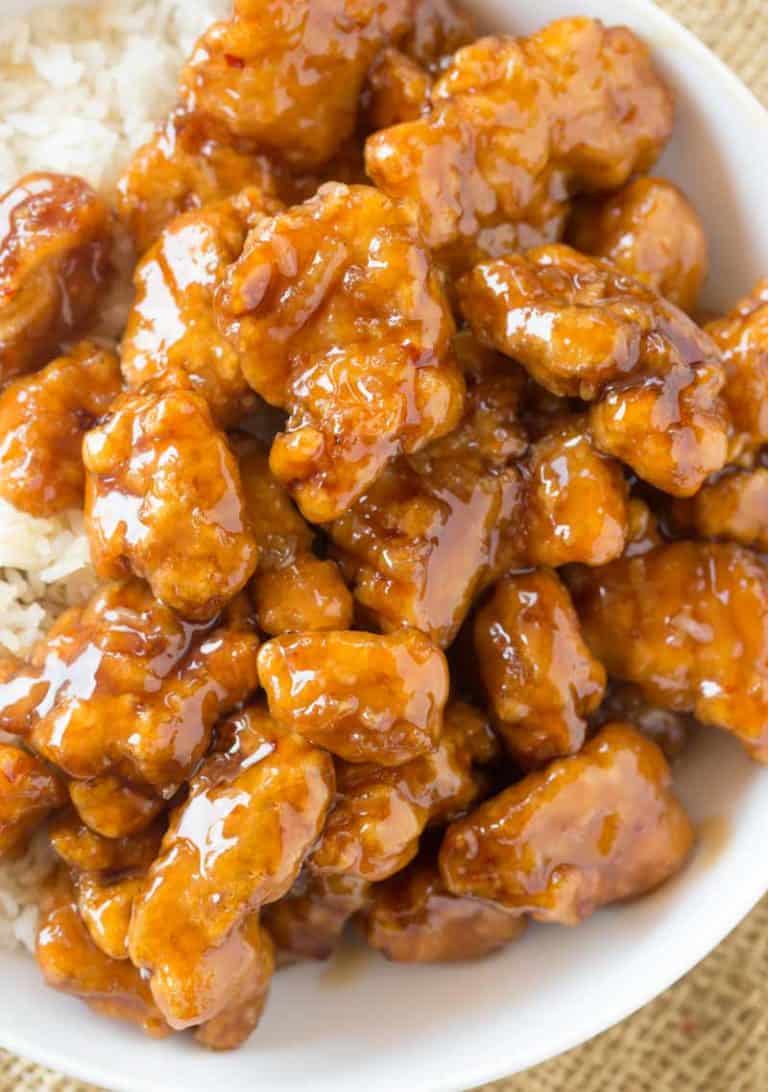 Panda Express Orange Chicken is the most popular recipe on the Panda Express menu, and for good reason! Sweet and zesty citrus coated chicken covered in a thick and tangy sauce have become a standard of flavor in the food world. This recipe will make you dance a little in your chair as you eat it because it tastes just like your favorite restaurant, some even say it's better! 
While there are a few steps to make this recipe at home, once you've done it you'll be amazed at how simple the process really is. You'll be making the sauce in one batch, then frying the chicken, and then the grand finale of putting it all together and serving with a side of rice or noodles. 
This recipe is different than our 3-Ingredient Orange Chicken recipe that is SUPER popular online because the sauce in that recipe is based on a mixture of barbecue sauce and orange marmalade. While some of the pictures may look slightly similar, this Panda Express Orange Chicken is going to taste a lot different.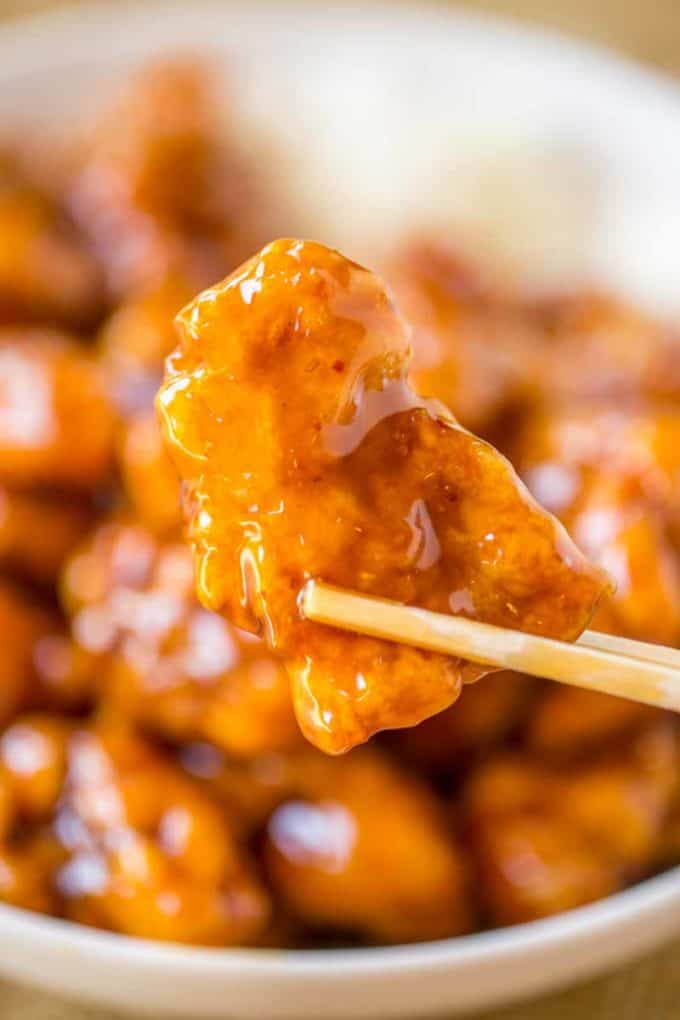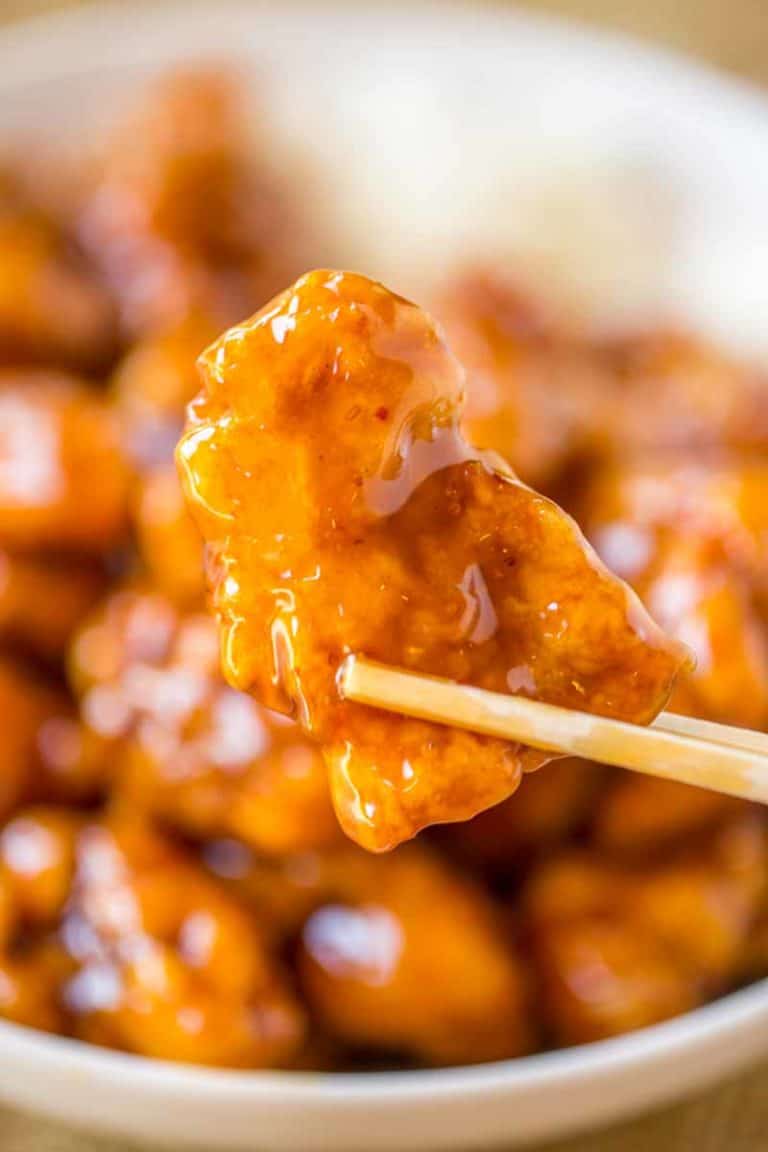 How to Make Panda Express Orange Chicken 
It may seem like there are a lot of ingredients at play here and a lot of dishes to dirty, but it really does come together pretty quickly. At the end of the cooking, when you have a plate of this chicken waiting to be eaten, you'll forget all about that pile of dishes left behind! Check out how to make Panda Express Orange Chicken at home! 
The Sauce: Mix all the sauce ingredients together and let the sauce sit while you're making the chicken. 
The Chicken: To make the fried chicken, mix the breading ingredients together, coat the chicken pieces, and fry the chicken in batches. Set to the side until the very end.
The Finale: This step is where the magic happens! Fry the fresh garlic and ginger and optional red pepper flakes in the bit of oil that is left over from cooking the chicken. Make sure to drain most of the oil first. Add in the orange sauce and bring it to a boil then immediately turn the heat off. Carefully add in the chicken making sure to not splatter the sauce. Dinner is served when the chicken is fully coated in the sauce! Enjoy!
More Homemade Panda Express Recipes
Frequently Asked Questions
Can I make Orange Chicken in the Crockpot or Slow Cooker?
Sure! Just put the raw chicken in the slow cooker with the sauce, cook on low for 3 hours, then add in a bit of cornstarch/water slurry and cook an additional hour to thicken.
Can I make Orange Chicken in advance? 
Yes, absolutely. Make the small chicken nuggets, bread them in panko or flour, then freeze them and cook them the same way described below. The sauce can be made a few days in advance and kept in the fridge. Once you're ready, reheat the chicken, sauté the fresh ginger and garlic, add in the sauce and heat to a boil. Then add in the chicken, mix, and serve! 
How do you make Orange Sauce?
Orange Sauce is a mixture of vinegar, soy sauce, sesame oil, sugar, orange zest, and crushed red peppers that thicken in a pan with deep fried battered chicken with cornstarch that will help thicken the sauce. As you can see from the recipe below, it is super easy to make! 
What is in General Tso's chicken?
General Tso's Chicken is probably the closest tasting dish to Orange Chicken. Although it doesn't contain any orange, it does have many similar ingredients including soy sauce, vinegar, sugar, cornstarch as well as dried red chili peppers and garlic. It is tossed with deep fried chicken pieces as well. So good!
How do you make Sesame Chicken?
Sesame Chicken definitely has a similar flavor profile to Orange Chicken, but it is normally made with chicken broth, sugar, vinegar, dark soy sauce, and sesame oil which is cooked down in the pan to thicken before being added to the chicken.
What is in Orange Beef?
Orange Beef is the far less known version of Chinese food with orange flavors. Since Orange Chicken is so popular, most people don't order the beef version. Simply purchase the best beef you are comfortable buying (I prefer ribeye. Chuck roast works good too.) and freeze for 30 minutes. Slice VERY thinly against the grain and cook it just like you would the Orange Chicken.

Create a free account to Save Recipes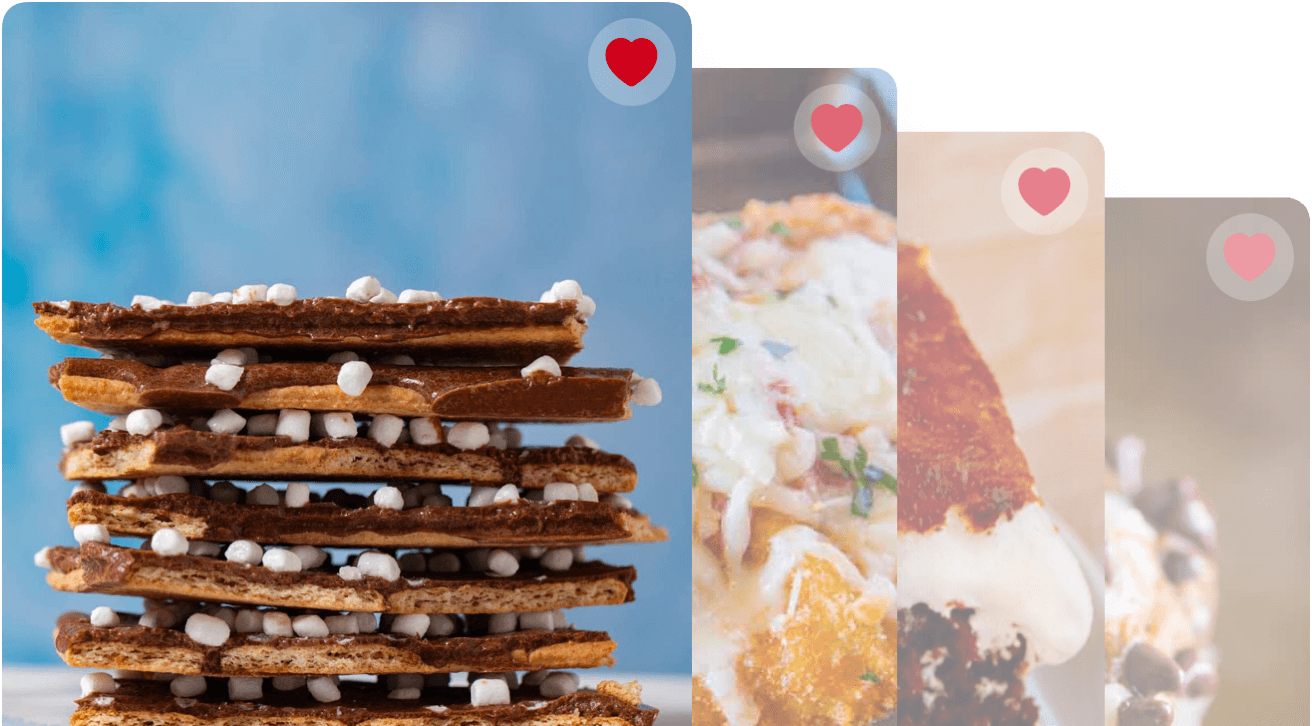 Key Ingredients in Copycat Panda Express Orange Chicken
While most, if not all, of these ingredients can easily be found in the international section of large local grocery stores, if you have trouble find anything, the local Asian store will have them for sure, like the Wok which is the perfect stir fry pan and the best way to cook quickly and over high heat for Asian dishes.
Chicken: We are using boneless and skinless chicken thighs that we cut into 1-inch pieces. You can use any cut of chicken though, as long as it is cut into pieces. 
Flour: Regular all purpose flour is great for this recipe. 
Orange Zest: Fresh orange zest is what makes this recipe so yummy. You'll want to get a dedicated Citrus Zester which makes the process so much easier. This zests your citrus perfectly without getting any of the bitter white pith in the recipe.
White Vinegar: Surprisingly, this is the secret ingredient that makes this recipe so addictive. And yes, we are using a full 10 tablespoons! The vinegar cooks down and blends with the other ingredients to make the perfect sauce. 
Rice Wine: Rice wine is NOT vinegar. It is a fermented rice beverage, or condiment. Look in the Asian section for rice cooking wine or mirin. 
Soy Sauce: Nothing much to say here except we think Kikkoman has the best flavor overall. 
Sugar: You can use any sugar, like granulated sugar or even brown sugar which gives a deeper flavor. 
Oil: There are two kinds of oil used in this recipe. One is sesame oil to add a depth of flavor, and the other is regular cooking oil. You can use canola or vegetable oil. Peanut oil is great too. 
Substitutions for Panda Express Orange Chicken
Cornstarch: You can use a different sauce thickener, like cornflour, or substitute equal parts with regular flour. If you prefer to not have any wheat or corn products in the mix, you can try tapioca starch or arrowroot powder. 
Rice Wine: You can substitute with equal parts white cooking wine, Japanese mirin, or Japanese saké. If you prefer to have nonalcoholic then try white grape juice or apple juice which are both good substitutes for this recipe and add a bit of sweetness. 
White Vinegar: If you just can't find regular white vinegar (which is specifically made from cane sugar), you can use apple cider vinegar, or even white wine vinegar. Also, distilled white vinegar (which can be made from any type of sugar) works great too.
Ginger: You can use equal parts ginger purée or pre-minced ginger. Also, in a pinch, 4 teaspoons of ginger powder work well. If your paste is a ginger/garlic combo, you can substitute with a total of two tablespoons of the ginger/garlic paste instead of the amounts listed in the recipe. 
Water: A great idea is to substitute orange juice for the water in this recipe. It's not required to get the full Orange Chicken flavor, but if you do you won't be disappointed. 
Variations on Panda Express Orange Chicken
Spicy Orange Chicken: If you would like to kick up the heat a little bit and make this a spicy Orange Chicken, add ½ tablespoon of Sriracha into the sauce. Sriracha is quite possibly the king of all pre-made hot sauces. It adds heat without overwhelming you and can be used in almost every cuisine. Try mixing with mayo to make a perfect spicy mayo!
Ground Orange Chicken: If you're looking to make your Orange Chicken healthy we have the exact same Panda Express Orange Chicken recipe adapted for a much healthier meal in our Ground Orange Chicken.
Sautéd Orange Chicken: If you prefer to not deep fry your chicken, you technically don't have to bread it and fry it. A simple sauté with a bit of oil will work great, just add the cooked chicken to the sauce like you would normally do in the recipe. Keep in mind that it won't have the same flavor or consistency as the breaded kind. Either way, it will be delicious! 
Orange Chicken Burrito: Most people make a version of baked/sautéd Orange Chicken to lighten the calories. You can do it instead with ground chicken which is browned really well first to give the crispy texture without the breading. Then just roll it into a burrito for on the go!
More Incredible Copycat Recipes
How to Store Panda Express Orange Chicken
Serve: Serve your Orange Chicken while it is hot and ready. Refrigerate any leftovers within two hours. 
Store: You can keep any leftovers in the refrigerator for 4-5 days in an airtight container. Be sure to reheat fully to 165ºF internally before eating. 
Freeze: You can freeze extra Orange Chicken for up to 3 months. Simply thaw and reheat to an internal temperature of 165ºF or more. You can also make and freeze the chicken separately and the sauce separately and then cook and combine them when ready.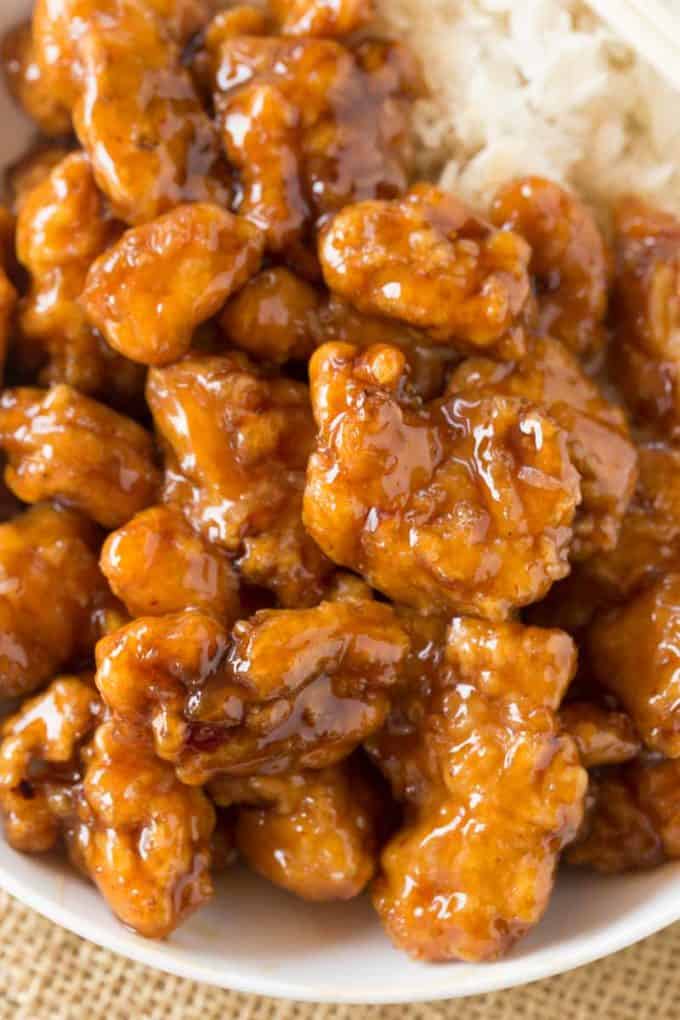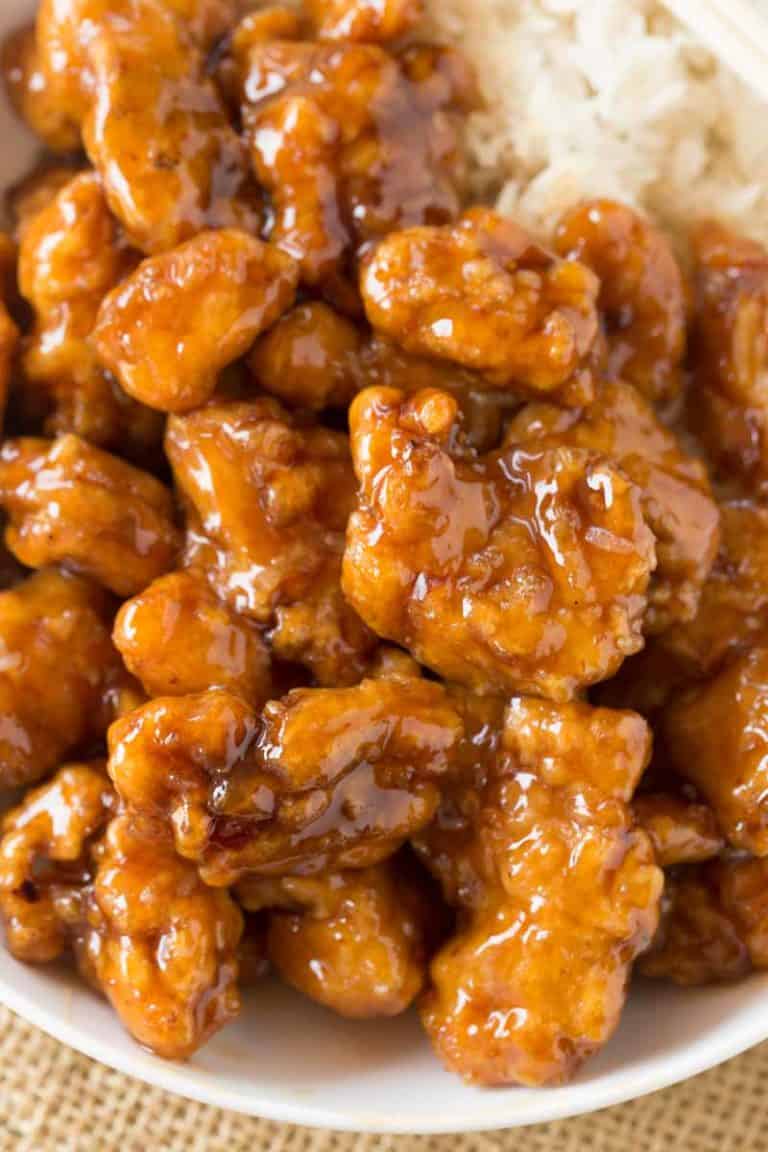 Ingredients
For the Chicken
2

pounds

chicken thighs

, boneless, skinless, cut into 1-inch pieces

1

large

egg

1 1/2

teaspoon

kosher salt

1

teaspoon

black pepper

2

tablespoon

vegetable oil

divided, plus more for frying

1/2

cup

cornstarch

1/4

cup

flour
To Finish
1 1/2

tablespoons

ginger

, freshly minced

2

cloves

garlic

, freshly minced

1/2

teaspoon

crushed red pepper flakes
Instructions
To make the sauce, combine the 1 tablespoon cornstarch, rice wine, water, sesame oil, soy sauce, sugar, white vinegar, and orange zest.

To coat the chicken, add the egg, salt, pepper and 1 tablespoon oil into a large bowl and whisk together.

In a separate bowl, add ½ cup cornstarch and flour and mix well.

In a large frying pan or a wok, heat oil to 375ºF.

Dip chicken pieces in the egg mixture, then dredge in the flour mixture.

Fry the chicken for

3 to 4 minutes

or until golden and crisp.

Transfer to a cooling rack and repeat with remaining chicken.

When you are done with the chicken, drain most of the oil from the pan (leave about a tablespoon).

Add the ginger, garlic, and crushed red peppers, cooking for about

10 seconds.

Add the orange sauce and bring to boil.

Turn off the heat, add cooked chicken, and stir until well mixed.
Nutrition
Calories:
551
kcal
|
Carbohydrates:
37
g
|
Protein:
27
g
|
Fat:
31
g
|
Saturated Fat:
8
g
|
Polyunsaturated Fat:
8
g
|
Monounsaturated Fat:
12
g
|
Trans Fat:
0.2
g
|
Cholesterol:
179
mg
|
Sodium:
1003
mg
|
Potassium:
377
mg
|
Fiber:
1
g
|
Sugar:
20
g
|
Vitamin A:
214
IU
|
Vitamin C:
0.4
mg
|
Calcium:
27
mg
|
Iron:
2
mg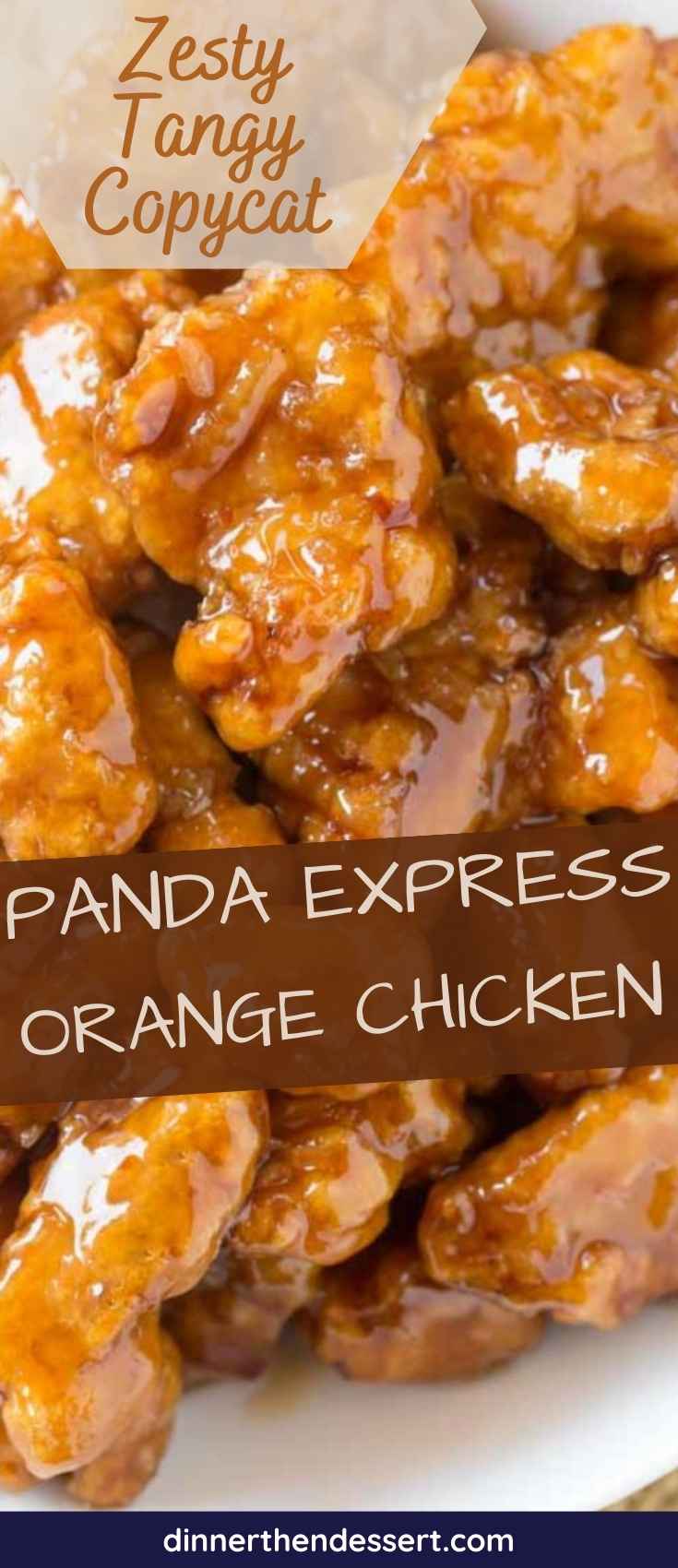 Photos used in a previous version of this post: