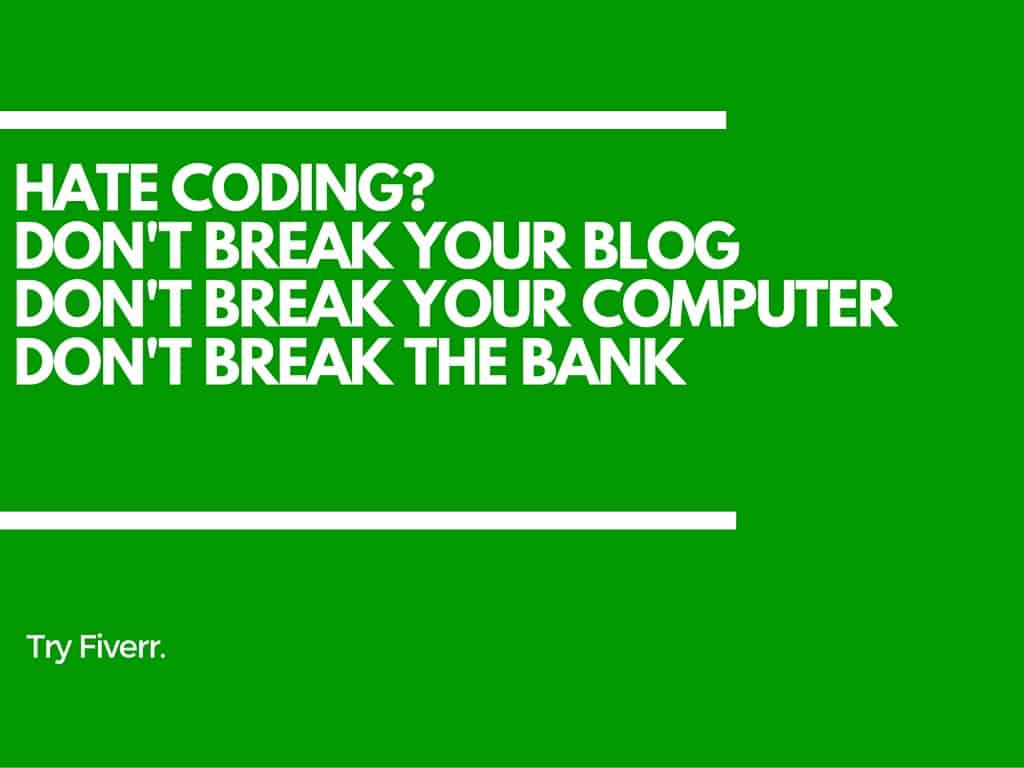 I keep a running list of technical issues the blog is dealing with in a notebook that is creatively labeled "I hate CSS" and up until a week ago it fell on either my shoulders or my husband's shoulders on the weekends to try and find plugins to magically fix our issues. I find myself wearing about a dozen different blog related hats on a daily basis and what I am learning is there are certain things I am really REALLY bad at.
Working with ad placement.
Fixing any coding.
What the heck is SEO, I still don't even remotely get it.
If you have been following along you know how short on time I have been and how any extra time is basically sucked down into a "figure out the ad network puzzle" black hole. As my list of blog issues has gotten bigger and bigger I came to terms with the idea of outsourcing more parts of the technical parts of the blog. I started looking around for a developer to take over all of our coding issues. There isn't anything wrong per-se (and I still REALLY love Foodie Pro), just a set of customizations and marketing ideas I have absolutely no idea how to implement!
So I started googling fixes again until I came across another blogger who talked about a site called Fiverr. I had never heard of it before, which probably puts me in the minority of people on the internet although my husband routinely comments that I have no awareness of things I don't have an interest in (totally true, I thought there were maybe 3 or so Harry Potter movies until recently… I have no idea how I missed five movies). So I contacted someone on Fiverr to fix an issue with my blog. He was nice enough, worked on it quickly enough. Then disappeared, sort of turn and burn style. I had an issue with the fix but got no reply. Boo.
In comes my white knight, Eric, to the rescue. When I tell you he spent a SIGNIFICANT amount of time helping me, I am still underestimating his efforts. He explained why the previous fix actually broke the responsiveness of my site (BAD) and why Google would hate it for SEO reasons (Double BAD) and gave me alternate ideas. This is before he even asked for a dime. He worked on my subscription form, he made an archive for me, he backed up my site and he debugged a site issue I didn't even know I had and had two different tech supports from plugins help debug their coding for me. I would tell you what he charged me but I think it is better you discuss things directly with him.I will tell you it was so reasonable I tipped him almost 60% as a thank you and contemplated even more. Then I told him he could never escape me and that everything I needed in the future was going to go directly to him.
You can have him do small fixes for you for $5 and he is local (EST) in the US so if you send him a message you will hear back pretty darn quickly. Just don't go hogging all of his time! I need him to do the other 25 things I have written in my notebook!
When I found the link through the blogger it said I got a free gig by using the link (value $5) and there were a ton of things I could get done for free. So here is a link you can use from me to you!
You better treat him well though! I've adopted him into the Dinner, then Dessert family!
Here is a link to his profile: https://www.fiverr.com/ebturner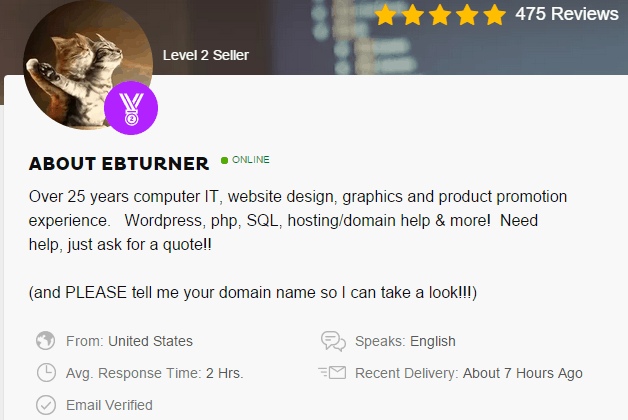 The blog is not as polished as I would like yet, I am compiling my list of fixes for him and playing nice with his other clients so I don't hog him all to myself.
I know this seems like a post that is promotional rather than helpful, but once you find yourself saving time searching for fixes for the cost of a latte, you'll thank me. My husband is Eric's biggest fan, because now his only job on the blog is learning about SEO for me!
Hope it helps!
PS if you ever see a part of my site you would like to duplicate let me know! As a food blogger you look at SO MANY other food blogs and sometimes you're like "oooh I totally love that xyz style." When I talked to Eric about one fix I sent him links to Pinch of Yum's page and a link to Sally Quinn's page for reference. I'm totally here to help if I can. 🙂
Come back tomorrow for a rundown of what a normal blogging day looks like here. Spoiler, lots of diapers, tantrums, dirty dishes and a room full of props.
*This post contains an affiliate link. Feel free to use the gig and if you love it and spend another 10$ then I get a gig. No big treasure here, but most importantly, if you do use the link do me a favor and use Eric for any WordPress fixes you may need. I get absolutely no kickbacks or anything (in fact he doesn't even know I am writing this) but he is just that nice of a guy. If you want to mention me to him go for it, if not no worries!