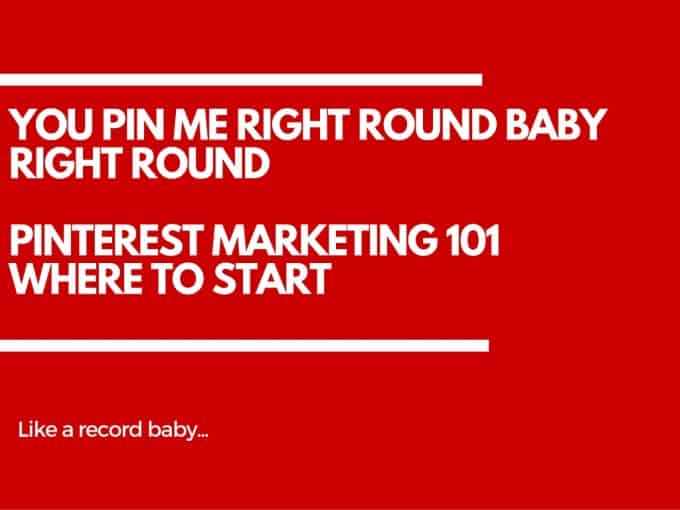 Today's blogging post is about Pinterest marketing and will touch on just a few very basic principles of it. When I started the blog I was completely clueless about what went into making "pinnable" pins. I put no effort into my images being pin-friendly and it showed. For the first almost two months of the blog's existence I had less than 10 visits a day from Pinterest. Fail.
So we are going to do a quick Pinterest 101 class here because even just this amount of information can/will make a big change in your presence on Pinterest if you are starting from the ground up.
Make sure you have a business account! I did not for the first month or so and I just figured it was another hour of wasted time to make the conversion. First, it only took about 10 minutes. Second, it gives you insight into a huge set of analytics (For FREE!).

You can look at all different sets of data from how many people view your profile to how many people see pins that come from your site. You can see what pins have been re-pinned the most and viewed the most. It is a wealth of information you are tossing to the side if you don't make your profile a business one
Get rich pin enabled! I did not do this when I first started and again I wasn't doing myself any favors. I was intimidated by the idea of adding coding to the site. In reality it took ten minutes and within 24 hours I was rich-pin enabled. The differences may not seem like a lot to you but you get an image and your blog name on the face of the pins: 
and then when you click on the pin you see your blog name again along with a list of ingredients: 
Not to say that this alone is going to make you a Pinterest superstar, because it won't, but it is an immediate level of professionalism! You look official now! Check out your blog name and all your ingredients. Now check out a pin that doesn't have them. It not only looks more professional, but it gives the Pinterest user more data so they can learn about your recipe, get enticed to visit your blog and fall in love with you!
Make longer pins. One of my favorite blogs that you hear me talk about a lot, Pinch of Yum, did a bit of research into the world of pins and came away with data that heavily leans in favor of longer pins! The longer, multi image pins are more successful than the horizontal images. tomorrow I will go into this in much greater detail along with how you make these longer pins in my in depth report about Canva, the site I use to make these long pins. I am still guilty of not maximizing my potential here as I have one long pin per recipe but the rest of my photos are in landscape instead of portrait. I really need to change that soon!
Hiding your pins! Our topic for tomorrow, basically once you make those long pins, you aren't going to want to stick them in your post because they really are not very attractive. We will cover how to hide them!
Automate! I can not stress enough how important this piece is to the puzzle. When I finally broke down and bought a product to automate my pinning, my numbers IMMEDIATELY jumped. We'll talk about that in depth next week in my breakdown of Tailwind, my personal Pinterest virtual assistant.
Have you used any other Pinterest strategies that you'd like to share? Sound off below! And tune in tomorrow for an in depth tutorial on Tailwind and how it can basically be the Roomba for your Pinterest account!
Wish me luck everyone! When you see this in the morning I will be walking in to my first of 16 Saturday photography classes! I can't wait to learn as much as I can soak in about photography!!