Seven Layer Salad is crunchy, flavorful, colorful, and perfect for potlucks. Made with bacon, peas, and celery, you'll love every bite!
This easy Side Dish is sure to become a favorite for family reunions, cookouts, and picnics. Just like Macaroni Salad, the flavorful Curried Chicken Pasta Salad, or classic Potato Salad, it's a refreshing dish with a creamy mayo dressing that's perfect for the spring and summer.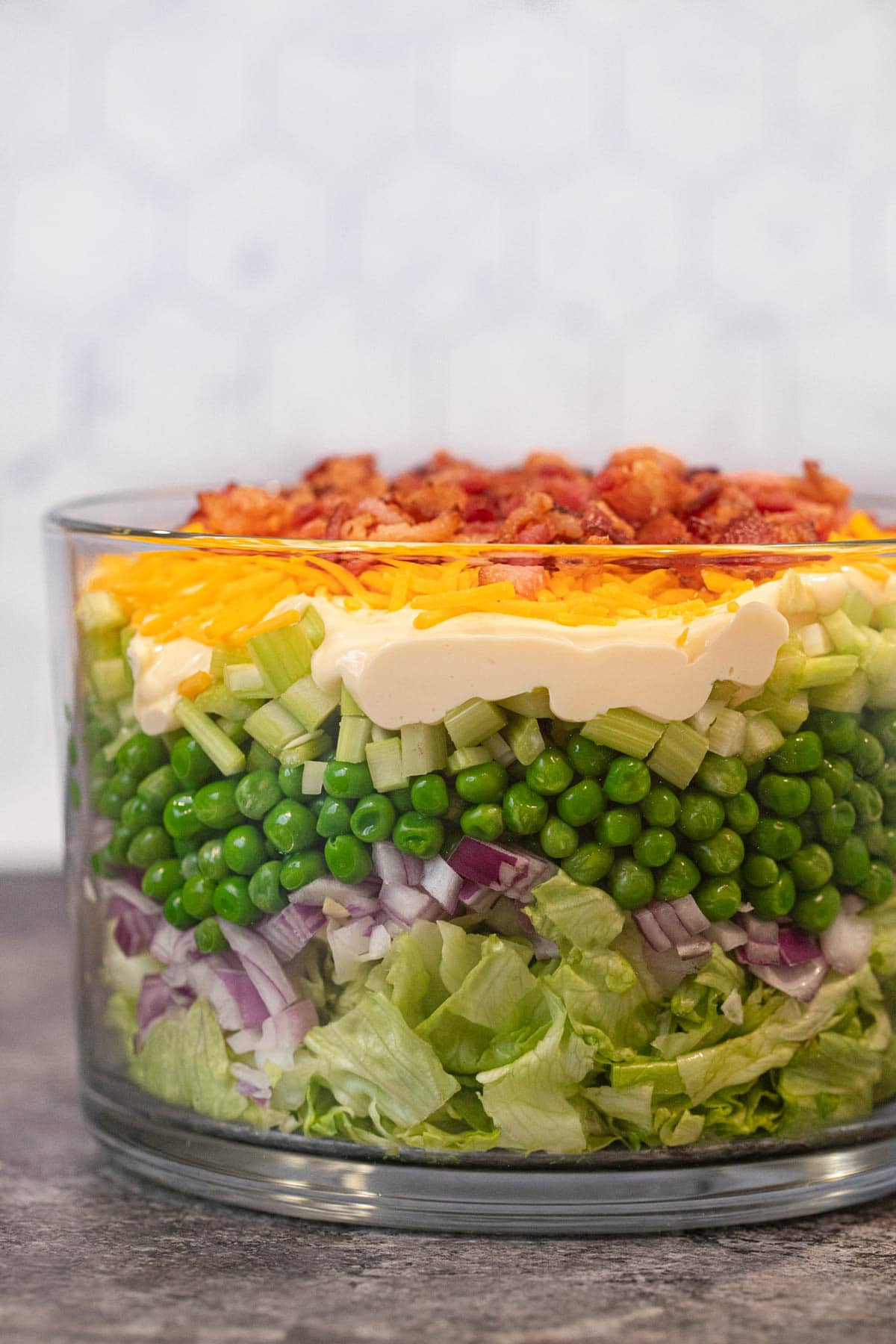 You may have enjoyed Seven Layer Salad while you were growing up. It's such a classic for potlucks and a favorite salad for Summer BBQs. This easy recipe makes it just how you remember with layers of iceberg lettuce, onion, peas, celery, creamy dressing, cheese, and bacon. It's easy to make and packed with a variety of different flavors and texture from all the layers. This is the perfect dish to serve at your next Summer BBQ. Make it to go on the side of your hamburgers, Grilled Chicken, or hotdogs.
The easy salad goes great with any number of main dishes. It's filling, refreshing, and a favorite with kids and adults. If you're serving a bigger group, you may want to make it a double batch. This crowd-pleasing salad goes fast. Seven Layer Salad is creamy, savory, salty, crunchy, and sweet. Each layer brings its own unique taste and texture that completes the dish. The creamy layer of mayonnaise helps bring all the other ingredients together and the little bit of sugar mixed in adds just the right amount of sweetness.
This recipe follows the traditional ingredients for Seven Layer Salad for a nostalgic and delicious side. But you can always experiment with different ingredients. Try swapping out the peas for corn or adding in some ham or potatoes. There are so many ways you change up the layers or add new ones for fun spins on this salad.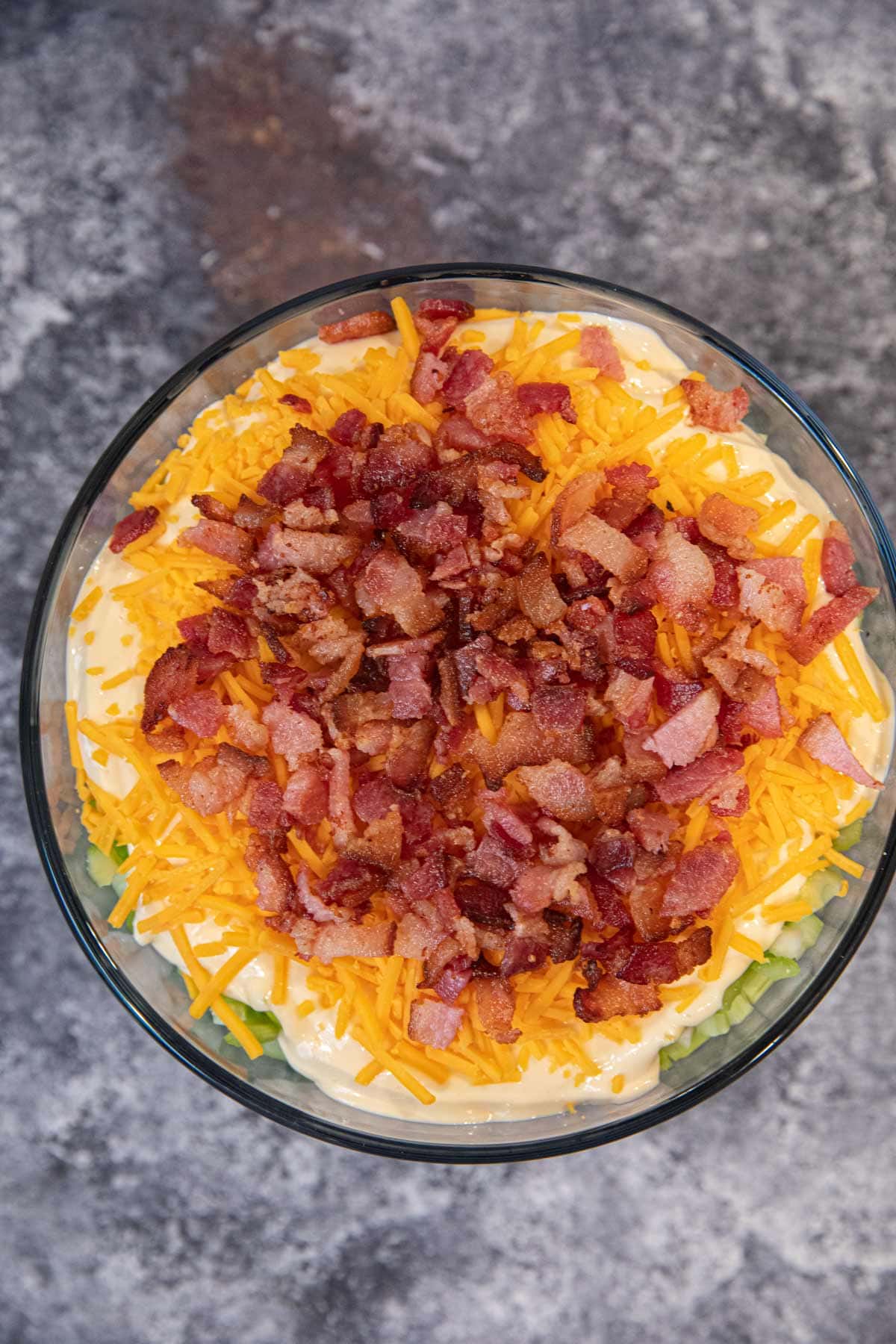 How to Make Seven Layer Salad
The process for assembling Seven Layer Salad is the easiest thing ever! Take the time to add the fresh ingredients and you'll have a yummy side dish people come back to time and again.
Prep: Start by taking the peas out of the freezer to thaw. You can put them in cold water for this. Then cook the bacon in a large skillet until nice and crispy. Let the bacon cool down then chop it into bacon bits to get it ready for the salad. Chop a head of lettuce or romaine lettuce, red onion, and celery.
Layering: Begin assembling the Seven Layer Salad in a serving bowl. Start with the lettuce, then onions, peas, and celery.
Dressing: For the creamy homemade dressing whisk together the mayonnaise and granulated sugar. Spread sweetened mayo over the celery.
Final layers: Top the salad off with the last two layers, cheese, and bacon.
Serve: Cover and keep the Seven Layer Salad in the fridge until you're ready to serve.
Frequently Asked Questions
Can this recipe be made ahead of time?
Yes! This recipe is great to make ahead of time. You can make it up to 3-4 days before serving. You'll want to keep the mayo dressing out until it is ready to serve as it might cause the other ingredients to get mushy. 
Should I mix everything together before serving?
While mixing all the ingredients together is technically possible, this recipe showcases the actual ingredients in contrasting layers that are aesthetically pleasing. If you mix it all together, toss it well to coat everything in the mayo, and serve in an opaque serving bowl.
What bowl is best for the Seven Layer Salad?
Use a glass bowl that you can see the layers with. You can use a trifle dish which is perfect for this kind of dish because you can easily see the layers.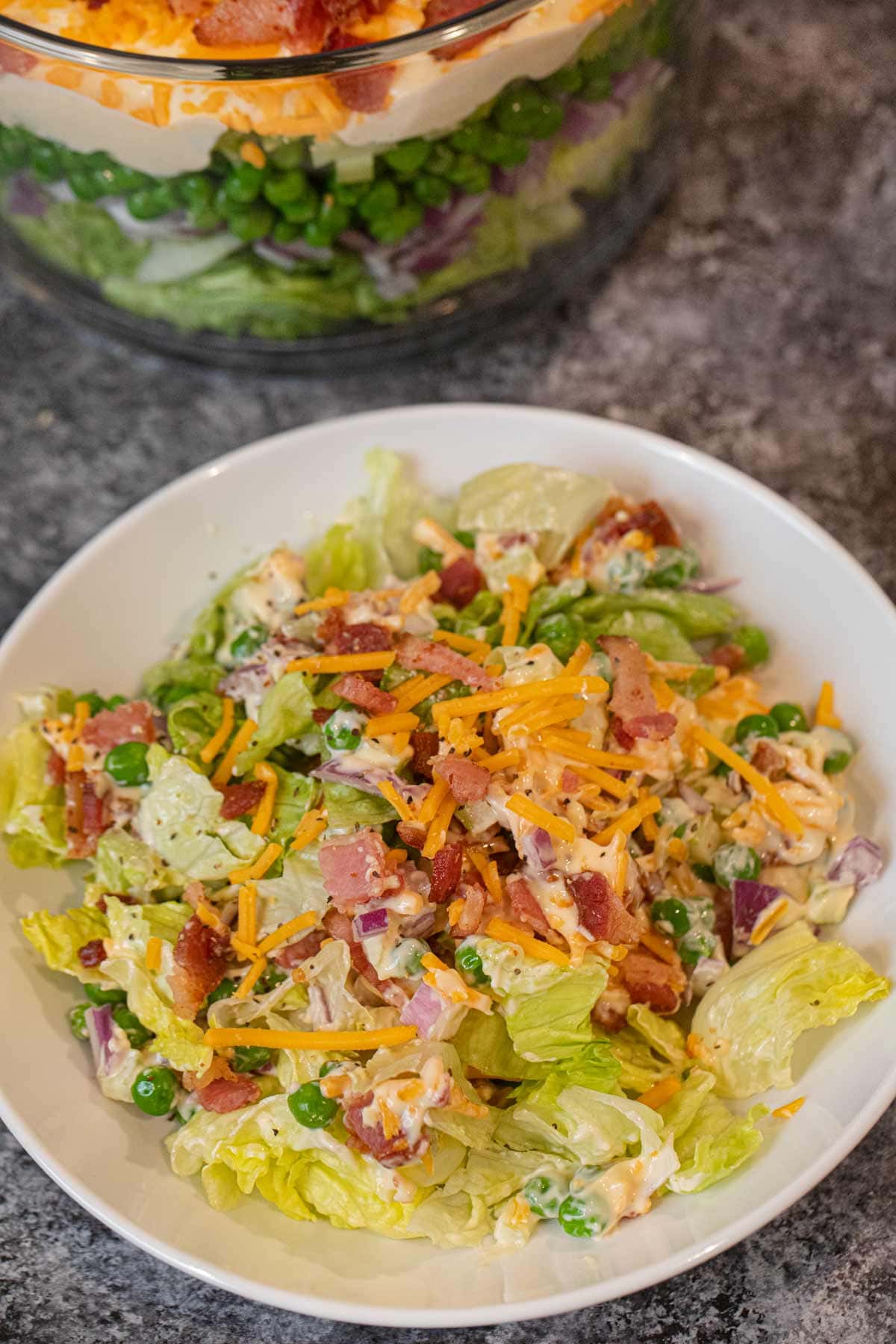 Create a free account to

Save Recipes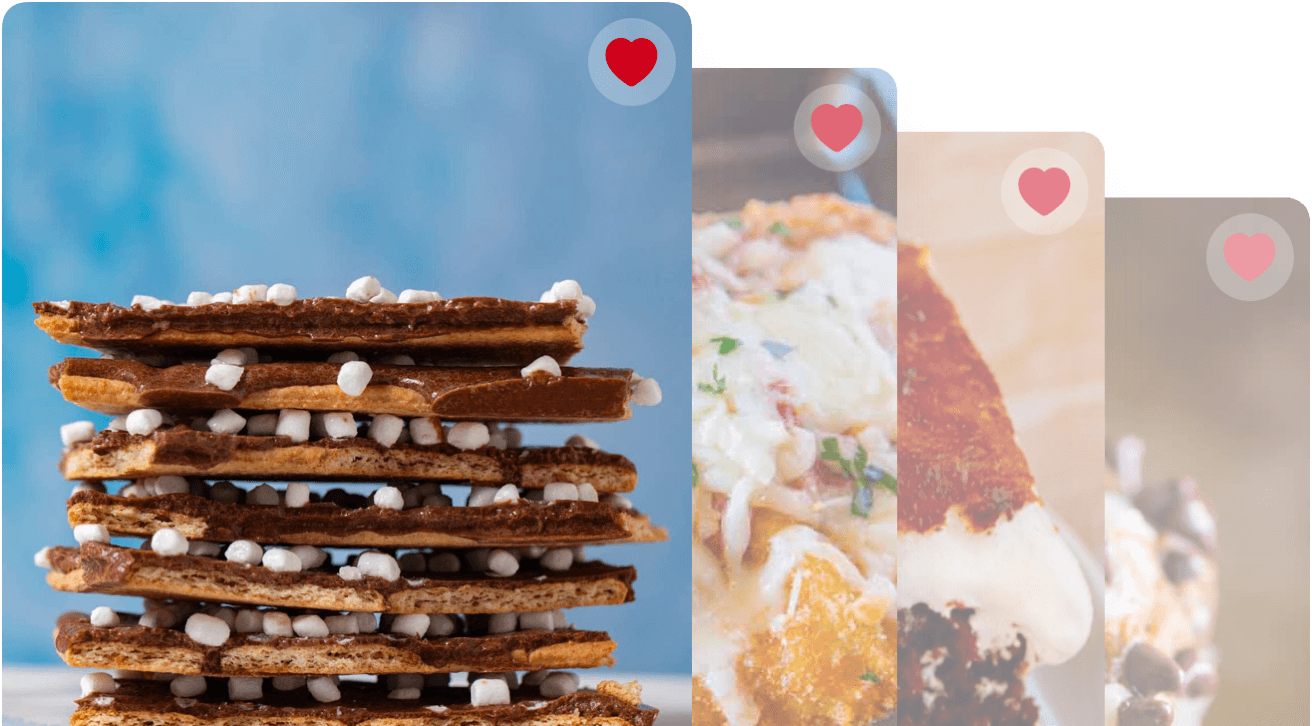 Key Ingredients in Seven Layer Salad
This dish is packed with so many fresh and yummy ingredients! Be sure to get fresh and crisp elements from the store to impress your guests.
Bacon: You can use any bacon. We like thick cut bacon, cooked to perfect crispiness, cooled and chopped.
Cheese: You can use pre-shredded cheese for ease. Buying a big block of cheese and then shredding it yourself is budget friendly and ensures the freshest cheese possible outside a dairy farm!
Lettuce: For easy prep, you can easily get the pre-cut salad mixes. If you want to get fancy, use baby spinach or butter lettuce in your layers. Be sure to wash and pat dry the lettuce before layering.
Peas: Canned peas simply won't do. The crisp flavor of thawed frozen peas is better than the mushy kind. Bonus points if you can use peas fresh from the garden or farmer's market!
Onion: Red onion really gives the layers a nice pop of color. You can use white or yellow onion in an emergency too. If this is the case, add a thin layer of sliced purple cabbage instead.
Celery: Celery is celery, but it is essential to this recipe. Make sure to buy the freshest green celery that doesn't have any dark green mushy patches.
Mayo: Use your favorite real mayo for this dish. Miracle whip is not recommended unless everyone loves the extra sweetness.
Variations on Seven Layer Salad
Bacon: Instead of topping the salad off with typical bacon you could use turkey bacon or add some more sweetness with candied bacon. You could also add other meats like shredded chicken, turkey, or ham.
Cheese: Instead of regular cheddar cheese try using sharp cheddar, Swiss, provolone, pepper jack, or even gouda cheese.
Lightened Seven Layer Salad: Instead of using one cup mayonnaise, you can exchange it for sour cream or non-fat plain Greek yogurt. This will make for a lighter salad but have a similar texture.
Flavor: For some flavor additions try mixing in some lemon juice, dijon mustard, honey, or lime with the dressing. You can also add seasonings like paprika, black pepper, garlic powder, chili powder, or oregano.
Add-ins: For even more layers for your layered salad, try adding green onions, fried onions, cherry tomatoes, corn, pasta, avocado, hard-boiled eggs or potatoes.
How to Store Seven Layer Salad
Serve: Don't leave your Seven Layer Salad at room temperature for more than 2 hours. Serve it in a clear trifle bowl or other glass bowl to enjoy the pop of color from the various layers.
Store: If you have any leftovers or want to make Seven Layer Salad ahead of time, it will last in the fridge for 3-4 days. Make sure to cover it tightly with plastic wrap or seal it in an airtight container.
Freeze: Due to the mayo, this recipe won't freeze well and is best served fresh. If you don't finish it within the 4 days, it's best to throw it out and make a fresh batch.


Ingredients
1

pound

bacon

6

cups

iceberg lettuce

, chopped

1

red onion

, chopped

12

ounces

frozen green peas

, thawed

3

stalks

celery

, chopped

1 1/2

cups

cheddar cheese

, shredded

1 1/4

cups

mayonnaise

2

tablespoons

sugar
Instructions
Add bacon to a large skillet and cook until brown and crispy, then remove to a paper towel-lined plate.

Let cool then chop.

Layer the salad with lettuce, then onion, peas, and celery.

Mix the mayonnaise and sugar and spread it over the celery, then top with cheese and bacon.

Refrigerate until serving.
Nutrition
Calories:
298
kcal
|
Carbohydrates:
12
g
|
Protein:
17
g
|
Fat:
21
g
|
Saturated Fat:
7
g
|
Polyunsaturated Fat:
6
g
|
Monounsaturated Fat:
6
g
|
Trans Fat:
0.01
g
|
Cholesterol:
55
mg
|
Sodium:
1162
mg
|
Potassium:
327
mg
|
Fiber:
2
g
|
Sugar:
6
g
|
Vitamin A:
601
IU
|
Vitamin C:
13
mg
|
Calcium:
124
mg
|
Iron:
1
mg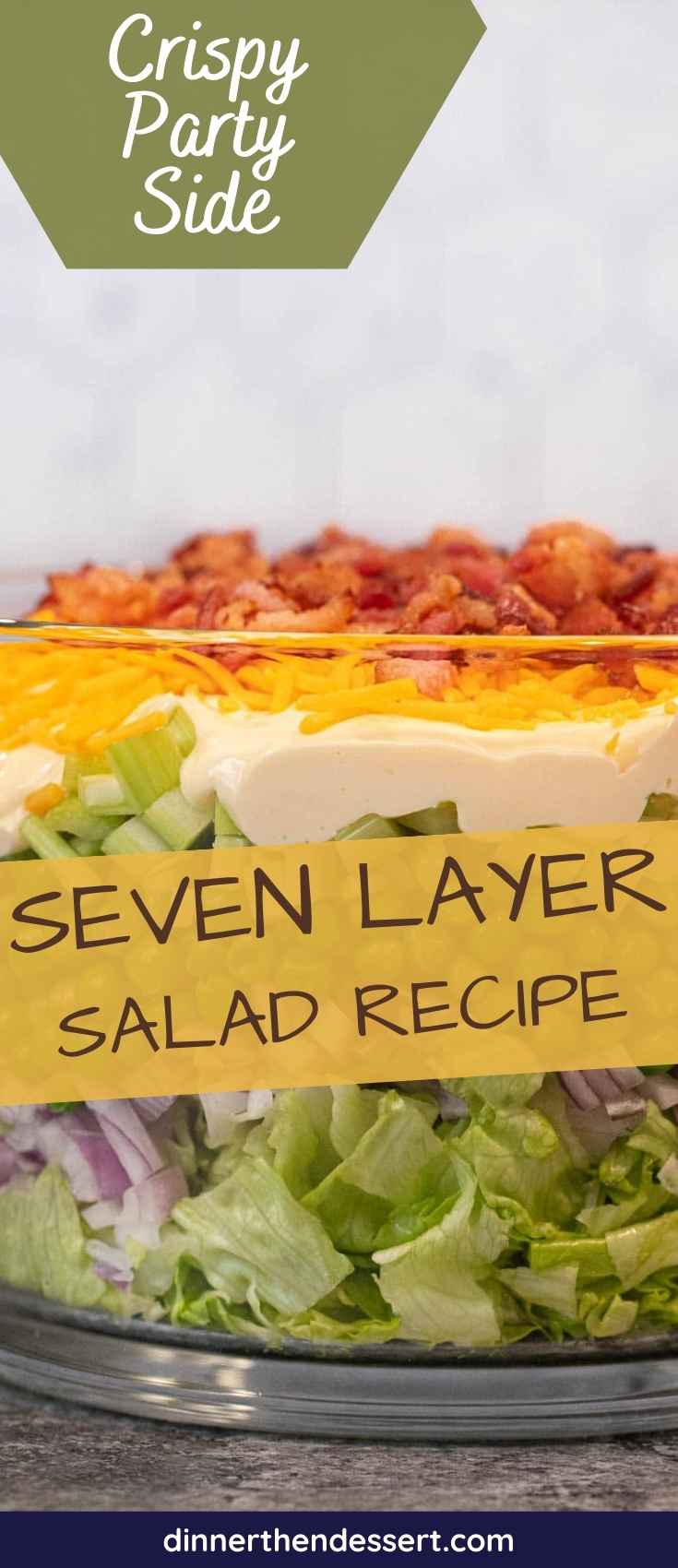 Photos used in a previous version of this post.