This Stuffed Leg of Lamb recipe is a delicious holiday dinner that is easier than it looks! Perfectly roasted boneless lamb leg stuffed with homemade pesto.
You don't need a culinary degree to make show stopping holiday Main Courses like Roasted Leg of Lamb. We bring you the tips and techniques you need to cook specialty dinner recipes like a pro.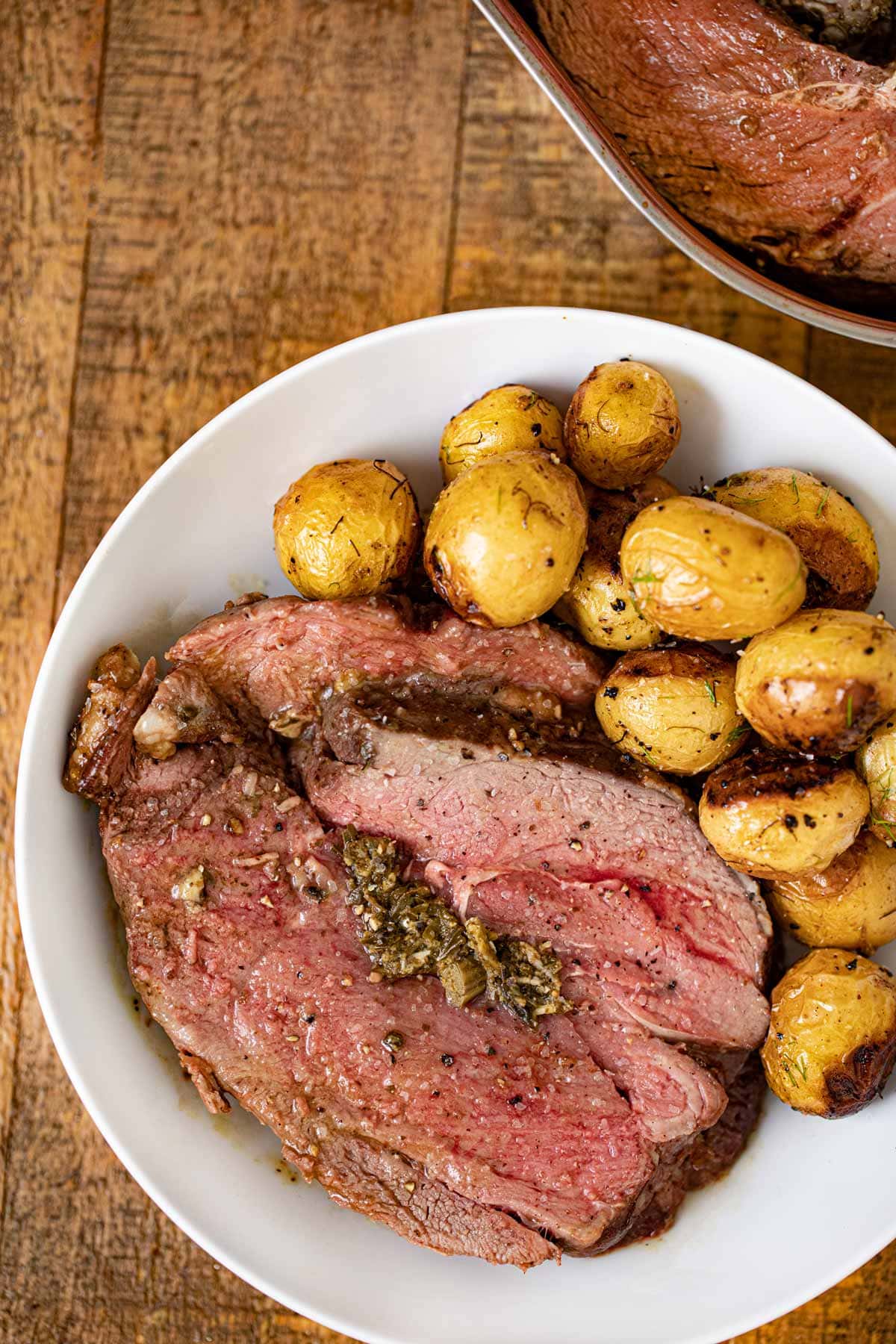 STUFFED LEG OF LAMB
Leg of Lamb is deceptively easy cut of meat to prepare. It roasts quickly and doesn't require marinades or basting to get tender, juicy meat, in fact the simpler the better when it comes to cooking lamb. All you need for perfect roast lamb is olive oil, seasoning, and about an hour and half. No one will believe you didn't take a special course to prepare this show-stopping holiday dinner.
This is the easiest Stuffed Leg of Lamb recipe full of natural flavor with just a handful of quality ingredients. Use extra-virgin olive oil, buy your leg of lamb from the butcher, and make our Homemade Pesto with fresh herbs for the most mouthwatering Stuffed Roast Leg of Lamb. It's worth the extra cost for this crowd pleasing dinner, perfect for any special occasion.
Stuffed Leg of Lamb is made with de-boned leg of lamb. You can can buy boneless leg of lamb at the butcher or remove the bones yourself, if you have experience. When preparing the meat, use a sharp knife so you aren't having to chop away at it. You just want to cut deep enough so the meat is flat while keeping the roast intact.
Make a steakhouse-worthy holiday dinner by serving Stuffed Leg of Lamb with Parmesan Smashed Potatoes, Creamed Spinach, and Dinner Rolls. Leftover stuffed lamb makes a delicious lunch sliced cold in a pita wrap with Zankou Garlic Paste and Cucumber Tomato Salad. Reheat Stuffed Leg of Lamb in the oven on 300 degrees, covered in foil, so it doesn't dry out.
HOLIDAY SIDE DISH RECIPES FOR STUFFED LEG OF LAMB
Tips for Stuffed Roast Leg Of Lamb
Bring the lamb to room temperature before you begin preparing. This will allow the meat to reach the desired internal temperature evenly, giving you a perfectly medium rare roast throughout.
Go easy on the stuffing. The homemade pesto is garlicky and packed with flavor so a little goes a long way. If there is too much stuffing, you'll have a hard time keeping the roast rolled even with the twine.
Rest the cooked Leg of Lamb for 10 minutes before carving. Cutting meat straight from the oven releases the juices and you will be left with a dry piece of lamb.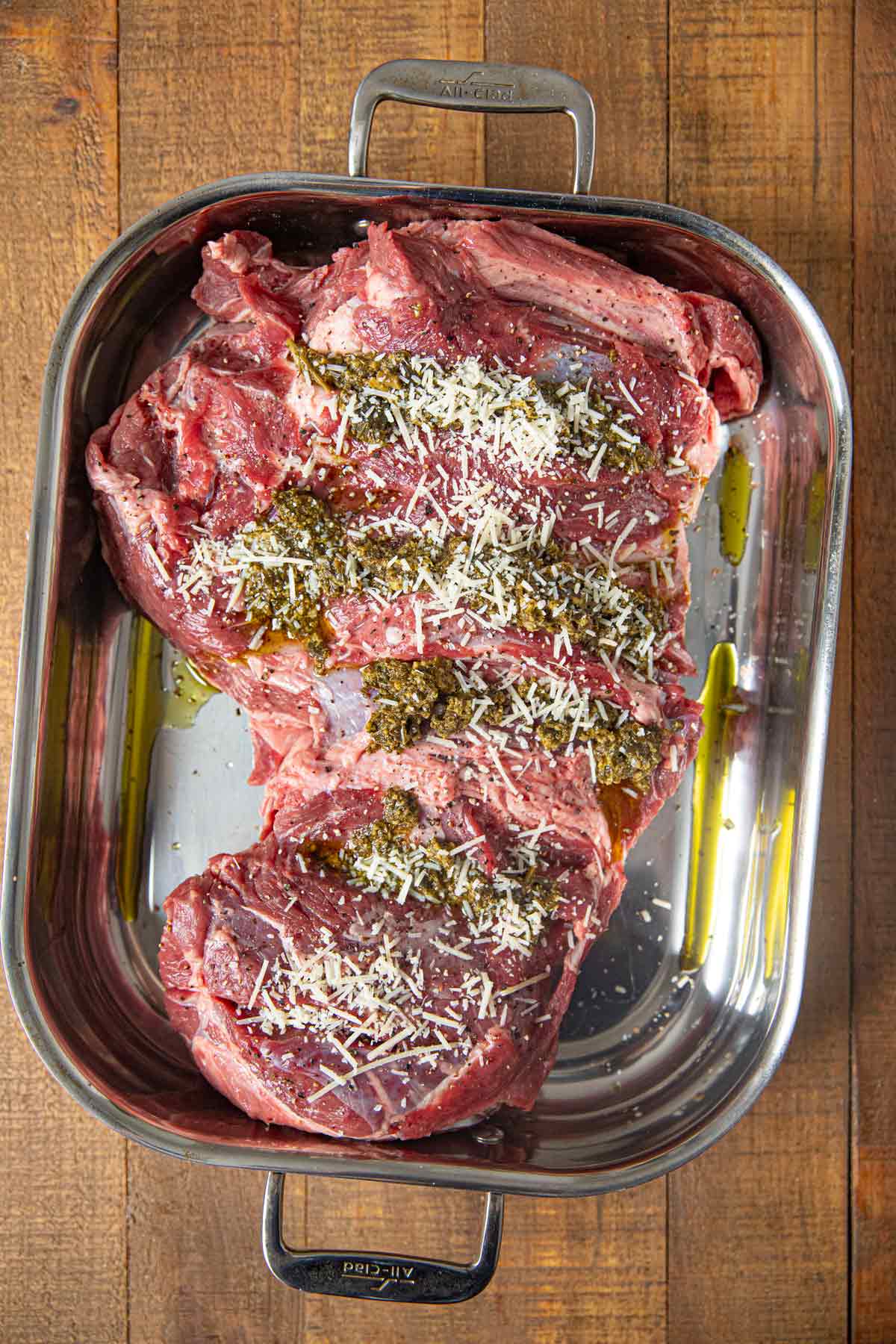 Create a free account to

Save Recipes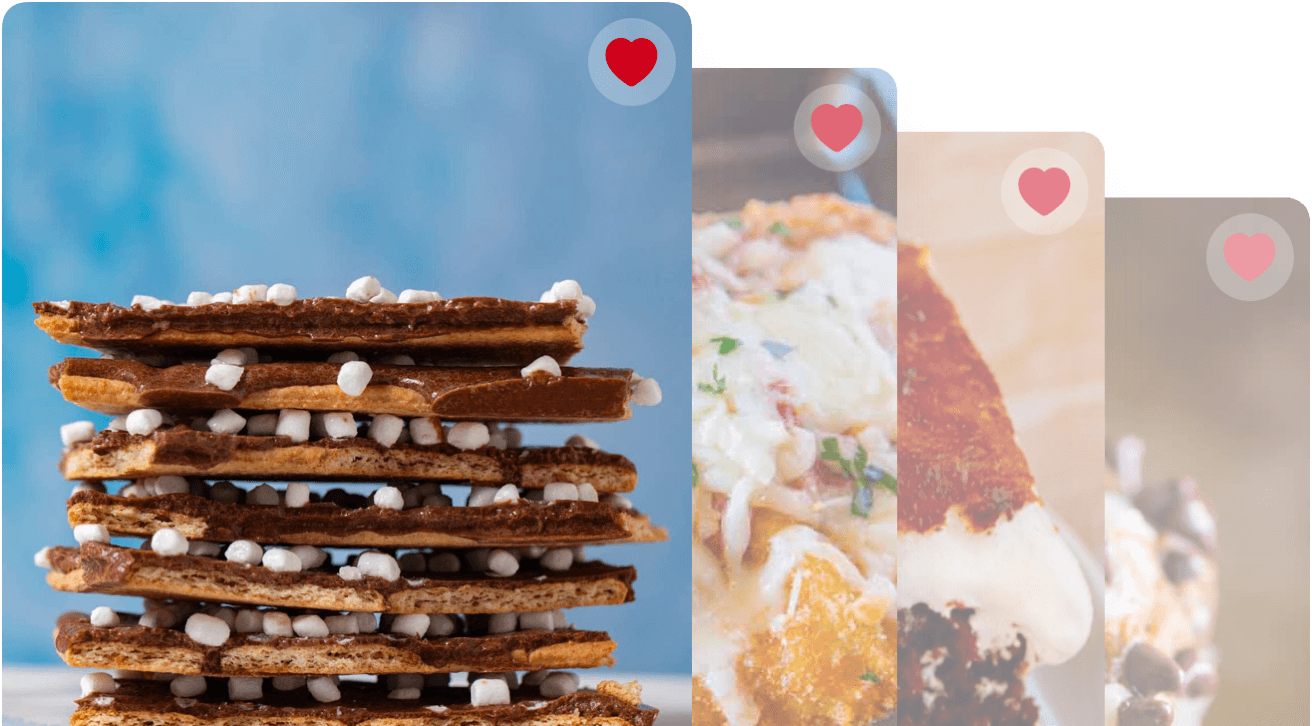 VARIATIONS ON STUFFED LEG OF LAMB
Goat Cheese: Add goat cheese to the pesto for creamy stuffing. Try sun-dried tomatoes, toasted pine nuts, or roasted red peppers in the pesto for more mediterranean flavors.
Garlic Herb Stuffing: To make Herb Stuffed Leg of Lamb, use a food processor to blend garlic cloves, flat-leaf parsley, lemon juice, and fresh herbs like thyme and rosemary.
Lamb Seasoning: Rub the outside of the lamb with dried herbs, minced garlic, or lemon zest. Place aromatics like sprigs of fresh thyme or fresh rosemary, red wine, onions, shallots, and garlic in your roasting pan for subtle seasoning.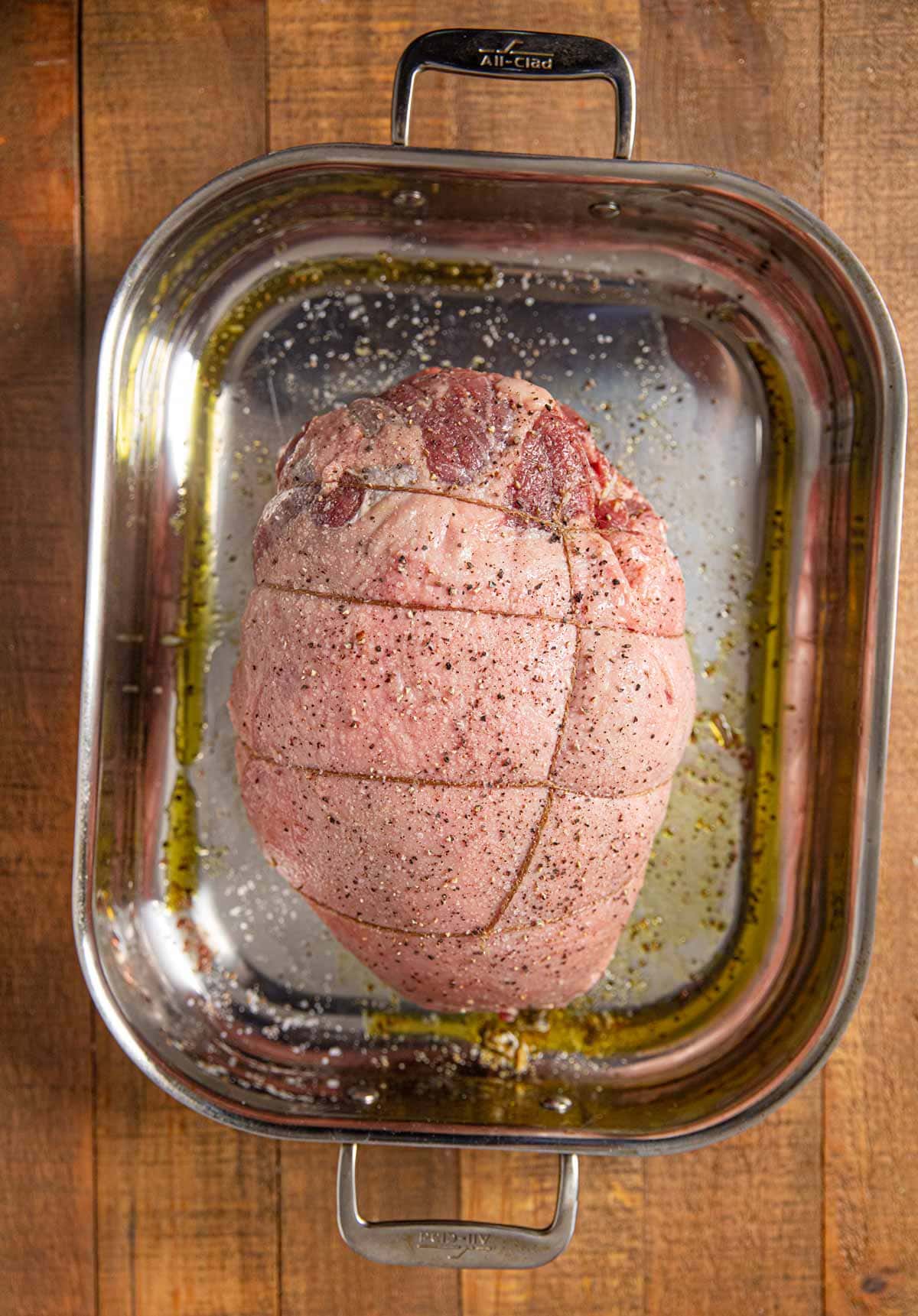 Slow Cooker Stuffed Leg of Lamb
Season and wrap the Leg of Lamb with the stuffing inside per the recipe.
Wrap and secure with twine.
Optional: Sear roast for 2-3 minute on all sides.
Place wrapped, stuffed leg of lamb in slow cooker.
Add a cup of red wine and 2 cups beef stock.
Cover and cook on low for 5-6 hours, or 3-4 hours on high, until internal temperature is 145 degrees.
You can broil roast skin-side up for 3-4 minutes for crispier skin.
MORE DELICIOUS AND EASY HOLIDAY MAIN DISH RECIPES
HOW TO STORE STUFFED LEG OF LAMB
Serve: Stuffed Leg of Lamb can be at room temperature for up to 2 hours before it should be stored.
Store: Cool meat and store Stuffed Leg of Lamb in an airtight container for up to 3 days in the refrigerator.
Freeze: For best results, freeze whole and reheat after thawing overnight in the refrigerator. Once cooled, store whole Stuffed Leg of Lamb in a sealed container and freeze for up to 2 months.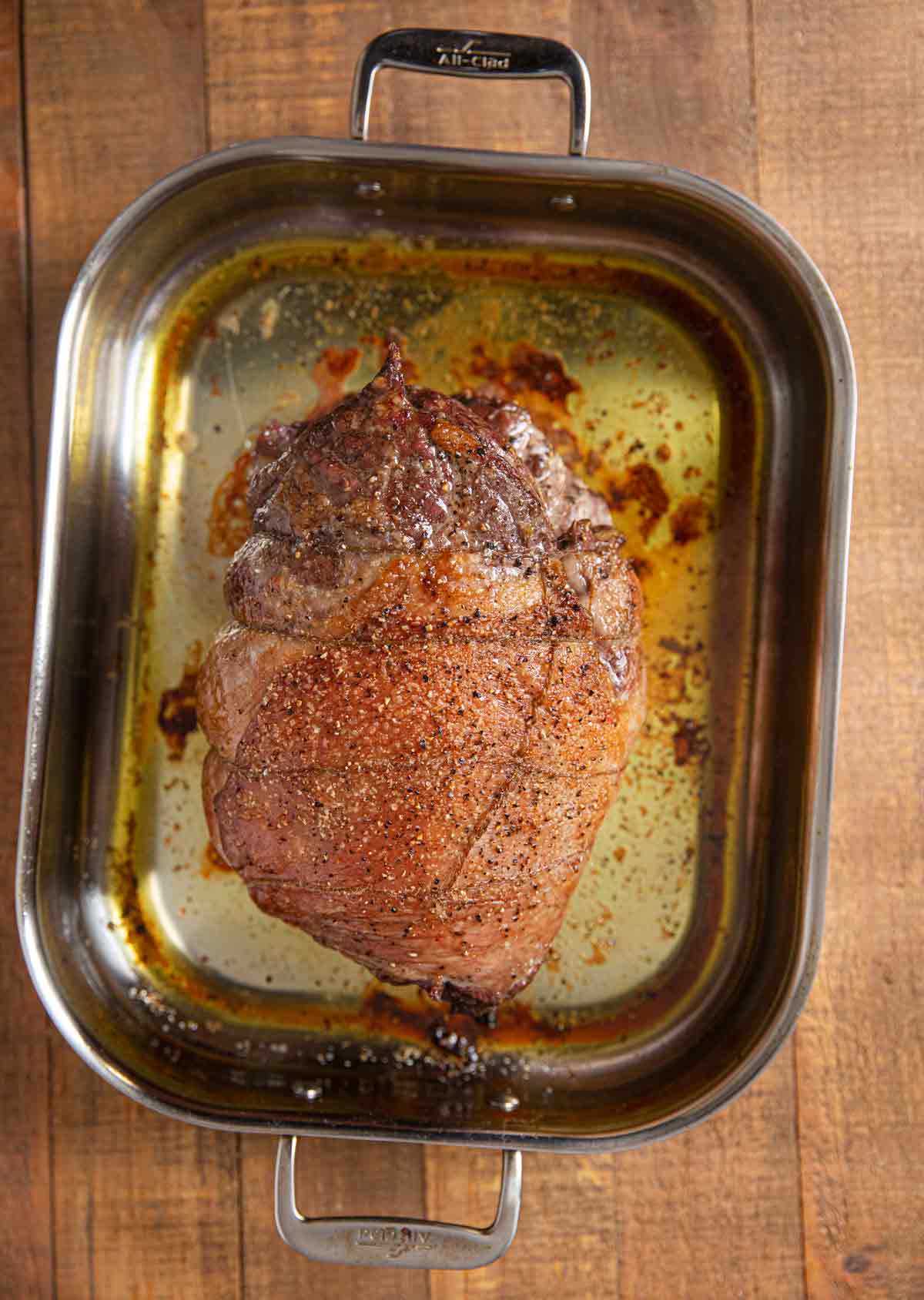 Ingredients
5

pounds

leg of lamb

, boneless

2

tablespoons

olive oil

1

tablespoon

kosher salt

1

teaspoon

coarse ground black pepper

1/2

cup

pesto

, recipe

1/4

cup

parmesan cheese

, shredded
Instructions
Preheat oven to 325 degrees.

Unroll lamb and slice anywhere you need to just as deep as needed to make the lamb lay flat.

Rub lamb on both sides with olive oil.

Season with salt and pepper on both sides.

Lay in pan inside of lamb leg facing up and make rows of pesto in natural folds of lamb.

Sprinkle with Parmesan cheese.

Roll lamb back up tightly and tie with kitchen twine.

Place onto rack in pan and roast for

1 hour

, tented with foil.

Remove foil and cook for

20 minutes

(then start checking for doneness - 145 degrees with thermometer).

Let rest

10 minutes

before serving.
Nutrition
Calories:
266
kcal
|
Carbohydrates:
1
g
|
Protein:
31
g
|
Fat:
14
g
|
Saturated Fat:
4
g
|
Cholesterol:
94
mg
|
Sodium:
942
mg
|
Potassium:
413
mg
|
Fiber:
1
g
|
Sugar:
1
g
|
Vitamin A:
270
IU
|
Calcium:
58
mg
|
Iron:
3
mg