Turkey Brine made with savory herbs, sea salt and broth only takes a few minutes to make and is the PERFECT way to prep your turkey before roasting on Thanksgiving this year!
We're a week away from setting our Thanksgiving table, and we're really excited to help you prep your turkey this year with Crispy Slow Cooker Turkey Breast, Easy Roasted Turkey Thigh, and Slow Cooker Turkey with Gravy, Candied Sweet Potatoes & Green Peas.
TURKEY BRINE
Turkey brine is one of the most flavorful ways to prep your bird before roasting it. We've made our turkey this way a few years running now, and it is hands down THE best way to bring out all of the incredible flavors and tenderness in the meat. My family has requested it the past two Thanksgivings in a row, so you KNOW it's good. This turkey brine recipe also helps the meat retain moisture, which is really helpful because turkey tends to dry out easily.
Back before electricity, brining was to be used as a way to preserve food, because of how much salt is in the mixture. It's the salt that also helps your Thanksgiving turkey absorb all of the incredibly flavorful herby liquid we have going on here. You can do a wet brine or a dry brine, but the wet brine will get you a REALLY juicy turkey. Both brines use salt as the key ingredient.
Admittedly the wet brine takes up more fridge space because of the large container you need to hold it, but the brine solution adds a ton of moisture to the turkey that it's practically self-basting.
HOW LONG SHOULD YOU BRINE A TURKEY BEFORE COOKING?
This can vary depending on what recipe you use, most call for brining the turkey in a large stock pot for at least 12 hours but no longer than 2 days for food safety reasons. As a rule try to aim for minimum 1 hour per pound.
I like to brine the turkey overnight, because it gives a chance for all of that briny herb flavor to get into the turkey meat. Always refrigerate your turkey when you brine it, and let the brine cool down before you use it. You don't want to start the cooking process early.
WHAT'S IN A TURKEY BRINE?
Turkey brine starts with 1 cup salt dissolved in 1 gallon of water, or broth. After that, everything you add is for flavor. You can add herbs, spices, broth, lemons, more thyme, bay leaves, or garlic, based on your own taste. I love adding orange to the brine as it gives the turkey an even more holiday flavor. I also sometimes add garlic to the brine.
For example you can add a tablespoon of fresh sage and some sweetness with apple juice. Once the turkey is roasting, all of these flavors will come out in the meat, and in your gravy if you use drippings. You can also add additional herbs or garlic to your gravy at that time.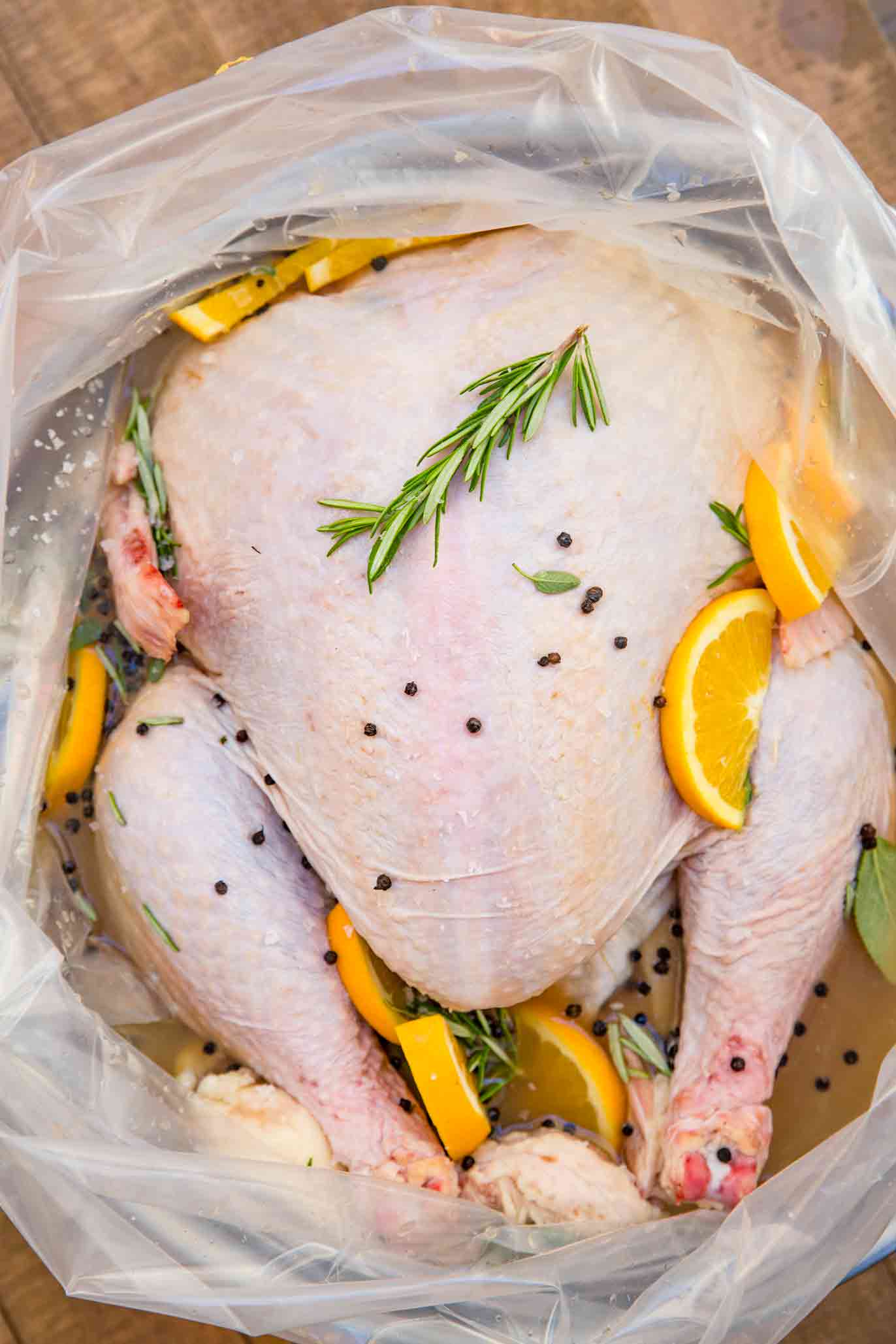 Create a free account to Save Recipes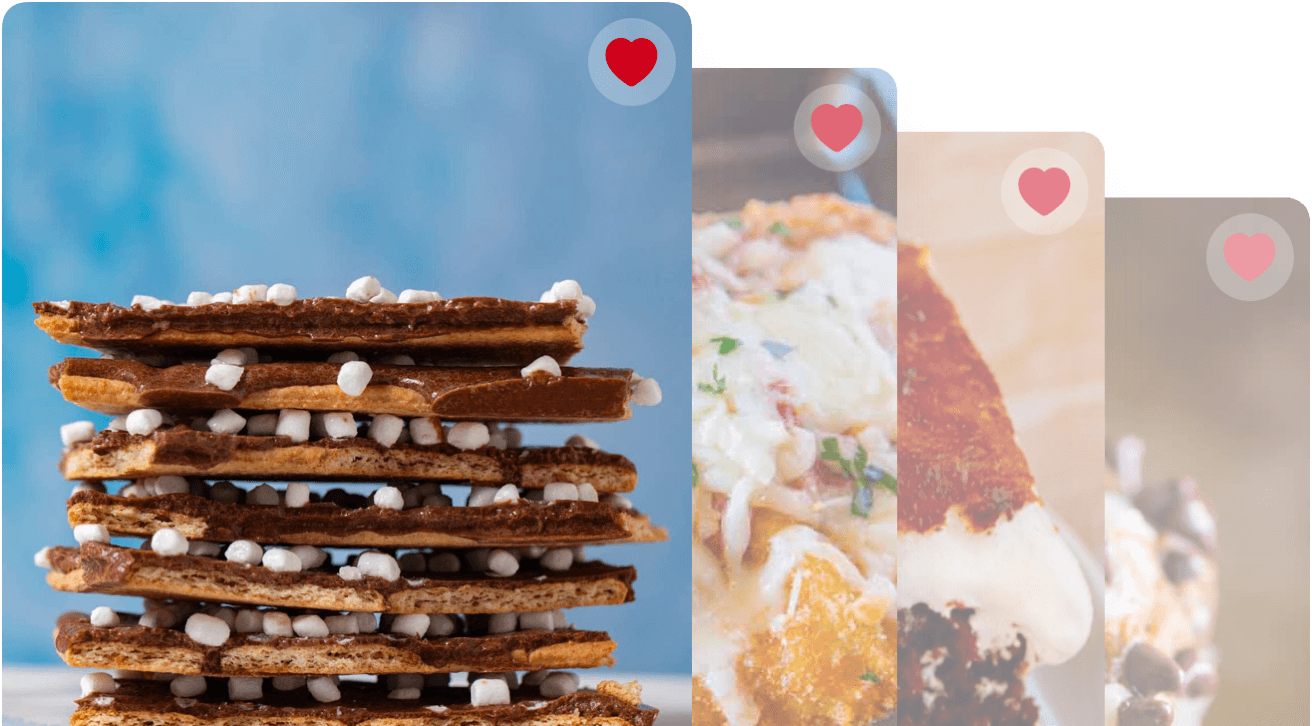 WHAT HAPPENS IF YOU BRINE A TURKEY FOR TOO LONG?
This depends on how salty your brine is to start with, and how big your bird is. Sometimes brining a turkey past the 24 hour mark will result in overly briny flavored meat, and the drippings will be too salty to add to the gravy without seriously diluting them.
DO YOU RINSE A TURKEY AFTER BRINING?
A lot of turkey brine recipes call for rinsing the turkey after the brine, but I advise against it. Instead, go straight from brine to roasting, quickly patting it dry with paper towels in between. If you're worried about your bird tasting too much like salt, shortening the brining time by a few hours.
HOW LONG DO YOU COOK A BRINED TURKEY PER POUND?
You can shorten the cooking time of a brined turkey by about a half hour compared to a regular turkey. If you baste, you might need to add some time because every time you open the oven door the temperature inside drops. The sure way to know if it's done is by checking the inner thigh with a meat thermometer to make sure it's reached 165 degrees F.
CAN YOU PUT A FROZEN TURKEY IN A BRINE?
You can put a partially frozen turkey in a brine, as long as you use a large pot and refrigerate the bird while it's defrosting and brining. A large turkey takes a few days to defrost, so wait until the last day to brine your Thanksgiving turkey in cold water so you don't over-brine it.
TIPS FOR BRINING A TURKEY
Start your brine by mixing the salt in with the broth and boiling, which makes sure the salt will fully dissolve in the brine. Cool down to room temperature before brining.
Basting helps make your turkey skin incredibly crispy, while the salt, thyme, sage, rosemary, and savory keep it well-seasoned for an incredible combination of flavor and texture!
You can also use this turkey brine recipe to make a whole chicken! You might not need as much brine, so make about half. A small stock pot should work.
Keep some extra paper towels handy to pat your turkey dry!
If you don't have time, make ahead with dry brine by just mixing these herbs and salt together and rubbing them on the turkey and refrigerating.


Ingredients
1

gallon

vegetable broth

1

cup

sea salt

1

tablespoon

black peppercorns

1

gallon

ice water

3

sprigs

fresh rosemary

10

leaves

fresh sage

1

tablespoon

fresh thyme

2

oranges

, cut into slices

1

turkey
Instructions
In a large pot bring the vegetable broth, sea salt and black peppercorn to a rolling boil before removing from heat and letting cool completely.

Pour the broth it into a large cooler or bucket lined with a food safe bag or turkey brining bag and fill with the ice water, sage, rosemary, thyme and orange.

Remove the insides of the turkey (I keep the neck bones for making gravy ahead) and pat it dry before adding it to the brine overnight in the fridge or in a cooler that has ice water outside the bag (and will keep cold overnight).

Pat the turkey dry before roasting.
Notes
Note: click on times in the instructions to start a kitchen timer while cooking.
Nutrition
Calories:
45
kcal
|
Carbohydrates:
3
g
|
Protein:
7
g
|
Fat:
1
g
|
Saturated Fat:
1
g
|
Polyunsaturated Fat:
1
g
|
Monounsaturated Fat:
1
g
|
Trans Fat:
1
g
|
Cholesterol:
17
mg
|
Sodium:
5205
mg
|
Potassium:
103
mg
|
Fiber:
1
g
|
Sugar:
2
g
|
Vitamin A:
368
IU
|
Vitamin C:
6
mg
|
Calcium:
19
mg
|
Iron:
1
mg