Print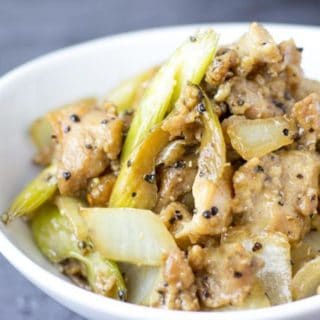 Panda Express Black Pepper Chicken (Copycat)
Marinated ginger soy chicken, in a peppery black pepper sauce with celery and onions that tastes exactly like the Panda Express version you love! And really low in fat and WW points!
1

pound

chicken breast

2

stalks celery thinly sliced on a bias

1/2

medium white onion

, chopped into 3/4 - 1 inch squares (look at the photo for reference)

1/4

cup

low sodium soy sauce

1/4

teaspoon

ginger powder

1

tablespoon

chili vinegar*

1 1/2

tablespoons

coarse ground black pepper

(grind fresh, you want the punch of the large, coarse black pepper here. If you use plain black pepper it will completely overpower the dish and ruin it.)

2

tablespoons

corn starch

4

tablespoons

canola oil

, divided
Cut the chicken into one inch bites, and marinade with 2 tablespoons of the soy sauce, 1/2 tablespoon of the chili vinegar, cornstarch and the ground ginger for 30 minutes.

Using two tablespoons of canola oil, heat a wok on high.

When oil is hot and ripples as you move the pan, add the chicken.

Cook on high heat until browned.

Remove from the pan and add in the celery and onions with the remaining two tablespoons of canola oil.

Cook the veggies on high for 30-45 seconds.

You aren't looking to soften them, just to slightly cook them.

Add in the remaining two tablespoons of soy sauce, the remaining 1/2 tablespoon of chili vinegar, the cooked chicken and the black pepper.

Cook for 15 seconds to combine everything and and serve immediately.
Recipe adapted from Mye's Kitchen
*I bought this to stay authentic to Mye's recipe on the first pass, after this I just made my own, 1/2 cup vinegar with one jalapeno soaked for 30 minutes, then remove the jalapeno and use 1 tablespoon for this recipe. I go through the vinegar quickly as we make this recipe quite frequently.