Print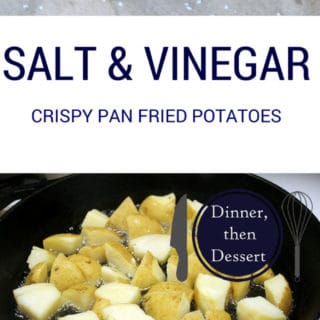 Crispy Pan Fried Salt & Vinegar Potatoes
Addicting Salt & Vinegar potatoes are everything you love about the chips and more because of the tender fluffy potato interior
Total Time
1
hour
5
minutes
Combine potatoes, 1 cup vinegar, and 1 Tbsp. kosher salt in a medium saucepan. Add water until it is covered and has about an extra inch of water on top.

Simmer potatoes gently until cooked through and soft but not falling apart.

Heat canola oil in a large skillet over medium-high heat.

Cook potatoes until browned and crispy, about 8-10 minutes. Patience is the key here.

Don't stir too often, you want them to brown nicely and the more you stir the less they will brown and the more they will fall apart.

Give the potatoes a final sprinkle of kosher salt and serve!
Adapted from Bon Appetit: http://www.bonappetit.com/recipe/crispy-salt-and-vinegar-potatoes