Print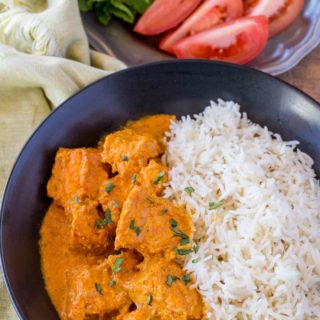 Chicken Tikka Masala
Chicken Tikka Masala is a delicious creamy tomato sauce based Indian recipe made with white meat chicken and plenty of bold spices including garlic, ginger, cumin and coriander.
Cut the chicken into 2 inch chunks.

Mix the cumin, paprika, coriander, turmeric, cayenne pepper and salt into a small bowl.

Toss the chicken with half the spices, the greek yogurt and the lemon juice and let it sit while you make the sauce.

In a large saucepan on medium high heat, add the butter and the rest of the spices, stirring well for 30 seconds until you can smell them well.

Add in the garlic and ginger and stir an additional 30 seconds.

Heat the canola oil in a large skillet on medium high heat.

Remove most of the marinade from the pieces of the chicken before cooking.

Cook the chicken in batches until just cooked through.

Add the sauce to the chicken and mix well before serving.
Nutrition Facts
Chicken Tikka Masala
Amount Per Serving (1 g)
Calories 356
* Percent Daily Values are based on a 2000 calorie diet.