Print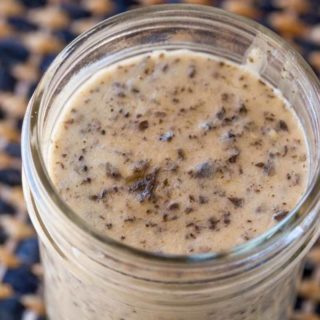 Cream of Mushroom Soup (Condensed)
Cream of Mushroom Soup sounds like a basic ingredient in a casserole but making it from scratch is really easy and it freezes great. Perfect for all your condensed soup recipes!
1/4

cup

b utter

8

ounces

mushrooms

1/2

yellow onion

1

clove

garlic

1/2

teaspoon

Kosher salt

1/4

teaspoon

cracked black pepper

1/4

cup

flour

1/2

cup

evaporated milk

1/2

cup

chicken broth
In a food processor add the garlic and pulse.

Add the onion and pulse a couple of times.

Add in the mushrooms and pulse 2-3 more times.

Add the butter to a saucepan and melt.

Add in the vegetable mixture, salt and pepper.

Cook on medium heat, stirring occasionally for 5-7 minutes.

Add in the flour and stir ingredients together well for about a minute to let the flour cook a bit.

Add in the evaporated milk and chicken broth and cook until thickened.

Use this recipe to replace a single can of condensed cream of mushroom soup.