Released on September 14, 2021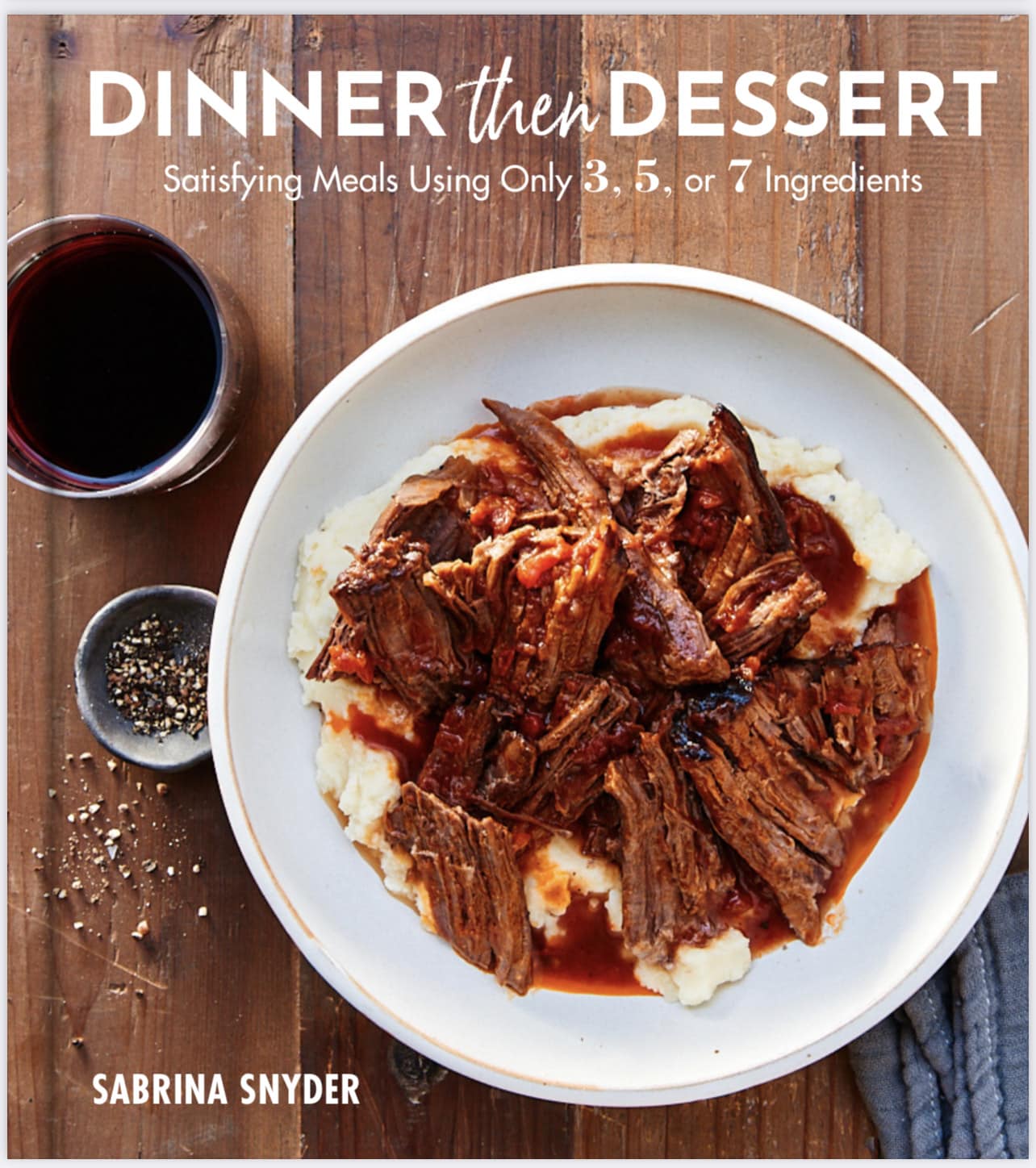 Learn how to make easy, practical, mouth-watering meals in this first-ever cookbook featuring over 100 full-color photos from the genius chef behind the very successful, no-nonsense food website Dinner Then Dessert.
You can order the book on Amazon/Target/Walmart/Barnes and Noble and read more about Sabrina on her author page at Harper Collins here: Harper Collin's Sabrina Snyder Bio Page.
Featured Review:

DINNER THEN DESSERT: Satisfying Meals Using Only 3, 5, or 7 Ingredients by Sabrina Snyder
https://www.publishersweekly.com/978-0-06-299541-4
In this resourceful guide, Snyder, founder of the food website Dinner Then Dessert, suggests the secret to creating satisfying home-cooked meals is "layering in new and interesting flavor combinations." She begins by taking an in-depth look at stocking a pantry, with helpful tips for less-experienced cooks ("red bell peppers are sweeter and more kid-friendly… green bell peppers have a bit of bitterness when raw," she explains). The recipes that follow are prepared using three, five, or seven ingredients (excluding salt, pepper, butter, and oil). Some highlights include sausage and fennel pasta, Greek lemon chicken, and Caribbean chile shrimp. In addition to the mains, Snyder includes recipes for side dishes, such as garlic-cheddar mashed potatoes, honey-ginger carrots, and asparagus with lemon and ricotta. Throughout, she lists potential ingredient substitutions—for instance, she suggests using cinnamon or dried sage in place of the thyme for her apple cider pork recipe—and ends with a chapter of indulgent desserts that require the same small range of ingredients, with palatable choices like chocolate truffles and strawberry shortbread bars. This is a volume that home cooks of all levels will rely on time and again. Agent: Sharon Bowers, Miller Bowers Griffin Literary Management. (Sept.)
About the Cookbook
"How do you make interesting and tasty meals for every member of the family?"
That question inspired former private chef and mom Sabrina Snyder to post practical, reliable, and taste-tested recipes to the website she created, Dinner Then Dessert. Five years later, her website is one of the top food sites in the world, drawing millions of views a month and followed by nearly 900,000 fans on social media. Incredibly, Sabrina's famous Philly Cheese Steak recipe, which she posted the day before the Super Bowl, racked up 45,000 hits within the first five minutes!
Now, in Dinner Then Dessert, Sabrina has selected some her favorite dishes from her vast trove of recipes, along with new fare to help cooks of all levels get great meals on the table every member of the family will love. Sabrina knows that cooking delicious meals day after day can be a challenge, even for professional chefs. Add in picky eaters, dietary restrictions, a busy schedule, and children, and it feels easier to order take out. But cooking at home doesn't have to be difficult or boring. Inside Dinner Then Dessert you'll find flexible fail-safe recipes; 3, 5, and 7 ingredient meals; skillet dinners; classic side dishes, slow-cooker recipes, irresistible desserts, and more.
Enjoy sausage and fennel pasta, salmon with plum sauce; garlic honey chicken; easy breezy pot roast; sweet and spicy tilapia; roast pork loin; steak and potato hash; vegetable green curry; cilantro lime shrimp; and much, much more. Serve them up with tasty sides, including easy Mexican rice and rotisserie chicken potatoes, as well as flavorful desserts such as Nutella brownies and salted caramel chocolate tart. Dinner Then Desert is packed with more than 100 full-color photos, easy-to-follow directions that teach you how to cook each recipe to match your skill level, variations of recipes made with ingredients you have on-hand, and advice on the best ingredients to stock your fridge and pantry.
With Dinner Then Dessert, you'll never have to struggle over what to make for dinner again!
You can order the book on Amazon/Target/Walmart/Barnes and Noble and read more about Sabrina on her author page at Harper Collins here: Harper Collin's Sabrina Snyder Bio Page.
Press Mentions of The Dinner then Dessert Cookbook:
Epicurious – 63 New Cookbooks Coming this Fall
The Atlanta Journal-Constitution – Simplified meals from a 'smartly stocked' pantry
Cape Gazette – Chef Sabrina Snyder to discuss 'Dinner then Dessert' cookbook Sept. 13
Cooks and Books – Cooks and Books Presents Sabrina Snyder
Publishers Weekly – Dinner then Dessert
Daniel Boone Regional Library – Dinner then Dessert Better Homes and Gardens
Wordery – Dinner then Dessert Book Listing
Cookbook Recipes in Print
Sabrina's Author Page on The Telegraph UK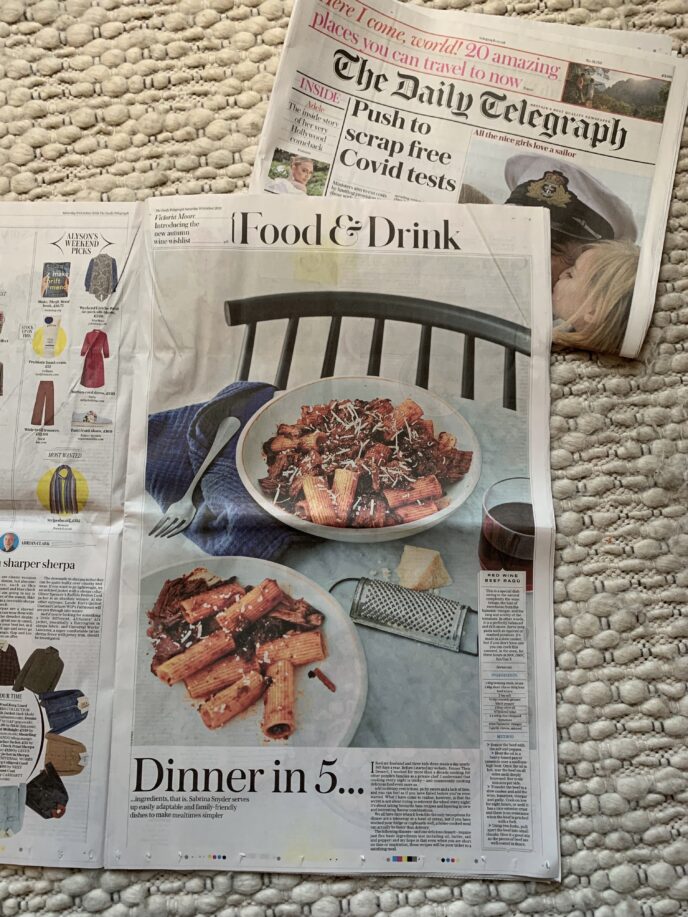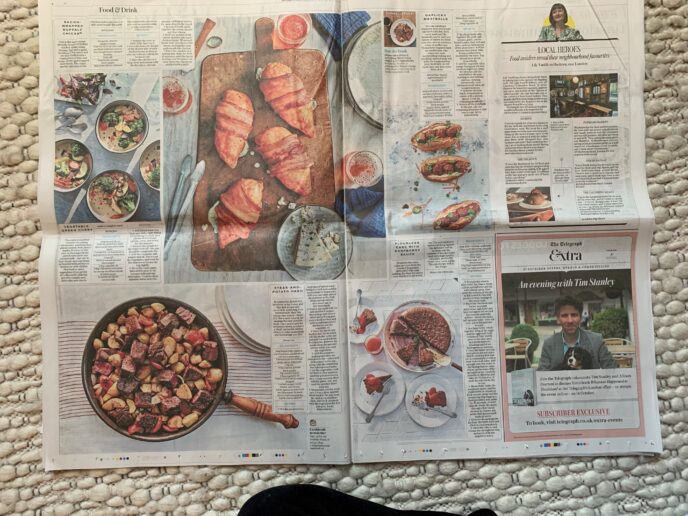 Booklist – American Library Association: Starred Review
August 1, 2021
Dinner Then Dessert: Satisfying Meals Using Only 3, 5, or 7 Ingredients. By Sabrina Snyder Sept. 2021. 224p. illus. HarperDesign, $29.99 (9780062995414). 641.5
Professional chef and business owner Snyder offers approachable advice for getting started in the kitchen in this cookbook divided into two sections, the first focusing on building a pantry and how to properly store pantry items and the second focusing on recipes. Section one is a treasure trove of information, instructing readers on how to be a smart shopper and including tips like keeping a journal to track what's in your pantry. Snyder covers everything on how to prep and store staples like meat, fruits, vegetables, and even puff pastry. For each staple, Snyder dives even deeper by describing subsets of the item. For instance, for beef she provides information on rib eye, flank steak, and ground beef so readers can know the differences in how to prepare them. The second section features recipes for meals that only include three, five, or seven ingredients, such as garlicky broccoli and cauliflower, creamy tomato salmon, and Jamaican jerk veggie burgers. Each recipe includes a mini introduction, numbered instructions, notes on making the dish, and a list of substitutions for its ingredients. Readers who feel intimidated by cooking and don't know where to start will find a cheerleader in Snyder. — Nataya Culler