Morton's Steakhouse Creamed Spinach (Copycat)
This post may contain affiliate links. Read my disclosure policy here.
Creamy, rich Morton's Steakhouse Creamed Spinach Recipe that takes just a few minutes and is the perfect side for a holiday roast or prime rib.
Classic Steakhouse Creamed Spinach
Creamed Spinach, but I've made it cheesier! This one is a spot on copy for Morton's Steakhouse . I serve it with my Cast Iron Ribeye, Roasted Garlic Cherry Tomatoes and Classic Easy Mashed Potatoes as our traditional Christmas Eve dinner.
Some tips for creamed spinach:
Yes you can use whole milk instead of half and half (go any less fatty and you're not going to like the results)
You can also go the opposite way and use heavy cream. Your taste buds will love me, your jeans may not but hey it is the holidays!
If you'd prefer to use frozen spinach, just defrost and squeeze out as much water as you can. – Use 1 pound of frozen spinach.
Nutmeg may seem like a dessert spice but you'll love the flavor in this recipe.
Aside from the classic Morton's recipe I've added cream cheese and Parmesan cheese.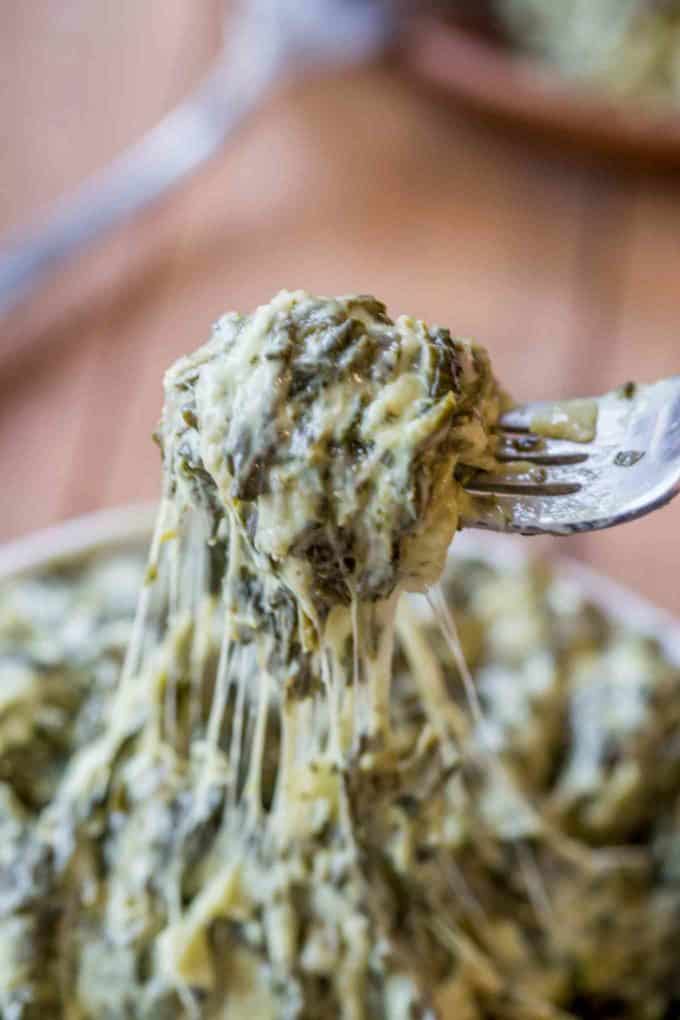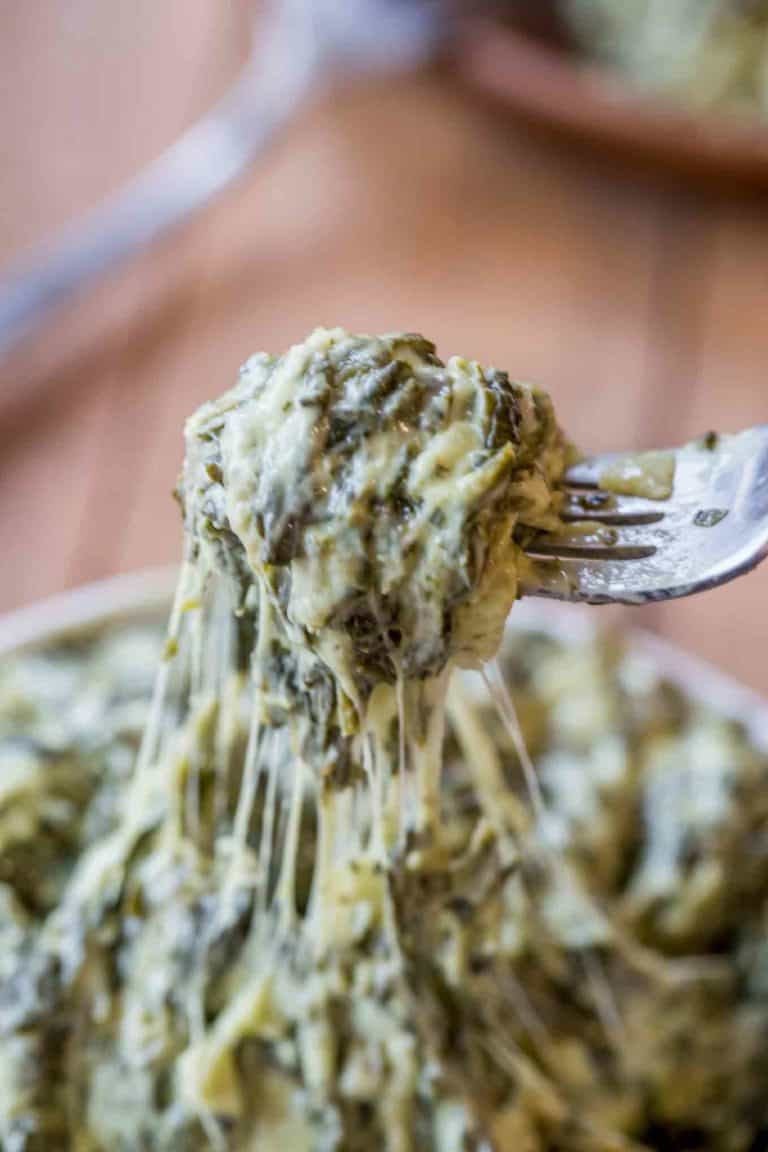 Creamed Spinach Pasta Bake:
One of my favorite things to do with the leftovers if there are any is toss some cooked pasta in with it, add a bit of mozzarella and cream cheese for an easy spinach pasta bake. I usually just cook on 350 degrees for 15 to 20 minutes, no recipe here, it is usually just whatever is left over.
In the case of this specific dinner we had, I actually added pasta back into my cast iron skillet I made the spinach in and baked it off with pasta with the leftover grape tomatoes too. It was a HUGE hit in our house. I love when leftovers can actually morph into something new and not feel like a leftover.
Looking for more side dishes?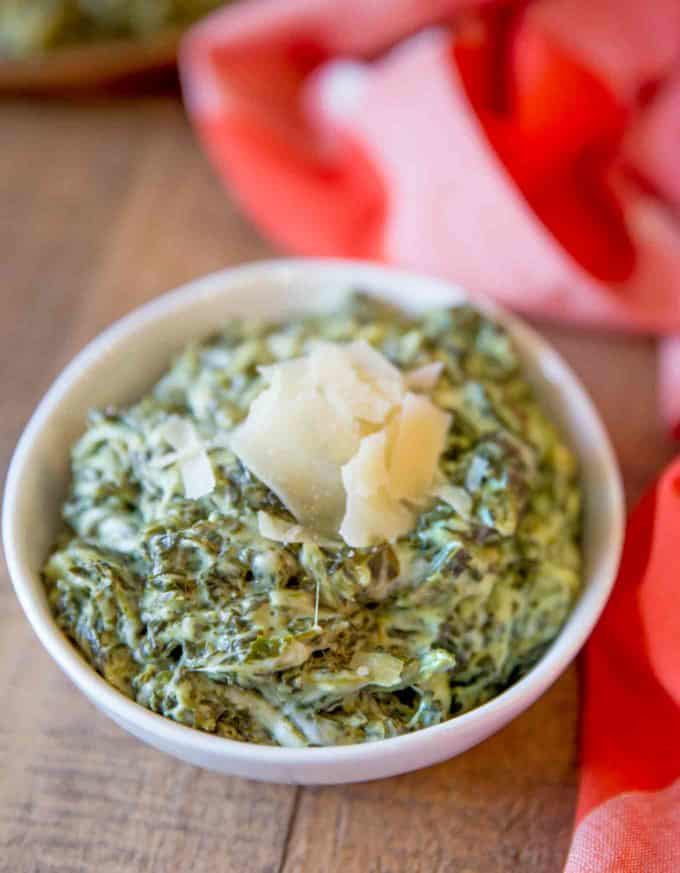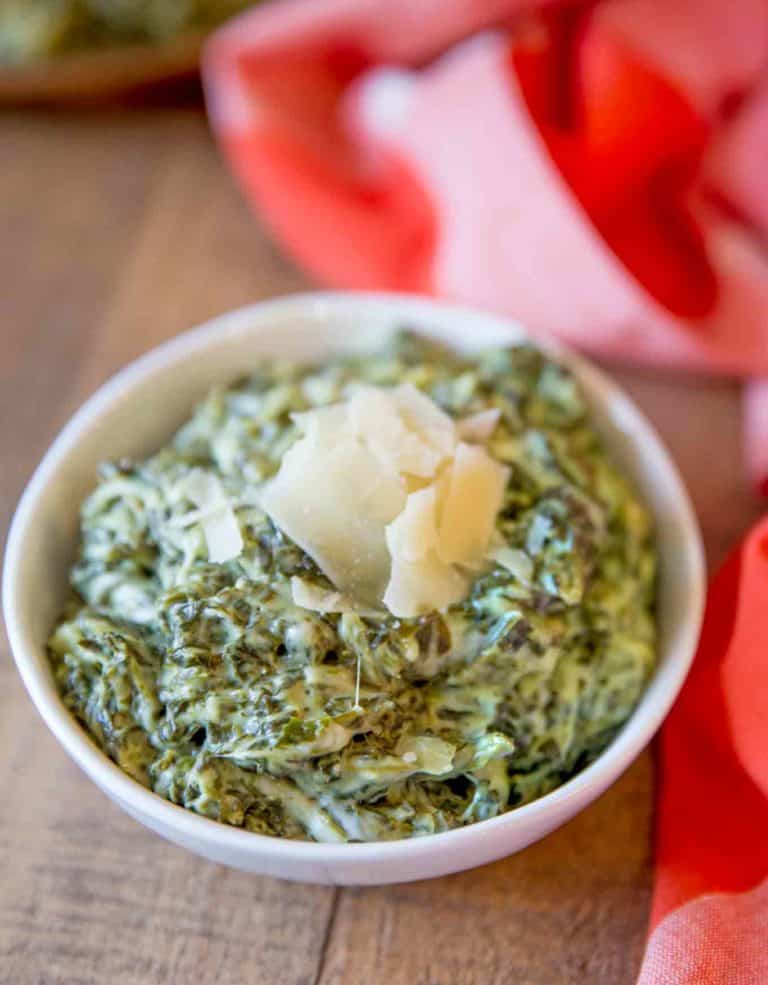 MY OTHER RECIPES
Tools Used in the making of this Morton's Steakhouse Creamed Spinach Recipe:
Cast Iron Skillet: If you don't have a slow cooker with a stovetop friendly insert, this is my most used pan in my kitchen, heavy, keeps heat well and gives the BEST sear ever.
Strainer: These hang next to the sink because I use them so much. No rusting and inexpensive!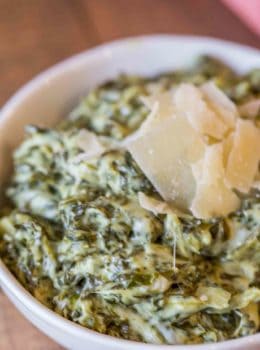 Morton's Steakhouse Creamed Spinach Recipe
Creamy, rich Morton's Steakhouse Creamed Spinach that takes just a few minutes and is the perfect side for a holiday roast or prime rib.
Ingredients:
4 tablespoons unsalted butter
1 medium yellow onion, minced
3 cloves garlic, minced
4 teaspoons Kosher salt, divided
1 teaspoon freshly ground black pepper
1/2 teaspoon freshly grated nutmeg
1/4 cup all-purpose flour
3 1/2 cups half-and-half
2 1/4 pounds fresh leaf spinach (or one pound frozen)
1 cup mozzarella cheese*
4 ounces cream cheese*
1/2 cup grated Parmesan cheese
Directions:
Bring a large pot of water to a boil with two teaspoons of salt.
Add the spinach and cook just until wilted, about 1 minute.
Drain the spinach in a strainer or colander.
Rinse with cold water until cool and squeeze the water out of each fistful of spinach.
Chop the spinach bundles into a 3/4 inch width.
In a large skillet melt the butter with the garlic and onions.
Cook on medium low for 8-10 minutes or until the onions are translucent.
Add in the remaining kosher salt, black pepper and nutmeg.
Add in the flour and mix with a wooden spoon over low and cook for 2-3 minutes until the aroma is a bit nutty.
Add the half an half and cook until boiling.
Add in the mozarella cheese and cream cheese
Cook for 6-8 minutes or until the mixture has thickened.
Add in the spinach and the Parmesan cheese and stir to combine.
Recipe adapted from Morton's Steak Bible.
I also added cream cheese and mozzarella cheese. For a perfect copycat, omit these.
All images and text ©
Made this recipe?
Show me what you made on Instagram or Facebook and tag me at @DinnerthenDessert or hashtag it at #dinnerthendessert.
Some of the original photos when the recipe was published in 2015: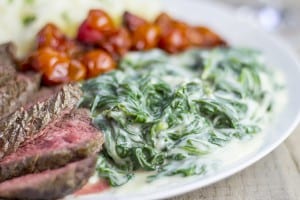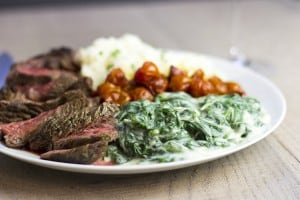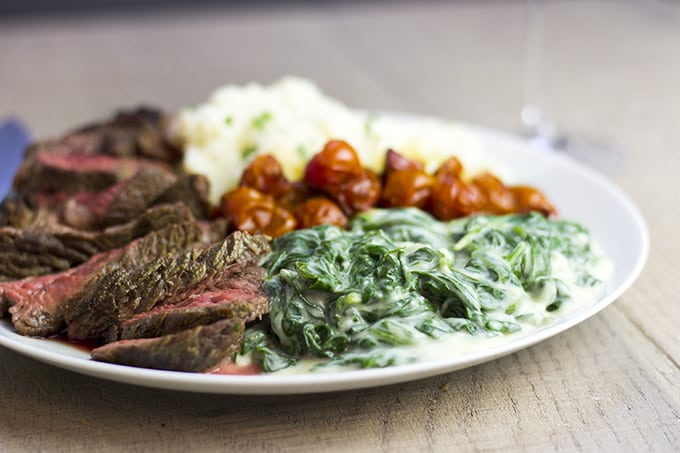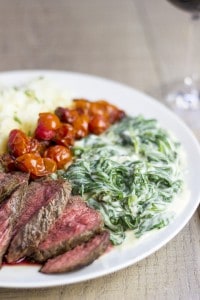 Dinner, then Dessert, Inc. owns the copyright on all images and text and does not allow for its original recipes and pictures to be reproduced anywhere other than at this site unless authorization is given. If you enjoyed the recipe and would like to publish it on your own site, please re-write it in your own words, and link back to my site and recipe page. Read my disclosure and copyright policy. This post may contain affiliate links.