Steak Marinade that's flavorful, easy and perfect for outdoor or indoor grilling any time of year on ANY cut of beef!
This Steak Marinade is the perfect recipe for my Perfect, Easy Ribeye Steak. Serve it with Easy Cole Slaw and Easy Macaroni Salad as summer winds down!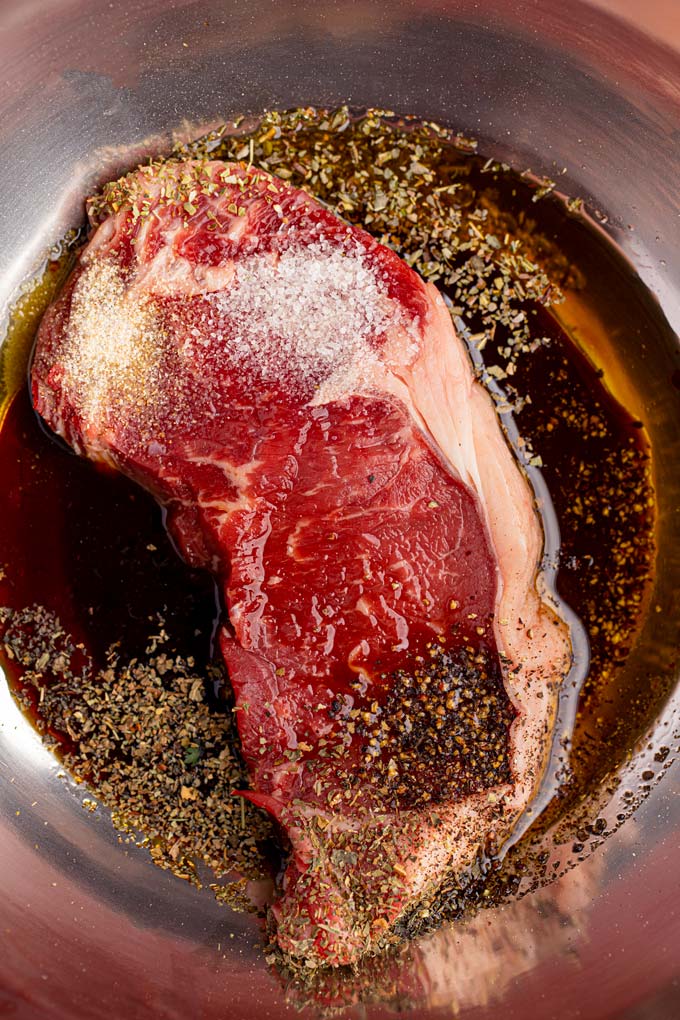 STEAK MARINADE
A good marinade takes steaks to the next level and tenderizes them so that they melt in your mouth. My recipe only needs 8 hours to infuse the steaks with flavor, and once they're saturated in sauce the cook time is conveniently short. You can use Steak Marinade on a wide variety of steaks for any occasion.
The word "marinade" come from the Spanish word "marinada," which means "to pickle in brine." That is not at all what we are doing here, but the concept is the same. Our marinade is made from lemon juice, Worcestershire sauce, garlic powder, basil, olive oil and soy sauce, and the salt and citric acid in our ingredients holds in the meat's natural moisture while also tenderizing it.
After you've fried this marinade, feel free to add anything that you want the next time you make it. Use some sesame oil and seeds to make an Asian inspired variation; add garlic, Italian seasoning and red wine for a taste of Italy; use a dijon rub for a ton of flavor, or add some hot sauce to give it a delicious Southern kick. You are only limited by how long you have for the steak to marinate and what you're craving next.
This Steak Marinade is nice because you don't have to use up a ton of dishes to make it. Sealing the steak in an airtight container full of marinade keeps the steak moist and lets the flavor infuse itself into the meat. All you have to do is mix together your ingredients, pour them onto the steak, seal it up and leave it in the fridge until you're ready to cook. You can also use this marinade for many different cuts of beef. Just let your tummy lead the way.
HOW TO MAKE STEAK MARINADE
This recipe is so easy that you'll think you missed a step, but trust me, you haven't. You'll end up with great steak every time and you will have next to nothing to clean up after.
Combine all ingredients into a Ziploc bag and mix well.
Pour the sauce over your steaks in a small bowl and cover it or put the steaks into the bag.
Seal tightly and leave them marinating in the fridge for 8 hours.
After marinating, place steaks on the grill on high heat. You can throw out the leftover marinade.
WHAT TO SERVE WITH STEAK MARINADE
Now that you have your main dish, here are some quick and easy sides that go great with steak.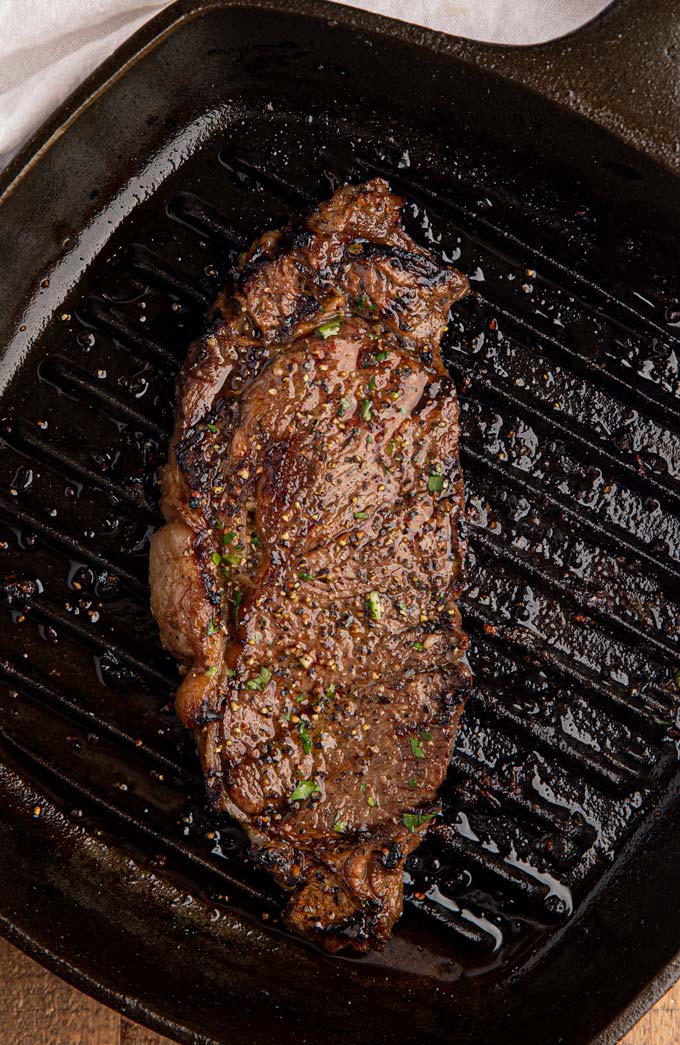 CHOOSING MEAT FOR STEAK MARINADE
Steaks can be made with more than one specific cut of beef, and their names all mean something a bit different. Here are some favorites to try, along with a handy guide for what they each are.
Ribeye: this cut of beef comes from the rib area (go figure) and is marbled with fat so it is very flavorful. This is my go-to steak cut, I use it any time I can.
Filet mignon: one of the more tender, rich, juicy and tiny cuts of steak. Filet mignon comes from the small end of a tenderloin cut, and literally means "delicate filet" in French. Filet mignon is usually cut thick, at 1 and 1/2 to 2 inches.
Tri tip: tri tip steak is cut from a larger roast, and comes from the sirloin area. Tri tip is awesome for grilling because it is very forgiving and you can bring it back from the edge of badness pretty easily.
New York strip: strip steaks come from behind the end of the ribs and is one of the more expensive cuts of meat. Strip steak is tender and fairly easy to trim.
Flank steak: flank steak is not as tough as skirt steak and doesn't have as strong of a flavor. Great for marinading and grilling.
WHEN IS STEAK SAFE TO EAT?
According to the USDA's website, steak is safe to eat when the internal temperature reaches 145 degrees F (62.7 degrees C).
HOW LONG IS STEAK MARINADE GOOD?
Serve: you shouldn't leave your steaks out for longer than 2 hours at room temperature.
Store: leftover steak should be good in the fridge for up to 3 days.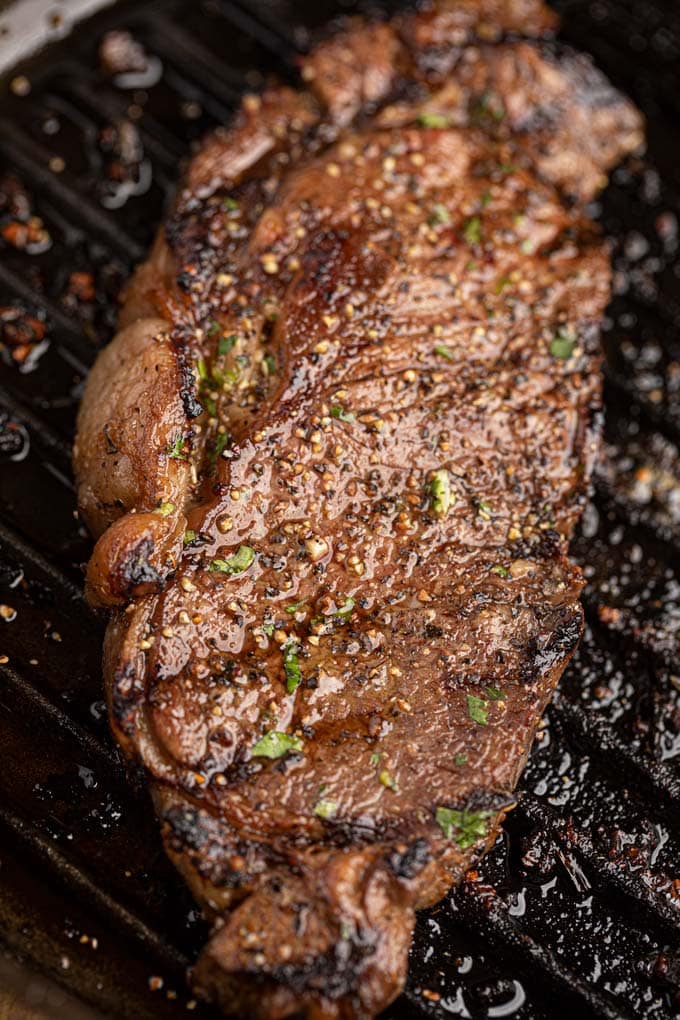 Recipe
Save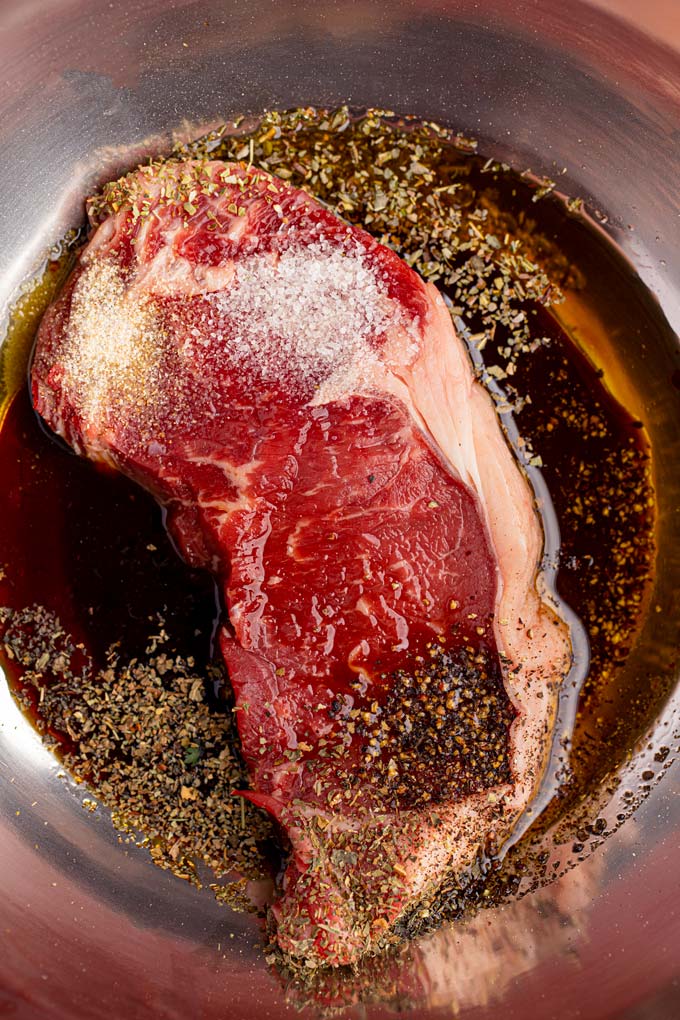 Steak Marinade
Yield:

8

Servings

Prep Time:

5

minutes

Cook Time:

5

minutes

Total Time:

8

hours

10

minutes

Course: Dinner
Cuisine: American
Author: Sabrina Snyder
Steak Marinade that's flavorful, easy and perfect for outdoor or indoor grilling any time of year on ANY cut of beef!
Ingredients
1/3

cup

low sodium soy sauce

1/2

cup

olive oil

1

lemon

, juiced

1/4

cup

Worcestershire sauce

1 1/2

tablespoons

garlic powder

3

tablespoons

dried basil

1

teaspoon

ground white pepper

4

ribeye steaks
Instructions
Note: click on times in the instructions to start a kitchen timer while cooking.
Mix all ingredients together in a ziplock bag.

Pour marinade over desired type of meat. Cover, and refrigerate for up to 8 hours.

Grill steak on high heat, indirectly, for 5-6 minutes on each side for medium doneness.

Discard excess marinade.
Nutrition Information
Yield: 8 Servings, Amount per serving: 207 calories, Calories: 207g, Carbohydrates: 4g, Protein: 10g, Fat: 17g, Saturated Fat: 4g, Cholesterol: 28mg, Sodium: 376mg, Potassium: 237mg, Fiber: 1g, Sugar: 1g, Vitamin A: 21g, Vitamin C: 2g, Calcium: 39g, Iron: 3g
All images and text © for Dinner, then Dessert.
Save