Vegetable Soup is hearty and full of nourishing veggies like tomatoes, corn, green beans, celery, and potatoes, ready in under 45 minutes!
When it's cold outside, warm up in the kitchen with all of your favorites like Ultimate Slow Cooker Pot Roast, Classic Beef Chili and Ultimate Sloppy Joes! These are some of the heartiest and easiest Main Courses you can make at home.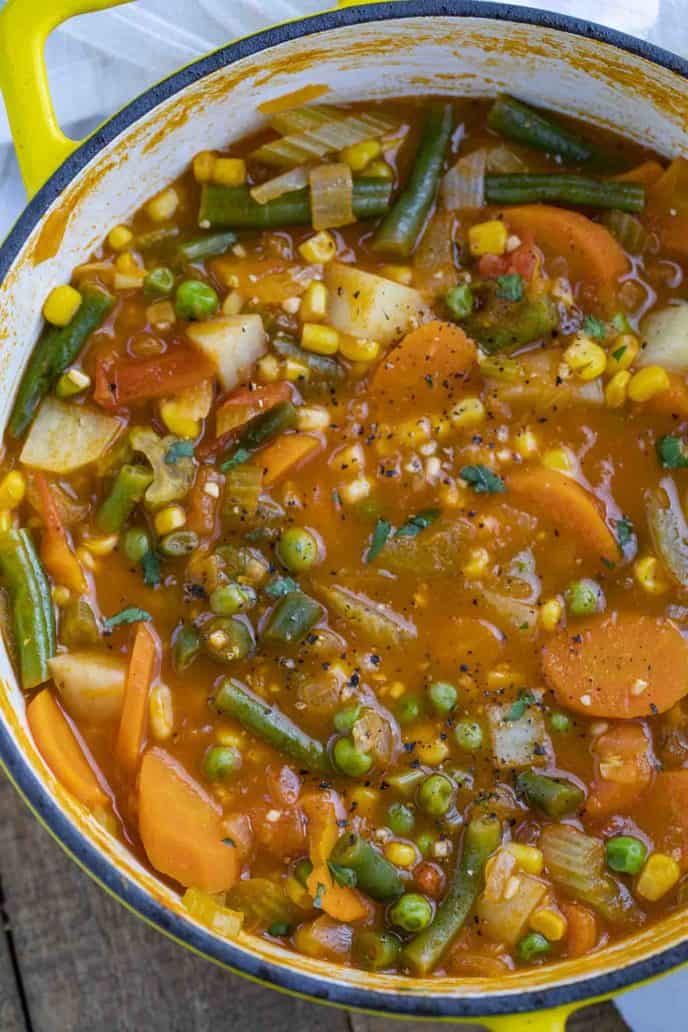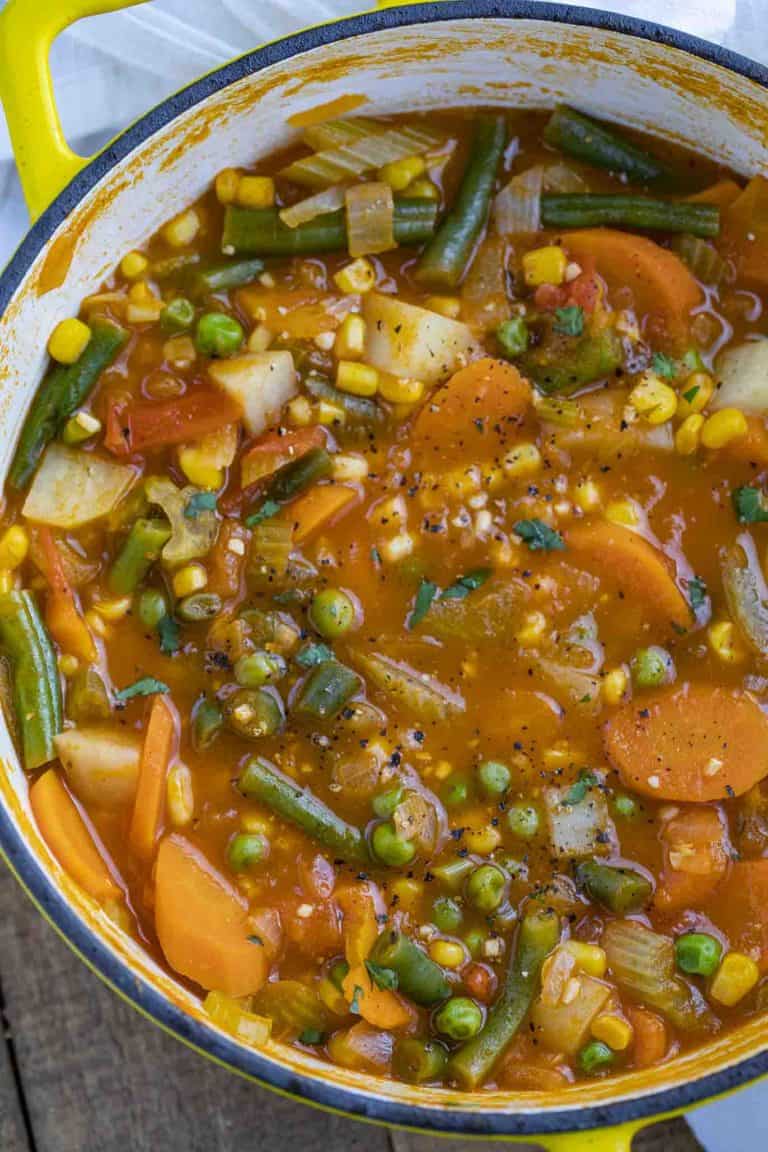 Vegetable Soup is the PERFECT healthy dish for a cold day, made with fresh vegetables like hearty potatoes and corn, green beans, celery, carrots, and onions in a seasoned chicken broth. Once you try this it will become one of your favorite soup recipes of all time. Serve this with toasted Garlic Bread, a side salad, and some cheddar or parmesan cheese on top.
This recipe is one of the oldest recipes in the world! From the dawning of fireproof and waterproof cooking vessels (probably made of thick earthenware), humankind has gathered the vegetables and herbs and put them into a liquid dish to cook. There's a billion different ways to combine food for a nutritious and flavorful soup. This recipe is just one of the most common in the world!
You can make this on the stovetop because it's pretty quick to throw together, but it does really well in both the slow cooker and the instant pot as well. Once you try this soup recipe, you will never look at the store-bought stuff the same way again.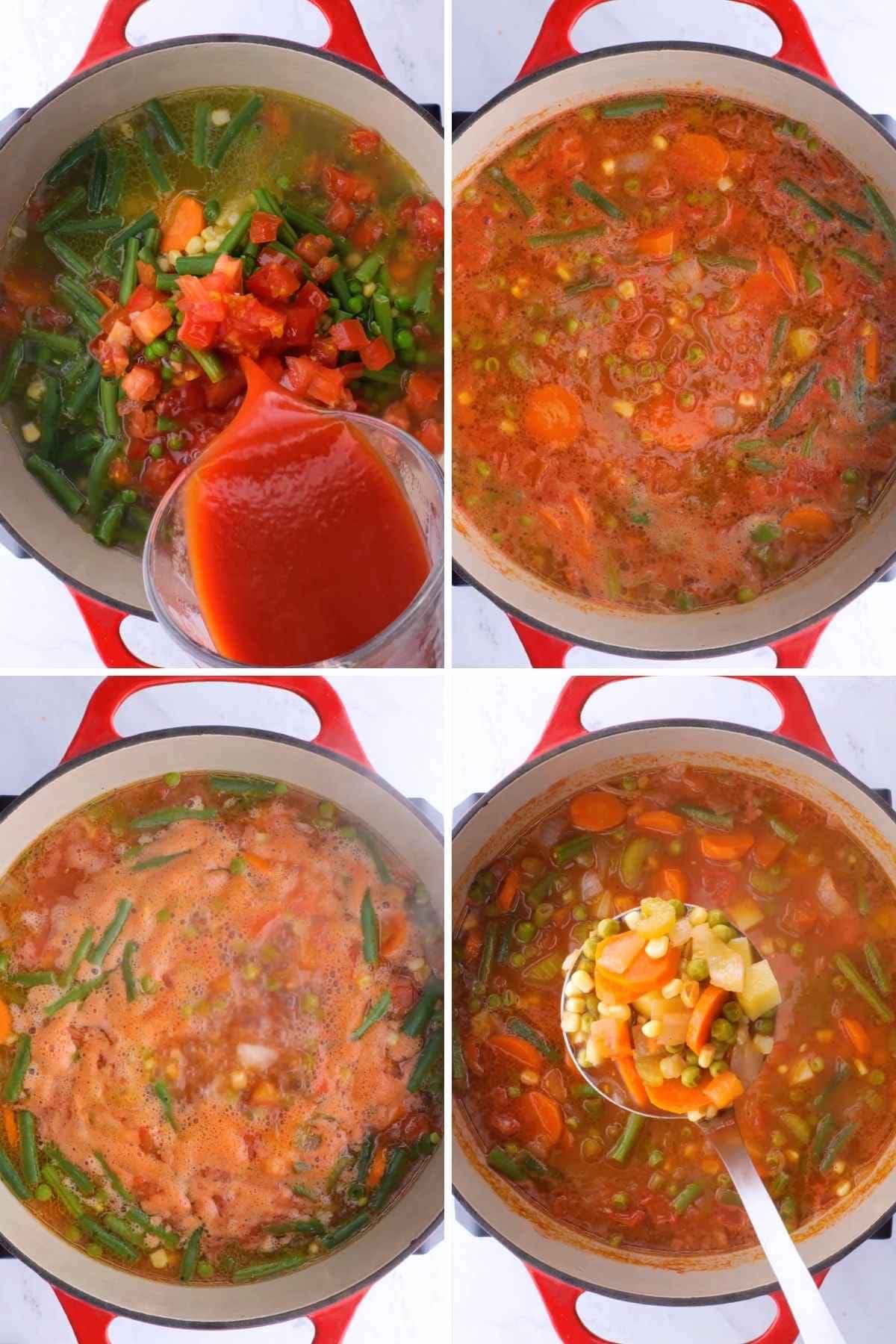 How to Make Vegetable Soup
This vegetable soup recipe is really versatile. You can use whatever veggies that are in season, or this is a great recipe to use up leftover veggies from the night before. You could also make this using Italian seasoning blend, or oregano, parsley, and thyme with various different types of broths for variety and flavor. Check out our recipe here:
Prepare – Gather, wash, and chop all the vegetables.
Saute – In the pot or Dutch Oven, cook the celery, garlic, and onions together which helps add a wonderful earthy flavor to the soup.
Combine – Once that's ready, add the rest of the vegetables and seasonings to the pot.
Liquidate – Add in the liquid (we're using chicken broth and V8 juice in this recipe.) Note: For a thicker soup base, add 4-5 tablespoons of tomato puree.
Simmer – Once it's boiling, reduce to a simmer. Keep the lid on so all the liquid doesn't evaporate. Then enjoy!
Frequently Asked Questions
How big should I cut the vegetables?
Vegetables should be chopped to about an inch long so they can easily fit onto a spoon. Smaller cuts also prevent choking hazards, especially for young children.
Can I use canned or frozen veggies?
Yes. To save time, you can substitute a drained can of diced tomatoes for hand-diced tomatoes in this homemade vegetable soup recipe. Or if you prefer to use all canned vegetables or frozen veggies, like frozen corn, that makes for a super easy weeknight meal. You can add the water from the cans directly into the bowl, no need to drain. 
What else can you add to Vegetable Soup?
Add any combination of your favorite vegetables including bell peppers, mixed frozen veggies, parsnips, chickpeas, kidney beans, zucchini, kale, spinach or shredded cabbage.
What can I serve with Vegetable Soup?
Crusty bread served with a healthy soup made with fresh herbs is one of the best comfort foods in the world. Skillet Cornbread is a great option to make!
What makes Vegetable Soup taste better?
If you don't have any dietary restrictions, try adding a bit of salt and a scoop of real butter. If the soup is cooked with an unctuous piece of roast beef, it will lend a mouthwatering and rich flavor to your soup. Up the amount of garlic as well when cooking. 
What are the best herbs to add to Vegetable Soup?
Adding and mixing herbs is almost a precision science. Fresh herbs add a lot of good flavor, while dried herbs are deeper in flavor which means you can add less. Italian herb blends will be perfect for this recipe. Additionally, add two or three dried Bay leaves to the soup to really give it that boost of flavor. Some say this is the secret ingredient, or at least the most important ingredient in their soup!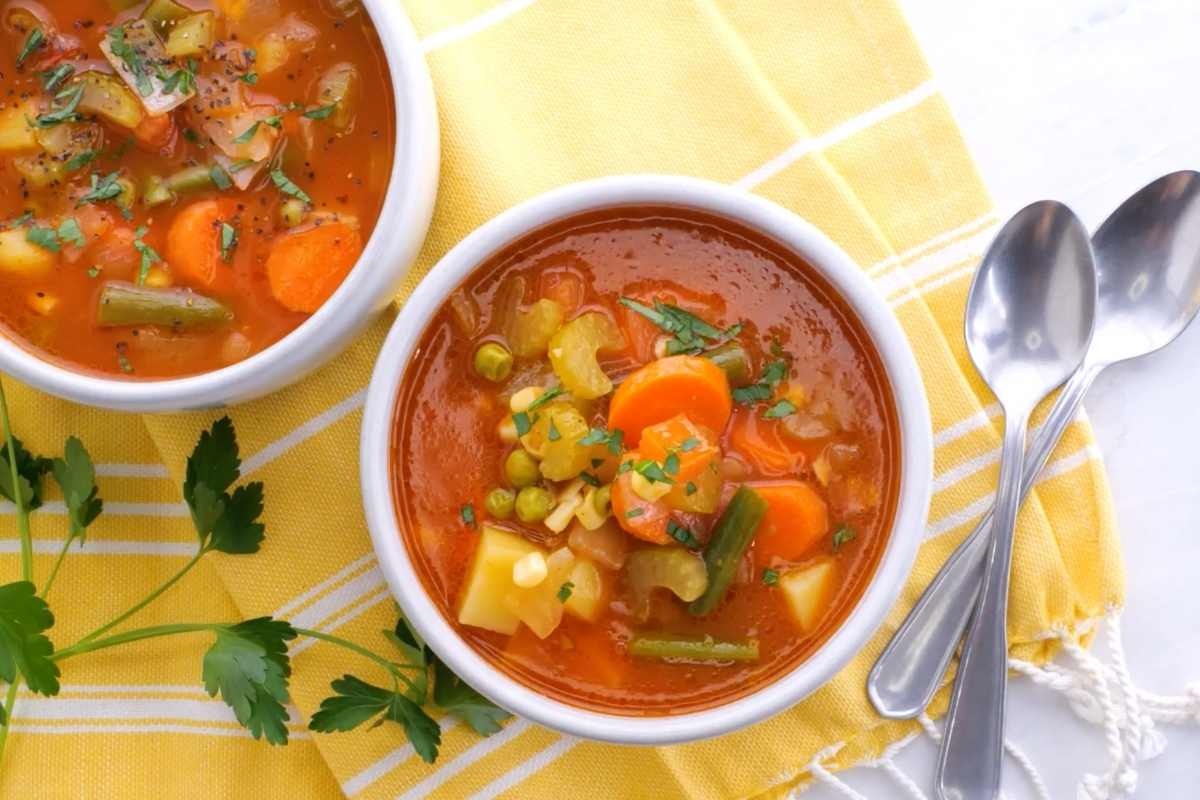 Create a free account to Save Recipes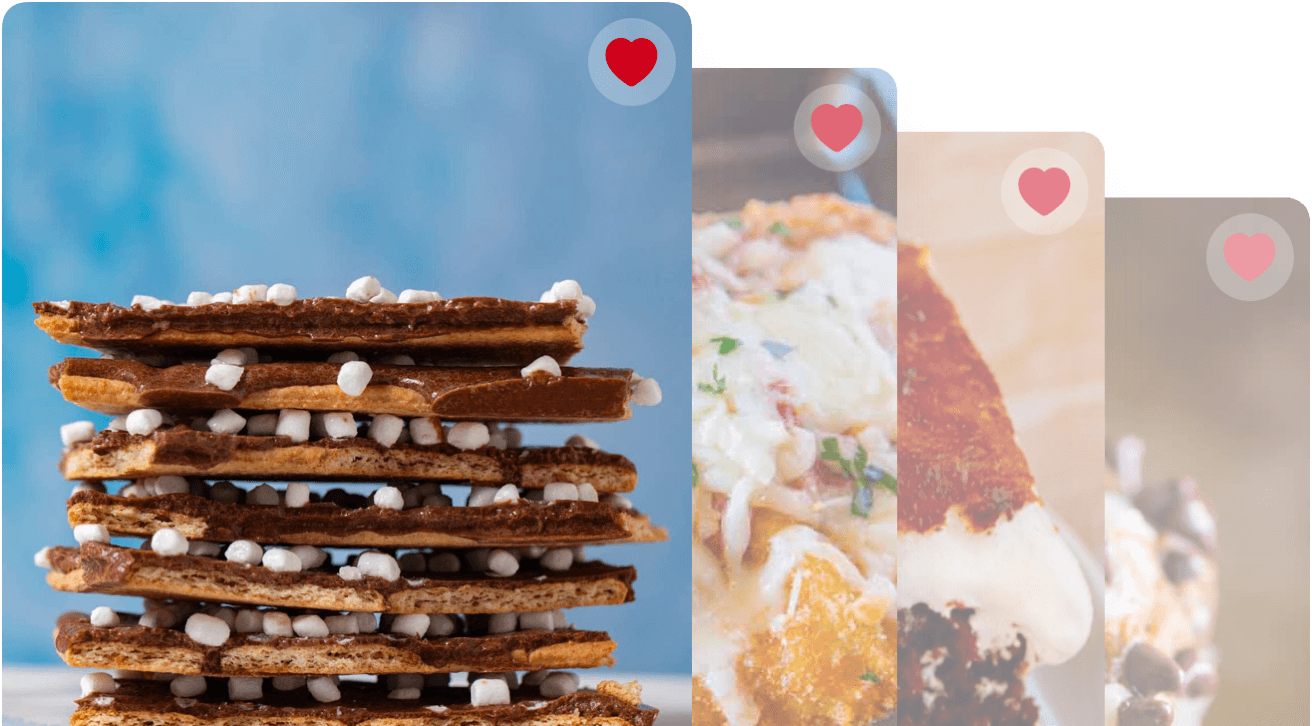 Key Ingredients for Vegetable Soup
Vegetables – This recipe uses a large variety of vegetables. When selecting vegetables, choose the freshest you can find in the market. Watch out for mold, decay, and other things you wouldn't want to purposefully ingest.
Soup Base – We're using V8 juice and chicken broth as the soup base. V8 juice is packed with flavor and vitamins and adds character. Chicken broth adds an almost buttery addition without dairy. You can also change which broth you're using depending on your flavor preference.
Alternative Cooking Methods
Slow Cooker – Vegetable soup is REALLY easy to make in the slow cooker. Just put everything in, stir to mix together, and cook on low for eight hours or on high for four hours. You can refer to this Slow Cooker Vegetable Beef Soup for a similar version (but with beef – which you can definitely leave out if you want).
Instant Pot – This is the perfect recipe to use with your Instant Pot! Just place all of your ingredients in the instant pot. Lock the lid and seal the pressure valve. On manual mode, set the instant pot for 10 minutes on high. Let it release naturally.
Variations on Vegetable Soup
Meat Lovers – Add browned beef, turkey, sausage, or cubed extra firm tofu to this recipe for a higher protein option. You can also use leftover Rotisserie Chicken.
Tex-Mex – Make your own Homemade Taco Seasoning and cook with ground beef for a Tex-Mex veggie soup. Serve your soup with sour cream and crunchy tortilla chips.
Pure Vegan Soup – Use vegetable broth instead of chicken broth to make this soup vegan friendly. If you're going to add leafy greens to the soup, like kale or spinach, add them about 20 minutes before you're ready to serve.
Vegetarian Soup – This recipe is dairy free as-is, but you can change the chicken broth to veggie broth, add ¾ cup of half and half just before serving to make this soup vegetarian friendly.
Noodle Soup – Add a half cup of al dente pasta right before serving to add some filling carbs to this vegetable soup recipe.
Spicy Soup – Add a dash of cayenne pepper, diced jalapeño, or red pepper flakes to add some spicy seasoning to this soup.
Winter Soup – For a fun winter soup, you can add sweet potatoes and canned white beans to the recipe for a hearty soup. If the beans are dry, let the soak overnight or get boiled for 15 mins before being added to the soup base. For every half cup of par-cooked beans, add a cup of broth or water.
More Yummy Vegetable Recipes
How to Store Vegetable Soup
Serve: Vegetable Soup can be left at room temperature for up to two hours, or kept warm in a crock pot for up to 4 hours once it's finished cooking.
Store: Vegetable soup will last wrapped tightly in the refrigerator for about 4 days. Reheat your soup over medium-low heat on the stove, stirring occasionally until warm.
Freeze: Vegetable soup is perfect for making ahead and freezing. Let the soup cool down completely, then seal it in an airtight container and freeze for up to 5-6 months. If you make a double batch when you make this, you can freeze some for a quick dinner another night.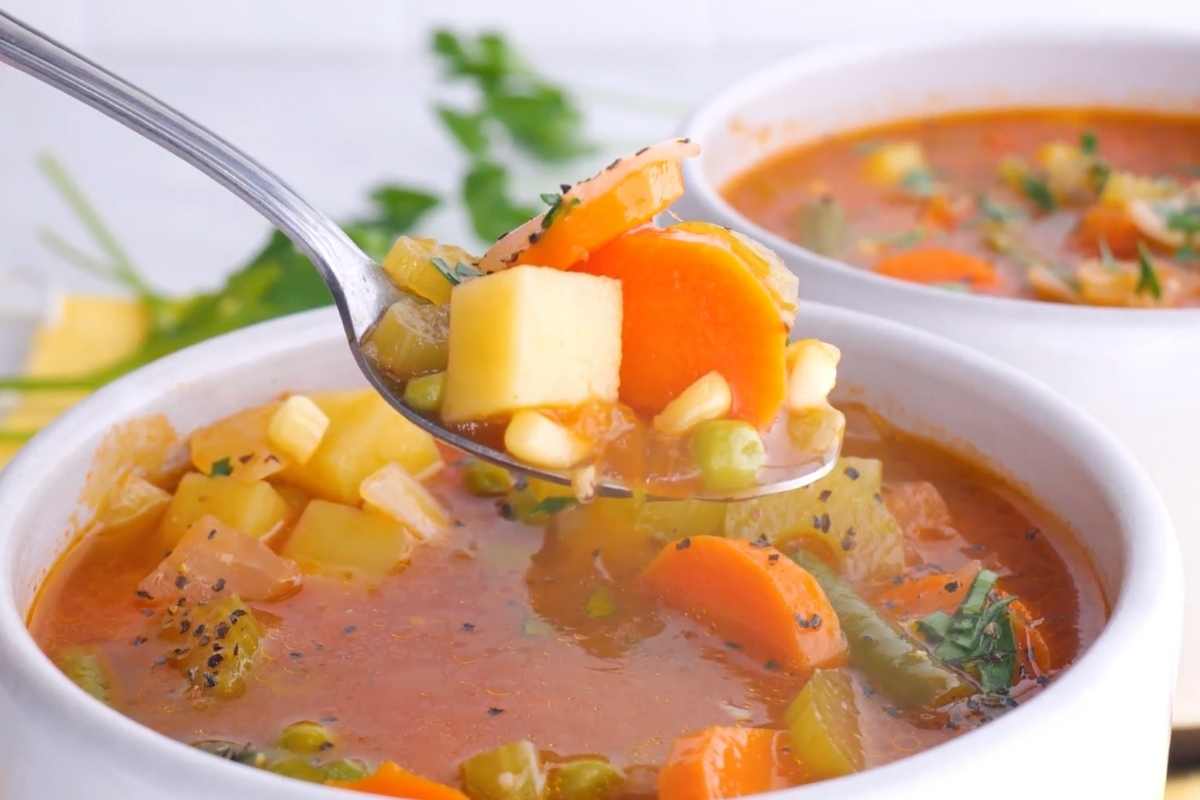 Ingredients
1/4

cup

olive oil

1

yellow onion

, diced

2

stalks

celery

, diced

2

cloves

garlic

, minced

2

teaspoons

kosher salt

1/2

teaspoon

coarse ground black pepper

1

large

potato

, peeled and diced

2

carrots

, sliced

1

cup

corn

1

cup

peas

1

cup

green beans

, chopped

2

vine tomatoes

, diced

4

cups

chicken broth

2

cups

V-8 juice
Instructions
In a large stock pot add the olive oil over medium heat and sauté the onions, celery and garlic for

4-5 minutes

until translucent.

Add in the rest of the ingredients and bringing to a boil, then reduce to a simmer for

30 minutes

.
Notes
Note: click on times in the instructions to start a kitchen timer while cooking.
Nutrition
Calories:
179
kcal
|
Carbohydrates:
21
g
|
Protein:
4
g
|
Fat:
10
g
|
Saturated Fat:
1
g
|
Sodium:
1389
mg
|
Potassium:
775
mg
|
Fiber:
3
g
|
Sugar:
7
g
|
Vitamin A:
4355
IU
|
Vitamin C:
42.4
mg
|
Calcium:
57
mg
|
Iron:
2.4
mg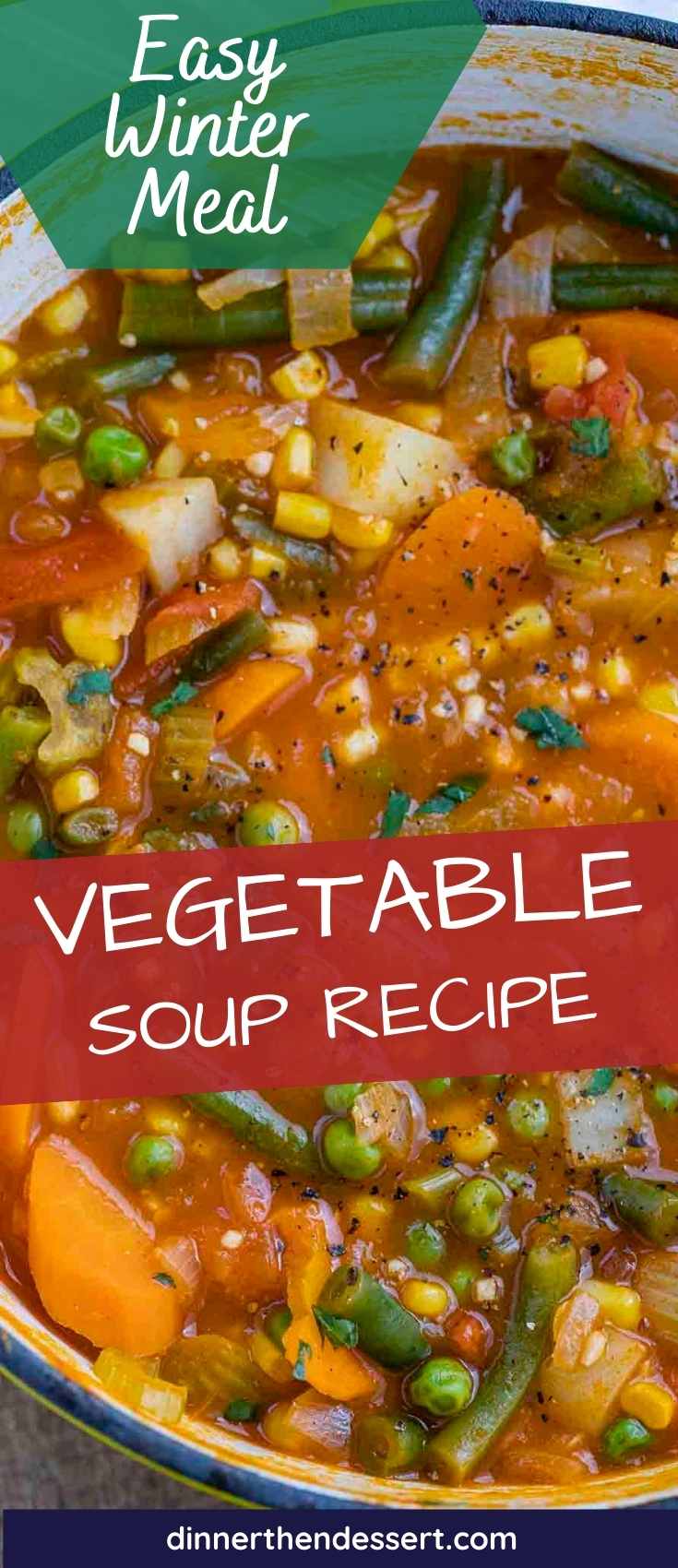 Photos used in a previous version of this post.