Ultimate Sloppy Joes
This post may contain affiliate links. Read my disclosure policy here.
Ultimate Sloppy Joes made in just 20 minutes with a rich tomato gravy and melted cheese. Your family will ask for them all the time!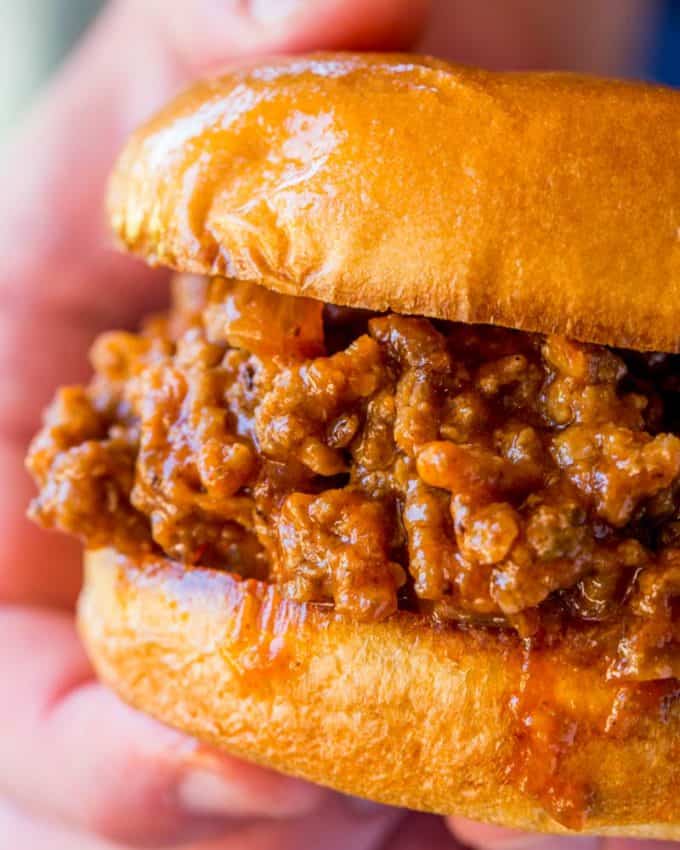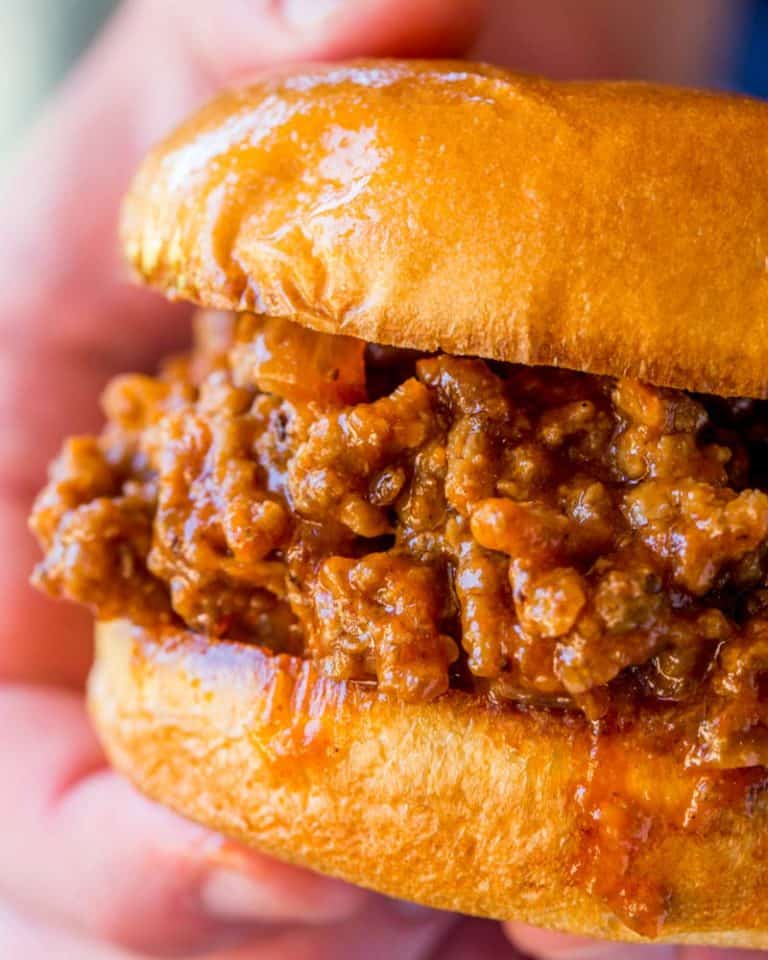 Ultimate Sloppy Joes made without the Manwich Canned Sauce or the packets of sloppy joe seasoning you may have grown up with. With just a few pantry ingredients you'll have a whole new appreciation for classic sloppy joes.
We call these the Ultimate Sloppy Joes, but you may also want to refer to them as Award Winning Sloppy Joes because this recipe has been victorious in three separate sandwich contests including one in college where it beat out over 50 other sloppy joe recipes!
Ultimate Sloppy Joes are the final sloppy joes recipe on our regular rotation. We've already gone over the others, the Philly Cheese Steak Sloppy Joes, Bacon Cheeseburger Sloppy Joes, and Pizza Sloppy Joes so posting these Classic Sloppy Joes are a no brainer to round out the recipes!
How do you make Homemade Sloppy Joes:
Homemade sloppy joes are made with ground beef, onion and green bell peppers that are simmered in a brown sugar and ketchup gravy until thickened and served on a bun.
I've looked at the back of the manwich cans, and I can't vouch for this recipe to be like a homemade manwich sloppy joe, but I can say many of the ingredients are similar. This is also not the same as if you grew up eating sloppy joes made with tomato sauce, but the ketchup in the recipe acts in a similar way.
If you would like to swap the ketchup for tomato sauce, just play with the rest of the ingredients to increase the sweetness more as the ketchup adds a definite sweet flavor.
MY OTHER RECIPES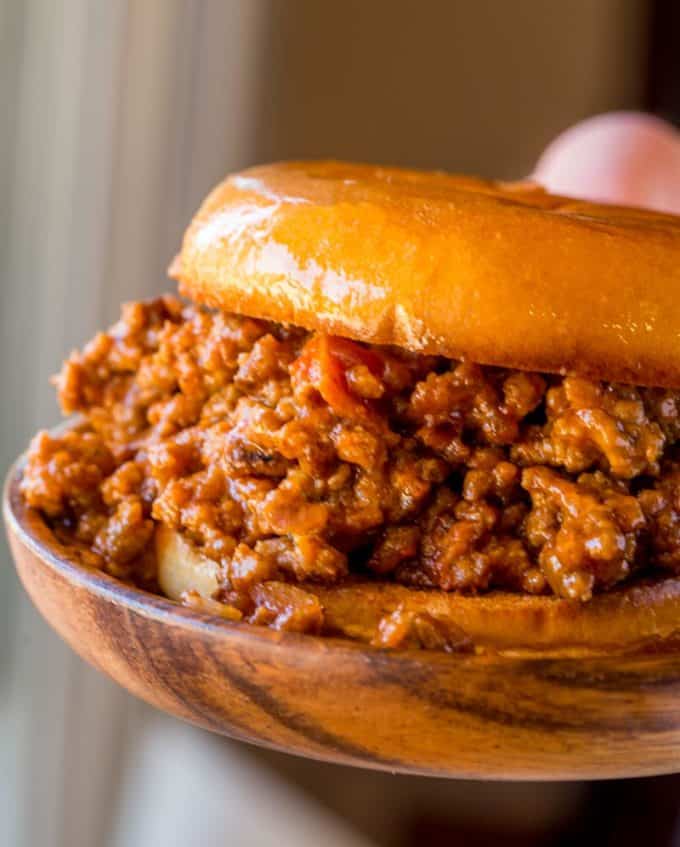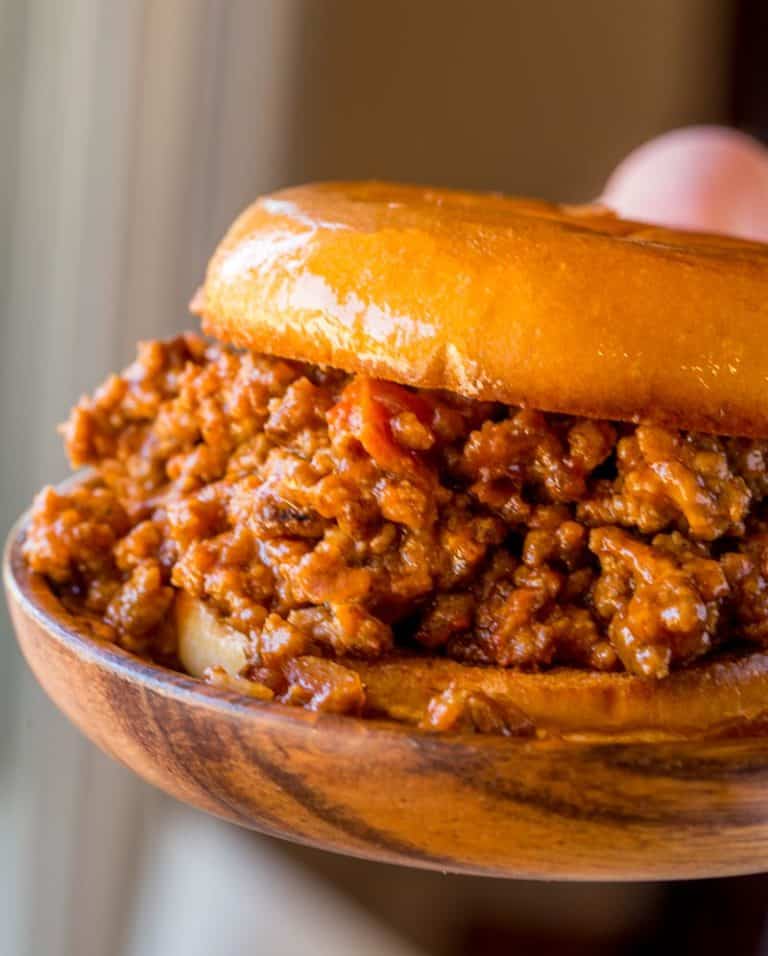 Some tips about making the perfect sloppy joes:
Make sure not to cook down the sauce too much, sometimes the sloppy joes can get dry, you're looking for a consistency where you can see the individual bits of meat, but not dry enough where they don't cling to each other in sauce.
I personally add in some American or cheddar cheese to the filling when it is done. Some people like to top the sandwich with cheese. Either way cheese makes it just a little more awesome.
If you hate green bell pepper feel free to swap it out for a less bitter bell pepper, like yellow or red. You can also leave it out, but remember you are removing probably a half cup or more of ingredients, so it will be saucier.
If you want a bit more savory flavor you can also add a tablespoon of Worcestershire sauce to the pan like I do with the Philly Cheese Steak Sloppy Joes.
The BUN! I always make sure to toast my bun before adding the filling. I find if you don't your bun may get too soggy, too quickly. (psst, I also butter mine, but only because that makes it even more delicious)
If you would like to use leftovers you may have in another recipe, just use the method found in my  Ground Philly Cheesesteak Grilled Cheese and you'll be in heaven!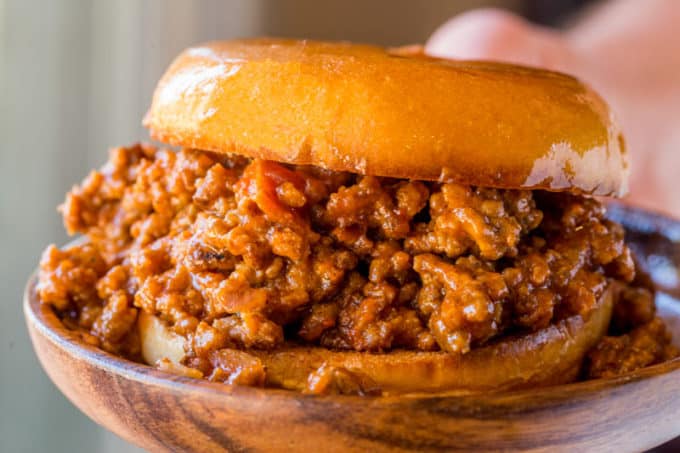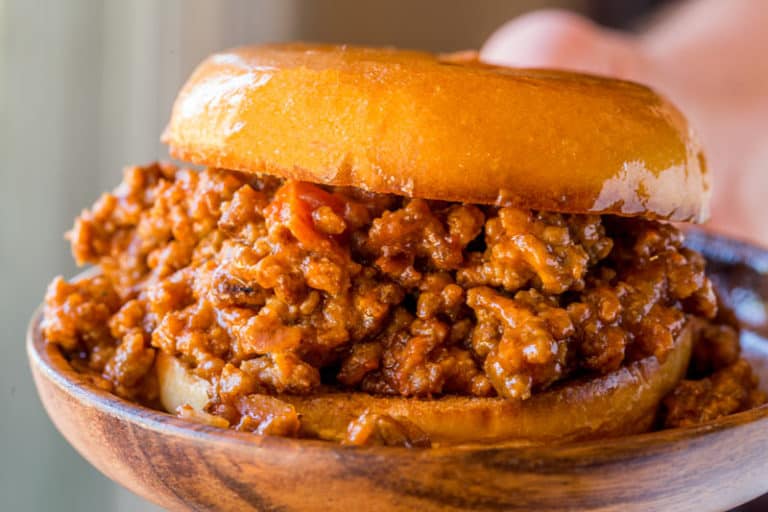 WANT TO MAKE THESE ULTIMATE SLOPPY JOES INTO A SLOW COOKER RECIPE?
Add the ingredients (minus the cheese and buns) to the slow cooker and cook on low for 4 hours.
Add the cheese (if using cheese) and stir once you're ready to serve.
LOOKING FOR MORE SANDWICHES?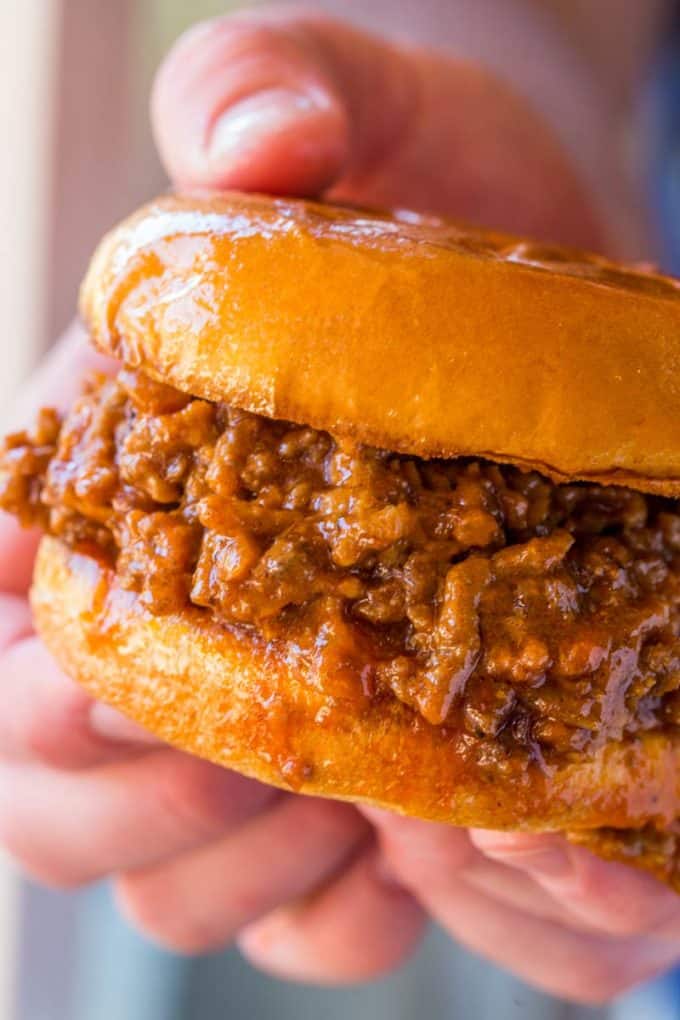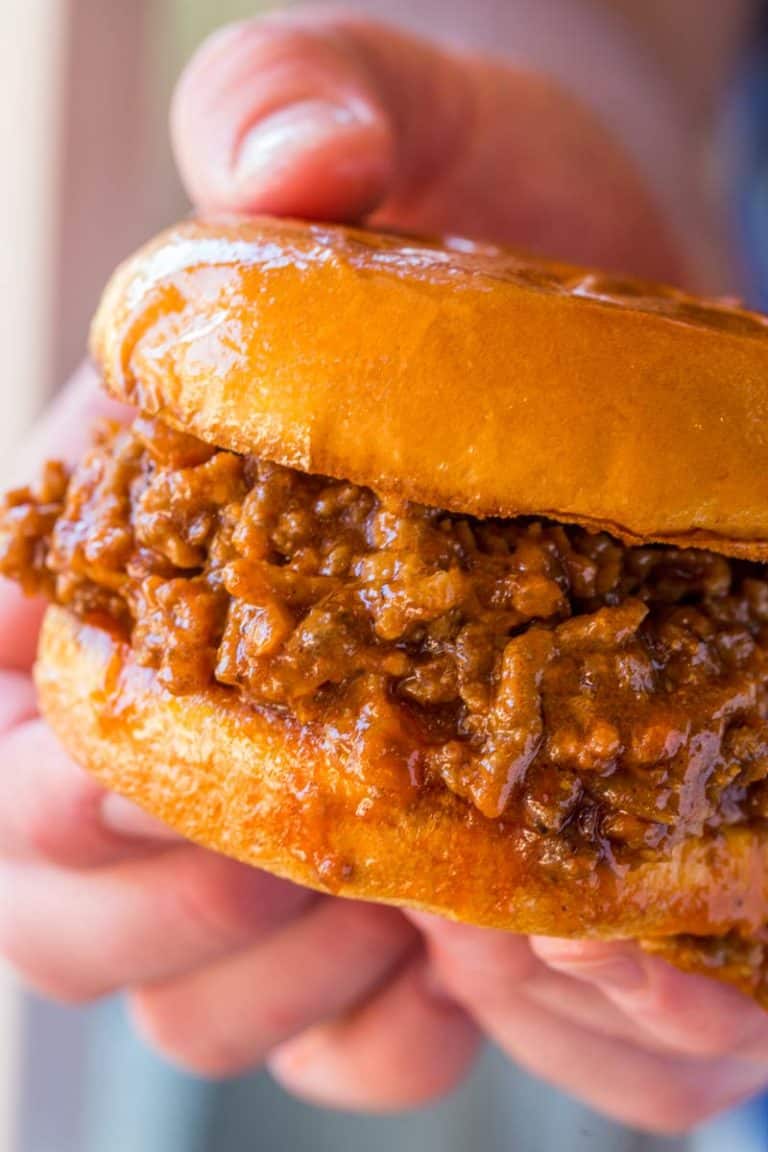 Tools Used in the making of these Ultimate Sloppy Joes:
Cast Iron Skillet: This is my most used pan in my kitchen, heavy, keeps heat well and gives the BEST sear ever.
Chef's Knife: This knife is one of the three most used tools in my kitchen (tongs and my pig tail flipper are the other two). I love it, I've had it for almost 10 years and it is as sharp today as the day I got it. (left column, second from the top). Mind you I love it this much even though I have a ridiculously expense knife set as well.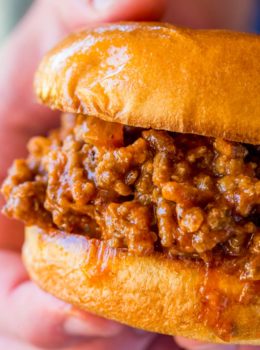 Ultimate Sloppy Joes
Ultimate Sloppy Joes made in just 20 minutes with a rich tomato gravy and melted cheese. Your family will ask for them all the time!
Ingredients:
1 pound lean ground beef
1 tablespoon unsalted butter
1/2 yellow onion, chopped
1/2 green bell pepper, chopped
1 clove garlic, minced
2 teaspoons yellow mustard
3/4 cup ketchup
2 tablespoons brown sugar
1/2 teaspoon Kosher salt
1/4 teaspoon ground black pepper
Directions:
Add the ground beef to a large cast iron skillet (this browns very well) and brown until a deep brown crust appears before breaking the beef apart.
Stir the ground beef and brown until a deep crust appears on about 50 or so percent of the beef.
Remove the beef and drain the fat.
Add the butter, onions and bell pepper to the pan.
Let brown for 1-2 minutes before stirring, then let brown for another 1-2 minutes before stirring again.
Add the beef back into the pan.
Add the garlic, mustard, ketchup, brown sugar, salt, black pepper, to the pan.
Cook until the mixture is only slightly liquidy (about 75% of the mixture is above liquid), 3-5 minutes.
Served on toasted brioche buns.
All images and text ©
Made this recipe?
Show me what you made on Instagram or Facebook and tag me at @DinnerthenDessert or hashtag it at #dinnerthendessert.
Dinner, then Dessert, Inc. owns the copyright on all images and text and does not allow for its original recipes and pictures to be reproduced anywhere other than at this site unless authorization is given. If you enjoyed the recipe and would like to publish it on your own site, please re-write it in your own words, and link back to my site and recipe page. Read my disclosure and copyright policy. This post may contain affiliate links.