Parmesan Pesto Roasted Potatoes are ready for roasting in minutes with red potatoes, basil pesto, olive oil and Parmesan Cheese.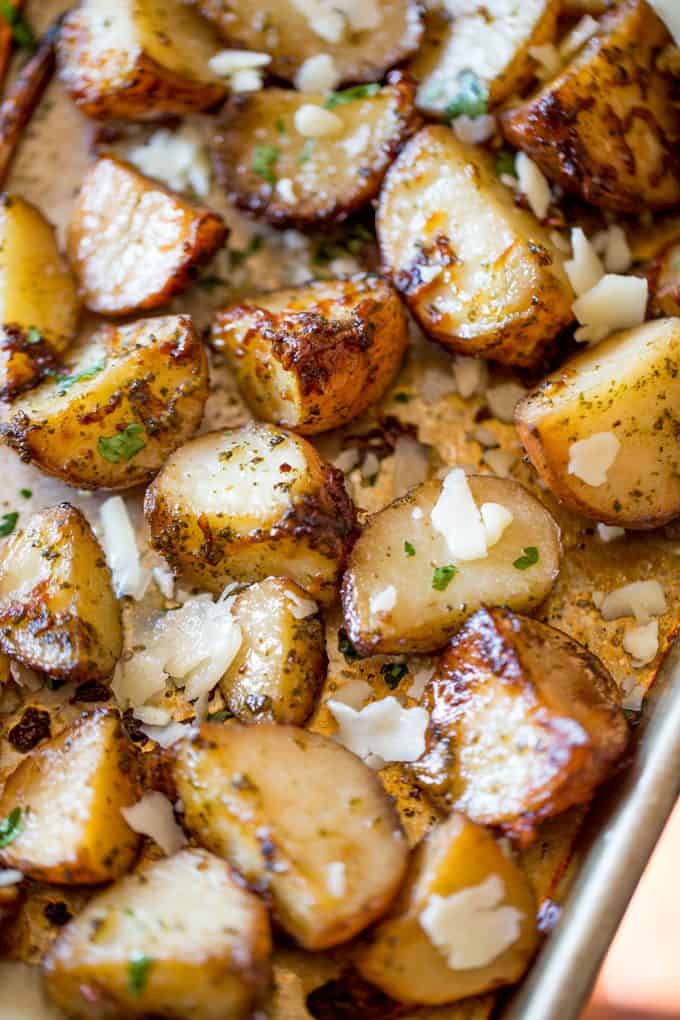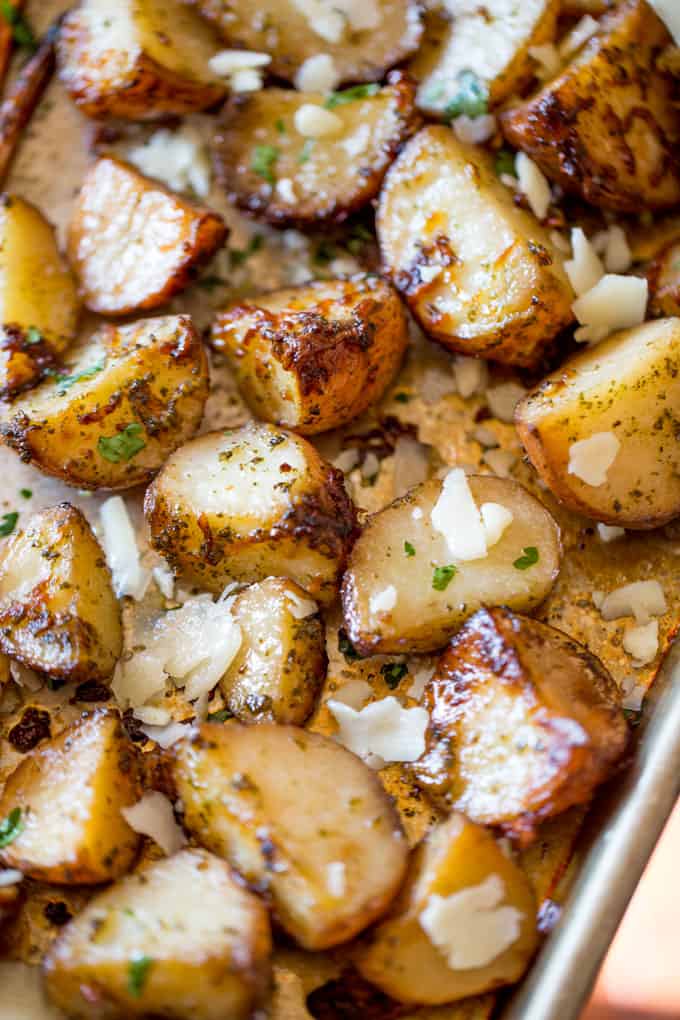 Parmesan Pesto Roasted Potatoes are one of my favorite potato side dishes to make for clients or parties. They take little to no effort at all, yet they present themselves as special and fancy and totally full of flavor.
Parmesan Pesto Roasted Potatoes have been on the menus of holiday parties for years since I had an appetizer bite at a fancy cocktail party in Washington, DC.
It was a baby roasted potato that had been hollowed out and filled with the most amazing basil pesto and crusted with a sheet of shaved Parmesan Cheese. A bit of parsley oil on top finished the bite and even now, many years later I remember that bite of food.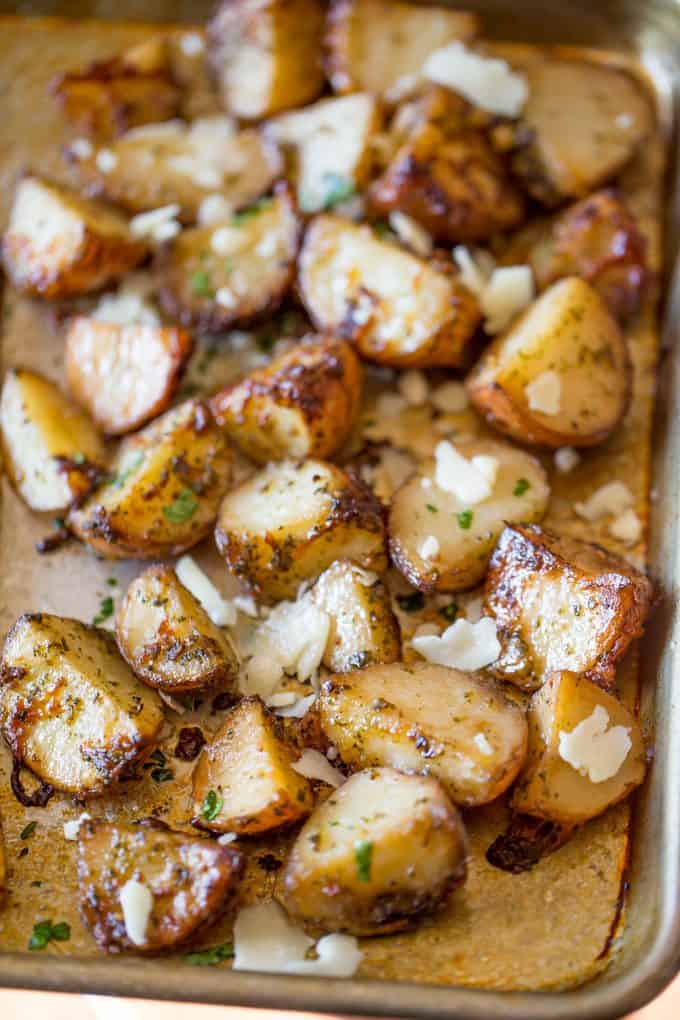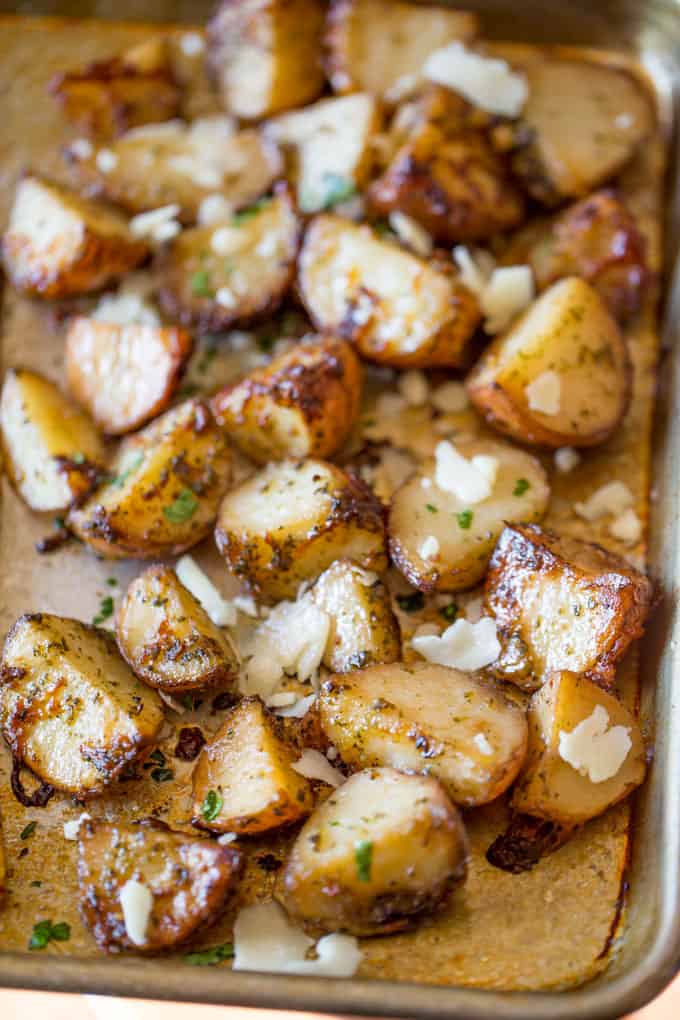 The most important part of the Parmesan Pesto Roasted Potatoes is the quality of the Parmesan Cheese and the basil pesto. I linked you to some good quality prepared products, but if you're shopping locally I suggest a nice wedge of Parmesan from Trader Joe's (always the least expensive) and if you are buying prepared pesto locally I like the Costco brand (when buying online I go with Stonewall Kitchen).
To make the pesto from scratch I highly recommend, and frequently make Ina Garten's Pesto. Should I go there?…. wait for it… Her pesto is the best-o! How easy is that? (I officially am too caffeinated and it is too early in the morning).
I would've incorporated to directions to make it in this recipe, but to be honest jarred pestos are so handy and I find clients always have an open jar in the fridge I went with the shortcut option here.
If you are planning on making a fresh pesto pasta, please make your own pesto from scratch. The flavor of the fresh basil is what will make the dish stand out, but for the purposes of roasting these Parmesan Pesto Roasted Potatoes I don't find it to be totally necessary as the basil flavor is much more muted by the roasting.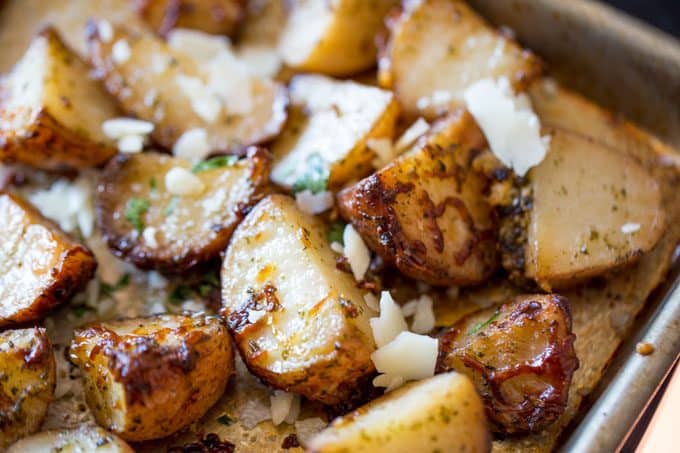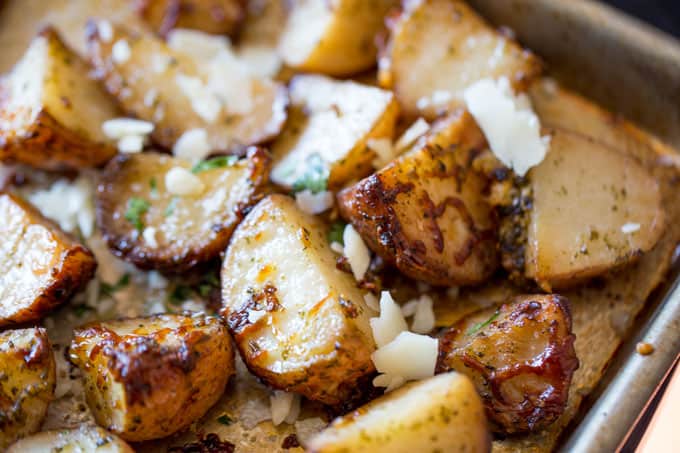 Tools used in the Making of this Recipe:
9×13 Sheet Pan: Classic sheet pan, plenty of space for roasting.
Kosher Salt: Completely different than the table salt you're used to it is perfect for roasting applications without making food too salty.
Microplane Grater: I use this tool for all cheese grating as well as zesting. It will save you on ingredient costs for cheese and makes perfect garnishes. This tool is in HEAVY use in my kitchen.
Microplane Shaver: As a general rule I never buy Parmesan cheese that isn't in wedge form (see pre-made shortcut below if you prefer) because I like seeing my ingredients whole whenever possible. This shaver makes for a beautiful presentation.
Parmesan Cheese: For a prepared Shaved Parmesan Cheese option, I've found this brand to be better than most store brands.
Basil Pesto: I keep my pantry full of backup items for when I need a meal in a pinch, this pesto has been my go-to for years when I need a quick fix. It's delicious, natural and with a bit of extra Parmesan cheese it's a total winner.


Ingredients
3

lbs

red potatoes

, quartered (but not peeled)

2

tablespoons

olive oil

3

tablespoons

basil pesto

1/2

teaspoon

Kosher Salt

1/8

teaspoon

cracked black pepper

1/3

cup

shredded fresh Parmesan cheese

Shaved Parmesan Cheese for garnish

, optional

Chopped parsley for garnish

, optional
Instructions
Preheat oven to 400 degrees.

In a large bowl toss together the oil, basil pesto, Kosher salt, black pepper and shredded Parmesan Cheese. Mix in the potatoes.

Spread onto a baking sheet and cook for

30-35 minutes

or until browned.

Remove from the oven and sprinkle over some shaved Parmesan cheese and parsley for garnish if desired
Nutrition
Calories:
171
kcal
|
Carbohydrates:
27
g
|
Protein:
3
g
|
Fat:
5
g
|
Sodium:
228
mg
|
Potassium:
773
mg
|
Fiber:
2
g
|
Sugar:
2
g
|
Vitamin A:
125
IU
|
Vitamin C:
14.6
mg
|
Calcium:
26
mg
|
Iron:
1.3
mg