Potatoes Au Gratin made with russet potatoes in a seasoned parmesan sauce assembled in layers is surprisingly easy to make, and your guests will love it!
Easy potato recipes like Garlic Mashed Potatoes make perfect Side Dishes for the holidays. Add this cheesy potato recipe to your list of simple, crowd-pleasing recipes.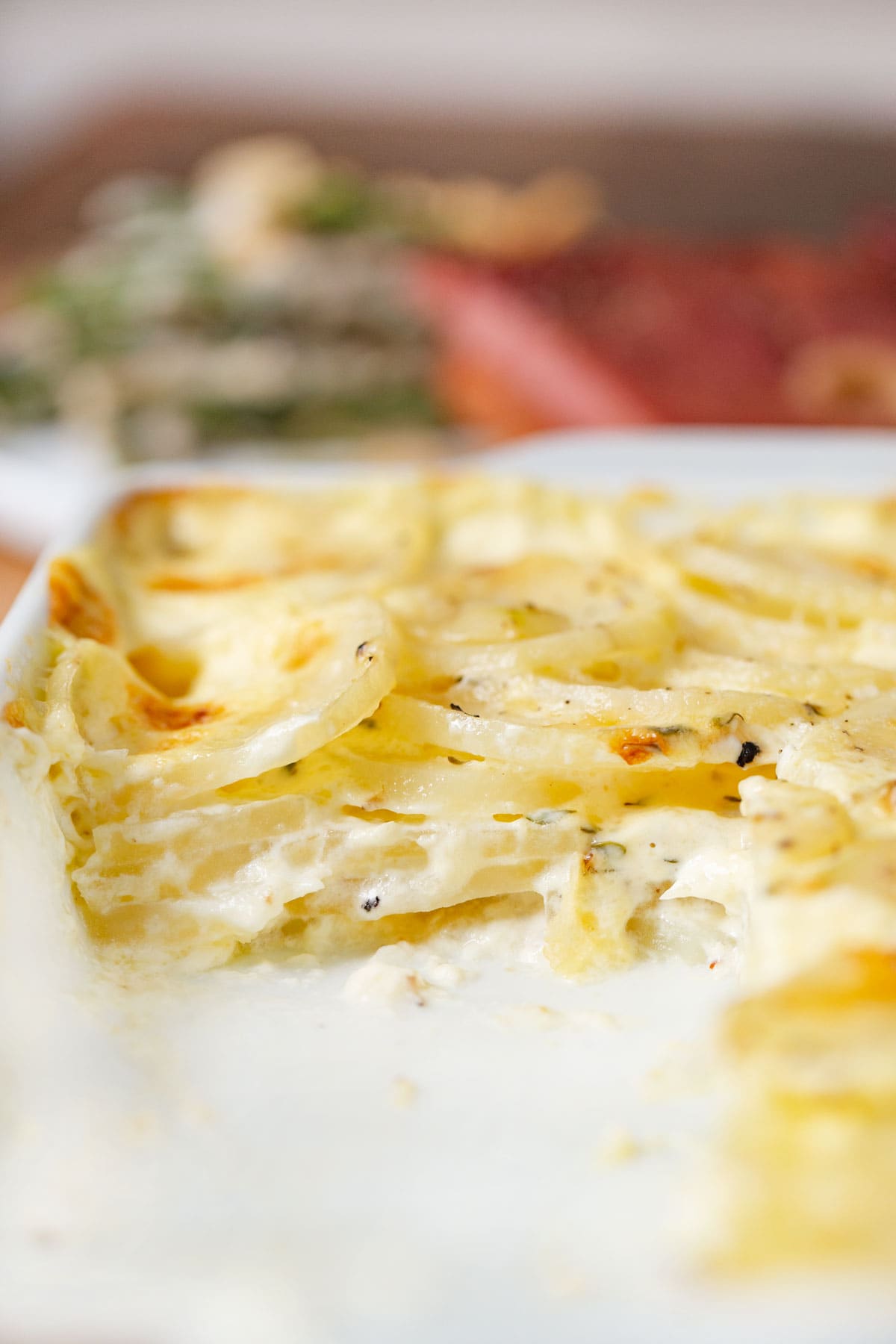 POTATOES AU GRATIN
Potatoes Au Gratin get a bad reputation. Most people are used to the boxed potatoes that are filled with dehydrated slices of potatoes and powdered cheese mix. Do not compare those to these delicious, fresh potatoes. This is hands down the BEST side dish potato recipe out there.
If you like our recipe for Scalloped Potatoes, think of this as taking your cheesy potatoes to the next level. These cheesy potatoes are sure to become a go-to dish to serve with holiday dinners.
Au Gratin Potatoes are crispy, cheesy, fluffy and warm. Baking the potatoes in a casserole dish allows the potatoes to brown in the cheese sauce and get the edges crispy. What else could you ask for in a side dish? You could serve these topped with sour cream, but these cheesy potatoes are just fine on their own or topped with chives or green onions.
There are some Potatoes Au Gratin recipes that call for condensed soups, sour cream, or hash browns, but using simple sliced potatoes and heavy cream comes out even better. The cheesy potatoes are baked until they have soaked up the ingredients surrounding them and created a creamy center while the outside gets browned and crispy.
MAKE-AHEAD AU GRATIN
Au Gratin Potatoes can be prepared ahead of time by prepping the potatoes and assembling them in the casserole dish with the cheese sauce. Then instead of baking, wrap the dish tightly with plastic wrap or aluminum foil and refrigerate for up to 2 days.
You can also freeze the prepped dish for several months. Just defrost it in the refrigerator the day before you want to bake. If you want to serve these potatoes for Christmas dinner, try prepping them December 23 or December 24, so all I have to do for Christmas dinner is put them in the oven.
When you're ready to bake them, the total time is just 45 minutes. Then you'll have crispy potatoes with a bubbly cheese topping to enjoy.
MORE POTATO SIDE DISHES
TIPS FOR AU GRATIN
Potatoes Au Gratin are often made in a gratin pan which is basically a shallow baking dish. However, we'd recommend using a baking dish with deeper sides, like a casserole dish, to avoid the cheese sauce bubbling over in the oven.
You can use the same cheese sauce with hash browns and your choice of meat to create a cheesy potato casserole recipe that's even faster to throw together! Chop some green bell peppers, celery, or zucchini in to sneak some vegetables into your casserole.
Make sure to slice your potatoes thinly, and all the same size. This is important because if you make them too thick they won't cook all the way through in time. To make this easier you can use a mandolin, which will slice them evenly and quickly. Here's some info on mandolin safety.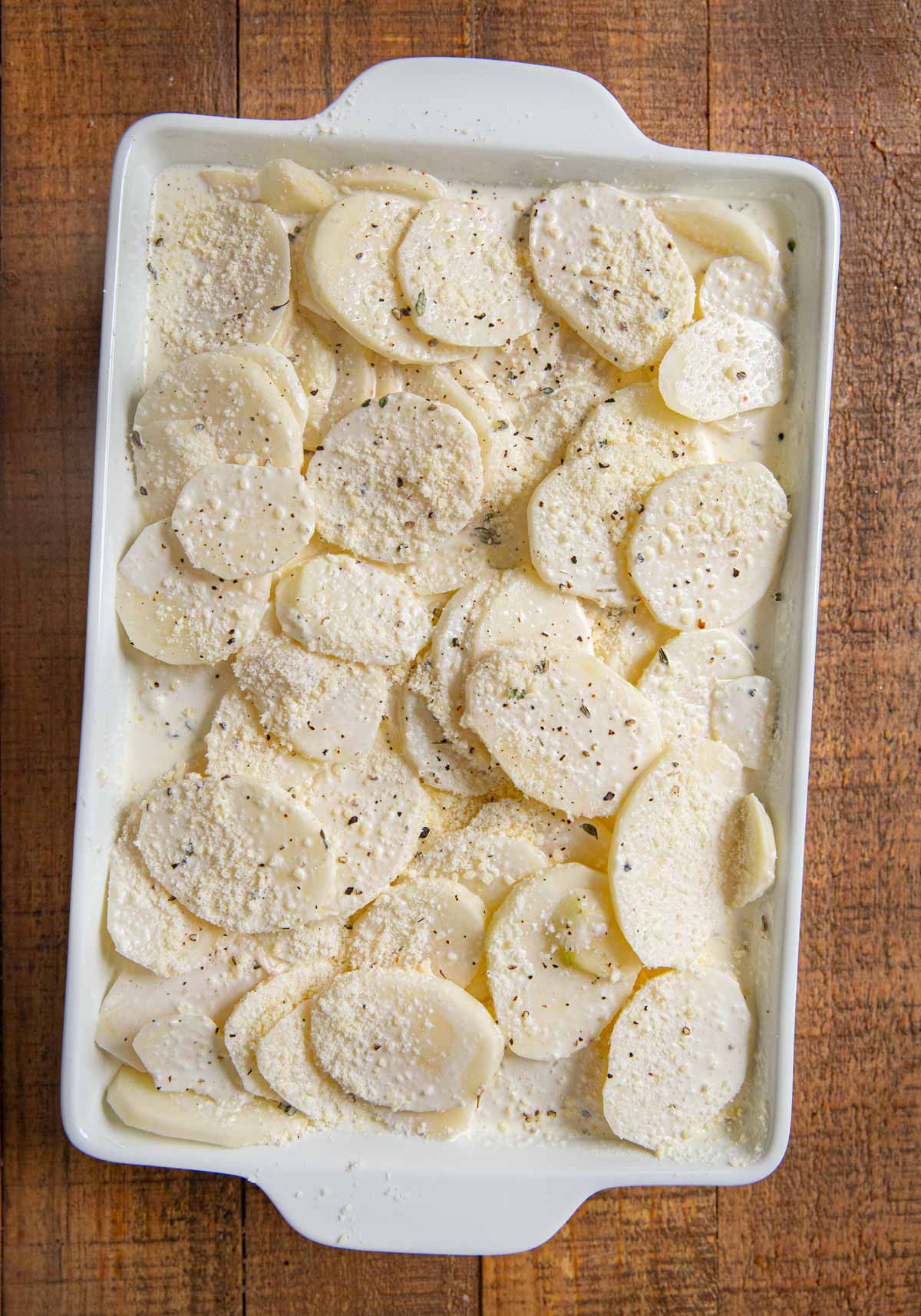 Create a free account to Save Recipes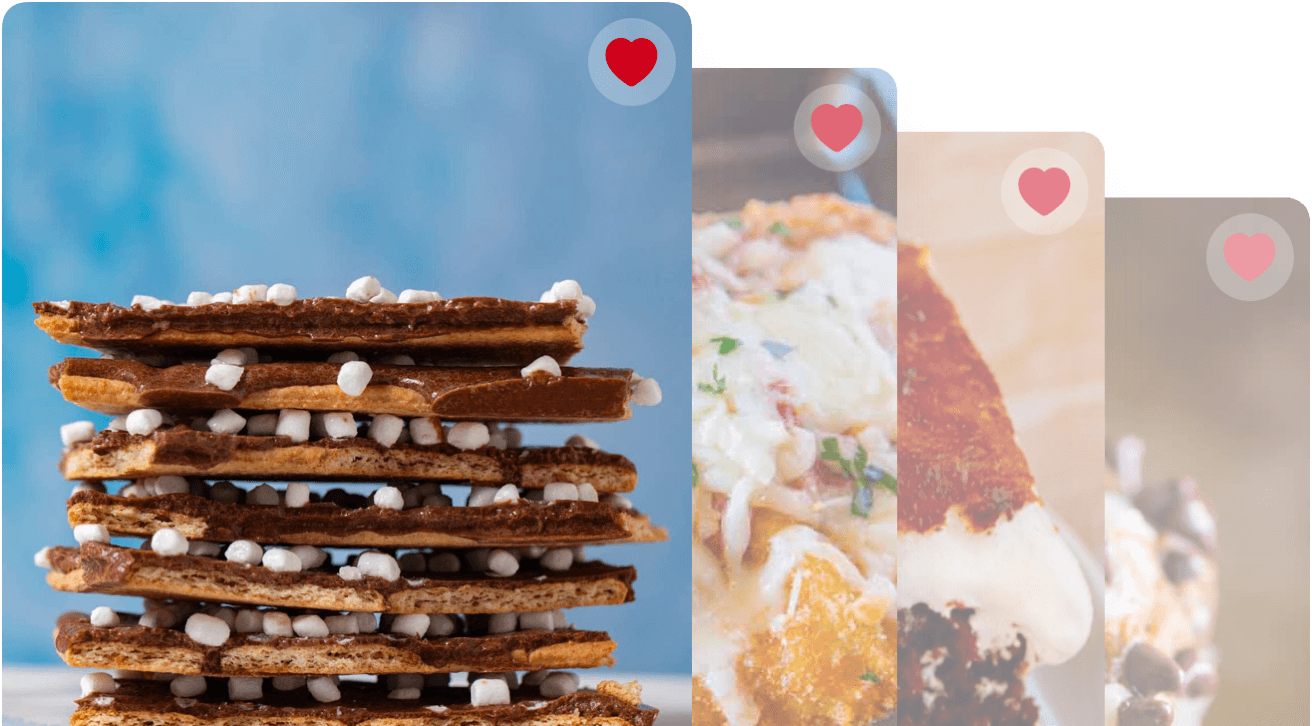 VARIATIONS ON POTATOES AU GRATIN
Cheese: To make your Potatoes au Gratin extra cheesy try adding some shredded cheese on top. Pour the cheesy sauce over the potatoes as usual, then sprinkle some shredded cheddar cheese or gruyere on top. You could also use a mixture of parmesan cheese and mozzarella for an Alfredo version of this casserole recipe!
Topping: Au Gratin can refer to a cheese or bread crumb topping. To add a crunchy bread crumb topping to your Cheesy Potatoes mix some melted butter, panko bread crumbs, and parmesan cheese. Combine the bread crumb and butter mixture then sprinkle it over your potato dish. To make this dish more similar to funeral potatoes, try adding a topping made with cornflakes instead.
Add-ins: For some extra flavor try adding minced garlic clove, onion powder, or fresh thyme to the sauce for your Potato Gratin. You could also top your servings with sour cream for an extra creamy Potato Gratin.
MORE HOLIDAY SIDE DISHES
HOW TO STORE POTATOES AU GRATIN
Serve: After baking Au Gratin Potatoes, don't leave it out at room temperature for more than 2 hours.
Store: Let the potatoes cool then cover them, or store them in an airtight container. They'll be good in the fridge for 3-5 days. Reheat the Potatoes au Gratin in the oven until warmed.
Freeze: Gratin is a great recipe to freeze. You can keep your cheesy potato casserole in the freezer for up to 6 months. Let it thaw in the fridge, then bake it for a few minutes in the oven until the cheese is melted and it's heated through before serving.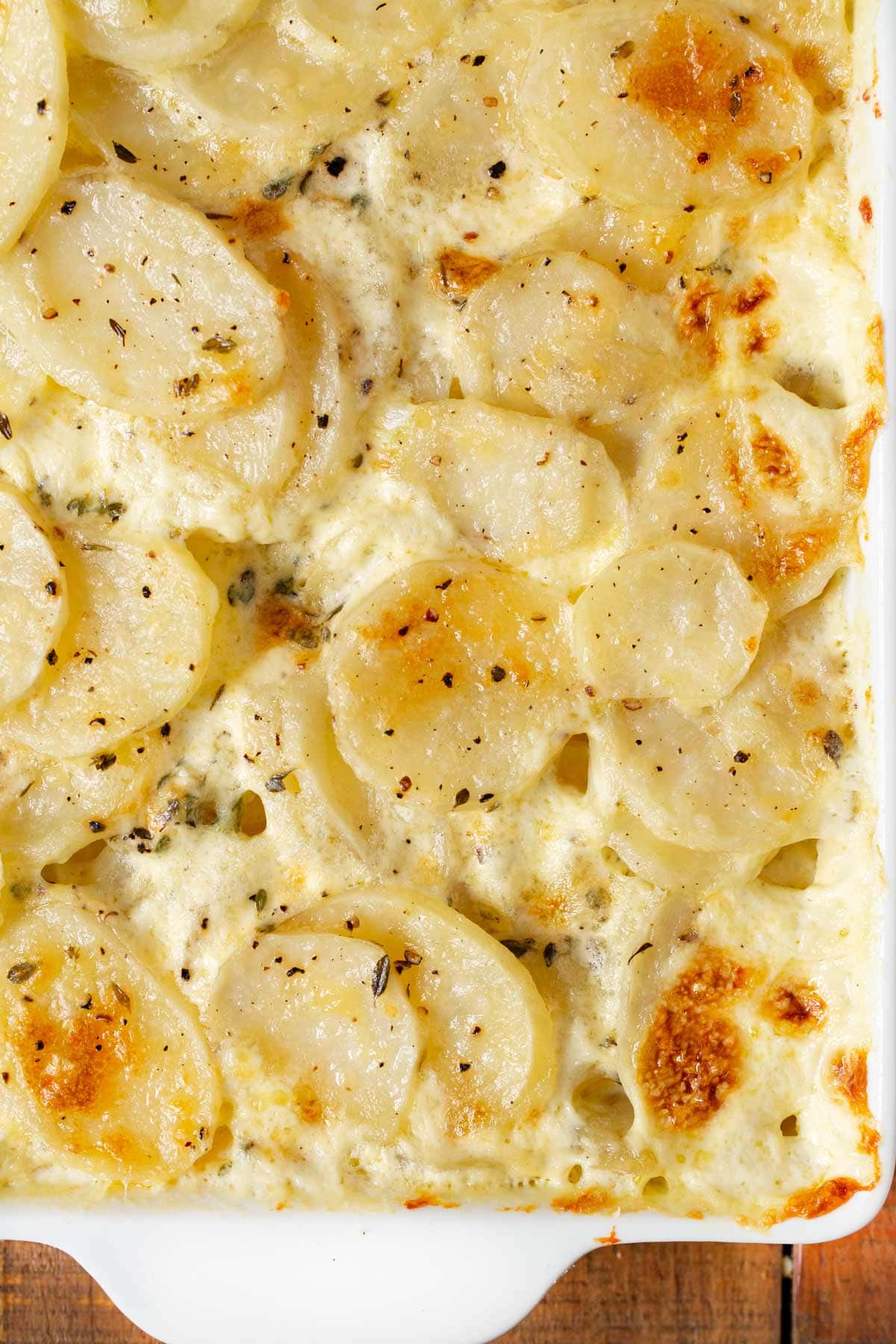 Ingredients
2

cups

heavy cream

1

large

egg

1

teaspoon

kosher salt

1/4

teaspoon

cinnamon

1/4

teaspoon

ground nutmeg

1/8

teaspoon

coarse ground black pepper

1/4

cup

grated Parmesan cheese

6

large

russet potatoes

, peeled and sliced ¼ inch thick
Instructions
Preheat oven to 375 degrees and spray an 8x8 baking dish with vegetable oil spray.

In a large bowl whisk together the heavy cream, egg, salt, cinnamon, nutmeg, black pepper and Parmesan cheese until smooth.

Add potatoes to your baking dish and carefully pour the custard over the potatoes.

Bake, uncovered, for

45-50 minutes

.
Nutrition
Calories:
298
kcal
|
Carbohydrates:
35
g
|
Protein:
6
g
|
Fat:
16
g
|
Saturated Fat:
10
g
|
Cholesterol:
72
mg
|
Sodium:
256
mg
|
Potassium:
805
mg
|
Fiber:
2
g
|
Sugar:
1
g
|
Vitamin A:
624
IU
|
Vitamin C:
11
mg
|
Calcium:
75
mg
|
Iron:
2
mg