Melting Sweet Potatoes are the ultimate comforting dish that literally melts in your mouth. It's the perfect addition to your holiday table!
This sweet potato recipe makes a delicious Side Dish Recipe to complement your Thanksgiving dinner. For the ultimate holiday meal, put it out with classics like Roast Turkey, Cranberry Sauce, Mashed Potatoes, and Green Bean Casserole.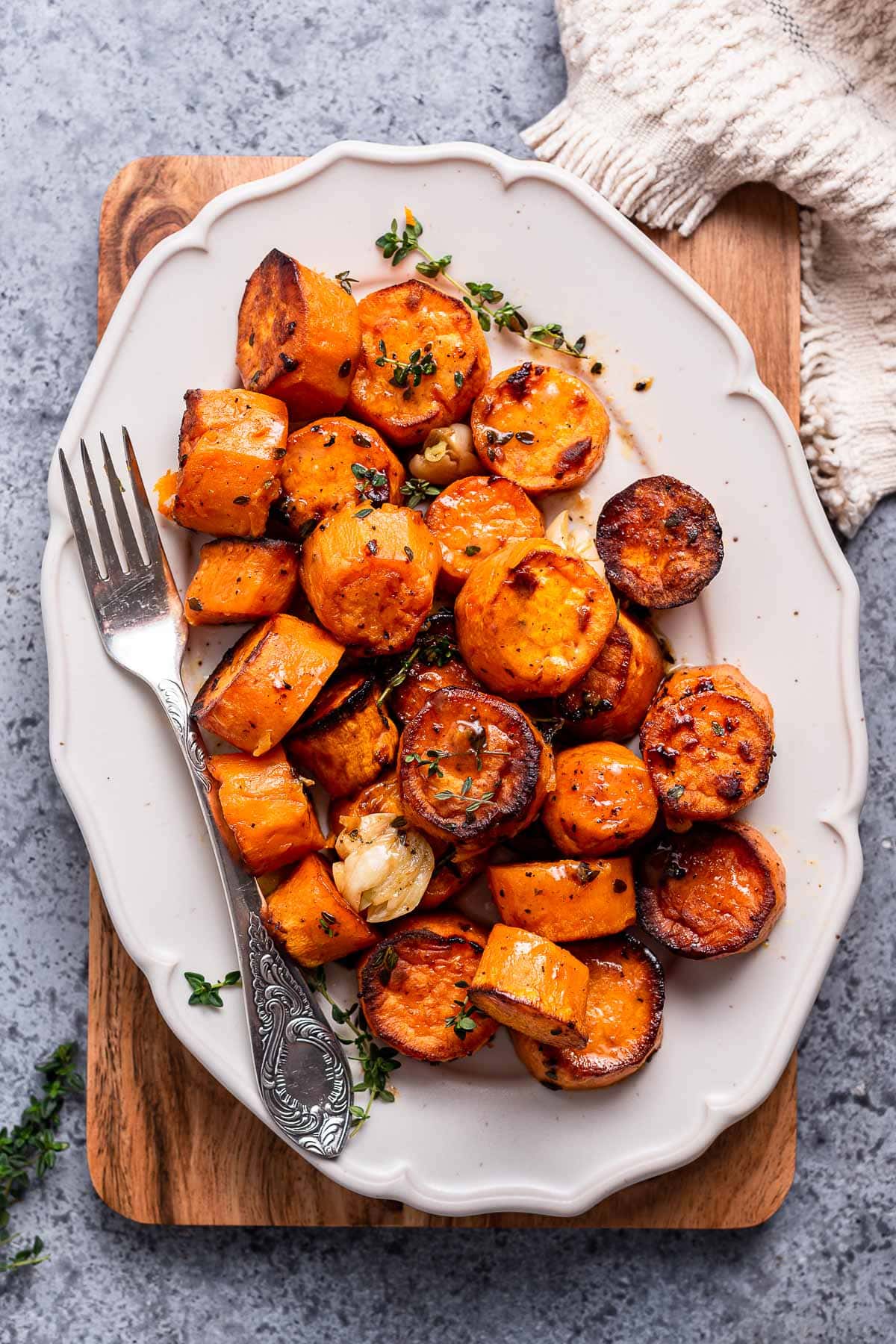 Maybe not everyone feels this way, but many readers think their holiday menu is not complete without at least one amazing sweet potato side dish recipe. Whether it's Mashed Sweet Potatoes, Sweet Potato Soufflé, or Sweet Potato Casserole, the unique and naturally sweet flavor is a must-have. These melting potatoes have quickly become a favorite sweet potato recipe! 
If you're wondering what's so special about them, it's all in the name. Melting Sweet Potatoes truly have a buttery, melt-in-your-mouth texture that's absolutely amazing. The sweet potato rounds are roasted, so they're slightly crisp on the outside but with the most velvety, melty inside you'll ever taste.
Between the amazing texture and the natural sweet potato flavor, you don't have to worry about dressing up this recipe with lots of fancy ingredients. This recipe tastes great with just thyme, garlic, salt, and pepper to add simple flavor to the Melting Potatoes. That way, the earthy, sweet potato flavor still shines throughout the entire dish. 
FAQs About Melting Sweet Potatoes
How to pick good sweet potatoes?
Sweet potato recipes make an ideal addition to your holiday menu because sweet potatoes are in season right around Thanksgiving. To make the perfect side dish, look for medium-sized sweet potatoes without wrinkled skin. Also, double-check that there aren't any bruises or cracks on the sweet potatoes. 
Can I freeze Melting Sweet Potatoes?
You can make Melting Sweet Potatoes ahead of time, then freeze them for up to 3 months. Let them defrost in the fridge overnight before you reheat the sweet potato recipe in the oven. 
Why are Melting Sweet Potatoes cooked at such a high temperature?
These Sweet Potatoes are roasted at 500 degrees F, which is a pretty high temperature. This high temperature is what will give the Sweet Potato slices that nice, crispy sear on the outside and the edges. The variation in texture is so lovely in these little melting beauties with the slightly crispy outside mixed with the soft inside.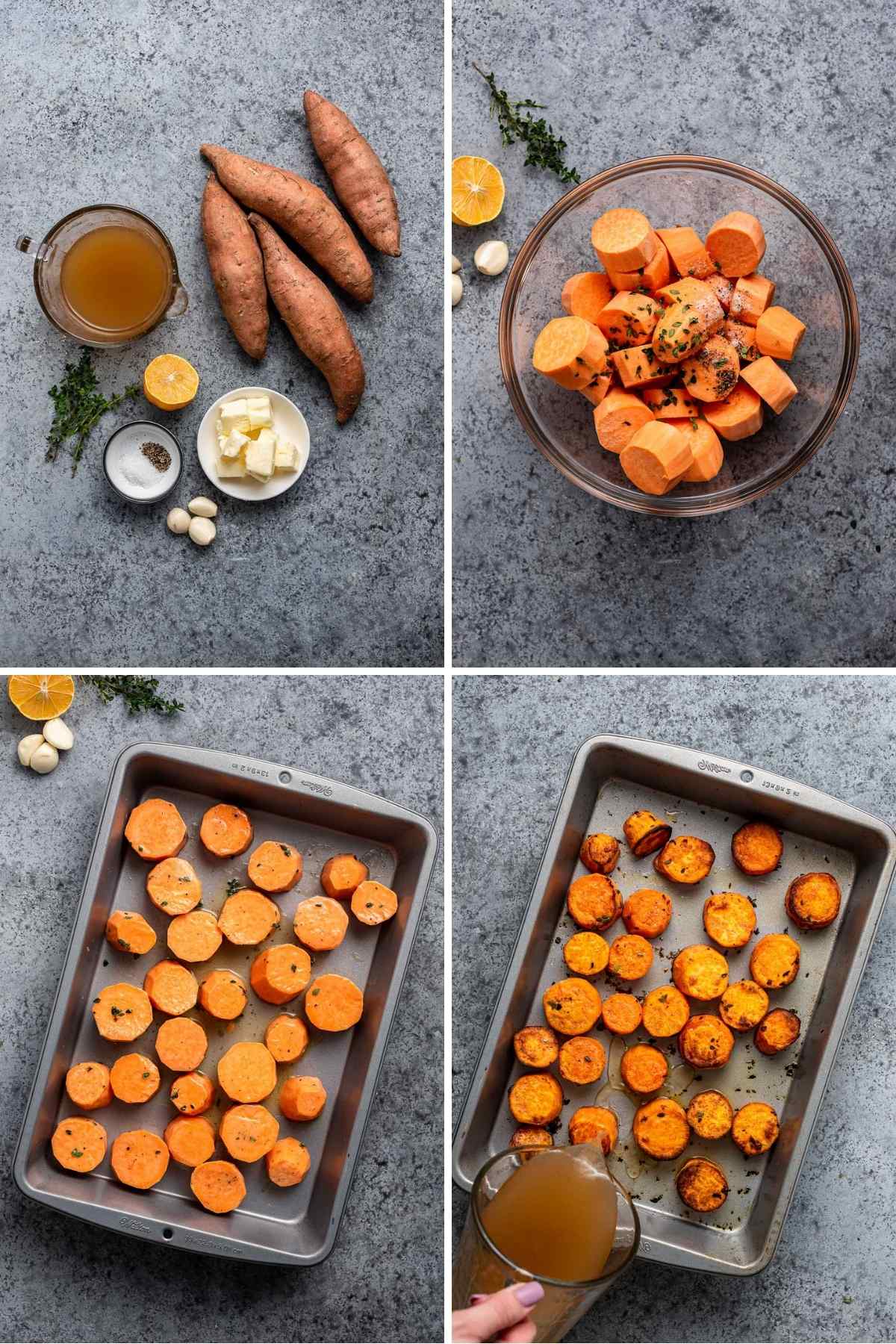 Key Ingredients in Melting Sweet Potatoes
Sweet Potatoes: It is a joy finding new ways to enjoy delicious sweet potatoes. Their natural sweetness sets them apart from other vegetables and can lead to so many unique and delicious flavor combinations. For this recipe, use thin tubular potatoes, cut into 1-inch slices.
Butter Mixture: Combine the sweet potato slices with unsalted butter and thyme for flavoring in this recipe. The thyme's earthy and fresh flavor pairs nicely with the potatoes. The butter also helps the outside of the potatoes crisp up well during the oven time. 
Chicken Broth: Add the chicken broth to the Melting Sweet Potatoes during the last 10 minutes of cooking. The crispy potatoes will absorb the moisture around them, giving them an extra soft interior. Sweet potatoes also soak up the flavor from the chicken broth, which is why you add crushed garlic cloves at the same time to infuse the potatoes with bold garlicky flavor. 
More Sweet Potato Recipes
How to Make Melting Sweet Potatoes
Prep Time: Preheat the oven to 500 degrees F. Then peel your sweet potatoes and slice them into 1 inch thick rounds. 
Butter Coating: Mix together 4 tablespoons of melted butter, 1 teaspoon of chopped thyme, and a dash of kosher salt and pepper. Add the sweet potato slices to the butter mixture and toss to coat. Then arrange the buttered sweet potato slices in a single layer on a rimmed baking sheet. 
Cook Time: Put the potatoes in the hot oven, and cook for about 10-15 minutes until the potatoes are golden brown. Then flip the potatoes over and cook again until golden brown. Flip the sweet potatoes once more, and add the chicken broth, lemon juice, and garlic to the pan. Roast the Melting Sweet Potatoes for 10 more minutes, then serve warm.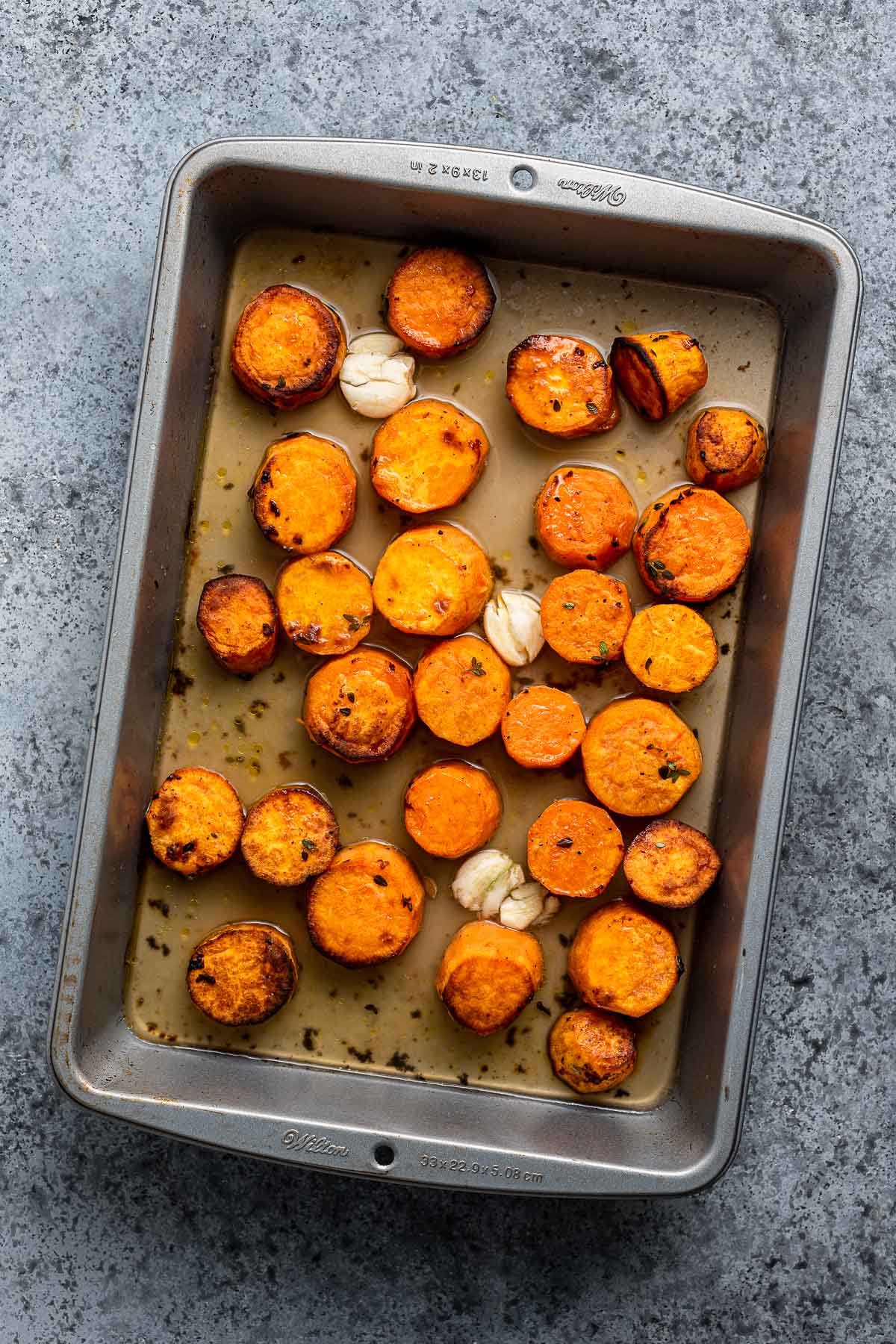 Create a free account to Save Recipes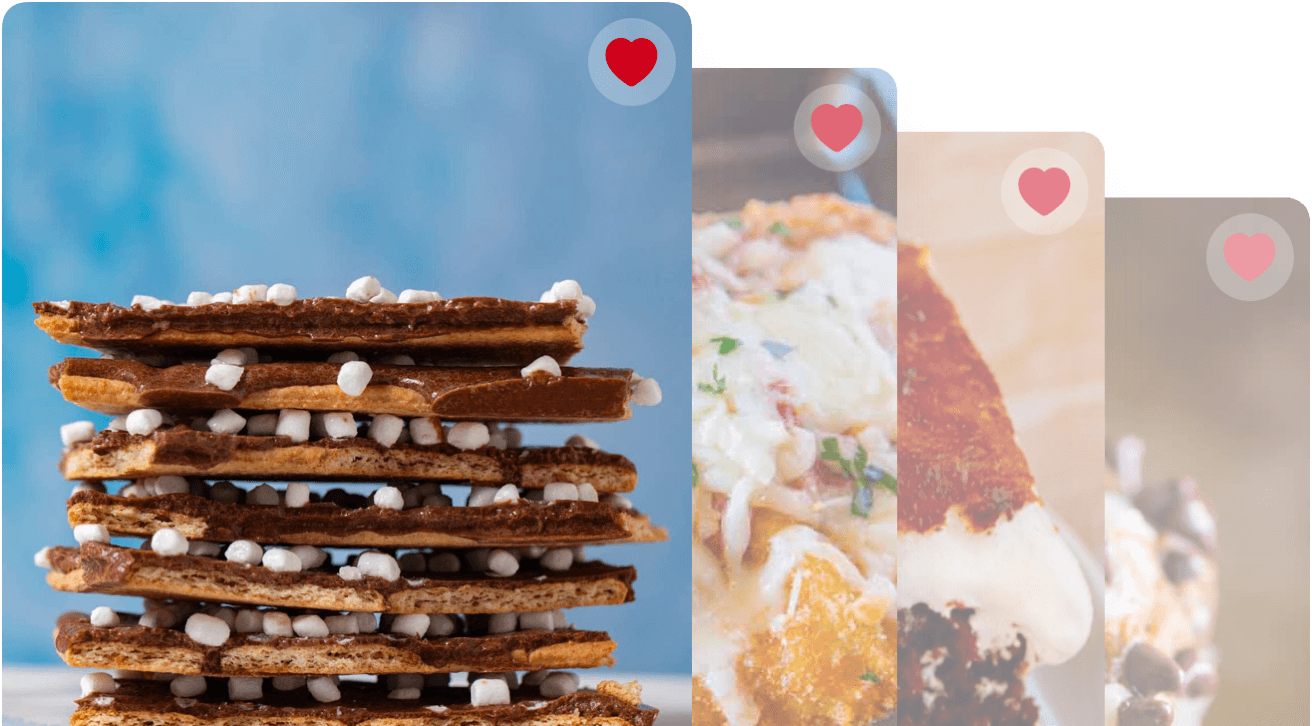 Variations on Melting Sweet Potatoes
Maple Syrup Pecan Sauce: You can top the Melting Sweet Potatoes off with a maple pecan glaze. You'll want to leave out all the savory flavors currently in the recipe, so skip the sage and garlic and replace the broth with water. After cooking the potatoes, you can start making the maple sauce. You only need 1 cup maple syrup and 1 cup chopped pecans. First, add the maple syrup to a small saucepan, and bring it to a boil. Then add the pecans. Let the mixture come back to a boil and cook for an additional minute before removing the sauce from heat. Drizzle potatoes with maple syrup pecan glaze before serving. 
Seasonings: There are plenty of different flavors that you can add to the Melting Sweet Potatoes. Start by adding your favorite seasonings into the butter mixture. Try adding some paprika, rosemary, nutmeg, or red pepper flakes in with the thyme. You can also sprinkle flaky sea salt over the Melting Potatoes before serving. Give the recipe a sweet overhaul by combining cinnamon and nutmeg. Adding some salt to a sweet mixture will help bring out those sweet flavors.
Broth: For a vegetarian version of this dish, simply replace the chicken broth with vegetable broth. It'll change the flavor slightly but shouldn't be too noticeable. Use a vegetable broth that you already like the flavor of, or you could even make your own.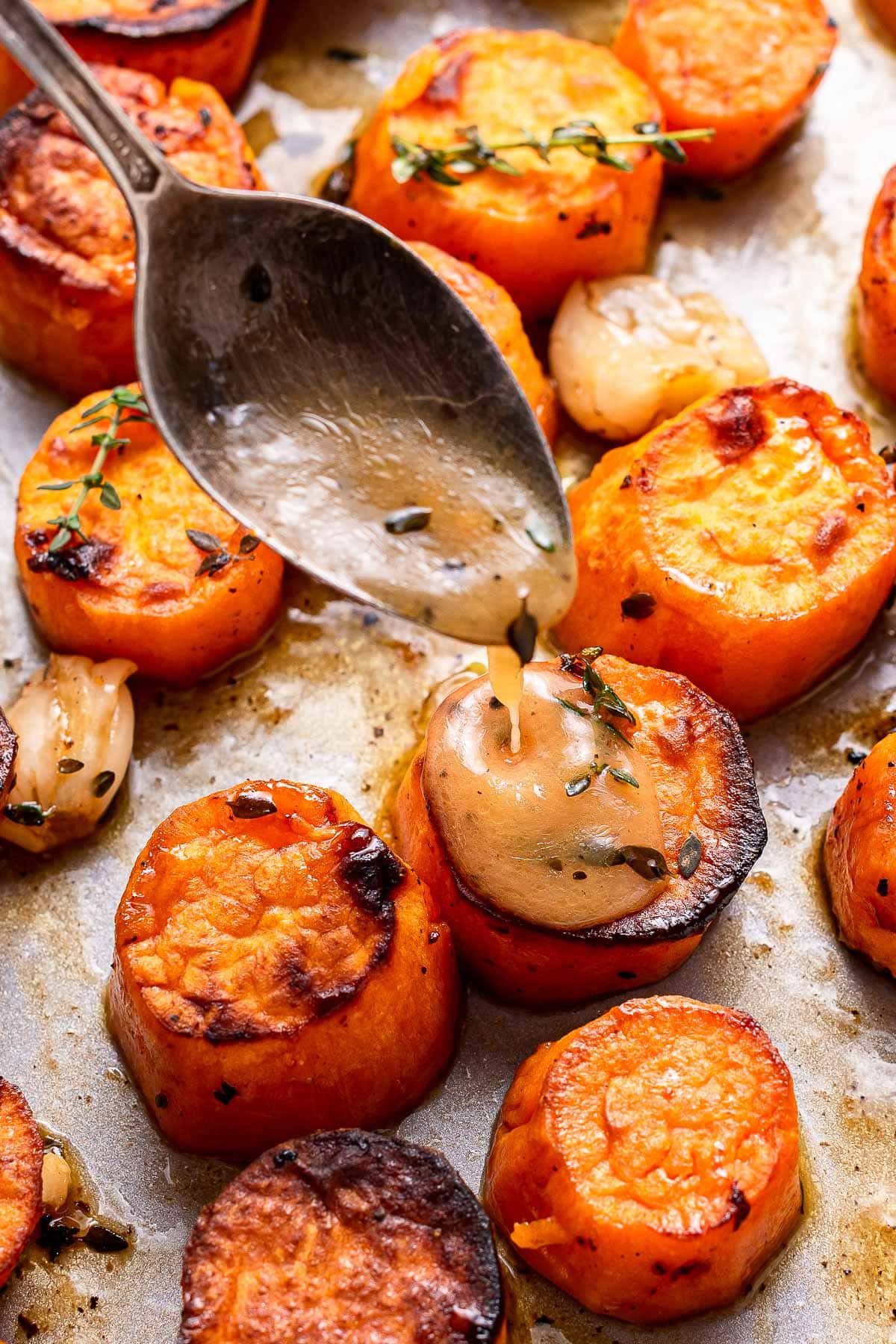 Can Melting Sweet Potatoes be made ahead?
Like many people, you may need to conserve oven space on a holiday when you're busy cooking many dishes. Don't worry, you can make these Melting Sweet Potatoes up to 2 or 3 days ahead of time. Even though this recipe doesn't have a very long cook time, thanks to the way the Potatoes are sliced and peeled, you can still stave yourself some time on the day you eat them. Just prepare them, then seal them in an airtight container. Warm them up in the oven set at 425 degrees F. With zero prep required for reheating and the shorter cook time, this free up space and time when you'll need it.
Serving Ideas for Melting Sweet Potatoes
These Sweet Potatoes are too good to be used only during the holidays. There are many great opportunities to serve this delicious side dish. Try serving them beside Perfect, Easy Ribeye Steak, Shake and Bake Pork Chops, or Homemade Rotisserie Chicken. Melting Sweet Potatoes are great to pair with lots of different main dishes. The limit is only your imagination. You can even enjoy them as a warm side or addition to salads like Winter Pear Salad or Asian Chicken Salad.
More Holiday Favorites
How to Store
Serve: Don't leave Melting Sweet Potatoes at room temperature for more than 2 hours.
Store: Once the dish has cooled, you can cover it in plastic wrap or aluminum foil to store in the fridge for 4-5 days.
Freeze: Alternatively, you can carefully wrap the dish to keep it in the freezer for up to 3 months.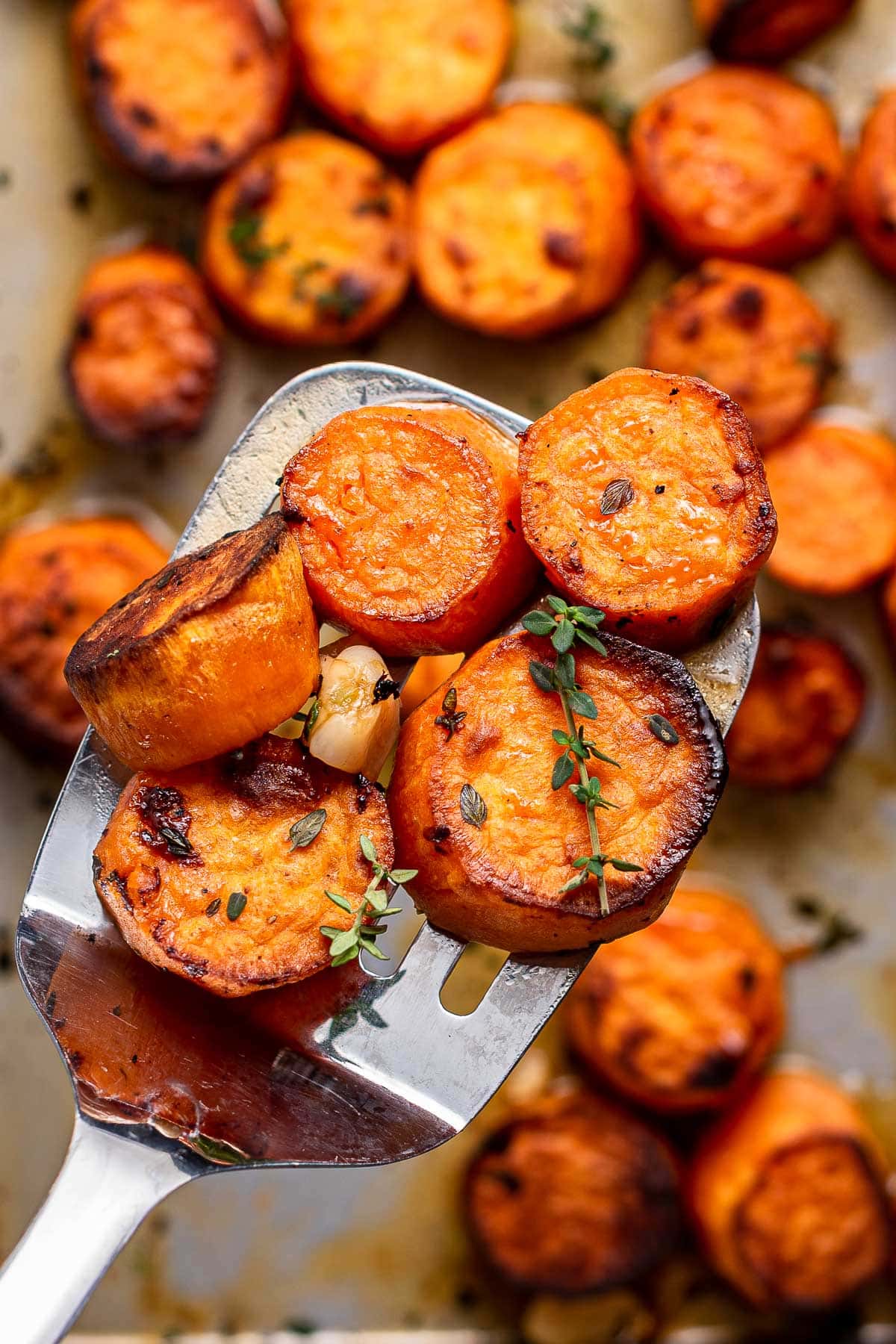 Ingredients
1 1/2

pounds

sweet potatoes

, thin tube shape, peeled and sliced 1 inch thick

4

tablespoons

butter

, melted

1

teaspoon

thyme

, chopped

salt and pepper to taste

1

cup

chicken broth

3

cloves

garlic

, lightly crushed and peeled
Instructions
Toss the potatoes in the mixture of the butter, thyme, salt, and pepper. Arrange in a single layer on a metal baking pan.

Bake in a preheated 500 degree oven on the top-middle rack until golden brown, about

10-15 minutes

per side.

Flip the potatoes again, add the broth, lemon juice and garlic and roast for another

10 minutes

.
Nutrition
Calories:
169
kcal
|
Carbohydrates:
24
g
|
Protein:
2
g
|
Fat:
8
g
|
Saturated Fat:
5
g
|
Polyunsaturated Fat:
0.3
g
|
Monounsaturated Fat:
2
g
|
Trans Fat:
0.3
g
|
Cholesterol:
21
mg
|
Sodium:
268
mg
|
Potassium:
399
mg
|
Fiber:
3
g
|
Sugar:
5
g
|
Vitamin A:
16338
IU
|
Vitamin C:
4
mg
|
Calcium:
42
mg
|
Iron:
1
mg