Candied Hasselback Sweet Potatoes are the perfect sweet side dish for the holidays with brown sugar, cinnamon, nutmeg, and ginger.
This impressive Side Dish is the perfect addition to your holiday table. Serve it up with classic recipes like Cranberry Sauce, Mashed Potatoes, and Green Bean Casserole for the perfect festive meal.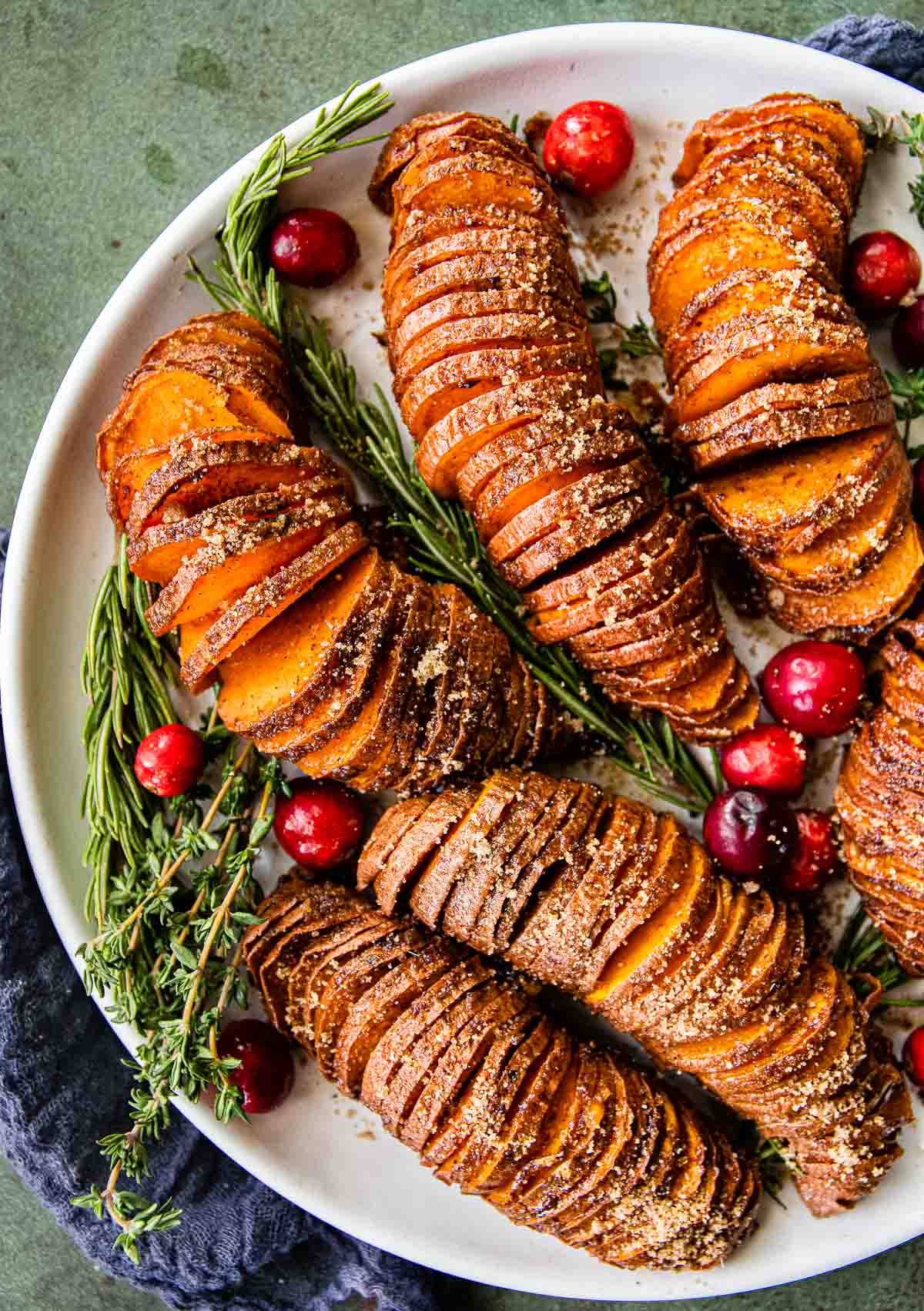 Using sweet potatoes instead of regular potatoes completely changes the Hasselback Potato Recipe. Instead of another savory side dish, Hasselback Sweet Potatoes are perfect to add some variety to your holiday side dishes. The naturally sweet flavor of the potatoes is topped off with butter, brown sugar, and wonderful spices for the most amazing and comforting flavor ever.
Slicing the top of the potato not only makes it into a fancy-looking side dish, it also gives the sweet potato recipe its amazing texture. The buttery potato slices are coated in the candied topping and baked to crispy perfection in the oven. The show-stopping candied potatoes are amazing to serve for a family gathering, dinner party, or holiday meal.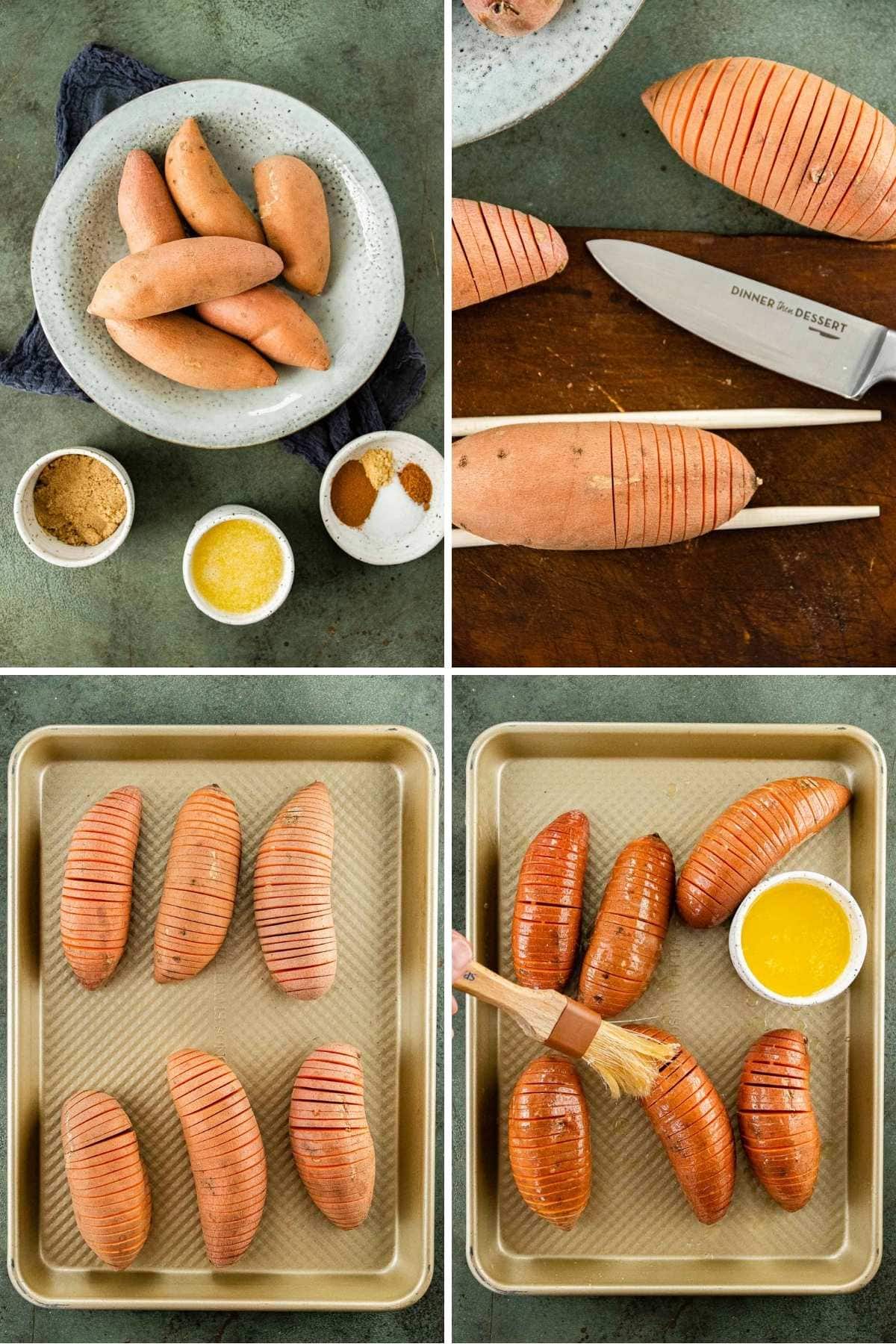 There are so many delicious recipes that you can make using sweet potatoes. For more dish ideas try Slow Cooker Sweet Potato Casserole or Sweet Potato Au Gratin. Their natural flavor is so unique that it always makes a great addition to your favorite dinners. While the holidays are a great time for sweet potatoes, they belong on the menu all year long.
More Sweet Potato Side Dishes
Key Ingredients
Sweet Potatoes: Using sweet potatoes is the perfect way to take a classic savory side dish and give it a delicious candied topping. Be careful to try to buy sweet potatoes of a similar size and shape. Not only will that make sure they look great all together, but it will also help them cook more evenly.
Brown Sugar Mixture: Brown sugar is the most important part of the candied topping. It will actually provide that candy-like coating as it cooks with the butter. Then you will mix in spices like cinnamon, nutmeg, and ginger to add some more warm, comforting, and delicious flavor to the dish. These might be spices you've seen together before. That's because they are a truly classic, ideal blend of flavors.
Candied Hasselback Sweet Potatoes FAQs
Why are they called "Hasselback Potatoes"?
"Hasselback Potatoes" come from a restaurant in Stockholm, Sweden, called "Hasselbacken". This is where they first appeared back in the 1940s, and as a result were named for the restaurant.
How do I know when my Sweet Potatoes are done?
You can test the center of your Hasselback Sweet Potatoes by gently inserting a fork into a center slice. It should be tender, and the fork should pierce the potato easily. Be careful not to poke the fork too far and split the potato down the middle or break off one of the pieces. If you do break off a piece, just place it back in once it is served.
Why are Sweet Potatoes cooked at such a high temperature?
A high temperature is needed for something as dense and starchy as a sweet potato in order to get the caramelization you want for flavor and texture. Caramelized Sweet Potatoes have a sweetness to them that comes from the natural sugars in the potatoes, and that is what gives the sweet potatoes their crispy edges when cooked at a high temperature.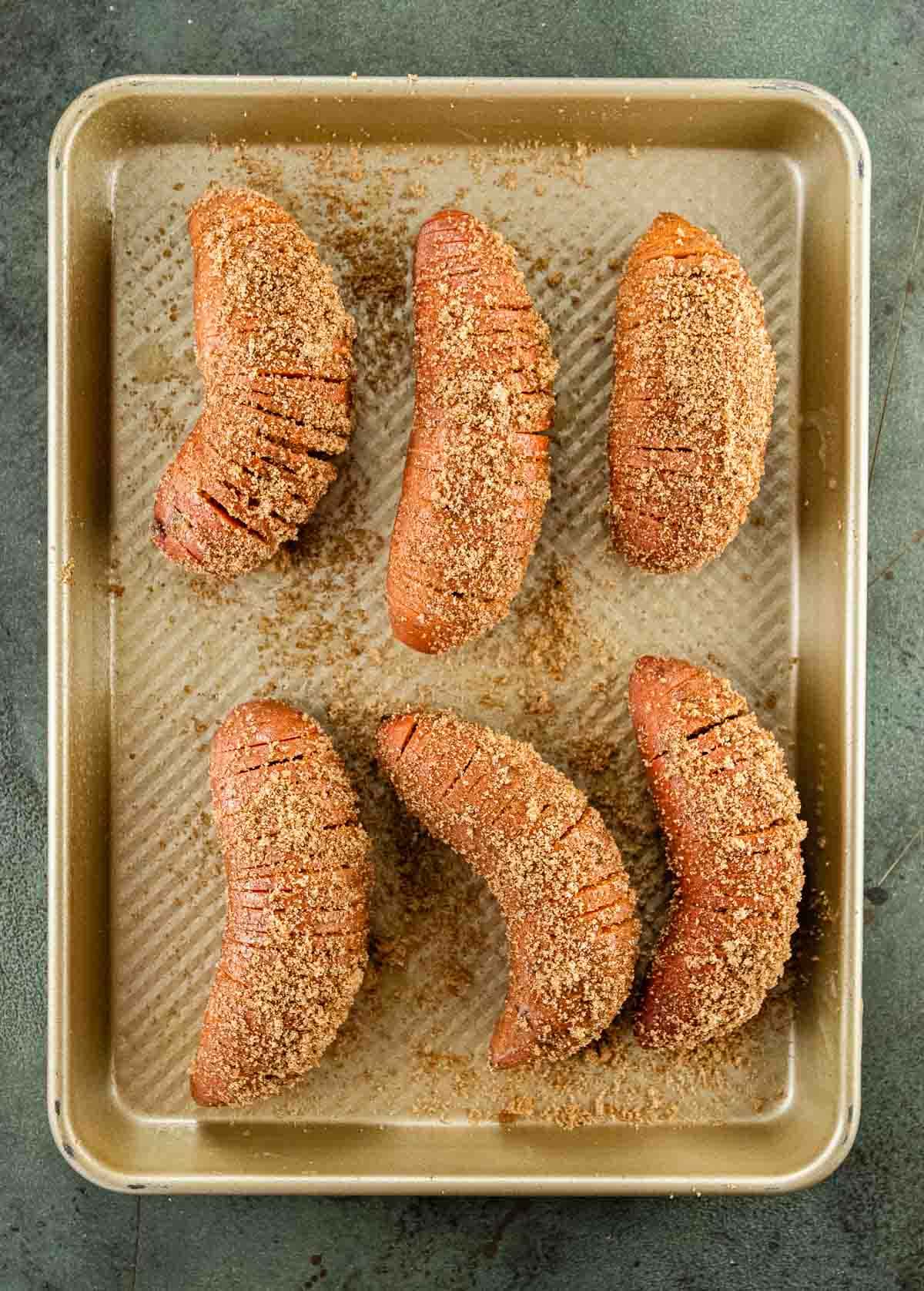 How to Make Candied Hasselback Sweet Potatoes
Prep Time: Preheat the oven to 425 degrees, then scrub the sweet potatoes clean. You can line a rimmed baking sheet with foil for easy cleanup. To make the sweet potato slices, place the potato between two chopsticks. Then slice the top of the potato into 1/8-inch slices with a sharp knife. The chopsticks will stop the knife before you cut all the way through the potato.
Season: Fan the sliced sweet potatoes out slightly, and place them on the prepared baking sheet. Use a pastry brush to brush potatoes with half of the melted butter. Make sure to brush some of it between the slices and not just on top. Mix together the brown sugar, salt, cinnamon, nutmeg, and ginger. Add the sugar mixture to the top of the potatoes.
Cooking Time: Place the dish in the preheated oven and bake for 50-55 minutes. Take the potatoes out and brush them with the remaining butter. Bake for another 10 minutes until you have crispy potatoes.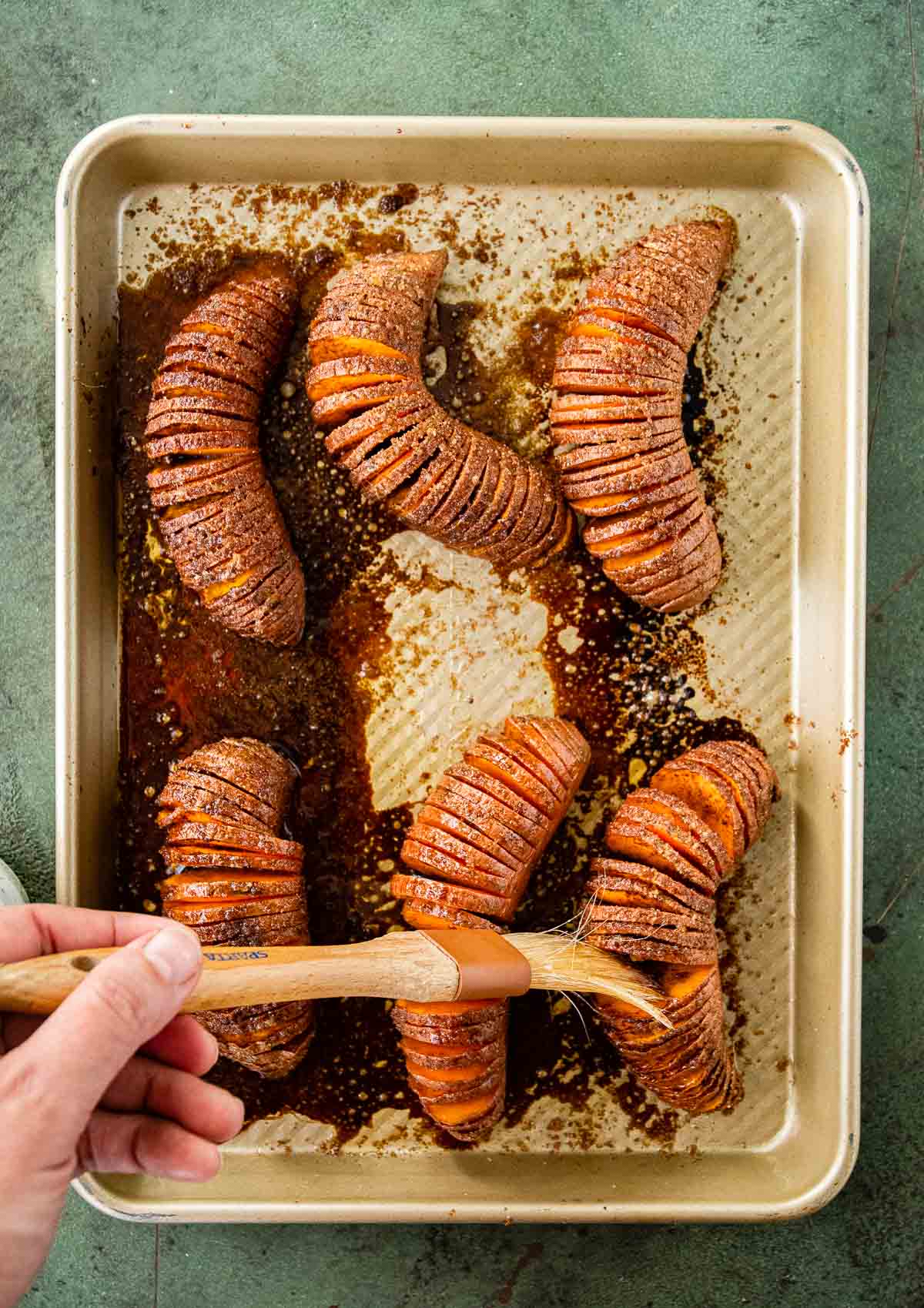 Create a free account to Save Recipes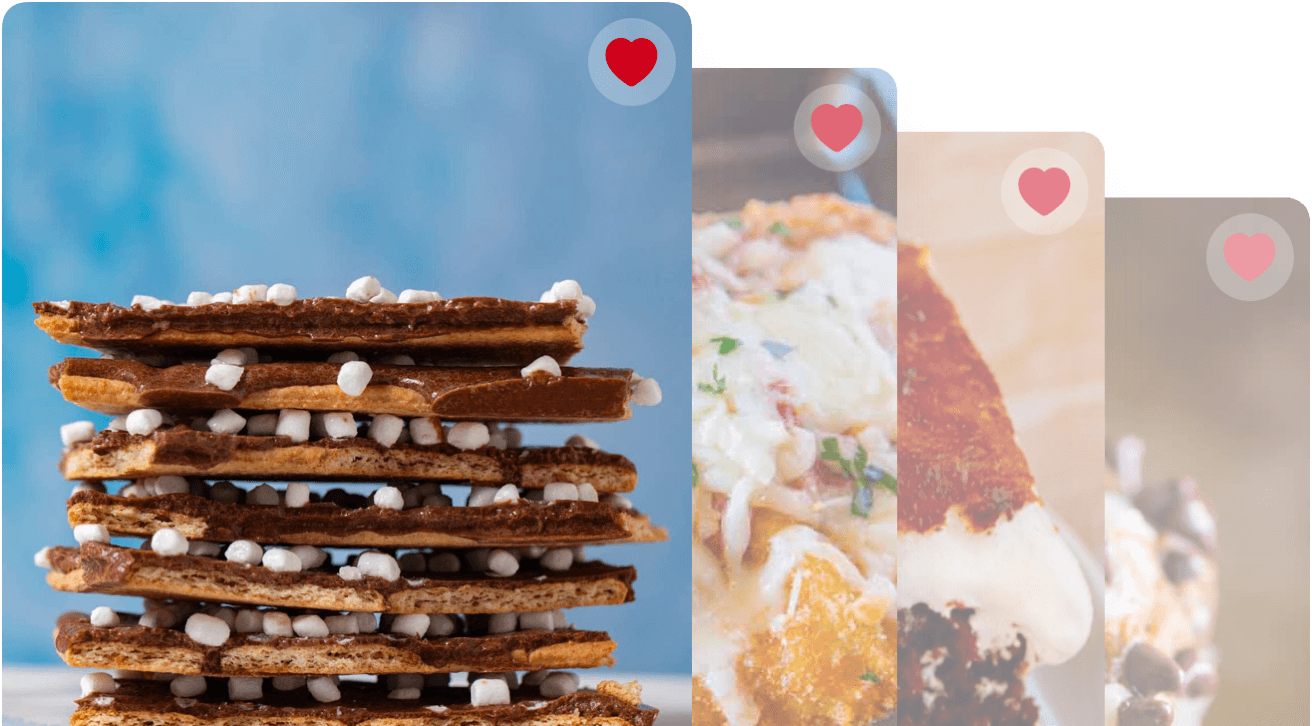 Variations
Bacon Maple Syrup Sweet Potatoes: Instead of brown sugar, you can make candied sweet potatoes with maple syrup. Brush the sweet potatoes with ¼ cup maple syrup. Then top the dish off with bacon bits before serving.
Cranberry Pecan Sweet Potatoes: Mix together ¼ cup pecans and cranberries with the brown sugar topping. Then spoon it all over the sweet potatoes as usual.
Herb Butter: Try brushing simple herb butter over the sliced sweet potatoes. Just mix fresh parsley, rosemary, and chives with the melted butter for an easy and flavorful mixture. 
Serving Ideas for Candied Hasselback Sweet Potatoes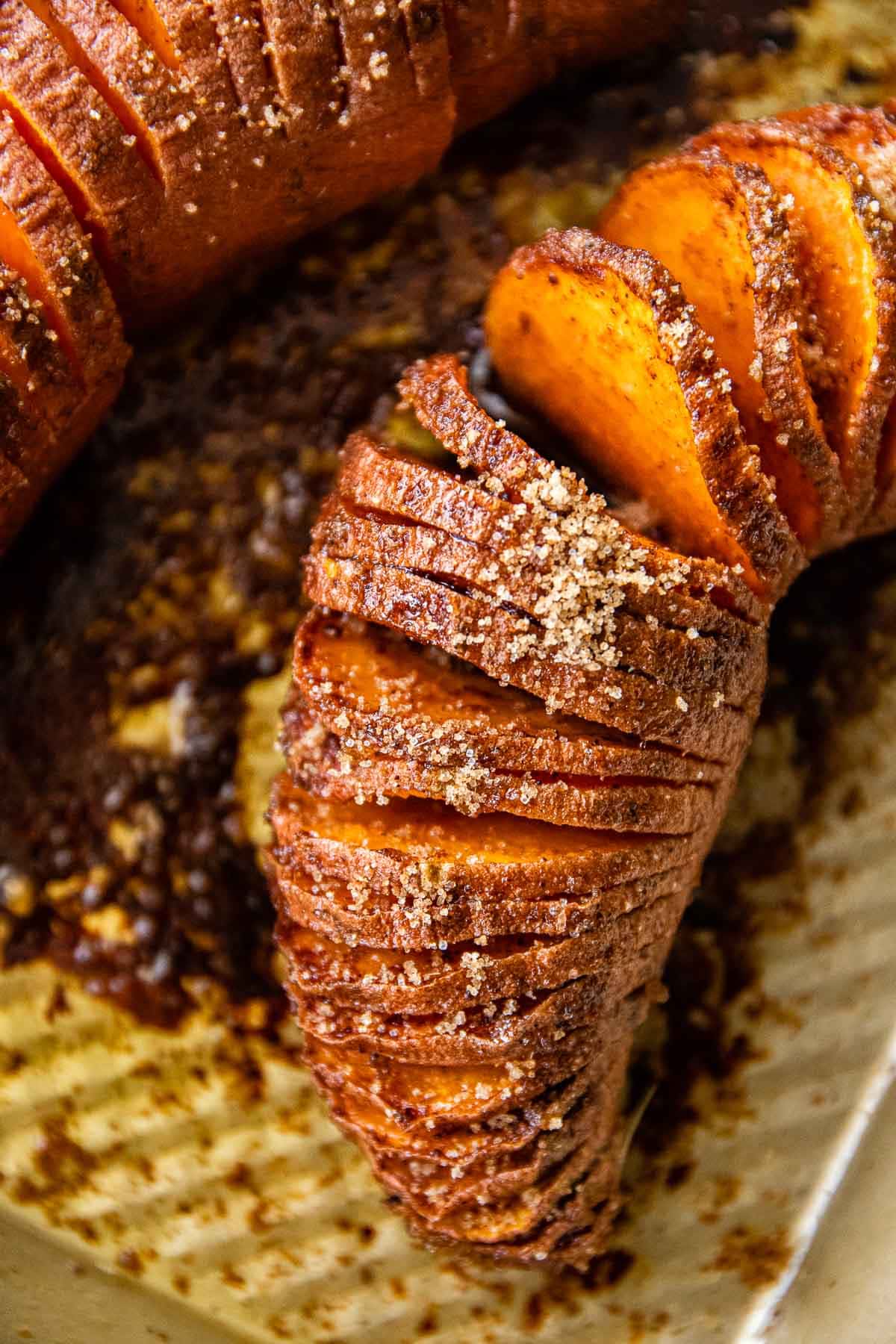 Can Candied Hasselback Sweet Potatoes be made ahead?
Hasselback potatoes are best served warm and fresh out of the oven so they keep those crispy edges on the outside and soft, buttery inside. If you're pressed for time and need to make these ahead, you can seal and store them for a day or two. Reheat in a 425 degree oven to bring them back to that fresh flavor and texture. Brush again with butter when they come out of the oven for the finishing touch. Making them ahead would especially be helpful if you want to enjoy Hasselback Sweet Potatoes with your weeknight dinner.
More Comforting Dinner Sides
How to Store
Serve: Don't leave Hasselback Sweet Potatoes at room temperature for more than 2 hours.
Store: If you have leftovers, you can transfer them to a zip lock bag or an airtight container to store in the fridge for 5 days.
Freeze: Hasselback Potatoes can also be kept frozen for up to 3 months.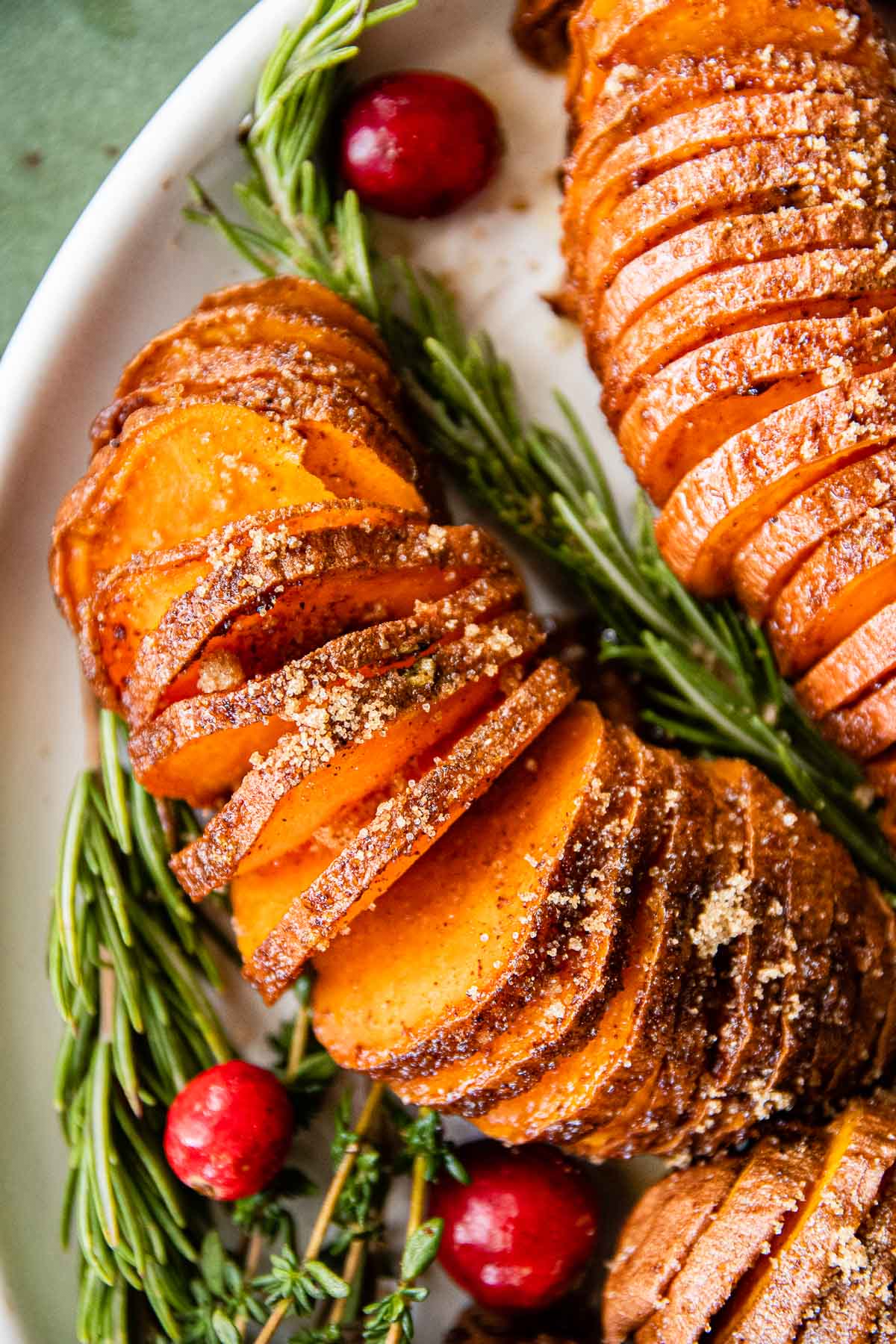 Ingredients
6

sweet potatoes

, small, try to buy similarly sized tube shapes

1/2

cup

unsalted butter

melted

1/4

cup

brown sugar

1/2

teaspoons

kosher salt

1/2

teaspoon

cinnamon

1/4

teaspoon

nutmeg

1/4

teaspoon

ground ginger
Instructions
Preheat oven to 425 degrees.

Using a knife and a set of chopsticks, cut each sweet potato into 1/8" thick slices. To do this place the sweet potato in between the chopsticks and cut until you hit the chopsticks (this prevents the potatoes from being cut all the way through by accident).

Separate the sweet potatoes slightly and place in a 13×9 inch baking dish or on a baking sheet.

Brush on about half the melted butter (taking some time to brush in between the slices too).

Mix together then season the potatoes with brown sugar, salt, cinnamon, nutmeg, and ginger.

Cook for

50-55 minutes

, uncovered.

Remove the sweet potatoes from the oven and brush with the remaining butter. Again, try to brush in between the slices.

Bake again for

10 minutes

until crispy.
Nutrition
Calories:
274
kcal
|
Carbohydrates:
41
g
|
Protein:
3
g
|
Fat:
12
g
|
Saturated Fat:
7
g
|
Polyunsaturated Fat:
0.5
g
|
Monounsaturated Fat:
3
g
|
Trans Fat:
0.5
g
|
Cholesterol:
31
mg
|
Sodium:
242
mg
|
Potassium:
585
mg
|
Fiber:
5
g
|
Sugar:
14
g
|
Vitamin A:
24402
IU
|
Vitamin C:
4
mg
|
Calcium:
61
mg
|
Iron:
1
mg