Easy Mashed Potatoes + 10 Add-In Ideas!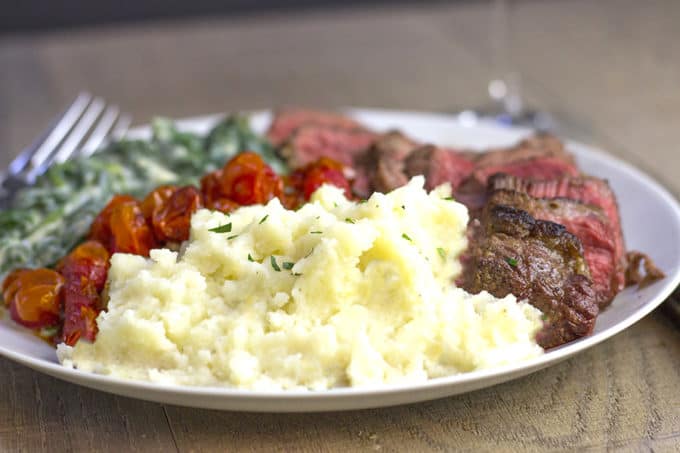 The perfect mashed potatoes to serve alongside your steak, ham or turkey in the holiday season and it makes enough for a crowd! Easily halved for smaller meals, this recipe is simple and open to your favorite add ins! These mashed potatoes are a combination of a classic combination of butter and milk (or go nuts here and use heavy cream or half and half for some of the richest mashed potatoes ever) and a method to making them.
Mashed potatoes are a classic side dish and favorite for the holidays. I can't think of a more quintessential side dish to go along side your turkey, ham or standing ribeye roast and they are so easy to make you'll love how quickly you've made a side dish to feed your large crowd. Just pull out the largest stockpot you've got and peel up the whole five pound bag because you are going to want as much of these mashed potatoes as possible!
For this recipe I used my largest stockpot WITH a basket. Since you have so many potatoes and the pot will be tall, I hate reaching in and searching with my arm in a tall pot (I am a klutz when it comes to burn marks on my arms) so I love the basket. Two options for you are to buy a large fryer, like this one that comes with a basket. Plus since it is a fryer it is going to do double duty for you. I used my All-Clad one I got from our wedding registry but it is totally unnecessary to buy something as expensive as mine. The first link is also great (I own that one too and use it for frying large amounts of french fries) and I use it when I travel to client's locations since I wouldn't want to take my All-Clad one on the road (I pamper my All-Clad pieces, I am determined to pass them down to my kids one day).
MY OTHER RECIPES
You know me, I won't leave well enough alone though and of course I have many ways to make this dish. Since I don't have time to have a 12 days of Mashed Potatoes type countdown to the end of the month, I am going to include a quick list of ways you can make different flavors!
Add your favorite herbs! Fresh minced rosemary or sage would be wonderful.
Brown the butter before adding it in with the warmed milk and add some fresh thyme.
Caramelize onions deeply in the butter and add goat cheese.
Add cheddar and sour cream (1 cup cheese, 1/2 cup sour cream).
Add olive oil instead of butter and mince up as much fresh garlic as you can handle.
Roast a head of garlic and add the whole head of it to the potatoes as you mash them (don't worry roasted garlic has a sweet, muted flavor).
BACON!
Add your favorite baked potato toppings, cheese, bacon, chives and sour cream.
Add spinach and artichokes to a food processor. Add 1/2 a cup of each to the potatoes with 2 cups of Parmesan Cheese.
Add jerk or cajun seasoning to kick up the spice and flavor easily.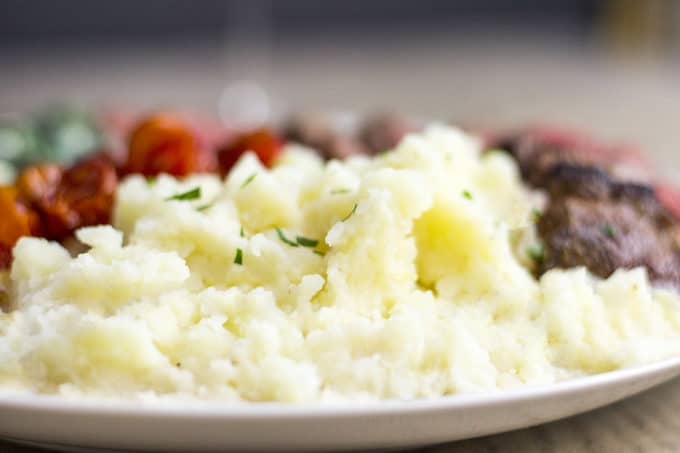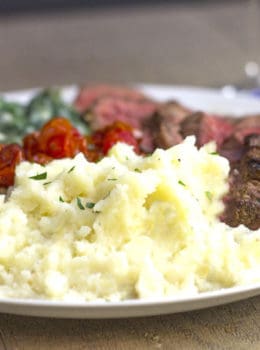 Perfect & Easy Mashed Potatoes + 10 Add-In Options
The perfect mashed potatoes to serve alongside your steak, ham or turkey in the holiday season and it makes enough for a crowd! Easily halved for smaller meals, this recipe is simple and open to your favorite add ins!
Prep Time 20 minutes
Cook Time 20 minutes
Total Time 40 minutes
Ingredients
5 pounds potatoes (either Russet or a mix with Russet and Yukon)
8 tablespoons butter (1 stick)
2/3 cup whole milk
salt and pepper to taste
Instructions
Peel and quarter potatoes and put in cold water until ready to cook (up to 4 hours ahead of time).

In a large stockpot add 1 gallon of water and 2 tablespoons of salt.

Bring to a boil and add the potatoes to the water, boiling for 15-20 minutes.

You should be able to pierce the potatoes very easily, like warm butter.

Add the milk and butter together in a microwave safe bowl (I used a large glass measuring cup) and heat until steaming (took me 1:30 minutes).

Drain the potatoes and put them back into the pot on low heat.

Cook over low heat until they stop steaming and dry out.

Mash them for a chunky texture or rice them if you want them perfectly smooth.

Add in the warm butter/milk mixture in thirds until you reach the consistency you like. If you are not serving the potatoes immediately, reserve any leftover liquids as you may need them when you reheat the potatoes.
Recipe Notes
This post contains affiliate links.
Adapted from
NYTimes Cooking
.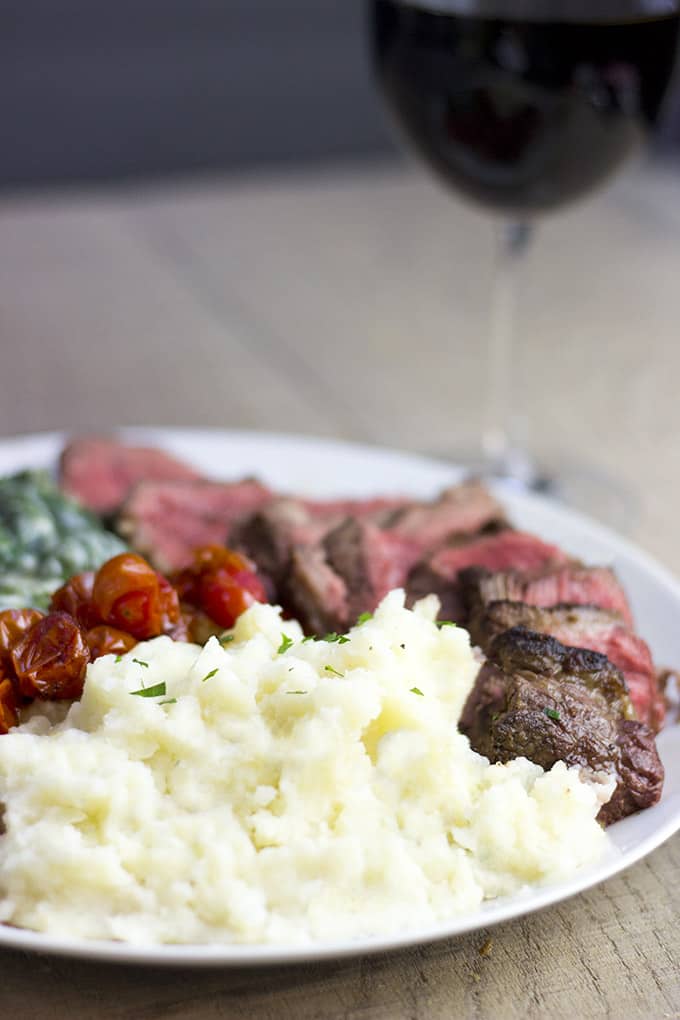 Dinner, then Dessert, Inc. owns the copyright on all images and text and does not allow for its original recipes and pictures to be reproduced anywhere other than at this site unless authorization is given. If you enjoyed the recipe and would like to publish it on your own site, please re-write it in your own words, and link back to my site and recipe page. Read my disclosure and copyright policy. This post may contain affiliate links.