Loaded Mashed Potatoes are creamy and buttery, topped with cheddar cheese, bacon, and scallions. Perfect for making ahead.
These Loaded mashed Potatoes are perfect for family dinners, holiday feasts, or just when you need a little food for the soul. Check out other must-try Side Recipes such as the timeless Beef Stroganoff, the hearty Chicken Pot Pie, and the ultimate comfort dish, Baked Ziti.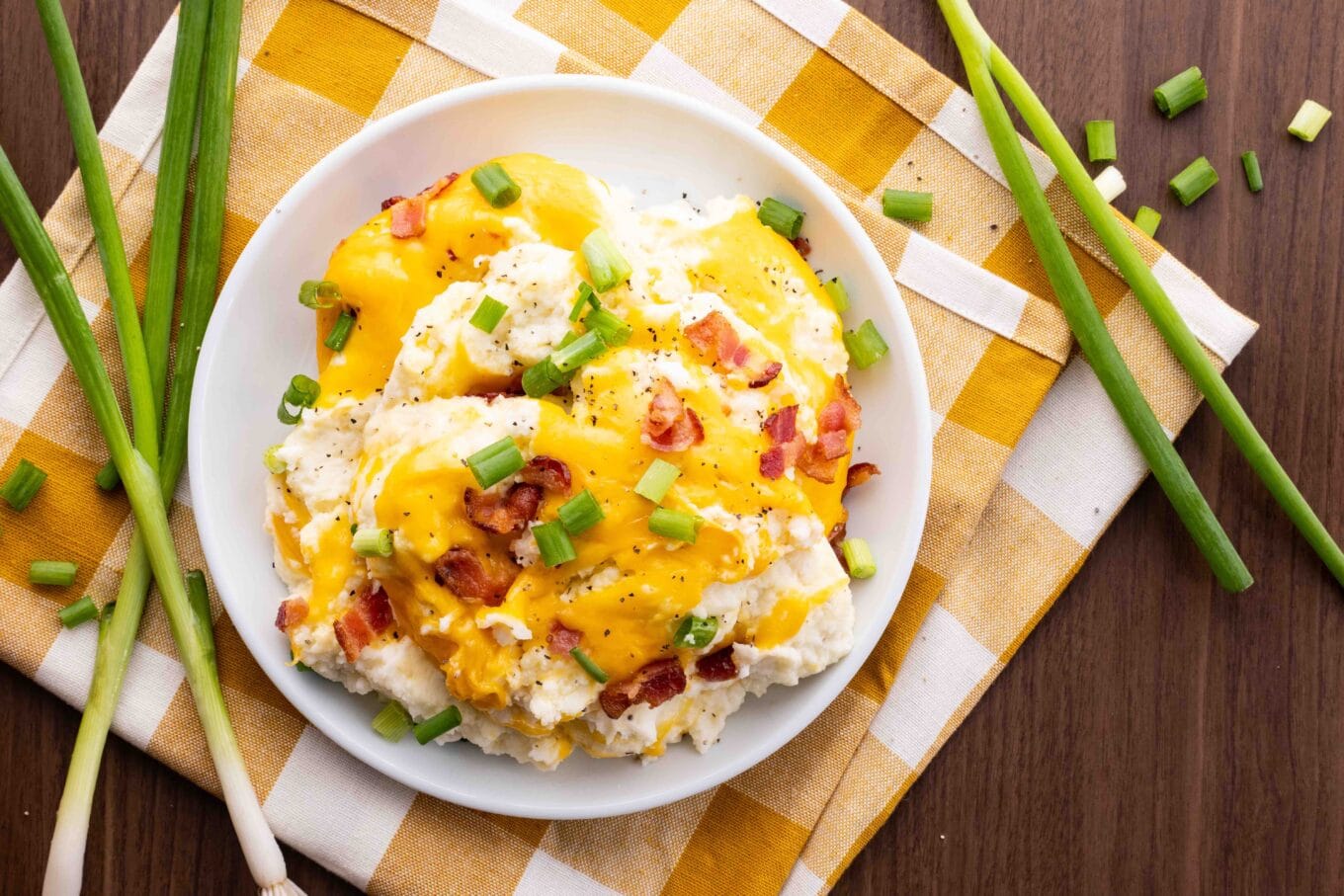 Imagine a dish that brings together the fluffy, starchy goodness of potatoes, the rich decadence of butter and sour cream, the sharp tang of cheddar cheese, and the smoky crunch of bacon. That's precisely what you get with the Ultimate Loaded Mashed Potatoes. Like a potato casserole, each bite of this creamy, savory dish is a delightful experience that will make you want to reach for more.
The beauty of the Ultimate Loaded Mashed Potatoes lies in its simplicity. The ingredients are everyday staples that when combined, create a dish that is nothing short of extraordinary. Whether it's the earthy russet potatoes that provide the perfect base, the generous dollop of butter and sour cream that give it a luxurious creaminess, or the sprinkling of sharp Cheddar cheese and crunchy bacon that elevate it to a whole new level, each component has a role to play in this symphony of flavors.
What makes this dish even more special is its versatility. It's the perfect side dish to serve at family dinners, BBQs, holiday feasts, and potlucks. It pairs well with just about anything – be it a juicy steak, grilled chicken, or a heaping portion of veggies. Moreover, this dish has a unique ability to turn an ordinary meal into a special one, making it a must-have in your culinary repertoire. For another delightful potato-based dish, take a look at the Twice Baked Potatoes.
At its core, the Ultimate Loaded Mashed Potatoes is about celebrating the humble potato. But what makes it truly 'ultimate' is the generous baked potato toppings of Cheddar cheese and crispy bacon. It's like taking the comfort of classic mashed potatoes and amplifying it by a hundredfold. This dish isn't just food; it's a warm, delicious hug on a plate!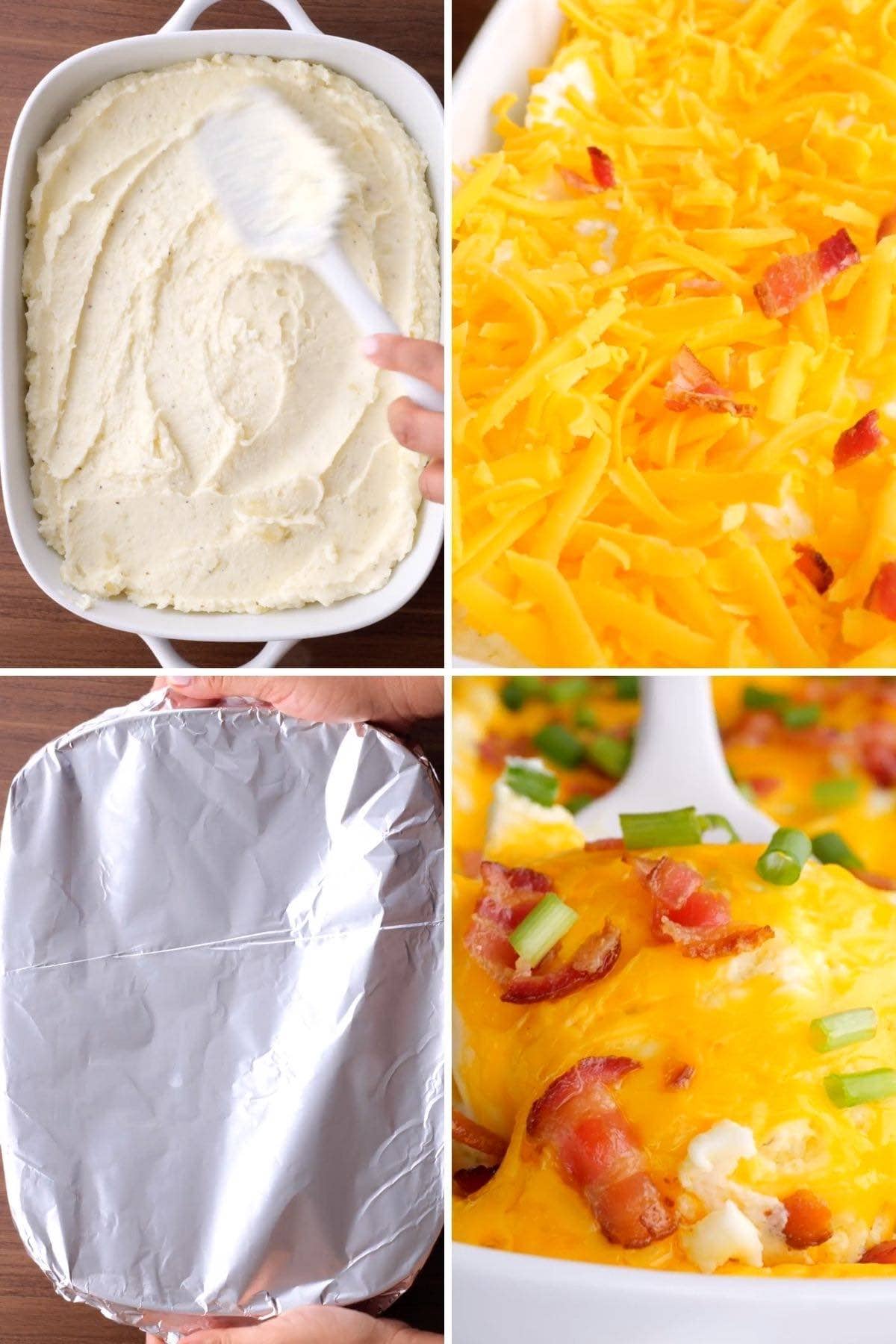 How to Make Ultimate Loaded Mashed Potatoes
Creating the Ultimate Loaded Mashed Potatoes at home is a straightforward process that will reward you with a dish that's incredibly delicious and comforting. What's more, this dish allows for a great deal of customization, so you can tweak it to suit your personal preferences. Check it out!
Step One: Start by preheating your oven to 375 degrees. Then, peel and cut the russet potatoes into 1-inch cubes and place them into a large pot. Add enough cold water to cover the potatoes and season with salt. Bring the pot to a boil, then reduce it to a simmer and cook the potatoes for about 20 minutes.
Step Two: Once the potatoes are cooked to fork tender, drain them and put them back into the pot. Add the butter and sour cream, and mash them well with a Potato Masher. Make sure to incorporate the remaining salt and pepper at this stage.
Step Three: Next, scoop the mashed potatoes into a 9×13 Baking Dish. Layer the top with shredded cheddar cheese and crispy bacon bits, ensuring that each scoop will get an equal part of these mouth-watering toppings.
Step Four: Cover the casserole dish with foil and bake for 5-10 minutes or until the cheese is fully melted. Finish the dish by garnishing it with sliced green onions for a burst of freshness. And voila! Your Ultimate Loaded Mashed Potatoes is ready to be served.
Easy Baked Chicken Breasts w/ a Balsamic Pan Sauce
Frequently Asked Questions
What kind of potatoes should I use for making mashed potatoes?
Russet potatoes are the preferred choice for making mashed potatoes. They have a high starch content, which results in a fluffier and creamier texture when mashed.
Can I use a different type of cheese for this recipe?
Absolutely! While this recipe calls for cheddar cheese, you can experiment with other types of cheese. For example, Gouda or Monterey Jack could add a unique flavor to the dish.
Is there a vegetarian option for this dish?
Yes, you can make this dish vegetarian by omitting the bacon or replacing it with a vegetarian alternative such as tempeh bacon or vegetarian sausage crumbles.
Can I add other toppings to the mashed potatoes?
Of course! This recipe is versatile and customizable. You could add other toppings like sautéed mushrooms, caramelized onions, or even some roasted garlic for an added punch of flavor.
What can I serve with these loaded mashed potatoes?
Loaded mashed potatoes can be paired with a variety of main dishes. They go well with meats like steak, roast chicken, or grilled pork chops. Alternatively, they could be served alongside a hearty salad for a lighter meal.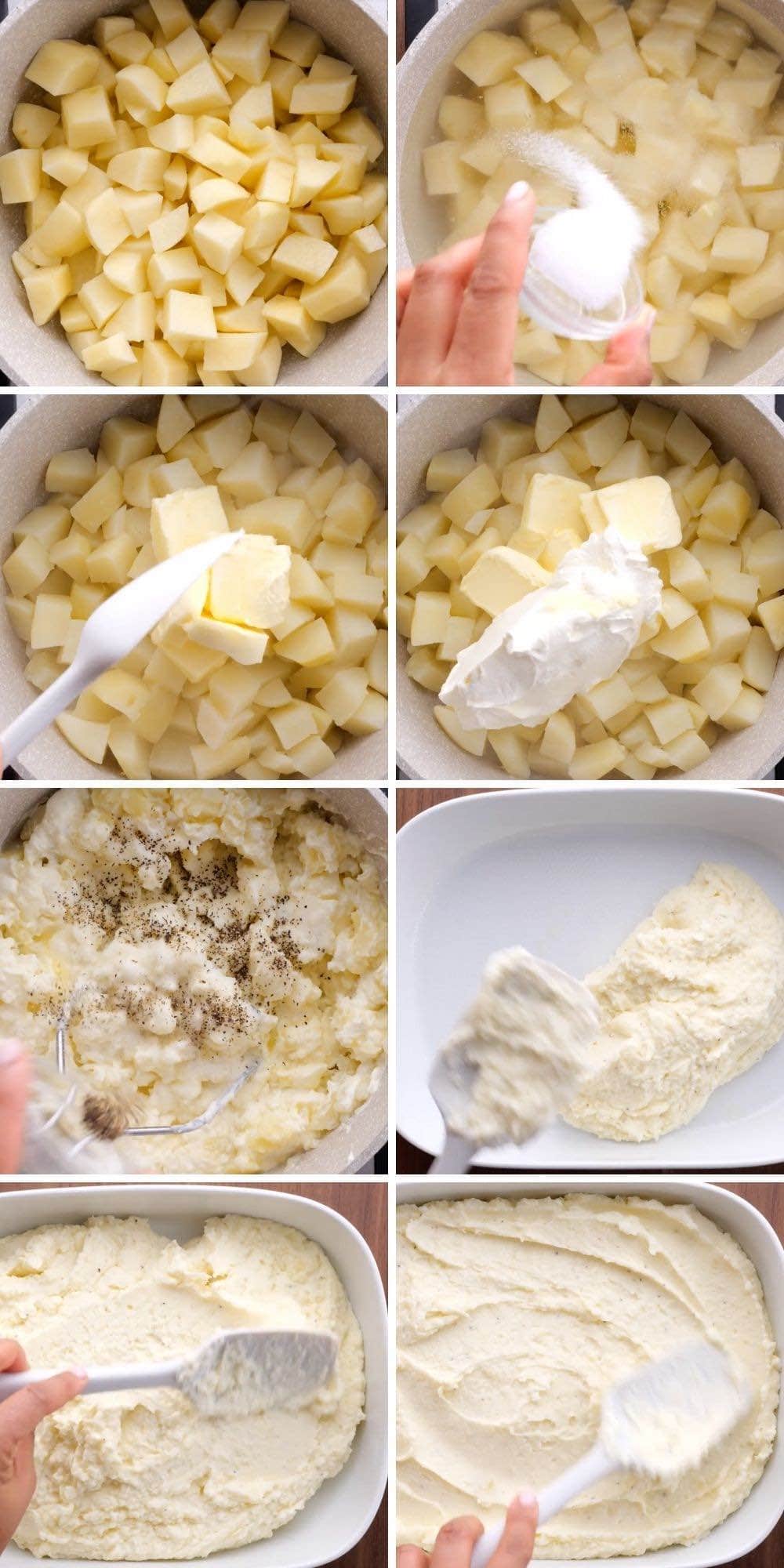 Create a free account to

Save Recipes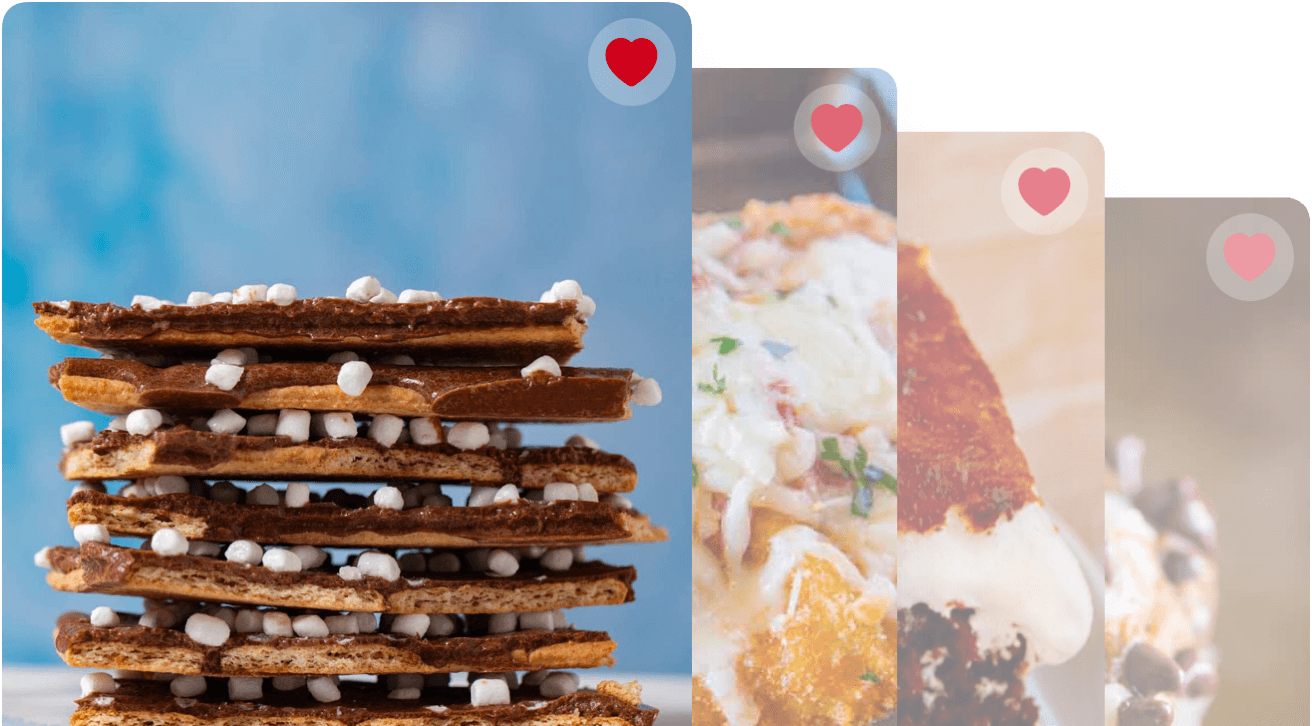 Key Ingredients in Ultimate Loaded Mashed Potatoes
The Ultimate Loaded Mashed Potatoes is a simple and easy-to-make dish that uses everyday ingredients to create a flavor-packed comfort meal. Let's dive deeper into some of these key ingredients and their roles in the dish.
Russet Potatoes: These potatoes, known for their starchy content, are perfect for mashing. They absorb the butter and sour cream well, resulting in a creamy and fluffy mash.
Bacon: The bacon adds a smoky and salty flavor to the dish, perfectly balancing the creamy potatoes. Moreover, the crunch of the bacon contrasts the soft texture of the mashed potatoes.
Sour Cream and Butter: These two ingredients add a rich, tangy creaminess to the mashed potatoes, making them extra decadent.
Cheddar Cheese: Cheddar cheese brings a sharp, tangy flavor to the dish, providing a nice contrast to the smooth, creamy potatoes. It also adds a wonderful gooey texture when melted.
Can Ultimate Loaded Mashed Potatoes Be Made Ahead of Time?
Yes, this dish can be made ahead of time. Prepare the mashed potatoes and assemble the dish with the toppings. Before you're ready to serve, just pop it into the oven until the cheese is melted. If you're storing it in the fridge, let it come to room temperature before baking.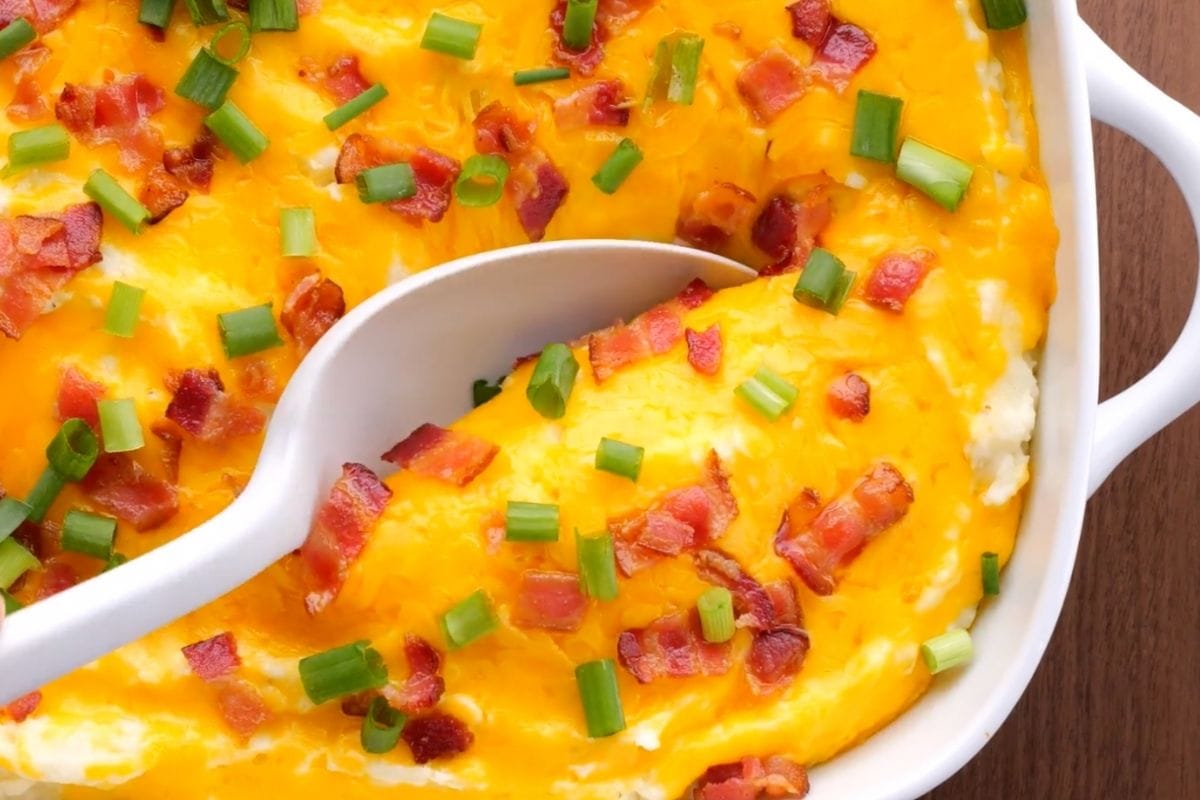 Substitutions in Ultimate Loaded Mashed Potatoes
Bacon: For a vegetarian version, you can substitute the slices bacon with vegetarian bacon or sautéed mushrooms for that umami flavor.
Cheddar Cheese: If you don't have cheddar on hand or want to try something different, other cheeses such as Monterey Jack, Gouda, or mozzarella also work great in this recipe.
Sour Cream: Greek yogurt can be used as a healthier substitute for sour cream while still providing that creamy texture.
Variations on Ultimate Loaded Mashed Potatoes
The beauty of the Ultimate Loaded Mashed Potatoes lies in its versatility. Here are a few variations you could explore.
Garlic and Herb Loaded Mashed Potatoes: Add some minced garlic and your choice of fresh herbs (like rosemary or thyme) to the mashed potatoes for an added layer of flavor.
Spicy Loaded Mashed Potatoes: Spice up your dish by adding some chopped jalapenos or a dash of hot sauce for a kick.
Cheesy Loaded Mashed Potatoes: Add an extra dose of cheese by mixing in some Parmesan or cream cheese into the mashed potatoes before baking.
How to Store Ultimate Loaded Mashed Potatoes
Serve: Once prepared, the Ultimate Loaded Mashed Potatoes should be served immediately. However, if there are any leftovers, they should be refrigerated within two hours to prevent any bacterial growth.
Store: Leftover mashed potatoes can be stored in an airtight container in the refrigerator for up to 5 days. When ready to eat, reheat in the oven or microwave until warmed through.
Freeze: Mashed potatoes can be frozen for up to a month. To reheat, thaw in the refrigerator overnight and reheat in the oven or microwave. Be aware that the texture may change slightly upon thawing.


Ingredients
8

ounces

bacon

, or more to taste

3

pounds

russet potatoes

, peeled and cut into 1" cubes

1

stick

unsalted butter

1

container (16 oz)

sour cream

4

teaspoons

kosher salt

, divided

1/2

teaspoon

coarse ground black pepper

8

ounces

shredded Cheddar cheese

1/4

cup

green onions

, sliced
Instructions
Preheat the oven to 375 degrees.

Put the potatoes into a large pot and cover with water and 2 teaspoons of the salt.

Bring to a boil then reduce to a simmer and cook for

20 minutes

.

Drain the potatoes and put them back into the pot with the butter and sour cream.

Mash them well and add in the remaining salt and the pepper.

Scoop the potatoes into a 9×13 casserole dish and top with the cheese and bacon.

Cook the potatoes for

5-10 minutes

covered with foil, or until the cheese is fully melted.

Garnish with green onions before serving.
Notes
If making ahead for a party, stop at the step before it goes into the oven. If refrigerated in between, cook the potatoes for 15-20 minutes covered.
Nutrition
Serving:
1
g
|
Calories:
469
kcal
|
Carbohydrates:
31
g
|
Protein:
14
g
|
Fat:
32
g
|
Saturated Fat:
17
g
|
Cholesterol:
78
mg
|
Sodium:
1636
mg
|
Potassium:
801
mg
|
Fiber:
2
g
|
Sugar:
1
g
|
Vitamin A:
680
IU
|
Vitamin C:
10.3
mg
|
Calcium:
234
mg
|
Iron:
1.8
mg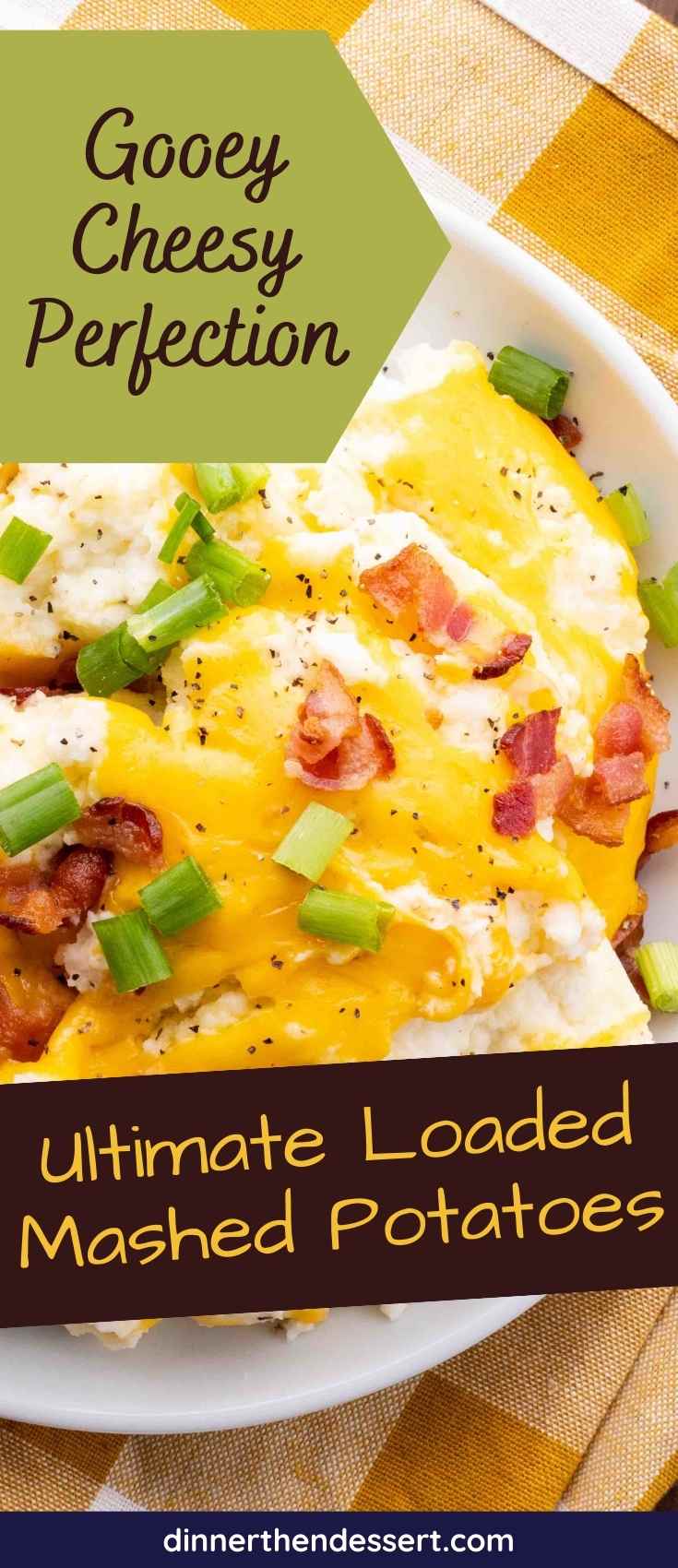 Photos used in a previous version of this post.