Sweet Potatoes au Gratin is the dish you need to add to your Thanksgiving spread. Sweet potatoes baked in heavy cream with cinnamon, nutmeg, and parmesan.
Think of this delicious Side Dish as the perfect combinations of Potatoes au Gratin and Candied Yams. It has the sweetness from the yams with classic holiday spices, plus it's all baked in a cheesy cream.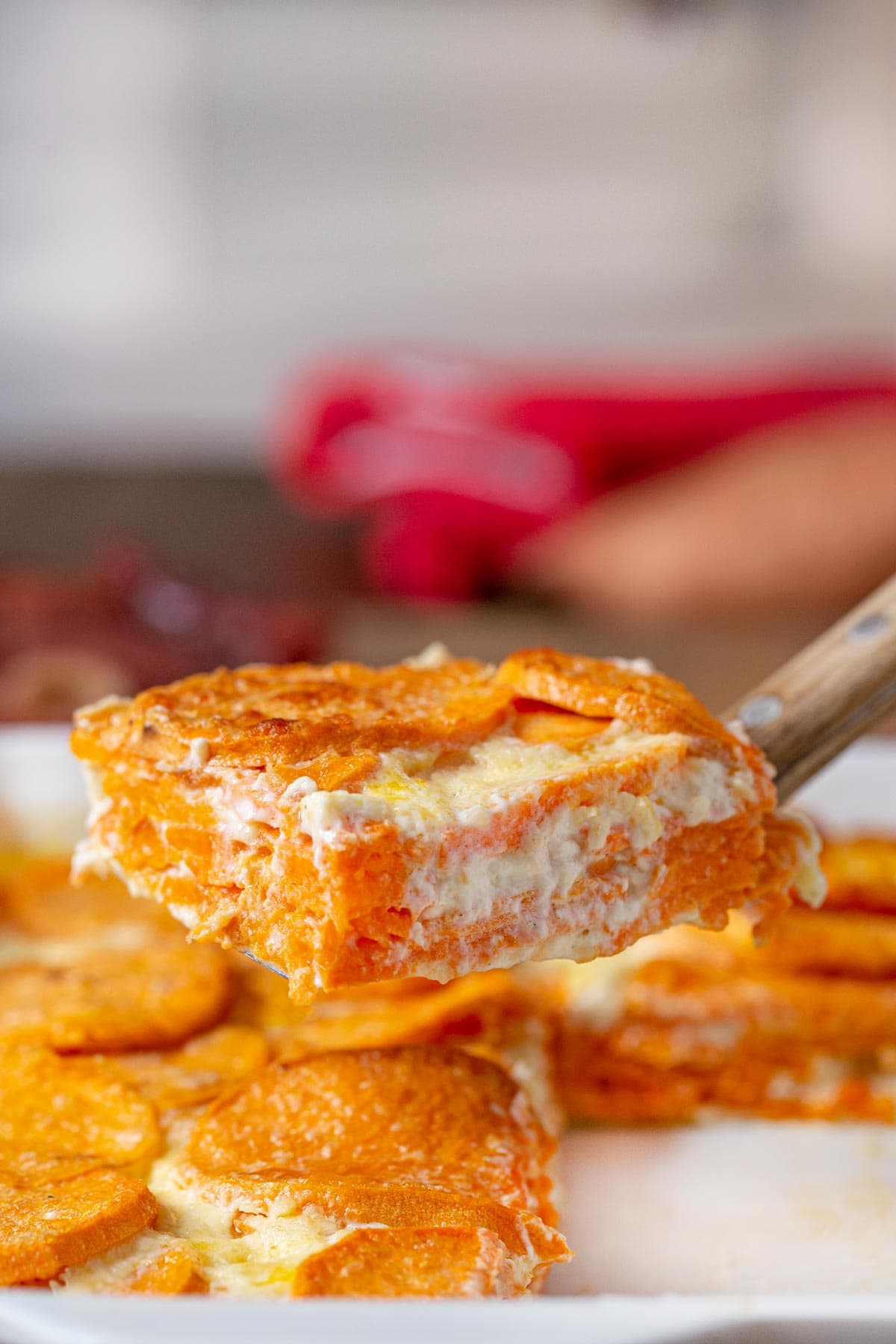 SWEET POTATOES AU GRATIN
"Au Gratin" is a French term that refers to something that is cooked with a browned topping. Usually, it's made with a topping of bread crumbs or, as in this case, cheese. It perfectly describes these sweet potatoes that are smothered in a creamy parmesan mixture and cooked to perfection.
You may have heard the term before for Brussel Sprout Gratin, another easy side dish perfect for the holidays. Just like with these sweet potatoes, the crisp and tender Brussel Sprouts are covered in melty parmesan cheese that just melts in your mouth.
This recipe is a sweet variation on classic Potatoes Au Gratin. Using yams instead of typical potatoes makes this dish a surprising and wonderful combination of sweet and savory. Heavy cream, egg, salt, cinnamon, nutmeg, black pepper and Parmesan cheese are all whisked together in a custard that you pour over the sweet potatoes. While in the oven, the sweet potatoes become tender and absorb the rich flavors around them.
Serve your cheesy sweet potatoes with your Thanksgiving or Christmas dinner for a side dish that's sure to be a favorite. This recipe is also easy enough you don't have to save it for a big holiday dinner. Sweet Potatoes au Gratin are ready for the oven in just 10 minutes. Toss them together and cook yourself some wonderfully cheesy sweet potatoes for a regular weeknight dinner.
MORE HOLIDAY SIDE DISHES
HOW TO MAKE SWEET POTATOES AU GRATIN
Prep: Preheat your oven to 375 degrees and spray your baking dish with a non-stick spray, so they're both ready once the potatoes are.
Sweet Potatoes: Peel 2 large sweet potatoes and slice them to about ¼ inch thick circles. Add them in layers to your prepared baking dish.
Custard: Add heavy cream, egg, salt, cinnamon, nutmeg, black pepper and Parmesan cheese to a large bowl. Whisk all the ingredients together until smooth. Pour the custard evenly over the sweet potatoes.
Bake: Cook your Sweet Potatoes au Gratin uncovered for 45-50 minutes.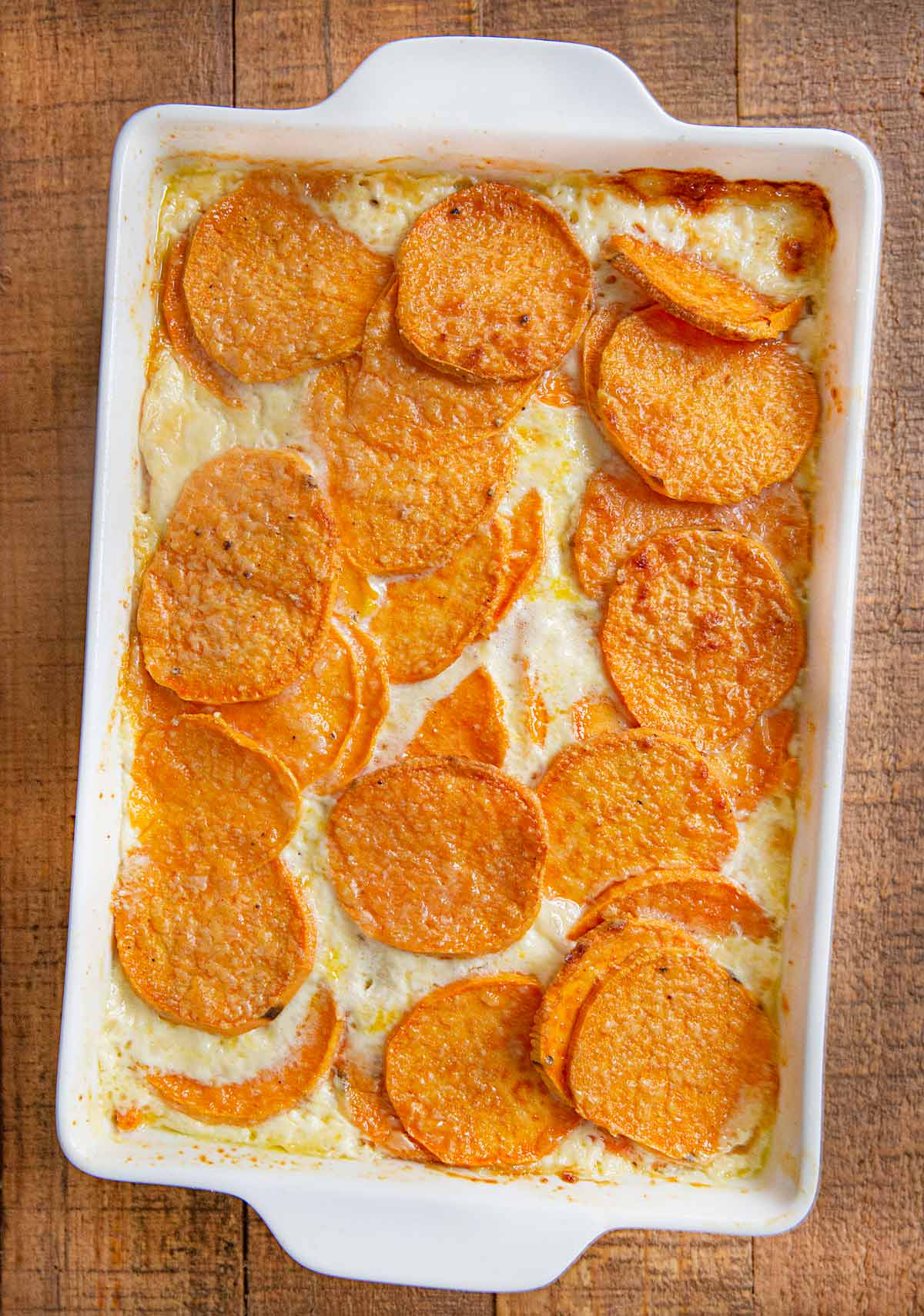 Create a free account to Save Recipes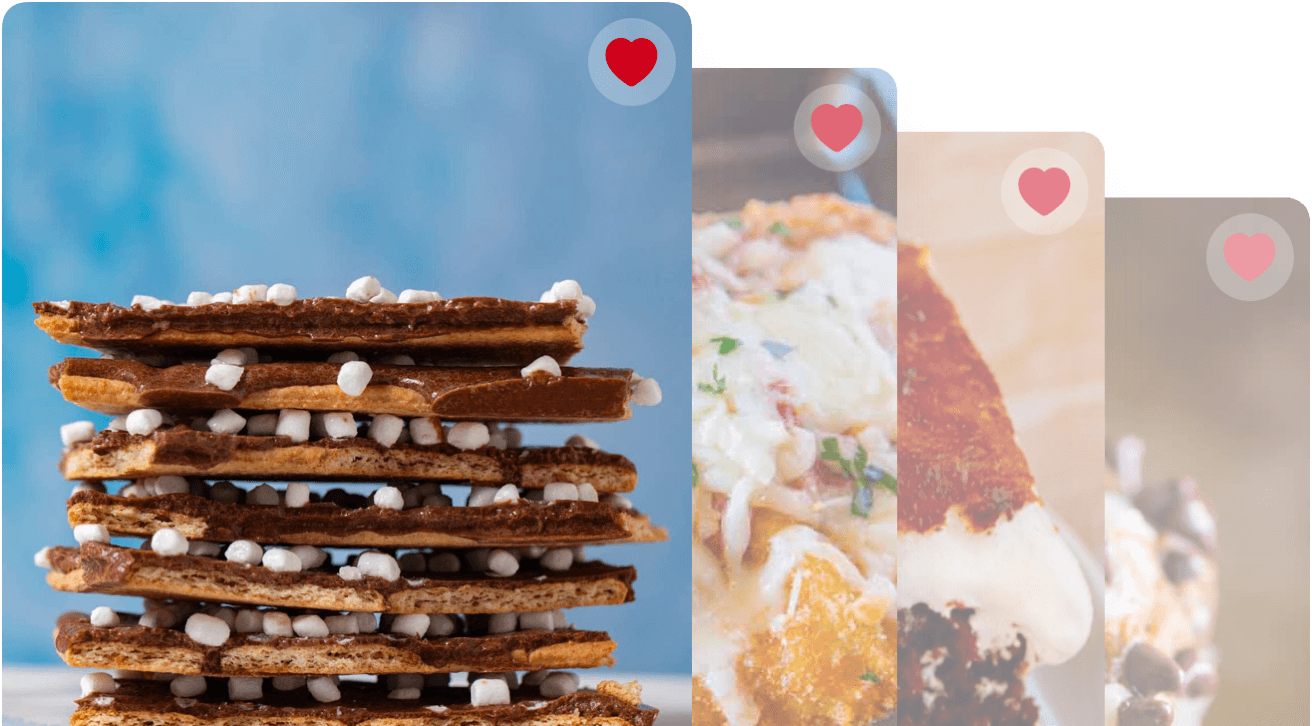 VARIATIONS ON SWEET POTATOES AU GRATIN
Cheese: You can make this recipe even cheesier by adding in some shredded cheddar or Gruyere. Prepare the custard as usual and pour it over the sweet potatoes. Then sprinkle the extra cheese over the top of the Sweet Potatoes Au Gratin.
Breadcrumbs: Au Gratin classically refers to a cheese or breadcrumb topping. To make a breadcrumb topping for your sweet potatoes mix some Panko breadcrumbs with melted butter and parmesan cheese. Sprinkle the mixture over the top before baking.
Bacon: To take your Gratin to the next level add in some bacon bits. You can mix the cooked bacon pieces in with the custard, then pour it over the sweet potatoes and bake.
HOLIDAY MAIN DISHES TO SERVE WITH SWEET POTATOES AU GRATIN
HOW TO STORE SWEET POTATOES AU GRATIN
Serve: Once you've baked Potatoes au Gratin, they're best fresh from the oven. Don't leave them out at room temperature for more than 2 hours.
Store: Let the potatoes cool to room temperature before storing them. Cover the baking dish in tin foil or plastic wrap, or move the Potatoes Gratin to an airtight container. They'll keep well in the fridge for 3-5 days.
Freeze: Properly sealed in an airtight container, your potatoes will keep well in the freezer for up to 3 months.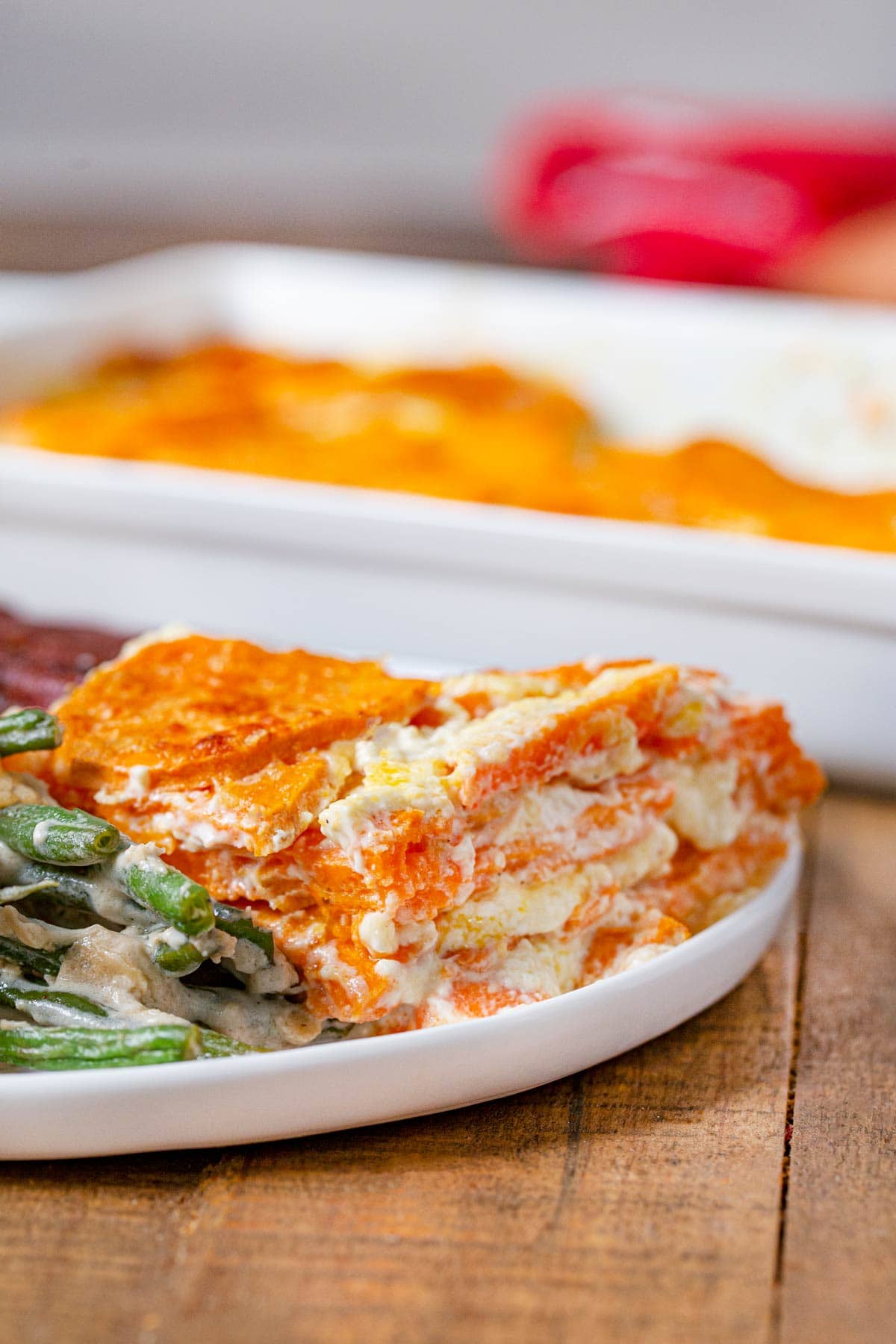 Ingredients
2

cups

heavy cream

1

large

egg

1

teaspoon

kosher salt

1/4

teaspoon

cinnamon

1/4

teaspoon

ground nutmeg

1/8

teaspoon

coarse ground black pepper

1/4

cup

Parmesan cheese

, grated

2

large

sweet potatoes

, peeled and sliced ¼ inch thick
Instructions
Preheat oven to 375 degrees and spray an 8x8 baking dish with vegetable oil spray.

In a large bowl whisk together the heavy cream, egg, salt, cinnamon, nutmeg, black pepper and Parmesan cheese until smooth.

Add sweet potatoes to your baking dish and carefully pour the custard over the sweet potatoes.

Bake, uncovered, for

45-50 minutes

.
Nutrition
Calories:
300
kcal
|
Carbohydrates:
19
g
|
Protein:
4
g
|
Fat:
23
g
|
Saturated Fat:
14
g
|
Cholesterol:
107
mg
|
Sodium:
419
mg
|
Potassium:
340
mg
|
Fiber:
3
g
|
Sugar:
4
g
|
Vitamin A:
12992
IU
|
Vitamin C:
2
mg
|
Calcium:
105
mg
|
Iron:
1
mg