Roast Turkey made with seasoned butter and broth and basted for over 4 hours for an incredibly tender meat and crispy skin that is PERFECT for your holiday dinner!
Turkey isn't just a recipe in this house, it's a passion. And we LOVE making a large bird because it means leftover recipes like this Leftover Turkey Casserole and Turkey Moist Maker Sandwich (MY SANDWICH!) and Chicken Tetrazzini (but with Turkey).
Roast Turkey
Roast Turkey is the traditional turkey recipe you grew up watching your parents make on Thanksgiving or Christmas for all your family who has come over to enjoy a delicious meal with you, with a few added tricks to bring out the most juicy, tender turkey breast you've ever had on a turkey in your life.
Not to mention the incredibly crispy skin that's been roasting in the oven, being basted with buttery broth and drippings all day long. My guests have told me that this is the most perfect roast turkey they've ever had!
Roasting and basting a turkey might sound intimidating, but it's not that bad, I promise! All you need is the bird, a few key ingredients, a roasting pan, and a good meat thermometer. This is restaurant quality roasted turkey we're talking about here. The only turkey recipe you will EVER need.
The key to juicy meat is all in the butter and the roasting/cooking time. You can add herbs like thyme, rosemary, or even lemon wedges to this roast turkey recipe. Fresh thyme adds a really nice flavor and helps season the gravy, but I like to keep it simple with just salt and pepper.
The butter is trapped under the skin, so it's basically basting the turkey from the inside the entire cooking time. And what you get is a Thanksgiving turkey that's practically falling off the bone good.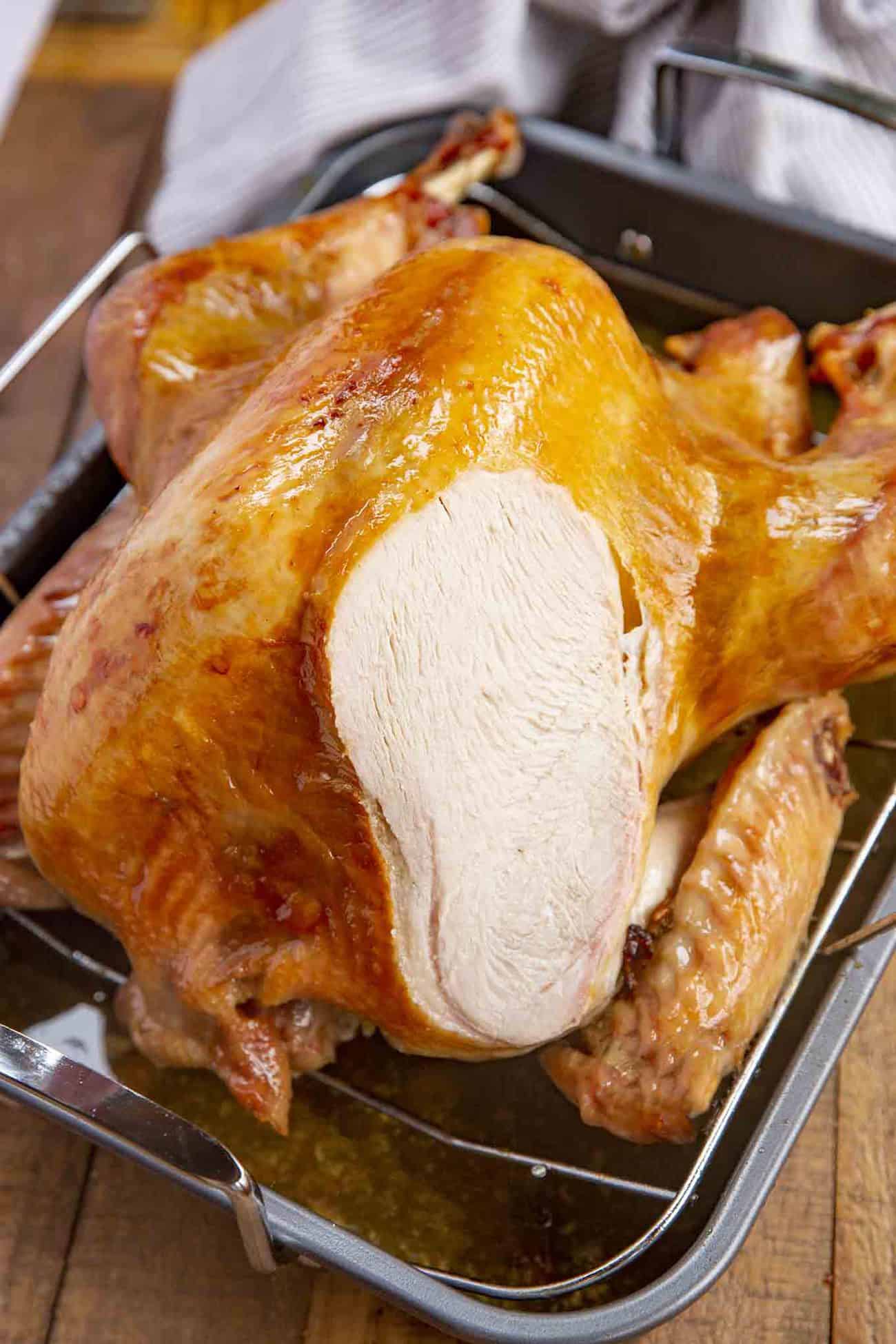 HOW LONG DO YOU COOK A TURKEY IN THE OVEN?
How long you cook this turkey recipe in the oven depends on what size turkey you have, and if you're using stuffing or not. The USDA recommends you roast an unstuffed turkey (16-18 pound) for about 4 hours, or until the thigh reaches an internal temperature of 165 degrees F (check it with a thermometer).
If you are using stuffing, add another ½ hour to the roast time. You can buy an oven safe thermometer that stays in your turkey while it cooks in most stores now.
Check out my Slow Cooker Stuffing cooked outside of the turkey, cutting your roasting time down. It takes about 4 hours to cook in the slow cooker, so make sure you start it early. I would start around the same time you put the turkey in to roast.
Let me also take a moment to please lobby for you to cook your stuffing on the side. Cooking stuffing inside the turkey makes everything take longer to cook because of the density of the turkey being stuffed. Plus with salmonella concerns it is much safer to cook the stuffing on the side.
DO I PUT WATER IN THE BOTTOM OF THE ROASTING PAN FOR TURKEY?
Add 2 cups of chicken stock to the bottom of the roasting pan initially, and replace as needed while the turkey cooks. This helps keep the bird from drying out, and you can also use the pan juices for gravy later when your roasted turkey is removed from the pan. You can skip this step if you used brine, because your brined turkey will require less time in the roasting pan.
My Turkey Brine recipe guarantees the most tender and juicy turkey breast you've ever had with less cook time!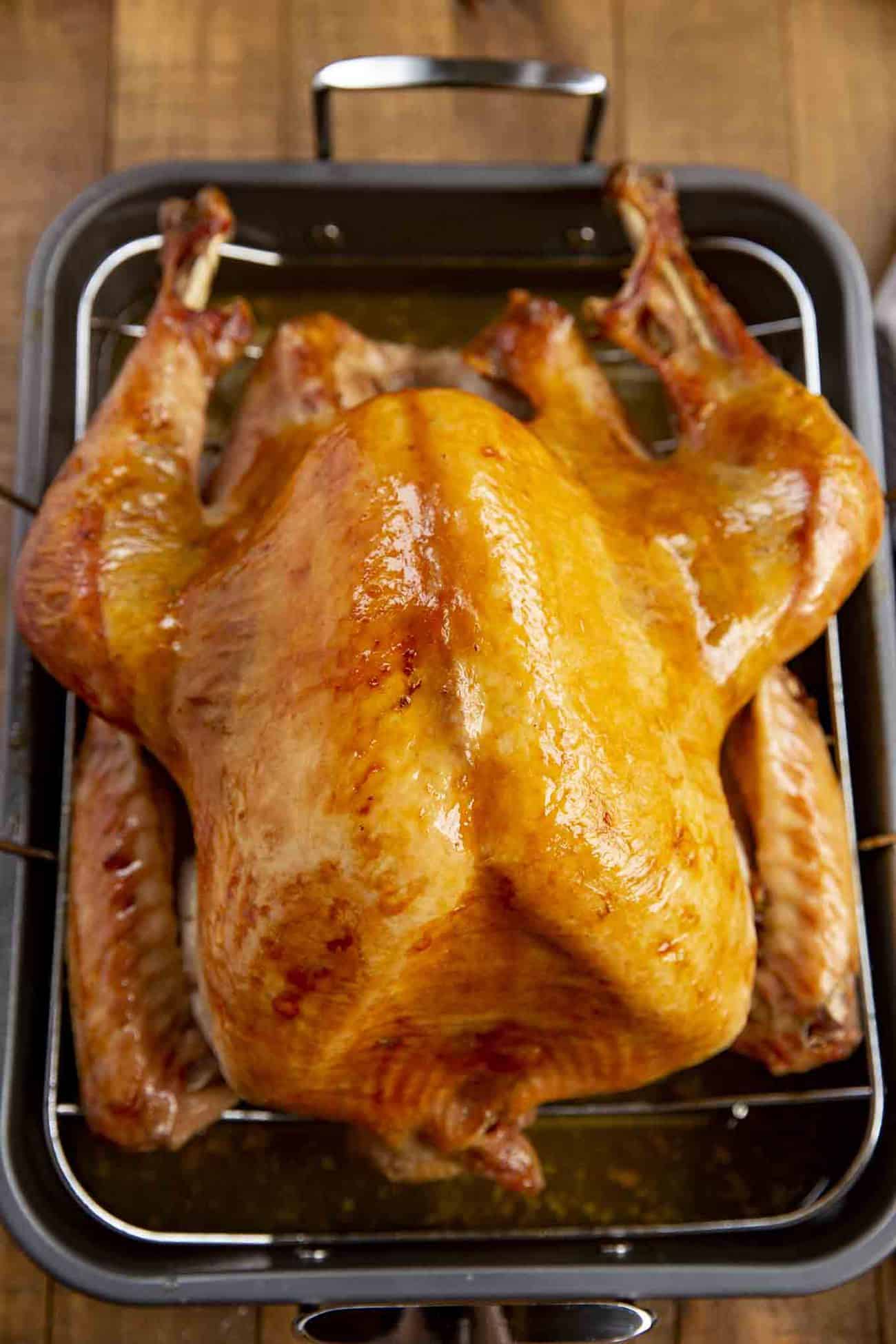 Create a free account to

Save Recipes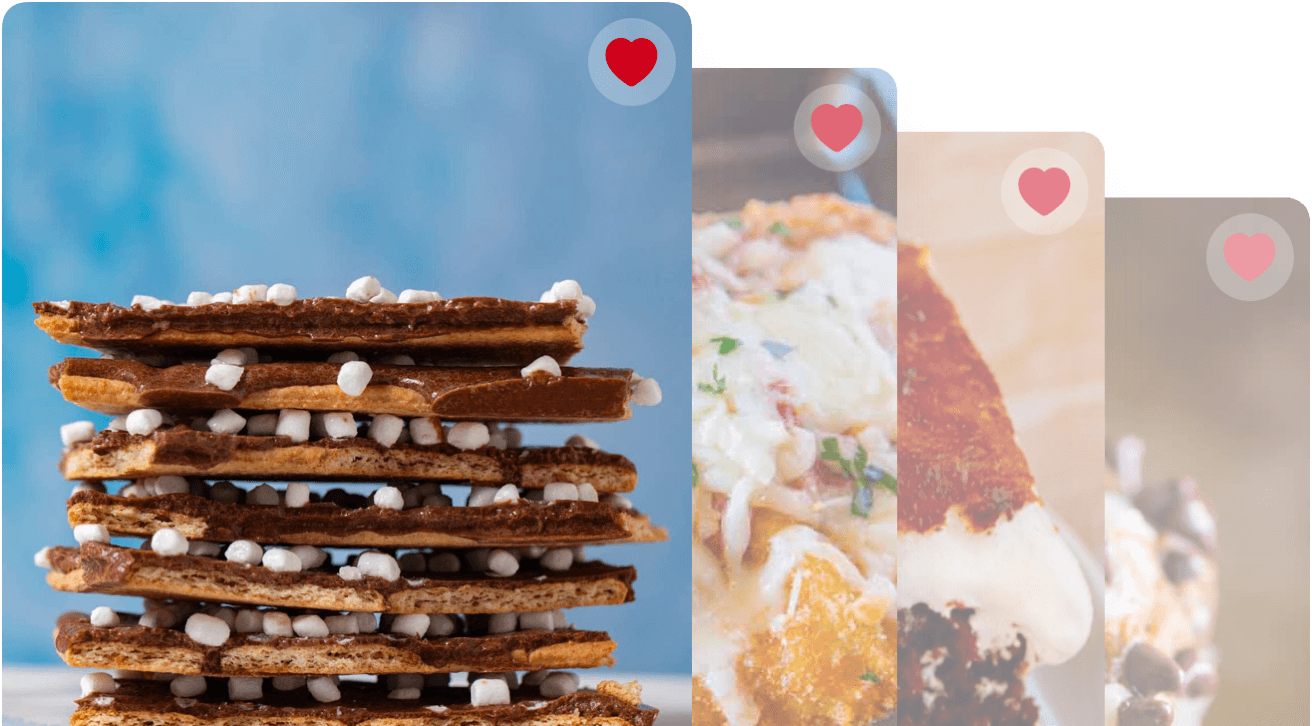 WHAT IS THE BEST TEMPERATURE TO COOK A TURKEY?
325 degrees is the optimal temperature for roasted turkey. Any higher and you might be left with dry turkey breast that cooked too quickly on the outside. Don't rely on the pop up indicator that comes with a bird, use an instant-read thermometer instead.
Your turkey cooking times will depend on what pound turkey you have. Try not to open the oven door and just let it roast, unless you're basting, so the oven temperature doesn't drop.
MORE HOLIDAY RECIPES AND SIDE DISHES
TIPS FOR COOKING A MOIST ROAST TURKEY IN THE OVEN
If you want to keep your Thanksgiving turkey moist, the most important thing is not to overcook it. You can use an oven safe meat thermometer and measure your cooking time, to make sure the roasted bird doesn't go too far.
For extra moist meat, don't cook stuffing inside the bird. It'll increase your cooking time, and the white meat may get dry while the middle is still coming to temperature.
Let the roast bird rest out of the oven for at least 20 minutes after roasting. Just like a good steak, letting your roast turkey rest helps to lock in the juices. Just loosely cover with a piece of tinfoil while you prepare the gravy from the drippings on the bottom of the pan.
If you're not up for basting, consider learning how to make turkey brine, which can be prepped beforehand. It basically self-bastes while it's roasting!
Remember to remove the giblets before cooking the turkey. These can be used to flavor gravy later.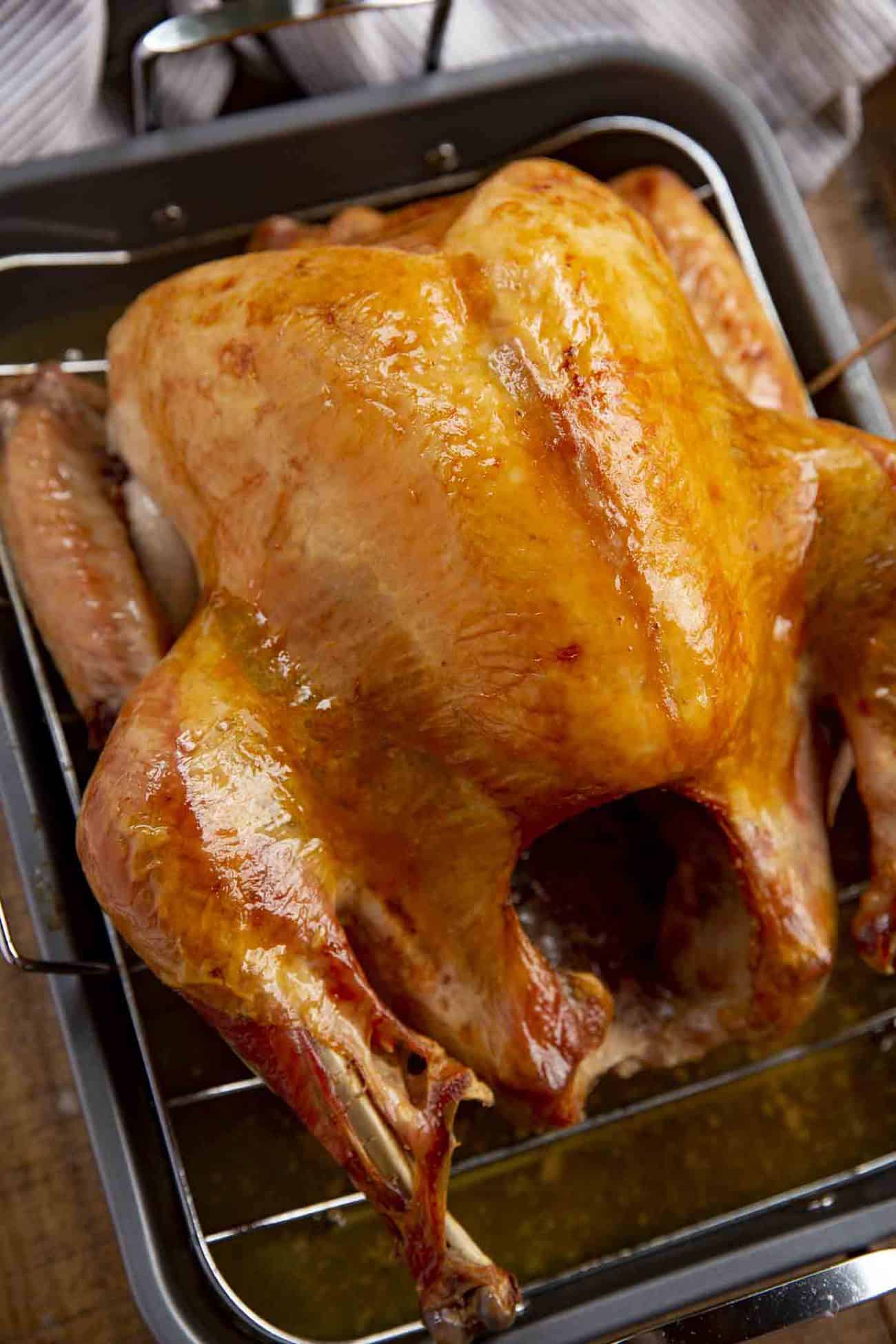 Ingredients
1

cup

unsalted butter

softened

2

teaspoons

kosher salt

1

teaspoon

coarse ground black pepper

1

turkey

16-18 pounds, patted dry

8

cups

chicken stock
Instructions
Preheat the oven to 325 degrees and remove all but the bottom rack and add the turkey to a large roasting pan with a rack.

Remove the bag of giblets and pat the turkey dry inside and out.

Mash the butter, salt and pepper in a small bowl and lift from under the turkey with the back of a spoon to separate the skin while adding in small chunks of the butter and then patting the skin back down to help spread the butter under the skin all over the bird (being careful not to pierce or tear the skin as the butter will ooze out.

Pour 2 cups of chicken stock in the pan and cover with foil and set a timer to go off every

30 minutes

, basting each time.

After

2 hours

remove the foil and continue cooking and basting for an additional

2 hours

or until the thigh is cooked to 165 degrees (this is vital for food safety) and let rest for

20 minutes

before serving.
Notes
Note: click on times in the instructions to start a kitchen timer while cooking.
Nutrition
Calories:
238
kcal
|
Carbohydrates:
2
g
|
Protein:
24
g
|
Fat:
14
g
|
Saturated Fat:
6
g
|
Cholesterol:
96
mg
|
Sodium:
412
mg
|
Potassium:
313
mg
|
Sugar:
1
g
|
Vitamin A:
285
IU
|
Vitamin C:
0.2
mg
|
Calcium:
16
mg
|
Iron:
1.1
mg