Deep-Fried Turkey doesn't have to be intimidating. This is the easiest, quickest, most delicious deep fried turkey recipe ever!
If you have been on the fence about frying a turkey, but want a change from a Traditional Roast Turkey, this is the recipe for you. We've got tips and tricks to keep you safe while making Fried Turkey your family will rave about. Plus deep frying your turkey frees up your oven to create other Thanksgiving and Holiday Recipe Favorites!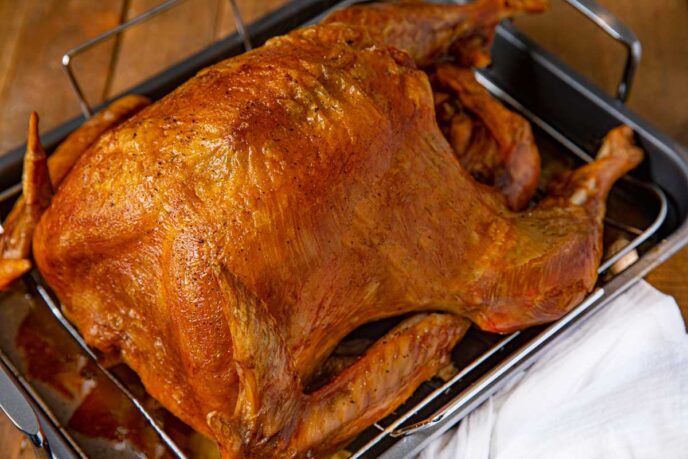 DEEP-FRIED TURKEY
Guys seem to enjoy hanging out while frying a turkey in the backyard or on the driveway. I guess there's something challenging about slowly lowering a 14-16 pound turkey on a hook into hot peanut oil bubbling on a propane burner to fry a turkey,
Did you know that you can deep fry two turkeys in the time it would take to bake one turkey? Deep Fried turkey dark meat is flavorful and white meat is remarkably juicy. The skin may not have the same crispy taste from baked turkey recipes but you won't be disappointed.
Even though working with hot oil may seem daunting, the 30-40 short minutes it will take for your turkey to cook and the rave reviews you will receive from family and friends is well worth the effort.
DEEP-FRIED TURKEY TIPS AND TRICKS
Deep Fried Turkeys get a bad rap and can be very intimidating (and potentially dangerous) if you don't know what you are doing. If you follow our tips and tricks below you will be able to safely fry your turkey and enjoy every delicious bite without a call to the Fire Department.
Never deep fry a frozen turkey (seems obvious, right?) in hot oil. This is the most important tip. Do not skip fully thawing your turkey.
Place the propane burner on a flat surface as far away from the burner as the connections will allow for frying turkey.
Remove the pop-up timers and other plastic paraphernalia before frying your turkey. Bonus this saves on the hassle of dealing with them!
Select a safe distance from the house, garage, or anything that could easily catch fire to place your deep fry equipment for frying turkey.
Deep-Fried Turkey Fryer Equipment:
Fryer base with a hose and regulator to hook up to a propane tank
Heavy 30 quart pot for fryer.
Deep-fry thermometer (instant read meat thermometer, long-pronged).
Turkey Fryer Gloves for protection.
Paper towels to wipe down your heavy pot and pat turkey dry.
Either a basket or turkey stand and hook to get it out of the fryer.
Fire extinguisher nearby just to be safe.
MORE HOLIDAY MAIN DISH RECIPES
HOW TO MAKE DEEP FRIED TURKEY
Place 30 quart turkey frying pot over a propane burner outside.
Place turkey onto the hook.
Measure the amount of oil needed: Lower the turkey into the pot and add water until the turkey is just covered (this should be at least 4 inches below the top of the pot).
Measure the water to know the amount of oil needed.
Dry your metal pot well and allow the turkey to dry.
Add the measured amount of oil to your pot.
Heat oil to 250 degrees F before lowering the turkey back into the pot.
Bring the oil temperature to 350 degrees F.
Fry for 30 to 40 minutes (Internal temperature needs to reach 155 degrees before removing).
Let the turkey rest, covered, for 30 minutes before carving (turkey will reach 165 degrees during rest).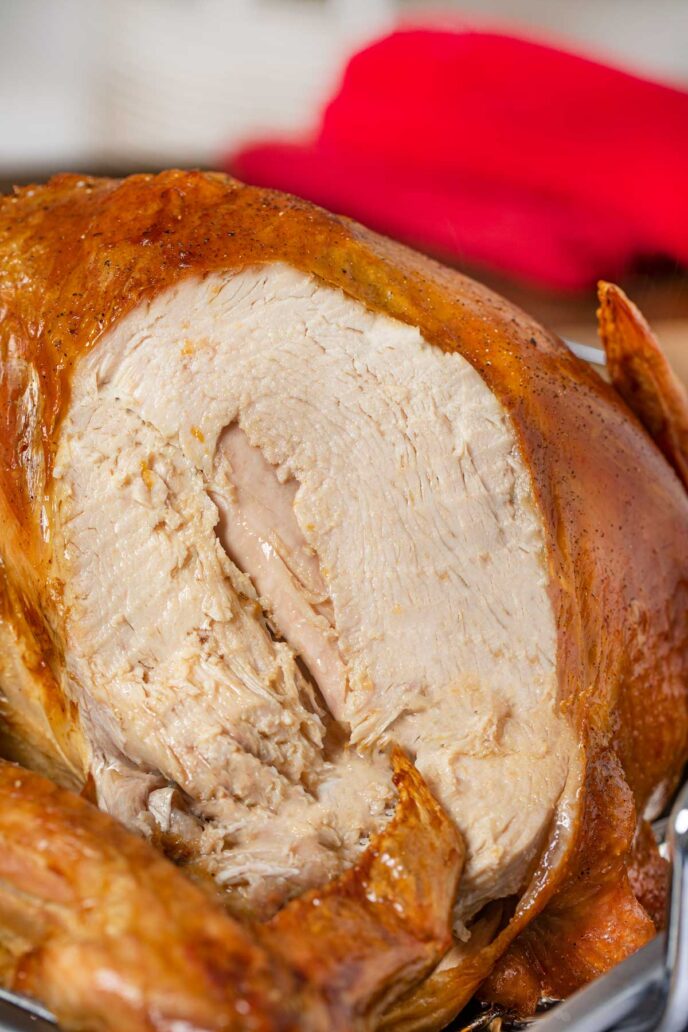 Create a free account to

Save Recipes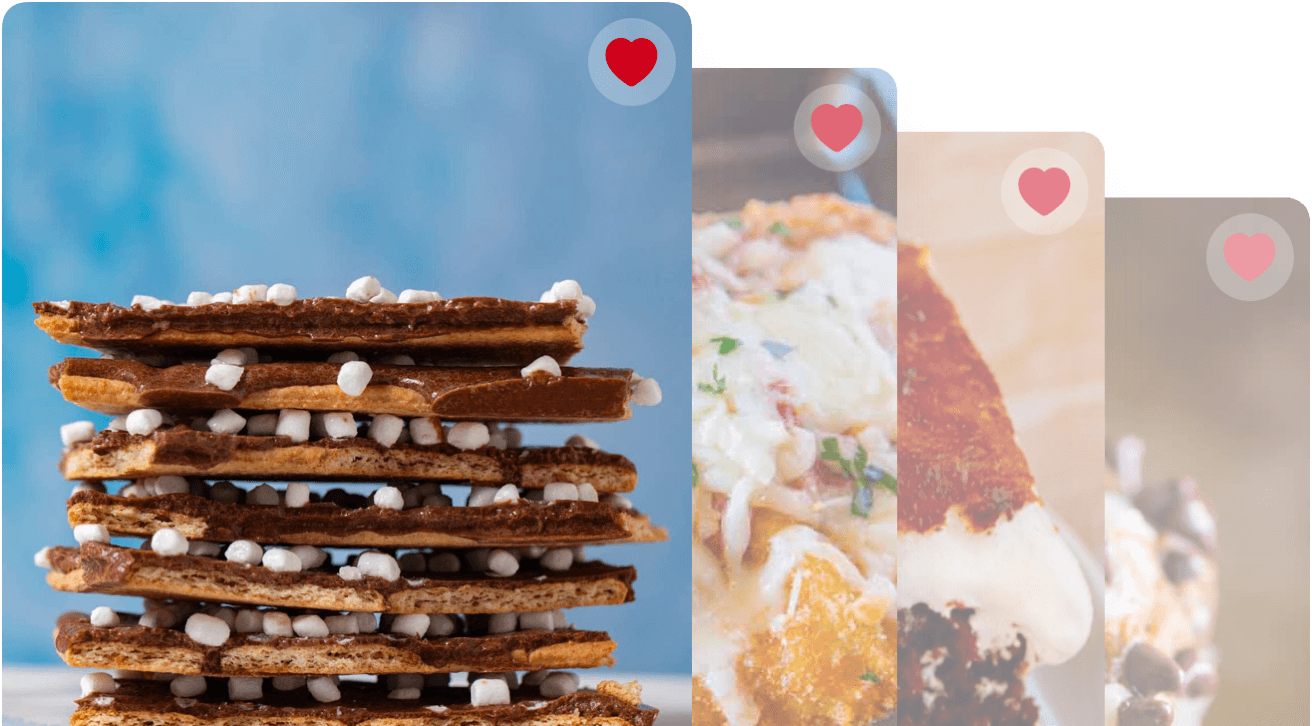 WAYS TO USE LEFTOVER DEEP FRIED TURKEY:
I know, right? The likelihood of leftovers is pretty slim, but just in case…
Craving comfort food, try our Leftover Turkey Casserole. With just a few ingredients that you already have on hand from Thanksgiving, this casserole comes together easily.
It's cold outside so you'll love our Turkey Chili. Swap out the ground turkey for some fresh Deep Fried Turkey, adding the cooked turkey in step 2.
If you are looking for a lighter way to use up your leftovers, Cranberry Harvest Turkey Salad is a fresh, healthy lunch the day after a big holiday meal.
Do I need to brine my Deep Fried Turkey before frying?
Dry rub seasoning with spices like black pepper, garlic and brown sugar or marinades are commonly recommended; however, you won't be disappointed when you use our tasty Turkey Brine recipe instead prior to frying your turkey.
What kind of oil is best to fry a turkey in?
Although peanut oil is pricier, it has the highest flash point of any oil, stays clearer than any other oil in your fryer, and is healthier for you.
What to do with all that hot oil and dirty utensils after you've fried your turkey:
Let hot oil cool for about two hours
Liquid soap works best for cleaning utensils and pot. Let them soak a little bit before washing.
Pour the cooled oil into a large tin can or coffee can.
Place a lid or foil on the can. Dispose of it in the trash or recycle it.
DELICIOUS HOLIDAY SIDE DISHES:
HOW TO STORE DEEP FRIED TURKEY
Serve – Let the turkey rest for 30 minutes when done, covered to keep warm. Do not leave out for more than 2 hours before storing.
Store – Deep-fried turkey is so yummy, you may not have leftovers but if you do, turkey can be stored in air tight containers for up to 3 or 4 days.
Freeze – Remove the bones and freeze turkey up to 3 months.
HOW DO YOU KNOW IF DEEP FRIED TURKEY IS DONE?
Use a food thermometer to check that your Deep Fried Turkey has reached 165 degrees F. Check out the USDA Food Safety Site to determine recommended thawing times for turkey.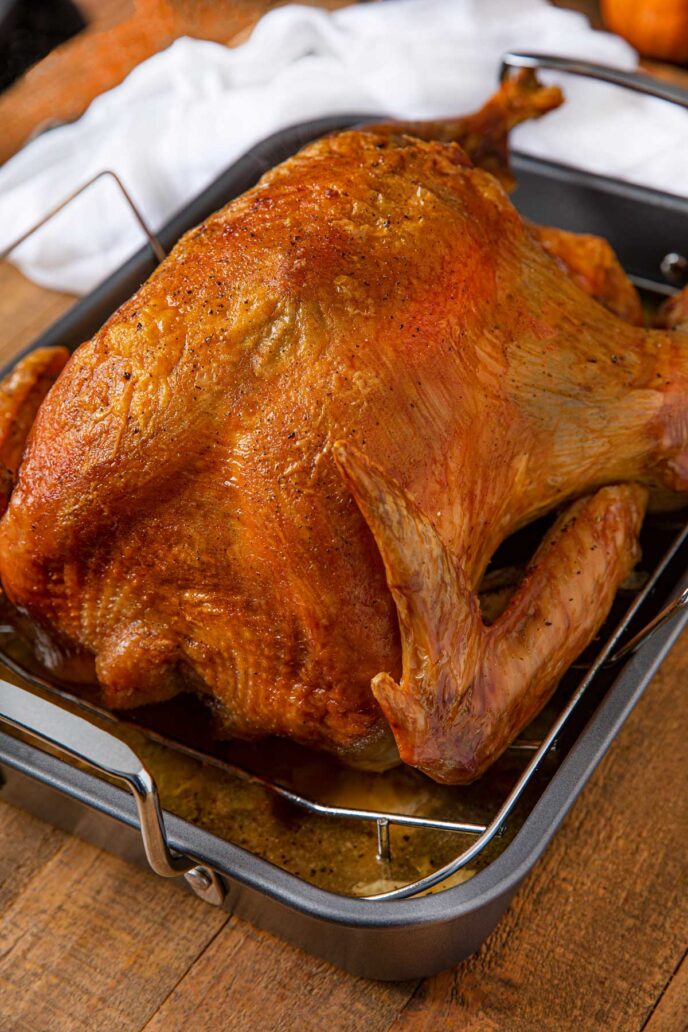 Ingredients
14

pound

thawed turkey

, with giblets removed, room temperature

4

gallons

peanut oil
Instructions
Place 30 quart turkey frying pot over a propane burner outside.

Place turkey onto the hook.

Measure the amount of oil needed: Lower the turkey into the pot and add water until the turkey is just covered (this should be at least 4 inches below the top of the pot).

Measure the water to know the amount of oil needed.

Dry your metal pot well and allow the turkey to dry.

Add the measured amount of oil to your pot.

Heat oil to 250 degrees F before lowering the turkey back into the pot.

Bring the oil temperature to 350 degrees F.

Fry for

30 to 40 minutes

(Internal temperature needs to reach 155 degrees before removing).

Let the turkey rest, covered, for

30 minutes

before carving. (Turkey will reach 165 degrees during rest)
Nutrition
Calories:
454
kcal
|
Protein:
70
g
|
Fat:
18
g
|
Saturated Fat:
5
g
|
Cholesterol:
232
mg
|
Sodium:
361
mg
|
Potassium:
721
mg
|
Sugar:
1
g
|
Vitamin A:
180
IU
|
Calcium:
35
mg
|
Iron:
3
mg