jump to recipe
Cranberry Harvest Turkey Salad
This post may contain affiliate links. Read my disclosure policy here.
Cranberry Harvest Turkey Salad made with arugula, turkey breast, cranberries, gorgonzola, and walnuts with a delicious and easy balsamic vinaigrette.
Cranberry Harvest Turkey Salad
The perfect after Thanksgiving meal to use up leftover turkey and detox from mashed potatoes and pie! Cranberry Harvest Turkey Salad is the easiest salad you'll love this weekend and continue to make all year long!
There's so many amazing textures at work here in this salad, let's examine why they work together so well and some alternative options if you'd like to swap things in and out:
Arugula
What does Arugula taste like? Arugula is a peppery leaf, sometimes used as an herb or a green. Unlike romaine or iceberg lettuce that is just filler flavored with dressing, arugula will stand up to a dressing and still deliver a unique flavor to the salad. It can sometimes taste bitter if the arugula was allowed to mature too much, so the younger the better, I use baby arugula in salads.
Looking for something less intense? Iceberg, romaine, green leaf and red leaf lettuces are all good options. Spinach, mâche and mesclun mixes are also good options.
Dried Cranberries
Dried Cranberries are a great salad topper that are popular with both kids and adults. Most dried cranberries are sweetened, so don't think they'll taste anything like a raw cranberry, so if you enjoy the sweetened dried fruit flavor you have a great assortment of substitute options including: dried cherries (my favorite), raisins, dried blueberries, dried strawberries, dried figs or chopped dates.
MY OTHER RECIPES
Want a non dried option? Chopped fresh strawberries, raspberries, blueberries or even pomegranate arils would work well here.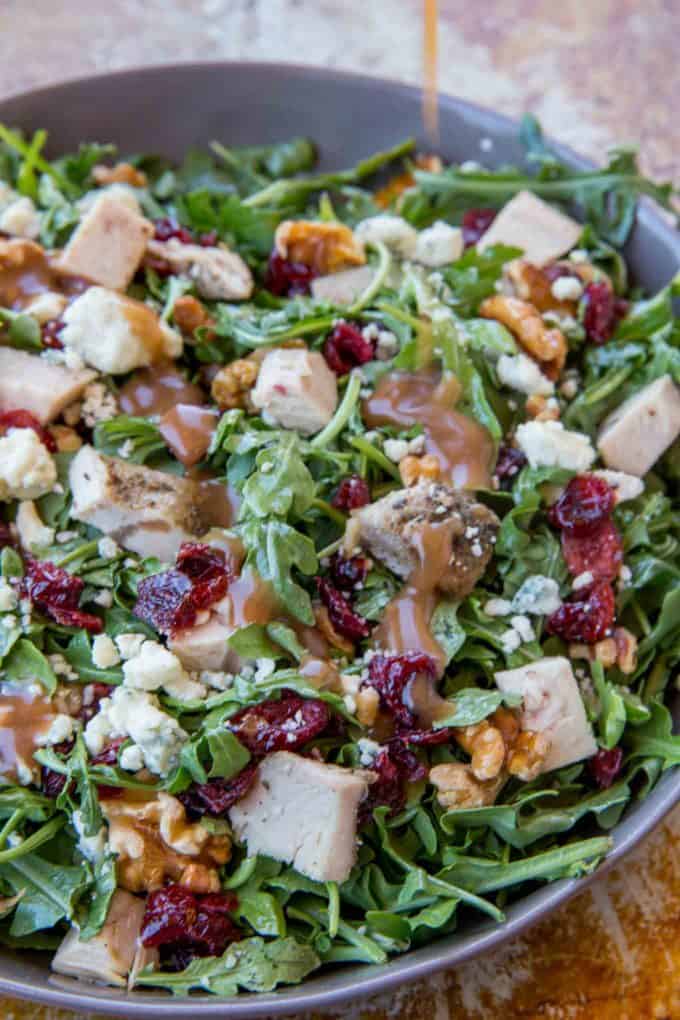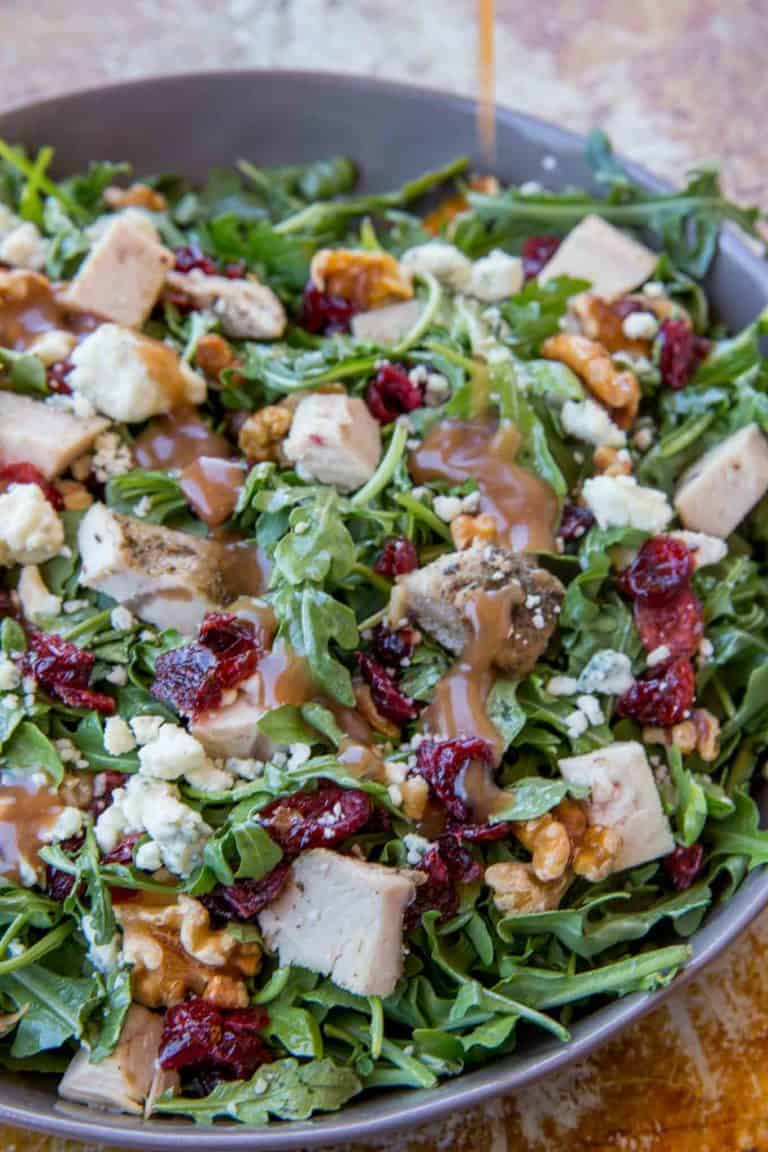 Walnuts
Walnuts are a healthy addition to the salad as they're rich in omega-3s and antioxidants. You can substitute pecans, candied pecans, almonds, hazelnuts or chopped brazil nuts in the salad as well. The nuts add a great contrast in texture to the soft turkey, the chewy cranberries and the creamy gorgonzola, so be sure to include something with a similar texture if you're looking to lose the nuts in the salad.
Gorgonzola
A personal favorite, gorgonzola is a soft cheese with a huge punch of flavor. Gorgonzola is more aromatic and flavorful than blue cheese, but blue cheese is sharper. So think of it as the mellower cousin to blue cheese. Looking to swap out a different cheese? Feta, goat cheese, blue cheese and even cotija are good options. The cheese provides a great creamy texture to the salad, so if you want to take out the cheese altogether, chopped avocado would add a similar creamy texture.
Turkey
Turkey is the protein of the moment but any other protein would be great here too. Shrimp, salmon, chicken, thinly sliced beef would all be great options. Vegetarian options could include roasted vegetables like sweet potatoes or bell peppers. I also sometimes substitute kidney beans when making vegetarian salads.
Looking for more holiday side dishes?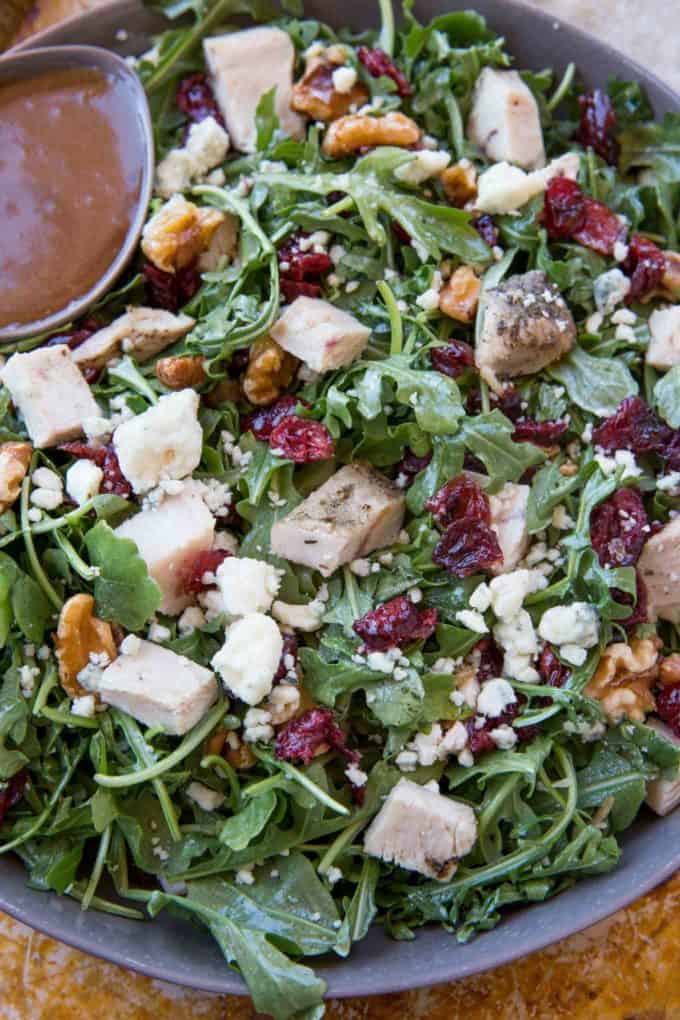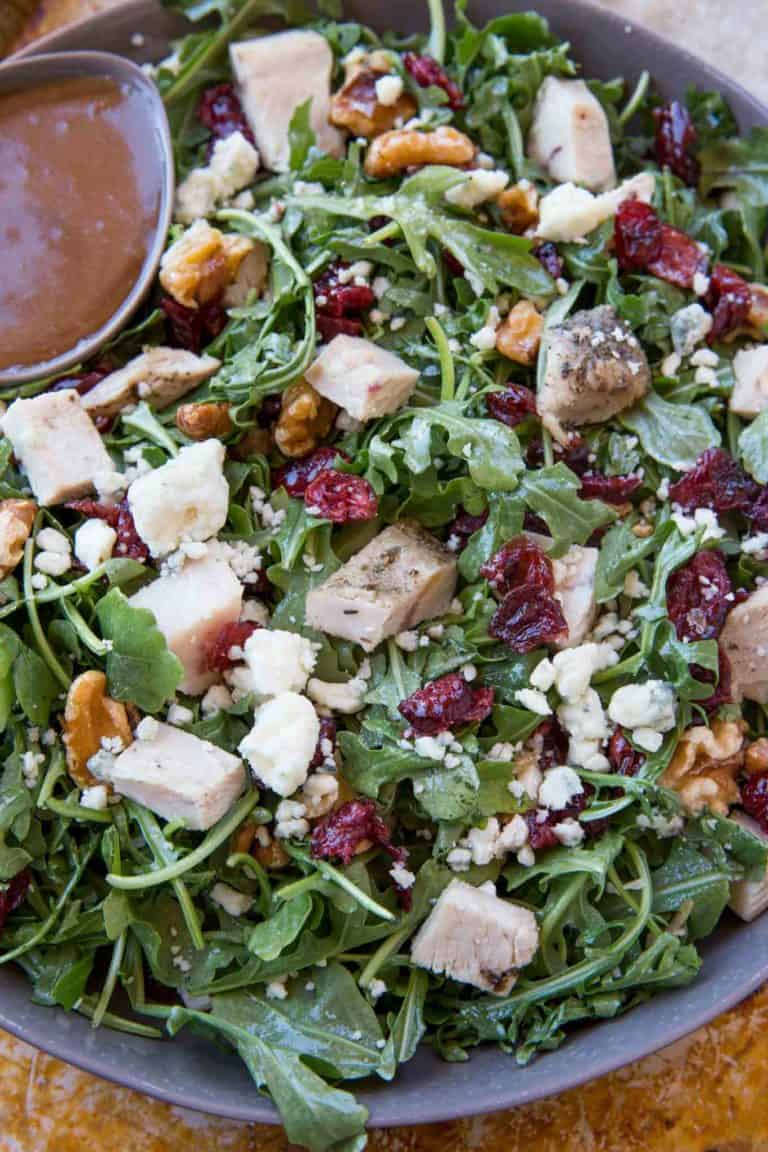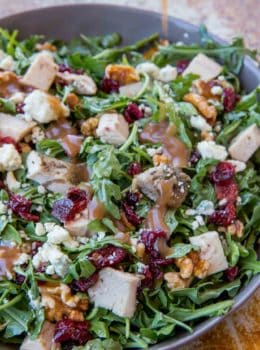 Cranberry Harvest Turkey Salad
Cranberry Harvest Turkey Salad made with arugula, turkey breast, cranberries, gorgonzola, and walnuts with a delicious and easy balsamic vinaigrette.
Ingredients:
Balsamic Vinaigrette:
2 tablespoons balsamic vinegar
1 1/2 teaspoons Dijon mustard
1 garlic clove, minced
1/4 cup olive oil
1/4 teaspoon Kosher salt
1/8 teaspoon coarse ground black pepper
Salad:
1 pound baby arugula
2 cups turkey breast, cooked and chopped
6 ounces gorgonzola crumbles
1/3 cup dried cranberries
1/2 cup walnut halves
Directions:
Balsamic Vinaigrette
Add the vinegar and mustard to a bowl and whisk well.
Slowly pour in the olive oil while whisking vigorously to combine them.
Add in salt and pepper and whisk together a final time.
Salad
Add the arugula to a large serving platter or into four plates.
Add on the remaining ingredients, then dress with the dressing just before serving.
All images and text ©
Made this recipe?
Show me what you made on Instagram or Facebook and tag me at @DinnerthenDessert or hashtag it at #dinnerthendessert.
Dinner, then Dessert, Inc. owns the copyright on all images and text and does not allow for its original recipes and pictures to be reproduced anywhere other than at this site unless authorization is given. If you enjoyed the recipe and would like to publish it on your own site, please re-write it in your own words, and link back to my site and recipe page. Read my disclosure and copyright policy. This post may contain affiliate links.