Cosi Cobb Salad with grilled chicken, bacon, eggs, Gorgonzola and more topped with Cosi's signature Sherry Shallot Vinaigrette dressing.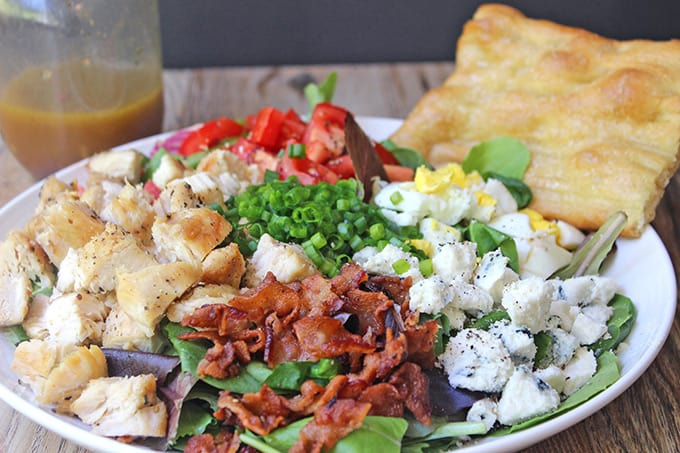 I've been intending to post this Cosi Cobb Salad recipe since the first day back in January! Part of my New Years Resolution for the blog was to share my absolute favorite salad ever. With just a few days until the end of January I am making it just under the wire.
I have to admit when we lived in Washington, DC and I had a Cosi nearby I was ADDICTED to this Cosi Cobb Salad. The dressing is so good I actually lobbied the corporate office begging for the recipe when we moved away from the area only to be told there was no chance I could get a copy of the recipe or order the dressing and have it shipped to me.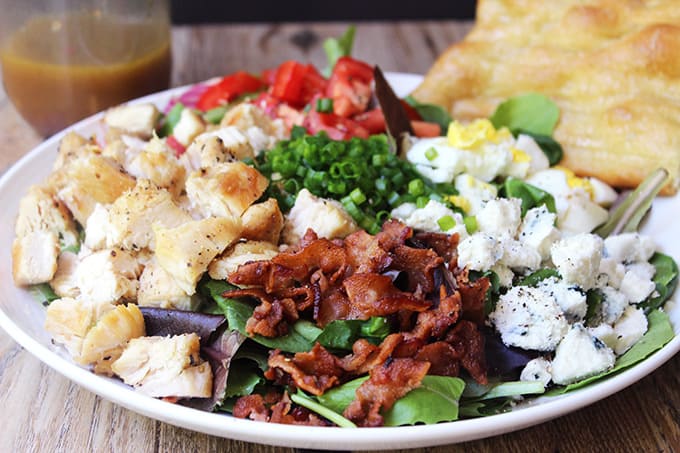 The Cosi Cobb Salad uses the same Sherry Shallot Vinaigrette that was made famous in the Cosi Signature Salad they serve with grapes, nuts, cranberries and Gorgonzola cheese. So when I realized I couldn't get the original dressing no matter how much I pleaded I set out to make my own. It didn't take a lot of research/experimenting to figure it out an amazingly spot on version was readily available online via Michelle from Brown Eyed Baker!
The dressing is so easy to make, all I had to do was put the ingredients into a mason jar and shake for 20 or so seconds until it was all combined.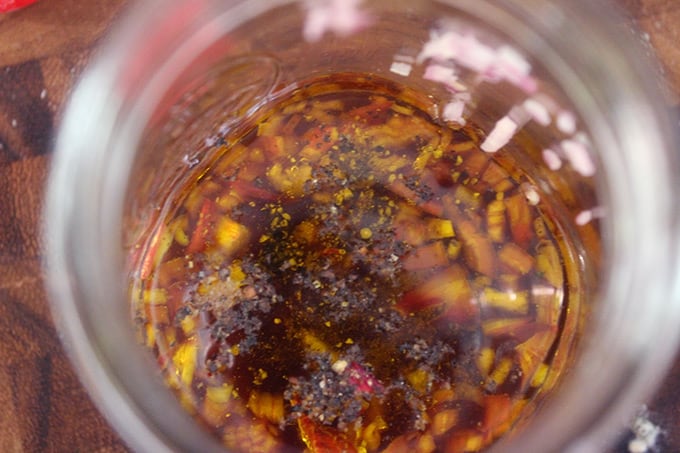 This salad took me back to my awesome memories of DC. The only piece I needed to complete the meal was the awesome Cosi flatbread that you get with your salad. Or as I remember it the awesome two pieces you get and on lucky days they don't charge you for the second piece!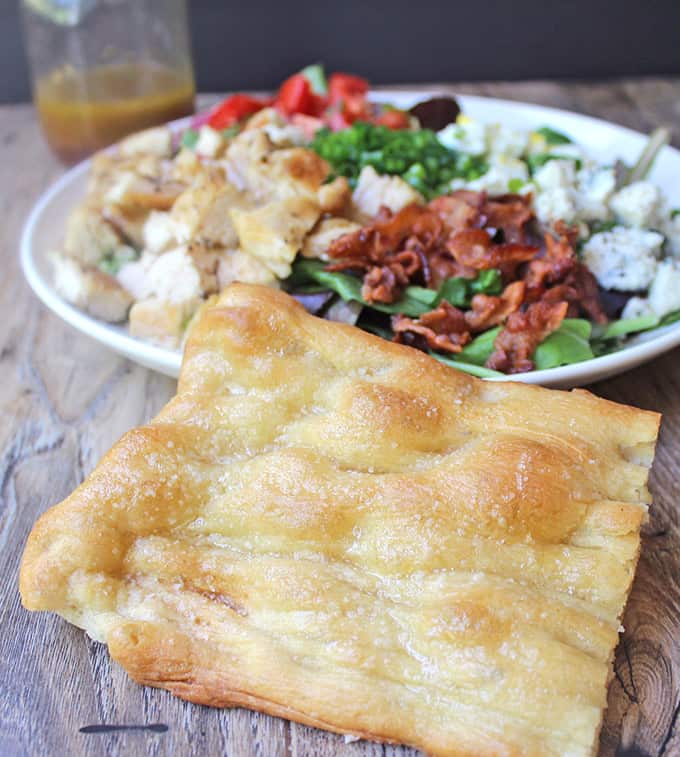 Oh hey there Cosi Flatbread… nice to see you again. Want the recipe for the flatbread? Check back in tomorrow 😉
Recipe
Save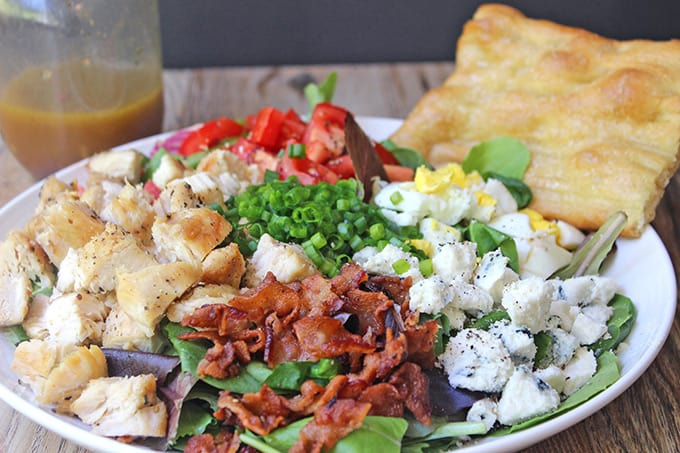 Cosi Cobb Salad with Sherry Shallot Vinaigrette (Copycat)
Yield:

4

Prep Time:

15

minutes

Total Time:

15

minutes

Course: Salad
Cuisine: American
Author: Sabrina Snyder
A delicious Cosi Cobb Salad with grilled chicken, bacon, eggs, gorgonzola and more. Topped with Cosi's signature Sherry Shallot Vinaigrette that they also use in the signature salad.
Ingredients
3

grilled chicken breasts

, cubed

8

slices

bacon

, cooked and crumbled

2

large vine tomatoes

, cut into 1" cubes

4

eggs

, hard boiled and chopped

2

scallions

, chopped finely

1/2

cup

crumbled Gorgonzola

11

ounces

mixed

, greens, I used one large tub from my grocery store

1

medium shallot

, minced (about 4 teaspoons)

1

clove

garlic

, minced

½

teaspoon

kosher salt

¼

teaspoon

freshly ground black pepper

¼

cup

sherry vinegar

(if you can't find sherry vinegar, substitute red wine vinegar)

½

cup

olive oil
Instructions
Note: click on times in the instructions to start a kitchen timer while cooking.
In a small mason jar or in a bowl add the shallot, garlic, kosher salt, fresh ground black pepper, sherry vinegar and olive oil and mix thoroughly.

If you used a

mason jar

just shake it for a good

20-30 seconds

.

Layer each salad with a quarter of the remaining ingredients.

Serve with Cosi's signature super secret flatbread or some crusty baguettes.
Recipe Notes
Salad dressing adapted from Brown Eyed Baker. I've had a bit of a blog crush on her for years. 🙂
Nutrition Information
Yield: 4 , Amount per serving: 1016 calories, Calories: 1016g, Carbohydrates: 59g, Protein: 55g, Fat: 67g, Saturated Fat: 19g, Cholesterol: 311mg, Sodium: 1085mg, Potassium: 1511mg, Fiber: 12g, Sugar: 8g, Vitamin A: 1190g, Vitamin C: 30.5g, Calcium: 650g, Iron: 17.5g
All images and text © for Dinner, then Dessert.
Keyword:
Cosi Cobb Salad with Sherry Shallot Vinaigrette (Copycat)
Save