Cobb Pasta Salad combines all the favorite classic Cobb salad flavors of chicken, ranch, bacon, egg, bleu cheese, tomatoes and more with pasta salad!
We love making the classic summer side dishes like Coleslaw, Pasta Salad, Macaroni Salad and Potato Salad, but sometimes you just want to step outside the box and make some fun flavor combinations! Enter the Chicken Cobb Pasta Salad!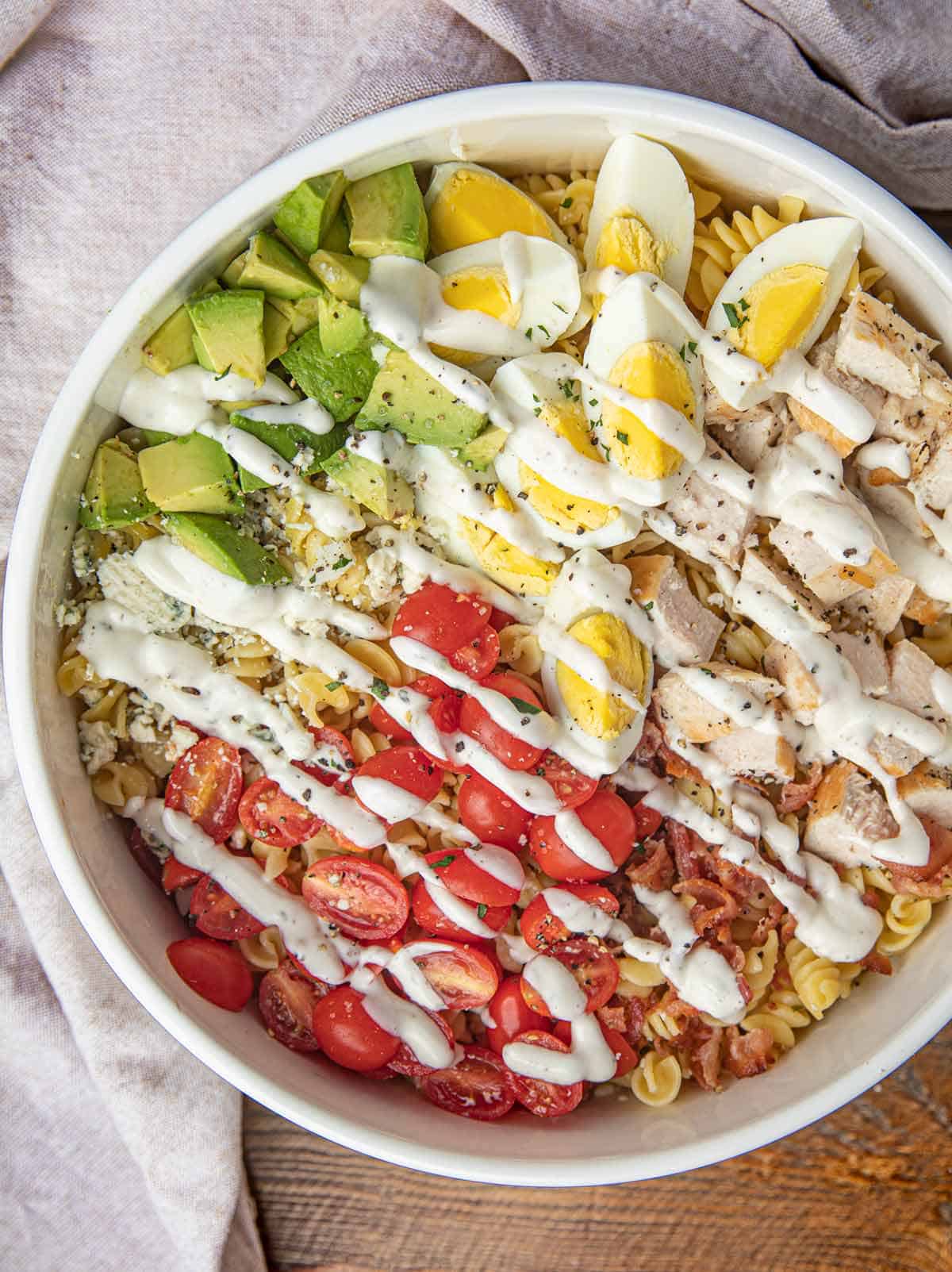 COBB PASTA SALAD
Pasta salad is a fun, quick side dish that's perfect for summer get togethers, potlucks and BBQs. If you've tried my Italian Antipasto Pasta Salad, Chicken Bacon Pasta Salad or Chicken Caprese Tortellini Pasta Salad, you know how easy it is to whip up a delicious side that has a ton of flavor and not a ton of prep. Cobb salad is a classic favorite, and if you've never had it before you're in for a treat.
The history of the Cobb Salad! It is a long and fanciful one to say the least. Cobb salad is an American favorite, and has been served to everyone from Hollywood celebs to presidents. It's quick to make, fun to eat and easy to store for meals later in the week. So where did cobb salad come from? There are a few different theories about two different men, but everyone can agree on one thing: the location. Classic cobb salad was invented at the Brown Derby Restaurant in Los Angeles, CA (you I Love Lucy fans will remember the references to this restaurant).
One theory says that a man named Bob Cobb (go figure) who owned the Brown Derby invented the salad in the 1920's. The story goes that Bob Cobb wanted to serve something that was easy to make but wasn't a hot dog or hamburger, since all of the restaurants around him were serving them up by the truckload. Bob Cobb started experimenting with ingredients that he had laying around in the kitchen and he came up with what we know now as Cobb Salad.
The second theory is that Robert Kreis, the executive chef at the Brown Derby, invented cobb salad a decade later when the Brown Derby opened up a second location in Hollywood. Robert Kreis named the salad after the Brown Derby's original owner, Bob Cobb, and the rest they say is history.
The last theory is that whole cobb salad is definitely named after Bob Cobb, neither he nor Robert Kreis invented anything. This theory goes on to say that cobb salad is just a modern version of Salmagundi, which was a 17th century Italian dish made from chopped meat, eggs, onions, anchovies and dressing. I guess we'll never know the truth, but the salad is delicious no matter who made it.
If you liked this recipe and want side dishes to serve at your next potluck, try my Southern Baked Beans, Creamy Shrimp Salad or Creamy Garlic Mashed Potatoes.
HOW TO MAKE COBB PASTA SALAD
Cook the pasta al dente in a large pot of boiling water according to the directions on the package.
Drain the water and pour the pasta into a large bowl and set aside.
Cook the bacon and chicken in a skillet until it's crispy.
Add the ranch dressing to the pasta and mix it well until the noodles are evenly coated.
Mix in the bacon, hard boiled eggs, tomatoes, ripe avocado and blue cheese.
Add salt and pepper to taste and mix the pasta well.
Top it off with another drizzle of ranch and serve it up.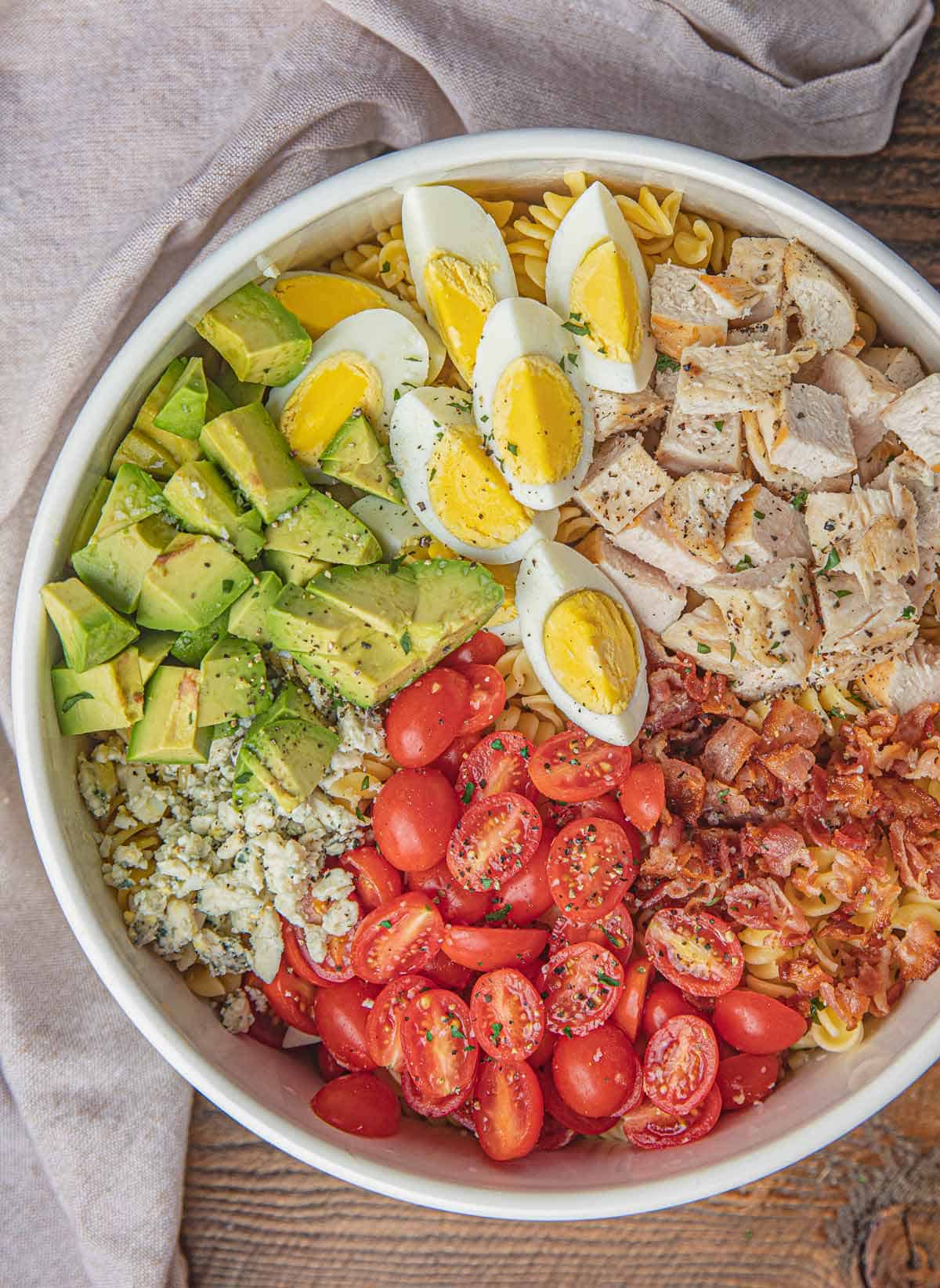 Create a free account to

Save Recipes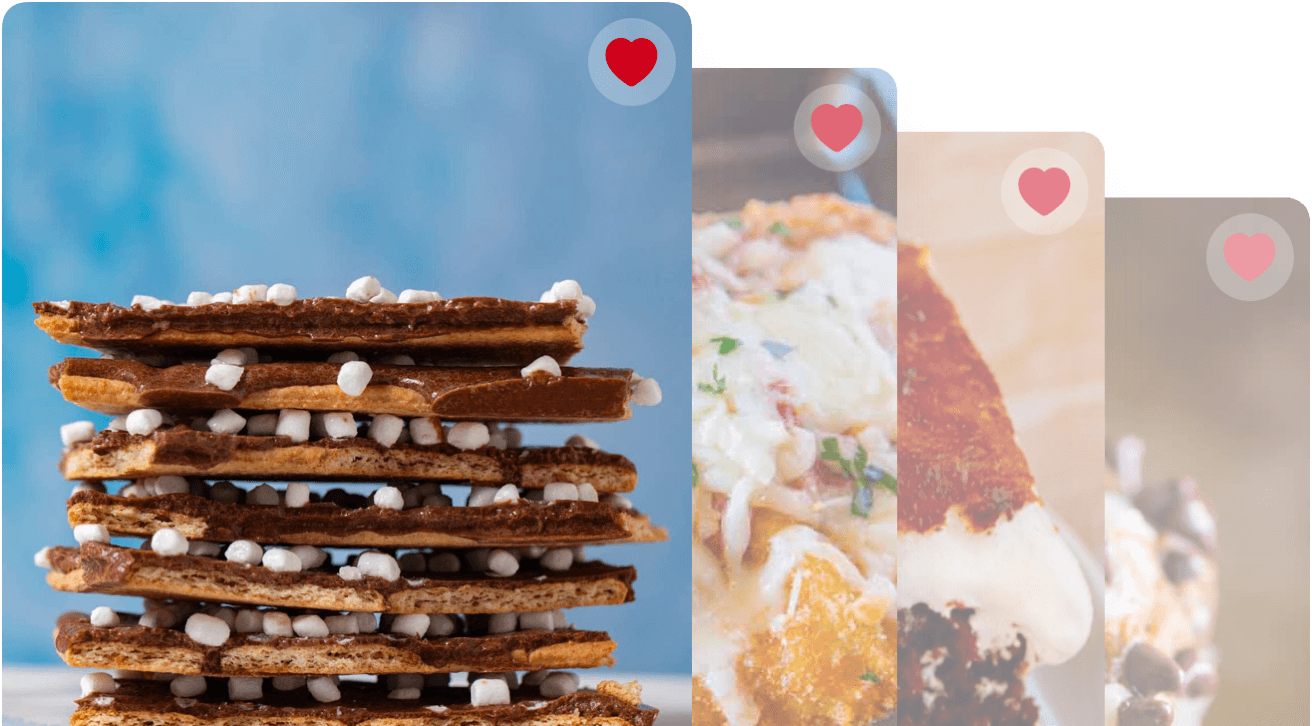 VARIATIONS
Chicken: if you want to make your side salad into an entree, you can add a chicken breast. This is a great chance to use up that leftover rotisserie chicken or yesterday's grilled skinless cutlets. Chop it into cubes and mix into the salad.
Chives: you can keep them long as a classy garnish or dice them and mix them into the salad for extra flavor.
Vinaigrette: if you want a lighter salad dressing, you can use all sorts of sauces to give the salad a variety of flavors. You can make a red wine vinaigrette, French dressing or mix together your own variety with flavors like lemon juice and dijon mustard.
Veggie variations: if you don't want tomato slices, try using whole cherry tomatoes to give your salad a fun texture.  You can also mix in any assortment of veggies you want, from carrots to endives.
Cheese: try crumbling feta, parmesan or roquefort cheese over the top to give your salad a unique savory flavor.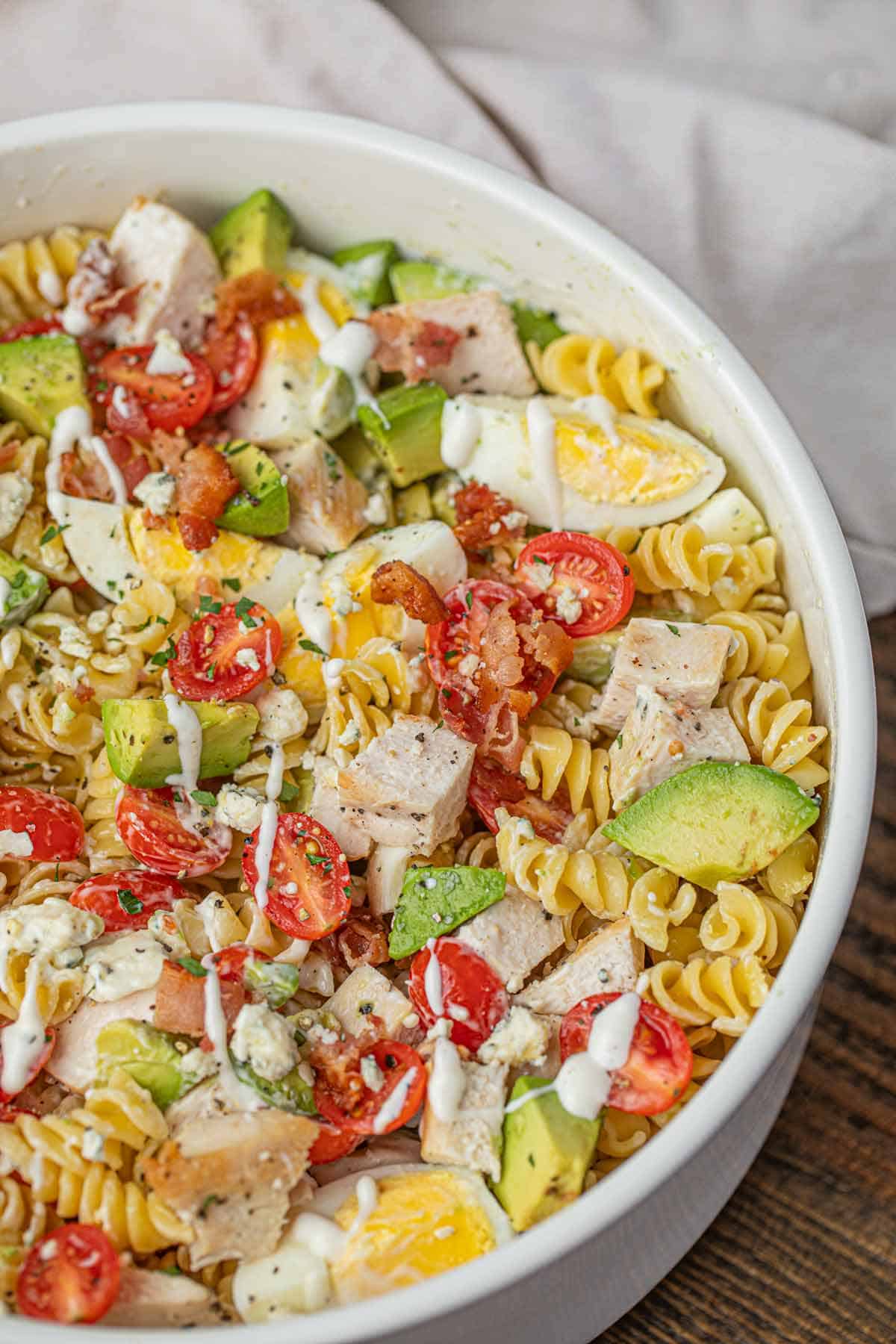 What to serve with Cobb Pasta Salad:
Ultimate Sloppy Joes: sloppy joes are delicious and messy, which makes them the perfect outdoor food, and the rich, savory flavors go really well with cobb salad.
Baked Ziti: this recipe is simple and makes delicious comfort food that the whole family will love. Cobb salad transforms baked ziti from a hearty cold-weather dish into a fun summer dish.
Perfect Simple Roast Chicken: If you don't want to add chicken to the pasta salad this is the perfect recipe to serve along side a roast chicken recipe!
How to Store Cobb Pasta Salad:
Serve: Since there are eggs and cheese in this Cobb Pasta Salad recipe, you shouldn't leave cobb salad out at room temperature for longer than two hours, unless you enjoy being out of commission for about 24 hours.
Store: Cobb Pasta Salad makes for great leftovers and you can keep them in the fridge for about 4 days.
Freeze: Pasta salad doesn't freeze well, so you should enjoy your leftovers out of the fridge instead.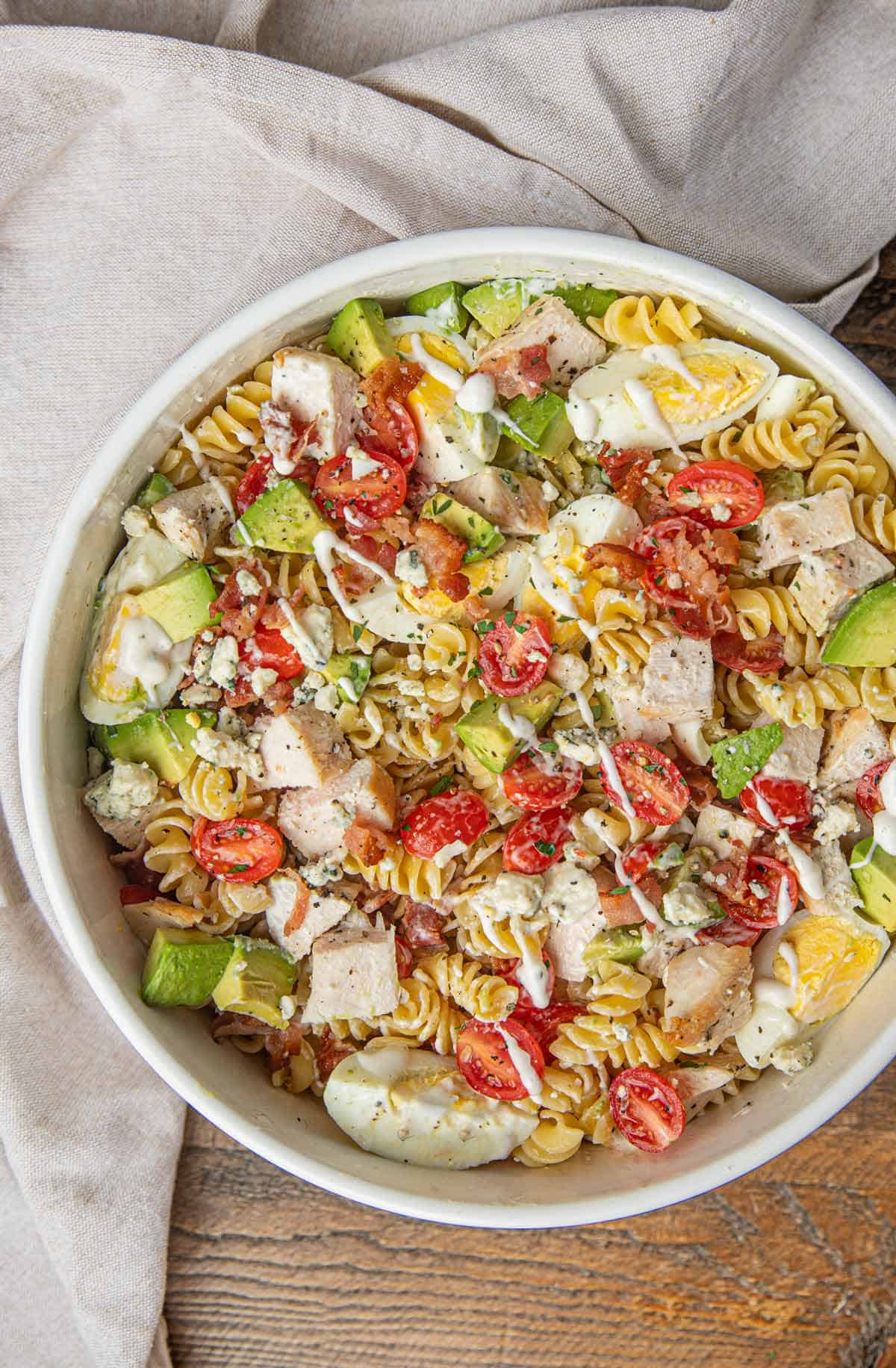 Ingredients
1

pound

rotini pasta

4

slices

bacon

cooked and chopped

2

cups

chicken breast

cooked and chopped

3

hard boiled eggs

diced

1

pint

cherry tomatoes

halved

1

avocado

chopped

1/3

cup

crumbled blue cheese

3/4

cup

ranch dressing

1

teaspoon

kosher salt

1/4

teaspoon

coarse ground black pepper
Instructions
Cook the pasta according to the box directions, drain and cool for

10 minutes

.

Combine the pasta, bacon, chicken, tomatoes, avocado, bleu cheese, ranch, salt and pepper into a large bowl and combine very gently before serving.
Nutrition
Calories:
508
kcal
|
Carbohydrates:
49
g
|
Protein:
22
g
|
Fat:
25
g
|
Saturated Fat:
6
g
|
Cholesterol:
113
mg
|
Sodium:
767
mg
|
Potassium:
590
mg
|
Fiber:
4
g
|
Sugar:
4
g
|
Vitamin A:
485
IU
|
Vitamin C:
17.2
mg
|
Calcium:
69
mg
|
Iron:
1.8
mg