Pesto Cheesy Bread is a garlicky, cheesy melt-in-your-mouth bread with homemade Pesto, ready in just 30 minutes. Great as an appetizer or served with pasta!
Get ready to take Garlic Bread to the next level! This a new cheesy, easy Appetizer Recipe is one that you are going to want to serve along with every Italian dinner from here on out.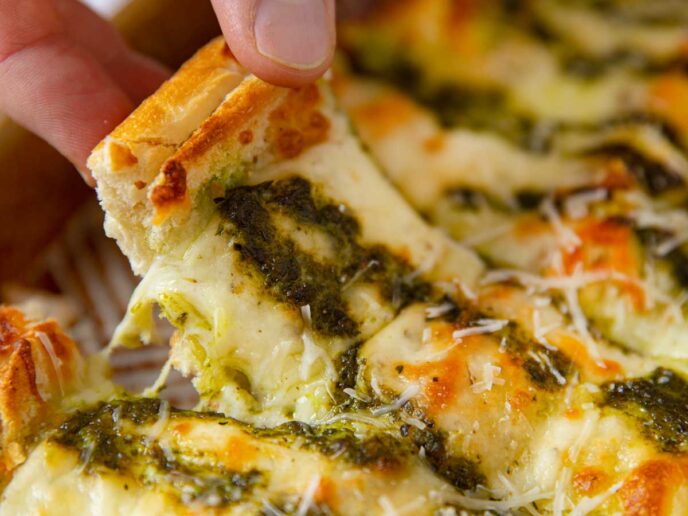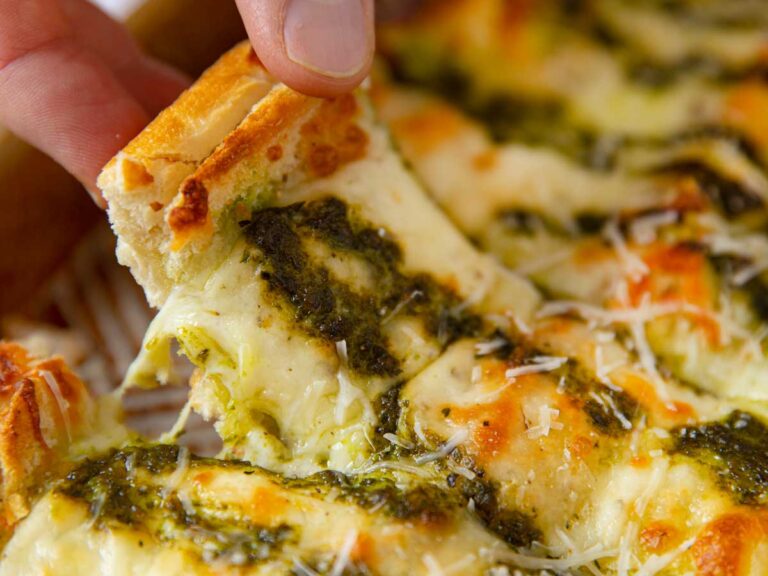 PESTO CHEESY BREAD
Whether it's in rolls, breadsticks, loaves, or knots, garlic bread is an essential to serve with any Italian meal. Who among us hasn't used it as an edible spoon to give more flavor to a bite of pasta or to soak up every last morsel of delicious sauce?
Adding cheese and pesto (one of my favorite Italian sauces) is the natural evolution of this delicious appetizer and meal enhancer. Fresh mozzarella and creamy, garlicky homemade Basil Pesto Sauce upgrade this simple, classic bread to a super side dish that you can serve for dinner or parties.
This version of Pesto Cheesy Bread is so easy to make, it comes together in less than 5 minutes and ready to serve in less than 30 minutes. I used large hoagie rolls that you can find in the bakery section of the grocery store. You want to get fresh loaves because packaged ones are too soft.
You can serve this Cheesy Pesto Bread with Baked Million Dollar Spaghetti (a kids favorite!) but you can also make it into mini pizzas for a quick lunch. Kiddos love loading on their favorite toppings and it's something they can pretty much do themselves start to finish, at least until it's time for the oven.
Slice up into individual portions for an easy, cheesy Super Bowl appetizer. I suggest doubling the recipe if you do, because it's sure to go fast! Serve with a variety of dipping sauces like Pizza Sauce, Marinara, or even more Pesto. This Cheesy Bread is so quick and easy, it takes about as long as the halftime show to assemble and bake.
Want a delicious dipping sauce?
HOW TO MAKE CHEESY PESTO BREAD
Bread: Use any French bread that will fit on a baking sheet or even better, use hoagie rolls. Just be sure you cut the slices before covering with the cheese and pesto, this makes for easier pulling apart of the delicious cheesy bread!
Cheese: Mozzarella is king here because it melts so well but a mixture of cheeses couldn't hurt too. Adding herbs will add flavor but you have plenty in your pesto.
Pesto: Homemade or store bought, any pesto is the …can we go there?…the besto. Yep. Any pesto works well here, so much flavor, it works as a built in dipping sauce.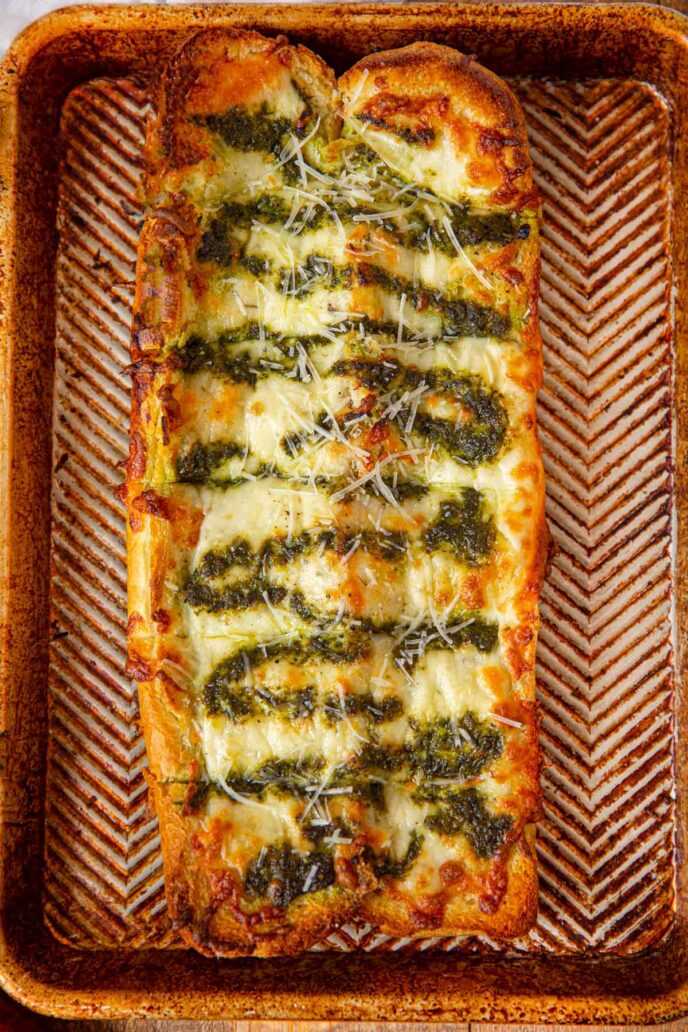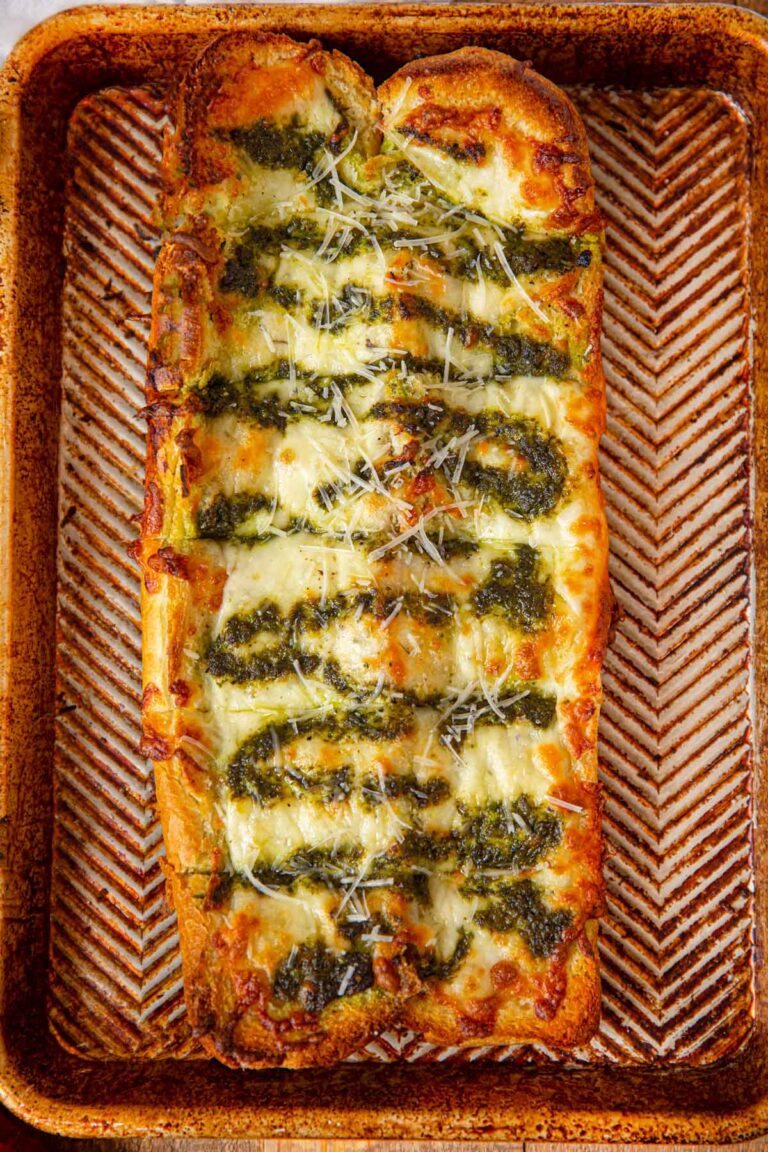 Create a free account to Save Recipes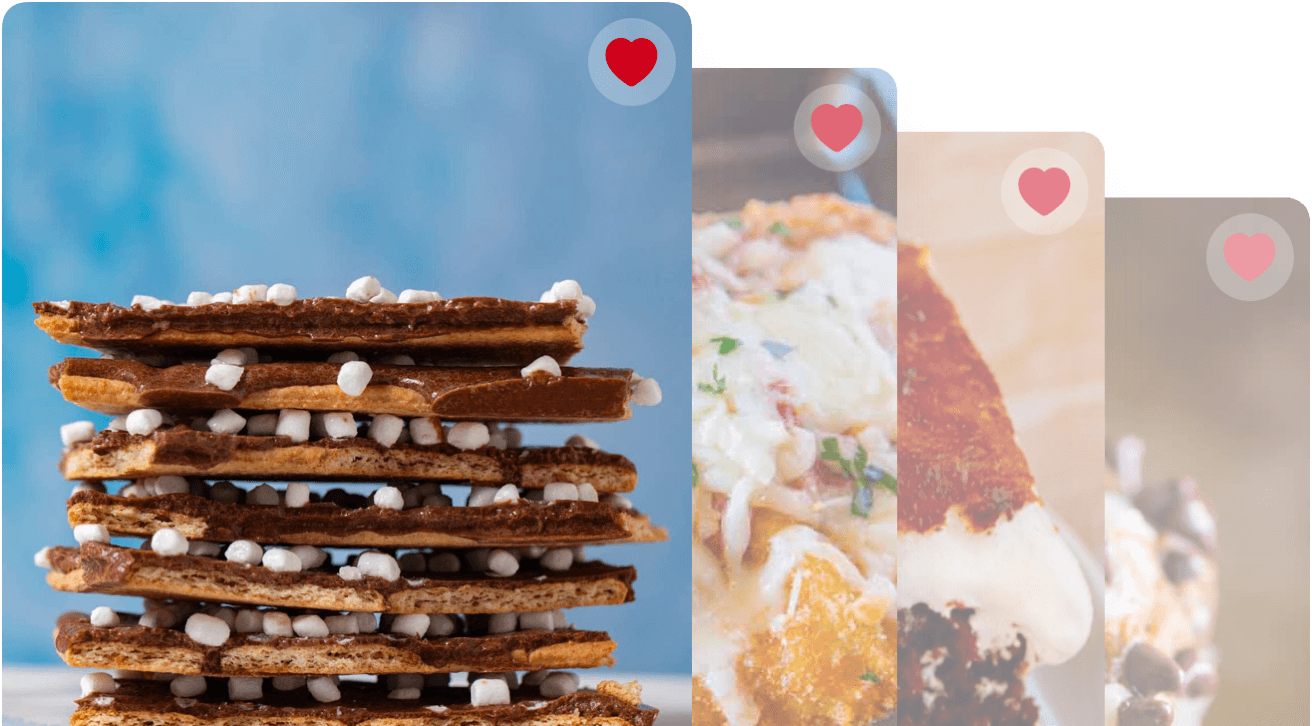 VARIATIONS ON CHEESY PESTO BREAD
Meat: Add pepperoni, cooked Italian sausage, or cooked bacon after you add the mozzarella cheese layer to make a Pesto Pizza bread perfect for lunches.
Veggies: Roasted red peppers, sun-dried tomatoes, or artichokes from a jar would taste absolutely delicious on your Pesto Cheesy bread.
Cheese: Mix in grated sharp cheddar, provolone, or smoked gouda for half of your mozzarella cheese to change the flavor.
Bread: If you want to swap out the bread, make sure to pick one that has a firmer crust like a loaf of French Bread or Italian Bread, or make your own with my easy French Bread recipe.
Pull-Apart: For a fancier party appetizer, choose a large round loaf (like a sourdough) and cut into pull-apart bread with my directions below.
Cheesy Pesto Pull-Apart Bread:
Use a large Italian or sourdough round loaf.
Using a serrated knife, cut the loaf into long 1 inch wide rows, without cutting all the way through. Turn the loaf 90 degrees and repeat, so it looks like a checkerboard pattern.
Melt 4 tbsp of butter and stir in Pesto sauce. Pour between cracks of bread, covering all the insides you can.
Stuff the cracks with the mozzarella cheese and half of the parmesan.
Cover loaf with foil and bake at 350 degrees for about 20 minutes, or until cheese is melty in the center.
Uncover and sprinkle top of loaf with the remaining parmesan and bake another 5 minutes.
MORE DELICIOUS CHEESE APPETIZERS
HOW TO STORE CHEESY PESTO BREAD
Serve: This bread is best served fresh and will keep for 2 hours at room temperature.
Store: You can store Cheesy Pesto Bread in the fridge for up to 3 days in an airtight container.
Freeze: Allow to cool completely and freeze in a sealed freezer bag or container for up to 1 month. Use parchment paper to layer pieces if more than one half loaf.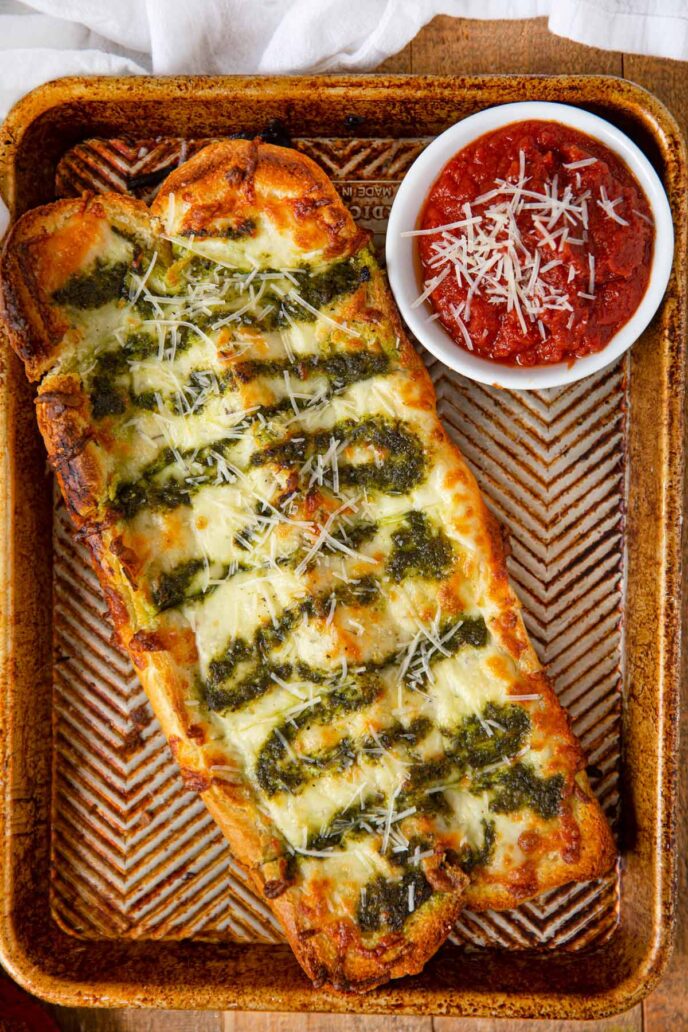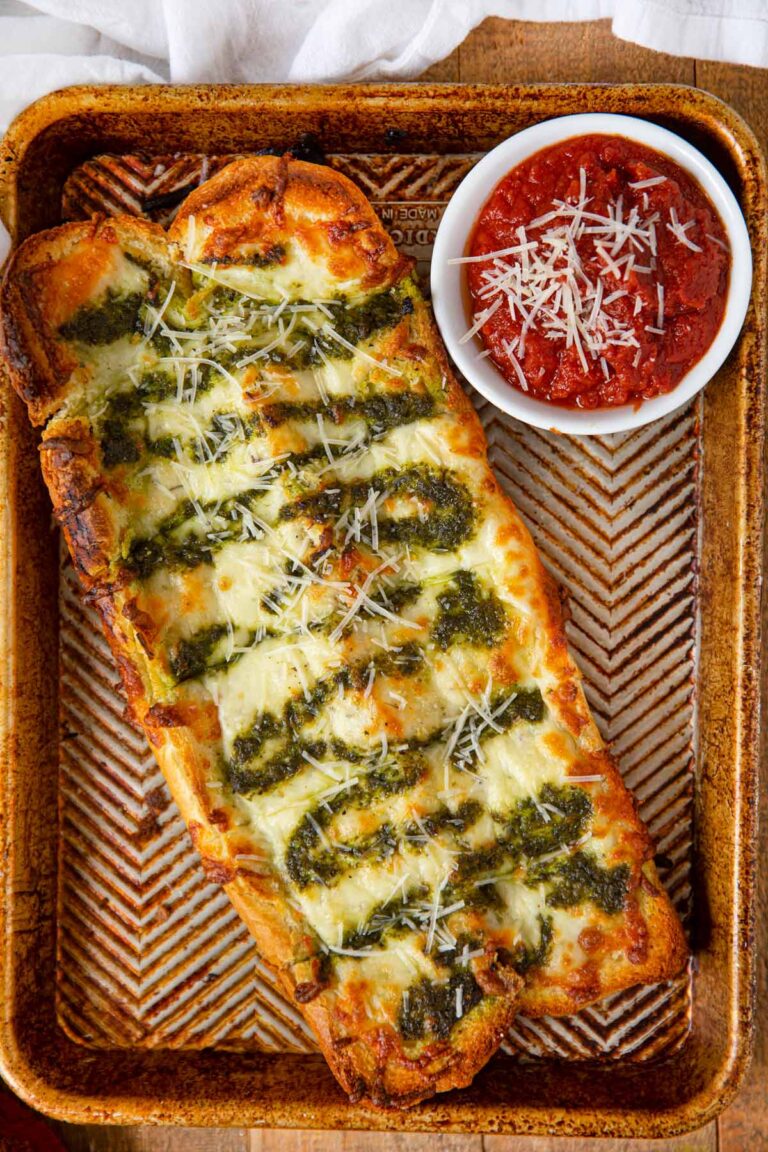 Ingredients
2 

large hoagie rolls

1/2

cup

Pesto Sauce

2 

cup 

mozzarella cheese

, shredded

1/2 

cup 

parmesan cheese

, shredded

marinara or pizza sauce 

, for serving
Instructions
Preheat oven to 350 degrees.

Slice the two hoagie rolls into 2-inch wide portions but leave it attached in the middle.

Brush pesto sauce onto the bread.

Top the bread with the mozzarella cheese and parmesan cheese and bake until crispy, about

15-18 minutes

.
Nutrition
Calories:
226
kcal
|
Carbohydrates:
7
g
|
Protein:
14
g
|
Fat:
16
g
|
Saturated Fat:
7
g
|
Cholesterol:
39
mg
|
Sodium:
551
mg
|
Potassium:
39
mg
|
Fiber:
1
g
|
Sugar:
2
g
|
Vitamin A:
552
IU
|
Calcium:
334
mg
|
Iron:
2
mg