Ultimate Spinach Artichoke Dip
This post may contain affiliate links. Read my disclosure policy here.
Ultimate Spinach Artichoke Dip prepped in just five minutes and ready to eat in 30! The perfect easy, cheesy appetizer with three cheeses.
Spinach and cheese are the perfect way to *feel* like you're eating healthy while really just eating as much cheese as possible, like my favorite Creamed Spinach.
 Spinach Artichoke Dip Recipe
Dips are a fantastic party appetizer for a crowd and spinach artichoke dip is a classic fan favorite dish you can't go wrong with. One of the reasons it likely became so popular is that the spinach and artichoke ingredients make people often question, "Is Spinach Artichoke Dip healthy?" I wish the answer to this question was yes, but no, it isn't any healthier than any other pile of melted cheese.
In fact its basically nachos with spinach. So don't make this recipe under the assumption it is healthy. My version pumps up the Parmesan flavor, uses fresh garlic instead of powdered and I skip the mayonnaise all together in favor of sour cream. Spinach Artichoke dip with no mayo is a great flavorful version.
The sour cream brings a tangy flavor while keeping enough fat content in the recipe to keep it from breaking the melted cheese sauce. Please don't replace the sour greek with fat free greek yogurt and think the consistency will be the same.
What chips go best with spinach artichoke dip?
Sturdier tortilla chips and crispy sliced baguettes are the best for enjoying spinach artichoke dip as the dip can sometimes bend or break thin chips and soft baguettes.
MY OTHER RECIPES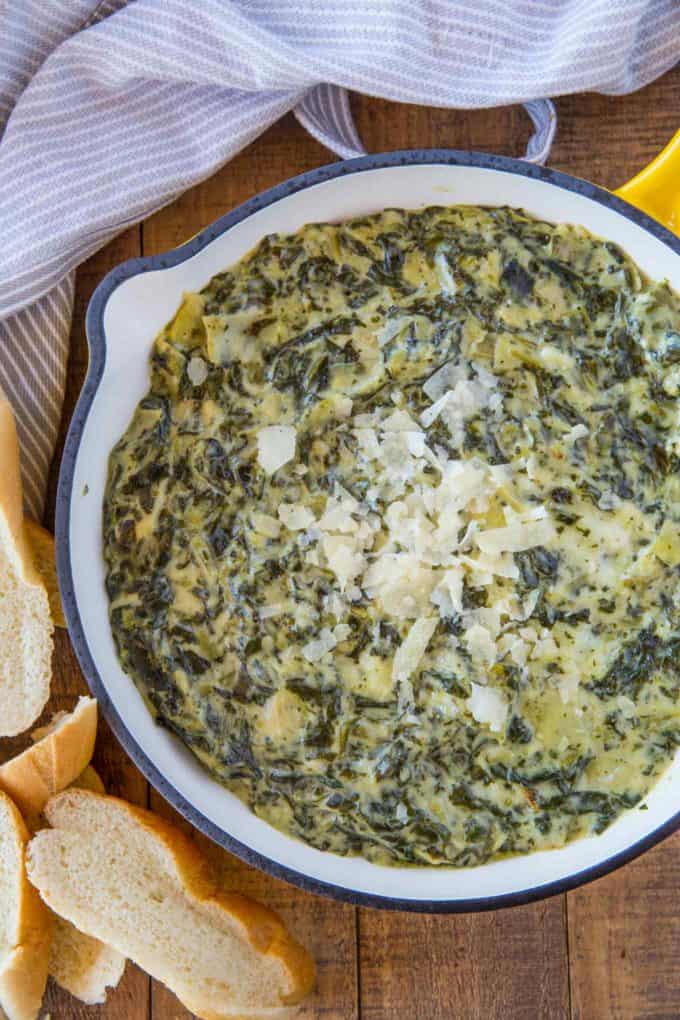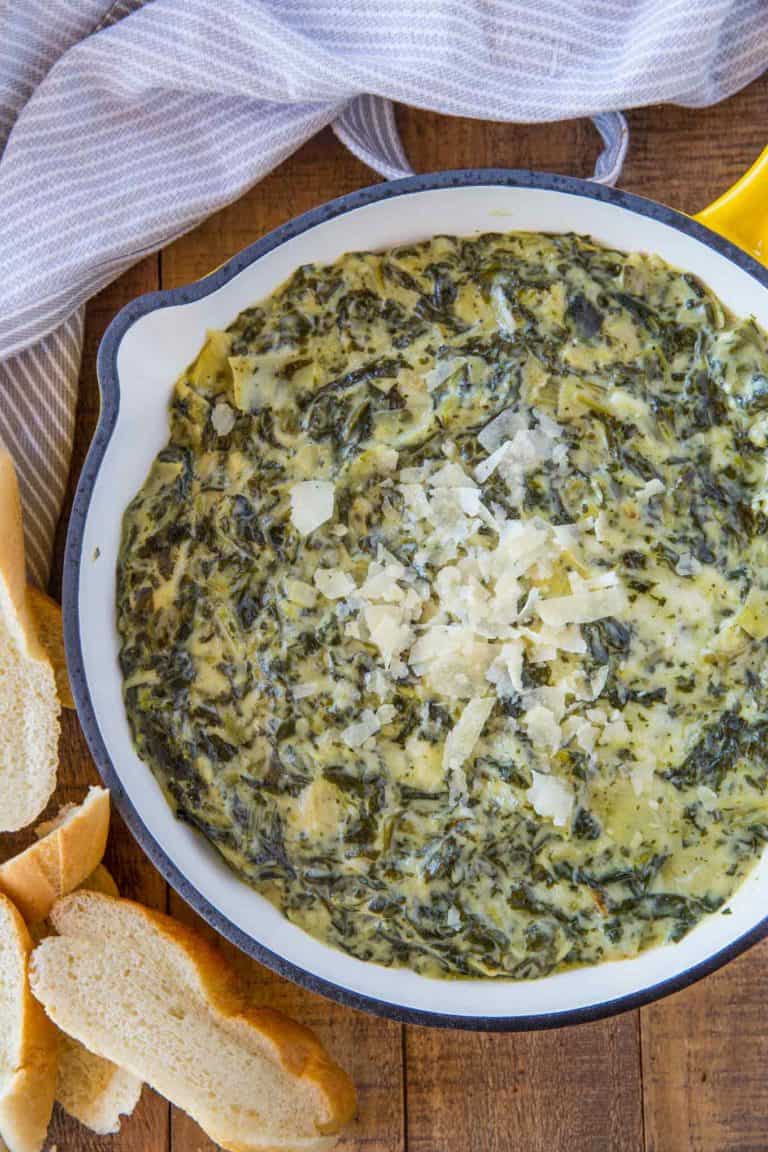 Can you use fresh spinach in place of frozen?
Yes, absolutely, cook it down with some olive oil and once fully wilted let cool then squeeze all the liquid out of the spinach before adding to the recipe.
Easy and Quick Dip Recipes:
What is Spinach Dip Made of?
Spinach Dip is made with frozen spinach, artichokes, sour cream, cream cheese, Parmesan, mozzarella and spices baked until bubbly.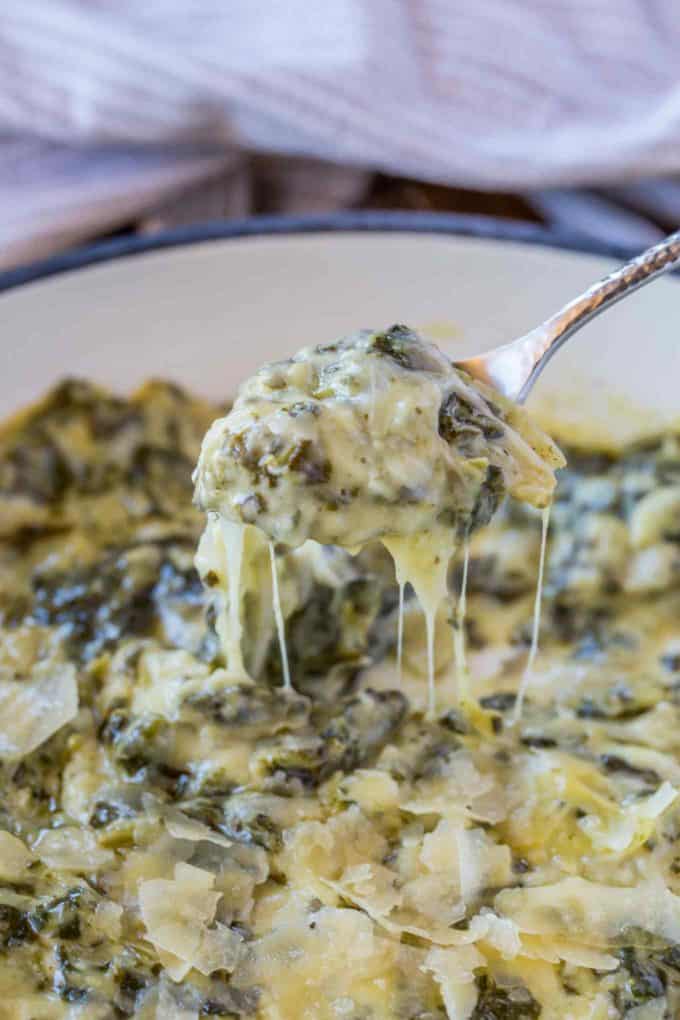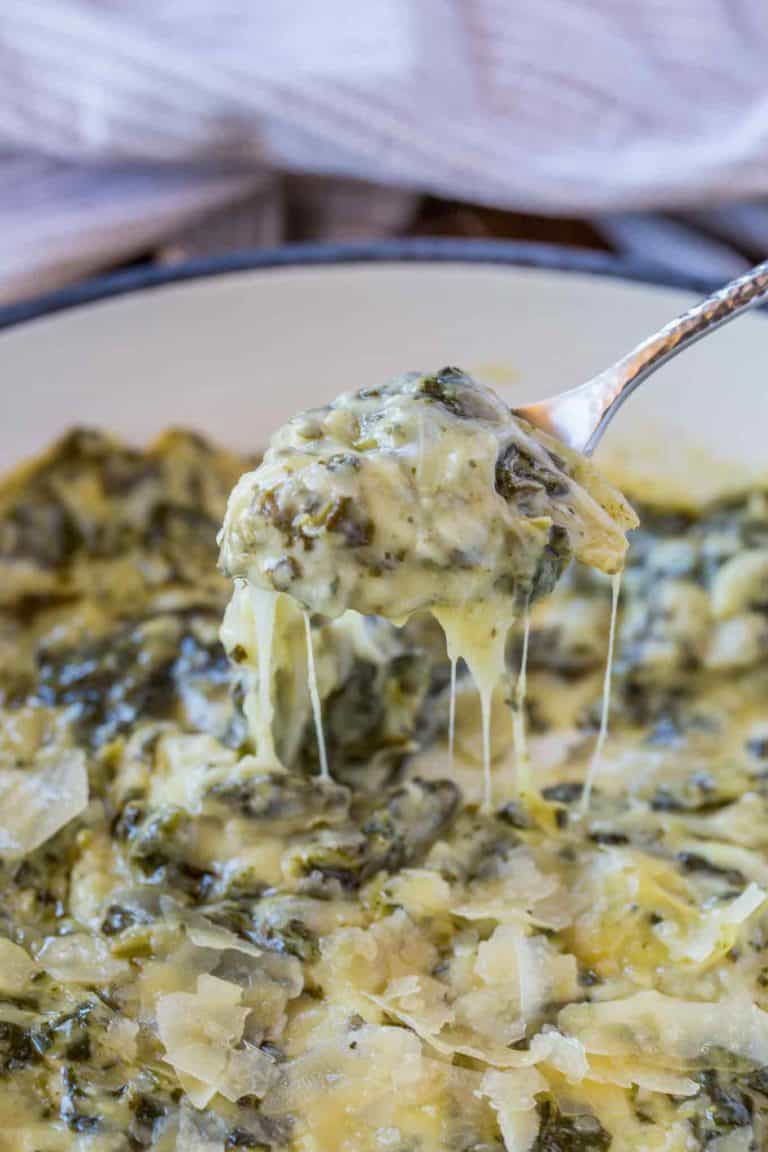 Can you make this dip in the slow cooker?
Absolutely, spinach artichoke dip is the PERFECT recipe for the slow cooker, you can find it here: Slow Cooker Spinach Artichoke Dip
Can you freeze this Spinach Artichoke Dip?
I don't recommend freezing this dip as it contains sour cream which can break the sauce when unfrozen. Even if you use mayonnaise it will also break the cheese sauce upon defrosting.
Tools used in the making of this Spinach Artichoke Dip:
Artichoke Hearts: Easy to use and store, marinated for extra flavors.
Yellow Enameled Cast Iron Skillet: The perfect cheery cast iron skillet but with enamel for easier and more gentle cooking.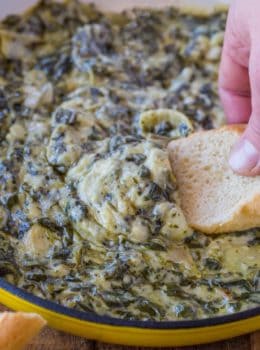 Spinach Artichoke Dip Recipe
Ultimate Spinach Artichoke Dip prepped in just five minutes and ready to eat in 30! The perfect easy, cheesy appetizer with three cheeses.
Ingredients:
8 ounces cream cheese, room temperature
1/4 cup sour cream
3/4 cup shaved Parmesan cheese, divided
2 cloves garlic, minced
1/2 teaspoon kosher salt
1/4 teaspoon coarse ground black pepper
14 ounce can artichoke hearts, drained and chopped
1/2 cup frozen chopped spinach, thawed and drained very well
1/4 cup shredded mozzarella cheese
Directions:
Pre-heat the oven to 350 degrees.
In a large bowl add all the ingredients except 1/4 cup mozzarella and 1/4 cup Parmesan cheese together until well mixed.
Top with mozzarella cheese and back for 20-25 minutes.
Top with Parmesan cheese and serve.
Nutrition Information
Yield: 6 servings, Serving Size: 1/6th recipe
Amount Per Serving:
Calories: 463 Calories
All images and text ©
Made this recipe?
Show me what you made on Instagram or Facebook and tag me at @DinnerthenDessert or hashtag it at #dinnerthendessert.
Dinner, then Dessert, Inc. owns the copyright on all images and text and does not allow for its original recipes and pictures to be reproduced anywhere other than at this site unless authorization is given. If you enjoyed the recipe and would like to publish it on your own site, please re-write it in your own words, and link back to my site and recipe page. Read my disclosure and copyright policy. This post may contain affiliate links.