jump to recipe
Spinach Artichoke Dip Cheesy Bread
Spinach Artichoke Dip Cheesy Bread is two of your favorite appetizers in one. Cheesy garlic bread meets spinach and artichoke dip in just 30 minutes!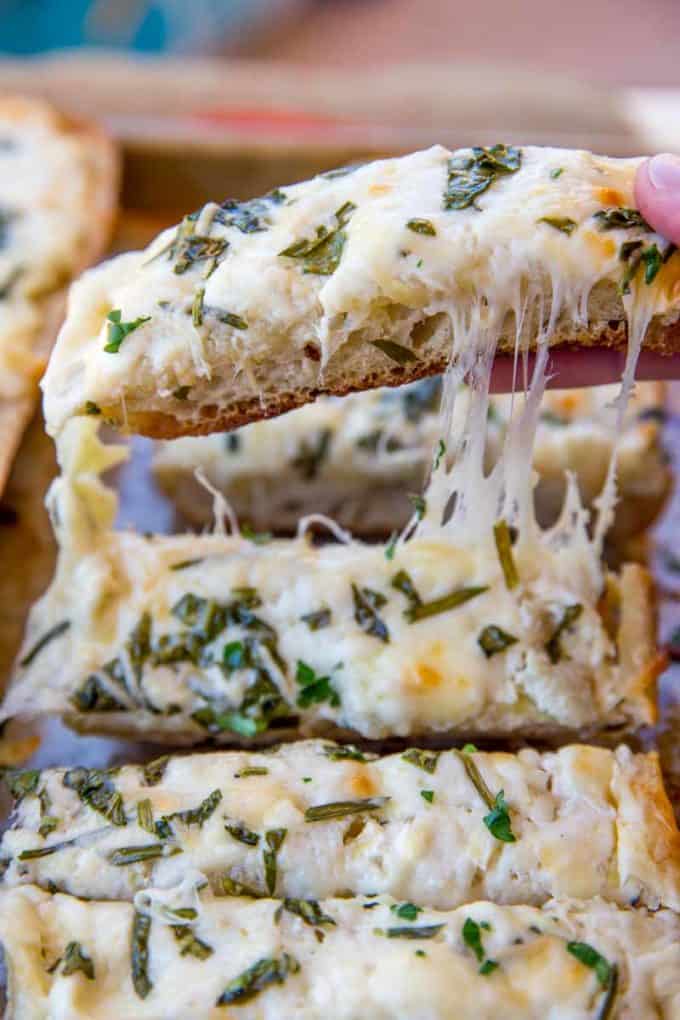 Spinach Artichoke Dip Cheesy Bread will save you the arguments over appetizers!
Do you ever find yourself at an Italian restaurant looking at the appetizers and deciding between the garlic bread or the Spinach & Artichoke dip? I don't anymore. You know why? Because after one fateful dinner years ago at Maggiano's when we ran out of bread for our dip and I used our garlic bread instead.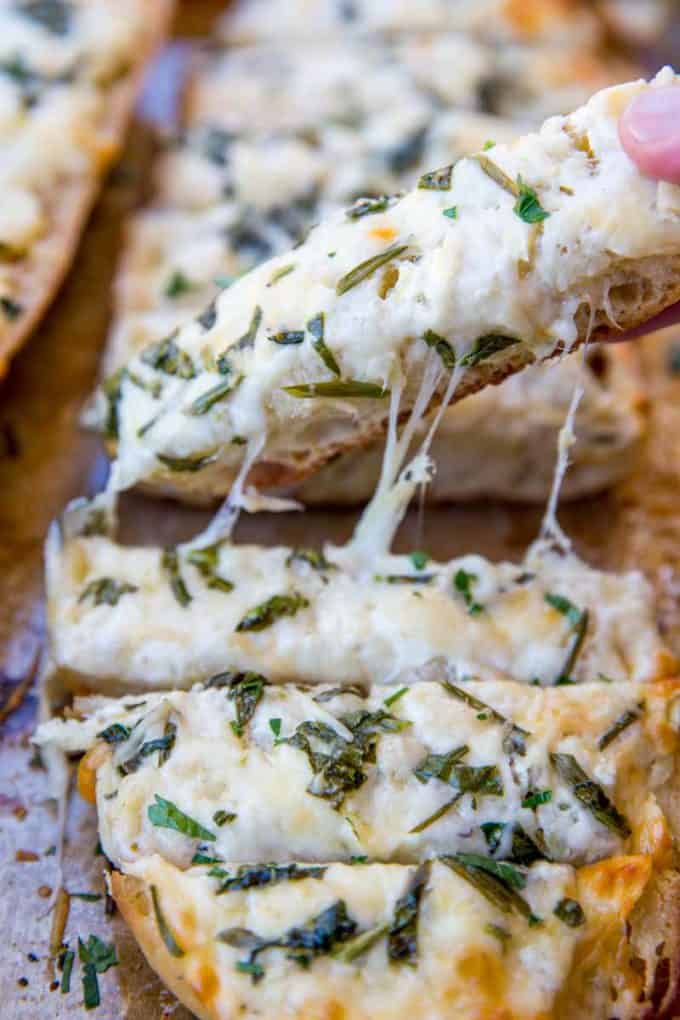 Plus I mean, if you are headed out to an Italian restaurant you aren't normally thinking about your waistline, so why not dip garlic bread in spinach and artichoke dip right? RIGHT! It took just one bite before we were all converts!
MY OTHER RECIPES
The recipe itself is pretty easy to make and gets it's base ingredients from my spinach and artichoke dip recipe. The main differences are that there isn't more liquids in it to keep it in dip form. I took out the wine and the sour cream and pumped up the butter because it is garlic bread after all.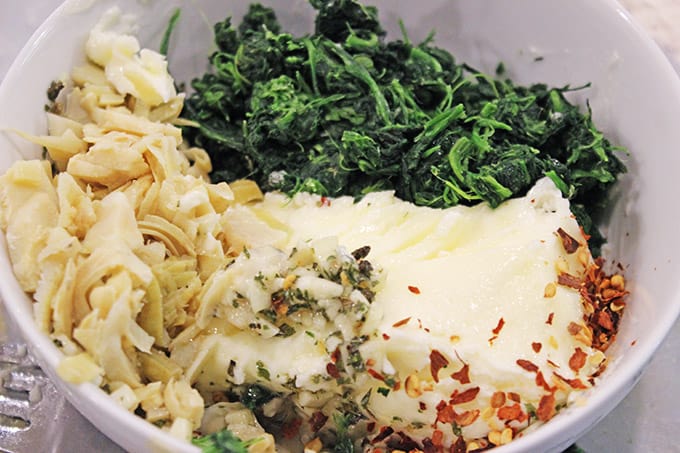 For my tastes I would double the crushed red pepper because I like a hint of it in the background. With the kids and all, leaving it at the current amount is better.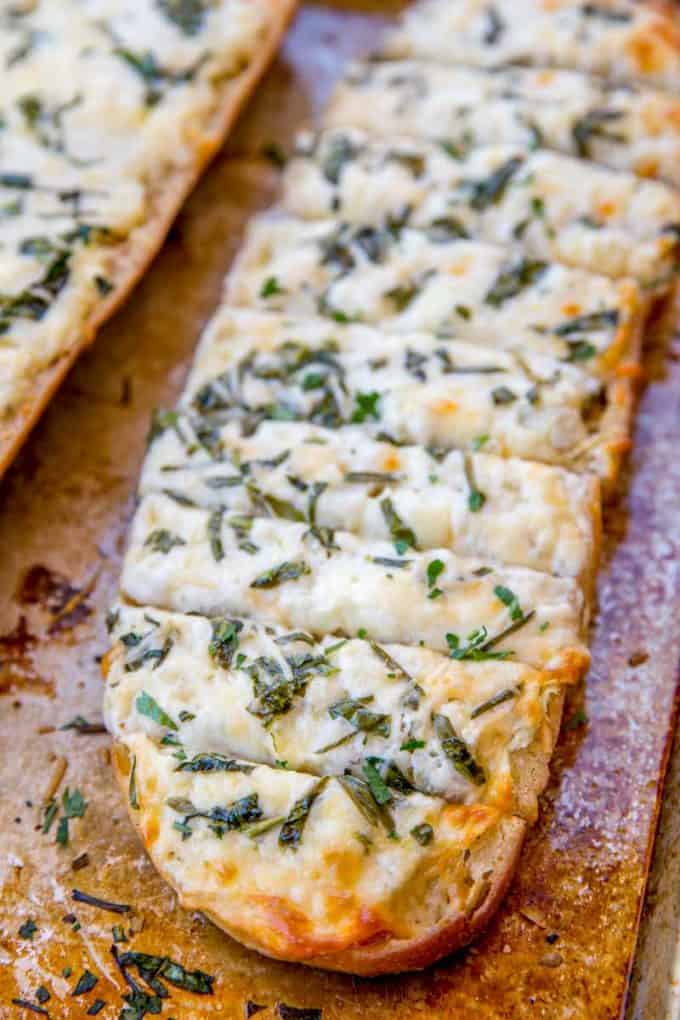 In you love this Spinach Artichoke Dip Cheesy Bread then I know you'll love these!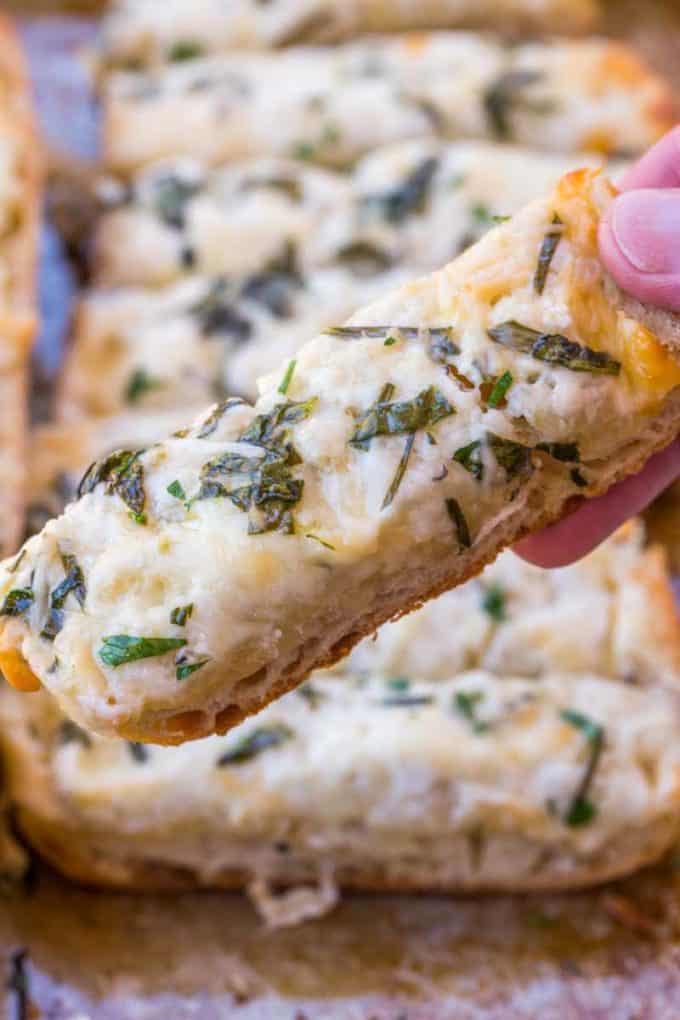 Tools Used in the Making of this Spinach Artichoke Dip Cheesy Bread:
Sheet Pan: I love this sheet pan because even at the highest temperatures it won't warp at all. Plus the price is amazing for it. I have 4 in my kitchen (I cook in large volumes for clients).
Artichoke Hearts: There are a lot of varieties of Artichoke hearts, I love these. Any will work just don't use this kind. They're delicious but the brine will add flavors we don't want in this dish.
Food Processor: This is the newer version of the one I have used and loved for ten years. It is a workhorse and the new model has similarly awesome reviews…and it is so affordable!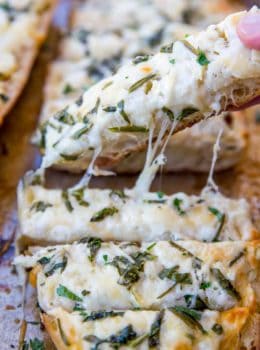 Spinach Artichoke Dip Cheesy Bread
Spinach Artichoke Dip Cheesy Bread is two of your favorite appetizers in one. Cheesy garlic bread meets spinach and artichoke dip in just 30 minutes!
Ingredients:
16 ounce French bread , split lengthwise
8 ounces fresh spinach , washed and dried
2 tablespoons extra-virgin olive oil
1 large shallot , chopped
9 cloves garlic , chopped
6 ounces artichoke hearts , chopped
1 1/2 sticks butter
1/2 teaspoon salt
1/4 teaspoon black pepper
1/4 teaspoon crushed red pepper
2 tablespoons fresh parsley , chopped
8 ounces Mozzarella Cheese
6 ounces shredded Parmesan cheese , divided
Directions:
Preheat oven to 375 degrees.
In a large saucepan cook the shallots, olive oil and spinach until wilted.
Add to small food processor with the garlic, artichoke hearts, butter, salt, pepper and crushed red pepper and process until just combined.
Spread over the French bread evenly on both sides and put on a cookie sheet.
Add the mozzarella and pamesan cheeses evenly over both halves.
Bake for 15-20 minutes or until golden brown and bubbly.
Nutrition Information
Yield: 12 servings, Serving Size: 2 slices
Amount Per Serving:
Calories: 315 Calories
Total Fat: 22g
Carbohydrates: 21g
Protein: 15g
All images and text ©
Made this recipe?
Show me what you made on Instagram or Facebook and tag me at @DinnerthenDessert or hashtag it at #dinnerthendessert.
Dinner, then Dessert, Inc. owns the copyright on all images and text and does not allow for its original recipes and pictures to be reproduced anywhere other than at this site unless authorization is given. If you enjoyed the recipe and would like to publish it on your own site, please re-write it in your own words, and link back to my site and recipe page. Read my disclosure and copyright policy. This post may contain affiliate links.