Artichoke Cheese Dip
Artichoke Cheese Dip takes five minutes of prep and full of artichokes, Parmesan and cream cheese that is baked in a bread bowl for the perfect appetizer!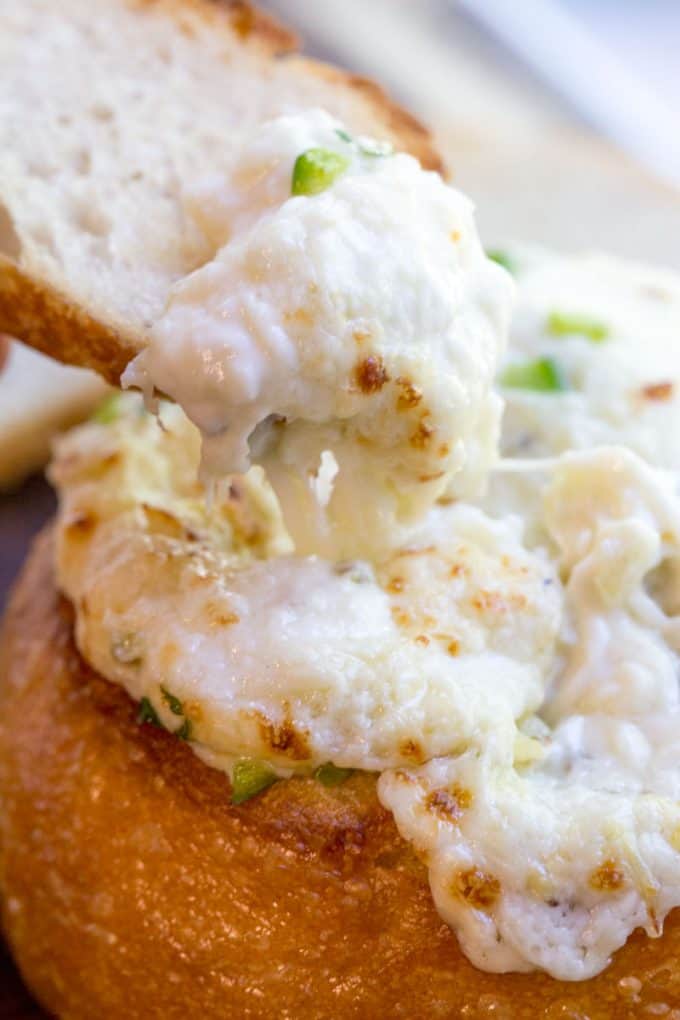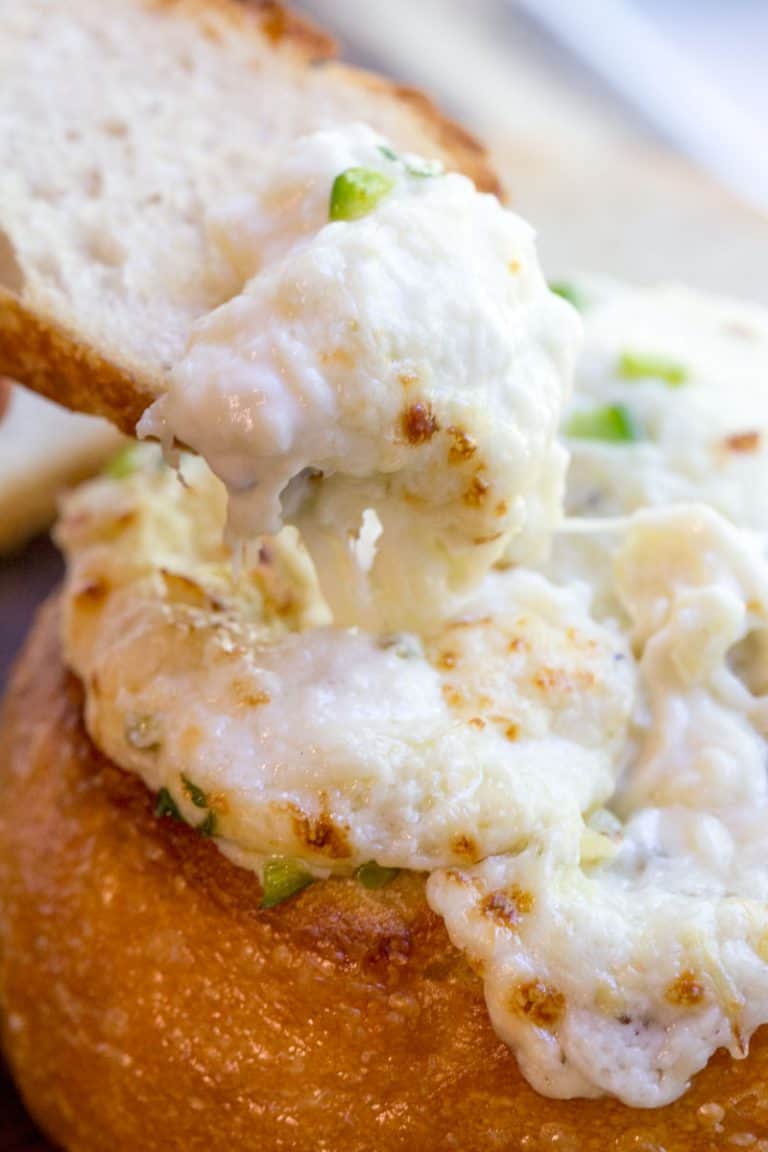 Artichoke Cheese Dip wasn't a recipe I came by through the wonderful world of Pinterest. I was with my husband and his mom at a farmer's market in Los Angeles one day probably ten years ago and we were rounding the "hey you want delicious smelling prepared food don't you?!" section of the market. There was a stand that sold prepared dips and Middle Eastern food like feta and olives (they were so overpriced I think my deal seeking heart may have died a little) and she said "Oh Boy!!" when she saw this dip.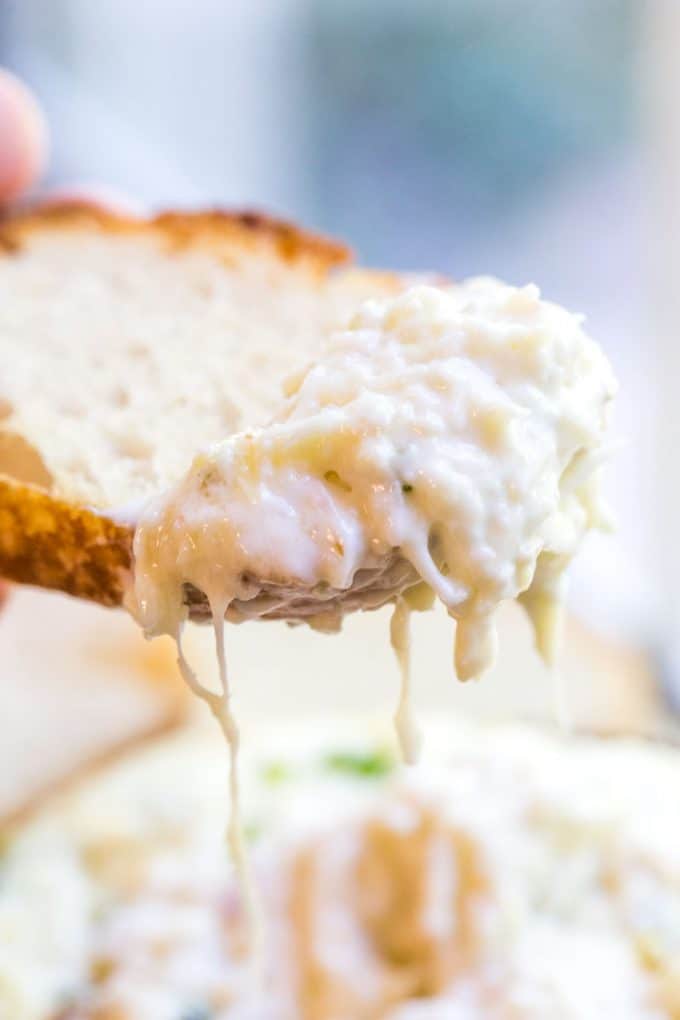 Artichoke Cheese Dip quickly became my pet project, watching her buy the dip with such excitement I wanted to recreate it for her so she could make it anytime. We bought the dip, the pita chips and when we got home we got to work. Delicious work, mind you.
The best part was the ingredients to the Artichoke Cheese Dip were listed right on top, I just needed the proportions. At first we had mozzarella in the mix but it made it too mild. This dip is rich and briny and tangy, mozzarella clearly was out of its league (plus it was listed last, how much could possibly have been in it?).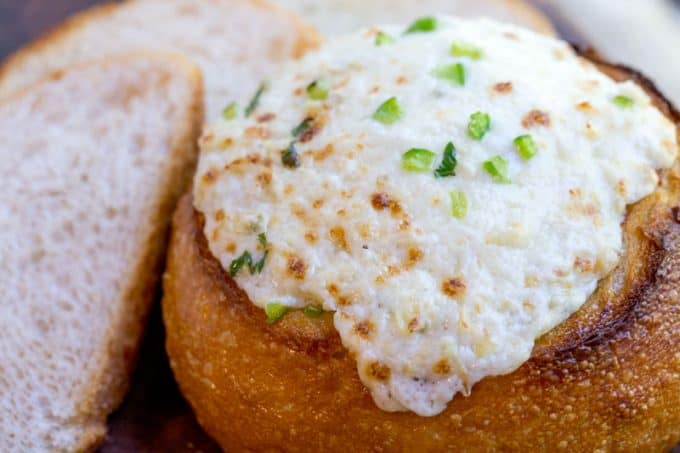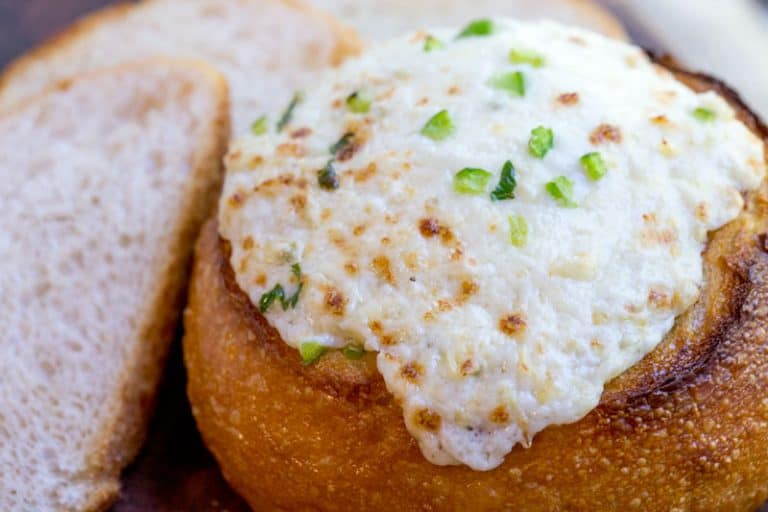 MY OTHER RECIPES
Now Artichoke Cheese Dip is a regular part of our holiday party rotation. It takes just five minutes to prepare and toasts away in the oven until it is bubbly and browned in its own delicious bread bowl (team sourdough here but anything you like will work). See how easy this dip is in this video:
A couple of quick notes about the Artichoke Cheese Dip:
The dip is perfectly delicious cold! So if you're thinking of office parties or picnics, you can absolutely make this recipe part of the party.
You can bake the dip in a baking pan or oven safe bowl if you'd prefer to serve with something other than the bread bowl, but I must warn you the leftover bowl and dip re-toasted may be one of life's most amazing pleasures. It is GOOD.
Add some spice/heat to the mix and add in some diced jalapenos. I only added them on top as a garnish but adding a half a de-seeded and de-veined minced jalapeno will give the Artichoke Cheese Dip a delicious kick.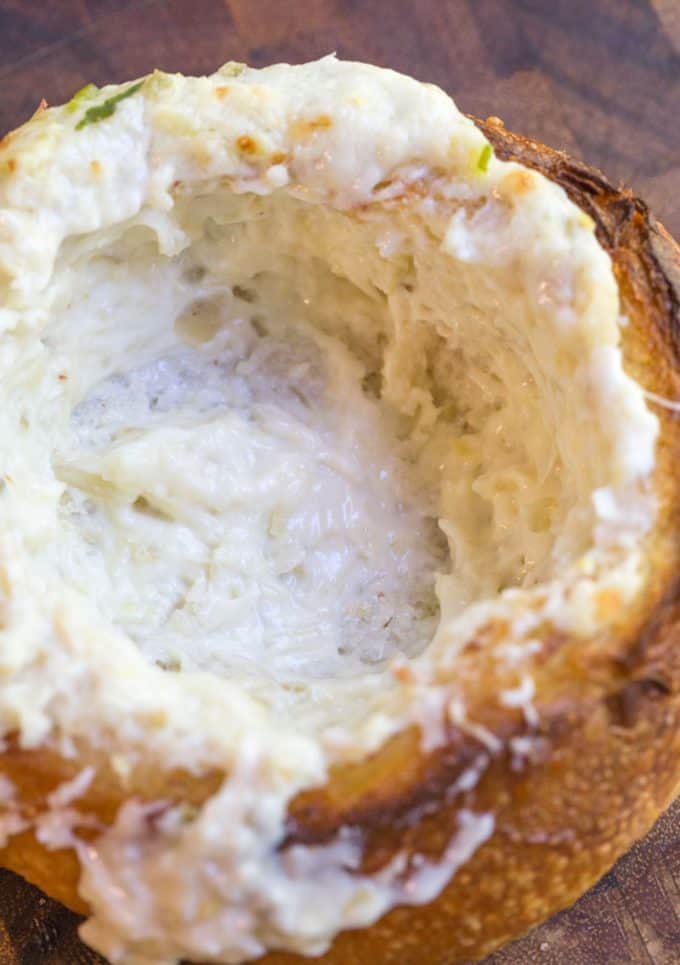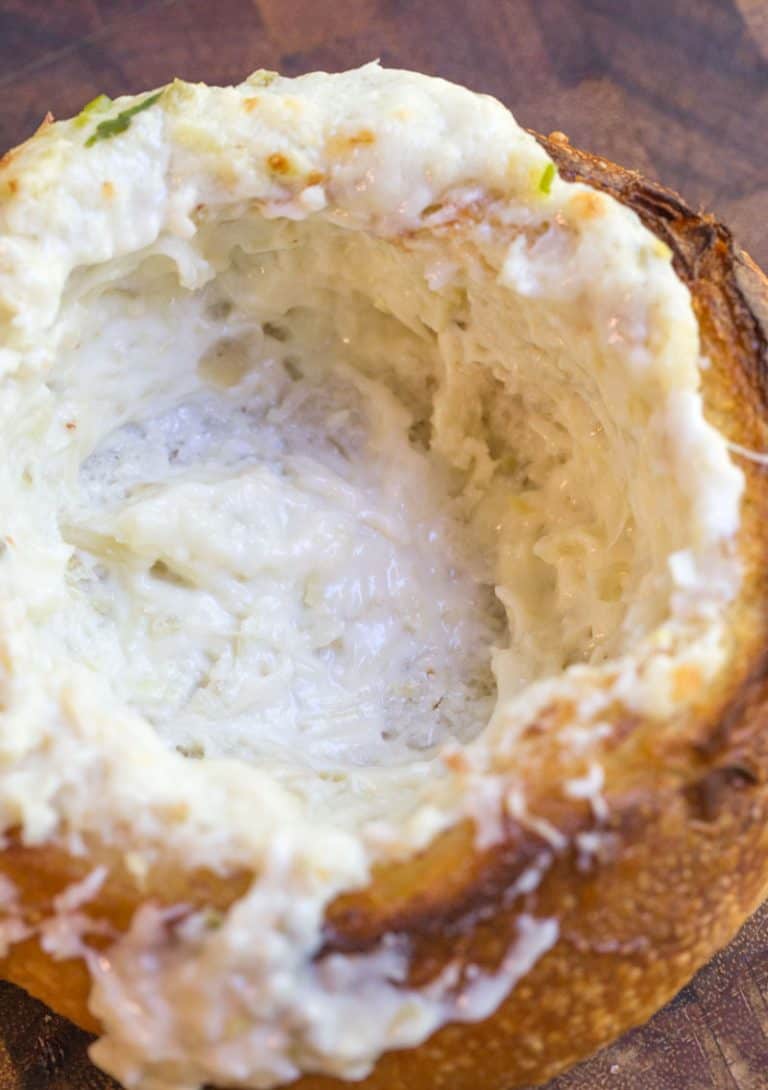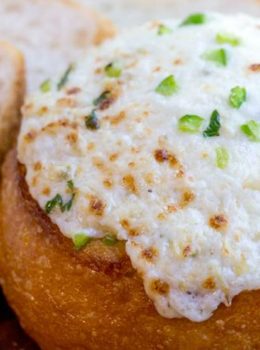 Artichoke Cheese Dip
Artichoke Cheese Dip takes five minutes of prep and full of artichokes, Parmesan and cream cheese that is baked in a bread bowl for the perfect appetizer!
Prep Time 5 minutes
Cook Time 25 minutes
Total Time 30 minutes
Ingredients
1/2 cup sour cream
1/2 cup mayonnaise
8 ounces softened cream cheese
1 1/2 cups grated parmesan cheese , divided
1 clove garlic , minced
8 ounces artichoke hearts , chopped*
Sourdough Boule for the bowl
Instructions
Mix sour cream, mayonnaise, cream cheese, 1 1/4 cups Parmesan cheese, garlic and artichokes in a bowl.

Preheat oven to 350 degrees.

Slice the top 1 inch off your bread bowl and scoop out the interior until you leave about 3/4 of an inch of bread all around the bowl.

Add the dip to your bread bowl and top with the remaining parmesan cheese.

Place on a baking tray and bake at 350 F degrees for 25-30 minutes or until the top is golden brown and bubbly.

Serve with additional toasted bread or veggies or tortilla chips.
Recipe Notes
This post contains affiliate links.

* If you are using bottled or canned artichoke hearts drain them well and buy unseasoned. I am using frozen ones from Trader Joes.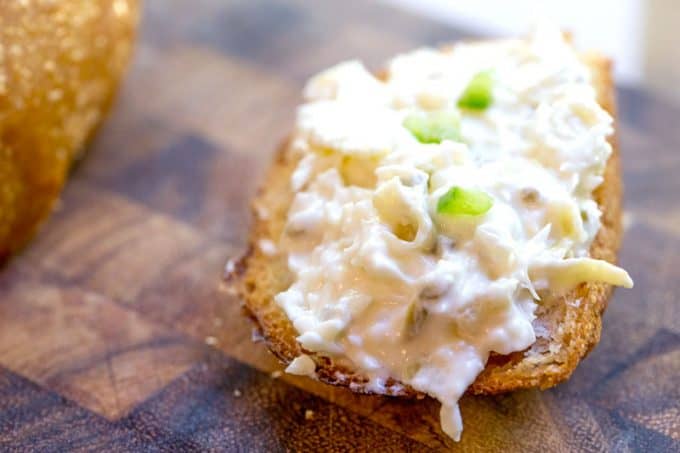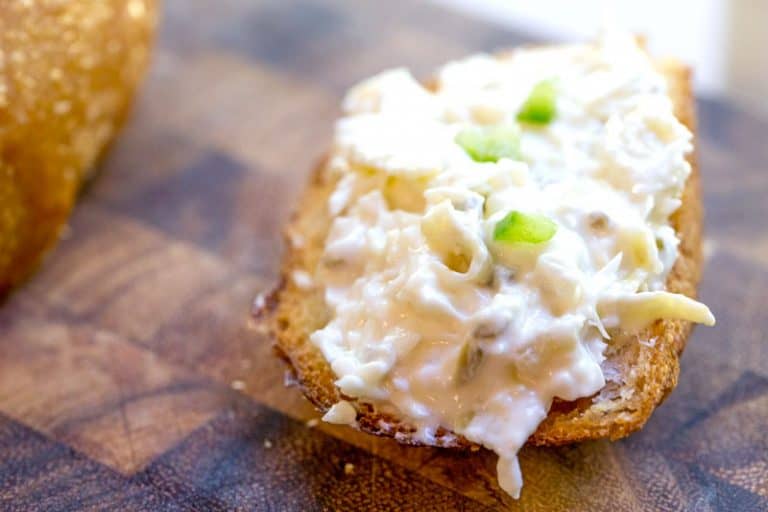 Dinner, then Dessert, Inc. owns the copyright on all images and text and does not allow for its original recipes and pictures to be reproduced anywhere other than at this site unless authorization is given. If you enjoyed the recipe and would like to publish it on your own site, please re-write it in your own words, and link back to my site and recipe page. Read my disclosure and copyright policy. This post may contain affiliate links.