Easy Clam Dip is a cold cream cheese clam dip recipe with canned clams, hot sauce, Worcestershire sauce, and green onions made in minutes.
Just like Smoked Salmon Spread, this creamy cold clam filled dip is the perfect Appetizer for parties, brunch, or anytime you want a quick and indulgent snack.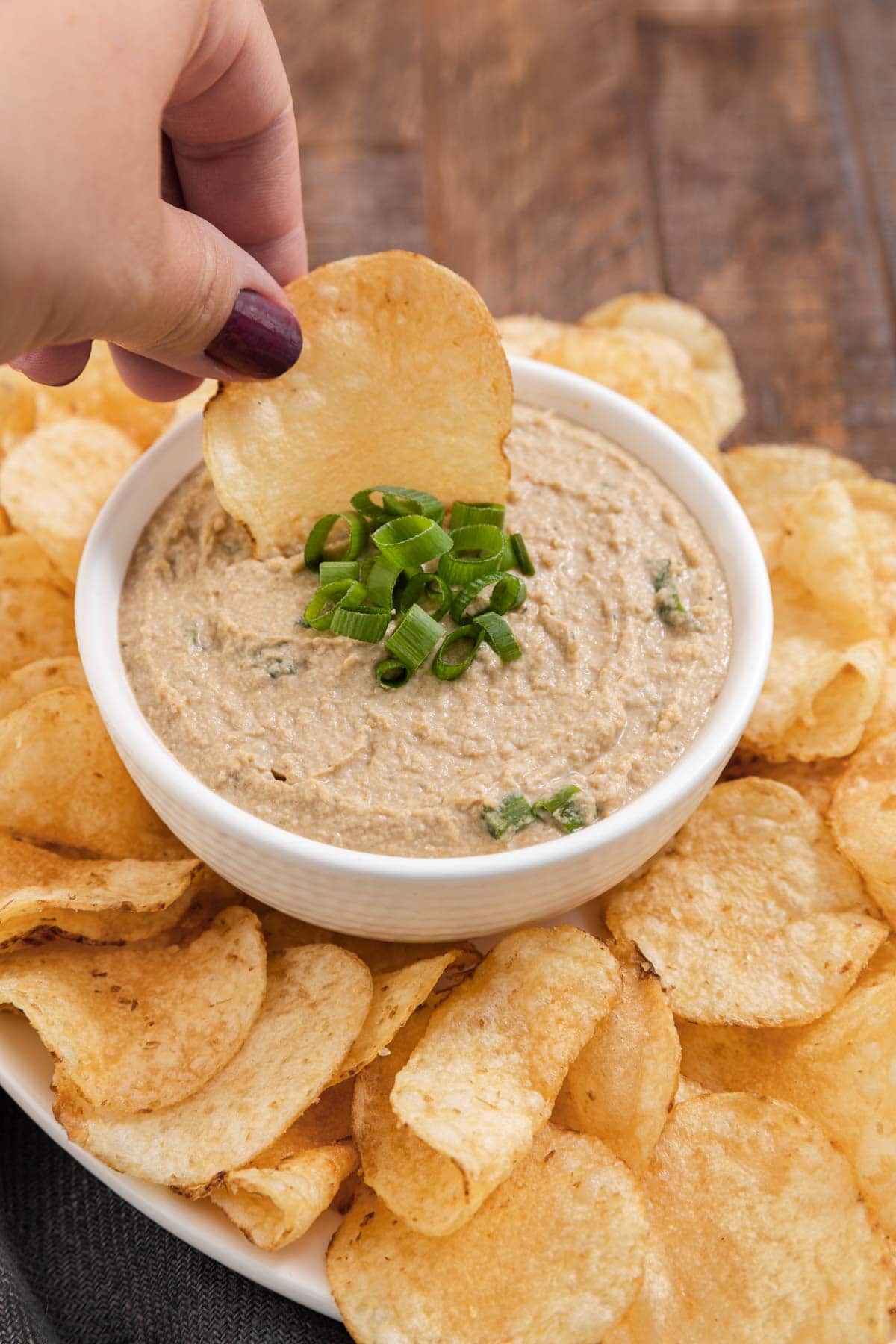 This creamy Clam Dip recipe is fancy enough for a New Years Eve party but low key enough to serve on Game Day alongside other tailgate favorites. It is so easy to make with just a handful of ingredients and even though it's a seafood dip, it won't break the bank. Canned clams are the "fanciest" ingredient you need to make a decadent appetizer from scratch in just a couple of minutes.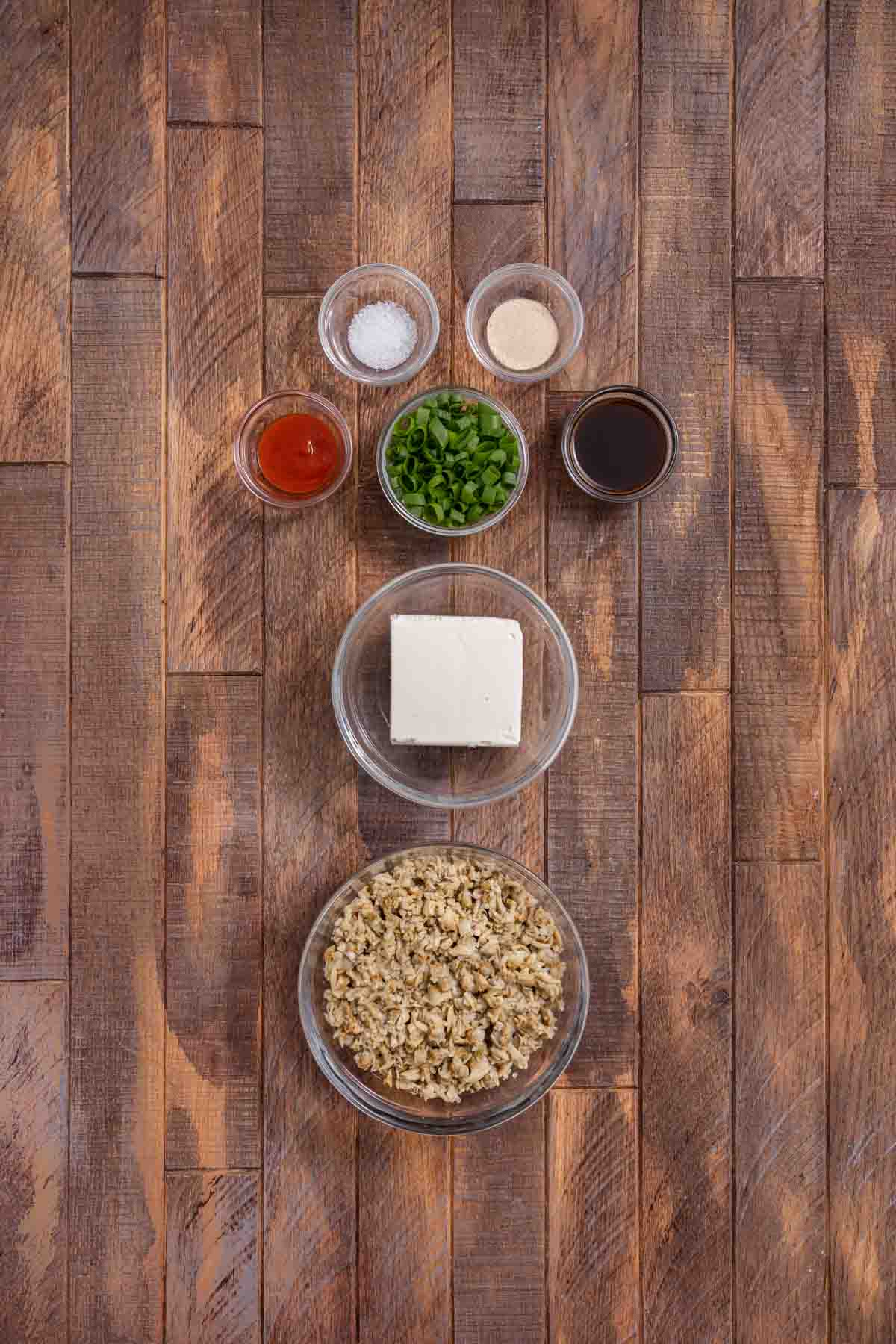 Classic Clam Dip is one of those old school recipes that really took off in popularity when canned foods became a household staple. Canning made seafood accessible all over the country and, coupled with how easy it is, clam dips like this one soon became beloved family favorites. There are a lot of versions of clam dip, but we love a classic cold dip with cream cheese because it's simple and so indulgent.
This recipe for Clam Dip mirrors the original recipe that was popularized starting in the 1950s. It has a cream cheese base and we blend the clams with the cream cheese for a smooth dip packed with clam flavor. Seasonings like Worcestershire sauce and garlic are added just like the original recipe. Finally, we add a dash of hot sauce to give it a slight kick and bring the flavors together.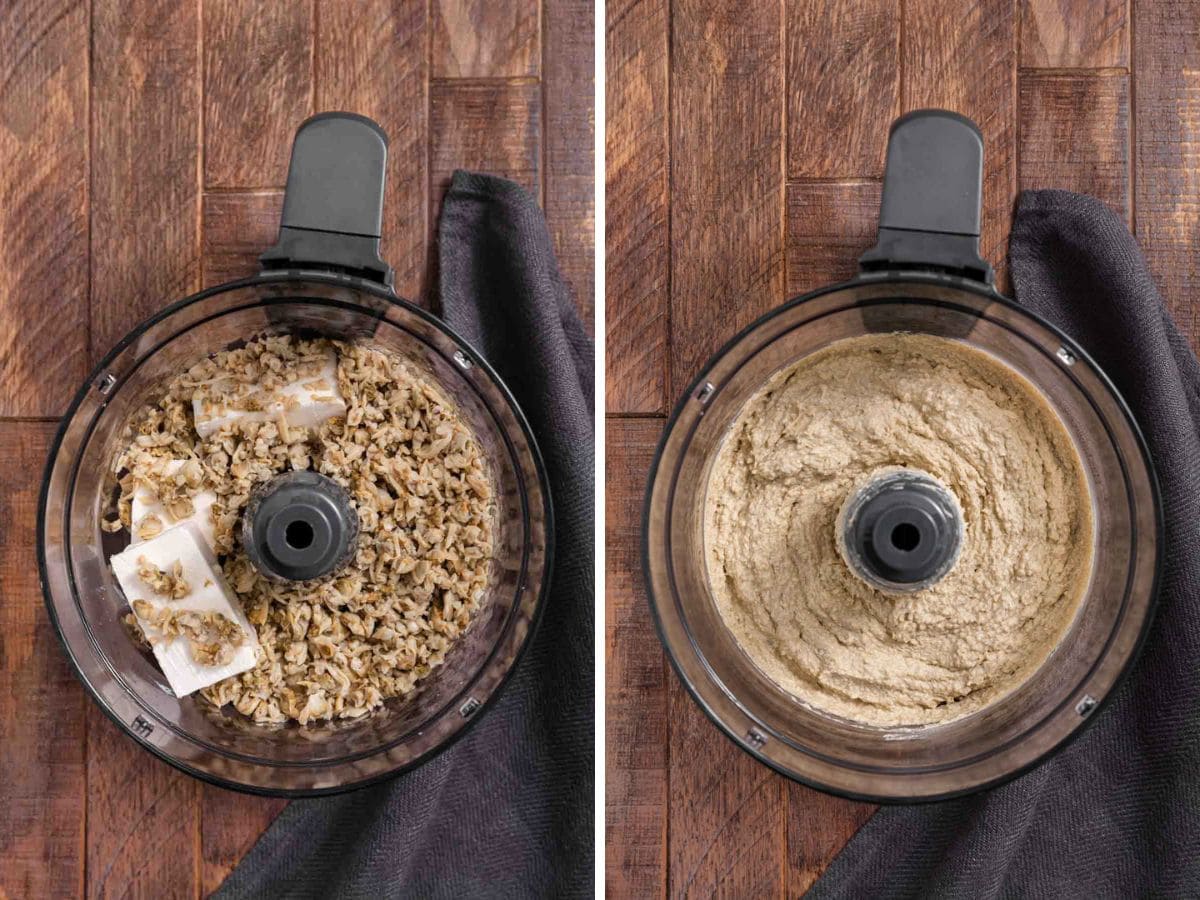 Our easy Clam Dip is made from scratch and tastes better, and fresher, than any you could pick up at the deli. It comes together in just minutes and really only dirties one dish because you can mix it in the same bowl you want to serve it in. The only equipment you need is a food processor so you get that clam flavor in every bite. If you don't want to blend the clams, you could always skip that step or add an extra can of clams so you get the creamy base plus bits of clam.
How to Make Clam Dip
Blend: In a food processor, blend cream cheese and clams until clams are minced.
Stir: Transfer the clam mixture to a large bowl and mix in the remaining ingredients.
Serve: Spoon the dip into a serving bowl and serve with sturdy, crispy potato chips.
More Creamy Seafood Dip Recipes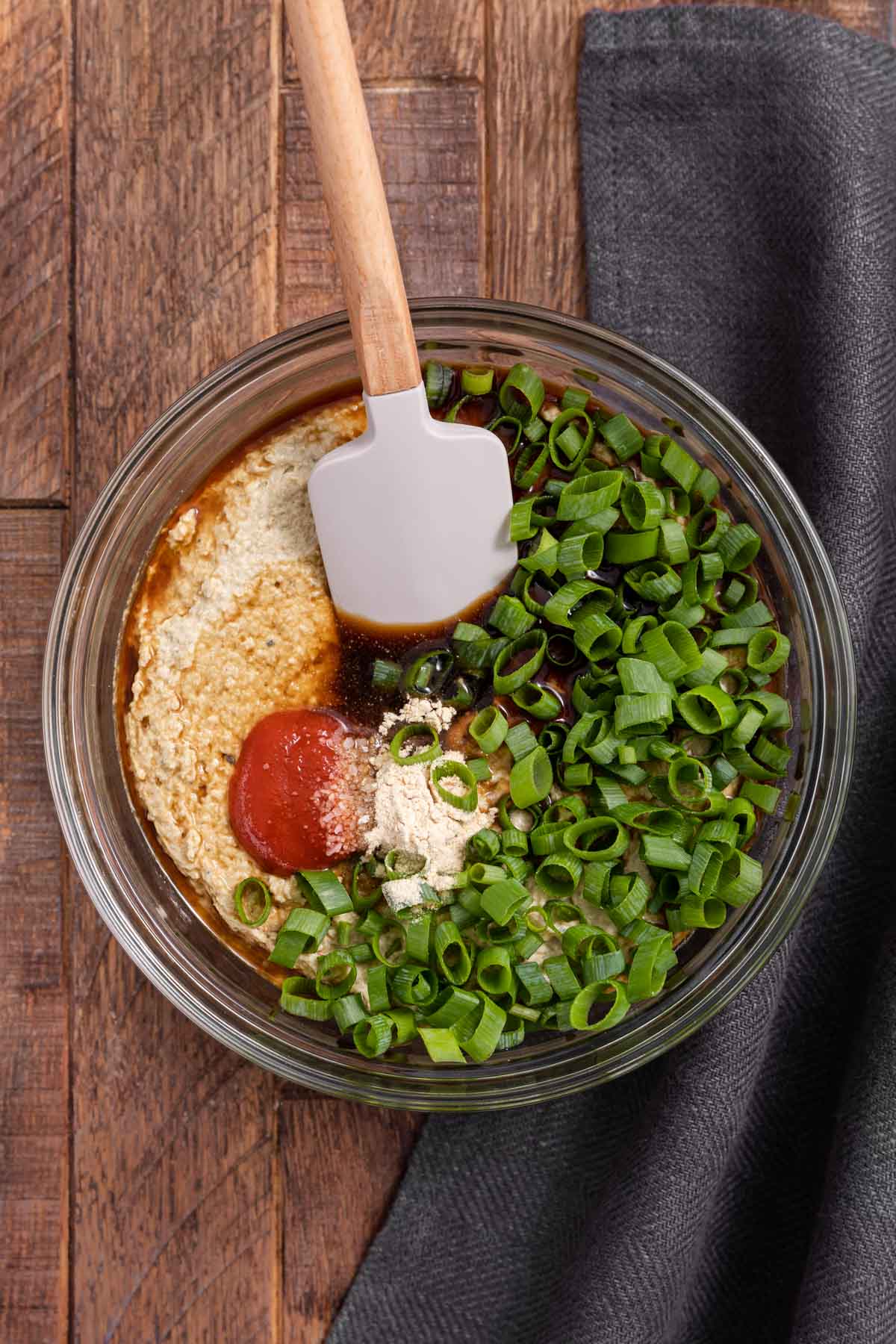 FAQs for Clam Dip
Where did clam dip come from?
While some versions have been around long before the 1950s, that's when the first appearance of the Classic Clam Dip we know today appeared on a national scale. It was promoted on the Kraft Music Hall show, a popular radio and TV program, and became a huge hit overnight. This was also a time period when canned food became more mainstream and preferable to fresh foods.
Do you have to rinse canned clams?
You don't have to rinse canned clams but you do want to drain them before you use them. Some people like to use the clam liquid to give this dish even more clam flavor, but it can also water down your dip. If you do use the clam liquid, add a little at time until the taste and consistency are what you like.
What kind of clams do you use for clam dip?
The easiest way to make this dip is to use canned clams. If you have fresh clams, you will need to cook them first because canned cans are already cooked. They have been processed to remove any grittiness too. So if you aren't used to preparing clams, use the canned kind until you master cleaning and cooking fresh clams.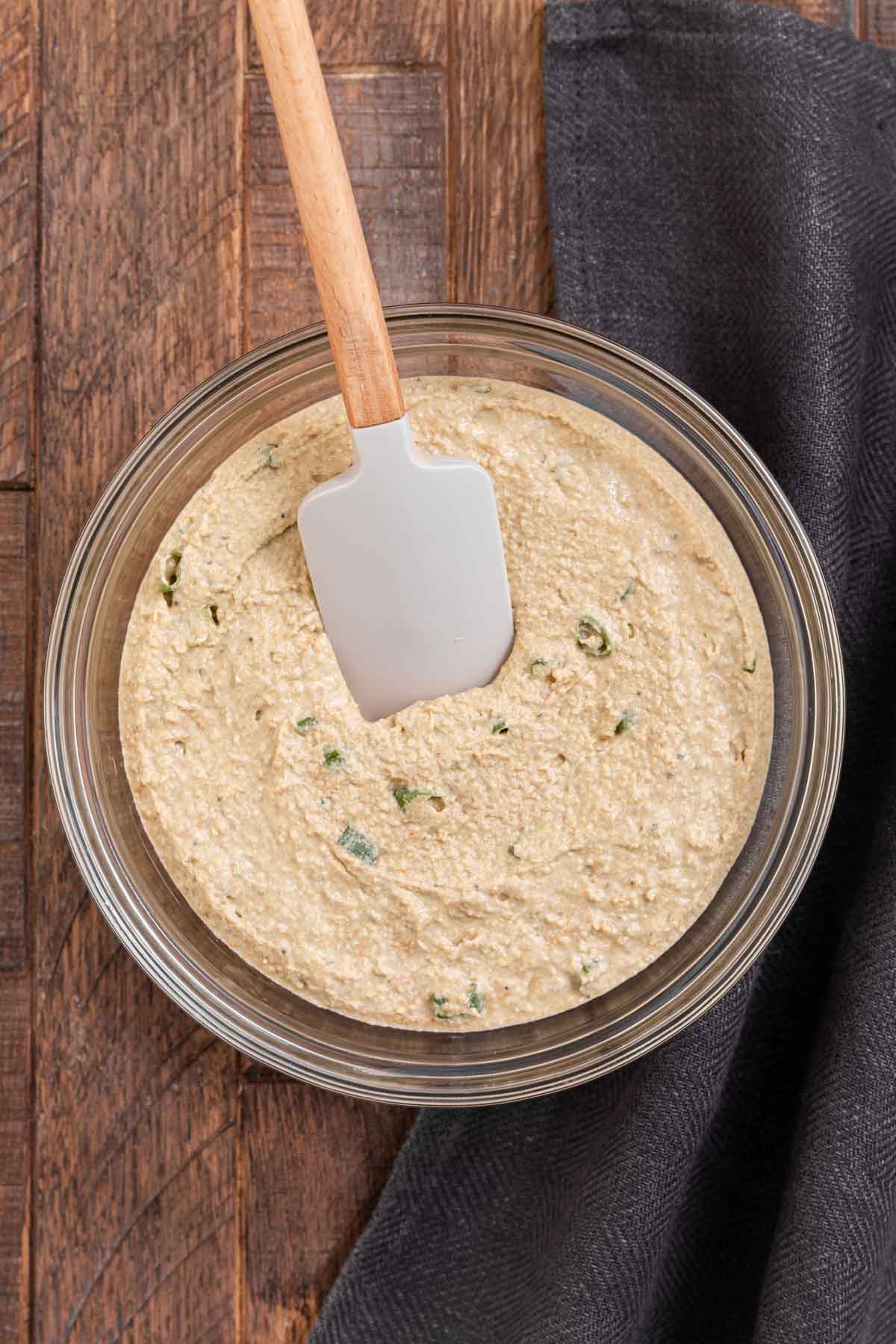 Create a free account to Save Recipes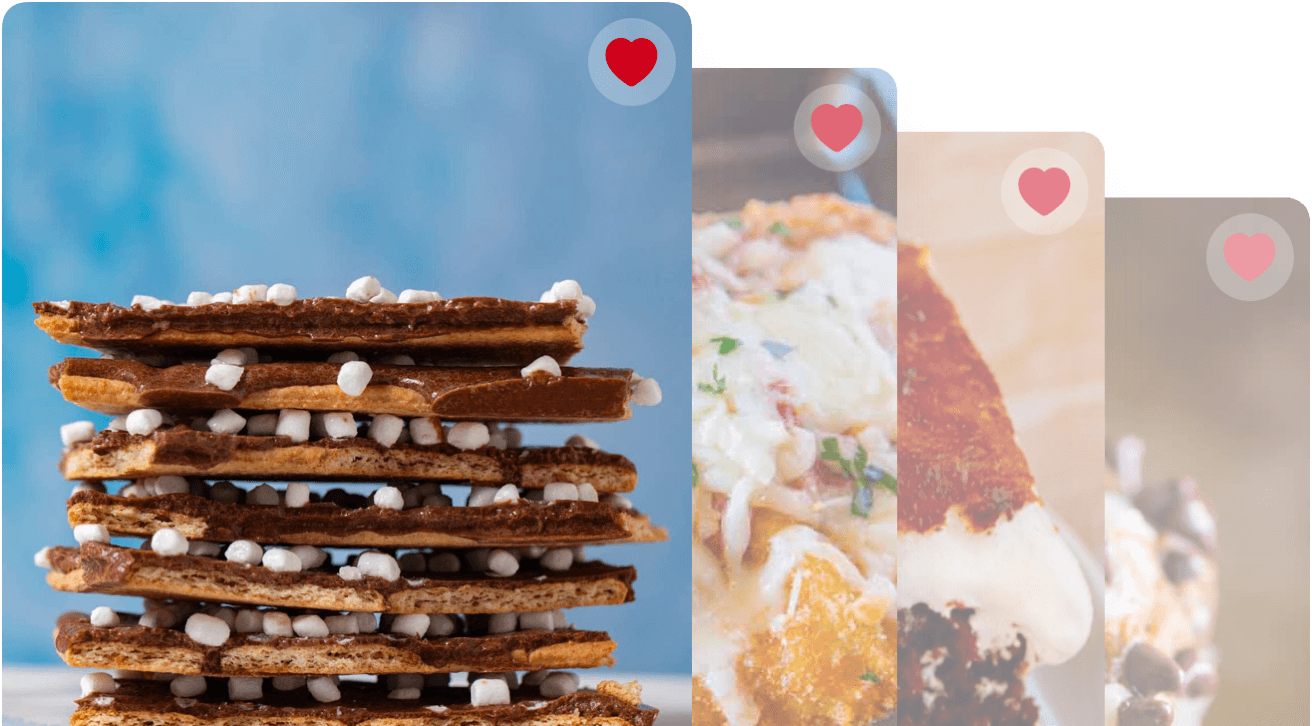 Key Ingredients
Clams: We use chopped canned clams so they whip up with the cream cheese easily and give a creamy yet clam filled dip. You can find canned clams in the same section as canned tuna and canned chicken.
Cream Cheese: Cream cheese is the ultimate party dip base! It can be sweet or savory, hot or cold, its can pretty much do everything. Use full fat cream cheese for the best texture and taste and soften before using so it mixes easily.
Worcestershire sauce: This savory sauce hits every taste bud, from the tangy vinegar notes, to the umami and bitter notes from fermentation, and finishing off with a lightly sweet salty flavor. A little goes a long way and packs a big punch only using a tablespoon.
Can you Make Clam Dip in advance?
Absolutely! One of the reasons this dip is great for parties is that it gets even better after it sits for a while. So if you are prepping for the holidays or a big event, make your Clam Dip a day or two in advance. The day of your event, all you'll have to do is give it a good stir and top it with diced fresh chives or scallions.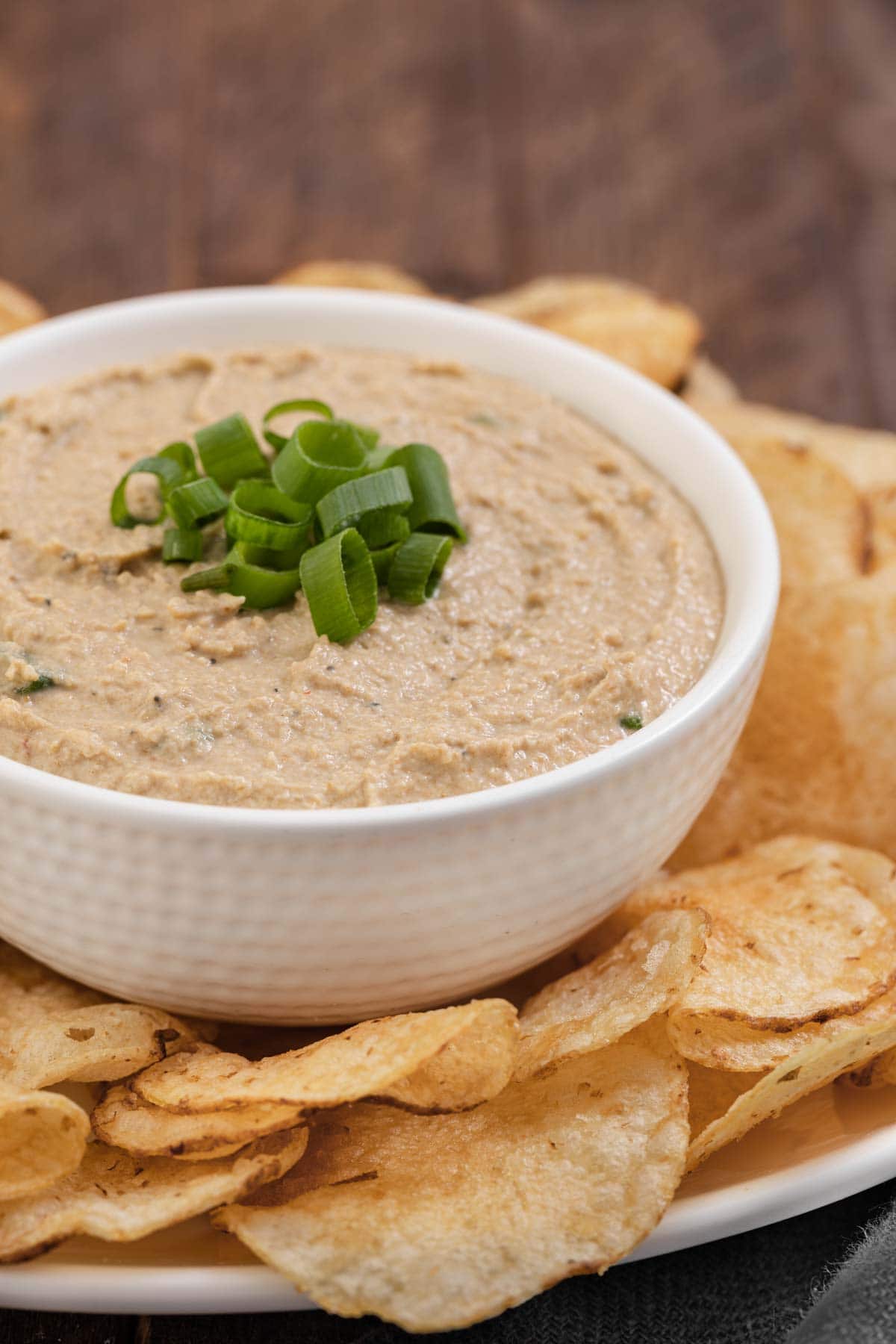 Variations
Bacon: Any time you can add bacon, we recommend it! Stir in cooked finely chopped crispy bacon pieces or ¼ cup bacon bits. Make a clam chowder twist by adding finely chopped celery and fresh minced garlic along with the bacon.
Lemon: Lemon and seafood go together really well so you can add a teaspoon lemon juice and lemon zest for a fresh, citrus note in this dip.
Seasonings: There are so many seasonings that would taste good, from fresh to dried herbs and spice blends. For fresh seasonings try red onions, shallots, chives, fresh parsley, celery leaves, or dill. From you spice cabinet, try celery salt, Old Bay Seasoning, Ranch Seasoning, or lemon pepper.
Clams: You don't have to just make this dip with regular canned clams, it would also taste goes with smoked clams, baby shrimp, or smoked salmon.
Spicy: Give this dip even more of a kick with fresh horseradish, cayenne pepper, red pepper flakes, coarse ground peppercorns, or a bit more hot sauce to taste. Fresh garlic will add slightly more heat and more garlicky flavor.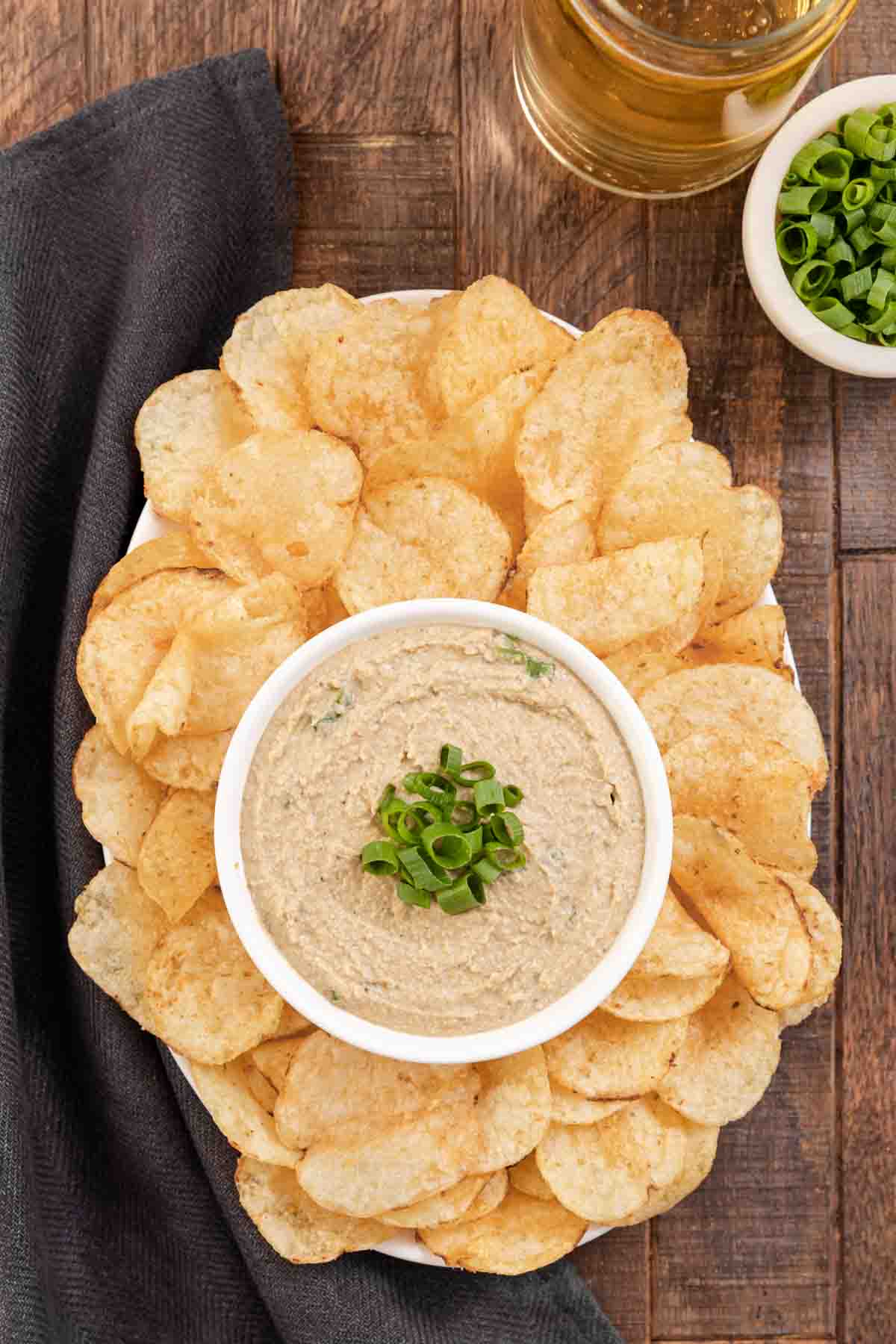 Slow Cooker Clam Dip
Easily make this a hot dip for a crowd by preparing in your slow cooker. This is great too because you don't have to soften the cream cheese ahead of time, just cut it into cubes. Add all the ingredients to your crockpot and give it a couple stirs to combine. Cover and cook on low for 2-3 hours, stirring about 30 minutes in and then halfway through to mix everything together.
What to Serve with Creamy Clam Dip
This delicious Clam Dip is usually served with potato chips or crackers. A salty, crispy potato chips is the perfect balance to cut through the rich cream cheese and umami flavors of the crab and Worcestershire. Since it's a thicker dip, you want to choose sturdy potato chip like a kettle chip so it doesn't break when you are dipping.
You don't just have to serve Clam Dip with potato chips though, there are lots of dippers that go with it too. It also makes a delicious condiment or spread. Here are some ideas to get you started on how to serve cool and creamy Clam Dip.
Chip Alternatives: Bagel Thins, Pita Chips, Multigrain chips, buttery crackers, saltine crackers, and crusty French Bread or baguette slices.
Fresh Vegetables: Colorful bell pepper wedges, celery sticks, carrot sticks, or cucumber slices.
Bread Bowl: Grab a bread bowl from the bakery section. Cut off the top and remove a good portion of the inside, then fill with the dip. Cut up the bread from the center and lightly toast it in the oven to serve alongside the dip.
Spread: Use this dip the same way you would whipped cream cheese and spread it on toast, bagels, or even as a condiment for your favorite sandwiches.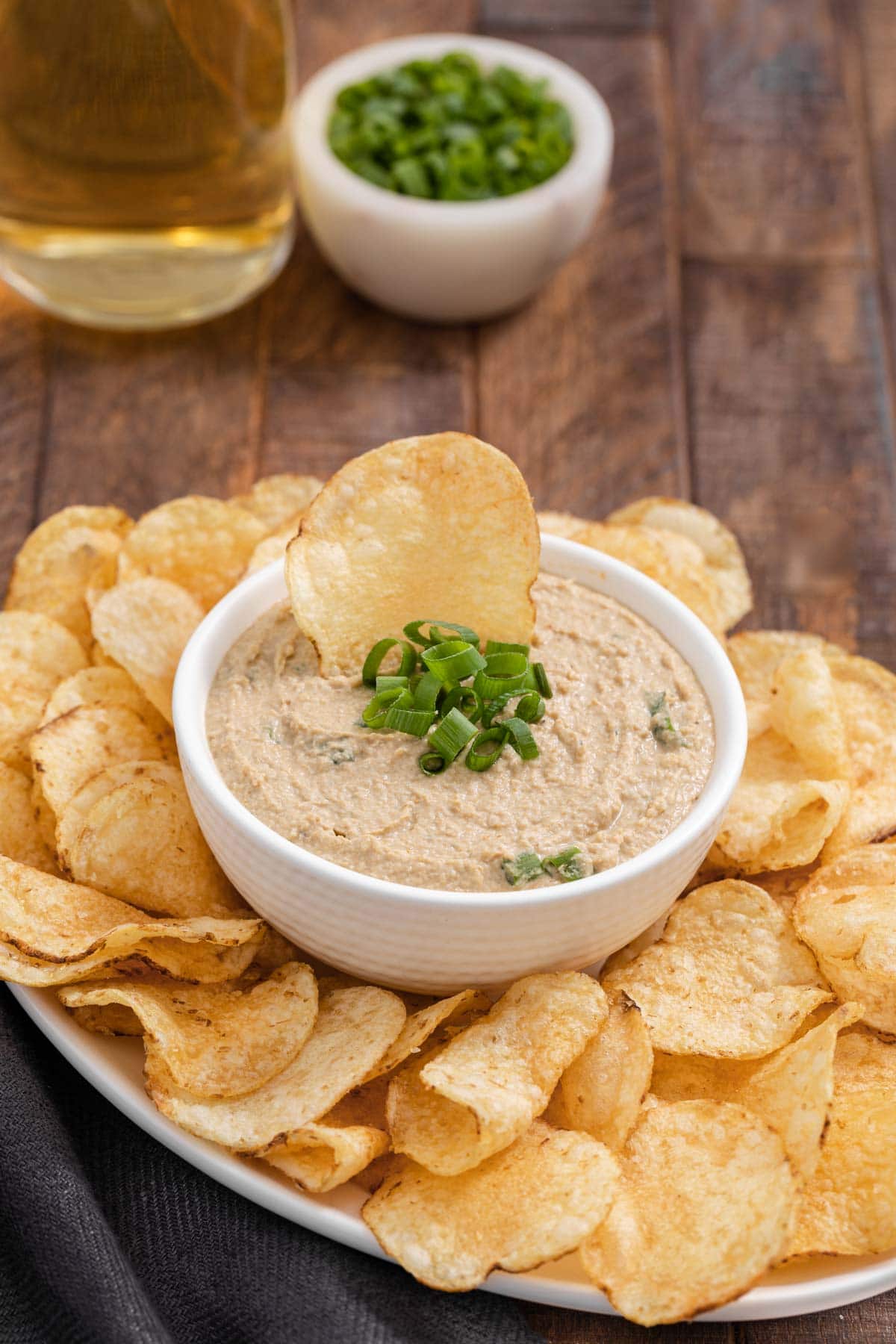 More Delicious Seafood Appetizers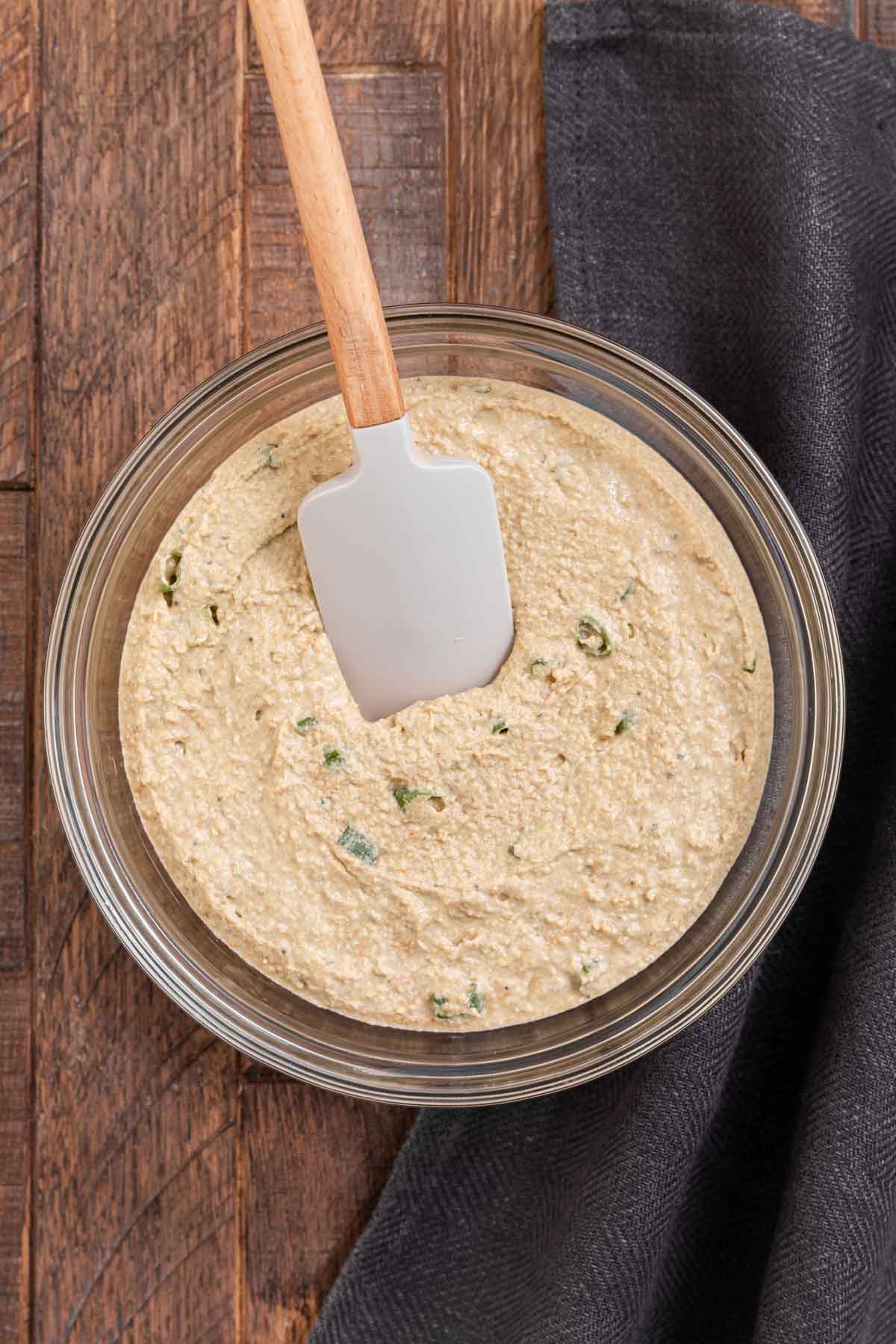 How to Store
Serve: This dip is best kept cold until you are serving it and can be out at room temperature for up to 2 hours. If serving for a party, you can keep it cool by placing the serving bowl in a larger bowl filled with ice.
Store: Cover the serving dish tightly with plastic wrap and refrigerate for up to 5 days. Give it a stir before serving to mix back any natural separation.
Freeze: It is not recommended to freeze a dip with cream cheese. Cream cheese has a high moisture content so when it freezes then thaws, the texture drastically changes. Just make this easy dip fresh and discard any leftovers after 5 days.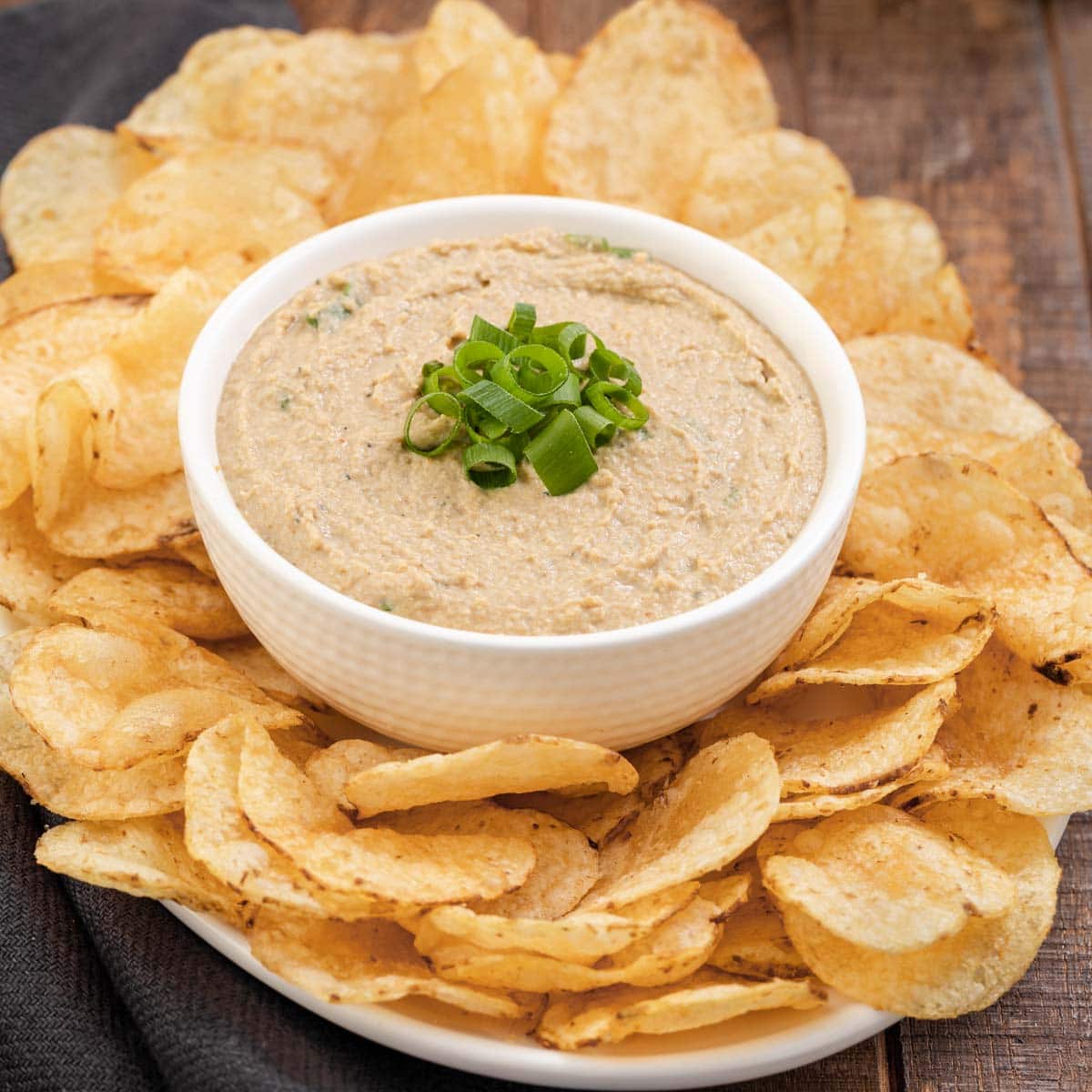 Ingredients
8

ounces

cream cheese

, softened

6.5

ounces

canned chopped clams

, drained well

1/4

cup

green onions

, thinly sliced

1

tablespoon

Worcestershire sauce

1/2

teaspoon

hot sauce

1/2

teaspoon

garlic powder

1/4

teaspoon

kosher salt
Instructions
Add cream cheese and clams to a food processor and pulse until clams are minced well.

Move cream cheese mixture to a large bowl.

Stir in green onions, Worcestershire sauce, hot sauce, garlic powder and kosher salt.
Nutrition
Calories:
63
kcal
|
Carbohydrates:
3
g
|
Protein:
3
g
|
Fat:
4
g
|
Saturated Fat:
3
g
|
Polyunsaturated Fat:
0.2
g
|
Monounsaturated Fat:
1
g
|
Cholesterol:
16
mg
|
Sodium:
211
mg
|
Potassium:
100
mg
|
Fiber:
0.1
g
|
Sugar:
2
g
|
Vitamin A:
200
IU
|
Vitamin C:
1
mg
|
Calcium:
48
mg
|
Iron:
0.3
mg