Smoked Salmon Spread is an easy appetizer recipe that's perfect for get togethers or as a main for brunch that's ready in just 10 minutes. 
If you are looking to broaden your horizons when it comes to easy appetizer recipes, then I've got a few for you to try.  Ultimate Bean Dip, Crab Artichoke Dip and Buffalo Chicken Dip are just some of the awesome appetizers you can whip up in a pinch, or you can try this easy and tasty smoked salmon spread.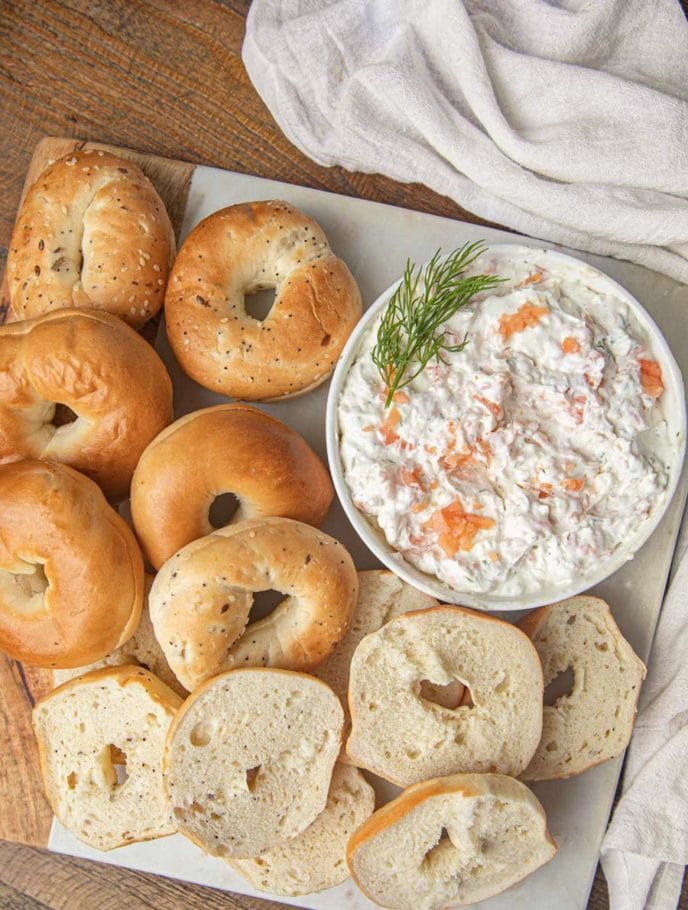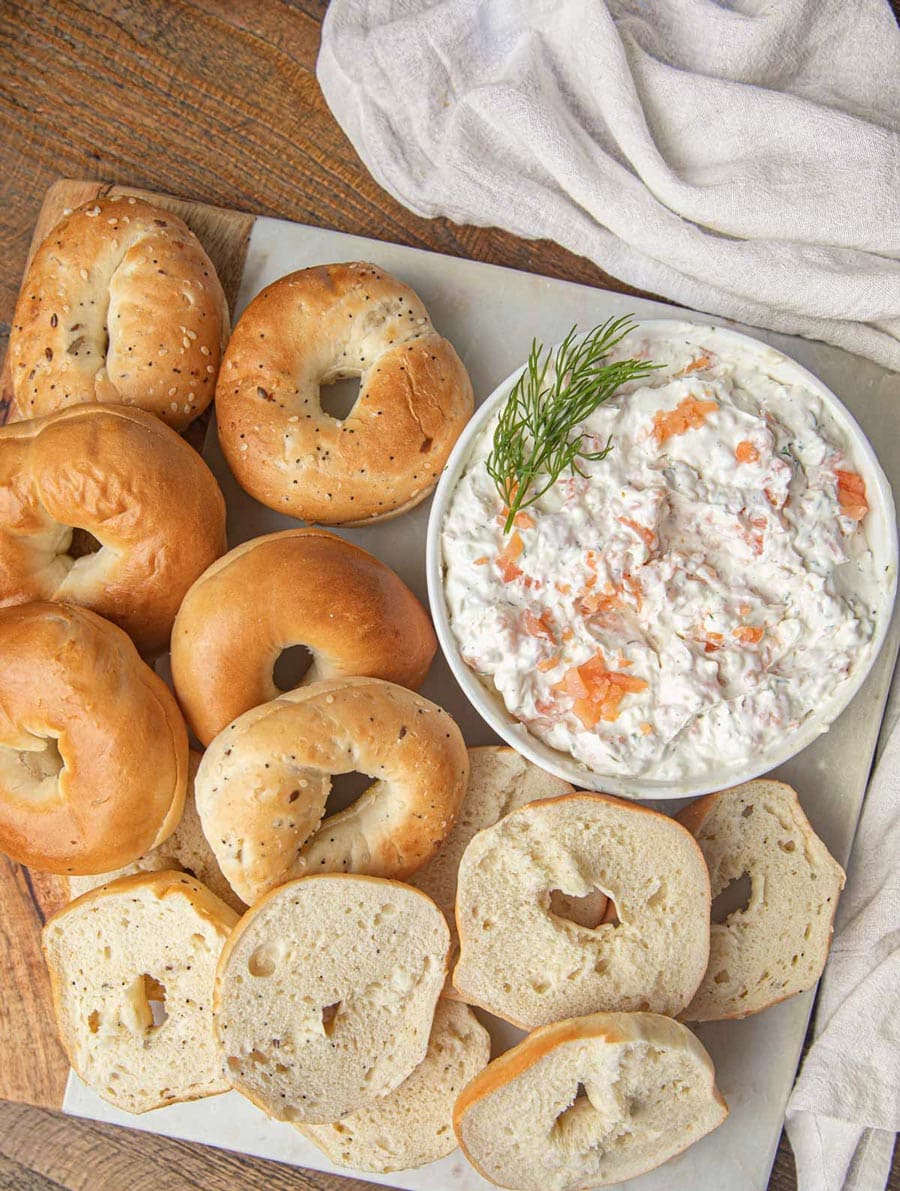 SMOKED SALMON SPREAD
If you aren't a fan of salmon lox but need something delicious for brunch, you should try this recipe out. Salmon spread is a delicious appetizer that you don't need to spend all day making but will absolutely taste like you did.
This dip recipe is fantastic because of how little work it takes to make it and because of how good it looks when you put it together. You may have trouble convincing your friends that you didn't pick it up from a store.
HOW TO MAKE SMOKED SALMON SPREAD
Start by mixing the cream cheese into an electric mixer with a paddle attachment. You want the consistency to be smooth but not overworked.
Stir in the sour cream, lemon juice, dill, salt and pepper.
Mix in the salmon and make sure you stir until it is well mixed together.
Put it in the fridge to set and serve it up chilled with crudités, crackers or whatever you would like.
VARIATIONS
Capers and chives: Finely chop up some chives and sprinkle them over the top of the salmon spread for some crunchy, tasty garnishes that will liven up your brunch.
Bagel: You should definitely try smoked salmon spread on top of a toasted bagel or a slice of baguette. The bread gives the spread a crunchy, savory base.
Fresh lemon: Sprinkle fresh lemon juice over the top or slice up some thin lemon wedges to serve on the side.
SERVE WITH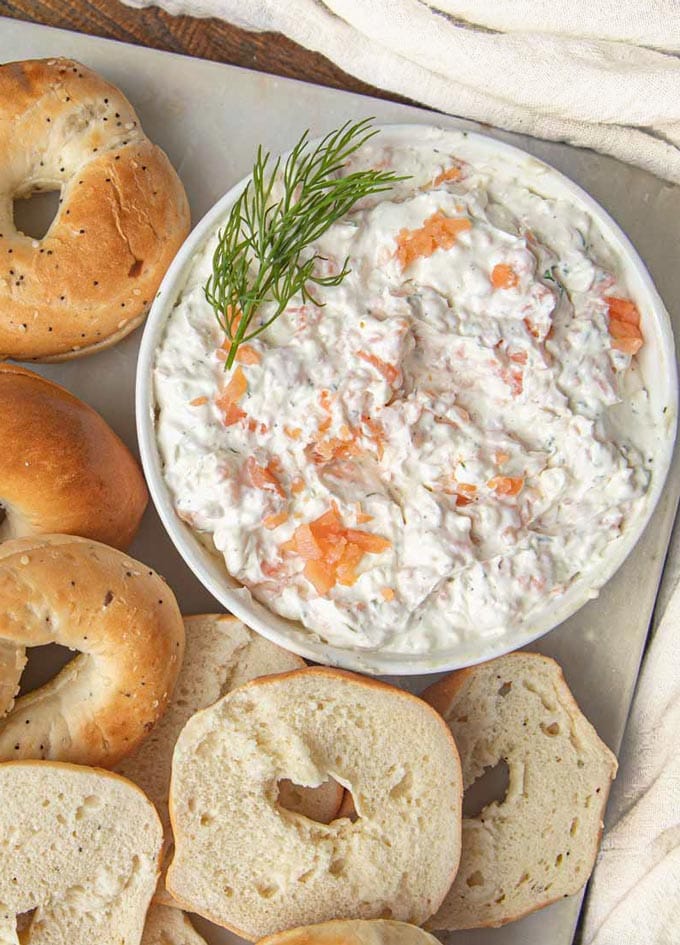 FUN FACTS
Salmon is a favorite dish all around the world and, in certain mythologies, supposedly has the ability to give you all of the knowledge in the world. Although we can't promise that eating smoked salmon spread will do all that, here are some fun facts you can use to fake it 'til you make it.
Salmon change color depending on their age.
The word "salmon" comes from the Latin word "salmo," which means "to leap." They got this name because of how salmon leap upriver to return to their spawning grounds to mate.
Salmon have an amazing sense of smell which is how they find their way back to the same river they were born in.
October 8th is National Salmon Day. Celebrate with some salmon spread!
The world record for deboning and slicing a salmon is 1 min 11 sec. Darren Matson from the UK broke the record in July of 2012.
HOW LONG IS IT GOOD?
Serve: You should not leave anything with fish in it out at room temperature for longer than 2 hours. So if you left the fish out last night, you should definitely throw it out.
Store: the leftovers are good for about 3 days in the fridge in an airtight containers.
Freeze: I wouldn't recommend freezing this one, as the cream cheese and sour cream won't thaw out very well.
WHEN IS IT SAFE TO EAT?
According to the USDA's website, salmon is cooked through and ready to eat when the internal temperature reached 145 degrees F (62.7 degrees C.)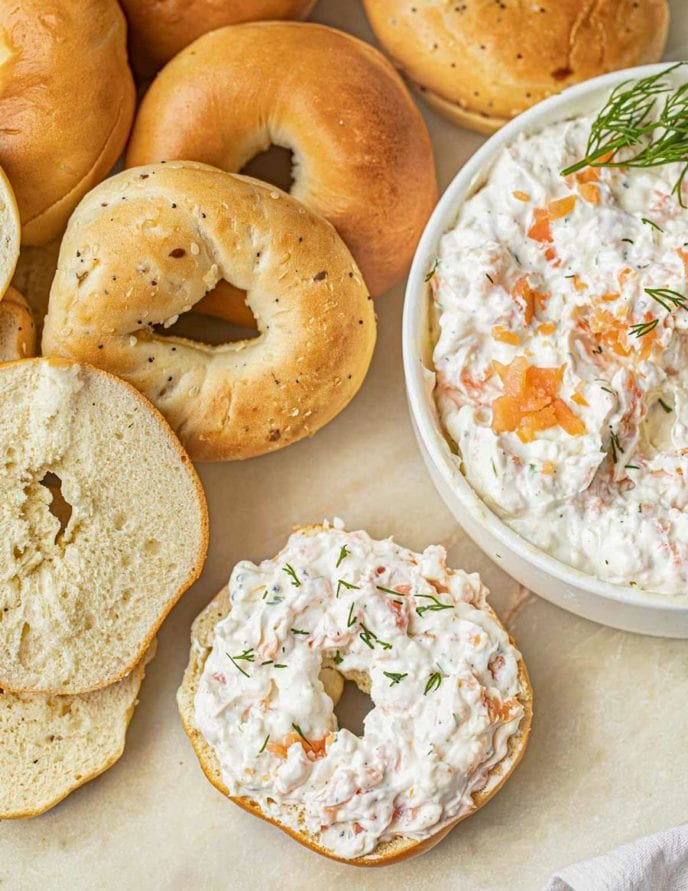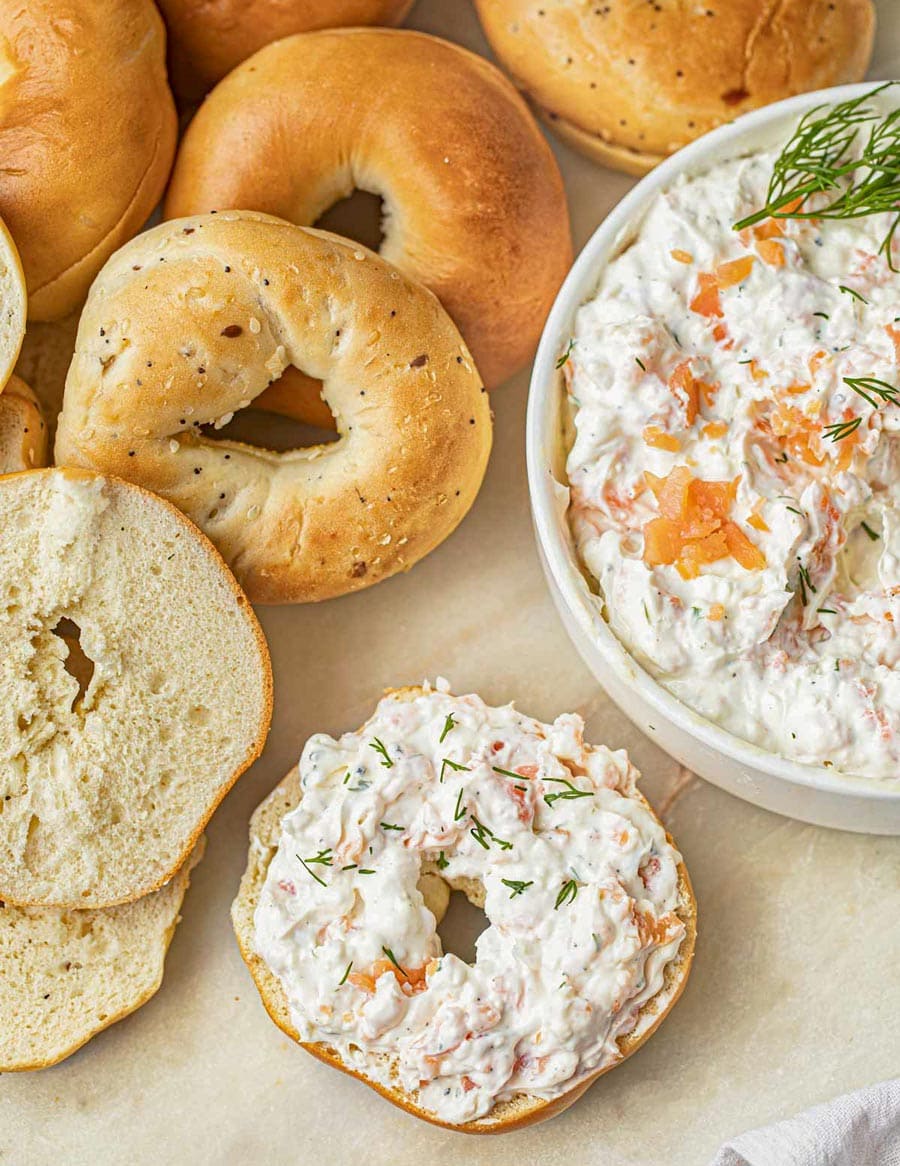 Ingredients
INGREDIENTS

8

ounces

cream cheese

at room temperature (microwave it for 1 minute and you won't need a mixer)

1/2

cup

sour cream

1

tablespoon

freshly squeezed lemon juice

1

tablespoon

minced fresh dill

1/2

teaspoon

kosher salt

1/4

teaspoon

freshly ground black pepper

1/4

pound

(4 ounces) Smoked Salmon

minced
Instructions
DIRECTIONS

Cream the cheese in an electric mixer fitted with a paddle attachment until just smooth.

Add the sour cream, lemon juice, dill, salt and pepper, and mix.

Add the smoked salmon and mix well.

Chill in the refrigerator for about

1 hour

and serve with crudites and/or crackers.
Nutrition
Calories:
95
kcal
|
Carbohydrates:
1
g
|
Protein:
3
g
|
Fat:
9
g
|
Saturated Fat:
5
g
|
Cholesterol:
28
mg
|
Sodium:
239
mg
|
Potassium:
56
mg
|
Fiber:
1
g
|
Sugar:
1
g
|
Vitamin A:
322
IU
|
Vitamin C:
1
mg
|
Calcium:
30
mg
|
Iron:
1
mg